by MouseTrapVintage
Dust off your feed sack dress, grab a pint of moonshine, and dance a jig at Sarah and Brian's 1930s-style wedding.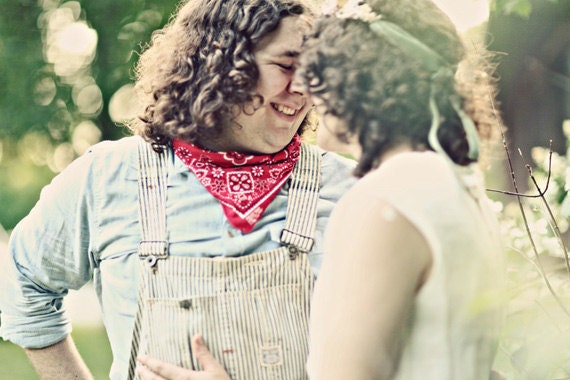 Editor's Note: We closed comments on this post when the quality of discussion no longer reflected the civil, respectful atmosphere we uphold at Etsy. As editors we offer our apologies for any upset caused.
On Memorial Day weekend 2011, my groom and I joined hands, entwined bootlaces and shared a single bean in matrimony at what very well may be the first hobo-themed wedding. We invited our friends and family to share in our happiest of days, wear their shabbiest, drink moonshine, eat their fill of BBQ and pie, dance to a live jug band and howl at the moon.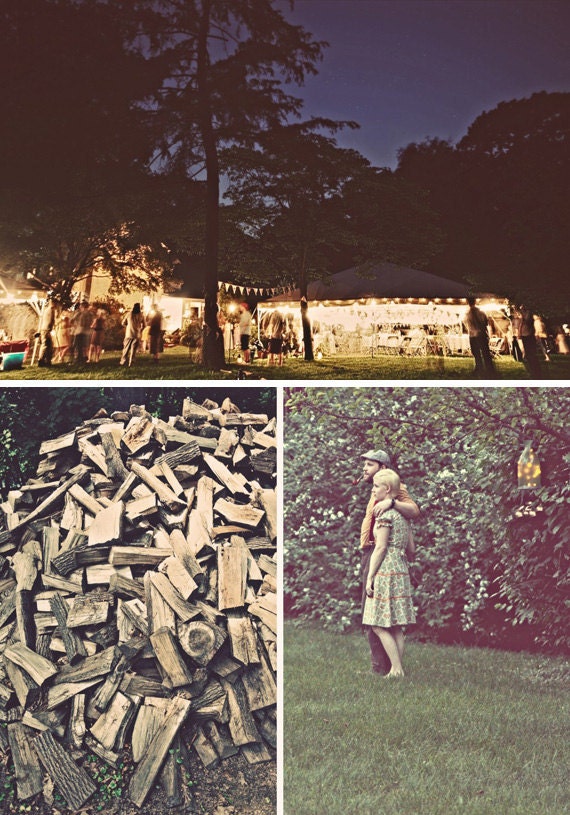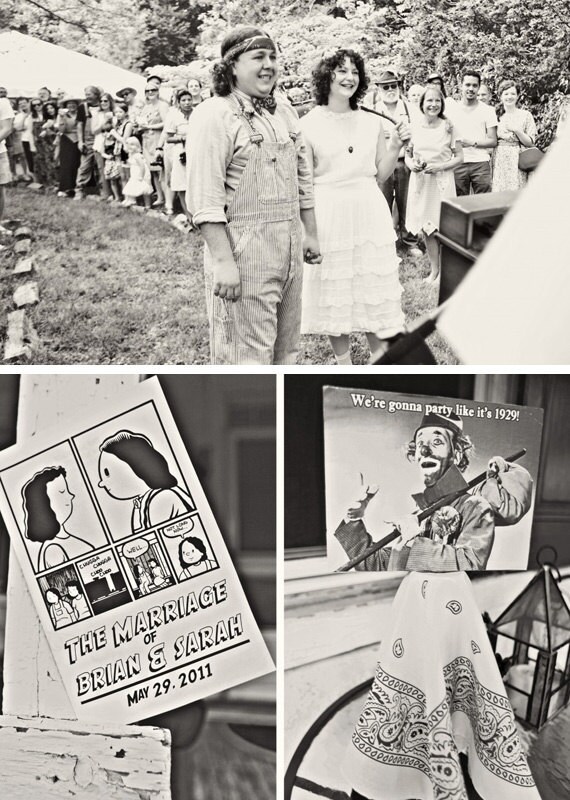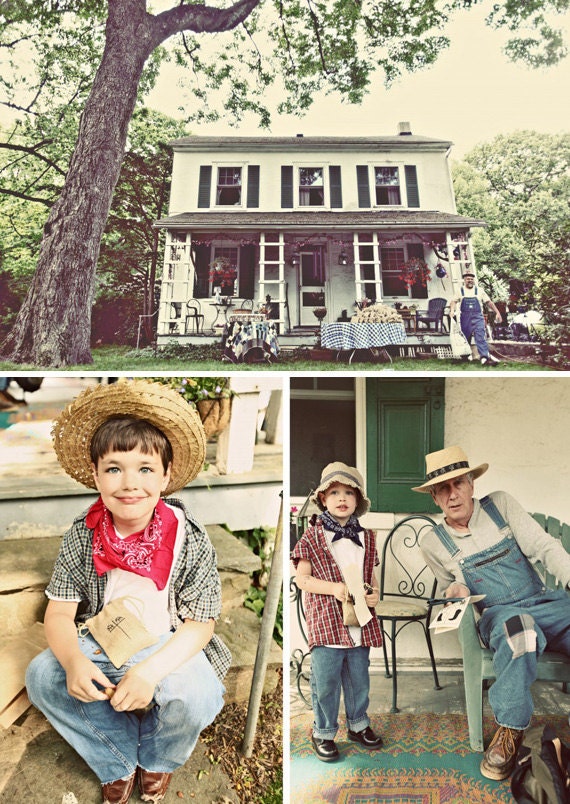 My Favorite Vintage
, a vintage millinery crown by
Little Deer Handmade
and delicate cutout oxfords from 
The Exhausted Etiquette Vintage
. My maid of honor and twin sister, Maggie (a.k.a. "
The Bad Twin
"), wore one-of-a-kind feed sack overalls by
Closet Case Vintage
and a sheer pink pintucked blouse from 
Greatest Friend
.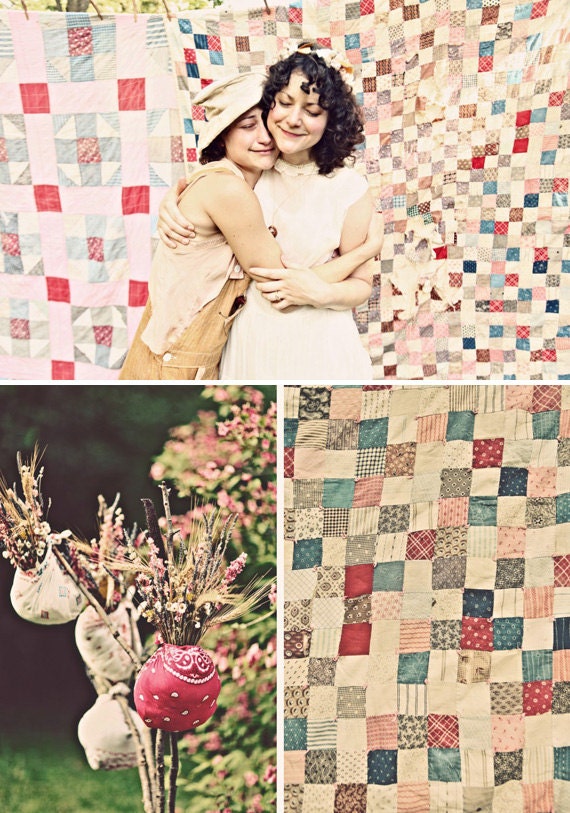 Record Lady
"), wore a hand-embroidered orange checkered dress with a raggedy hemline by Maria of
Adelaide's Homesewn
as she walked me down the aisle. Both of my bridesmaids' dresses were from Etsy, too! Brian's sister, Jenny, wore a dress by
1385
and my sister, Lindsey, wore a dress by
Jennie's Junque
. I also found perfectly worn quilts that I cut for table runners and buntings, tiered tin can caddies for dried flower arrangements, custom bandana bowties for the groom and groomsmen and my little knotted string wedding band.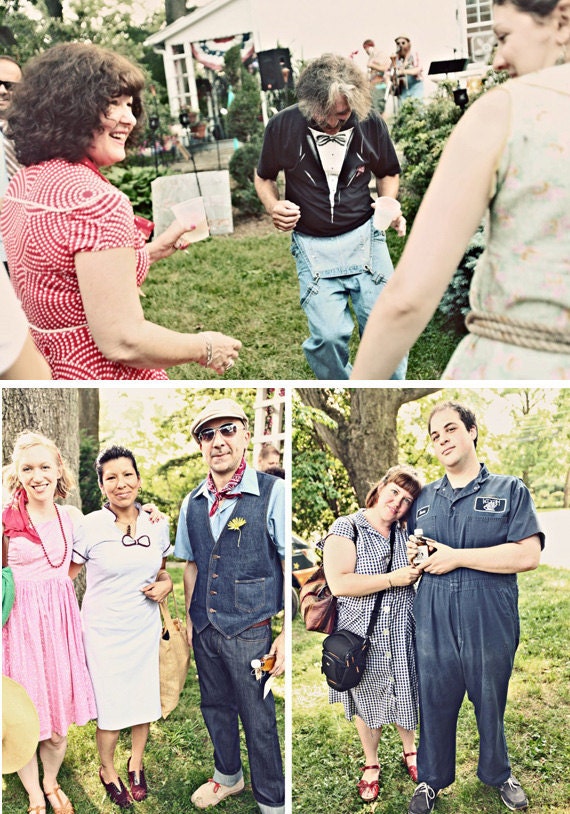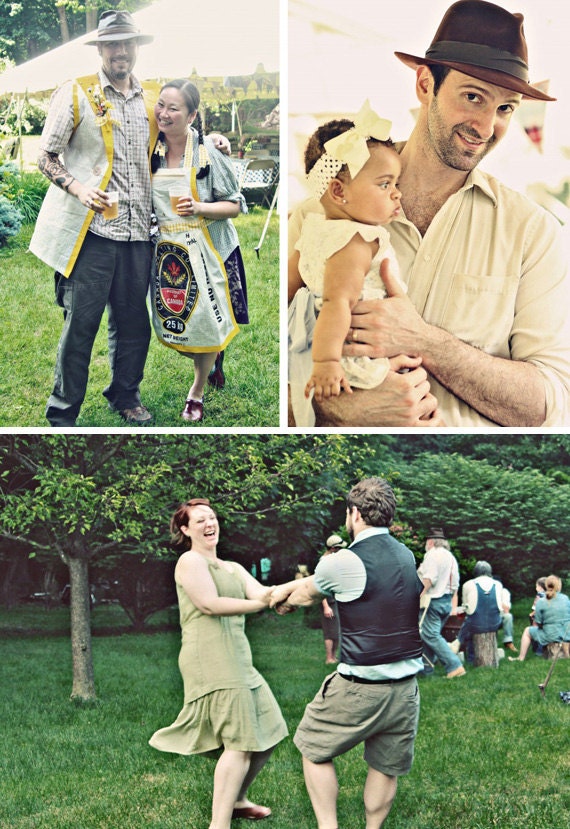 Chelsea Donoho
, who came all the way from Kansas City. She captured the wedding so beautifully in exchange for a meager round-trip plane ticket and a place to stay. And finally, the wedding wouldn't have been the success it was without the incredible participation of every single one of our guests who played along and donned their hobo best!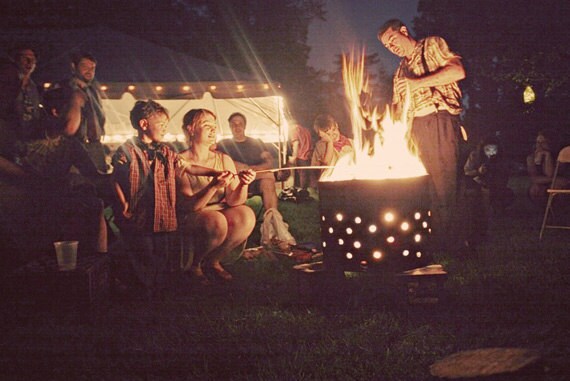 About the authors: Sarah is an admissions counselor at Moore College of Art & Design, an artist, and textile designer. She also sells vintage and handmade items in her two Etsy shops, Mouse Trap Vintage and SquidWhale Designs. She is inspired by old, time-worn objects and American folk art. She spends much of her time hunting for unique curios. Brian (affectionately known as "Box") is a full-time cartoonist/part-time alt-comics publisher with a stinging wit and a certain tolerance for Sarah's junk-collecting. What the couple has in common is their sense of humor, their love for their two cats, Buster and Louis, and their shallow pockets.
Whether you're a bride to be, or just love seeing what's new in unique handmade and vintage finds for weddings, RSVP for Etsy's Weddings email.
Are you planning a handmade wedding anytime soon? Share in the comments below!