by HanGwichin
Shyanne and Aaron had to build a road to return to their home village for a wedding steeped in tradition.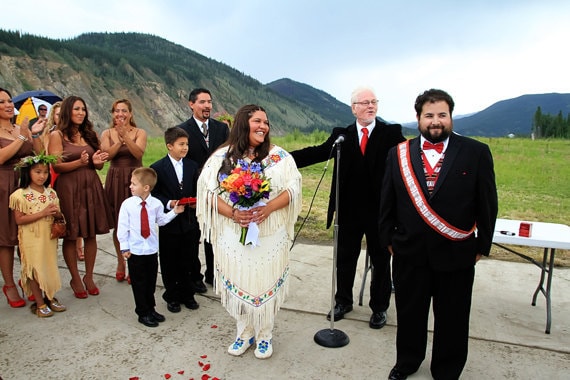 Shyanne is the host and producer of the national radio show Earthsongs and is also an on air personality for 90.3 KNBA in Anchorage, Alaska, where she met her husband Aaron. Both Shyanne and Aaron are Athabascan Alaskan Natives but come from different tribes. They are both committed to continuing their culture and languages. Their wedding lovingly mixed Athabascan handcrafts with items from Etsy — and the ceremony itself represented a triumph over tragedy. 
I've always wanted to get married in my village, Eagle. It's where the Yukon River meets the Alaska-Canadian border and the only time you can drive to it is during the summer. Eagle has a population of about 180 people and it is traditional homeland of my people the Hän Gwich'in Athabascan's. Hän Gwich'in  people have always been one of the smallest Athabascan tribes in Alaska. Today, there are a little over a 100 (out of total of about 16,000 Athabascan's in Alaska) Hän Gwich'in Athabascan's living in Alaska and other parts of the United States. Also part of our tribe is the Tr'ondëk Hwëch'in who live mostly in Moosehide near Dawson City, Yukon Territory with about  338 tribal members in 2009.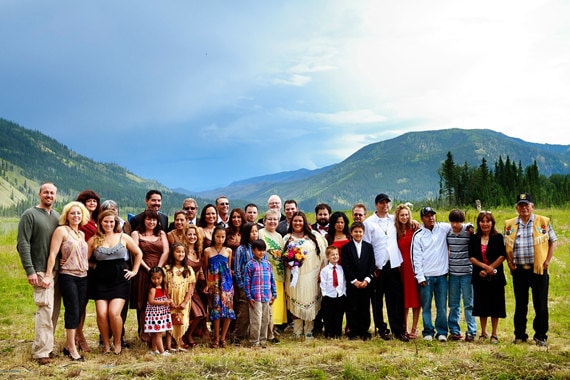 In 2009,
the greatest flood in over 100 years
showed up in Eagle and completely took out the entire village. A hundred year old church was gone. The cemetery was a disaster. My mother had died earlier that year and I didn't know where she was buried anymore. I grew up in the village and suddenly there's nothing there but varied remains of our homes. It created such a huge depression that lay over the land and all our people. So when we decided we were going to get married I knew I had to have my wedding in Eagle. Eagle will always be my home no matter what and it was important to me that I be near my mom for this special day — even though the church where my parents were married was taken by the flood.  We decided that we wanted to get married near the banks of the Yukon River where a thriving Hän Gwich'in Athabascan village once stood.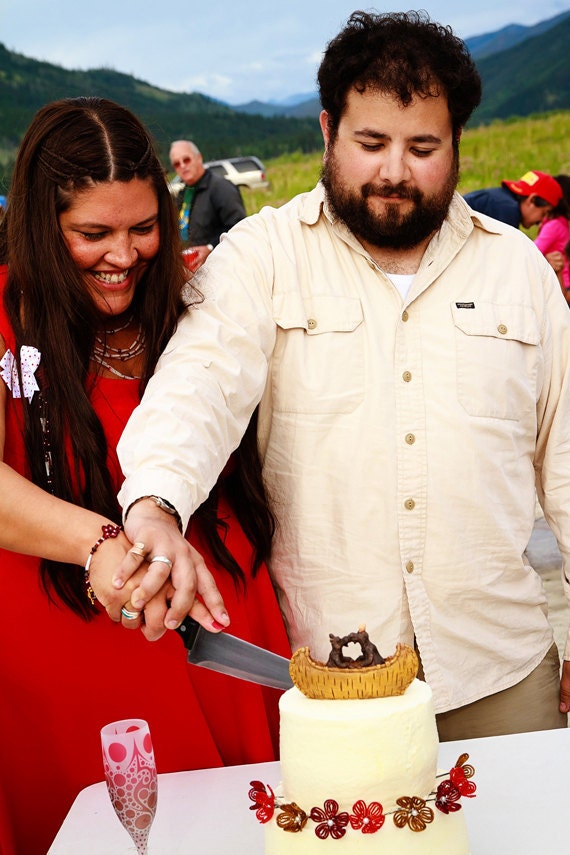 My husband Aaron's family is 
Dena'ina Athabascan
 (one of the larger Athabascan tribes and the only ones who live on salt water). We met when his younger sister was a receptionist here at Koahnic Broadcast Corporation, the public radio station I work for. Aaron started a project with Koahnic called Dena'ina Lifeways. He would be in every week to translate older tapes of Dena'ina elders telling stories in their Dena'ina Athabascan language. He came in and was so shy but luckily for both of us, I am so not shy. While he was there he help produce a series of radio programs where he was translating the elders telling stories about how to hunt a bear at night or how to make a birch bark basket. He and I share the same dream of preserving our Athabascan cultures. Because there was no church, the wedding had to take place outside, and for several months my father Bill Goebel (my hero) spent a lot of time searching the Yukon River picking out the logs needed to build the shelters for the ceremony and facilities for people who made the long journey. Other members of my extended family also helped immensely in making this such a special day. My cousin Jody Potts made my niece Nazhre, who was our flower girl, a beaded hide dress with porcupine quillwork.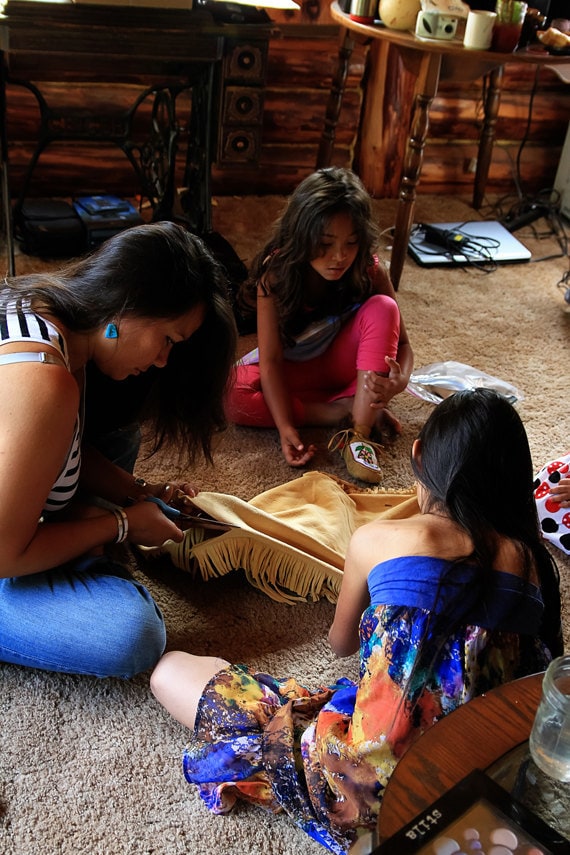 My Great Aunt Adeline Potts made my wedding dress out of white elk hide, with traditional Hän Gwich'in beadwork. She also made a matching pair of beaded wedding slippers.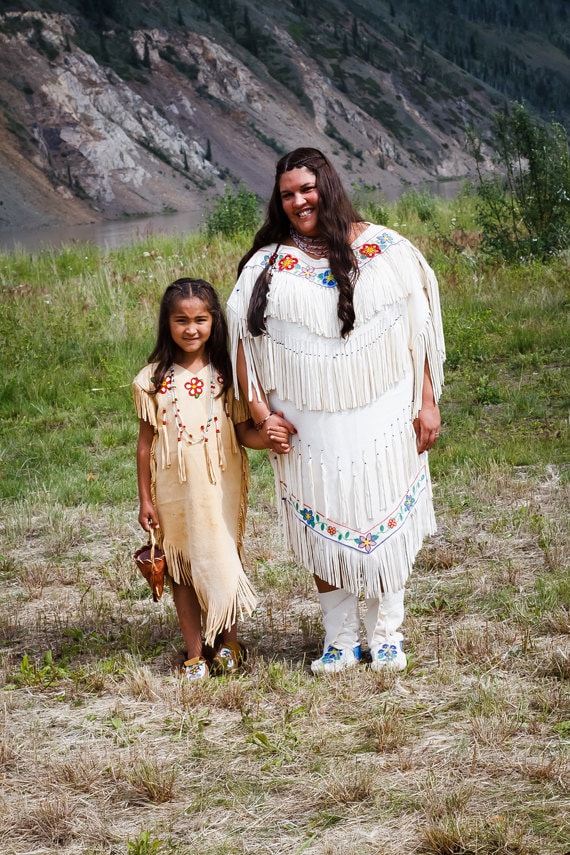 Now I want to talk a little bit about how Etsy made our wedding that much more special. First I found a five strand
Dentalium shell
necklace from the shop 
Bits and Beads
. 
Dentalium shells
 historically were used by chiefs and their descendants. After this, I was then able to get ahold of Bits and Beads and had her custom make a necklace using our wedding colors of brown and red. Our toasting glasses also came from Etsy from 
Woodeye Studios
, custom made in our wedding colors. We also ordered from 
Bead Flora and Jewels
 the beaded flowers that were then used on our wedding cake. And lastly, I want to share one last story that really does demonstrate how even in Eagle, Etsy really does empower people to change the way the global economy works. Two days after the wedding, my husband found a gold and silver ring made by a local jeweler that he bought as a way to remember our three-day wedding ceremony, which we have dubbed Weddingstock. In talking with the owners of
Yukon Ron's
, they mentioned that more of the work could be found on, you guessed it, Etsy. They were very grateful that this wonderful website exists because for the last two years the summer tourism to our village has taken a huge hit because of the flood and Etsy now accounts for most of their sales.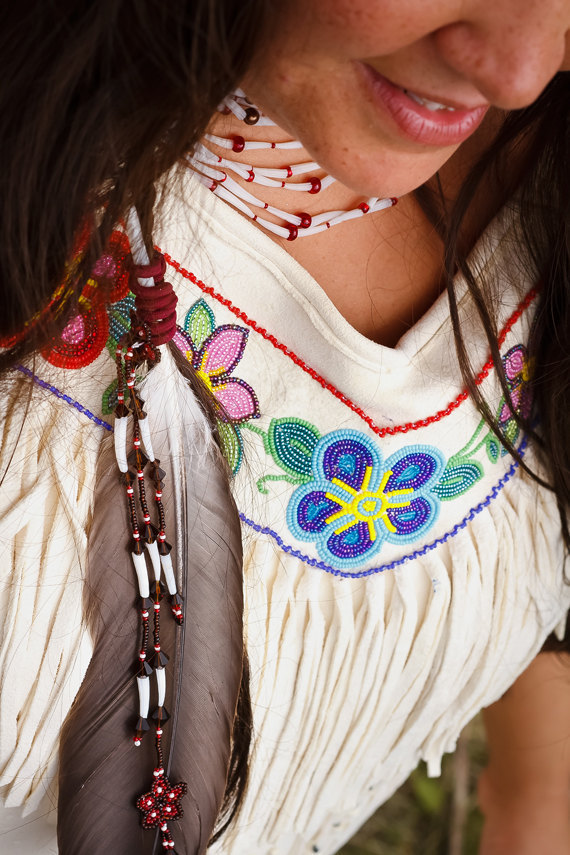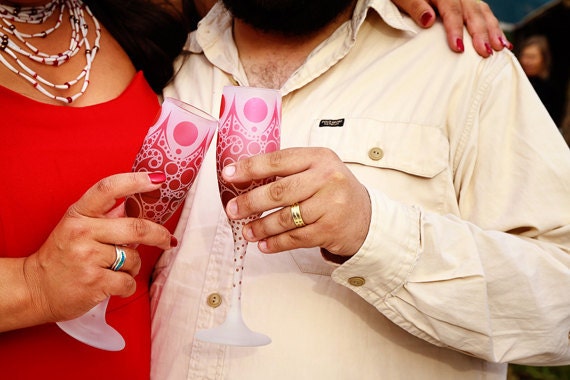 Our wedding was not only a celebration of our Athabascan cultures and the resiliency of Eagle, Alaska —it was also a great example of how Etsy can make a wedding that much more memorable.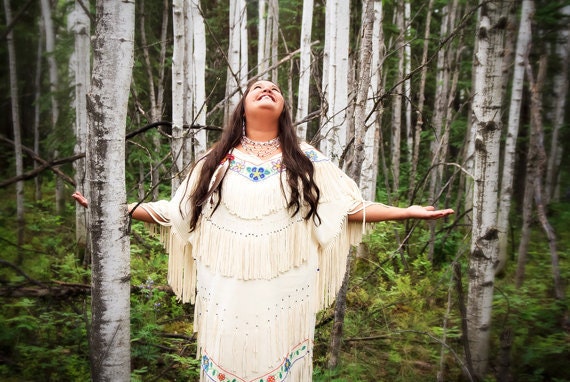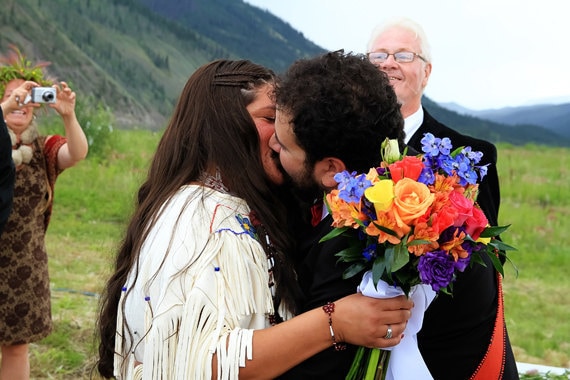 You can find me on Etsy under the name Han Gwichin. Hope to hear from the many people in the Etsy community. Mahsi cho! (Thank you very much! – Hän Gwich'in Athabascan)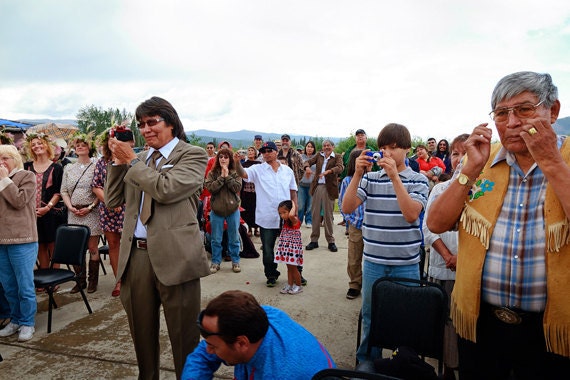 Thanks to Shyanne for sharing her special day. Do you have a handmade wedding to share? Submit your photos to our Flickr group.