by Chappell Ellison
A discovery in a flea market leads to a salacious tale of Harry Glemby and the earliest instance of outsourcing by an American company.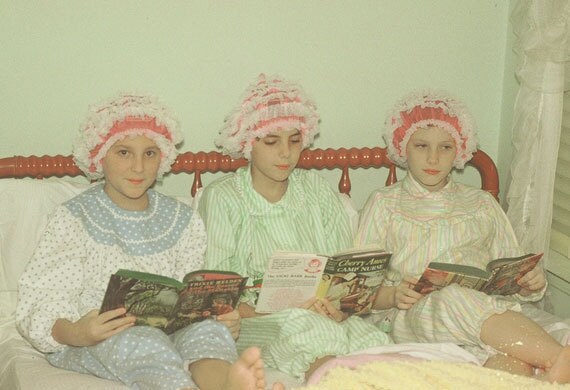 I am no stranger to the allure of the flea market. Its siren call is what gets me out of bed before noon on a Saturday morning, fueled by strong coffee and a fancy pastry. The average vintage discovery may consist of a new addition to the wardrobe or a much needed piece of furniture. Yet sometimes it is the most inessential objects that possess the most priceless stories, exciting the sleuth-like nature within us history junkies. While at a pop-up flea market in downtown Brooklyn, a box under a table caught my eye. Within it were two flat circular nets, about a foot in diameter, each with a cardboard insert with "Boudoir Bonnet" printed in decorative script. I knew exactly what they were — dainty net-like caps that a woman might stretch over her head, covering her hot curlers while she gave her hair time to set. I thought of my mother's stories of rolling her hair around orange cans, training herself to sleep sitting up. "That's just what you did back then," she always said with a shrug. Proof of my mother's bonnet days can be seen in the header image above (she's on the left).
The New York Times
requests an experienced governess for his two children. By this point, Glemby was already a very wealthy man — he had made a small fortune in the antique business, and had recently set out to make his name synonymous with women's haircare. Through the years that followed World War I, the most common hairstyles for women required the daily use of hairnets. Much like King Gillette who famously made an empire after realizing that men needed razors for shaving every day, Glemby saw dollar signs in women's hair habits. By 1919, his company was distributing hairnets from their offices in New York City's Flatiron district, and within four years, he struck a deal with Lorraine, the most popular hairnet brand of the time. From that point on, Glemby's name was printed on every envelope that contained a Lorraine hairnet.
While such a business tactic is no surprise in a modern day world, for Glemby's time, it was revolutionary. In fact, Glemby Inc. was one of the first American company on record to outsource its manufacturing process to China.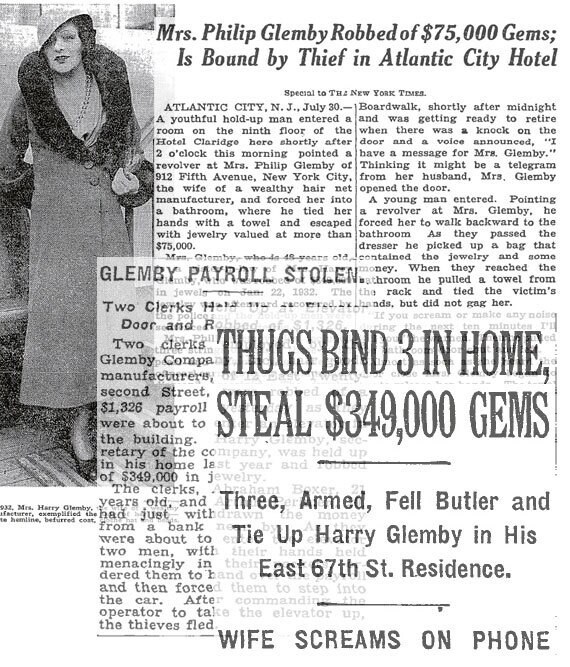 Throughout the 1930s, Harry and his socialite wife, Clara, attracted the seediest of vandals in a string of misfortune that kept the local newspapers working overtime. Robbers, payroll theft, and missing pearl earrings — some even thought the Glembys were cursed. However, it was a headline on June 22, 1932 that trumped them all: "Thugs Bind 3 in Home, Steal $349,000 Gems." Dressed as deliverymen, the thieves rang the door bell of Glemby's Upper East Side home, and proceeded to knock out the butler and tie up all the occupants. The safe was raided and the robbers escaped just before the police arrived. Throughout the rest of the decade, the Glembys' personal lives kept New Yorkers more riveted than the moving pictures. Yet by the 1940s, business was better than ever. Updos were back in style, pushing out the long, loose hairstyles made popular by actress Veronica Lake in the 1930s. With women taking up previously male-driven work in factories, hairnets were required for safety precautions. Glemby enjoyed a prosperous decade, and by the 1950s, he owned beauty salons in almost every major department store in New York City. [embed width=570]http://www.youtube.com/watch?v=mgpvKXLTwr8[/embed] In October of 1952, Harry Glemby made the headlines once more, but this time he wasn't the victim. Glemby pled guilty to a charge of paying $13,000 to a hair exporter in China, an offense at a time when the United States had a ban on trade with Communist countries. Though trade with China was not yet illegal when Glemby placed the order, his shipment was received after the anti-trade law went into effect on December 17, 1950. In retrospect, it was Glemby's first public admittance to outsourcing, a quiet explanation of how he was able to sell hairnets at such a low price for several years.