It's (almost) time to deck the halls.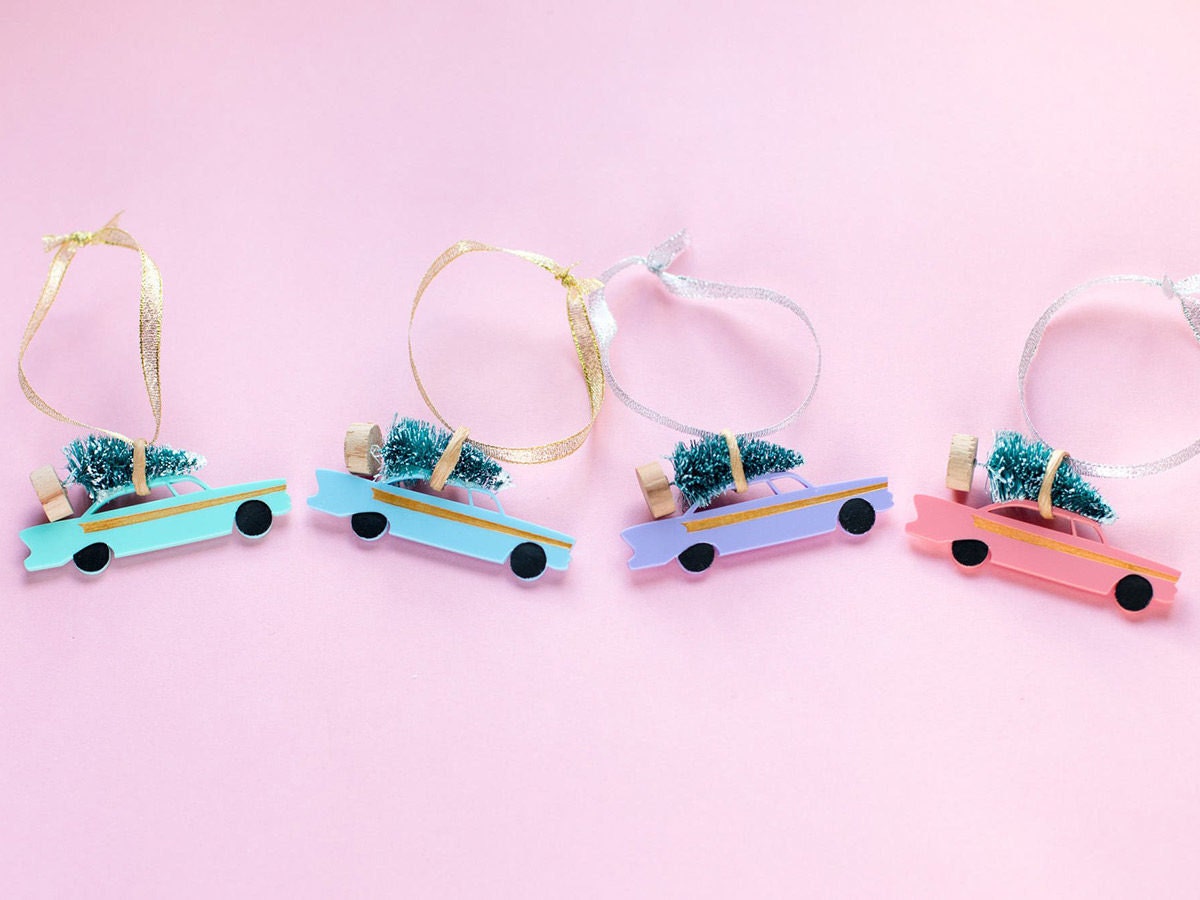 Ornaments shaped like tacos. Constellation-printed place cards. A fluffy pink pom-pom wreath and an angular lime green menorah.
Holiday decorating
season is officially here, and this year, it's all about putting a fresh twist on tradition, says Etsy Trend Expert
Dayna Isom Johnson
, and incorporating the
color schemes
and
interiors motifs
you've been loving all year long into your holiday home. "With vibrant neon baubles and a buffet of food-themed tableware, Etsy sellers are empowering shoppers to add some personal flair to the most festive time of the year," says Dayna. So this holiday season, embrace the chance to shake things up and express yourself through a medley of unexpected accents as one-of-a-kind as you are. And if that means decking your halls with hot-pink disco balls, well, what could be more merry and bright?
Boho(ho)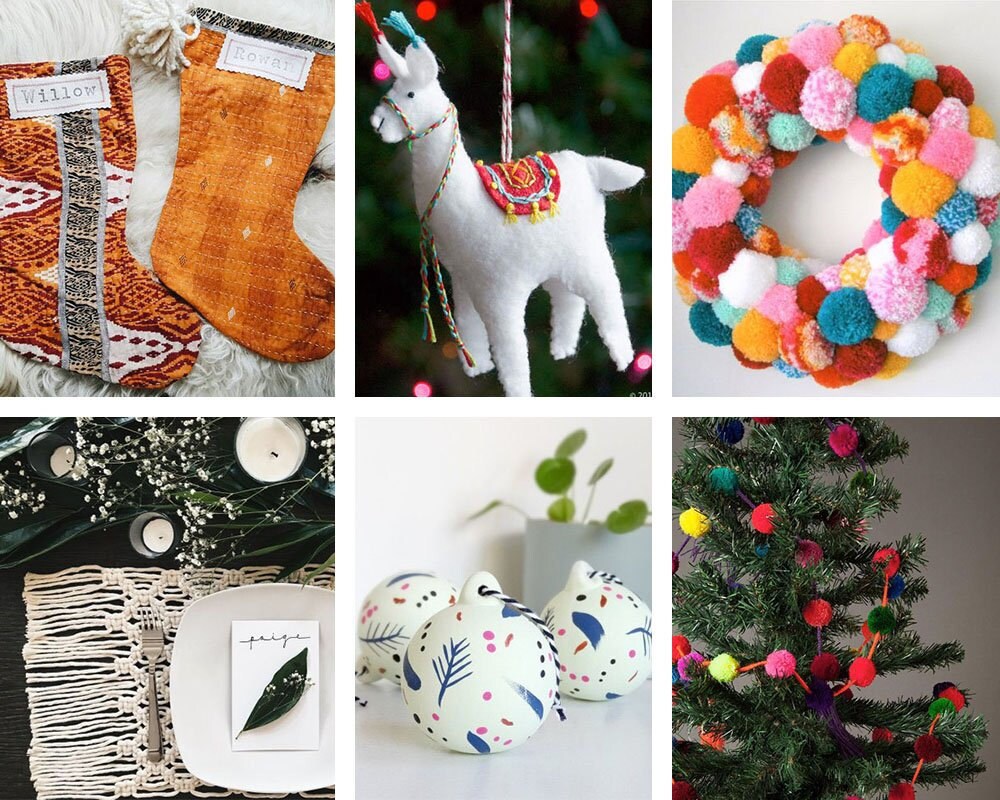 >
"Over the past year, we've seen a resurgence of bohemian influences throughout the home decor space," reports Dayna. And much to the delight of free-spirited, color-happy shoppers the world over, there's no shortage of talented makers putting seasonal spins on this vibrant trend just in time for the holidays. Think boldly patterned, pom-pom-adorned
stockings
, macrame
placemats
, and the prettiest hand-painted ceramic
ornaments
you ever did see. Just toss in a miniature felt
llama
or two and you'll be living in a boho-liday paradise.
Neon brights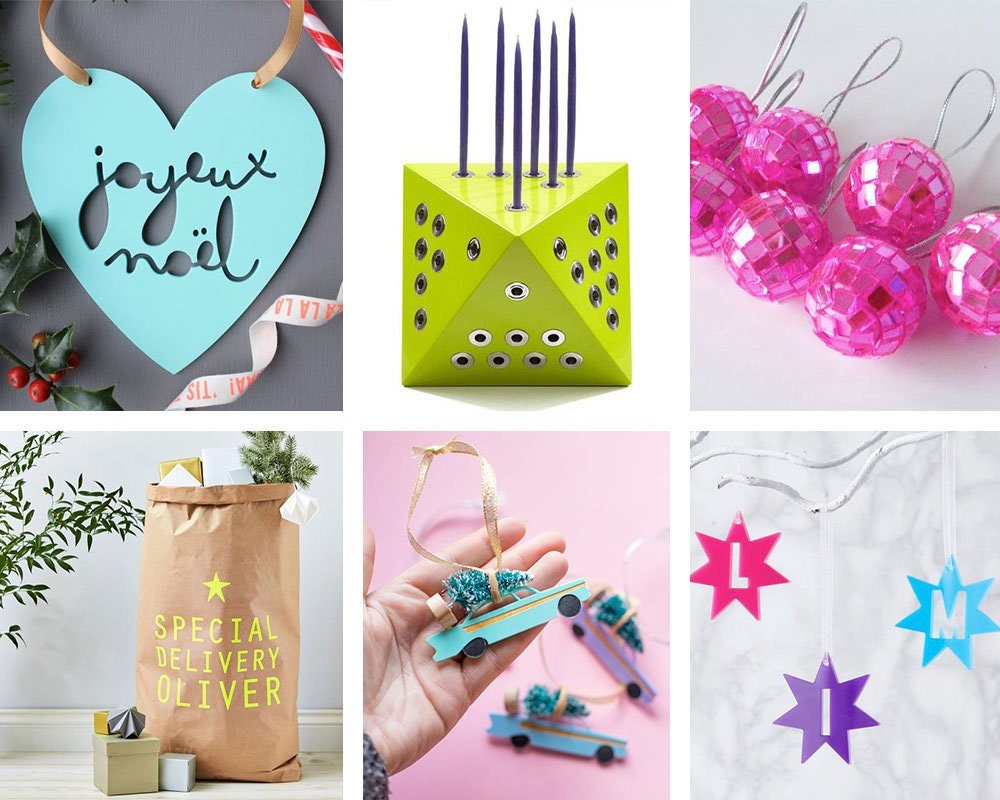 >
Light up your home this holiday season with can't-miss hues that give the primary color wheel a run for its money. "We're seeing a flood of bright, bold palettes for holiday, particularly compared to the more muted colorways of last year," says Dayna. Plus, leaning in to playful shades sets a joyful, energetic tone for any kind of festivity—which means you can repurpose plenty of these prismatic pieces for other celebratory moments down the line. Not sure where to dive in? Neons lend themselves especially well to smaller accents, like pops of
eye
-
catching
ornaments
on a classic Christmas tree—glow stick stocking stuffers, optional.
Delectable decor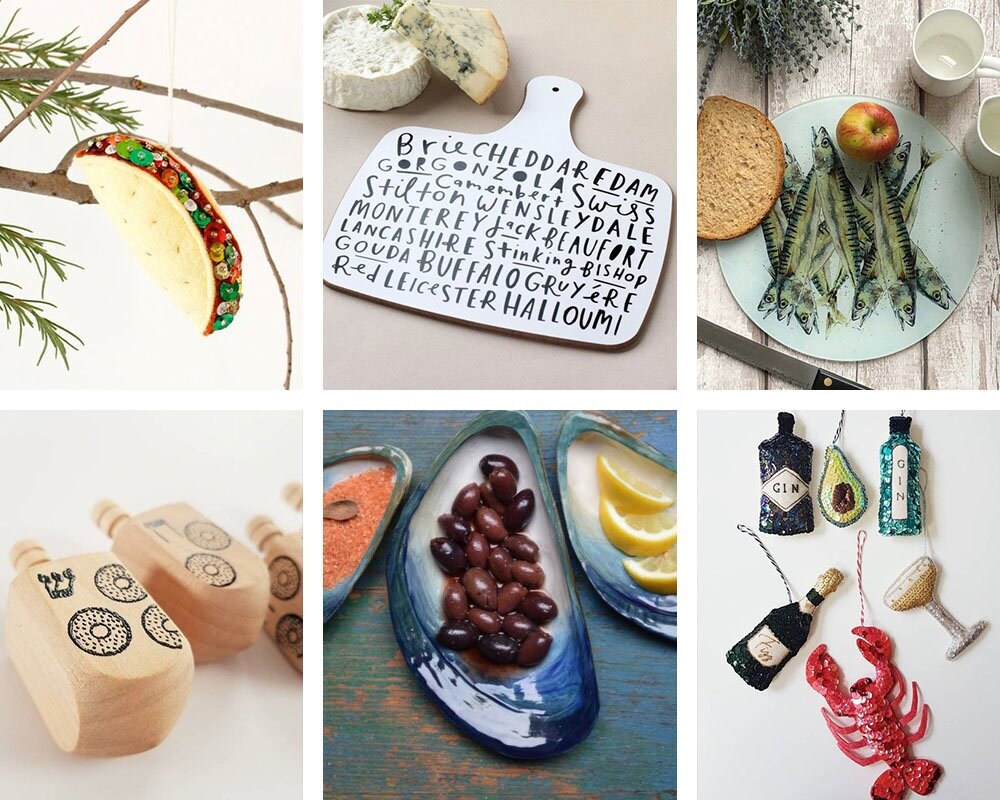 >
"When I think of the holidays, I immediately long for the endless amounts of food that come along with the celebrations," says Dayna, who is known to enjoy a slice of her mother's fruitcake every Christmas. This year, the feast-forward season's bounty goes beyond what's on our plates to include what's...
on
our plates—and our trees and tabletops too. Picture
sardine-speckled
serving platters, porcelain dishes hand-painted to mimic
mussels
, and a typographic
cheese
board that proudly announces its purpose with a mouthwatering list of creamy and sharp varieties (shoutout, gouda!). Some of the top-trending eats making an entree into the world of holiday decor?
Tacos
,
donuts
, and
avocados
, of course. Trust us: It's a recipe for holiday magic.
Modern farmhouse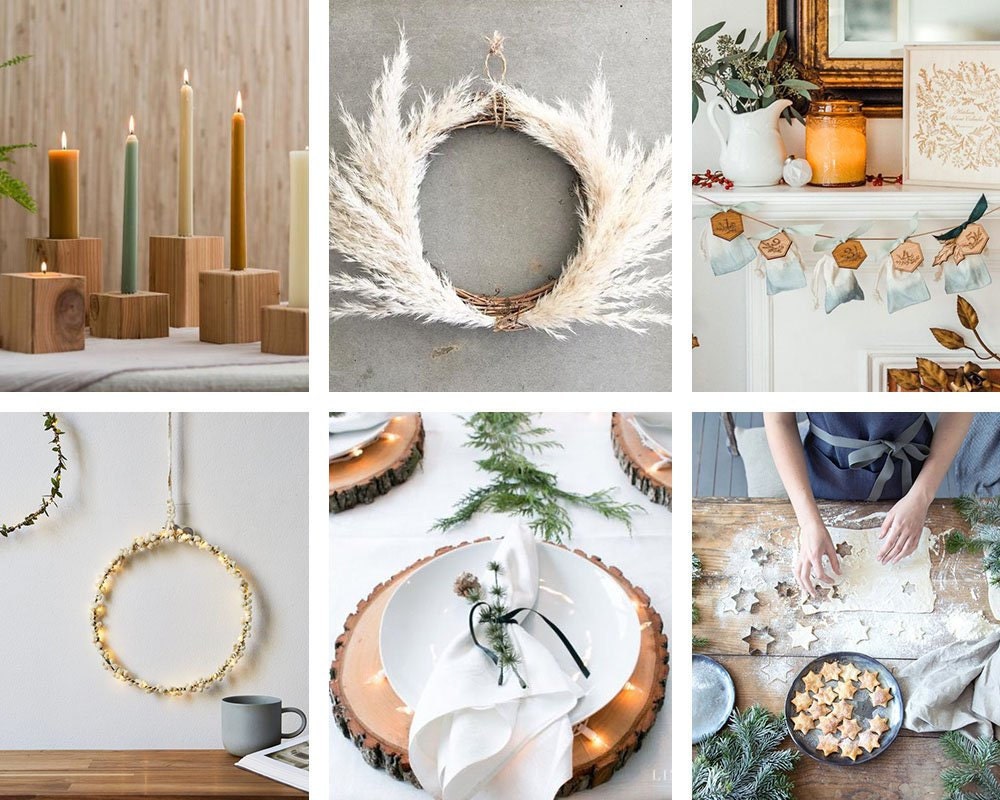 >
"Maybe it's the pine trees, but rustic decor has always felt synonymous with the holiday season," says Dayna. This year, give the timeless aesthetic an update by opting for streamlined, Scandinavian-inspired takes on evergreen farmhouse classics. The look is all about balance: pairing natural materials with
geometric shapes
, or recasting a soft or rugged accent in a fresh, minimalist palette. It's an effortless way to inject a touch of pastoral cheer into any corner of your abode—without sacrificing sophistication.
Peace on Earth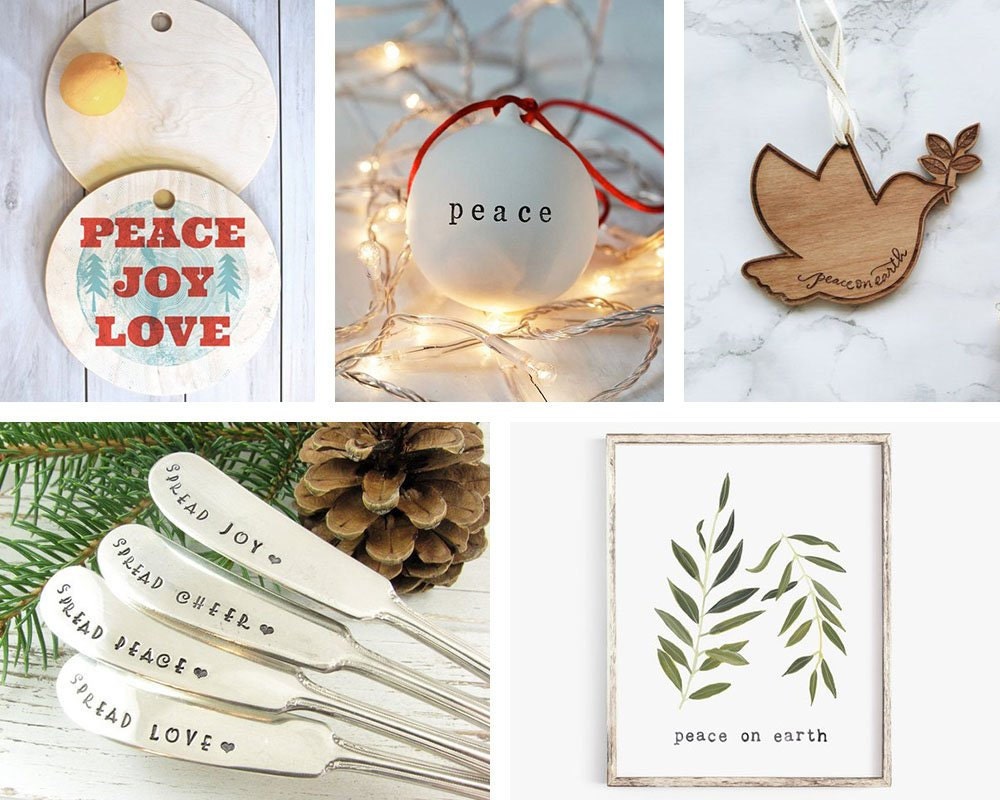 >
Whether it's stamped on a vintage silver
butter knife
, adorning a wooden
dove ornament
, or printed on a colorful
cutting board
, "Peace" is a message we can all get behind—and one that bears repeating at the holidays and all year round. "It's always on trend to spread messages of kindness and love, and shoppers are especially taking note this holiday season," Dayna confirms. So shout it from the rooftops: Our favorite feel-good trend of the season is all about love and acceptance for one and all.
Unconventional place cards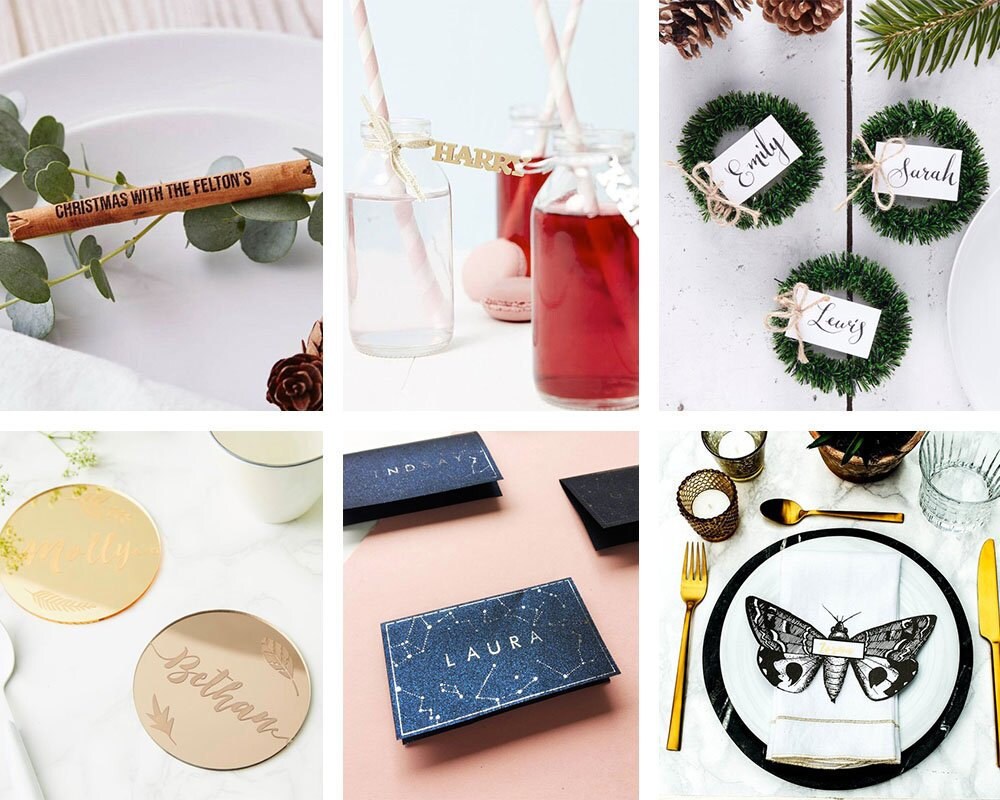 >
This year, make the holidays feel truly
yours
—and help your guests do the same—with a highly
personalized
approach to entertaining that starts with anything-but-ordinary place cards. "Sellers are creating a range of customized items to help make their holiday guests feel at home," says Dayna. Not only will these tailor-made trinkets help diffuse any who-sits-where awkwardness around the dinner table, they'll also give partygoers a sentimental something to take with them when they leave. From metallic
mirrored drink coasters
to
aromatic cinnamon sticks
stamped with the words of your choice (seriously!), personalizable options on Etsy are as stop-you-in-your-tracks creative as they are endless.