by Jackie Buddie
Your secret ingredient to more joyful meal prep this hosting season? Elevated essentials that put a smile on your face while you cook and bake.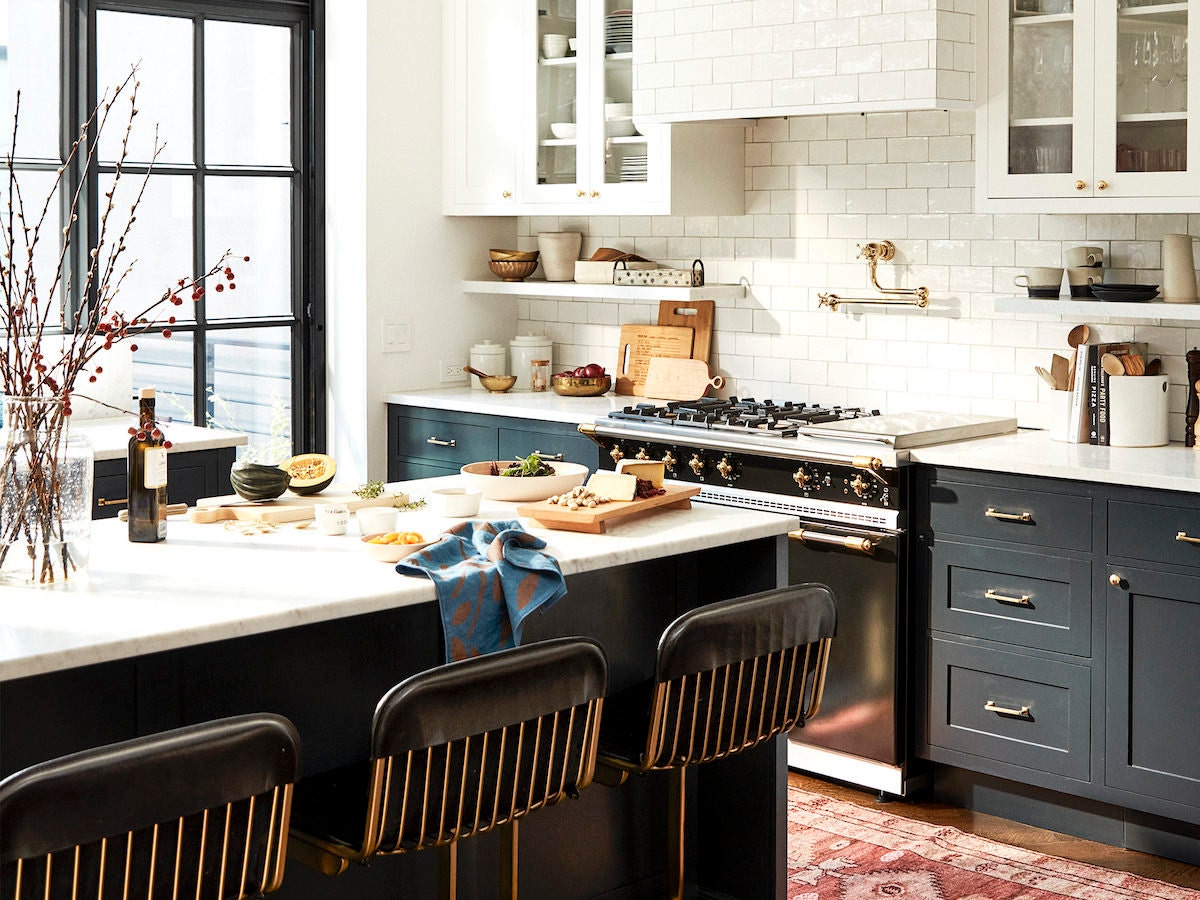 We all have a part to play in the pageant that is the holidays, be it hanger of garlands and wreaths or curator of festive playlists, but none is perhaps more important than the maker of pies, pot roasts, and soufflés. If, each year, your starring role as designated chef keeps you camped out in your kitchen until the end of December, why not make it an extra-joyful stage for mashing potatoes and cracking eggs? This season, we're stocking up on a few pretty-yet-practical staples (think elegant brass spice spoons and deep-rimmed ceramic baking pans) to transform our bustling prep stations into warm and inviting settings that fill us with cheer. Just be warned: With kitchen essentials this delightful to use and display, you'll be finding any excuse to add new dishes to the menu. Read on to learn how this stylish kitchen comes together, then rejoice as your family and friends do the same.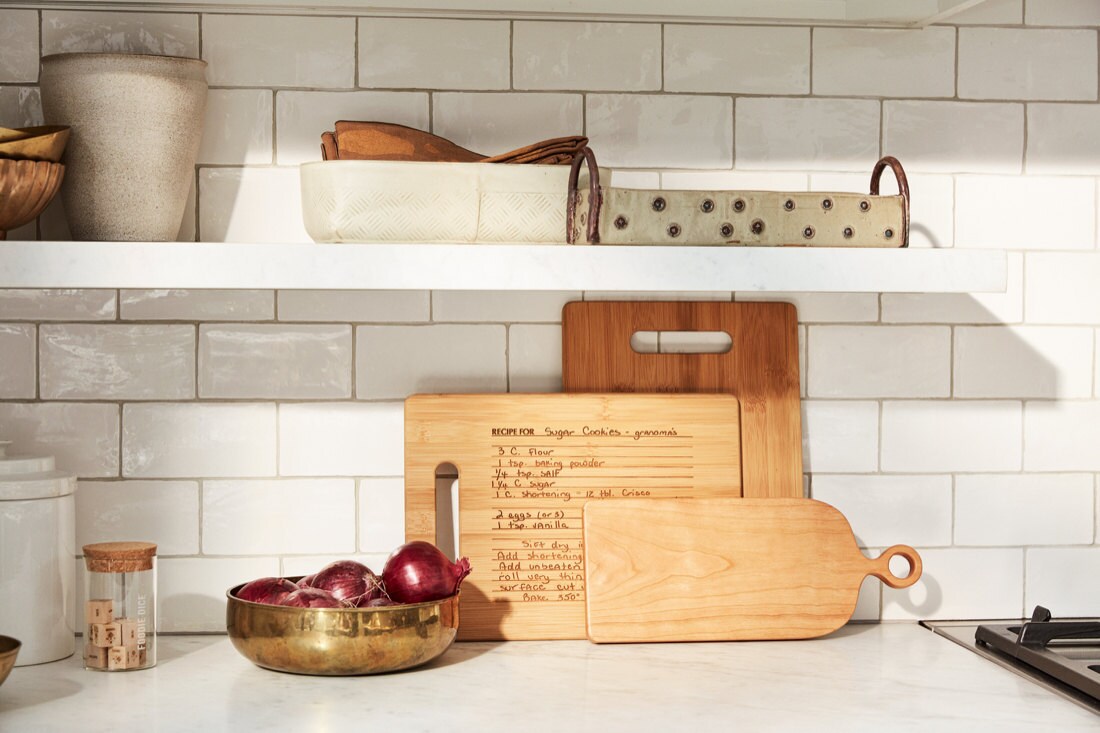 If Grandma's famous candied yams are the annual headliner of your holiday spread, it's only fitting to get her hand-written recipe engraved on a big bamboo cutting board and prop it up it prominently in your workspace. When you need additional room to chop produce, a hand-carved cherry wood paddle is an attractive option that, flipped over, effortlessly converts to a serving platter. A versatile stoneware baking dish (high-fired for durability) with a textured, white-glaze finish can hold kitchen linens or winter citruses until you're ready to pop those yams in the oven, while a decorative handcrafted cracker tray facilitates the shuttling of snacks from countertop to table. Still not sure what to make? Give your Foodie Dice™ a roll, and let the culinary gods decide your fate!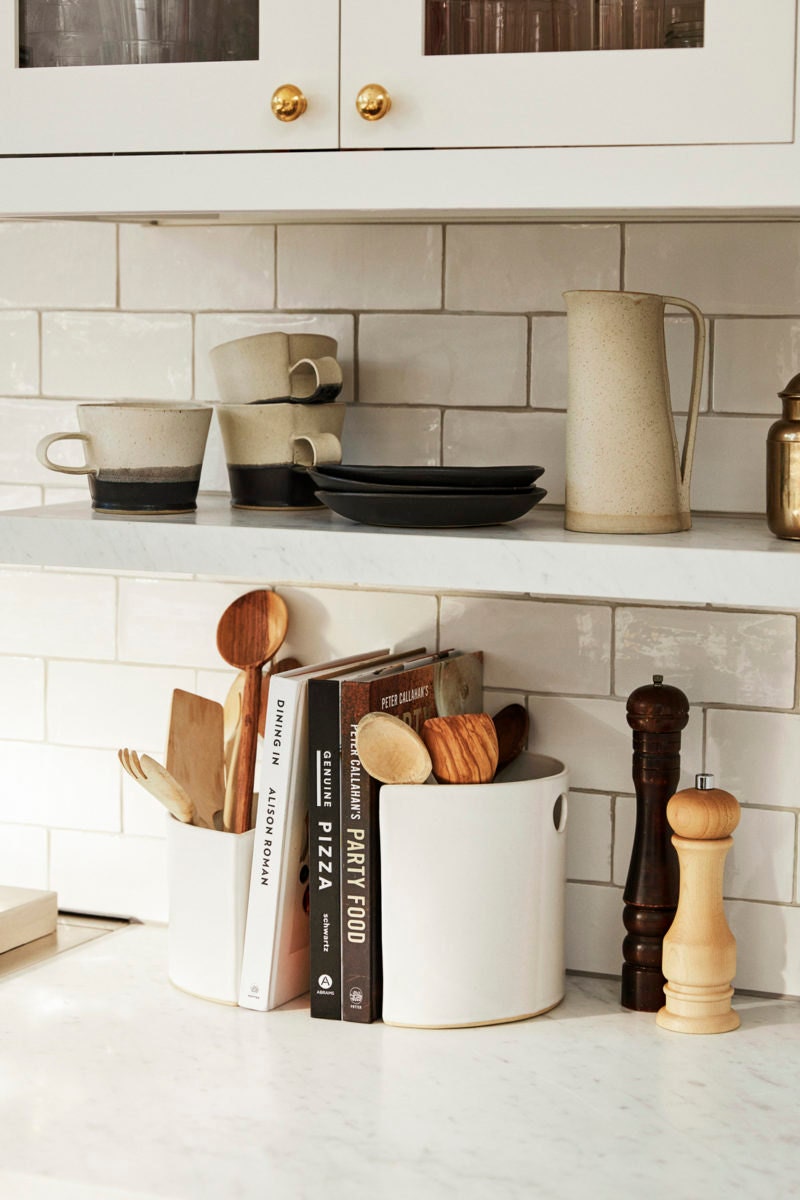 This season we're loving multi-functional ceramics in neutral hues, and a pair of cavernous utensil crocks looks just as great cradling your hand-carved walnut serving spoons as they do beautifully bookending your personal cooking library. A speckled stoneware pitcher in a subtle vanilla shade makes a sophisticated vessel for table water (or spiced nog!), but also holds its own as part of an open shelf-display—dried bouquet optional. Later, when the inevitable after-dinner drowsiness hits you, a set of minimalist black and white cup and saucers awaits a generous pour of hot coffee.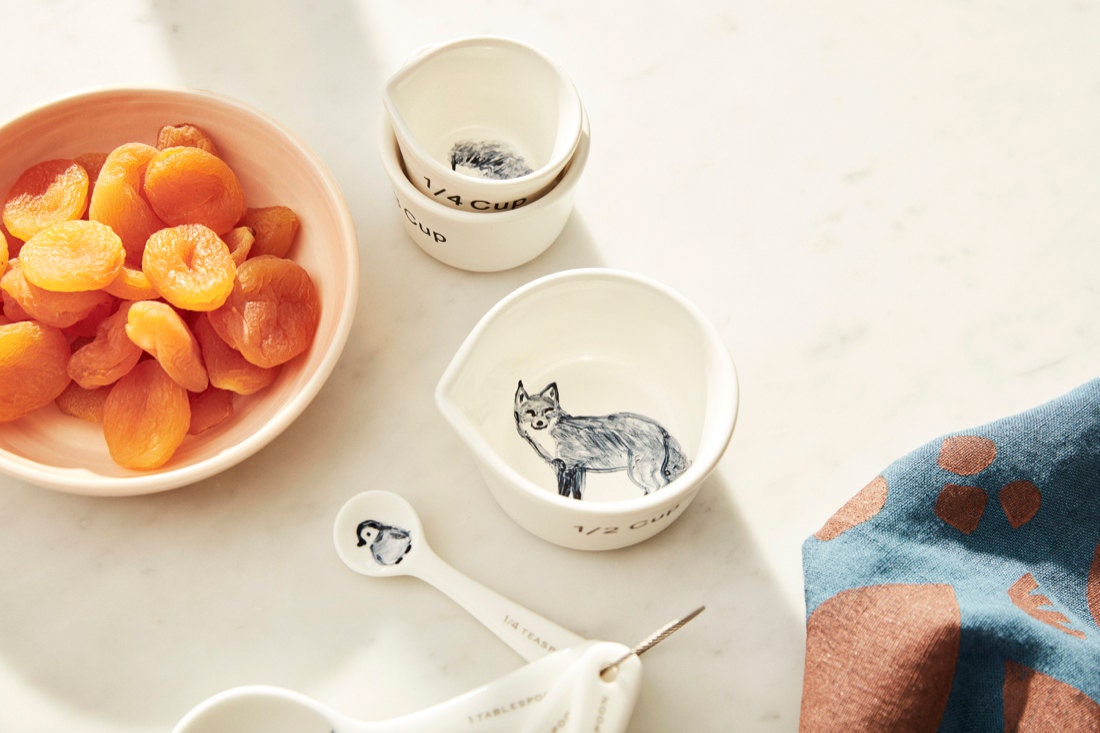 Add a pinch of playfulness to the mix with an enchanting set of hand-painted woodland-themed measuring cups—perfect for getting little ones excited to take part in their first big bake. Fill to the top with the necessary ingredients, and watch their surprise to discover friendly foxes, bears, and porcupines hiding underneath. The matching set of penguin spoons? Those are just for you.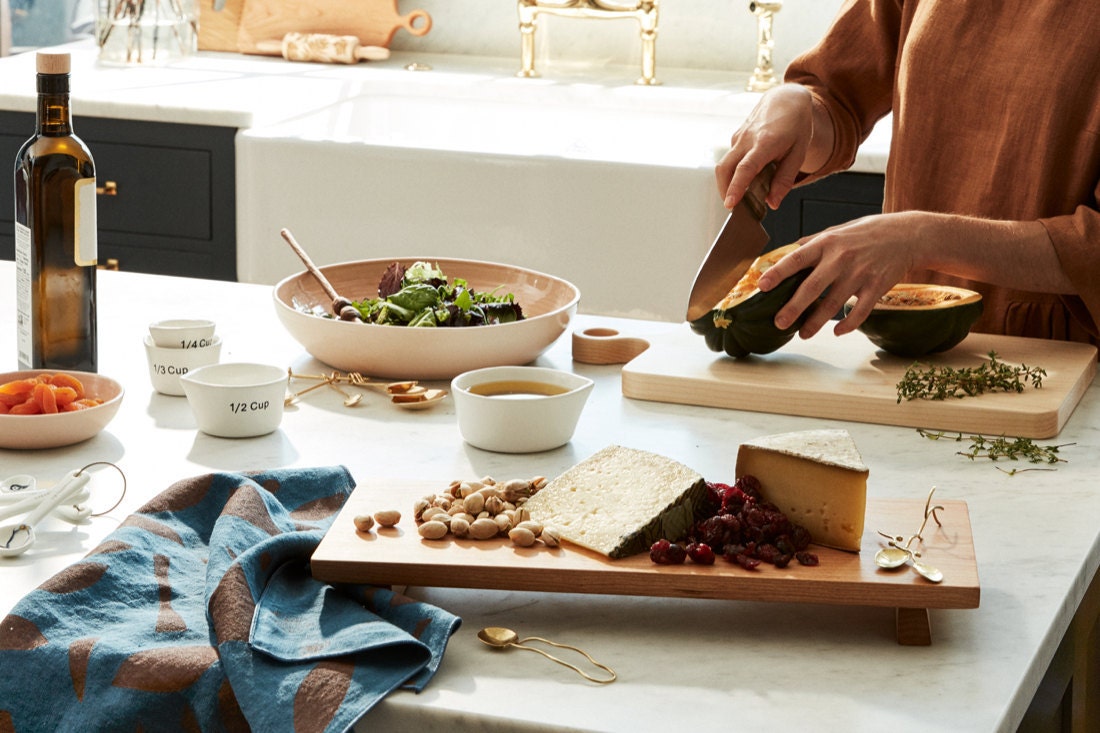 As family and friends begin to congregate around your kitchen island angling for a taste, you can maintain your focus knowing every detail has been carefully thought through. Eye-catching ceramic nesting bowls put the chic in serveware, while shining hammered brass spice spoons give every scoop of seasoning a hint of golden glam. And whether tossed over a shoulder or neatly folded on a rack, block-printed linen tea towels keep surfaces tidy while still looking crisp and stylish in front of guests. Finally, an elevated, modern cheese board (raised on wooden feet) is an elegant way to keep spectators' fingers occupied until the dinner bell rings and, at last, it's time to feast.
Photographs by Kate Mathis.