Take the guesswork out of seasonal shopping with our insider's guide to holiday gifts, decor, and more—and get ready to make holiday magic.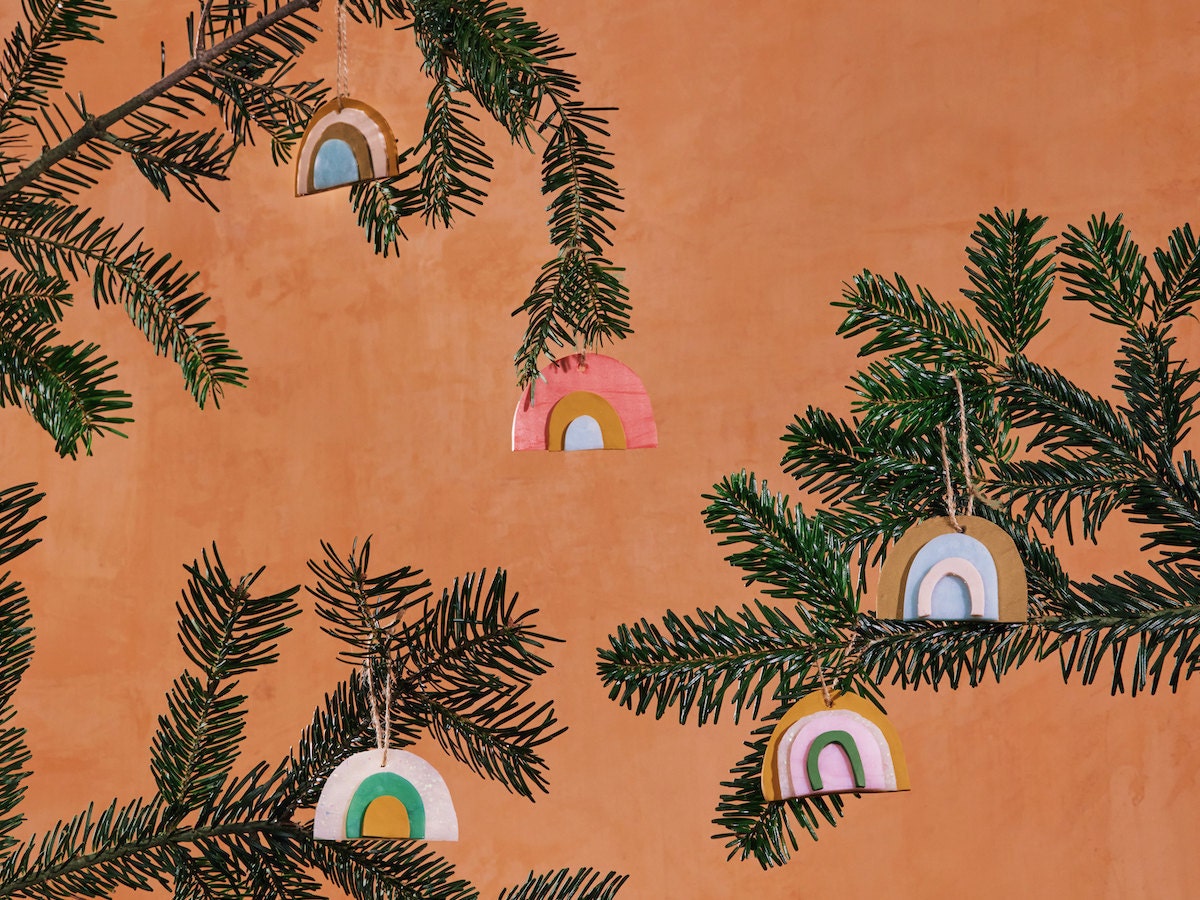 A colorful row of personalized stockings hanging from the mantel just so. Matching family pjs, complete with embroidered monograms. A freshly baked batch of cookies delivered to your neighbor's doorstep in a beautifully decorated box. Sometimes, it's the little things that make the biggest difference during the holidays. So to help you stay focused on the merry moments that matter, we've created a step-by-step seasonal shopping guide, chock full of expert ideas for getting all the details just right. "On Etsy, you can get the most unique and thoughtful gifts, plus one-of-a-kind trimmings and table settings guaranteed to make your home feel warm and bright," says Etsy Trend Expert Dayna Isom Johnson. "With a bit of basic planning and a few handy search suggestions, you're sure to find just what you need to get the festivities flowing."
The best part? To help you beat the holiday rush, we've packed this post with lots of bonus tips and tricks for finding the perfect gift and getting it quick. Whether you make your list early (and check your estimated delivery date twice) or brilliantly filter your search for "Ready to Ship" items, there's a meaningful, handmade find on Etsy that's bound to delight. Cutting it extra-close? Simple! Opt for downloadable prints, DIYs, or our personal favorite—gift cards—and you can still give them exactly what their heart desires.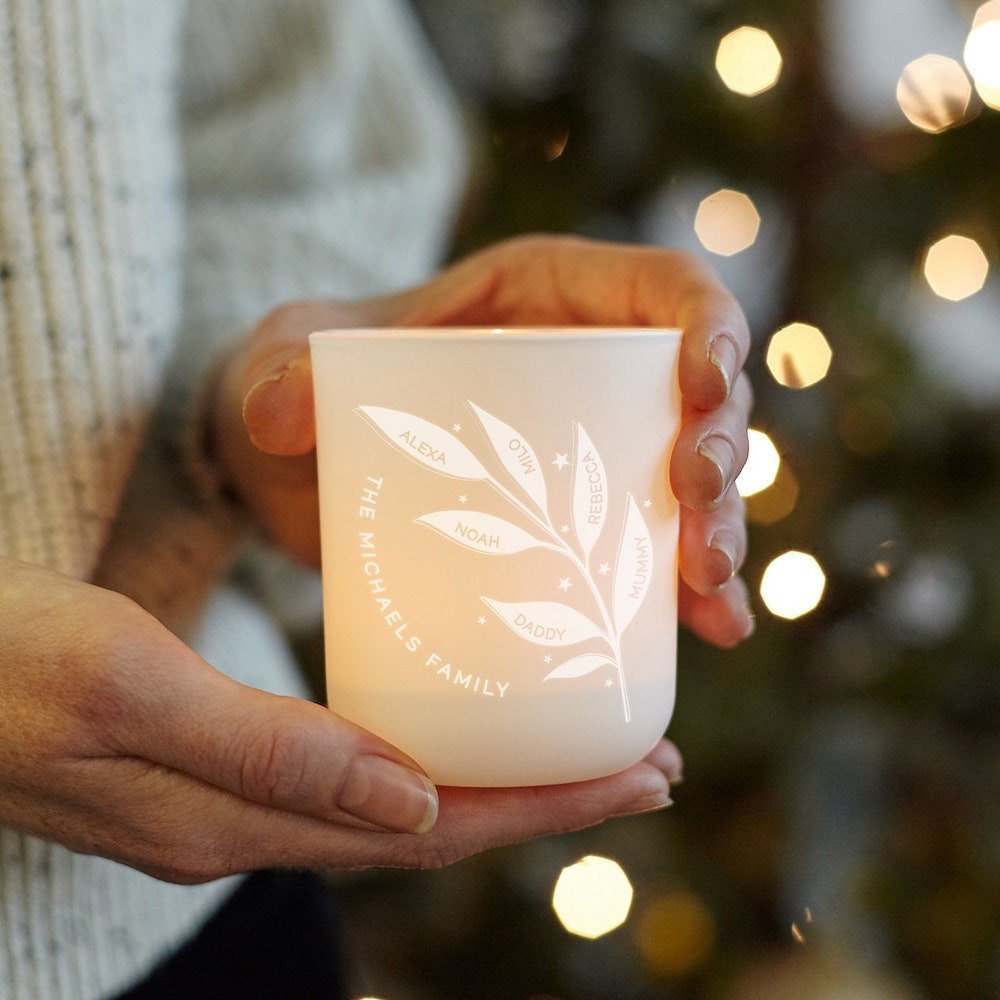 SHOP: Custom family tree tea light holder from Norma Dorothy, $25
If you want to level up your gift-giving game
Pro tips for gifting gold
The key to giving a truly memorable, meaningful gift is all about knowing your recipient. Think: What are some of their passions—and how can you help celebrate and encourage them? Then head on over to Etsy's new Gift Finder tool, select a hobby and a type of item from our list, and voila! Browse personalized present ideas for all sorts of creative interests—whether it's a hand-painted dog ornament for your favorite foster family or an astrological art print for a serious stargazer.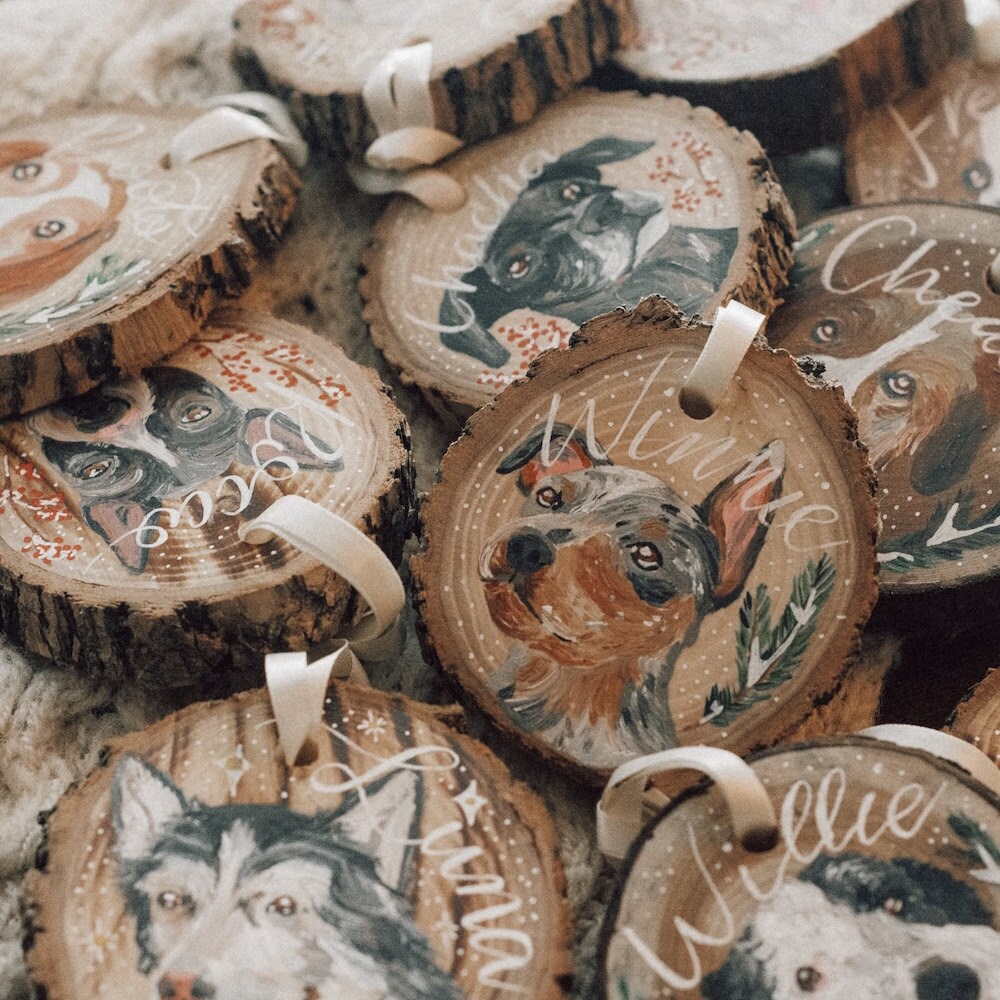 SHOP: Hand-painted dog ornaments from Third Rodeo Creative, $50 each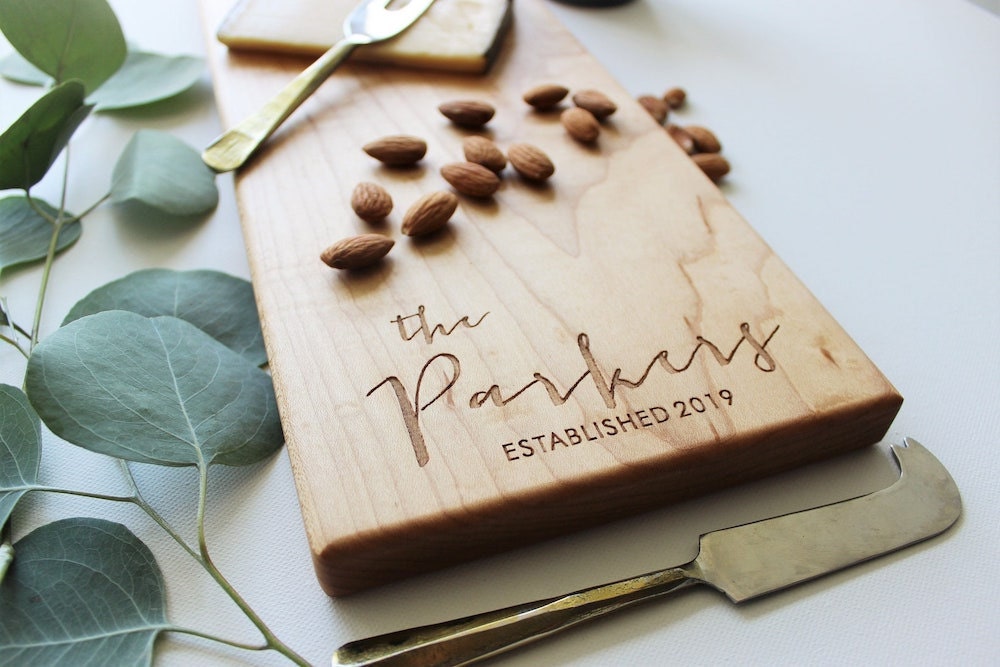 SHOP: Custom charcuterie board from Sugar Tree Gallery, from $48
And if you really want to make them feel seen and appreciated, consider baking in a little extra time to get something special handcrafted just for them. Many Etsy sellers are more than willing to collaborate on some made-to-order magic, and thanks to their skill and imagination, the types of items you can get fashioned from scratch these days are truly an inspiration. This year, we have our eye on engraved charcuterie boards, kid-friendly name puzzles and mom-approved name necklaces, charming illustrated ceramic mugs, and frame-worthy family, pet, and house portraits.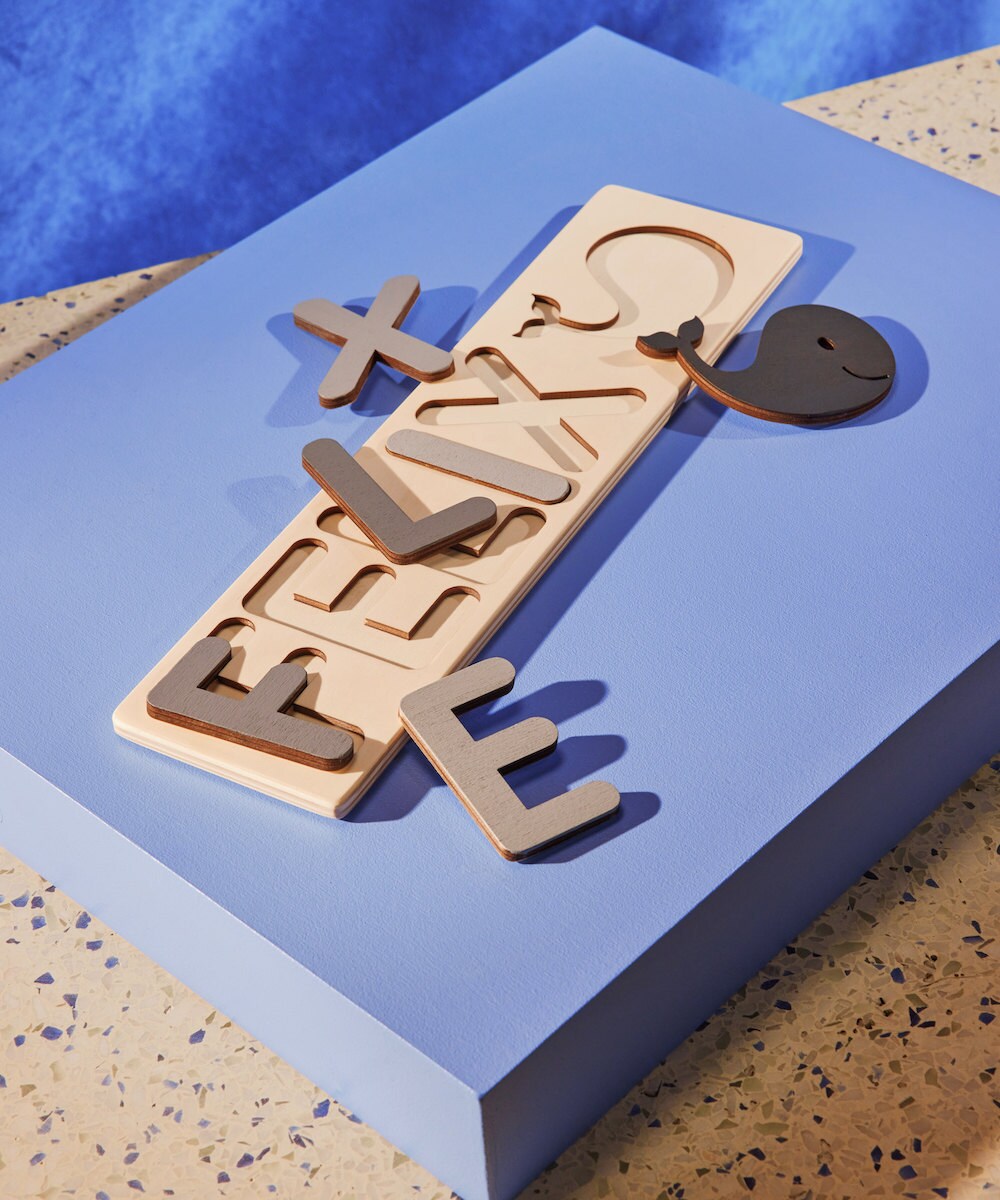 SHOP: Personalized name puzzle from Happy Nala, from $8
Tip: Thanks to new flexible payment options from Klarna for select items on Etsy, US-based buyers can start crossing gifts off their lists now and pay for them later (terms and conditions apply).
Not sure you want to go completely custom? Etsy also offers a treasure trove of lightly personalized presents that still feel unique to your giftee, but don't require as long of a lead time. Thoughtful options include birthstone or initial jewelry, zodiac-themed tokens, and city- or state-specific pieces that let the recipient show off their hometown pride.
For more fine-tuned ideas, we turned to Etsy's director of merchandising, Mary Andrews Vidra, who gave us the scoop on how to search for seasonal swag for every special someone. "Try 'gifts for mom', 'gifts for grandpa', or 'gifts for pets', then filter your results by 'personalizable,'"she says.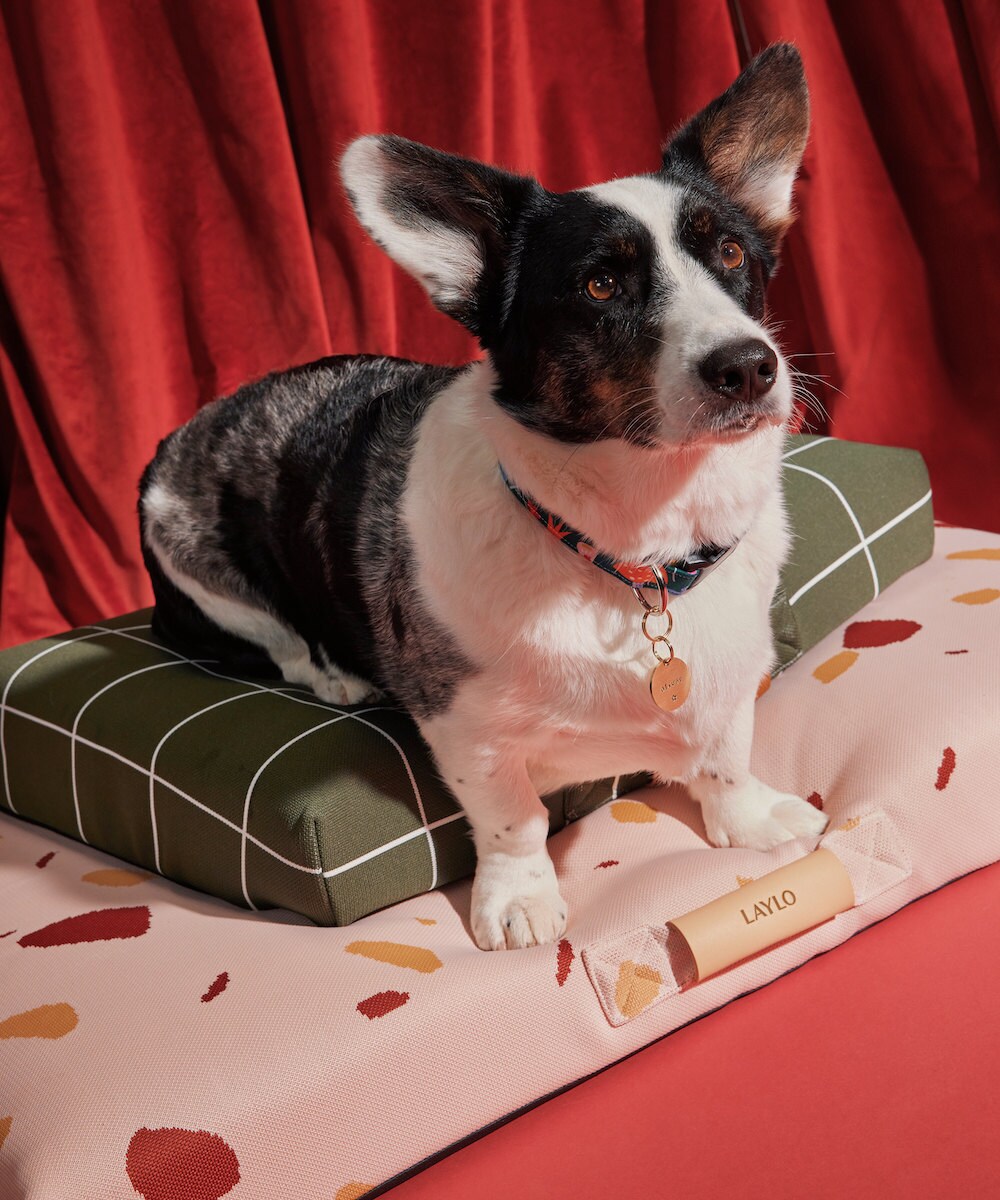 SHOP: Scandinavian floral dog collar from Pocky and Pepper, from $20; personalized dog tag from Castor and Noble, from $35; terrazzo dog bed from Laylo Pets, from $75;
For the retro fans on your gift list, throwback faves like old-school botanical prints and art-deco-style cocktail rings make for delightfully different presents. Thanks to their ready-made nature, vintage pieces also often boast the bonus benefit of quick turnaround times—but remember, once they're gone, they're gone for good, so when you see something you love, don't wait to snag it!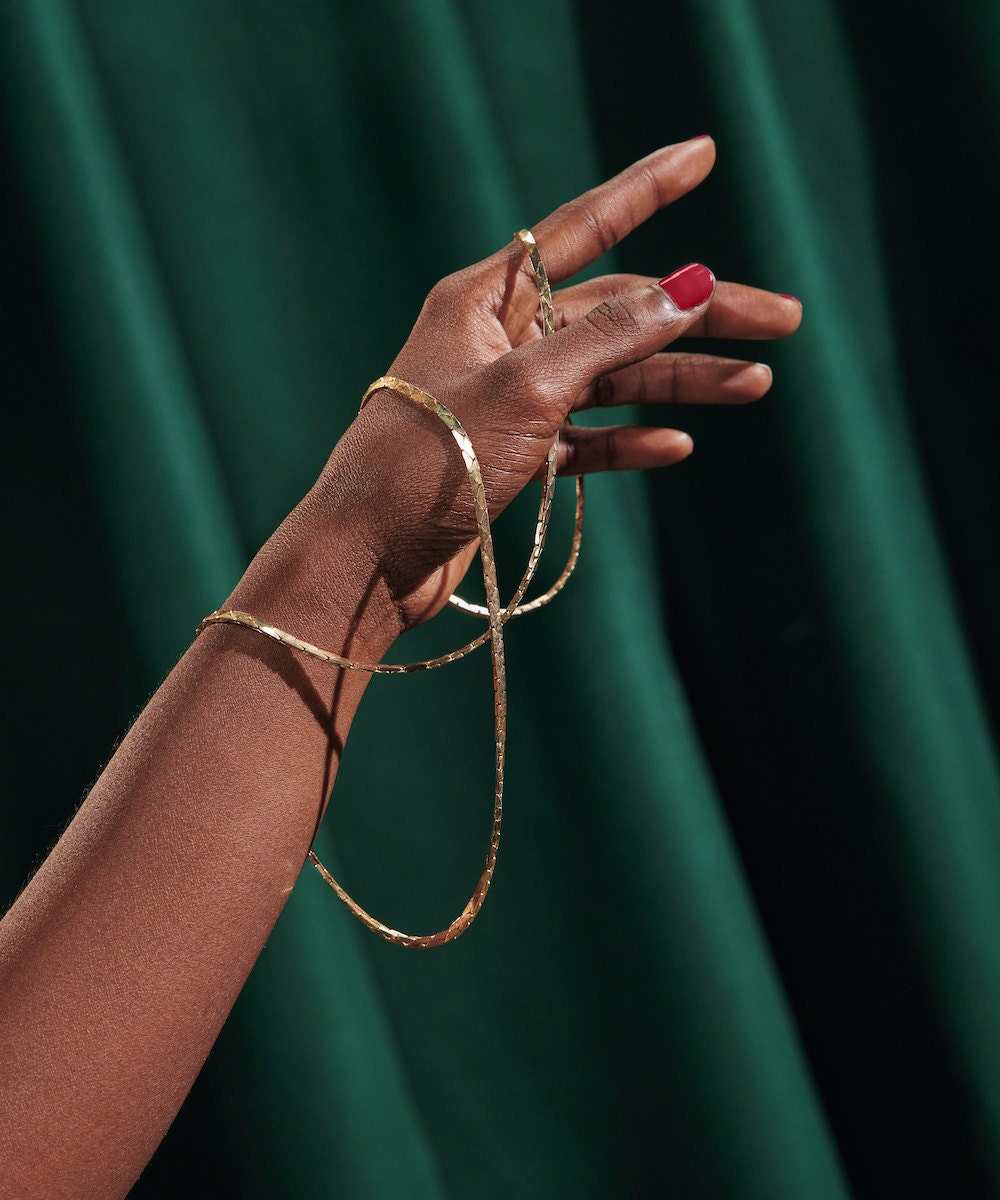 SHOP: Vintage gold tone herringbone necklace from BLACKFEMME, $52
Tip: Many sellers offer gorgeous gift wrap options and would be happy to send your order right to its recipient (often with a handwritten note!). Check individual listings for details, and reach out to sellers directly with any questions or special requests.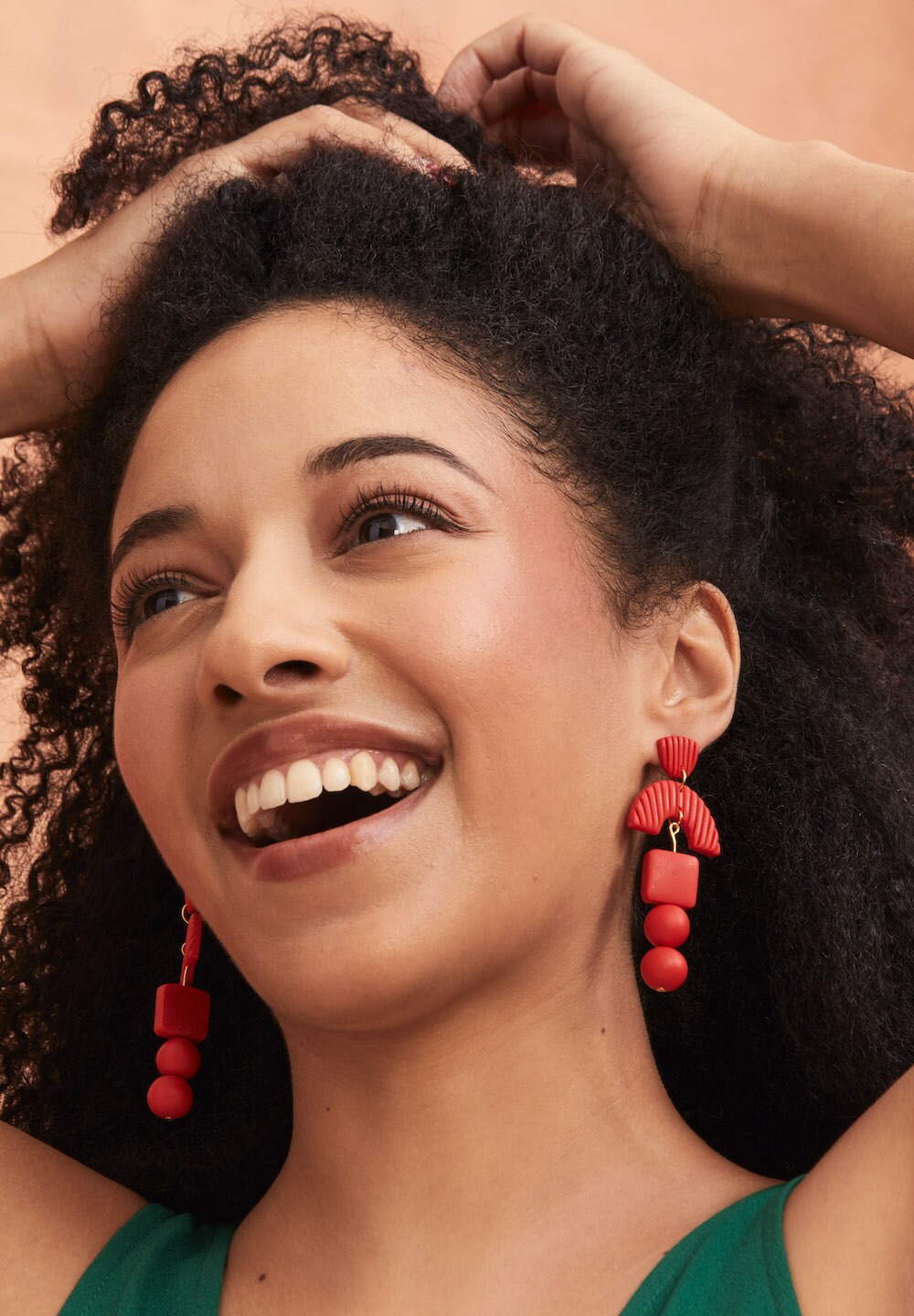 SHOP: Statement earrings from Clay Jewels by Jules, $33
A stunning pair of statement earrings for your super-stylish bestie. An extra-cozy throw blanket covered in sushi for your takeout-obsessed aunt. Scarves shaped like swans for your bird-watching nephews. Etsy is brimming with one-of-a-kind, ready-to-ship presents guaranteed to feel just as special as the custom kind. One of our fave feel-good trends that's making a comeback this season? Care packages loaded with cooking, crafting, and spa-day staples, intentionally assembled and mailed directly to some of the hardworking everyday heroes in our lives (looking at you, teachers). And for more surefire finds, be sure to check out Etsy's curated holiday gift guides.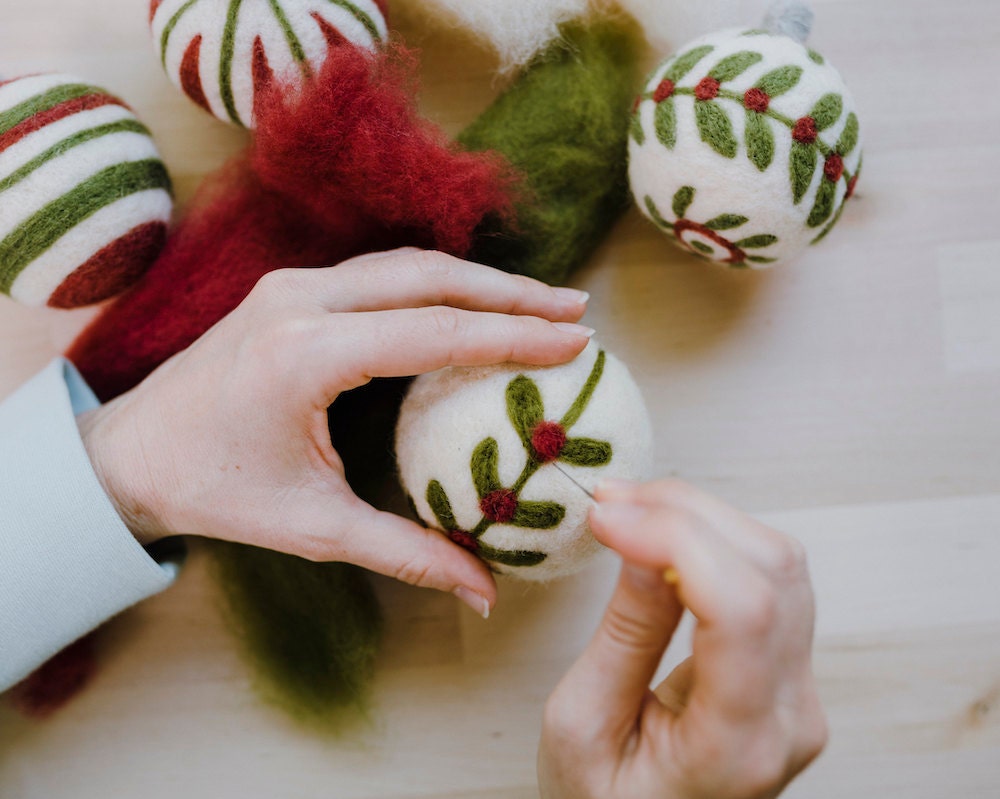 SHOP: Needle felted ornament craft kit from Felted Sky, from $35
Tip: Look for the Star Seller badge to identify sellers who consistently go above and beyond when it comes to the customer experience, from speedy responses and reliable shipping to lots of 5-star ratings.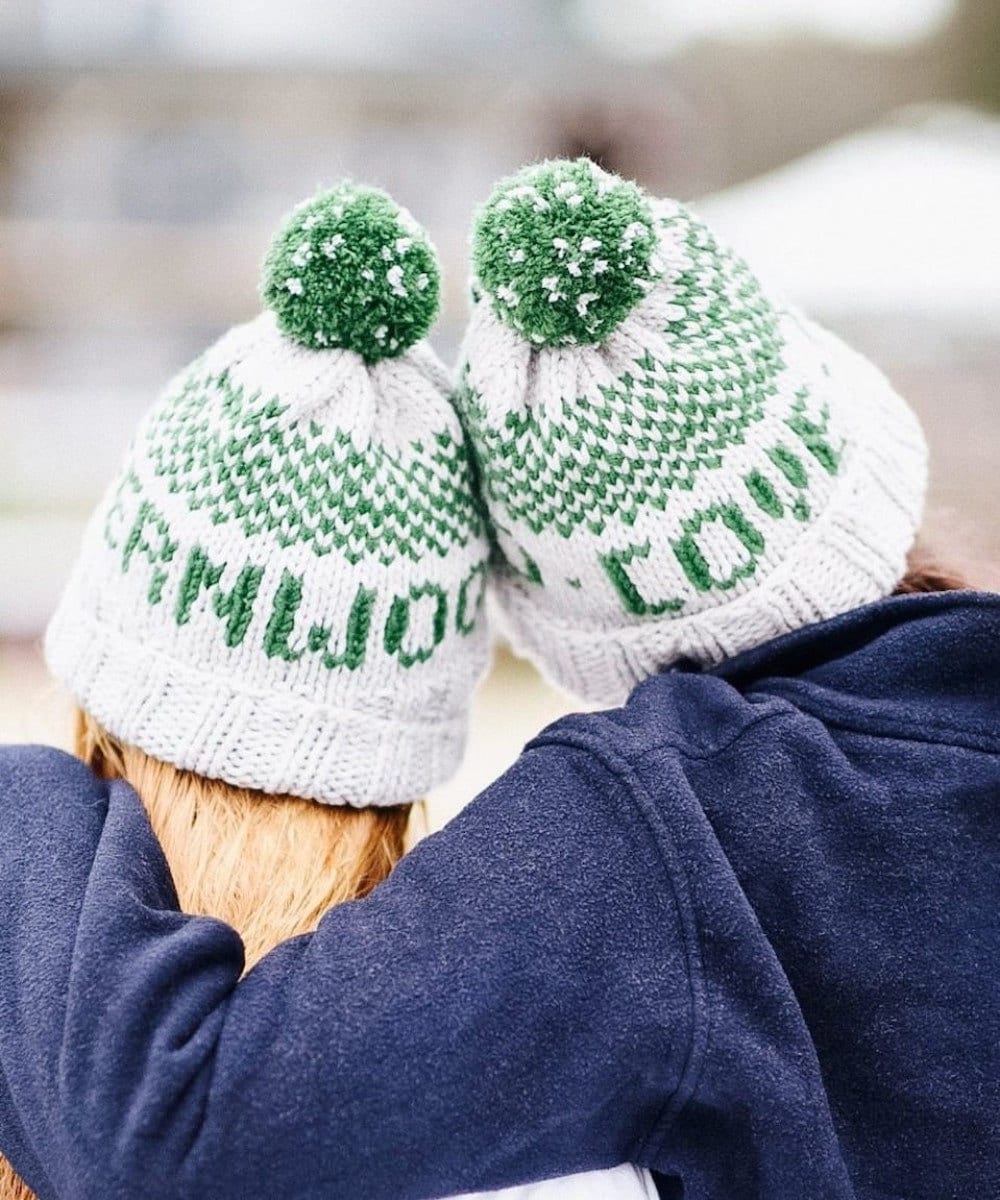 SHOP: Custom knit cap from Plexida, from $63
When to shop
If you're going for something totally custom, remember that made-to-order gems can take a bit more time to whip up (and may be offered in limited quantities each season), so beginning your search in October is a good idea.
For personalized pieces, earlier is always better, but in general, we recommend you place your personalized orders in November. Either way, make sure to keep an eye on each seller's estimated arrival date, conveniently located at the bottom of any listing you're browsing, for help ensuring your order will arrive on time.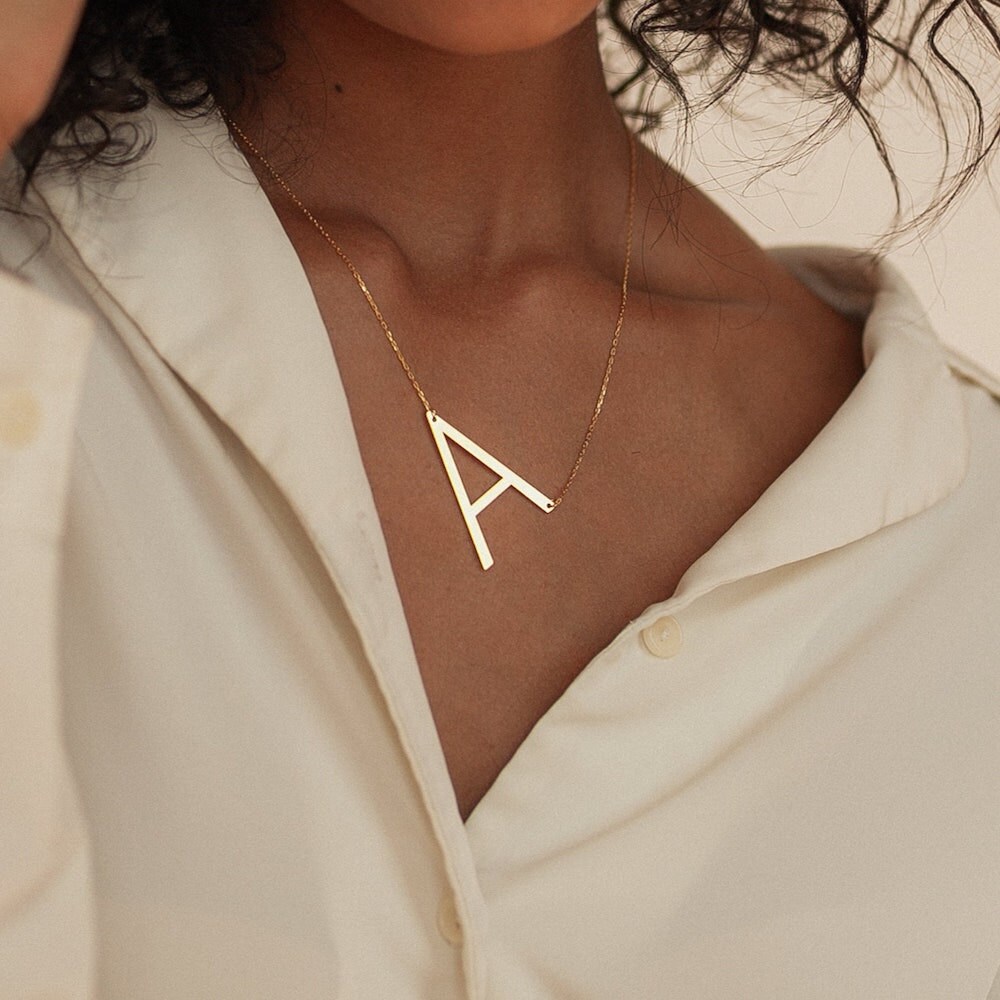 SHOP: Big initial necklace from Caitlyn Minimalist, from $32
Tip: Need a gift delivered super-fast? You can filter your search results to find items ready to ship in as little as one business day. You can also filter by shop location to find Etsy sellers in your area, which may help reduce shipping times. (It's also a great way to support local artists!)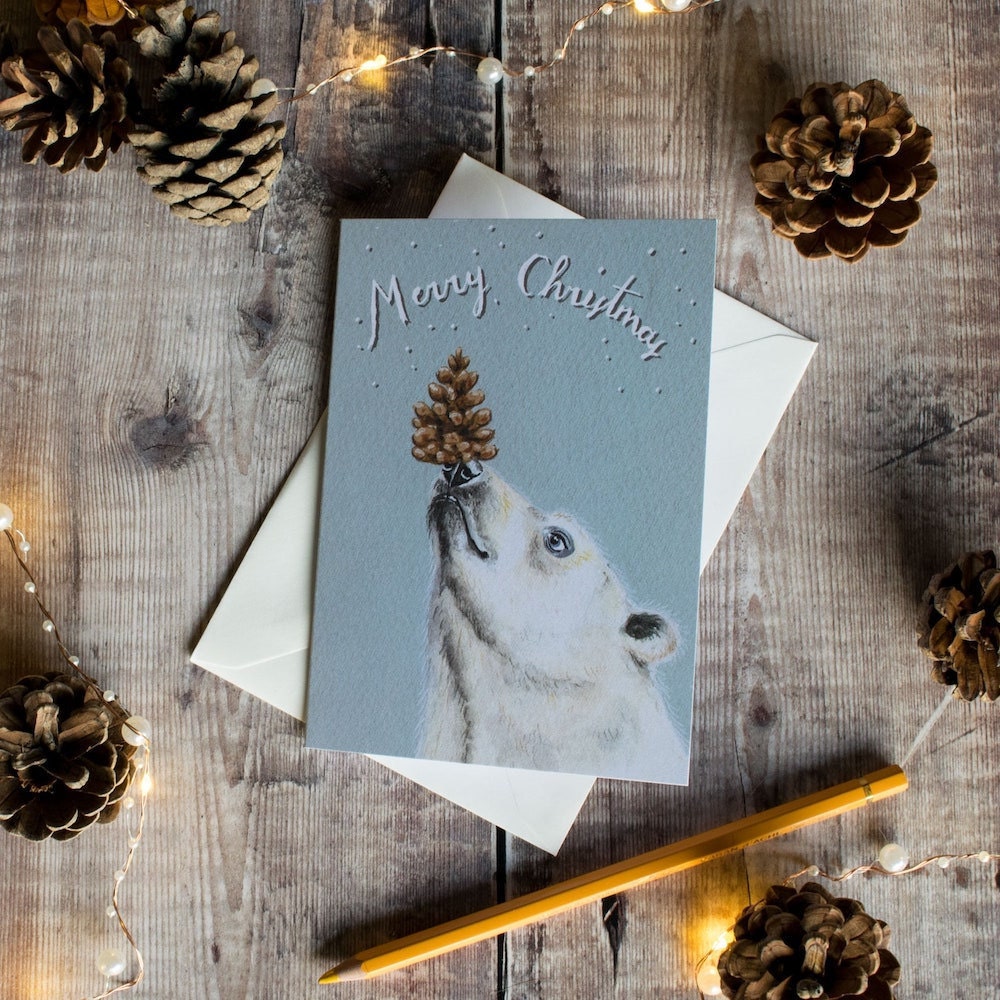 SHOP: Polar bear with a pinecone Christmas card from Kayleigh Radcliffe, $4
Reading this the night before Christmas? Don't stress! For the inevitable last-minute need or two, sellers are at-the-ready with a slew of creative solutions. "This is where Etsy can really come to the rescue," Mary says. Whether you need a cheerful greeting card or a last-minute white elephant gift, save time and money with a budget-friendly printable option. You can even purchase a downloadable piece of wall art, print it at home, and frame it for a quick but memorable present.
Tip: Looking to save on meaningful items? Shop our Early Holiday Sales Event and get 20%+ off one-of-a-kind finds. And remember: when searching on Etsy, you can always filter your results to see items on sale or with free shipping.
If you still need to hone your holiday decor
Pro tips for decorating success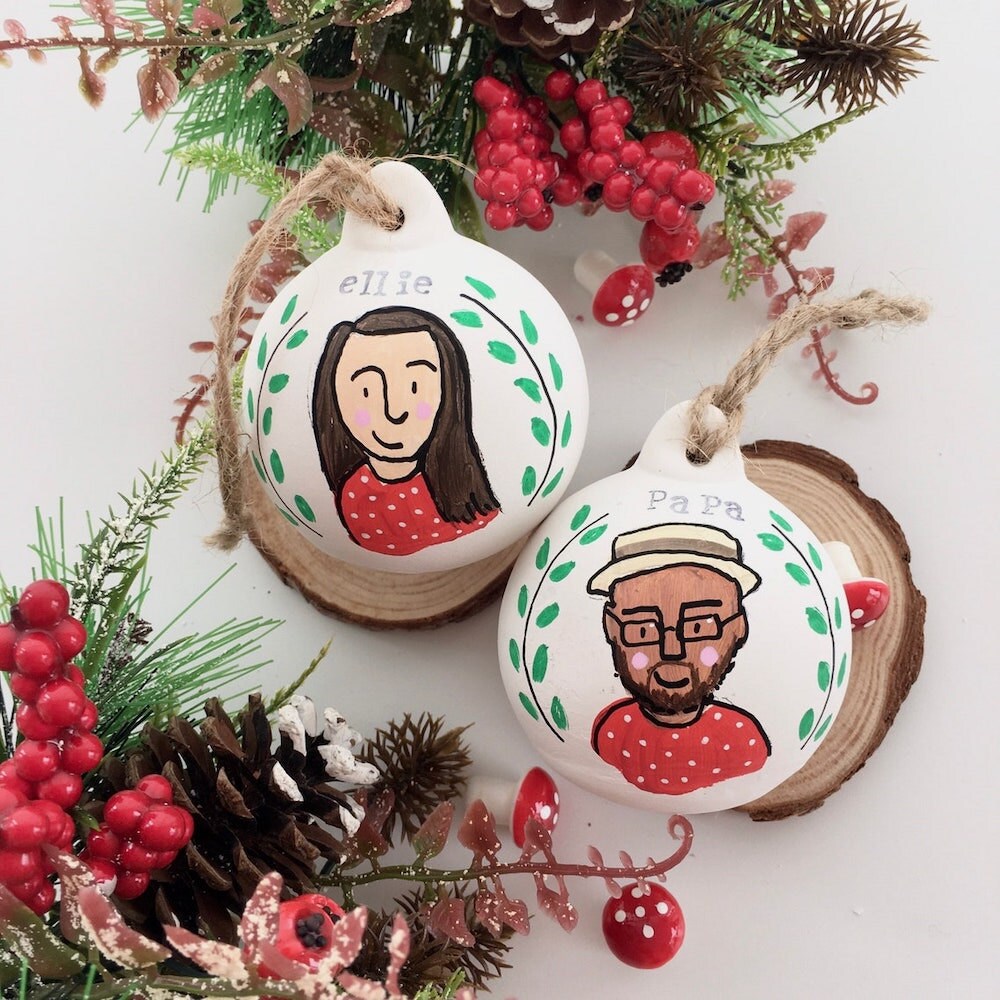 SHOP: Personalized portrait bauble ornament from Gemma Eve Illustrator, from $32
From the twinkling lights and heirloom ornaments to the pleasant aroma of fresh pine, there's nothing quite like stepping into a festively furnished space to get the season kicked off right. To set a spirits-lifting scene, it's all about choosing thoughtful, meaningful pieces that complement your everyday life.
"No matter what your personal style is, you can find holiday decor to match it," says Mary. "Try adding terms like 'classic', 'modern', 'alternative', 'colorful', 'minimalist', 'boho', 'farmhouse', or 'Scandinavian' to find items that fit with your existing aesthetic," she says.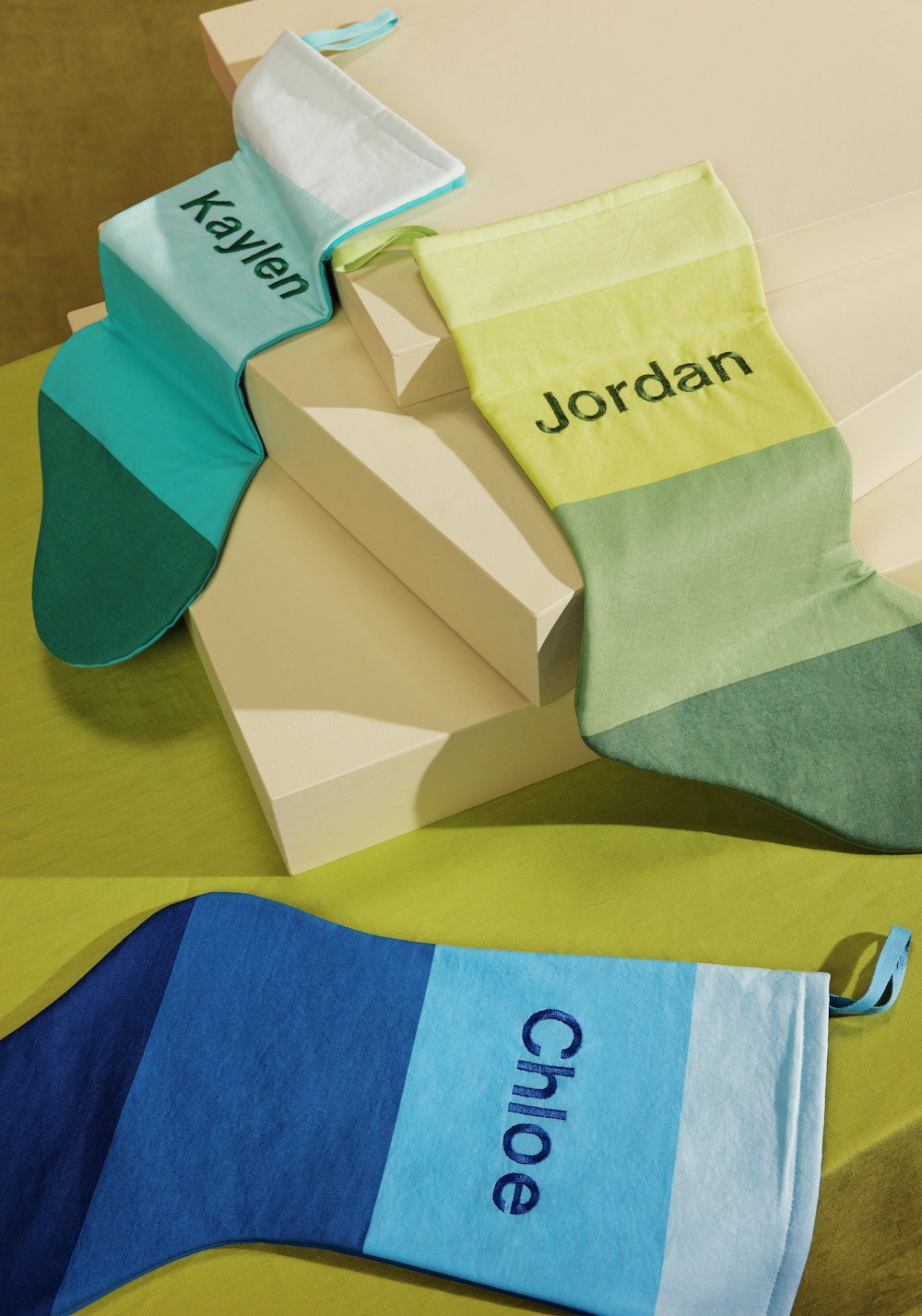 SHOP: Colorful stockings from Good Wishes Quilts, from $47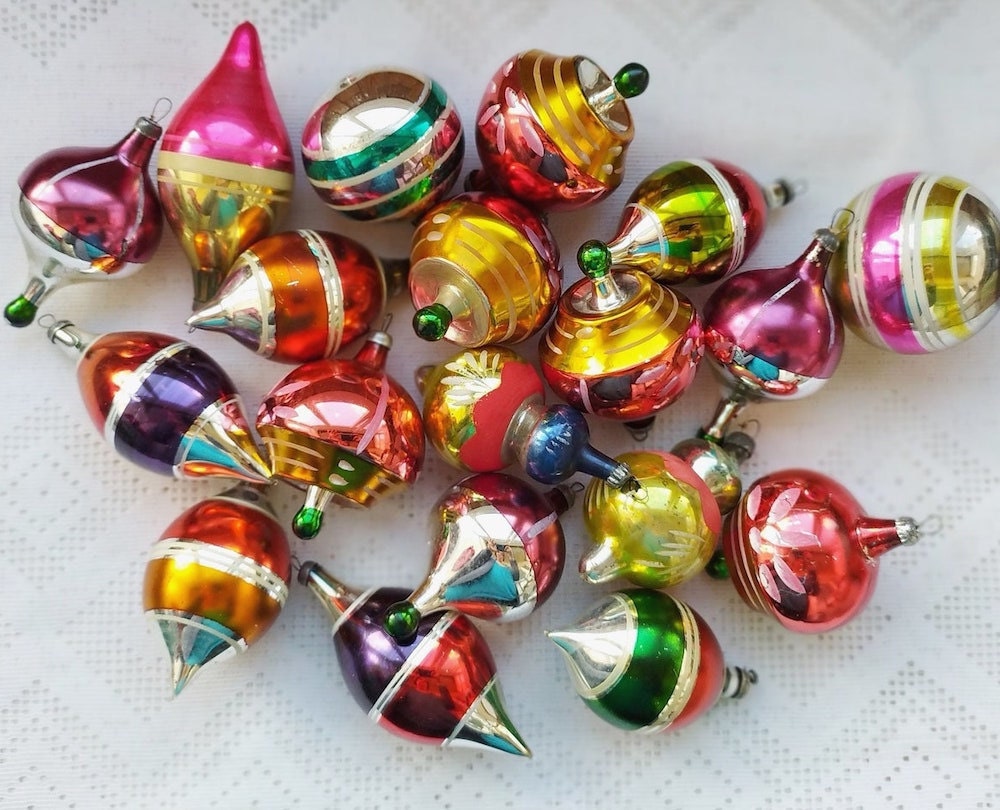 SHOP: Vintage glass ornaments from Old Box, from $5 each
If you really want to dial up the nostalgic yuletide vibes, why not try decorating with vintage? From glitter-encrusted putz houses to memorable mercury glass ornaments, Etsy is a wonderland of vintage holiday decor with unparalleled one-of-a-kind appeal. After all, there's nothing more personal than a piece with a story that makes us smile.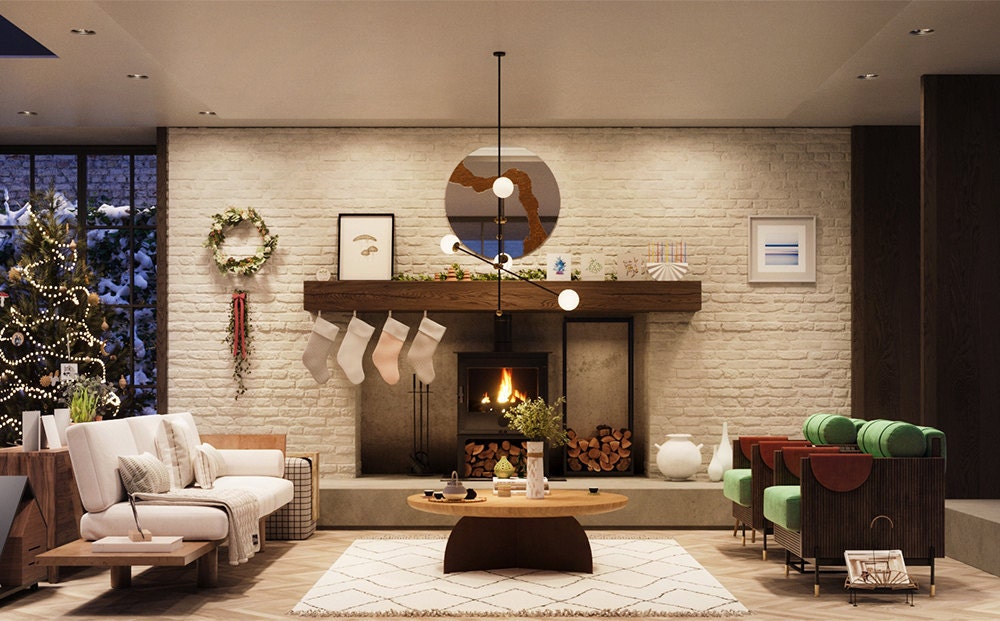 Tip: Still not sure how to characterize your seasonal style? Take yourself on a tour of The Etsy House—our brand-new, totally immersive shopping experience—and see how some of our favorite holiday accents and seasonal essentials look before you buy. Be sure to click through every digital nook and cranny to spot (and shop!) over 800 inspirational ideas. Who knows, you may even find a gift for that special someone in your life!
When to shop
With fall in full swing and Thanksgiving just around the corner, October is the perfect time to begin dreaming about decorating your home for the holidays. Start with versatile staples you can use throughout the season—think modern wreaths, playful doormats, and cozy essentials like chunky knit throws and seasonal scented candles—to establish a decor foundation that effortlessly transitions from autumn to holiday.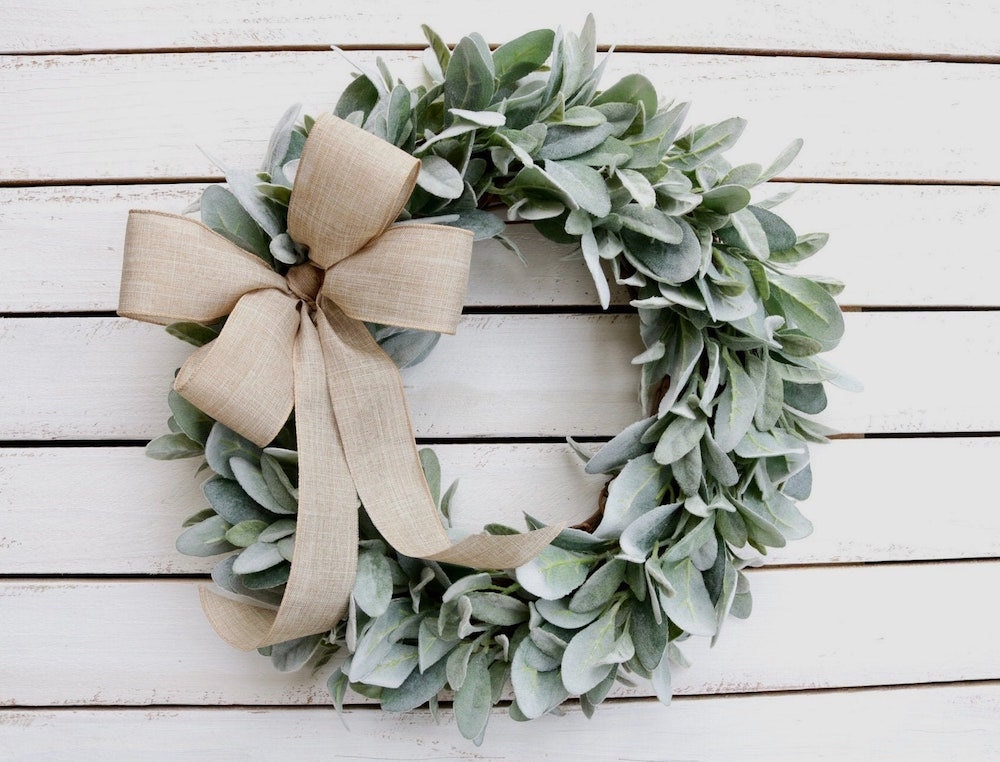 SHOP: Winter farmhouse wreath from Lychee Wreath Boutique, from $55
Then, go ahead and stock up on handmade tree skirts and stockings that reflect your unique taste (checkerboard, anyone?) so you'll be ready to up the merry ante as December nears. And don't forget to grab one of our favorite all-season accents—the advent calendar—so you can begin poking around inside for tiny surprises starting right on December 1st.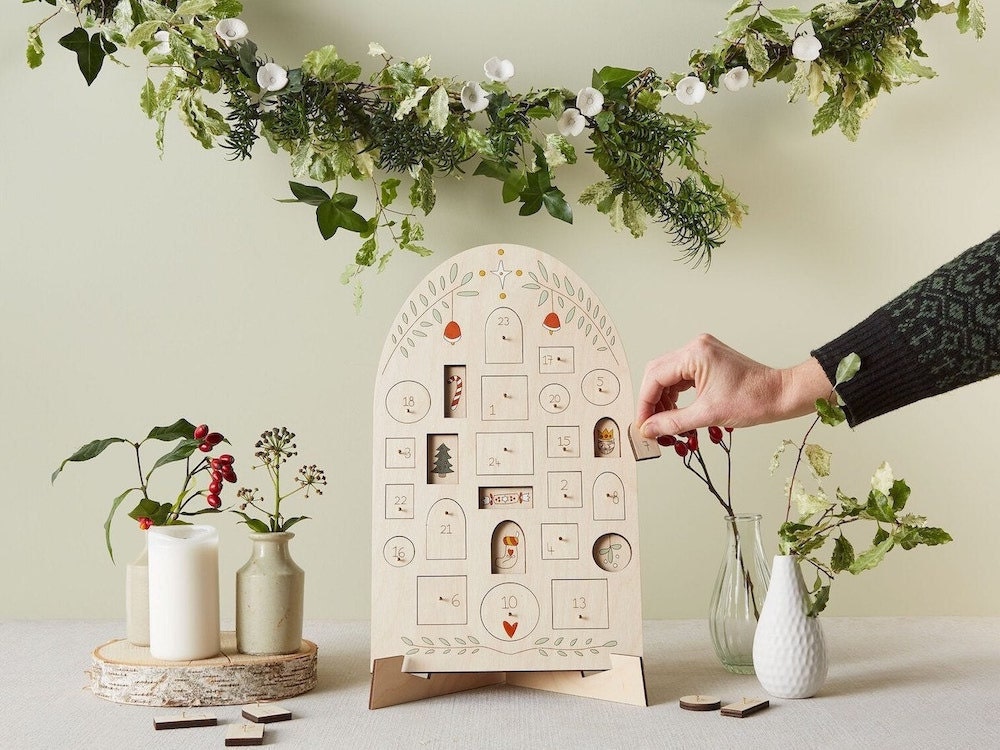 SHOP: Heirloom wooden advent calendar from Anna Wiscombe, $354
​​October is also a great time to pre-order personalized milestone ornaments to commemorate a recent wedding, new baby, or first family home. Simply get your request in early, and it'll be ready to hang front and center during your tree-trimming ceremony.
Tip: Download the Etsy app for quick shopping throughout the holiday season—and early access to our sales!
If you wish to elevate your entertaining essentials
Pro tips for hosting and toasting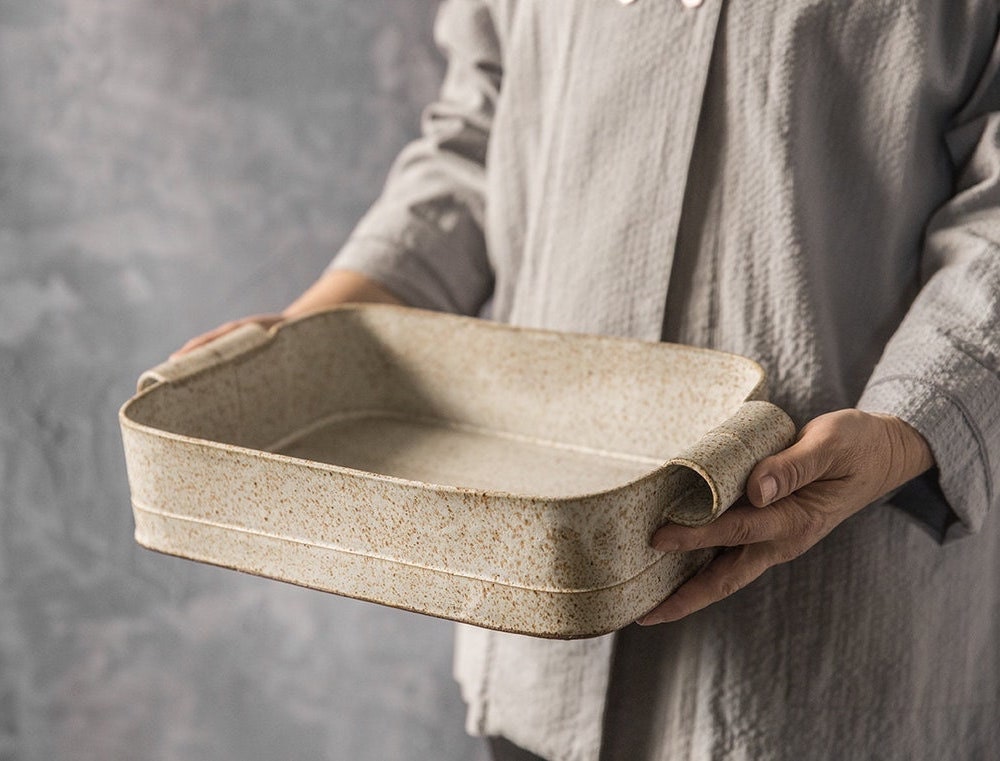 SHOP: Ceramic casserole dish from Free Folding, $180
Once the wreath is up and the gifts are wrapped, it's time to prep for coming together with loved ones. And as we begin to gather again, making the most of those precious moments feels more important than ever. Whether you're reviving cozy old traditions or creating new ones, setting a festive scene starts with a few simple merry must-haves for mealtime. From rustic casserole dishes worthy of your grandma's famous sweet potato soufflé to a charcuterie board etched with a custom family crest, each handmade heirloom piece becomes imbued with holiday memories the more you use it.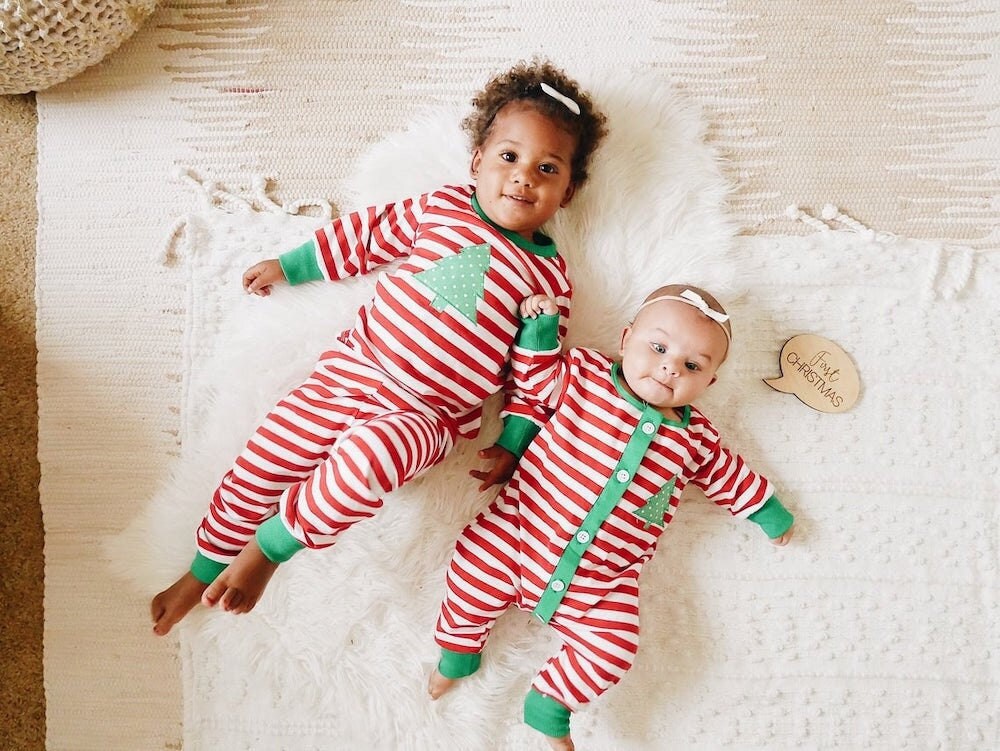 SHOP: Kids' matching Christmas PJs from Sugar Bee Clothing, from $30
The hearty holly-jolly vibes don't have to end when the feast does, either. "We're showing off our festive spirit every chance we get," Dayna says. From matching pajama sets perfect for greeting cards or 'gram posts, to comfy Christmas sweaters (including over-the-top vintage pullovers from the '80s and '90s and modern monogrammed sweatshirts), Etsy offers plentiful cheerful choices for snuggling up on the couch post-pie.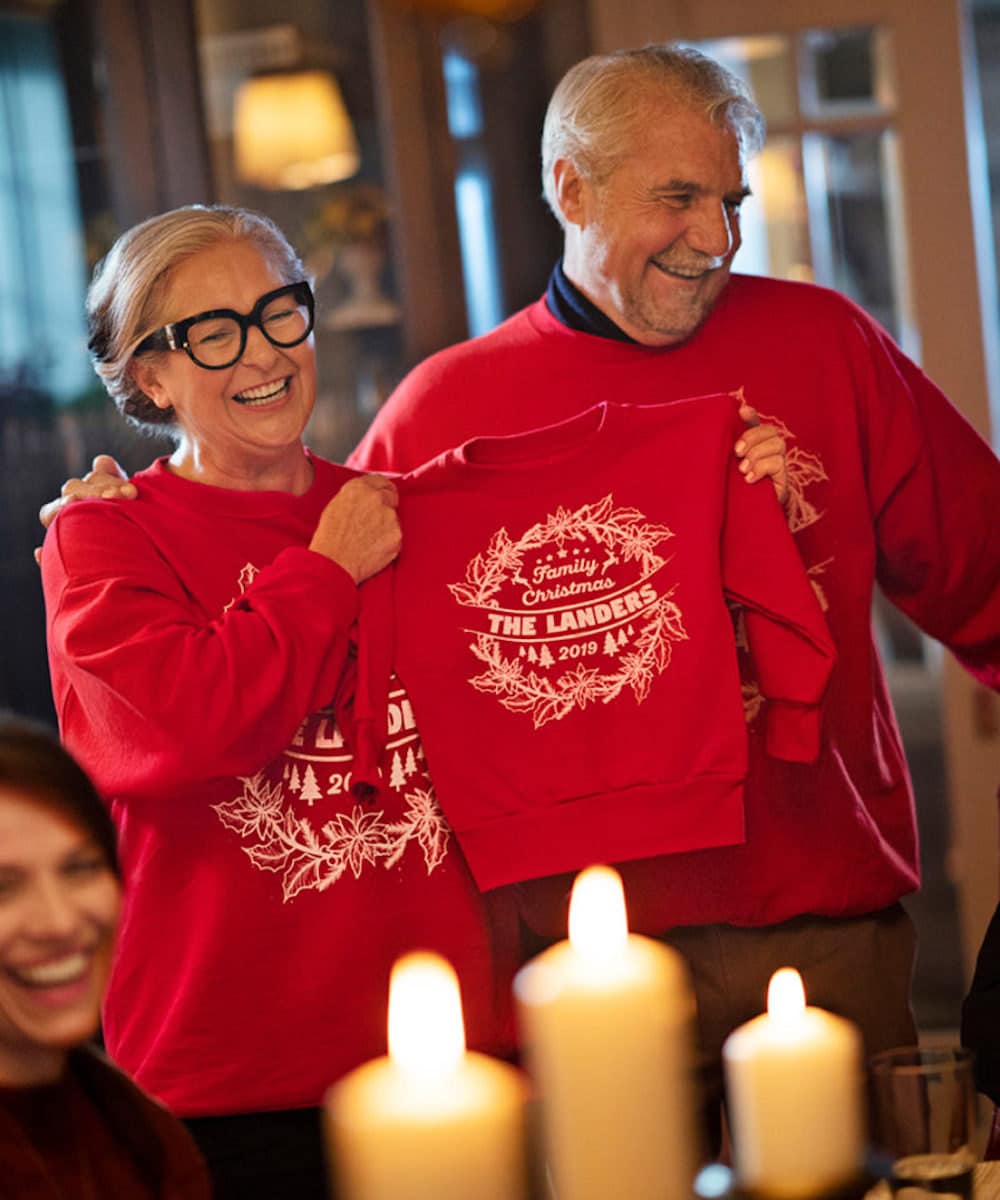 SHOP: Family Christmas sweatshirts from Customize Fast, from $32
Still, there's no reason you can't also bring a little glitz and glamour to your at-home festivities, if you like. "I love the idea of going all-out and getting dressed to the nines in your favorite cocktail dress even if you're just cheersing your cocoa in the kitchen with your kids," says Mary. "Or embrace a happy medium and top off your loungewear with a crystal-studded headband or gemstone-encrusted brooch." Top off your table spread with a similarly special centerpiece like a modern advent wreath or warmly glowing family-tree tea light, and for a final flourish, a set of printable place cards adds instant elegance.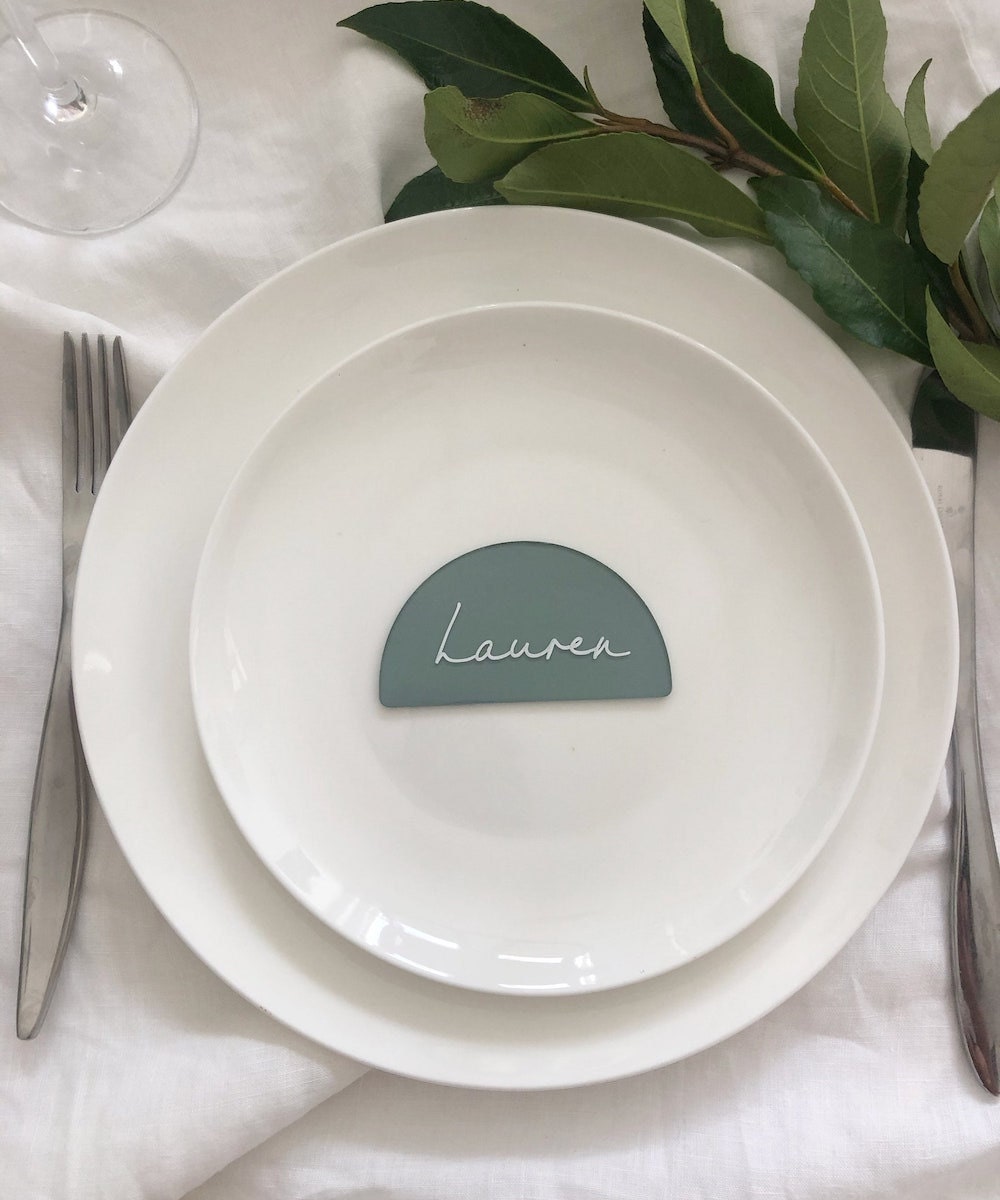 SHOP: Arch place cards from The Paper Tales Co., $3 each
When to shop
To ensure they arrive in time for the main event, be sure to request made-to-order entertaining staples well in advance. Confirm current turnaround times for engravings, monograms, and other small personalizations. If you're in a pinch, filter your search by estimated arrival date and keep your eyes peeled for items that are ready to ship.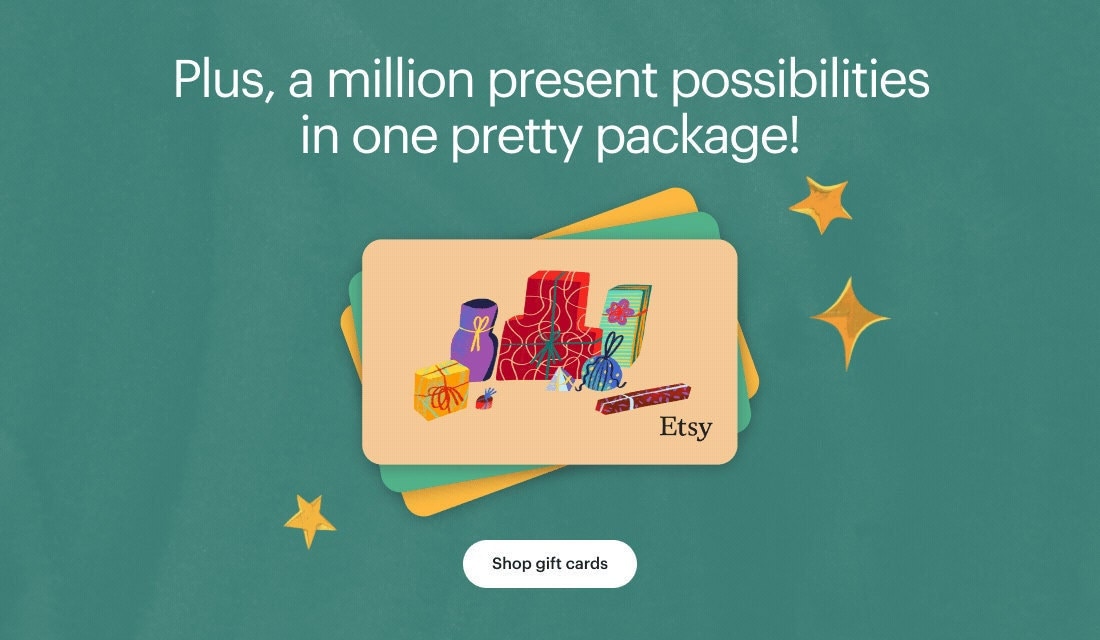 Editor's note, October 2021: This story, originally published in October 2019, has been updated to reflect the latest decor and gifting trends and shopping guidance for the 2021 holiday season.