Uncover your favorite interior decorating styles with this inspirational guide—and find out how to implement them for a home refresh.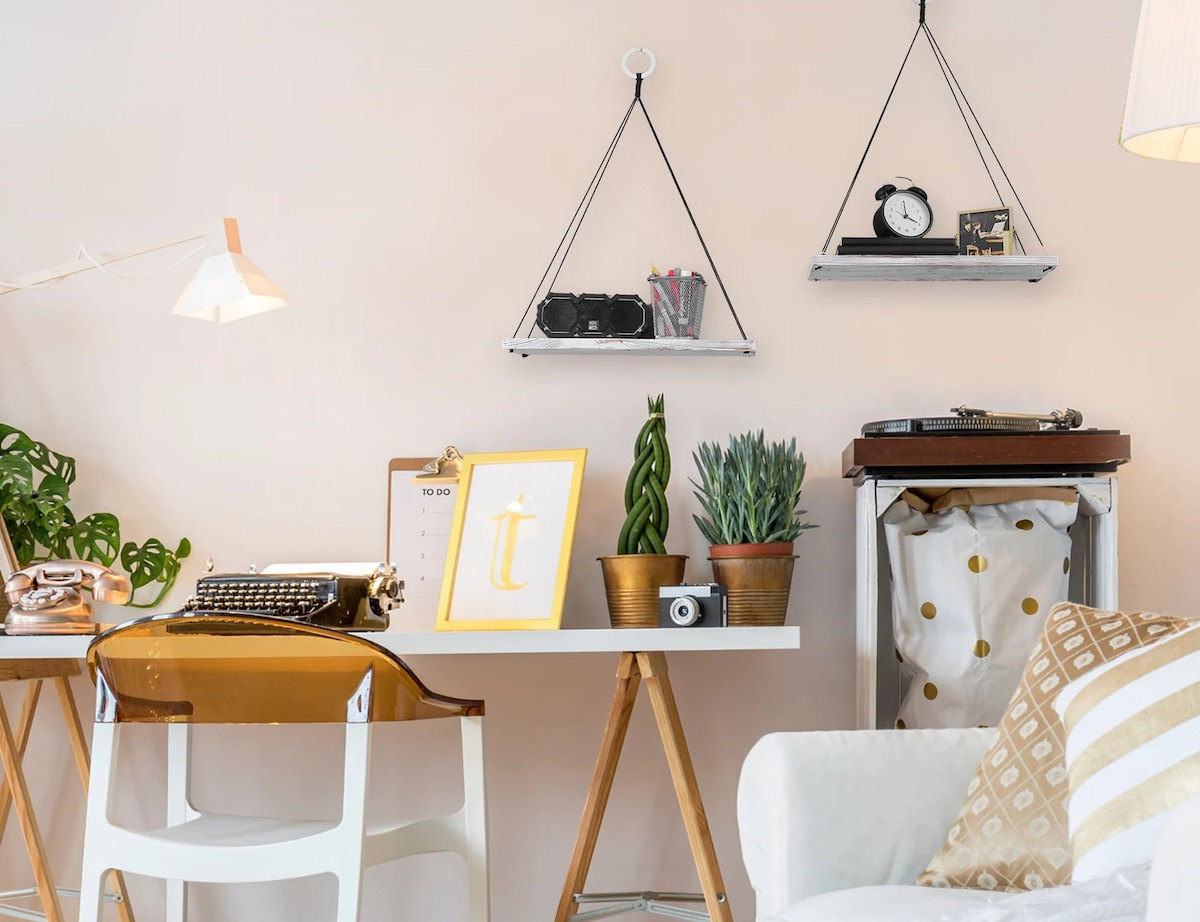 Thinking about a home decor makeover this year but feeling a smidge overwhelmed by the infinite number of possibilities? Looking for a little inspiration for your decorating style? Unless you're a professional interior decorator or a voracious consumer of home decor magazines, you may know what you like—but not what to call it or how to find it. But never fear: That's where we come in.
We're here to help by breaking down the most enduring home decor styles, the elements that define them, and tips for pulling off the look in your own rooms. Pick a single style to focus on, or combine elements you like from multiple decor styles for an eclectic aesthetic. No matter what you're digging these days, you'll find a small shop on Etsy that has just the thing.
Bohemian style decor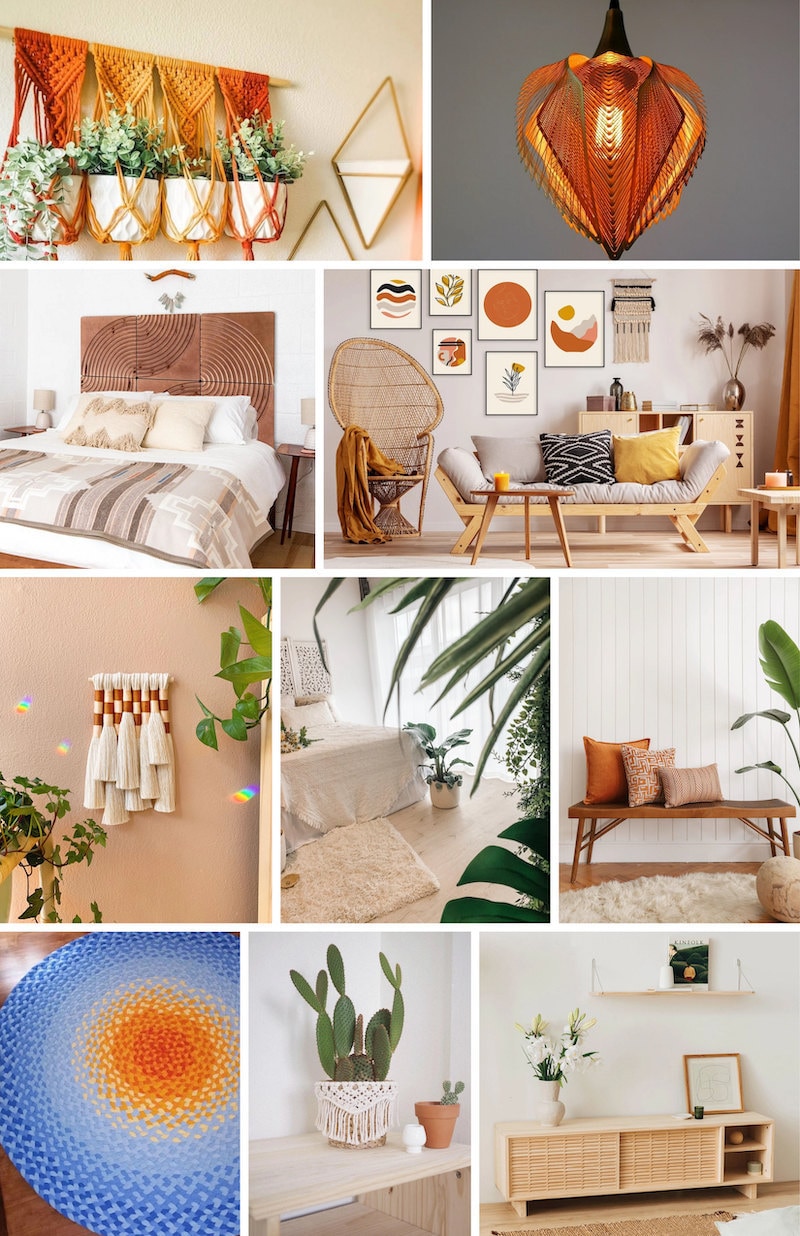 SHOP (clockwise from top left): Macrame plant hangers from Sweet Home Alberti, $79; brass pendant light from Expand Life Metal Art, $270; boho printable gallery wall set from EnSpiredby Studios, $4; set of 3 throw pillowcases from Fine Room Living, $97; TV console table from Naan Furniture, $493; macrame plant wrap from The Little Avocado, $34; braided sun rug from Green at Heart Rugs, from $240; checkered macrame wall hanging from The Little Avocado, $68; bent wood wall panel from KARVD Walls, $98 for one; woven pom-pom basket from Little Love Home, $46
If you're a free spirit, boho decor might be right up your alley. This eclectic style emphasizes natural, organic elements and is characterized by a glorious mishmash of low-key textures, patterns, and colors. The finer details are up to you: Bohemian style decor can swing minimalist or maximalist, muted or bold, modern or vintage. Here are a few ways to give your home a boho-inspired do-over.
Cottage style decor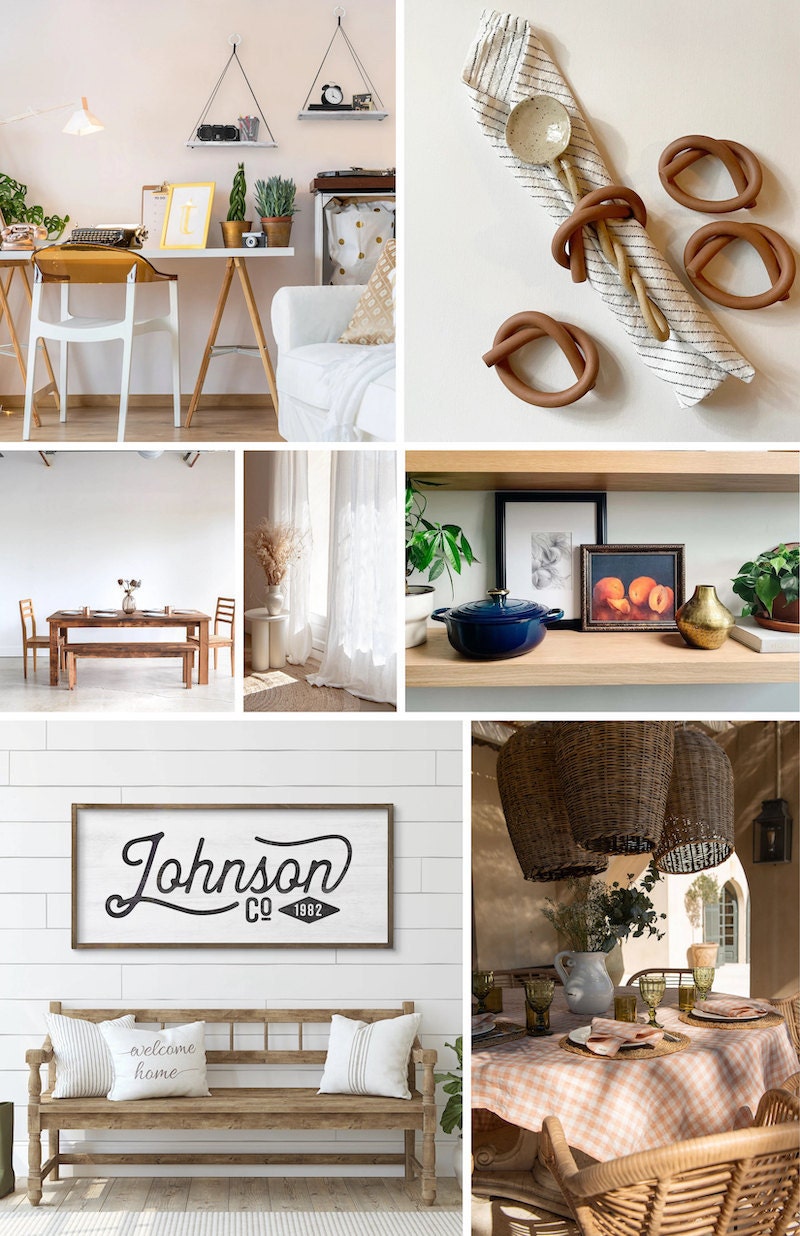 SHOP (clockwise from top left): Rustic hanging shelves from Forest Barn, from $17; stoneware ceramic knot napkin rings from Sunday Studio Brooklyn, from $25; floating shelves from Ultra Shelf, from $80; gingham linen tablecloth from SAUTHS, from $117; cursive family name sign from Sernko Signs, from $65; farmhouse dining table from What WE Make, from $1,925; white linen curtain panel from April Notes, from $85
Cottage interior decorating styles evoke the homey nostalgia of an old-world, thatched-roof home nestled into the countryside somewhere in Europe. Cottage style decor is cozy, inviting, and well lived-in. Embodying the spirit of reuse and recycle, cottage decor style includes a mish-mash of antique, vintage, cast-off, and modern furniture. Here's where to start if you want to incorporate a little cottagecore into your home decor:
Hamptons style decor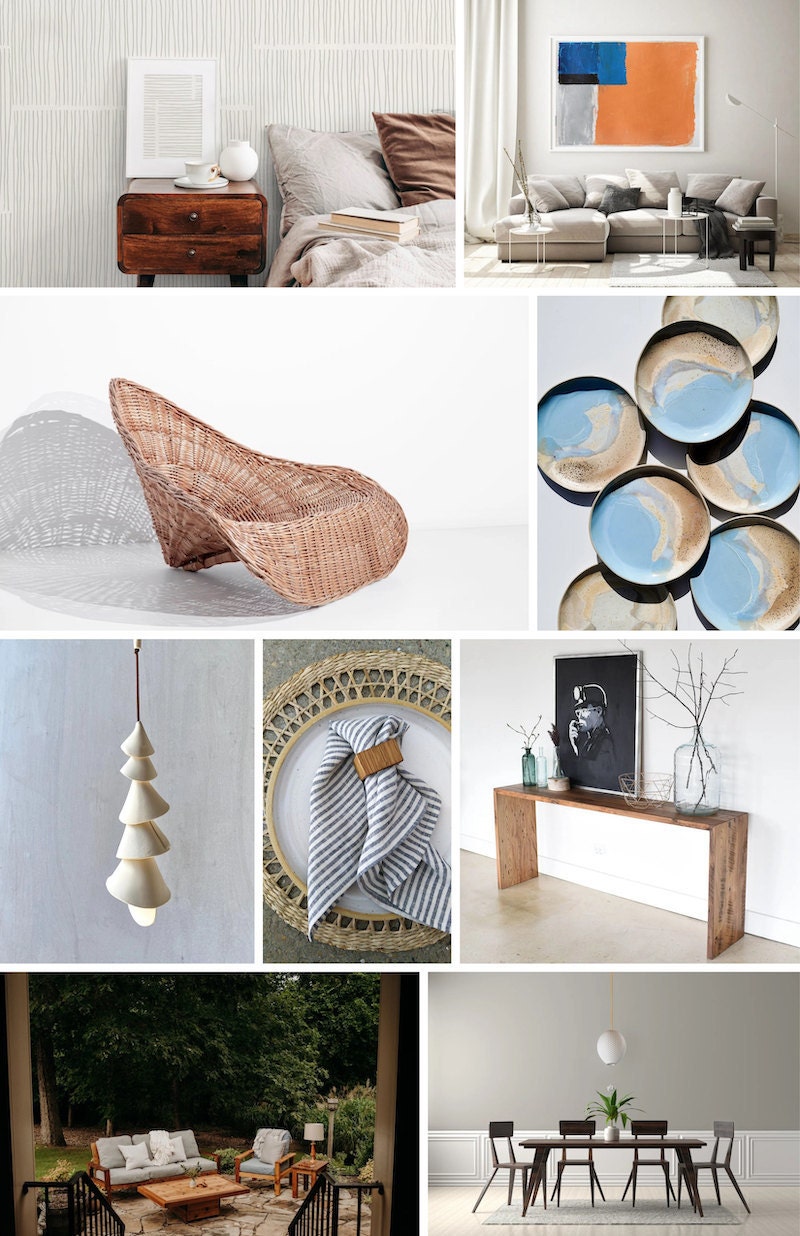 SHOP (clockwise from top left): Striped peel and stick wallpaper from Tropical Workshop, from $1 for sample; abstract painting from Canvas and Brushes, $94; ceramic dinner plates from MUA Studios, from $82 for one; reclaimed wood console table from What WE Make, from $1,375; ceiling lampshade from Ayus Design, $126; outdoor coffee table from S&O Co., from $500; ceramic wind chime from Ceramicpix, $65; wicker lounge chair from OWN design store, $975; striped linen napkins from Linara Art, from $6 for one
You don't need to own a house in the Hamptons to recreate its luxe, beachy vibe. Hamptons style decor is open, airy, and spacious, with a focus on luxury and ease. It's casual, comfortable, sophisticated, and infused with the colors of the seaside—ocean blues, sandy browns, and seaweed greens. Here are some inspired ways to bring the Hamptons home:
Retro style decor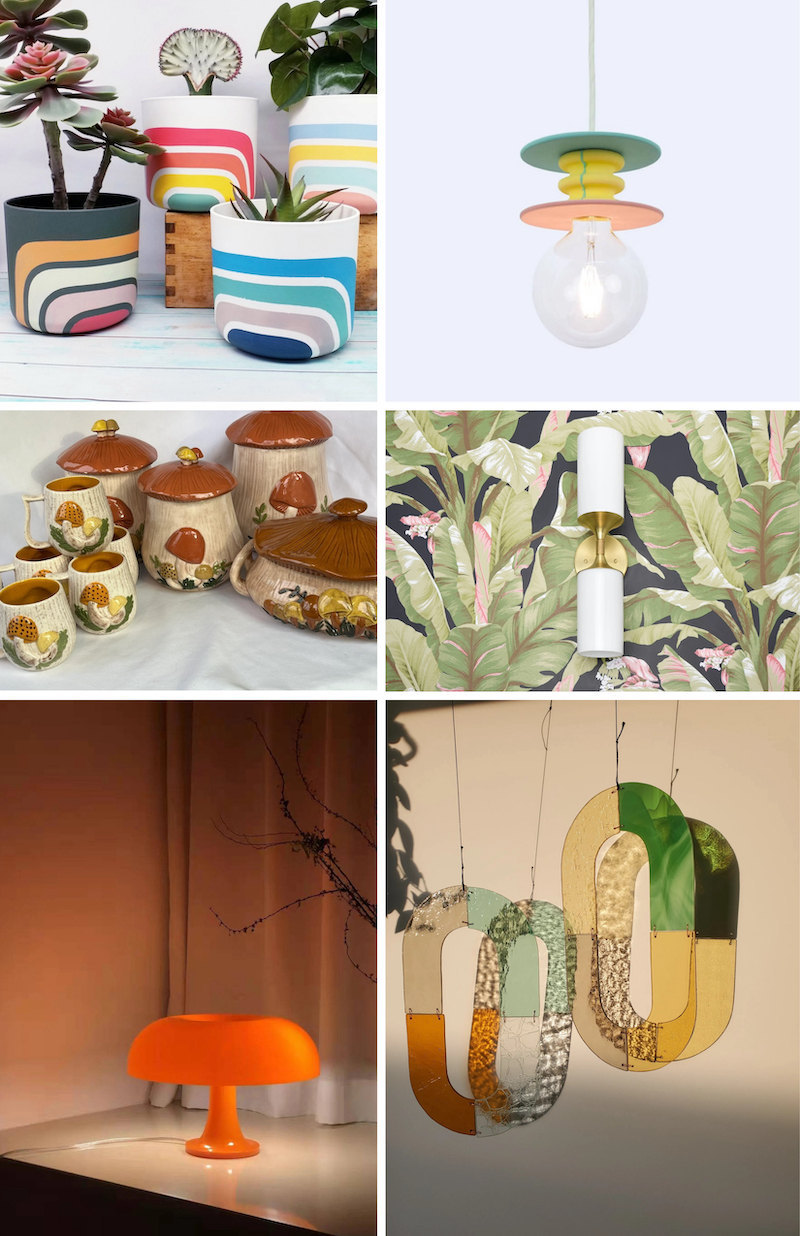 SHOP (clockwise from top left): Retro-inspired planter from Amalüe Leith, from $25 for one; colorful suspension lamp from 24 Degree Studio, $125; brass sconce from Illuminate Vintage, from $185; geometric glass wall hanging from GET THE WAVE, $226; mushroom table lamp from Trending Home Decors, from $92; mushroom canister sets from From Michigan to Texas, from $60
Retro decor encompasses a wide range of styles from eras past, like the space-age-inspired futurism of the 1960s, the boho elements and folk motifs of the 1970s, and the colorful geometry of the 1980s. The key to mastering retro home decor is to mix and match your favorite elements from different decades and design eras. Try some of these tips to turn your home into a nostalgic time machine.
Mid-century modern decor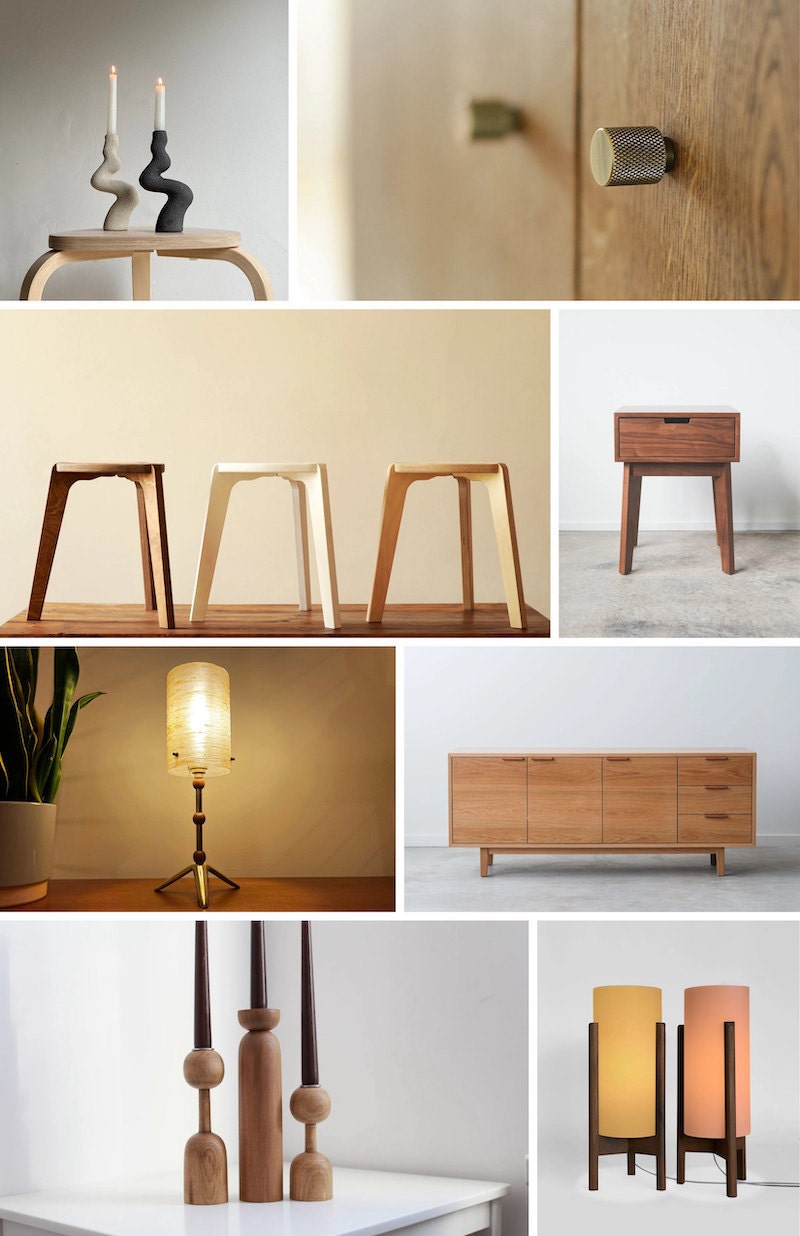 SHOP (clockwise from top left): Abstract ceramic candlestick from Aysun Ay , $330 for set of two; metal drawer pull from A Liusy, $14; mid-century-modern-inspired nightstand from Hedge House, from $849; media cabinet from Hedge House, from $3,324; translucent lamp set from cavernito, $320 for set of two; wooden taper candlesticks from Crassula Wood, $71; vintage sputnik lamp from Lumen Owl, $212; tripod stool from Venko Furniture and Decor, from $97
Not to be confused with retro decor, mid-century modern decor, or just MCM, is one the most popular and enduring interior decor styles. Hailing from the 1950s and 1960s, decor from this era is characterized by futuristic designs, atomic-inspired shapes, and curvy, crisp silhouettes. You can integrate mid-century modern decor aesthetic in just a few, impactful steps.
Maximalist decor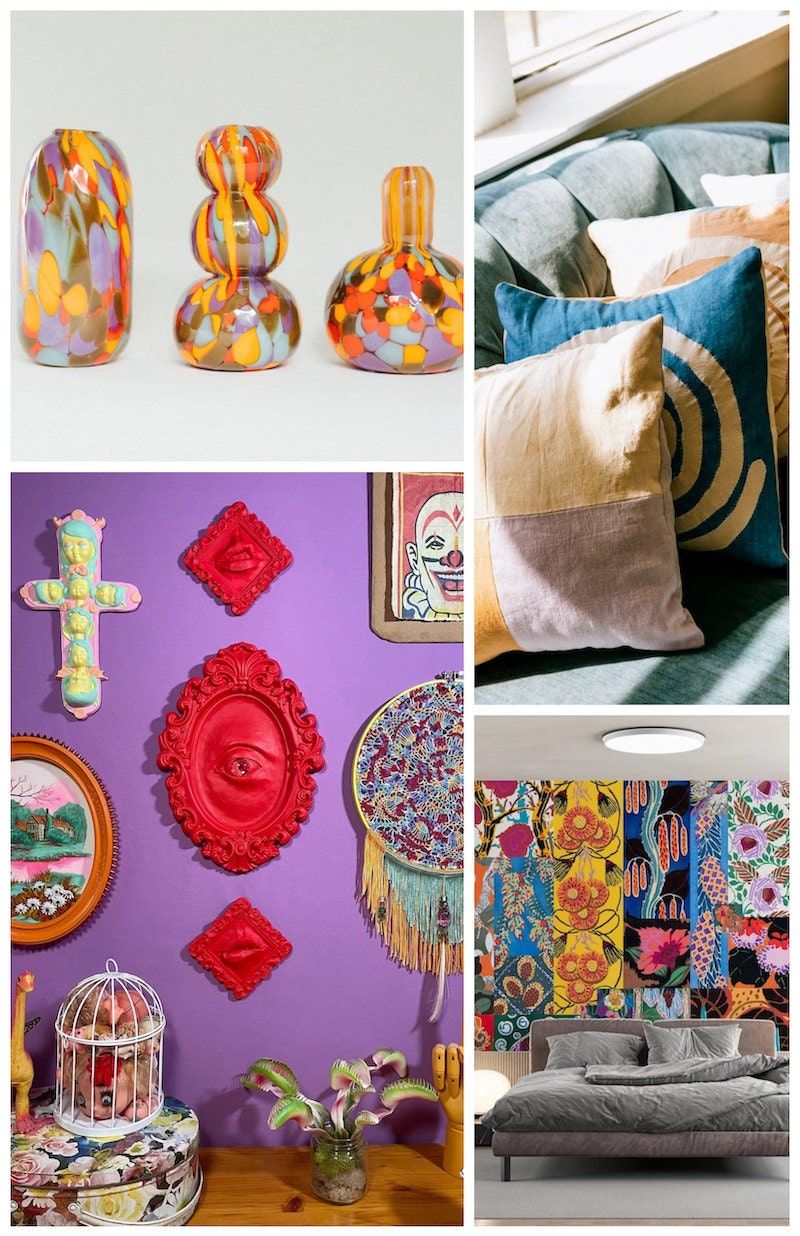 SHOP (clockwise from top left): Colorful blown glass vase from Maria Ida Designs, $50 for one; indigo swirl linen pillow cover from Rosemarine Textiles, from $135 for one; maximalist wall mural from Ebon Noir, from $175; red oval eye wall decor from Fungus Gallery, $80
Dramatic and fearless, the maximalist decorating style demands a rich assortment of materials, textures, colors, and patterns that coexist together in a big, bold way. Maximalist decor style ranges from dark and moody to bright and joyful. The main tenet of maximalism is that the abundance of earthly delights in your home should be carefully curated, beautifully displayed, and much-adored and appreciated. Here are a few ways to bring maximalist style into your space.
Create a gallery wall filled with your favorite paintings, photographs, sculptures, and collections. Include floating shelves bearing beloved trinkets.
Maximize color contrast by pairing dark walls and furniture with lighter rugs, curtains, and pillows, or vice versa.
Bring in all of your favorite patterns, and let them clash with spectacular results—in the eyes of the maximalist, those daring floral curtains are a perfect match for a zebra-patterned rug piled with plaid floor pillows.
Go all-in with a maximalist home lighting scheme—look for art-inspired pendants, colored-glass chandeliers, one-of-a-kind wall sconces, and sculptural floor and table lamps.
Minimalist decor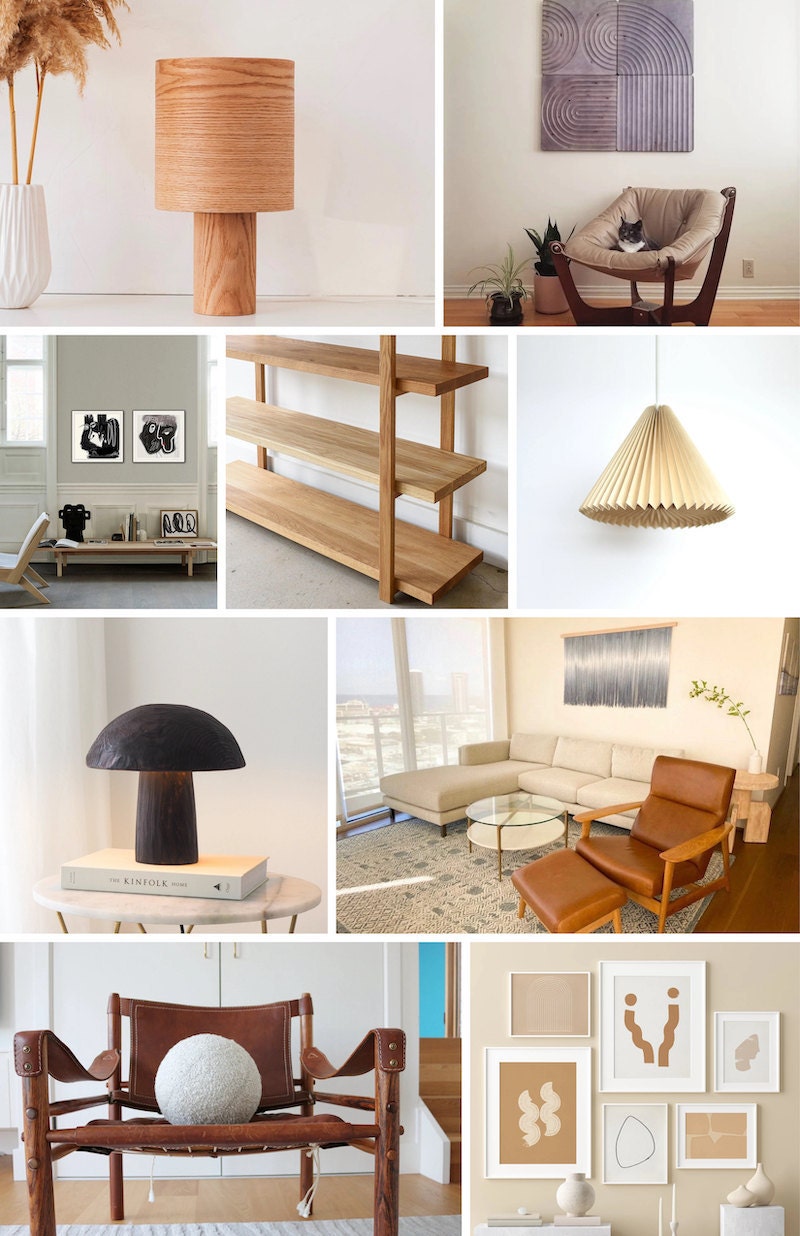 SHOP (clockwise from top left): Scandinavian-style lamp from Wood U Light, $144; carved wooden wall art from KARVD, $98 for one; beige origami lampshade from Brownfolds, $50; woven wall hanging from Thread & Thyme, $450; printable wall art set from forn Studio, $32; bouclé ball cushion from creative muster, $78; minimalist mushroom lamp from So-So Store, from $279; set of two abstract art prints from ThePandMe, from $100; white oak bookshelf from What WE Make, $2,945
Minimalist-style decor may embrace the mantra "less is more" by tapping into simplicity in color and form—but it's far from boring. Like maximalism, minimalism lives on a spectrum, and you get to decide where you feel the most at home. Here are a few minimalist decor ideas that you can dial up or down to suit your preferences.
Choose furniture with clean, simple lines: Seek out executive lounge chairs, a long, sleek sofa, or a large, square coffee table.
Keep your rooms neat and tidy with storage furniture with a simple wooden storage bench, an upholstered storage ottoman, or floating shelves.
Whether you go with a soft, neutral color palette or a stark, monochromatic look, don't be afraid to incorporate unexpected spots of color to keep things interesting.
Choose natural materials like bamboo, wool, linen, or cotton for rugs, window curtains, and bedding.
Bring in plenty of house plants to inject color and invoke nature: Adorn your shelves or side tables with potted succulents, hang planters from the ceiling for trailing vines, or incorporate larger plants—or even small indoor trees—into your decor.
Whether you're dreaming of relaxing at home Hamptons-style, chillin' in boho haven, or feeling fine in a mid-century modern pad, creative entrepreneurs on Etsy can help find everything you need to pull off the decorating style that speaks to you.