Level up your space with updates big and small, from personality-packed, patterned rugs to timeless dark wood touches.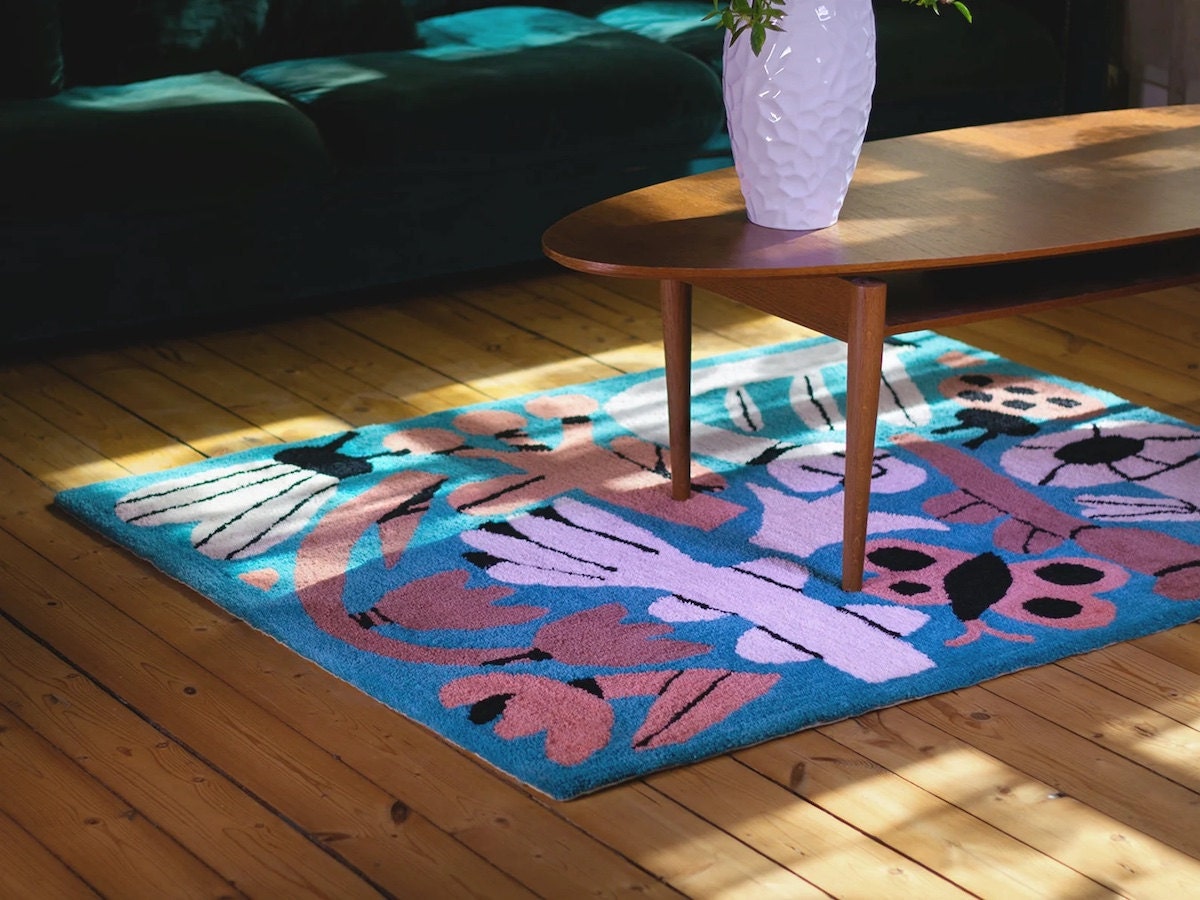 The tulips are blooming and the cherry blossoms have emerged, so it's time to shake up our spaces for spring. If you're looking for a little interiors inspo, you're in luck: Etsy Trend Expert Dayna Isom Johnson has just announced our top decor trends for 2023. "This season, I'm loving decor that's rooted in tradition but reimagined for today's world, with a healthy dose of the unexpected," says Dayna. From vintage patterns in fresh, new places to fresh spins on time-honored paper lamps, this year's biggest styles surprise and delight in all the right ways.
The best part? You can co-create your space that matches your distinct aesthetic with the help of the creative entrepreneurs at Etsy. "For years, Etsy has been the best-kept secret for interior designers and in-the-know shoppers searching for well-crafted and well-priced decor and furniture, direct from makers," Dayna says. Ready to join their ranks? Read on for some decor ideas designed to help you lean into an authentic, perfectly imperfect home that feels like you. "At the end of the day," Dayna says, "living spaces are meant to be lived in."
Dark wood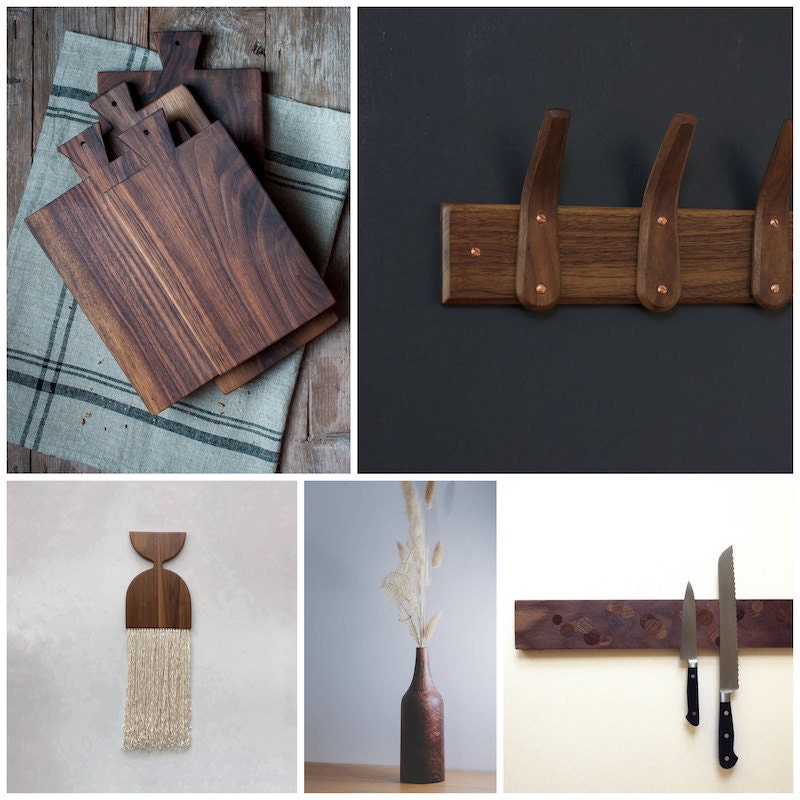 SHOP (left to right, top to bottom): Walnut serving board from Cattails Woodwork, from $51; wood coat rack from Layer Tree, from $95; sculptural wooden wall art from Kara Logan Studio, $350; hand turned walnut vase from Everest Home Design, $162; dark wood magnetic knife mount with polka dot inlay from Untitled Co, $220
"Darker woods create a sense of warmth and coziness in a space, while also providing a touch of character and sophistication," Dayna says. Another reason why we love darker woods? They're timeless and versatile. Take a classic vintage walnut credenza, for example, which can effortlessly be styled with anything from playful disco ball decor to a modern accent rug to an old world, Parisian-inspired mantel.
Mermaidcore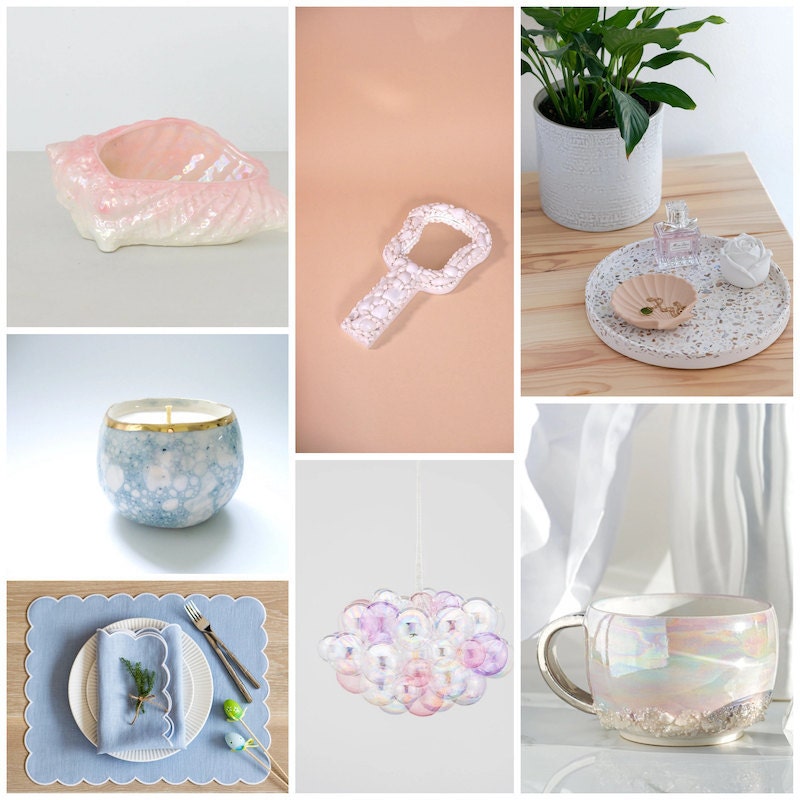 SHOP (clockwise from top left): Iridescent conch planter from Inner Beach Co., $30; handheld shell mirror from Dot, $48; pearly terrazzo tray from Pastello Studio, $93; prismatic cappuccino mug from Essarai Ceramics, $160; bubble chandelier from The Light Factory, $2,599; scallop linen table mats from Napkins World, from $53 for two; bubble glaze container candle from Kira's Collective, $32
Bring on the shells, seaglass, and scalloped edges! We're officially under-the-sea obsessed. "Mermaidcore is a whimsical aesthetic that is all about infusing interiors with an ethereal dream-like quality," Dayna says. Start small with a pearly terrazzo tray or make a major mermaid statement with a bubble chandelier brimming with hand-blown iridescent glass balls in shades of pale pink and violet—either way, your decor choices will be making waves.
Paper lighting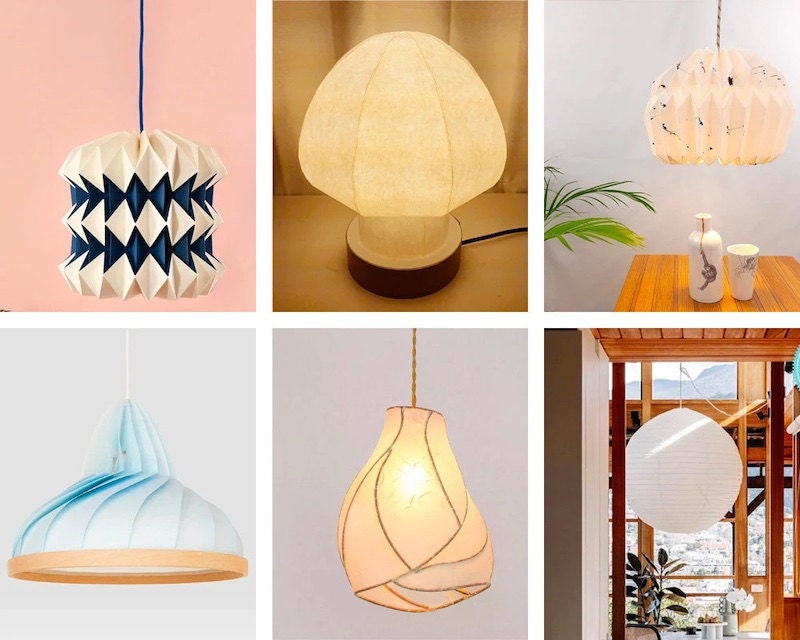 SHOP (left to right, top to bottom): Origami lampshade from Dina Locker Design, $175; mushroom lampshade from KUTSUROGU, $65; speckled origami pendant light from Kami light, $252; pastel blue lamp from Nellianna, from $173; copper pendant light from Khalima Lights, $389; linen light shade from Lumiere Shades, from $143
Nothing creates a cozy atmosphere quite like the perfect lamp—and these days our favorite shades are taking a leaf right from a time-honored style that dates back to ancient China: paper lighting. Opt for a pastel blue origami-inspired pendant or a mushroom-shaped tabletop lamp for an oh-so-soft and warm glow that creates an inviting atmosphere. "These playful yet sophisticated pieces can create a magical ambiance whether used as a statement piece or clustered together to create a larger display," says Dayna.
Rugs with personality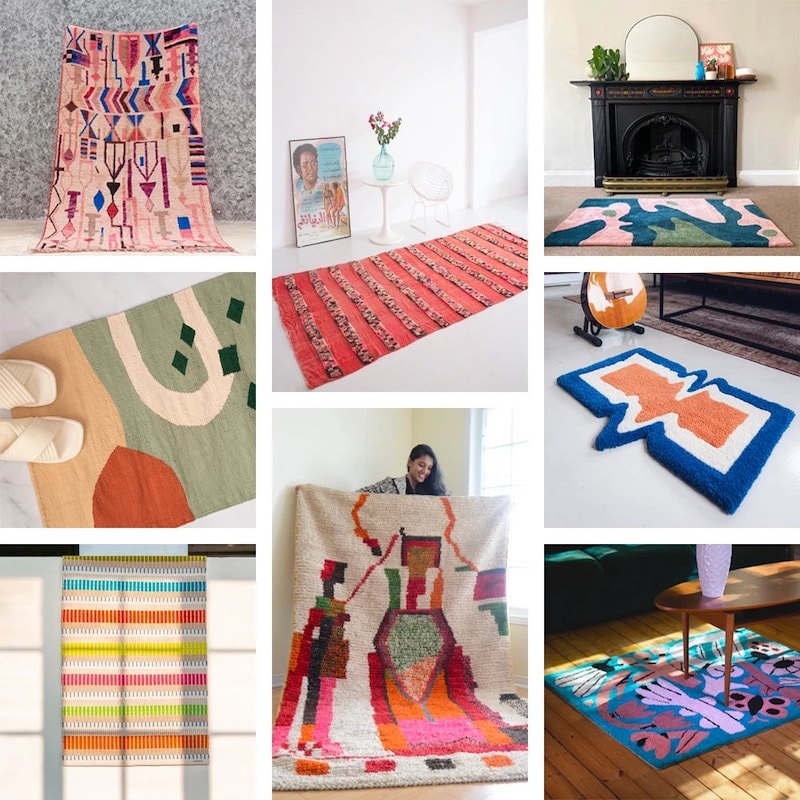 SHOP (clockwise from top left): Pink Moroccan rug from Baba Handmade Rugs, $750; red tufted Kilim rug from Happy Tapis, $1,080; abstract tufted rug from EZ Studio, $414; wavy tufted blue rug from Rosa Rauscher, $366; purple abstract rug from Ilzes Rugs, $366; vintage Moroccan wool rug from Handpicked Artifacts, $612; handwoven rug from Petra Marciniak Wovens, $572; green bathroom mat from Kiliim, from $69
"Rugs are a great way to have fun with color, pattern, and print without overwhelming a space," Dayna says. Whether you choose a '70s-inspired shag, handwoven geometric Moroccan design, or an intricate vintage Turkish stunner, a new rug is one of the fastest ways to make a statement. Double down on the fun with full-on maximalist decor or balance the splash with more neutral furnishings. Whatever you choose, the best rugs with personality can transform a room and ground the design aesthetic of a room—literally.
Jewelry for the home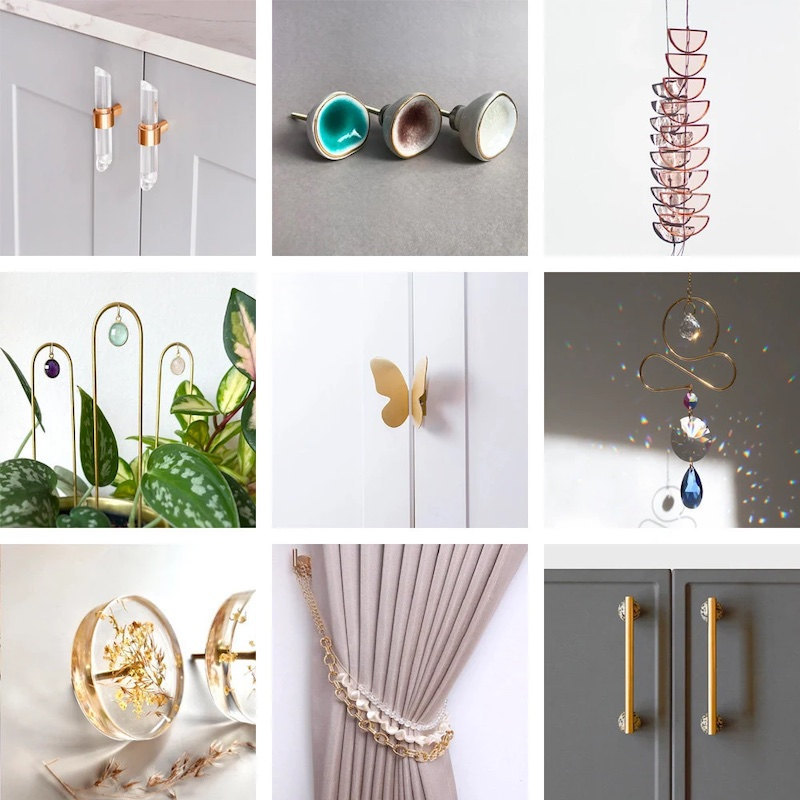 SHOP (left to right, top to bottom): Lucite drawer handles from LuxHoldups, from $34; sea glass knob from Hooks and Knobs Hardware , $8 for one; stained glass sun catcher from Bespoke Glass Tile, $159; brass plant stake from Annie Lesperance, $18 for one; pair of butterfly cabinet pulls from Hooked Pull Me Knob, $15; hanging prismatic sun catcher from Sol Proano, $120; dried floral cabinet handles from POLNO, from $17; pearl curtain tie backs from Lush Lovely, $45; brass bar handle with semiprecious stone balls from Gold Teal & Green, from $17
Every designer and home decor–lover alike knows: It's all in the details. "The same way jewelry adds sparkle to an outfit, decorative accents and little luxuries adorn rooms with visual interest and elegance, having a surprisingly big impact without breaking the bank," Dayna says. Pepper your space with suncatchers that joyfully reflect light and crystal-studded knobs that take your cabinets from ordinary to boho-chic in the blink of an eye—and don't forget to dress up your houseplants with a gemstone-adorned plant stake while you're at it. "These finishing touches add a dose of glamour and can even be swapped out seasonally," says Dayna.
Vintage patterns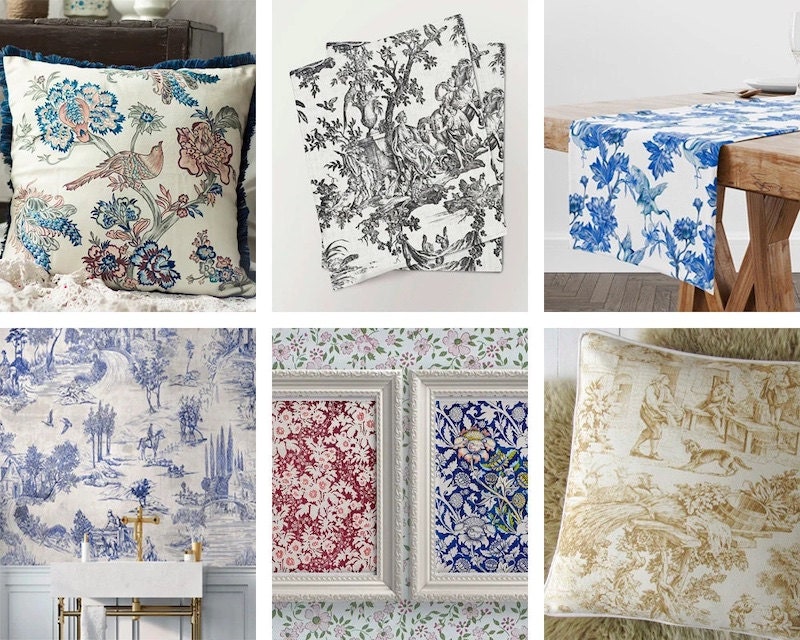 SHOP (left to right, top to bottom): Chintz bird pillow cover from Chez-shipra, $45; toile fabric napkins from Linen Is Love, from $27; blue chinoiserie table runner from Momo Chardo Studio, $42; vintage landscape wallpaper from Wallphy, from $19; Victorian-inspired textile prints from Curated Botanicals, from $34; cream toile pillow case from Holz und Leinen, $31
Grandmillennial and cottagecore devotees take note: Vintage patterns are on the rise, showing up in new and unfamiliar places. Reminiscent of old country charm, traditional patterns like toile, chintz, and vintage floral prints are popping up everywhere from textiles to teacups, introducing a touch of eclectic nostalgia straight out of our regency romance dreams. "What I love about these patterns is that they bring an air of sophistication and refinement to contemporary spaces, while maintaining a sense of playfulness and individuality," Dayna says.