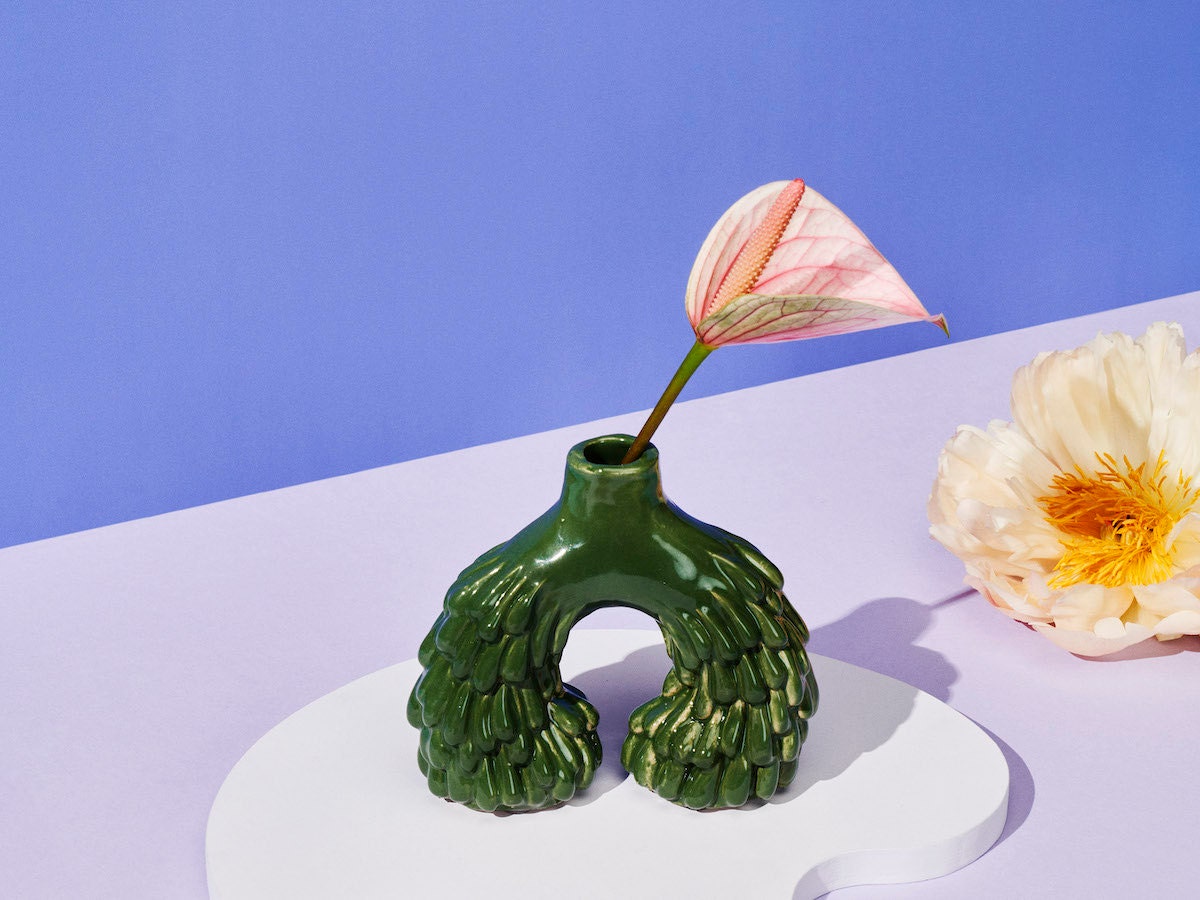 "I love galleries, I love art, and one of my favorite places is the gift shop at the end of an exhibition or museum," says DJ, activist, and globe-trotting fashion icon Honey Dijon of the inspiration behind her bold Creator Collab with 10 talented Etsy sellers, which drops today. "I love the sense of discovery and joy that comes with finding something new and making it yours."
Shop the Honey Dijon Creator Collab
So it's no surprise that when Honey and her all-star seller squad set out to create the limited-edition line of decor and style staples, self-expression was at the forefront of their minds. From statement-making printed scarves that can be styled multiple ways to bright, graphic wall art you can mix and match to suit your mood, each piece of the colorful collection is designed to emphasize individuality. "I hope people are able to express their own personalities through these objects," says Honey. "I really wanted my creativity and the quality of the artisans' work to come through, and I hope that resonates with people." Scroll on to learn more about the one-of-a-kind line and meet the sellers who brought it to life—then find a gallery-worthy piece to add to your own personal collection today.
Vibrant vases
With their distinctive drip texture and rich, lustrous glazes, the sculptural vessels from Hannah Simpson Studio may look like they belong on a museum pedestal—but the story behind them skews a little more Studio 54. "The green vase is based on a vogue dance position which was iconic in allowing people the freedom of expression and individuality," explains Hannah. "The vases are made to be unique—they all have small differences that make each one special." For Honey, the message hit close to home: "I love the unusual forms," she says, "and I hope people take away the notion that beauty can come in many different shapes."
A stylish scented candle
"Honey has a connection with the words peace, love, and unity, so I decided to incorporate them onto my packaging through a holographic label," says Aerangis candle connoisseur Alicia Tsai of her dazzling contribution to the line. "I wanted to represent the lights, smoke, and scene at one of Honey's concerts." The end result? A shimmery candle with an original musky scent intended to stop you in your tracks. "The candle is amazing," gushes Honey. "We chose a really unusual scent—I wanted it to have a bit of mystery. I like things that make people sort of tilt their head to the side and be like, 'Oh, I didn't know that existed.'"
Eye-catching incense holders
For artist Beryl, who operates hand-built ceramics studio Yeux with her partner Pascoe, the connection to her craft is deeply personal. "The 'Love Thy Afro' incense holder is particularly important to me as someone who grew up only seeing straight hair represented and thinking my hair was somehow inferior," she explains. "​​This piece is a celebration of my heritage and culture, something that is beautiful and should be cherished." Place one of the painted concrete stunners on your coffee table or nightstand to serve as a daily affirmation of self-love and acceptance—and a powerful reminder to celebrate the things that set you apart. Because as Honey says: "It's about finding value in yourself and not having someone else give you that value."
A feel-good pair of socks
One failsafe way to start your day off on the right foot? By donning a sweet pair of '70s-inspired see-through argyle socks, of course. "I loved being able to create these incredible geometric sheer socks that I didn't see anywhere else," says Honey. For maker duo Jordan Baylor and Anni Peng of Sock Season, the fun of designing something brand-new started with breaking from conventional color theory and exploring delightfully unexpected combinations. "My favorite pairs have wild pigment contrasts that on the surface shouldn't work, but when you see them, the colors pop and make you want to try them on," says Jordan. "We hope the socks inspire people to step outside their comfort zone and find their inner confidence." 
Artful prints
"I'm all about expressing yourself through interiors," says Honey of her individualistic approach to home decor—a philosophy shared by illustrator Ada Zielinska, who designed three prismatic, psychedelic prints for the collaboration. "I'm an artist with a very specific style," says the abstract aficionado, whose pieces all begin as hand-drawn sketches. "These graphics are extra-special because I created them with Honey, so they have a unique character." From drippy orange ice cream cones that seem to glow from within to smiley-faced amorphous forms free-floating in space, each exquisite artwork features an unconventional use of color and shape that's sure to add a pop of personality to any blank wall. Can't pick just one? Don't! "The posters are best composed in sets," advises Ada.
A silky smooth scarf
Whether you rock yours as a headwrap, tie it onto your bag, or frame it to hang in a place of pride, each stunning silk scarf from Ama Schulman of All Very Goods is printed with a simple but powerful message: Love Yourself, Be Yourself. "It all ties into a celebration of joy and self," says Honey of the mighty mantra. And for Ama, the meaning of the piece extends beyond the words into her choice of hues: "Like me, Honey loves bold colors and jewel tones, so I used sapphires, aquamarines, and emeralds, which are said to represent peace, creativity, and wisdom," she says. "The colors also remind me of the African textiles that I grew up wearing." 
A delightful deck of cards (and coordinated stationery!)
"Anything that I do has to have an element of joy, and so I really wanted to work with artisans that had that same vibration," says Honey—which made joining forces with like-minded creative Mathew den Boer a natural choice. An ardent fan of Honey's since his days as a rave kid on Toronto's house and techno scene, Mathew drew heavily on his love of music when it came to the sketches for his geometrically patterned playing and greeting cards. "When everything aligns between a DJ and their dancefloor, the unique, luminous, and unrestrained personhood of each participant has an opportunity to reveal itself," he says. "To feel it is to never forget it. For this collaboration, I wanted to create images that express this powerful confluence of connection and individual magnificence."
Statement-making earrings
With their larger-than-life hoop shape and glimmering gold-plated brass finish, the gorgeous, oversized earrings from Laka Luka are hard to miss, and that's precisely by design. Look closer, and you'll see an important declaration etched into their sides: Black Trans Lives Matter. "We loved that our art could become a voice to help advocate for trans rights and awareness," say jewelry makers Anna and Panayiotis Paraskevaidou of their passion for the project, which pays homage to Honey herself. "As a trans woman of color, I think we need to start owning our narrative and celebrating ourselves and our creativity," says Honey, who used the earrings to turn the powerful proclamation into a fierce fashion statement. "All of my work is based on the experiences, the narratives, and the history of queer people of color, and it's very important to keep that conversation alive."
Timeless leather accessories
"My vision is always chic, refined, and joyful," says Honey—and it doesn't get more chic than a classic leather crossbody bag and coordinated wallet with an understated button-stud closure. "I designed these items with practicality in mind, for everyday, all-day use at work or for a night out," says Klès owner Jessica Gomez. "The muted colors and minimalist style allow you to be very creative: Pair it with jeans and a basic shirt and the bag will make your outfit, or add it to an already-colorful ensemble and it'll blend with your outfit. You're ready for anything!"
A mod mirror
When Wren & Cooper furniture designers Mariah Wren and Mark Cooper answered the call to team up with Honey, they knew they'd be adding a new element to their repertoire: color. "We hardly ever use color in our work so it was good to be pushed past our usual wood tone palette and strike out and use some really bold tones," says Mariah of the bright fluted mirrors they co-created for the collab. Cut from thick sheets of maple and carefully finished by hand, the Art Deco-inspired statement pieces are crafted to stand the test of time—an important consideration for Honey. "We live in a moment where everything is so disposable, so I wanted these to have a lasting power," she says. "I believe that anything you bring into your home should really add something to your life."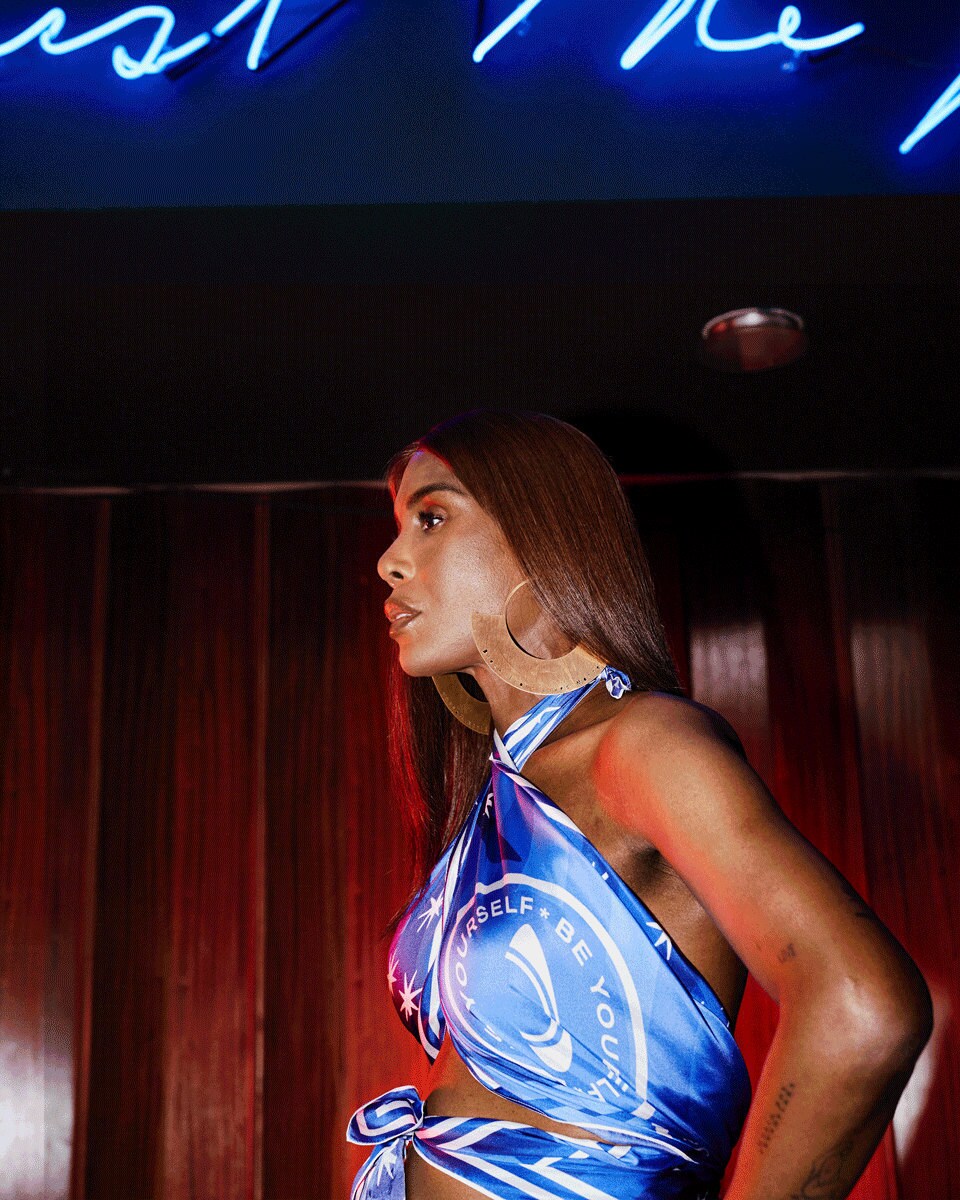 Photographs courtesy of Alexander Kilian, unless otherwise noted.
*USD prices may vary day by day due to fluctuations in currency exchange from this seller's listing currency to your browsing currency.