by Jackie Buddie
Full of jewel tones, plush velvets, and glimmering crystal accents, this season's most anticipated collection puts an elevated take on festive.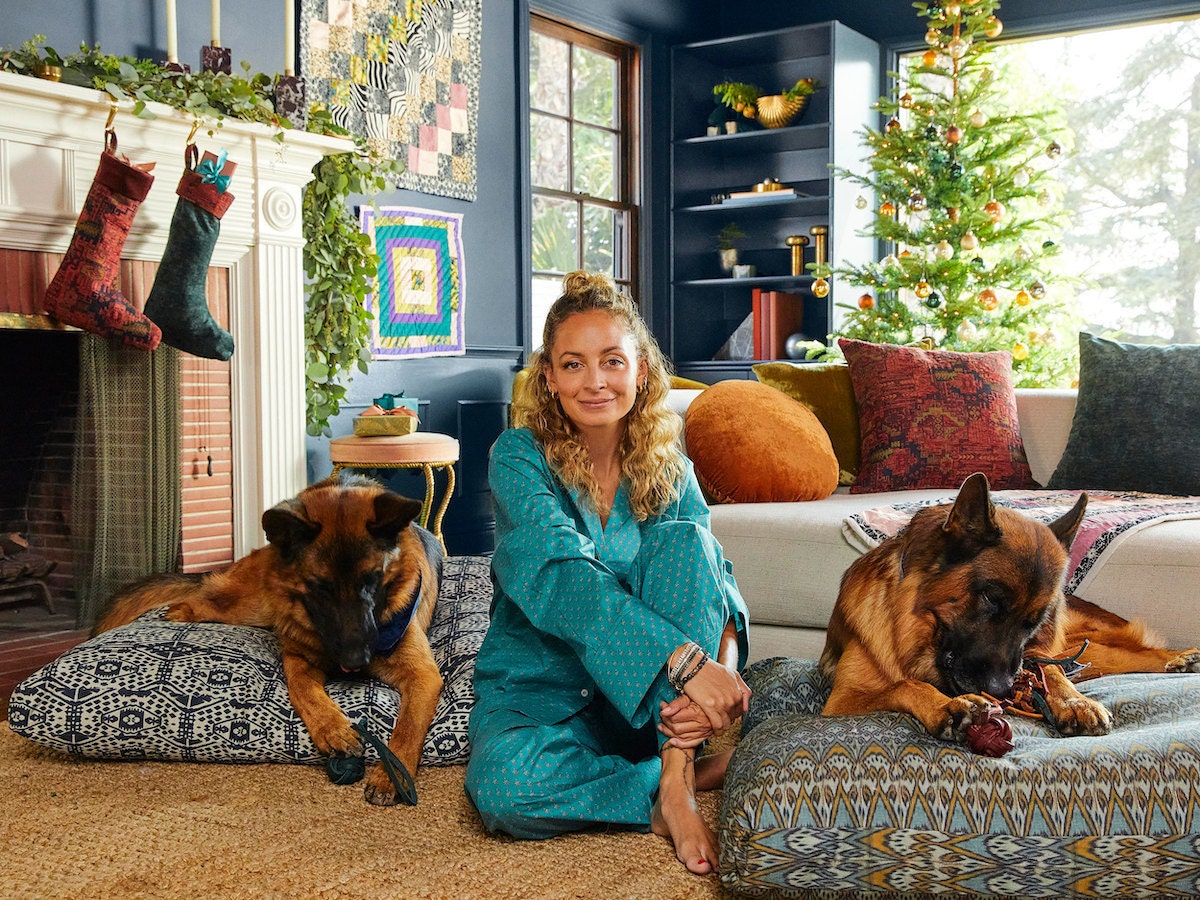 "I've been known to go all out when it comes to the holiday season," admits style icon Nicole Richie, the multi-talented tastemaker behind popular lifestyle brand House of Harlow 1960. So it's no surprise that, after the successful launch of her Spring collection with Etsy, Nicole had to return with an ultra-glam holiday drop to help us dial the festive way, way up. Inspired by 70s luxe, the all-new Creator Collab offers a limited-edition line of giftable gems and entertaining essentials designed to make all your merry moments shine.
"In co-designing this collection I wanted to create gifts that would make people feel truly special and decor pieces that bring holiday into any space, whether you're celebrating with family and friends or simply lounging by the fire," Nicole says. Featuring everything from jewel toned candleholders and crystal wine stoppers to plush velvet pillows and elegant pajama sets, each one-of-a-kind design was conceptualized in partnership with an Etsy seller, then brought to life by their capable hands. Even more exciting? This season, that includes the skillful stitching of eight renowned members of the Gee's Bend Quilters. "The artisanship that goes into making each piece is so unique," Nicole says. "I was in awe seeing it all come together." Scroll on to see a few of our fave picks we'd love to give as gifts (to our loved ones or ourselves), then shop the rest of the gorgeous, only-on-Etsy collection.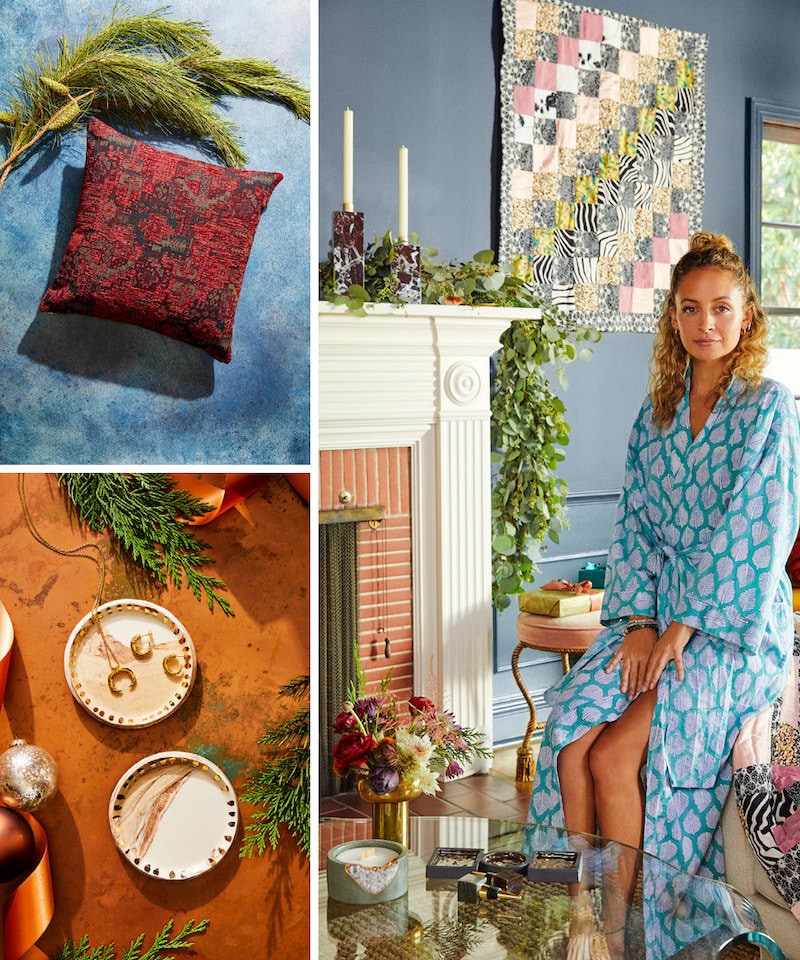 SHOP (clockwise from top left): Upholstered pillow from Shop Cocody, $125; quilted wall hanging or sofa throw from Kiara's Quilt Boutique, $2,500; set of marble candleholders from Blu Mint Studios, $250; green leaf robe from D and E Discovered, $160; crystal-studded candle from Tal and Bert, from $48; jewelry dishes from The Object Enthusiast, $28 each
Decorative dishes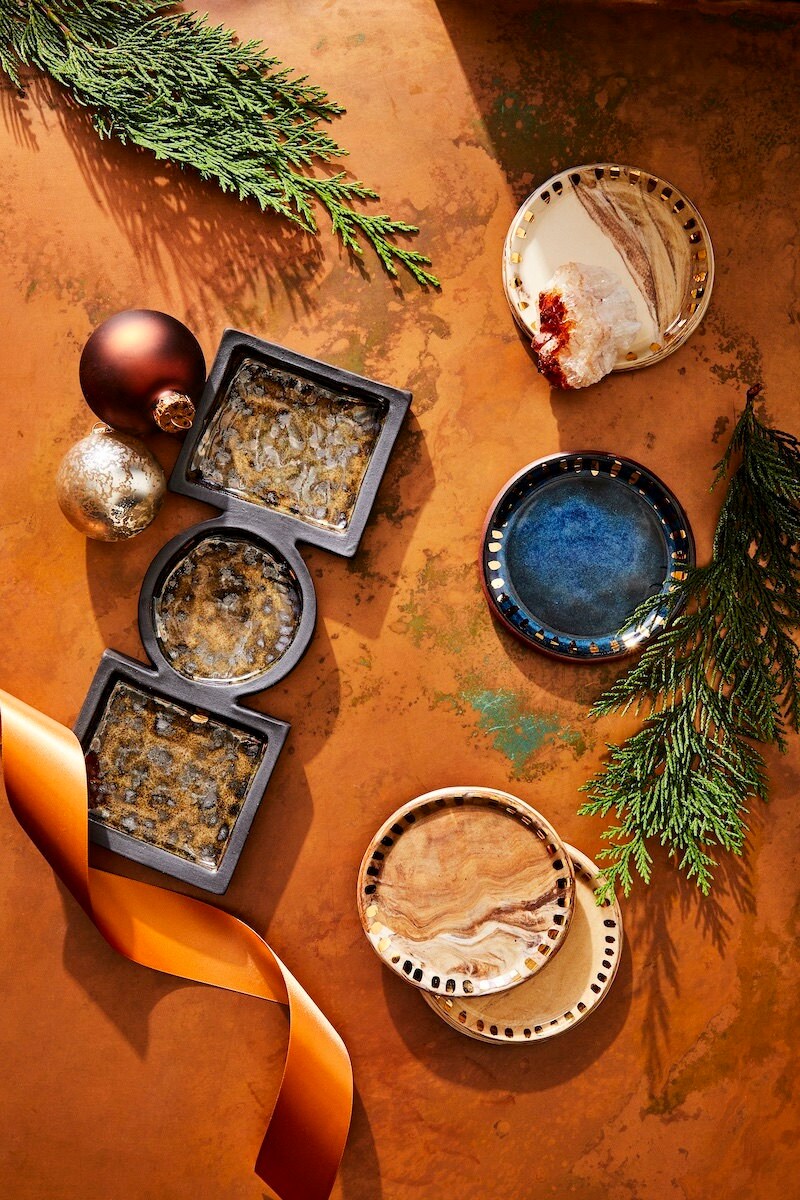 SHOP: Decorative tray, $150, and jewelry dishes, $28, from The Object Enthusiast
One way to instantly elevate a tablescape? Set out a glazed dish or two in rich tones of raw black, marbled red, and midnight blue. Great for catching keys, stashing jewels, or just adding visual interest to any well-styled surface, these hand-carved containers from The Object Enthusiast also make lovely gifts for trinket collectors and new homeowners. Glimmering gold accents add the final flourish.
Crystal wine stoppers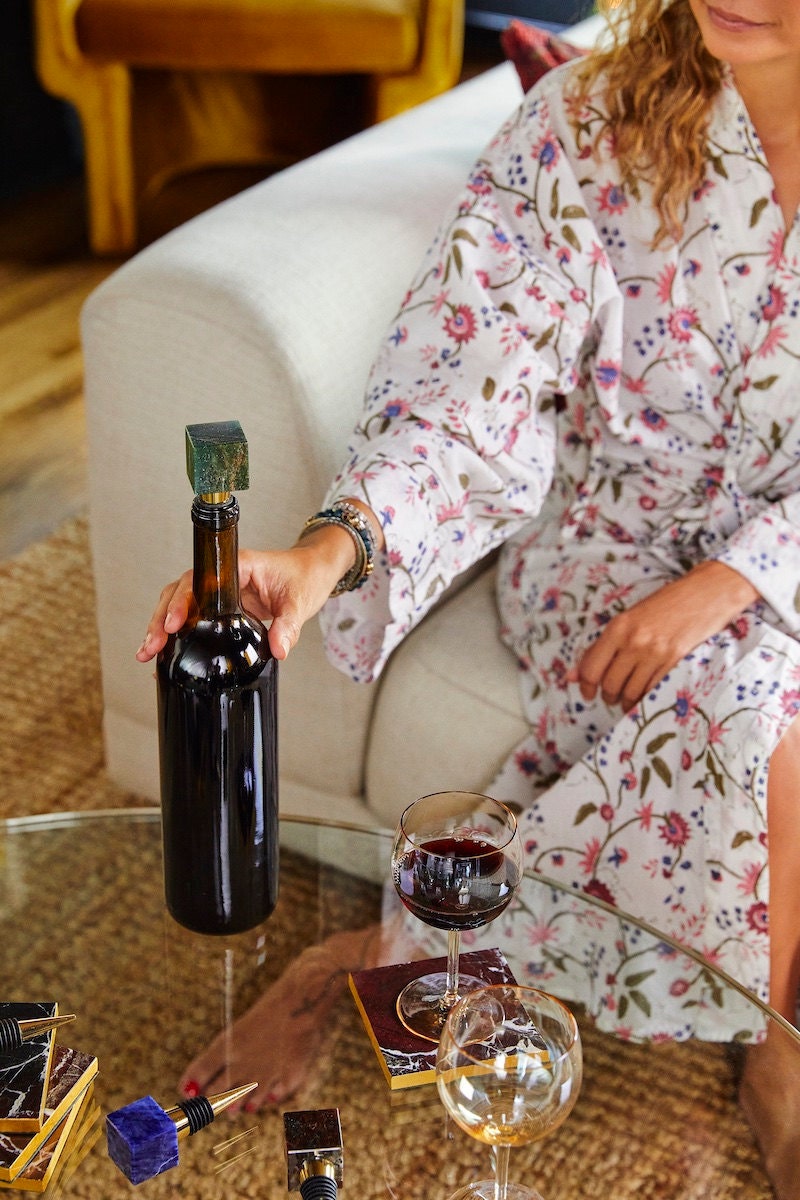 SHOP: Crystal wine stoppers from Modern Little Mystics, $24 each; marble coasters from Blu Mint Studios, $110 for set of 4; floral robe from D and E Discovered, $160
Holiday hosts take note: These eye-popping wine stoppers from Modern Little Mystics will keep bottles fresh and conversation flowing. Cut and polished to perfection, each crystal is a flawless combination of earthy boho energy and clean modern lines. Plus, with three enchanting stones to choose from—including glittery green aventurine, deep blue sodalite, and romantic red garnet—you can match your barware to your celebration's vibe.
Crystal-encrusted candles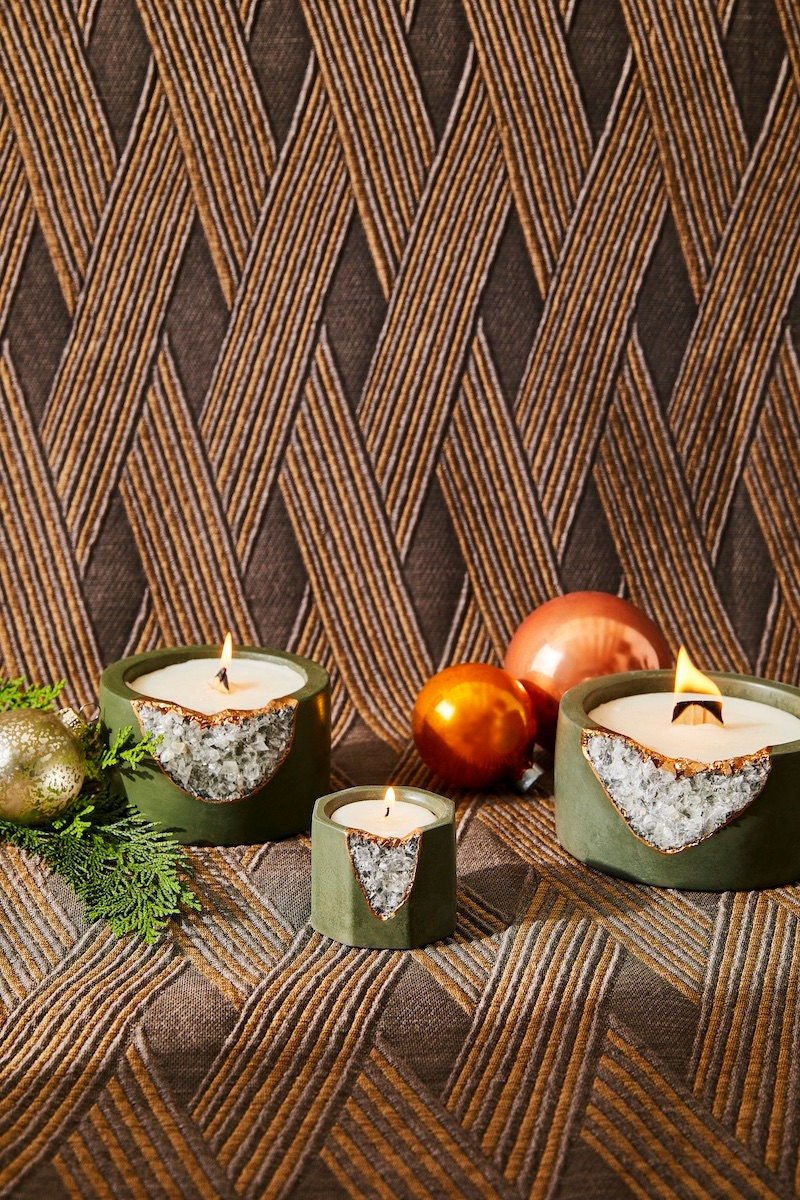 SHOP: Crystal candles from Tal and Bert, from $48
When it comes to presents that always please, candles are the ultimate evergreen. But these? All we can say is "OMG." Designed by Tal and Bert to brighten a room before even striking a match, these stone-studded stunners effortlessly mix the cool, industrial look of concrete with the naturally edgy aesthetic of raw cut gems. The result is a piece of functional decor so delightful, you might not ever want to light it!
Soaps for soothing the senses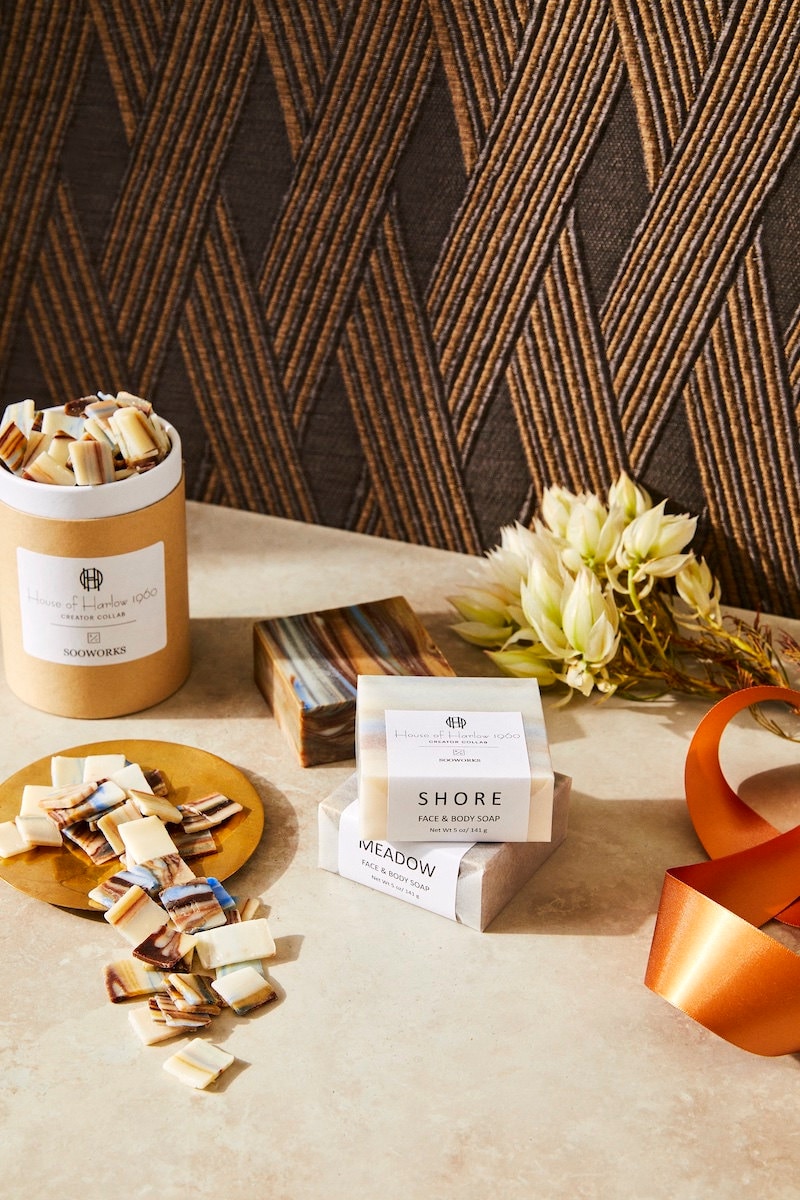 SHOP: Set of two soaps, $30, and package of soap chips, $20*, from SOOWORKS
Whether you're treating yourself to some pre-season TLC or selecting stocking stuffers for your hardworking brothers and sisters, these nature-inspired soaps from SOOWORKS are spa day-ready and retro sunset-chic. Hand-poured in luxurious layers to evoke gently rolling hills and glowing skylines, each lightly scented bar is a subtle reminder that self-care can be as simple as taking a hot shower, or gazing off into the horizon.
Marble coasters, bookends, and candleholders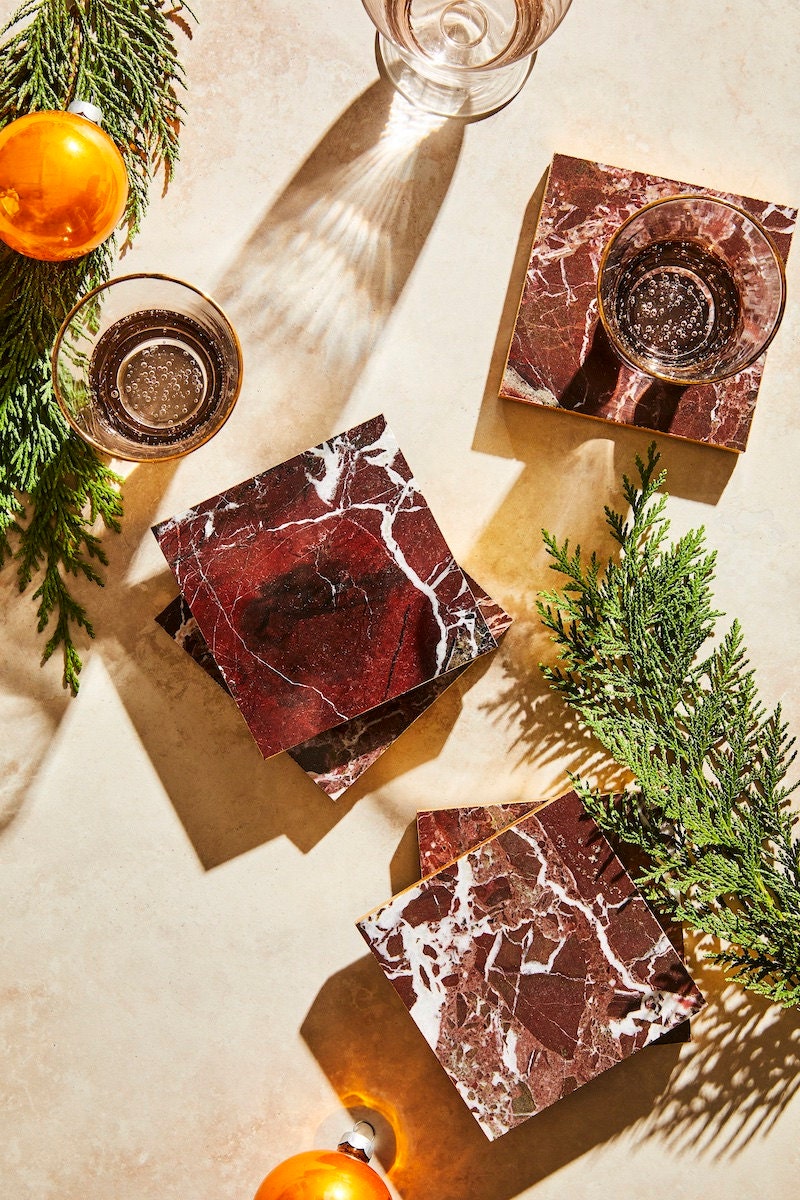 SHOP: Set of 4 marble coasters from Blu Mint Studios, $110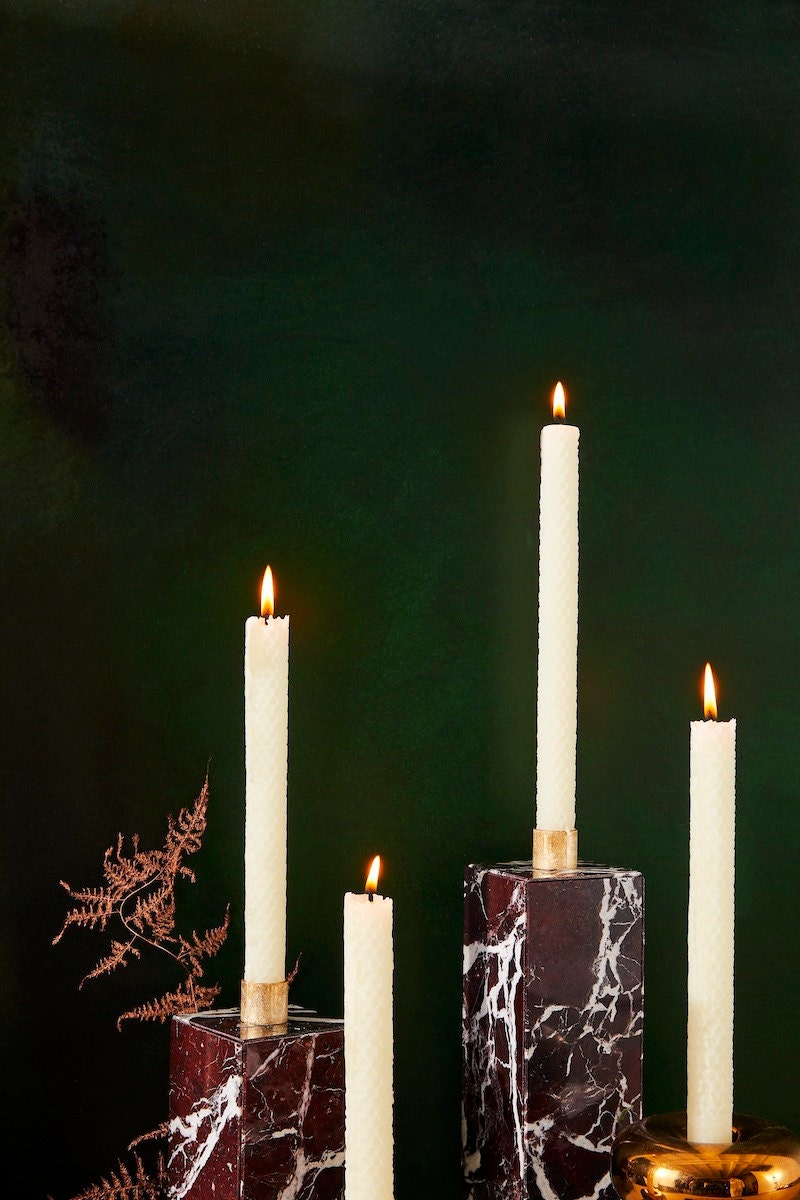 SHOP: Pair of marble candlestick holders from Blu Mint Studios, $250
Nothing adds a dash of drama quite like a piece with physical heft, which makes these stunningly substantial red marble accents from Blu Mint Studios certified showstoppers. Complemented by metallic detailing for a festive effect, each elegantly swirled object is sure to lend warmth and depth to any well-set seasonal scene. For the one who loves to entertain, we'd recommend the gold-edged coaster set, and for the literary type, some stately bookends for their reading nook.
Quilts from Gee's Bend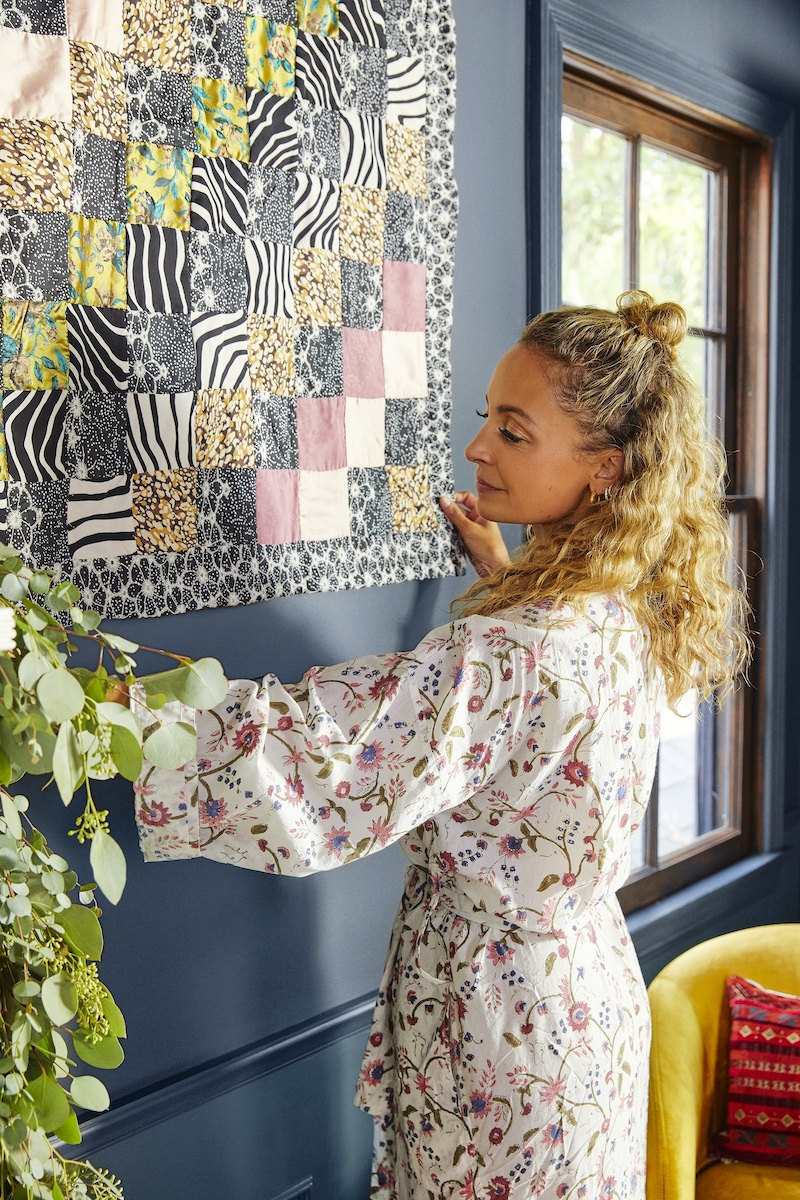 SHOP: Quilted wall hanging or sofa throw from Kiara's Quilted Boutique, $2,500; floral robe from D and E Discovered, $160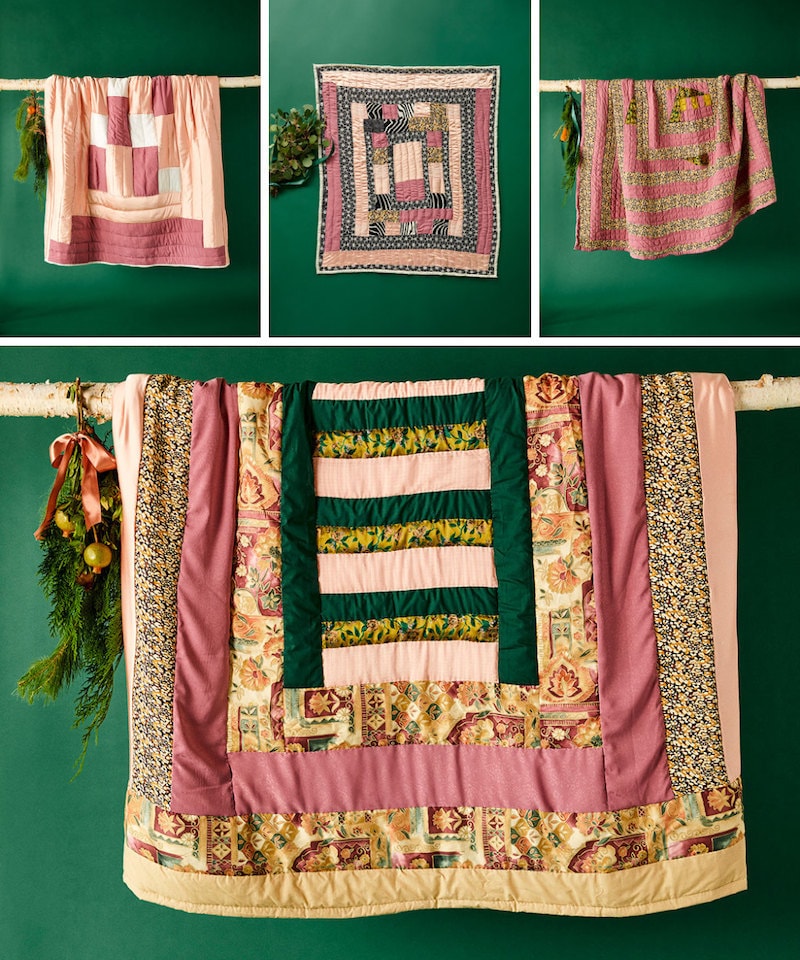 SHOP (clockwise from top left): Quilt from Lunky's Baby, $4,000; wall hanging from Kiara's Quilted Boutique, $2,000; quilt from Georgie's Way Quilts, $8,000; quilt from Quilts by Lue, $8,000
Lovingly stitched together by the incredible quilters of Gee's Bend, each of the eight cozy blankets and ornate wall hangings in this exclusive capsule collection is a one-of-a-kind work of art, and a chance to own a unique piece of history. "Being able to work with the Gee's Bend Quilters was an incredible experience," Nicole says of her partnership with the renowned Alabaman textile artists. Using deadstock fabric supplied by House of Harlow 1960, the quilters fashioned elaborately patterned pieces that are not only filled with the brand's trademark eclectic aesthetic, but the spirit and the stories of the women who sewed them. "Each maker brought their own personal touch and skill to bring these quilts to life," Nicole says.
Gold and silver statement jewelry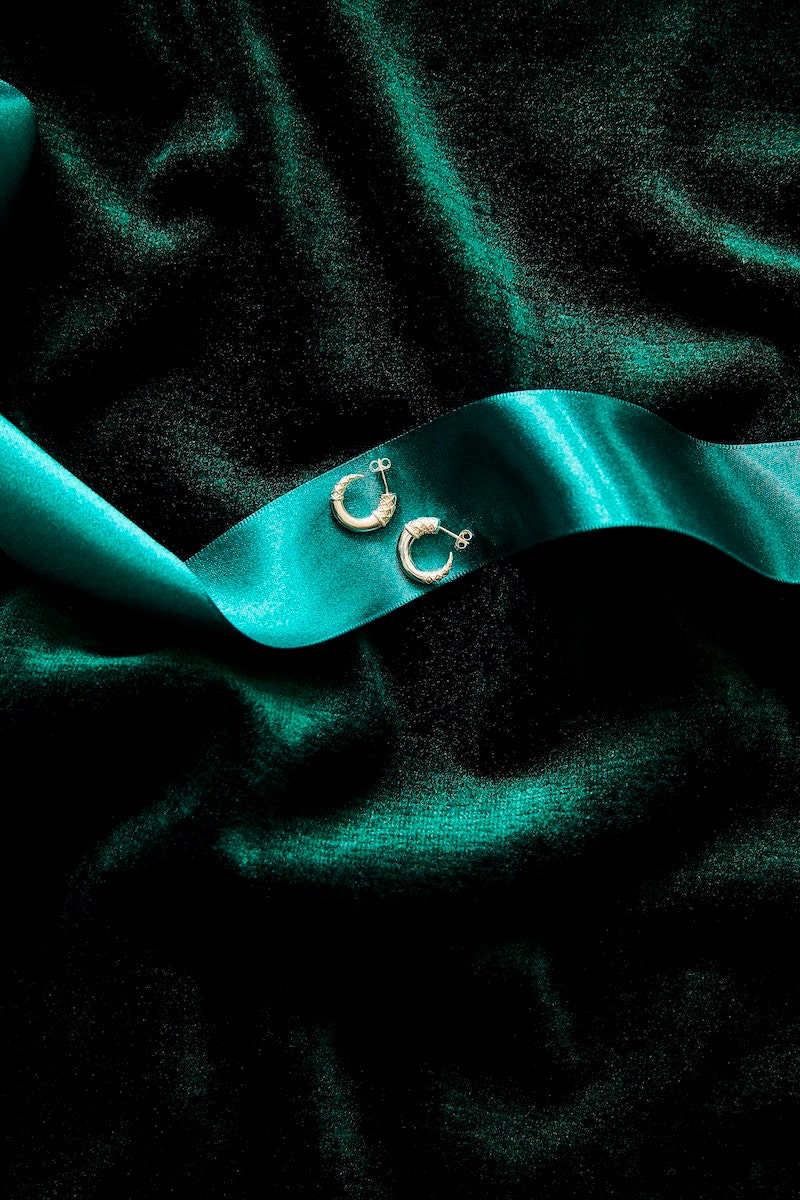 SHOP: Horn earrings from Omi Woods, from $108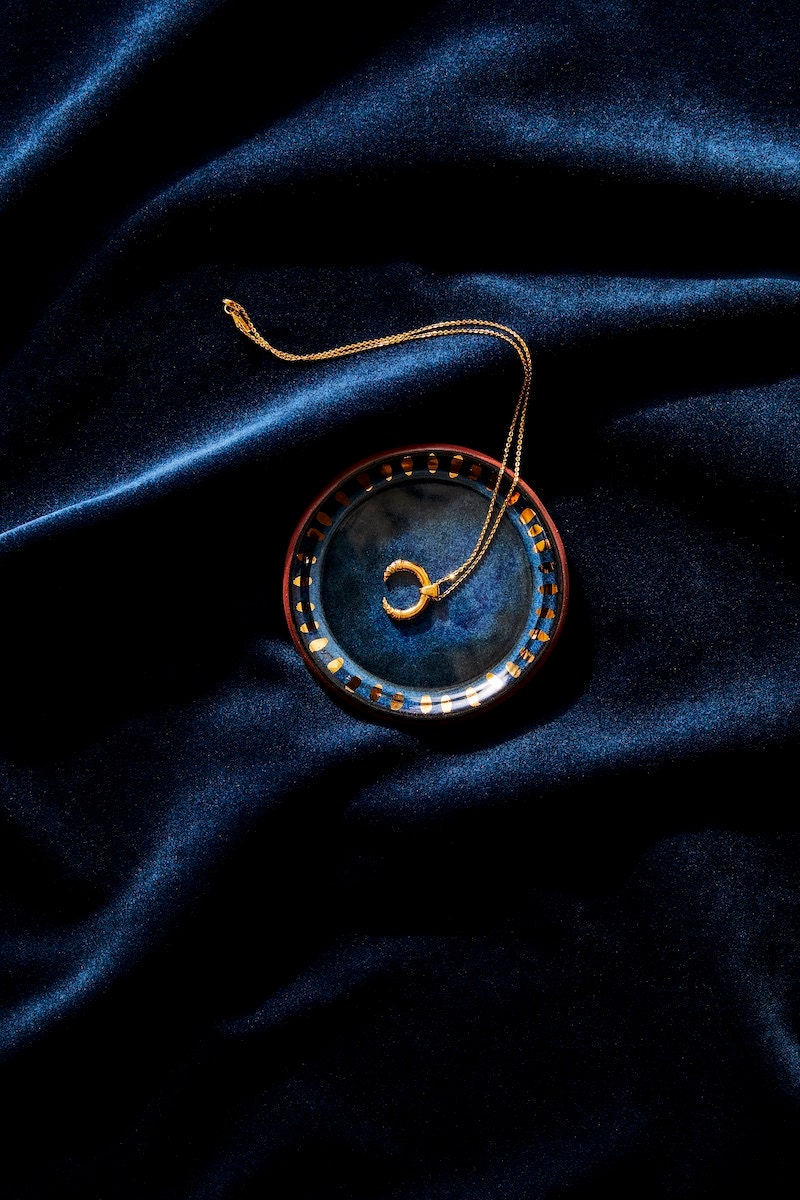 SHOP: Horn necklace from Omi Woods, from $130
Building on the boho bolero horn motif from the House of Harlow 1960 Spring collection, these long dangly necklaces and open hoop earrings from Omi Woods are the perfect, party-ready balance between glam and cowgirl-chic. Each horn is marked by a signature cross-hatch pattern that's unique to the collab, making these gold and silver adornments an extra-special grab.
Pet pampering presents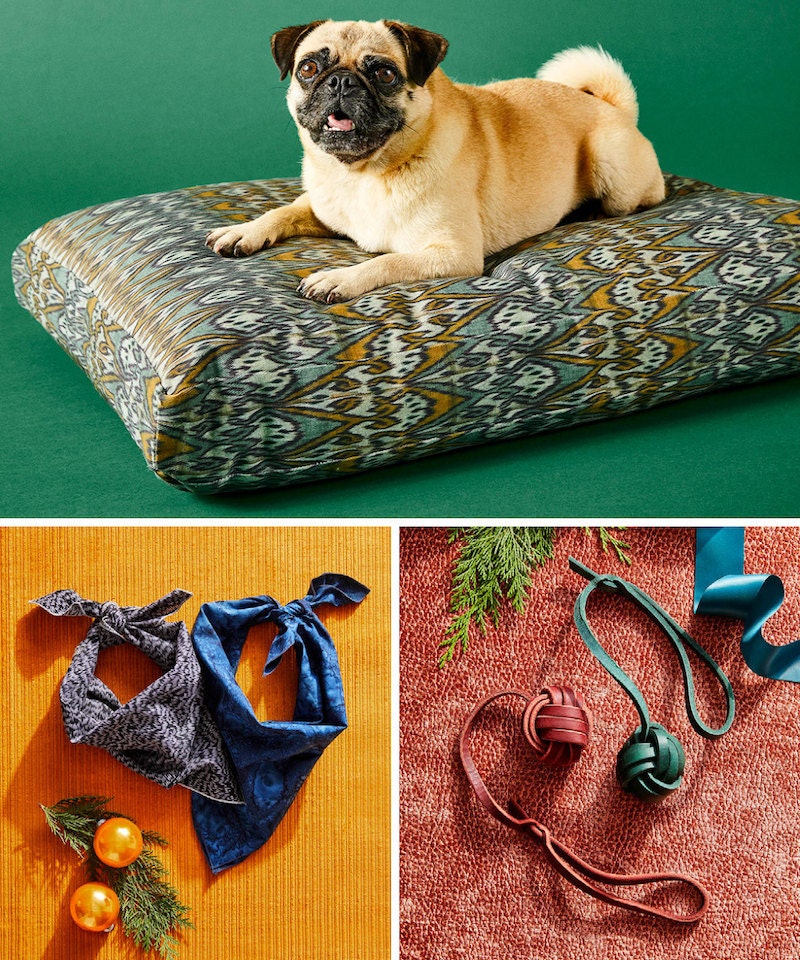 SHOP (clockwise from top): Pet bed from Backup Design $190; knot dog toy from Hundsamma, $40*; pet bandana from Backup Design, from $25
Bring your furry BFF in on the festive fun with pet-friendly toys and accessories that match your decorative aesthetic. A snazzy printed bandana from Backup Design will have them tail-wagging around the Christmas tree, and when they're spent, they can curl up by the fireplace in their cushy new bed. The best part? If your pup gets their paws full of pine needles, you can always pop the cover in the wash for a refresh.
Coordinated comfortwear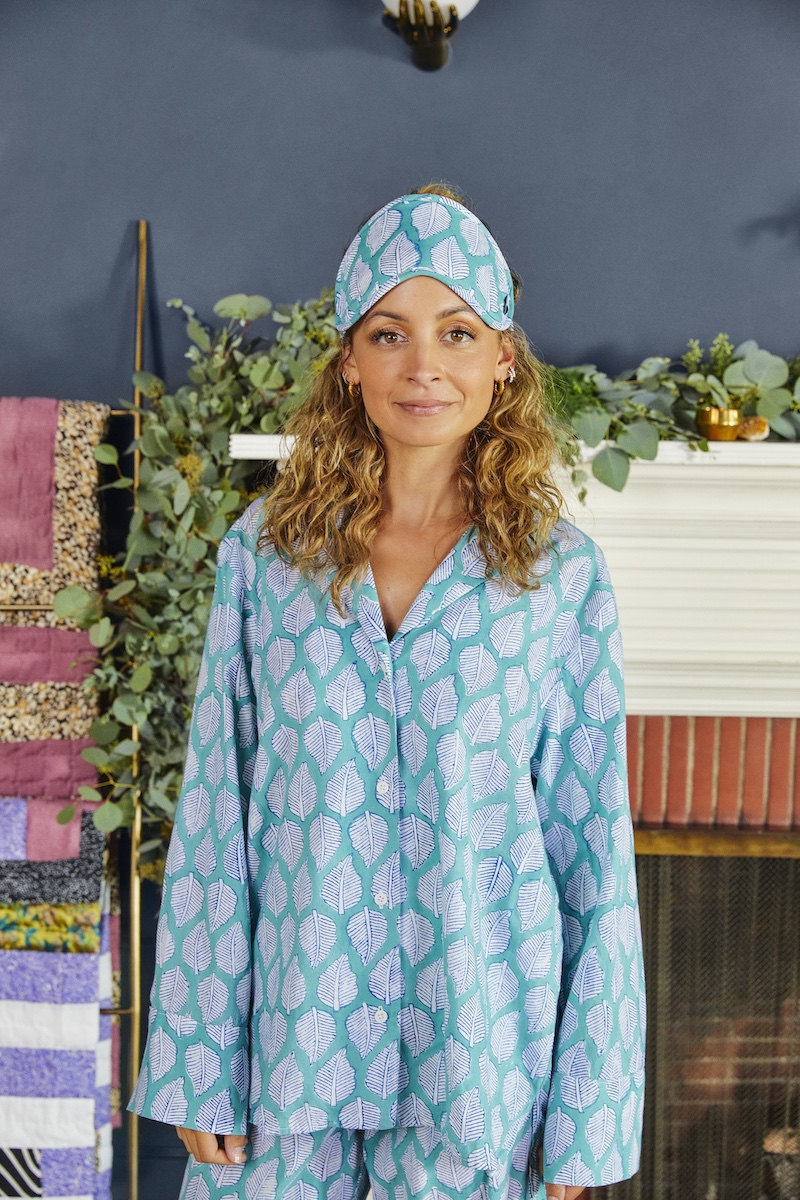 SHOP: Sleep mask, $42, and PJ set, $110, from D and E Discovered
You too can look this fresh and relaxed when you're cozied up in a pair of block-printed PJs or wrapped in a patterned robe from D and E Discovered. Hand-crafted from colorful Indian cotton and offered in a mix of three dreamy prints including green leaf, turquoise, and white floral, this lightweight, lazy-day loungewear awaits your family's annual holiday snap. Top it off with a luxurious little eye mask, and you'll be ready for the best gift of all: some serious R&R.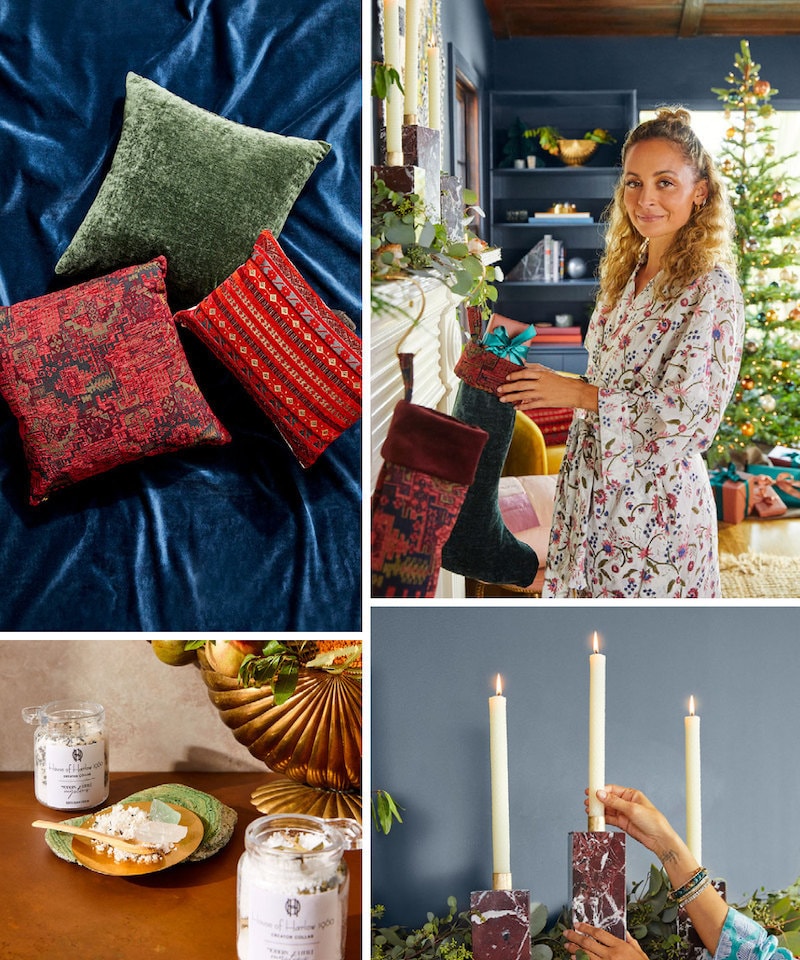 SHOP (clockwise from top left): Green velvet pillow, $125, large upholstered pillow, $125, and small upholstered pillow, $90, from Shop Cocody; stockings in green or red from Shop Cocody, $75; floral robe from D and E Discovered, $160; set of 4 taper candles from SOOWORKS, $59*; pair of marble candlestick holders from Blu Mint Studios, $250; bath salts from Modern Little Mystics, $50 for set of two
Press play to go behind the scenes with Nicole:
Photographs courtesy of Ren Fuller.
*USD prices may vary day by day due to fluctuations in currency exchange from this seller's listing currency to your browsing currency.