by Tess Duncan
From unforgettable unboxing experiences to lightning-speed shipping, see how far small businesses go to make your season sparkle.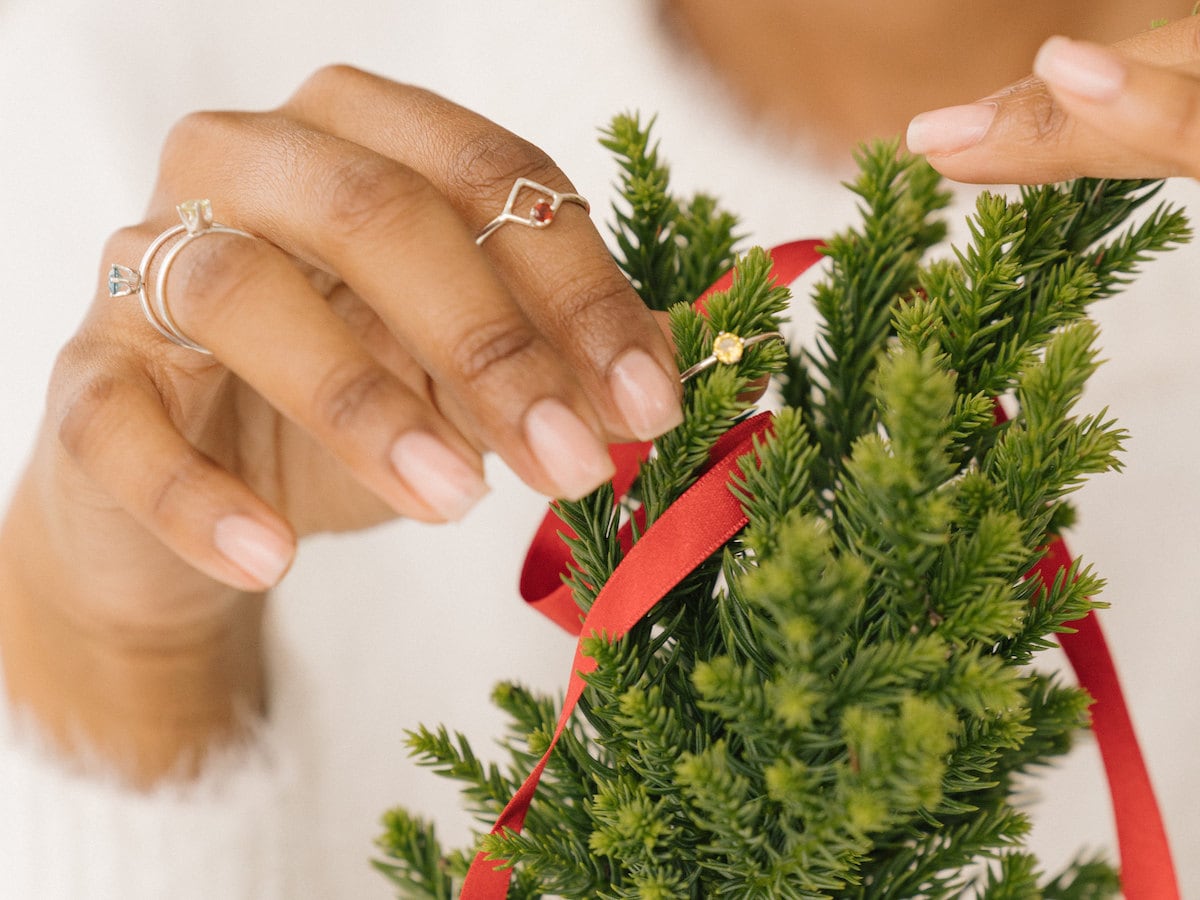 Every holiday season, we count on Etsy sellers to provide us with the kinds of unique treasures that make even the toughest giftees crack a smile or shed a happy tear. And after the isolation and uncertainty of this year, we're relying on the hard work and creativity of small shops more than ever. Whether you're looking for a completely custom design or need a just-right gift wrapped, ribboned, and shipped ASAP, talented makers and curators on Etsy are stepping up to make it happen. Below, we caught up with five sellers making holiday dreams come true to hear how they go above and beyond. Read on to learn how their thoughtful touches and exceptional customer service have saved the day for Etsy buyers, then shop their collections for gifts big and small.
The communication queen
When you're gifting a made-to-order masterpiece, communication is crucial. No one knows this better than Candice Luter—a customization pro who creates sizable statement pieces in her eponymous home decor shop. To ensure a smooth sale from start to finish, the Iowa-based fiber artist encourages customers to ask questions about her dip-dyed macrame wall hangings and modern, half-moon mirrors. "Sometimes people just want to confirm a piece will look great on the wall where they're planning to hang it, so we receive pictures of their home and provide feedback," says Candice. "I love that! It's exciting to see where my work will be placed." 
But her true secret to keeping customers happy? Maintaining a warm, easy-going approach throughout the process. Luckily, Candice can't help but treat everyone like a friend, and it shows. "The reviews that comment on how easy I was to work with or how the piece fits perfectly in their home make me feel like I did my part," she says. "I'm honored to be in each and every space."
The shipping specialists
Misha and Amit Gudibanda, who make playful paper products for their shop Sky Goodies in India, know that timing can be everything during the holiday rush. Their savvy solution? Offering an assortment of printable DIY toys, planners, and ornaments that come in vibrant colors and imaginative designs. With whimsical animal cut-outs and to-do templates that make even the dullest tasks feel delightful, last-minute shoppers will find comfort and joy knowing they're on the fast-track to festive. 
As for the ready-made trinkets? Amit and Misha have you more than covered. "We ship holiday orders out within a day so there's no delay," says Misha. "We use express couriers so deliveries are fast and we can track the parcels precisely." Plus, the couple have done their homework when it comes to shipping internationally. They always check the areas each courier services before deciding which one is best for an order. In the rare cases where customs are charged, Amit and Misha are committed to paying for the cost of any duties so their customers never have to worry about unexpected fees.
The extras extraordinaire
Some people are natural empaths, and that just might be the secret ingredient to success for Rheal, who runs eclectic home goods shop Made By Rheal in California and uses they/them pronouns. "We're all a customer at some point," says Rheal. "Starting from a place of thoughtfulness helps create a more compassionate interaction." No matter the situation, Rheal always thinks about how someone would want to be treated. When COVID-19 delayed shipments of their abstract, earthy-toned throw blankets and versatile concrete catchalls, Rheal immediately contacted customers and sent them coupons for a discount on future orders. 
It's personal touches like these that go a long way toward creating meaningful relationships with buyers, and that's why Rheal adds small gifts and handwritten notes to each order. To them, these pleasant surprises are worth the extra effort, because connecting with customers is what drives them to create. "There's a fullness you feel knowing you made something that brings beauty to someone's life," they say. "That's part of how you find meaning and create positivity in yours and others' lives."
The packaging pro
According to Nadirah Bostick, the one-woman creative force behind fine jewelry shop Aquarian Thoughts, unwrapping a package should be an experience. "I want buyers to feel like they're receiving a special gift, even if it's for themselves," says the seller who works out of her studio in New Jersey. Nadirah's labels, boxes, and jewelry pouches are stamped with her logo and feature elegant touches of gold that pair gorgeously with her glimmering gemstones and delicate metalwork. 
But don't just take our word for it. Nadirah's presentation prowess is written in her shop's stars—all five of them!—and her reviews speak for themselves. Take customer E.C., for example, who raves: "The packaging is very thoughtful and the handwritten note was the icing on the cake." Or M.K., who describes the cherished pieces she purchased for the women in her family as, "packaged beautifully for gift-giving." Music to the ears of any shopper getting their precious presents delivered directly to their loved ones this year.
The personalization perfectionist
Leather goods designer Yordan Yordanov of Etsy shop Di Geordie believes that what you get out of something is a direct result of what you give. The Bulgarian-based seller meticulously engraves his sleek, sophisticated bags and accessories with names, dates, and special quotes—and in return for the great care he takes with his customers, he's earned their lifelong loyalty. Yordan knows how important it is to pay attention to every detail, down to the precise placement of a stamped letter on a waxed canvas dopp kit or classy leather-wrapped flask. "We go through each step with our customers, making sure every element is the way they want it," he says. The end result is a personalized product that leaves an impression all its own. "We have customers we've stayed in touch with after the purchase, sharing personal stories and life experiences," says Yordan. "We've even sent gifts for some of their kids!"