Curate a capsule collection of exceptional accessories to complement any outfit—from your go-to everyday denim to that extra-pretty party dress.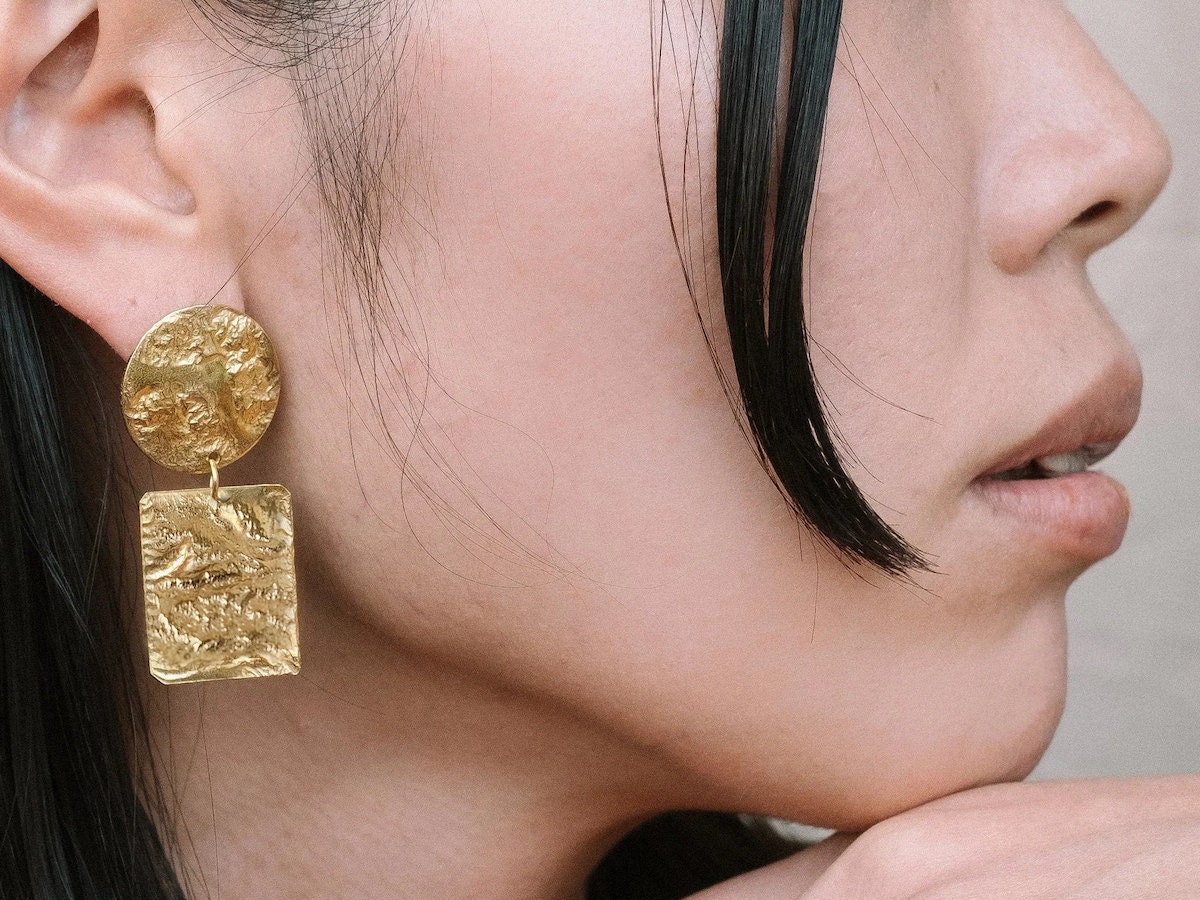 A capsule wardrobe is a collection of well-crafted, versatile clothing that can be mixed and matched to create outfits for endless occasions—a minimalist-minded, inspired idea that saves both money and closet space. But once you've found the perfect little black dress and you're ready for accessorizing, where exactly do you begin? It's time to bring that same strategic capsule mindset to your finishing touches, and learn how to accessorize with carefully selected, high-quality handmade jewelry, bags, and hair adornments that lend themselves to a wide range of looks and will go on to become staples in your rotation.
To help you get started, we've rounded up everything you need to know about curating a collection of endlessly adaptable (and undeniably stunning) fashion accessories to complement every ensemble.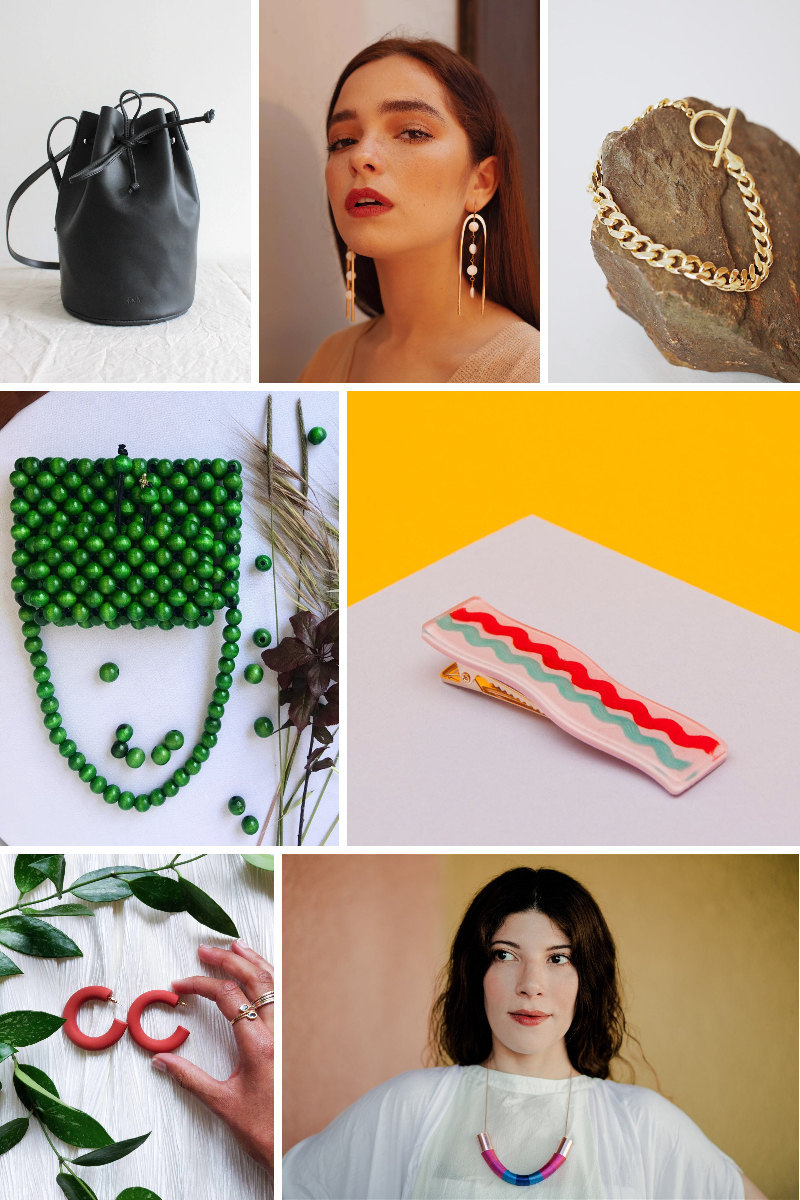 SHOP (clockwise from top left): Black leather bucket bag from Sjaelv, $209; pearl drop earrings from Aleishla Jewelry, from $70; chain link bracelet from Foe And Dear, $52; pink patterned hair clip from Studio Pepita, $19; chunky colorful statement necklace from Mair Berlin, $72; polymer clay hoop earrings from KAMERIYA by Orit, $25; green beaded handbag from Ineffable Bag Store, $72
4 steps to accessorizing your wardrobe, capsule-style
Choosing your capsule collection requires first thinking about when and where you wear accessories, and about what kind of pieces you wear for different purposes and occasions. The three overarching categories for capsule accessories are everyday wear, statement pieces, and special occasion accessories.
With these categories in mind—and with the understanding that what constitutes an "everyday," "statement," or "special occasion" look is totally up to you!—follow these steps to curate your capsule accessories collection.
Step 1: Evaluate what you already have
First things first: Take stock of your current jewelry, handbags, and hair accessories. Set aside anything you don't like anymore or never wear—you can sell them or give them away to a lucky friend. When thinking about how to accessorize, it's important to know what you're starting with.
Step 2: Decide what you need (and make a list!)
Only you can decide how many pieces of what types of accessories are right for your capsule collection. The big idea, though, is to land on the smallest number possible of the most versatile pieces you can find. Make a detailed shopping list of the accessories you need, including how many pieces you're hoping to find for each different category. For example, if you're often out on the town for events, you'll want to make sure you have enough statement jewelry and special occasion-ready pieces to suit your needs. If you're mostly hanging at home in jeans and a tee, it might make sense to lean into more everyday-appropriate designs.
Step 3: Shop with the seasons in mind
Look for pieces that will transition from your fall and winter wardrobes to your spring and summer wardrobes. Ideally, the only thing that will change between your winter accessories and summer accessories is the material your hats and scarves are made from.
Step 4: Only buy what's on your list
To help you evaluate your choices with clarity and intention, ask yourself these four questions before you add an accessory to your cart. If you answer "no" to even one question, keep browsing—you can add the pieces that don't pass to your Favorites and revisit them later, if that helps you let them go for now.
Do you absolutely love it? If it doesn't make your heart beat just a little faster, move along.
Does it suit your fundamental style? Choose accessories that match your current style aesthetic and overarching fashion sense.
Does it mesh with your lifestyle? Have infant twins? Keep the big hoop earrings and long necklaces to a bare minimum for the next few years. Have a corner office at your law firm? Pick accessories that err on the professional side.
Will you wear it enough? Buy only accessories you know you'll wear often—consider the comfort, practicality, style, and price of the piece.
Ready to start curating? Read on for tips and inspiration!
Everyday accessories: Anywhere, any time
Your everyday fashion accessories are the simple, practical pieces you can wear to work, on a hike, volunteering at your kid's school, or on casual brunch dates with friends. They're not screaming for attention, but they bring polish and cohesion to your look.
Everyday jewelry: Casual and comfortable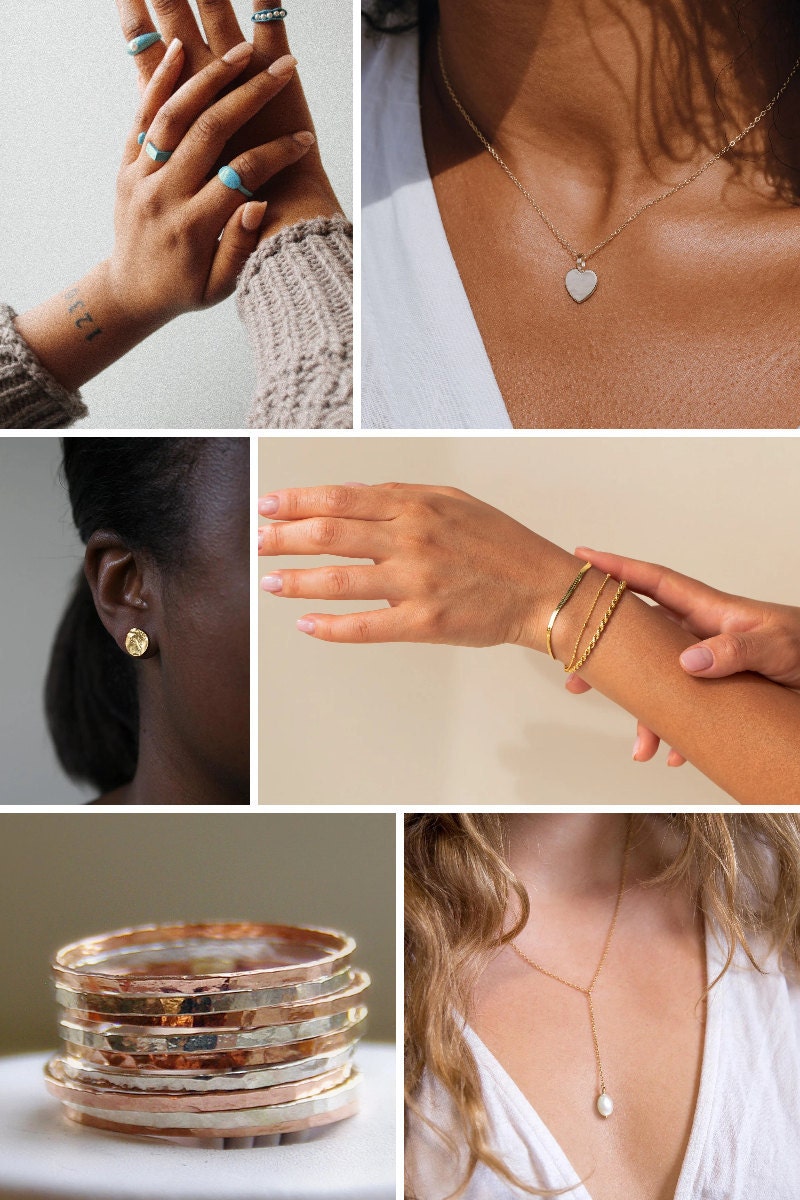 SHOP (clockwise from top left): Resizable blue ring with pearl accents from XO, Deb, $10; gold heart necklace from Vanessa Plana, $183; dainty gold bracelets from Caitlyn Minimalist, from $29; pearl drop necklace from Delezhen, from $42; stackable hammered rings from Nadine Jewelry, $95; reticulated vermeil post earrings from Lingua Nigra, $92
Dainty jewelry, like thin silver or gold necklaces and simple rings, is a great staple for everyday accessorizing. Toss on a pair of understated stud earrings, a bangle bracelet, and a small pendant, and you can change your clothes multiple times a day—from a skirt and blazer for work to jeans and a tee for after school pickup to a tank top and denim shorts for a casual date night—without ever swapping out your jewelry.
Stackable rings and bracelets are particularly versatile, since you can wear just one from the stack for a low-key look, or pile them all on to ramp up the impact. The same goes for layering-friendly necklaces that can hold their own solo, or be paired with chains of varying lengths for a little more visual oomph. If you're a pendant fan, invest in a few high-quality chains, and switch out your pendants to match your outfit for the day. Mixing and matching pendants and chains is a good way to maximize your capsule jewelry budget across all three categories.
Everyday bags: Functional and fashionable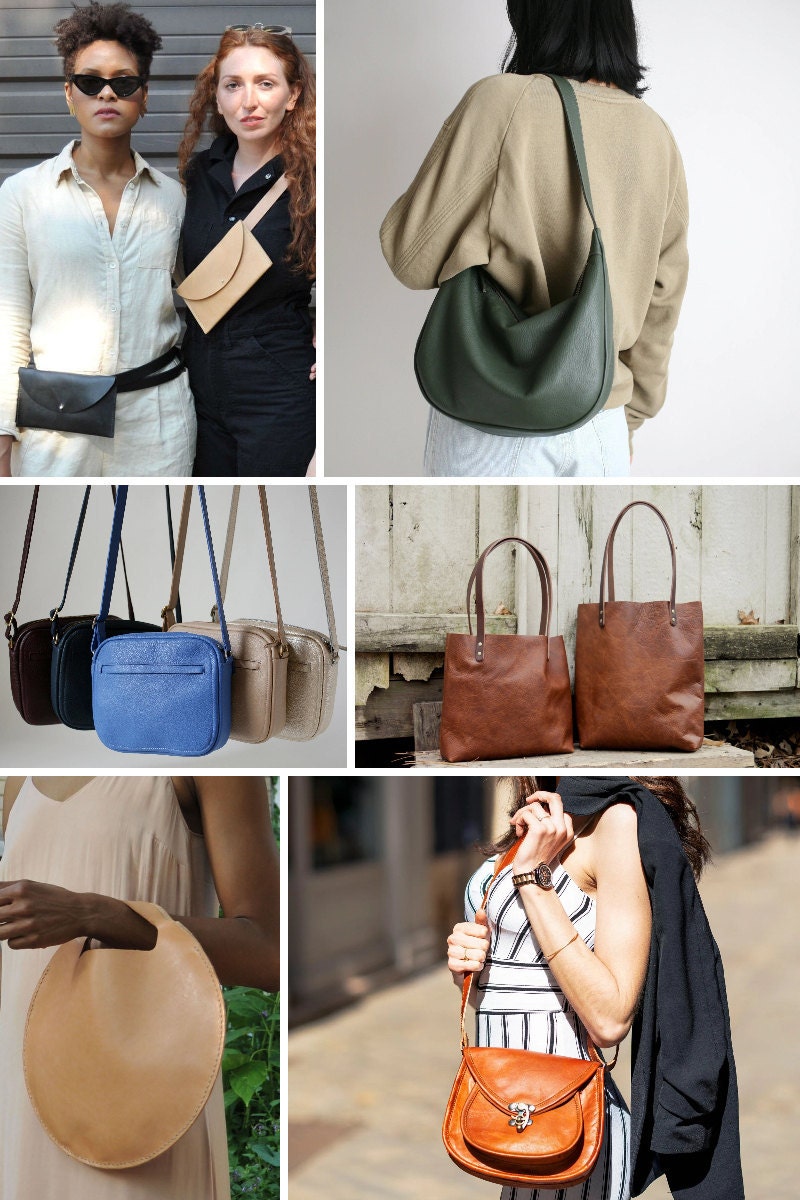 SHOP (clockwise from top left): Leather belt bags from Leeleez Leather, $125 each; leather crossbody bag from Alex Bender, $254; rustic leather tote bags from Hawks And Doves, from $115 each; vintage-inspired leather crossbody bag from Latika Creations, $76; round leather handbag from Leeleez Leather, $100; crossbody handbag from Alex Bender, $165
Three essential bags will see you through everyday accessorizing in all seasons—we promise.
A roomy crossbody bag makes it easy to carry your busy life with you—your water bottle, snacks, wallet, keys, cosmetics, notebooks, and all of the other flotsam and jetsam you might need when you're on the go.
Fanny packs are back in style in a big way, and they're perfect for times when you want to travel light. Wear a fanny pack securely around your waist like a belt, or drape the strap across your shoulder like a crossbody bag, with the pouch in the front or back.
A large leather tote holds a sizable load, and it goes everywhere—to yoga, the beach, the library, or even an overnight visit. Tote bags have shorter straps than crossbody bags and are carried by the handles or slung over the shoulder instead of worn across the body. They're also a great choice for your daily commute!
Everyday hair accessories: Pretty and practical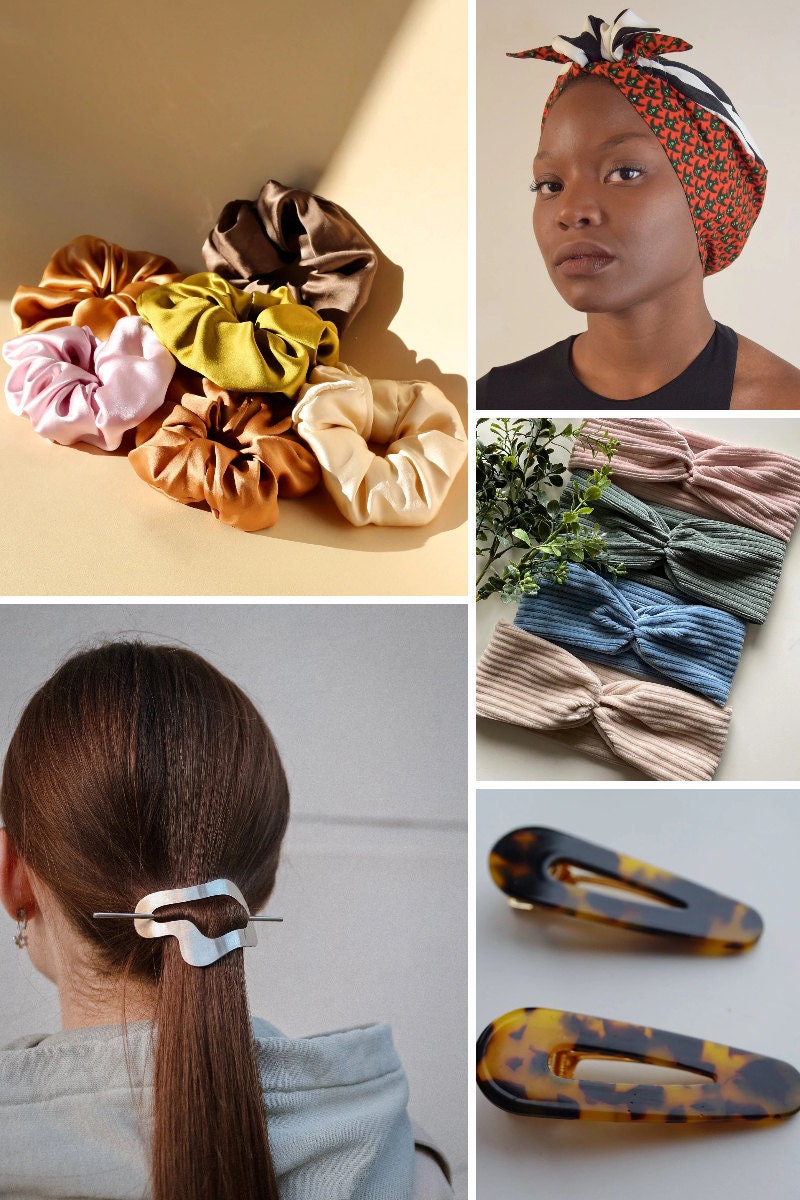 SHOP (clockwise from top left): Assorted silk scrunchies from Marram Designs, $27 each; striped headscarf from AWAXLAND, $33; stretchy headbands from Lenis247, $10 each; hair clips from Foe and Dear, $17 for two; minimalist barrette from Kapelika, $38
Your chic hairdo is an accessory all on its own, but if your locks are on the longer side or you're finally growing out those bangs, you'll need a few essential hair accessories to keep your mane out of the way—or to dial up the drama when life calls for it.
Hair clips and barrettes help you create a variety of everyday hairstyles, whether you use them to pin back the sides or sweep up the back for a timeless half-up, half-down look. Choose the types and sizes of barrettes and clips appropriate for your hair type, whether it's thin and straight or thick and curly.
Solid-colored headbands are extra-versatile and ideal for everyday 'dos. Look for stretchy fabrics that you can comfortably wear all day. For braids, ponytails, and messy buns, silk scrunchies are the way to go—they're extra-gentle on your hair, and they can add a pop of color when the mood strikes.
Beautiful silk or cotton head scarves serve as a dramatic finishing touch for any outfit—or a quick fix for a bad hair day. They're great summer accessories, and there's endless possibilities when it comes to styling:
Wrap a scarf around your head, and tie it in the front (at the forehead) or in the back (at the base of your neck, under your hair.)
Tie a pretty, patterned scarf around an everyday ponytail to hide your elastic.
Roll up a silk scarf and wear it as a headband—let the long ends peek out in back, or tie them in a bow under your hair to keep them hidden.
Tie a head scarf neatly around your neck for a fun, vintage accessories vibe.
Statement accessories: When you want to wow!
Statement accessories are the pieces you wear purely because they make you smile and feel totally on-brand (yours!). They might be a little much for a routine doctor's appointment, oil change, or grocery store run—but they fit right in at the movies, a dinner party, or an afternoon of browsing local boutiques. And if you want to rock them at the dentist too, we say: more power to you!
Statement jewelry: Bold and beautiful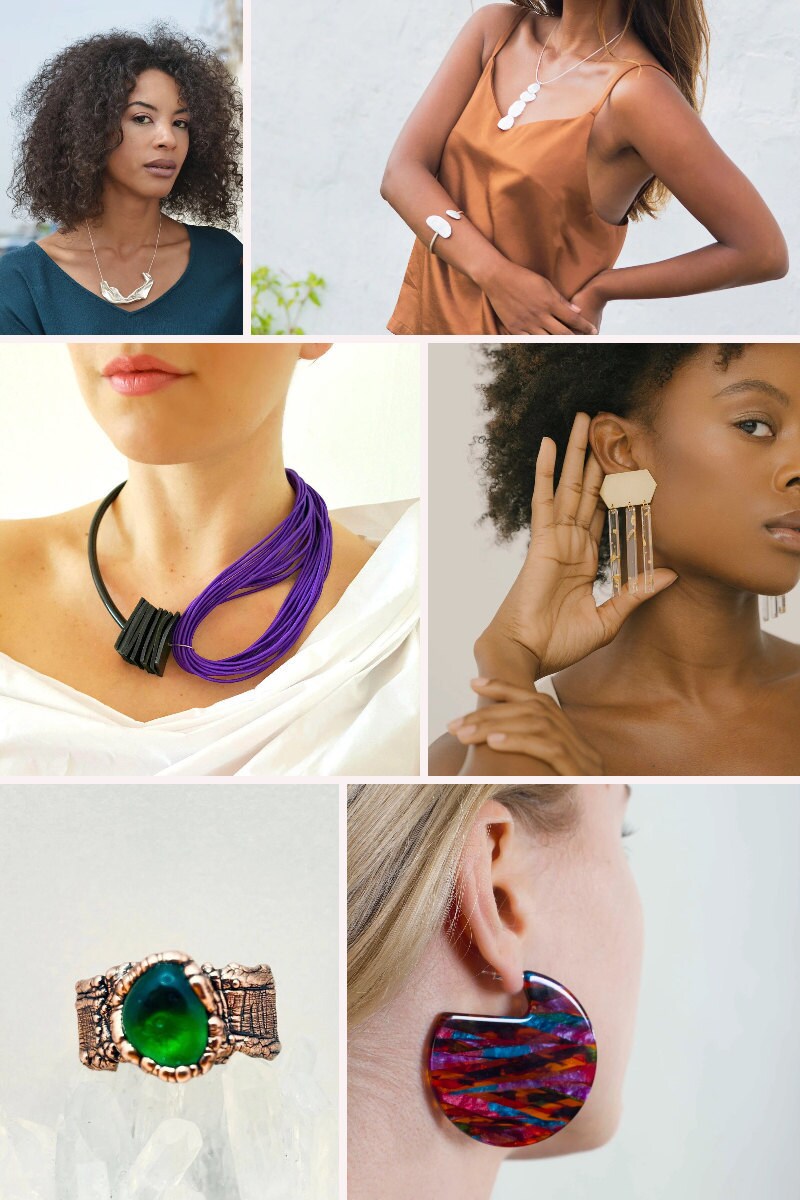 SHOP (clockwise from top left): Silver statement necklace from Aika Jewelry, $195; silver geometric bangle from Aika Jewelry, $145; acrylic dangle earrings from Alchemy Jewelry, $50; lightweight acetate colorful earrings from NINIco Jewelry, $35; green sea glass statement ring from Arcadia's Boutique, $58; asymmetrical purple statement necklace from Pevalek Art, $60
Statement jewelry is meant to make a splash. Look for big, bold stud earrings, dramatic dangles with interesting details, chunky rings and bracelets, and striking handcrafted necklaces. Embrace color, texture, and pattern and don't shy away from scale—this is your chance to go big, literally. Opt for a more-is-more moment with a statement necklace, earrings, and rings—or mix and match your bolder pieces with your everyday fashion accessories in any combination you like.
Statement bags: Fresh and funky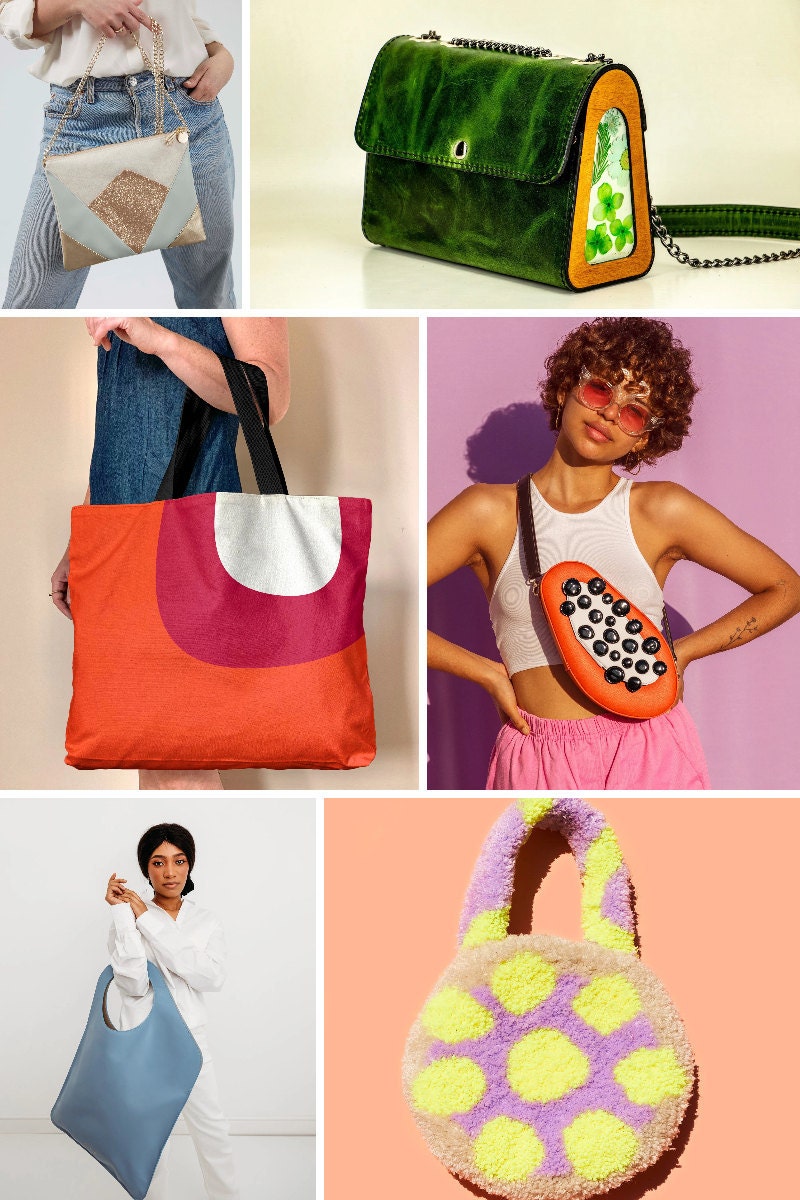 SHOP (clockwise from top left): Sparkly suede bag with removable chain from Maison Zouzou, $61; green leather crossbody bag with natural flower resin panels from Mantiche Bags, $120; papaya crossbody bag from Martania Bags, $97; fluffy tufted round bag from Fem World Shop, $275; oversized blue leather handbag from Purely Arm Candy Bag, $408; canvas shoulder bag from Mrs. Fishkin, $82
A fun, clever handbag stands on its own as a statement accessorizing staple. Pick a bag that speaks your language, fits your lifestyle, and suits the types of outfits you're usually wearing when and where you want to stand out. Don't be afraid to have fun here—play with prints, proportions, patterns, and think outside the box when it comes to color and material, too. Wondering how to accessorize a super-simple jeans-and-white-tee look for a little more excitement? These are the answer!
Statement hair accessories: Big and bright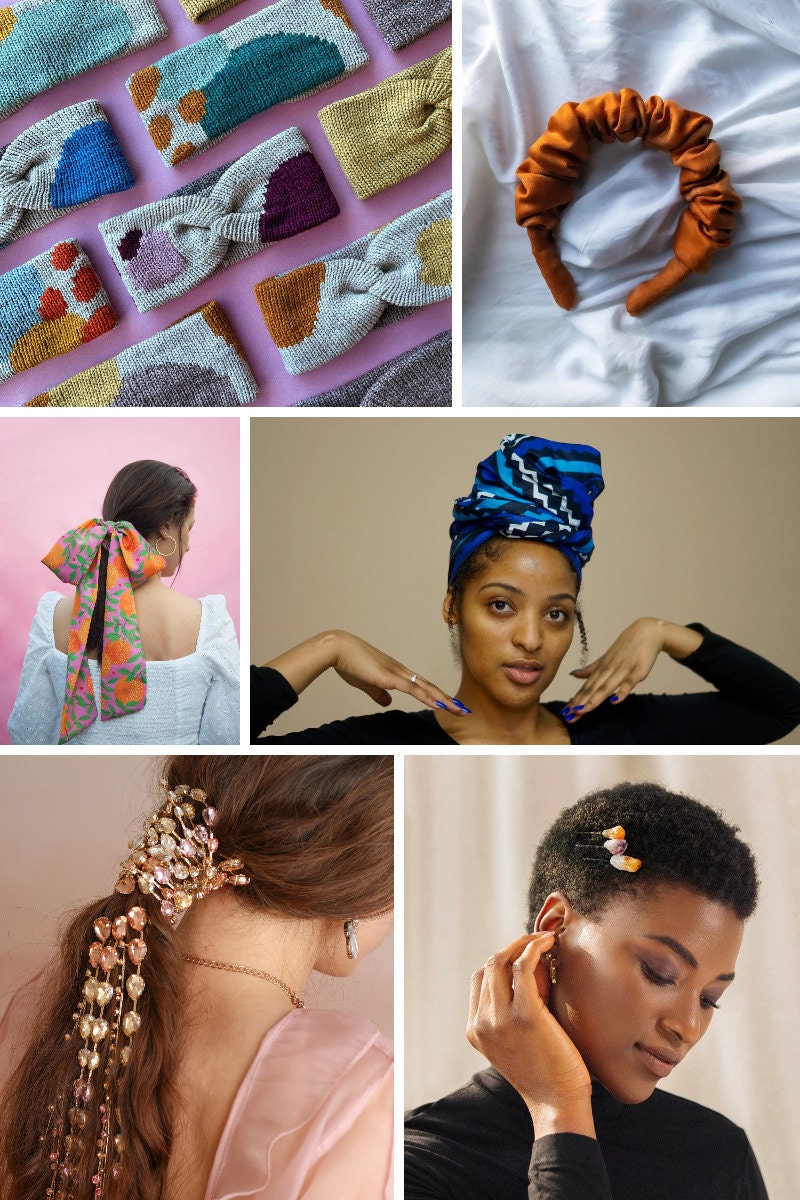 SHOP (clockwise from top left): Colorful knit headbands from PLYSH, $78 each; scrunchie silk headband from Native Mix Store, $31; blue African wax print headwrap from Asikara by Laura Jane, from $19; crystal hair pins from ABA Jewels, $30 for two, crystal hair spine from Wild Rose And Sparrow, from $40; orange-print hair scarf from Cherry And Mint, $30
Statement hair accessories bring a small-but-mighty pop of texture and color to your outfit and enhance your hairdo. Look for bold bows, headbands, and scrunchies that complement your wardrobe palette, and stock up on a few different variations so you have plenty of choices. For a little retro flair, consider vintage hair accessories, too.
Accessories for special occasions: Evening style
Special occasion accessories are the showstoppers you pull out for weddings, anniversaries, fancy dinners, and holiday parties. These memorable pieces may be big or small, bold or understated, jazzy or quiet—whatever feels sentimental and significant to mark the moment for you. But unless your calendar is packed with fancy occasions and formal events, your special occasion collection should be considerably smaller than your everyday and statement collections.
Evening extras: Sparkly and sumptuous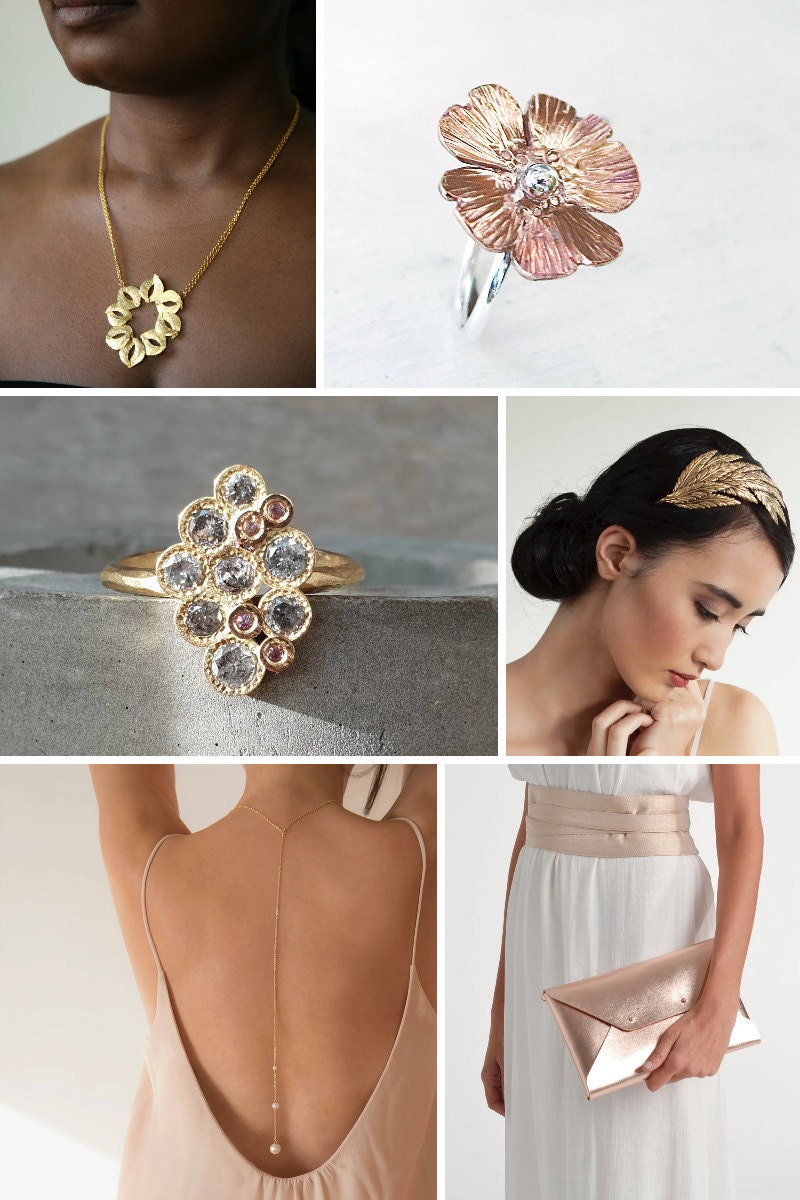 SHOP (clockwise from top left): Gold pendant necklace from Lingua Nigra, $173; poppy statement ring from Barron Design Studio, $39; gold wing headband from Agnes Hart, $220; rose gold envelope clutch from Sister Plus Sister, from $67; pearl back necklace from Petites Pierres, $85; salt and pepper diamond cluster statement ring from CJ Bijoux, $1,460
Evening jewelry sets are a convenient way of accessorizing to dress up your look for a special occasion. Sets include any combination of standard jewelry pieces, including rings, earrings, necklaces, and bracelets, in a coordinated, consistent style. Choose a classic pearl or diamond jewelry set with real or artificial stones, or find a set featuring your favorite metals or gemstones.
If you prefer to curate your fancy jewelry collection a la carte, choose a piece to serve as the anchor, and pick other pieces that complement it. That way, you can wear them all together if the event calls for it. If rings are your thing, make an irresistible cocktail ring your anchor. If earrings are your weakness, pick a pair of glorious, long dangly earrings before you populate the rest of your collection.
There's nothing like a billowing bow or fancy French clip to top off an epic coif—but as you put together your special occasion collection, consider how the hair accessories will work with your jewelry choices. The same goes for your evening bag—look for materials that complement the rest of your adornments.