Learn tips and tricks for creating a well-curated wardrobe, and shop quality layering pieces handmade by small shops.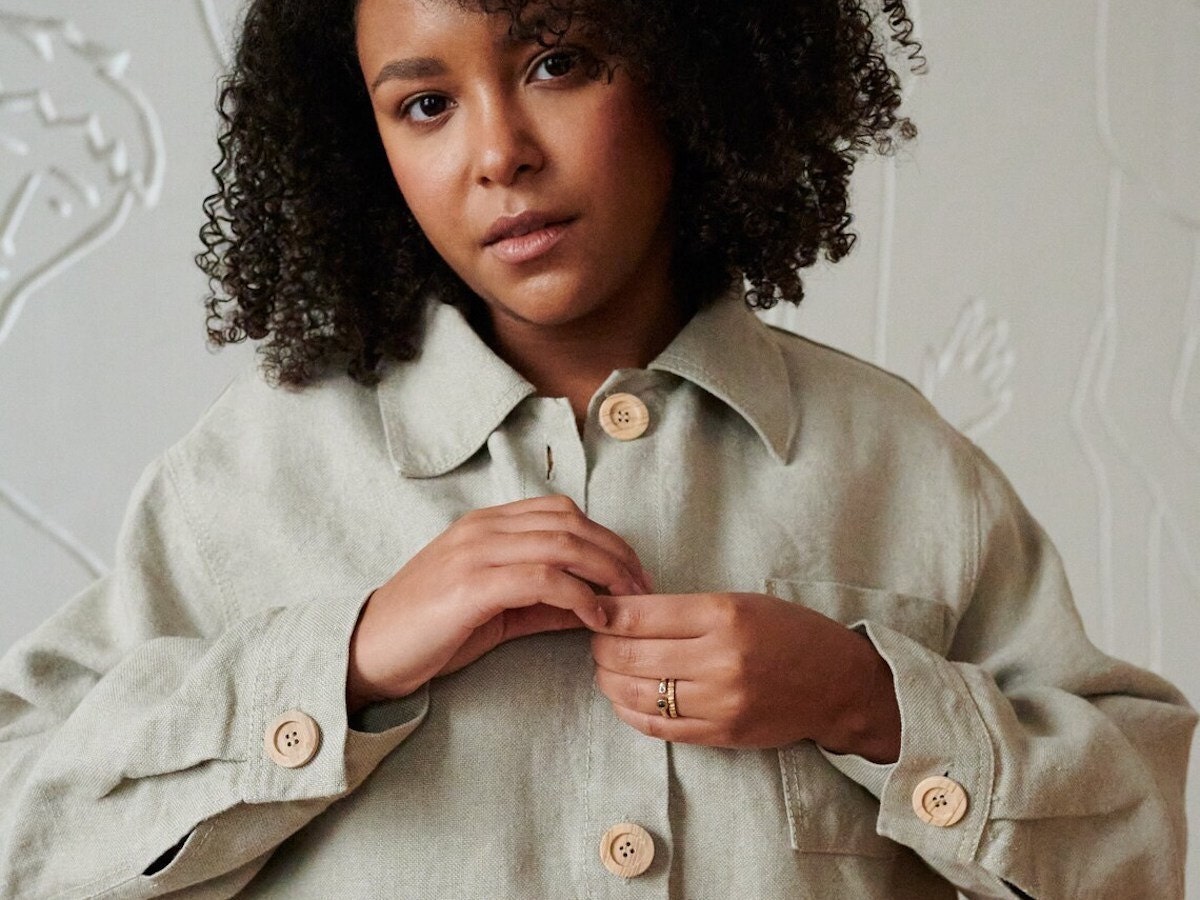 Morning after morning, if you find yourself digging through your drawers wondering why you've got nothing to wear, a capsule wardrobe may just be the simple solution you've been searching for. But what is a capsule wardrobe, really? Perhaps you've heard of the concept before, but never felt sure if it was something you could actually pull off? Today, we're here to assure you it most definitely is, and we'll take you step-by-step through how to build a capsule wardrobe that works for you and your lifestyle. Ultimately, you'll walk away armed with easy-to-wear ensembles that perfectly encapsulate who you are.
What is a capsule wardrobe?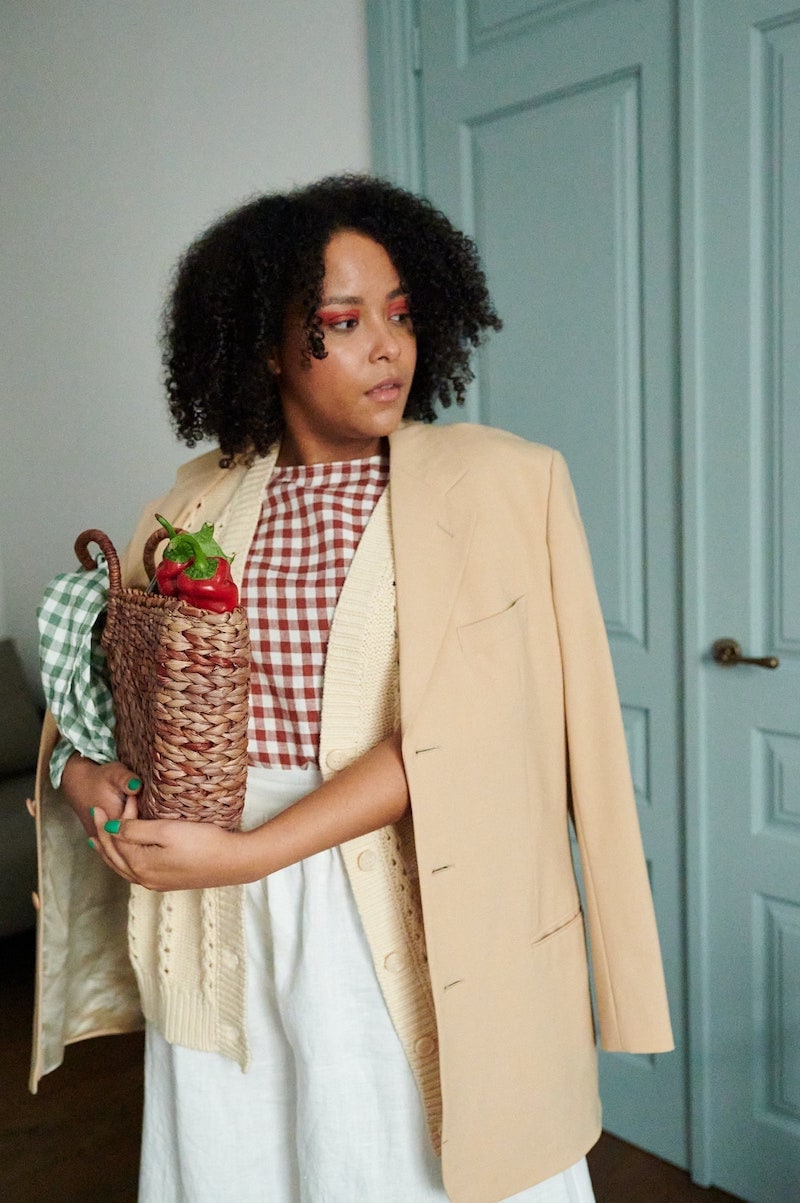 SHOP: White linen trousers from Linenfox, $101
Say it with us: "Less is more." A capsule wardrobe is a curated collection of clothing that's intentionally limited to a set of quality, timeless pieces. The idea is that with these few well-chosen items (and some clever mixing and matching), you can create a range of outfits for all occasions and seasons.
The benefits of creating a capsule wardrobe are multifold. Not only does having less clutter in your closet mean you're less likely to experience decision fatigue when getting dressed, but focusing on a few time-tested pieces is also a more affordable, more sustainable way to shop. Think of it this way: Although you may initially pay more for a shirt or dress that was lovingly handmade, in the long run, that one garment will outlast the passing fads (and inferior craftsmanship) of pile after pile of hastily purchased fast fashions. So, now that we have your attention, where do we begin?
How to build a capsule wardrobe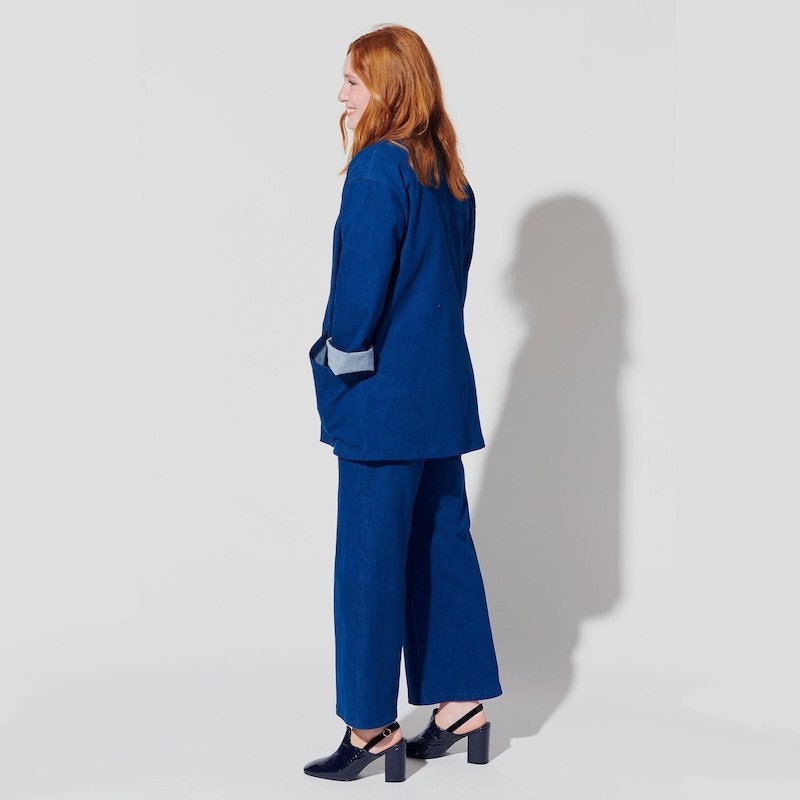 SHOP: Cobalt blue jean jacket and jeans from Sara Bergman, $148 and $168, respectively.
When you're creating a capsule wardrobe from scratch, the key is to focus on selecting your core closet staples. A great place to start? Take stock of what you've already got. We recommend tossing every item of clothing you own on your bed for easy viewing, then organizing them into piles:
Sell or give away: includes things you no longer like, rarely wear, or that no longer fit.
Recycle: includes clothes that are stained, torn, or otherwise unwearable.
Frequent fliers: clothes you wear often.
Less-frequent fliers: clothes you wear on occasion.
From here, you can further sort the pieces you do wear by assessing their capsule-worthiness, and start making intentional cuts. Here are some criteria to consider:
Is it a classic style that won't be out of fashion by next season?
Is it something I can pair with several other basics I already have?
Is it comfortable?
Does it fit me like a dream?
Does it suit my personality and style like a million bucks?
Do I always feel confident when I'm wearing it?
If the answer to any of these questions is "no," it might be time to let that item go!
Once you've identified all your capsule wardrobe keepers, the final step is to fill in any important garment gaps. There are a few tried-and-true, foundational pieces every capsule wardrobe needs—from basic tees to a classic LBD and a really good pair of jeans—and that's where we come in.
Your capsule wardrobe checklist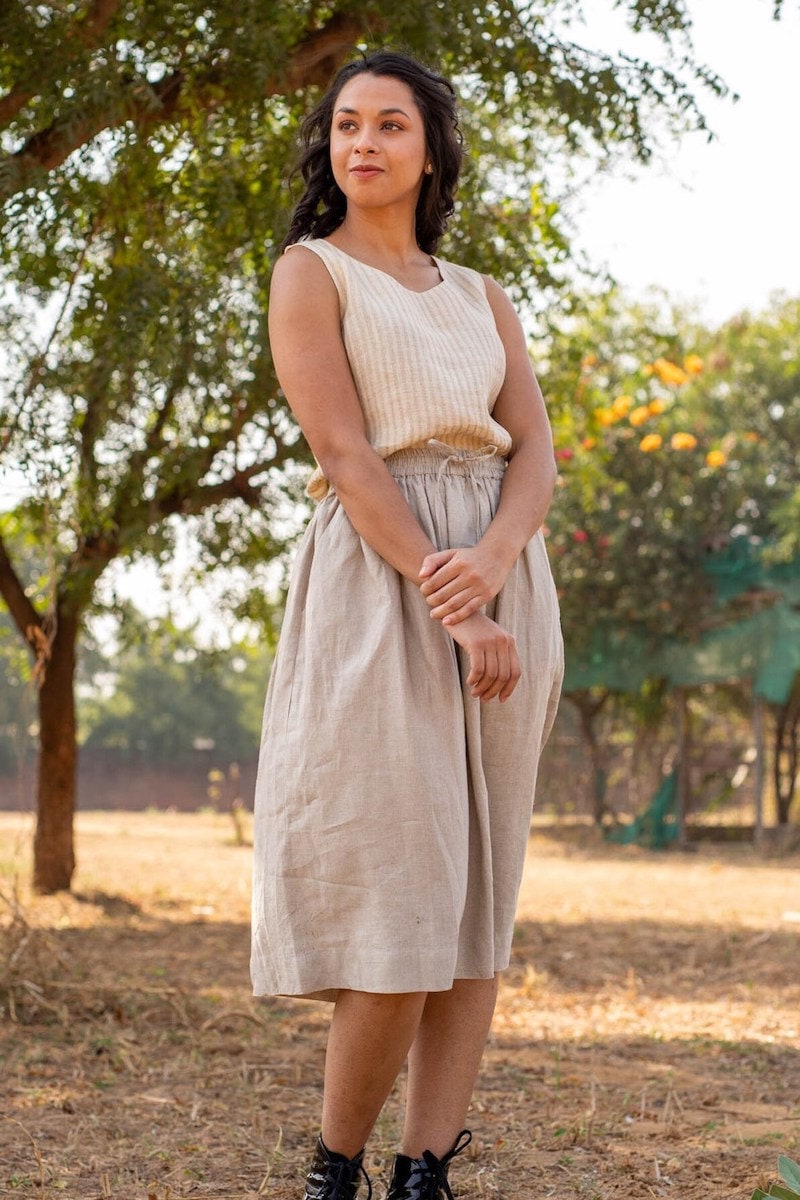 SHOP: Sleeveless tank from Ellementree, $65
Now that you have a grasp of the basics, it's (finally) time to shop! As you search for your new capsule wardrobe go-tos, be on the lookout for versatile garments that can easily be layered together, and dressed up or down depending on the day's activities. We recommend sticking to mostly neutral hues, with a few pops of color and pattern for good measure. Pay close attention to cut and fit, and be sure to check if a seller offers made-to-measure pieces—if there was ever a moment to spring for something bespoke, this is it! After you have the essentials covered, you can build off of these key pieces for seasonal refreshes as needed. (Did someone say spring capsule wardrobe refresh?)
To get you started, we've rounded up a guide to the garments everyone should have on their capsule wardrobe checklist. From layering tanks to tailored trench coats, each of these standout pieces was handcrafted by a small shop to ensure quality and timelessness.
Basic tees
SHOP (clockwise from top left): White linen top from Magic Linen, $68; hemp box tee from Object Apparel, $96; oversized cacao tunic from Linenfox, $71; silk short-sleeved top from The Vivi Collection, $62 | Shop basic tees
Any good outfit begins with a solid base layer to build around, and a well-made T-shirt will take you from a casual park stroll to your best friend's birthday bash with little more than a strategic tuck and the addition of a statement necklace. Fit is a matter of preference: We love both breezy linen V-necks and sturdy cotton crews in classic hues like beige and navy blue. And for a top that truly ties any ensemble together, no capsule wardrobe staple has more staying power than the quintessential clean white tee.
Layering tanks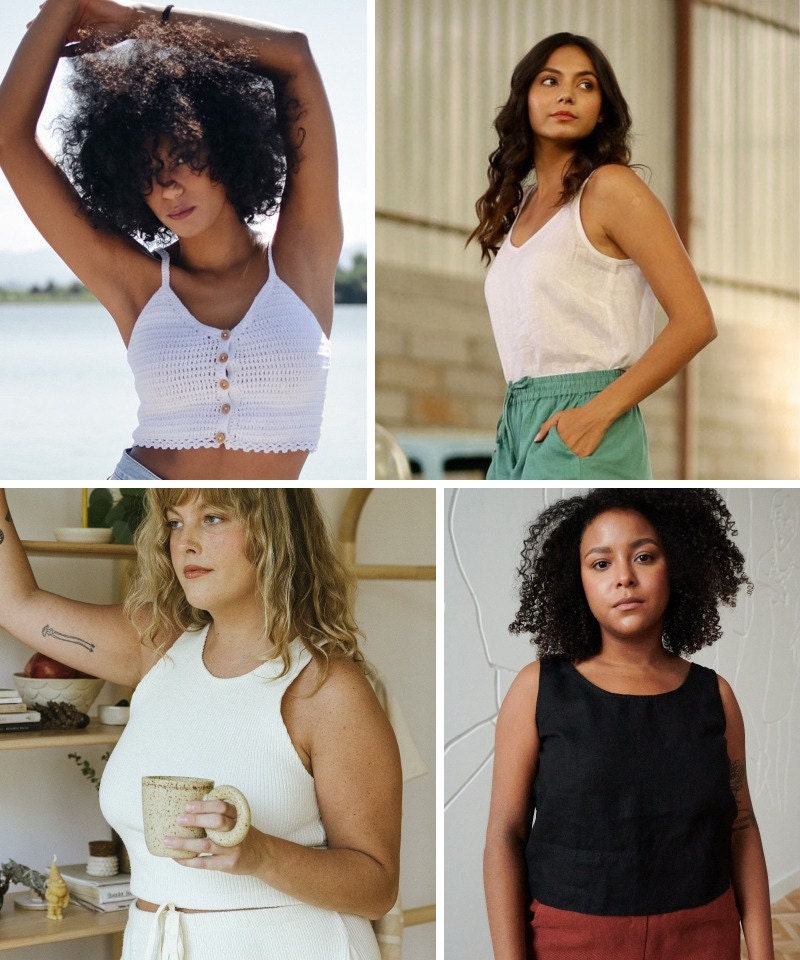 SHOP (clockwise from top left): Crochet top from Plexida, $76; white v-neck cami from Ellementree, $60; linen crop top from Linenfox, $59; ribbed tank from Object Apparel, $78 | Shop layering tanks
Layerability is key when creating a capsule wardrobe, and camis and tanks are the perfect hard-working garments to have on hand every month of the year. Whether you wear a slinky spaghetti-strap number as the star of your summer uniform or a stretchy ribbed crop top underneath your favorite fall cardigan, as you plan for seasonal shifts, it's a great idea to keep a quality layering tank or two up your sleeve.
Classic white shirts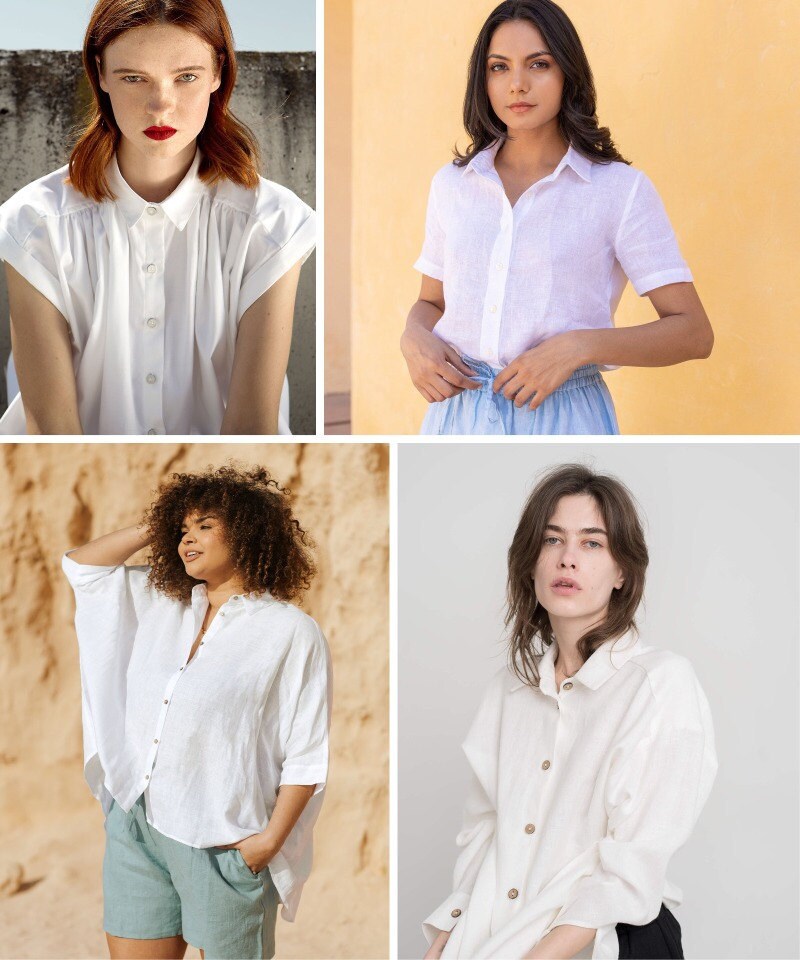 SHOP (clockwise from top left): Gathered short-sleeved button-down from the AR shop, $101; white linen collared shirt from Ellementree, $75; long-sleeved linen shirt from Wavy Linen, $88; oversized linen shirt from Magic Linen, $79 | Shop classic white shirts
When it comes to practical pieces that never go out of style, a collared button down in a sensible shade of white will always top our lists. Versatility is this capsule classic's strongest virtue, so you can rest assured you'll look totally put together no matter how you style your shirt. Our recommendation? Go tailored and pressed to achieve commuter-cool crispness, or try something slightly oversized and channel those chic coastal grandma vibes.
Business blouses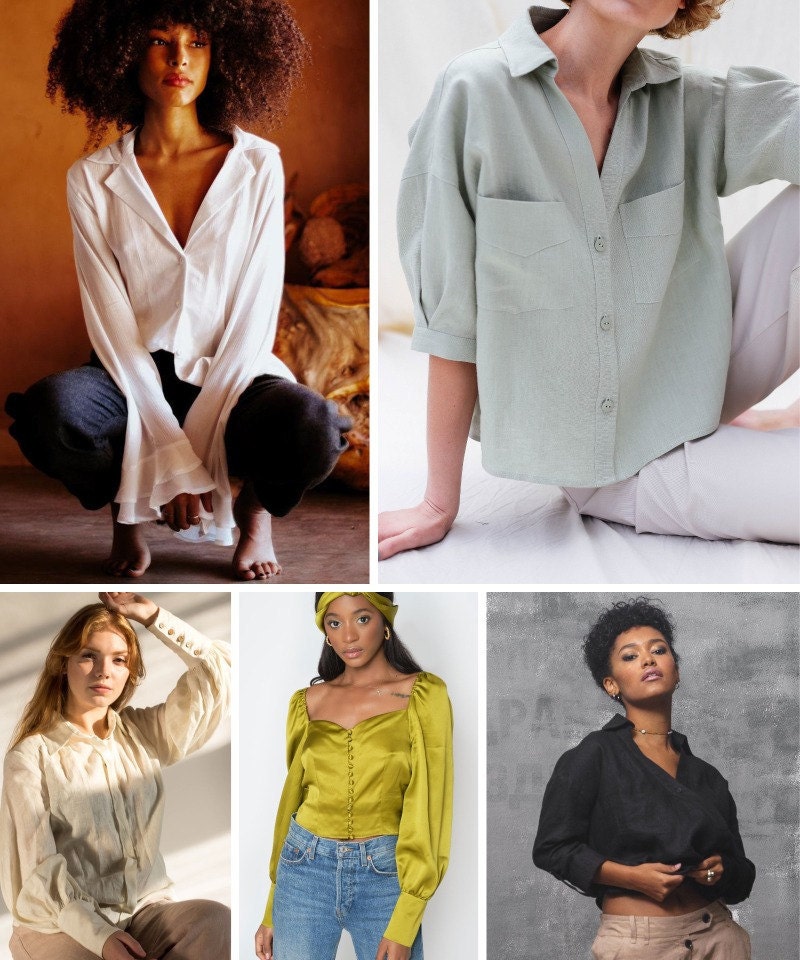 SHOP (clockwise from top left): V-neck button-down shirt from Lacerf, $81; oversized short-sleeved blouse from OffOn, $96; black long-sleeved blouse from Follow Me FS, $122; bustier blouse from Un Plus Un Egale Trois, $190; Victorian blouse from Pavietra, $123 | Shop blouses
It's always wise to keep a piece with some polish in your back pocket should you need attire for a more sophisticated moment (think interviews, art openings, and the like). A blouse with a bit of embellishment will often do the trick, from board-room ready oxfords in bold colors to silky dress shirts stitched from ultra-flirty fabrics. And for a classic top that'd complement even the most romantic 'fit, look no further than styles with billowy bell sleeves and lots of tiny buttons.
Go-to dresses and jumpsuits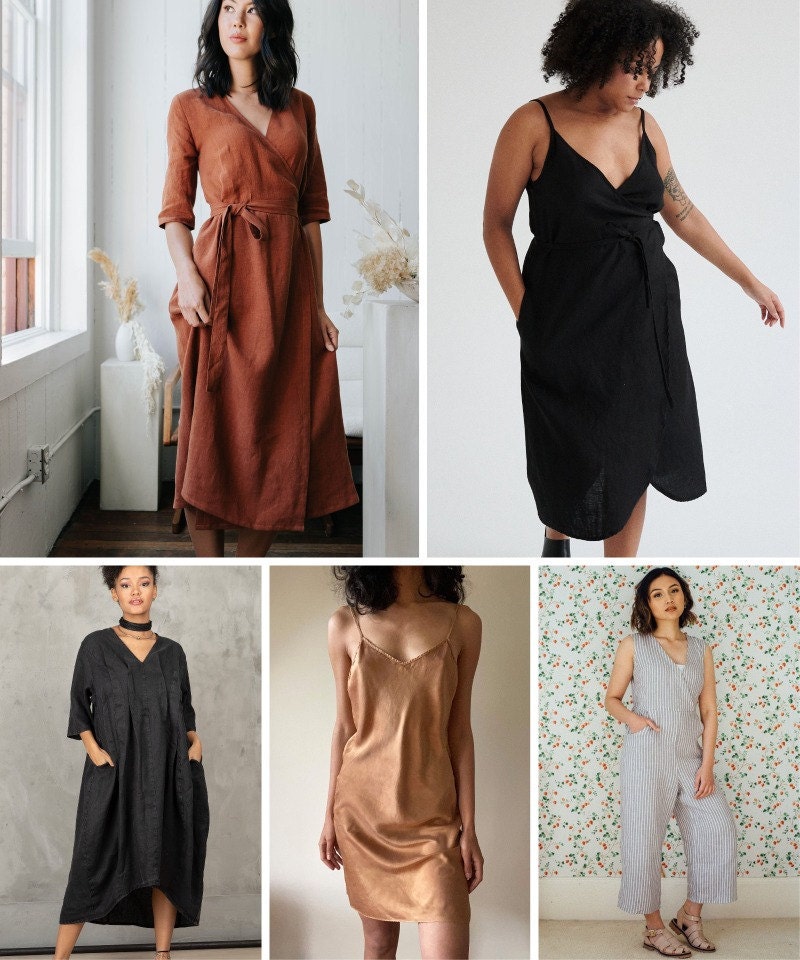 SHOP (clockwise from top left): Jewel-toned wrap dress from Kai and Klo Studio, from $155; spaghetti strap dress from Linenfox, $96; sleeveless stripe jumpsuit from Isabel Knowles, $202; plant-dyed silk slip dress from Sun Sister Co., $114; black maxi dress from Follow Me FS, $161 | Shop dresses and jumpsuits
Speaking of getting glammed up, rather than grabbing a new gown for every special occasion (and only wearing it once) we're all about finding permanent pieces that can play many parts. When selecting your dressy duds, aim for jumpsuits and frocks that make you feel comfortable in your skin, and that transition effortlessly from daytime frolic to evening event with the simple addition of a strappy heel, belt, or clutch. Need an elegant option in a pinch? You can't go wrong with a classic little black dress.
Dependable denim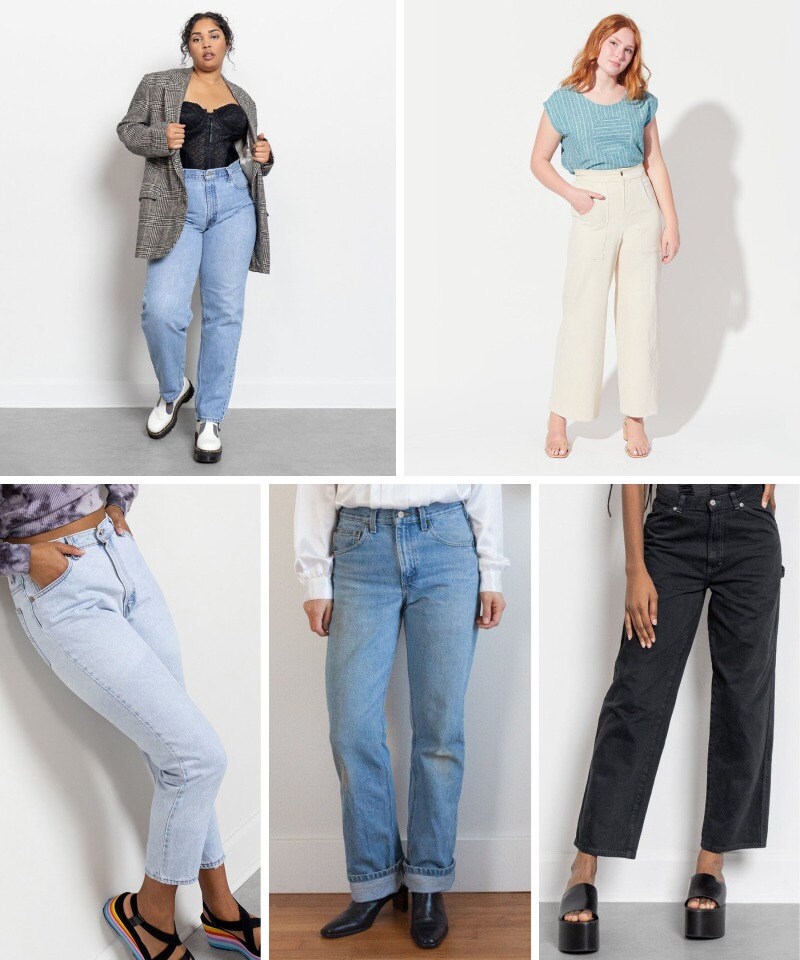 SHOP (clockwise from top left): Vintage high-waisted jeans from Better Stay Together, $125; cream high-waisted jeans from Sara Bergman, $168; black vintage jeans from Better Stay Together, $130; vintage straight-leg jeans from Inherit Vintage Shop, $72; vintage cropped jeans from Better Stay Together, $105 | Shop denim
No capsule wardrobe is complete without a really good pair of jeans. Boyfriend or boot cut, cropped or cuffed—the choice is all yours, but here's what's more: Etsy sellers offer an incredible selection of vintage denim spanning the 80s, 90s, and Y2K, so you can get that wonderful worn-in feel while saving decades of style from a landfill. Once you've found the fit that's right for you, you can even snag an extra pair or two in white, black, or another shade of blue. Dress up a wide leg with a blouse and a heeled boot, or keep it low-key with a pair of skinnies and a tucked-in tee.
Lightweight top layers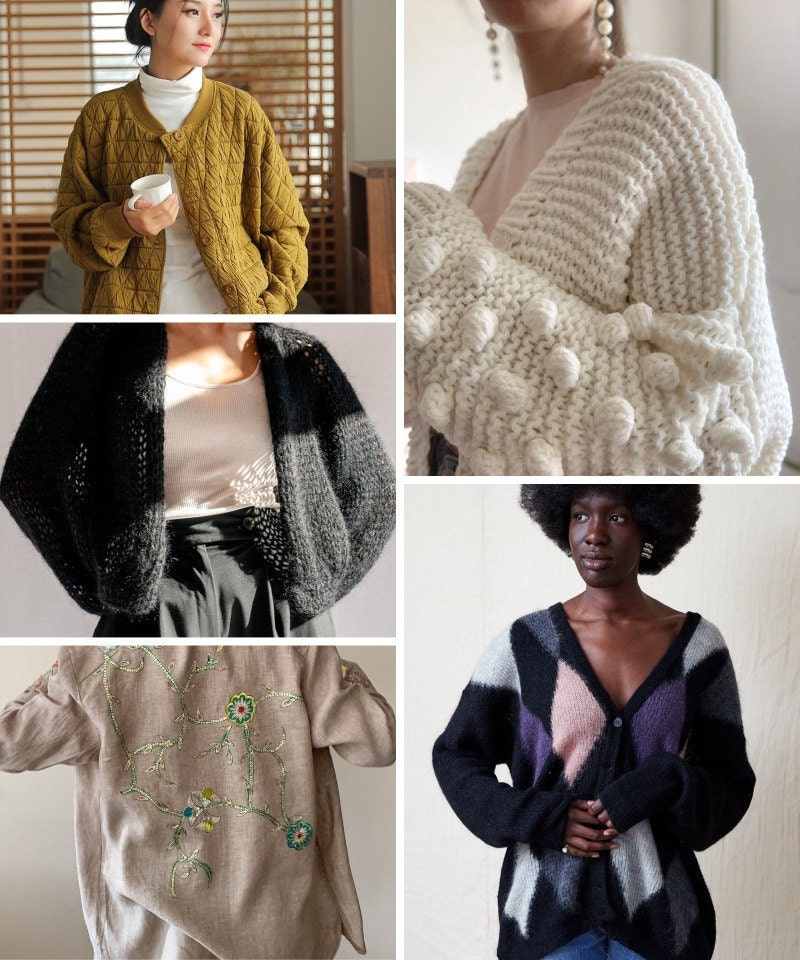 SHOP (clockwise from top left): Quilted jacket from ISTORIST, $62; chunky cardigan from Knitya Wear Shop, $184; vintage cardigan from Sideline Paradise, $70; embroidered linen duster from beyt France, $151; mohair knit bomber from Plexida, $233 | Shop top layers
Whatever the season, every capsule wardrobe needs a proper shoulder cover that can be popped on and off as desired throughout the day. Chunky, oversized cardigans are great when you need an extra dose of cozy, while drapey dusters and hand-knit shrugs bring a breezy layer of elegance to on-the-go ensembles.
Trusty trousers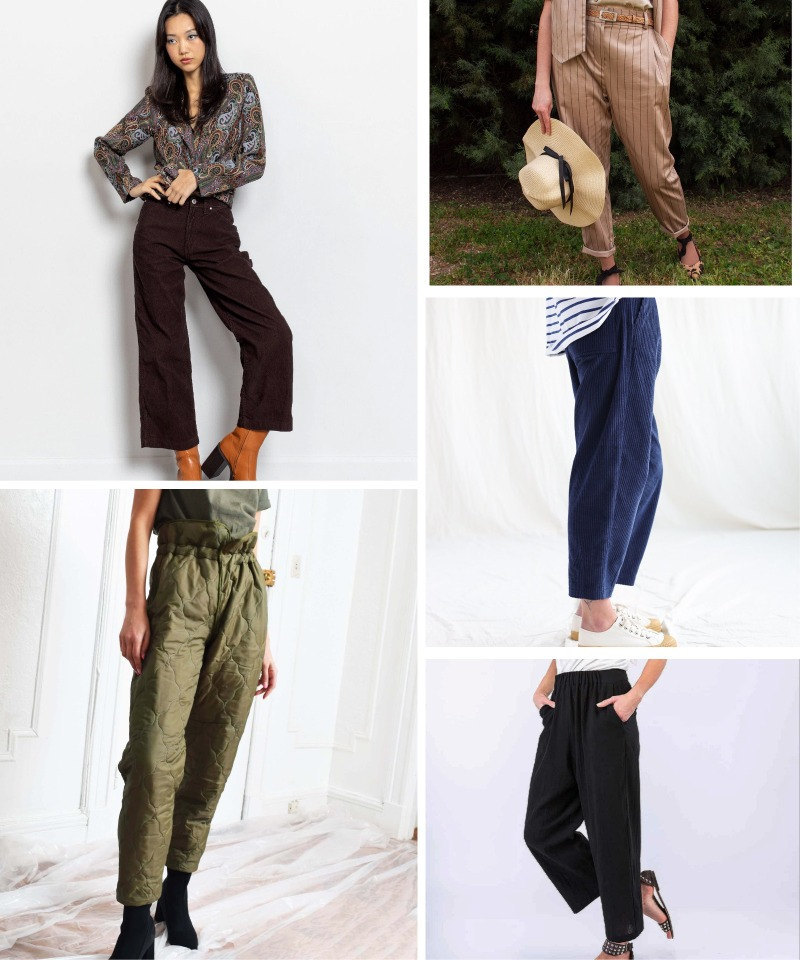 SHOP (clockwise from top left): Vintage wide-leg corduroys from Better Stay Together, $125; tailored striped pants from Francine Muguet, $104; navy blue cord trousers from OffOn, $100; wide cotton pants from ASKA Paris, $123; vintage quilted liner pants from Shop Narro, $148 | Shop trousers
If the idea of everyday denim doesn't do it for you, there are plenty of other options for practical pants to put in your capsule. Plus, an impeccably tailored pair of trousers is not only one of the most figure-flattering purchases you'll ever make, it'll instantly elevate a basic tee for the office or a first date. For an outfit with a little extra kick, pick bottoms that boast a quilted pattern or sleek stripe, style them with a solid top, and you're off!
Timeless trench coats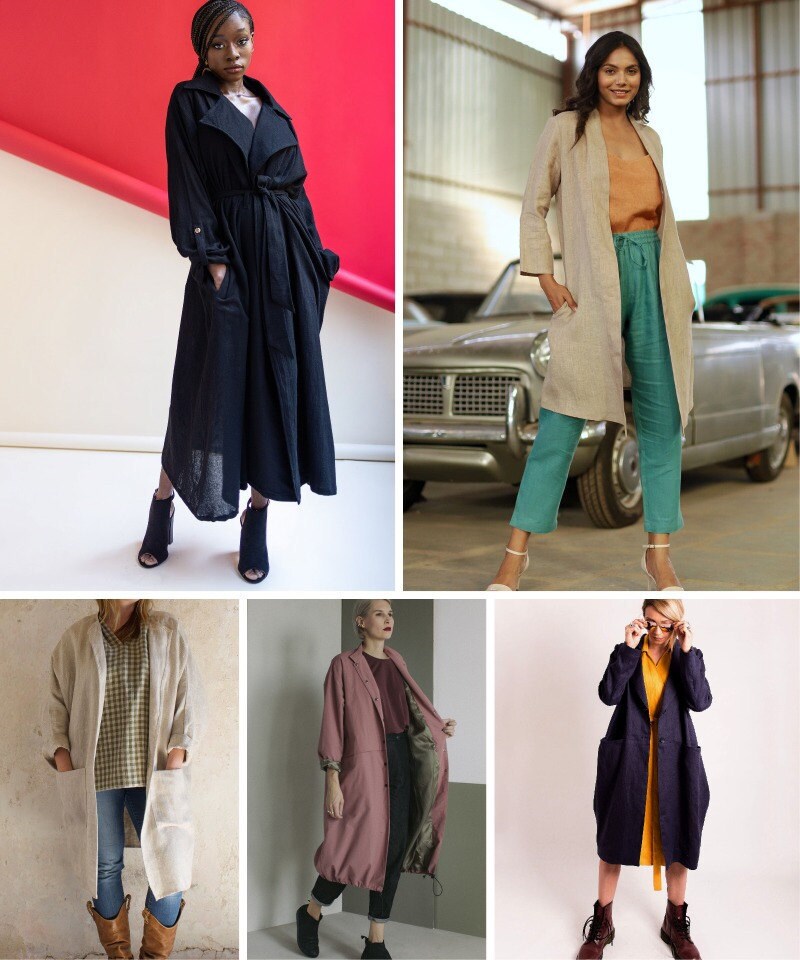 SHOP (clockwise from top left): lightweight black trench from Ngo Bolingo, $125; beige long-sleeved linen kimono from Ellementree, $105; long linen blazer from Follow Me FS, $193; rose pink trench from PULPA Design, $213; long linen duster from By Loom and Hyde, $185 | Shop trench coats
Of course, when the cold is extreme you'll need a substantial coat in your winter capsule collection, and for summer you'll want a light sweater at most, but for all those days in-between, a time-tested trench is the mid-weight solution of your well-dressed dreams. Depending on your local climate you can choose a heavy duty, waterproof design with oversized pockets or go for a gauzy, flowy fit with a feminine waist-tie.
Sensible shoes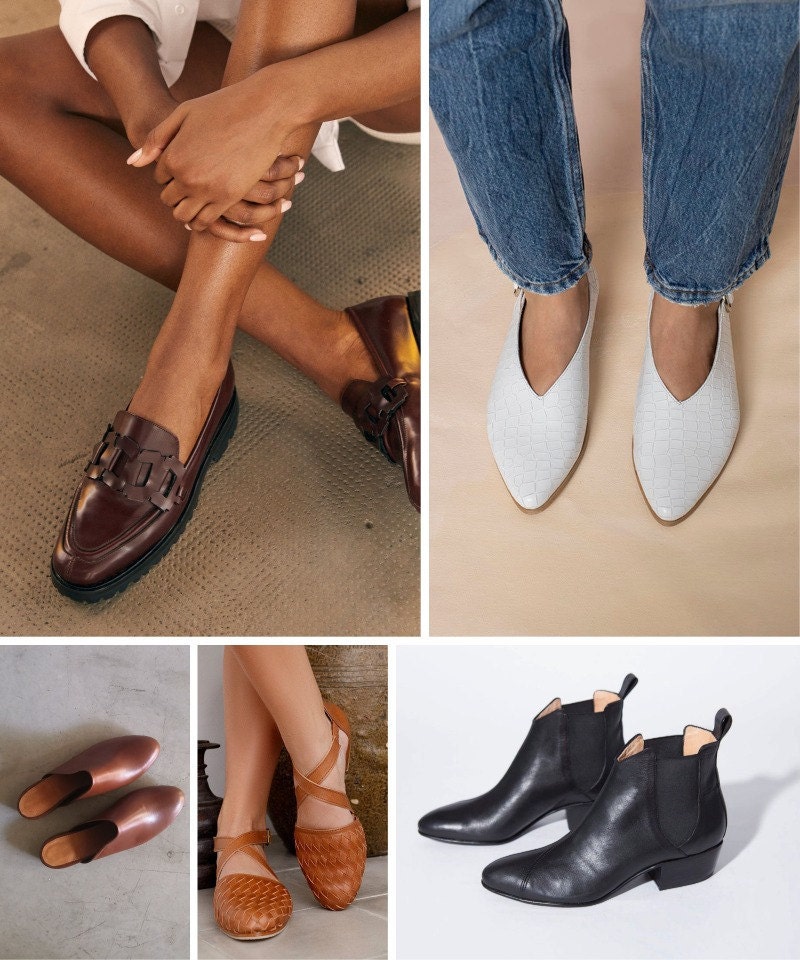 SHOP (clockwise from top left): Burgundy leather loafers from Zou Xou Shoes, $280; white snake print flats from Katz and Birds, $289; western bootie from Zou Xou Shoes, $298; woven leather flats from Bali Elf, $135; brown leather mules from Katz and Birds, $289 | Shop shoes
Behind every impeccable outfit is a fabulous pair of shoes, but when you're trying to streamline your closet, how do you choose? Durability should be a definite priority (you'll want these puppies to last you through many-a-journey)—so look for top-quality leathers (vegan, too!), handsome hand-stitching, and super-solid soles. Second to that, it's all about finding footwear that can complement multiple capsule outfits. At a minimum, we recommend starting with a pretty pair of flats, a sturdy set of ankle boots, and perhaps some elegant loafers or cushy mules to mix and match.
Multipurpose totes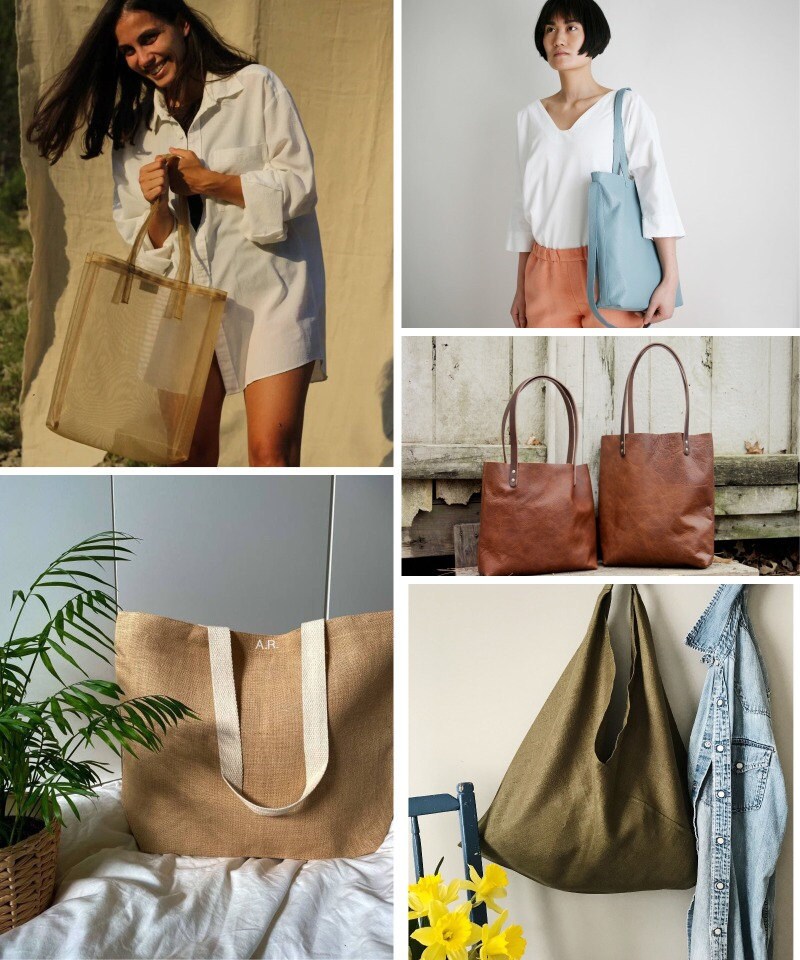 SHOP (clockwise from top left): Mesh tote from Ira Bags Store, $55; blue leather tote from Alex Bender, $290; rustic leather tote from Hawks and Doves, from $115; olive linen tote from Prairie Linens Studio, $38; personalized jute tote from LIZED Germany, $25 | Shop totes
From jewelry and handbags to belts and hats, capsule accessories are surely the unsung heroes of any well-considered wardrobe. They offer the opportunity to play with color and texture, and are often the key to completely converting a look. One must-have when establishing your everyday staples? A multi-purpose tote to carry all life's little essentials. Luxe leather carryalls can weather any season in style, while spacious market bags crafted from linen and jute are great for those days when you just need to grab and go.