Liven up your space with gorgeous earthy accents from rattan baskets to cool linen sheets.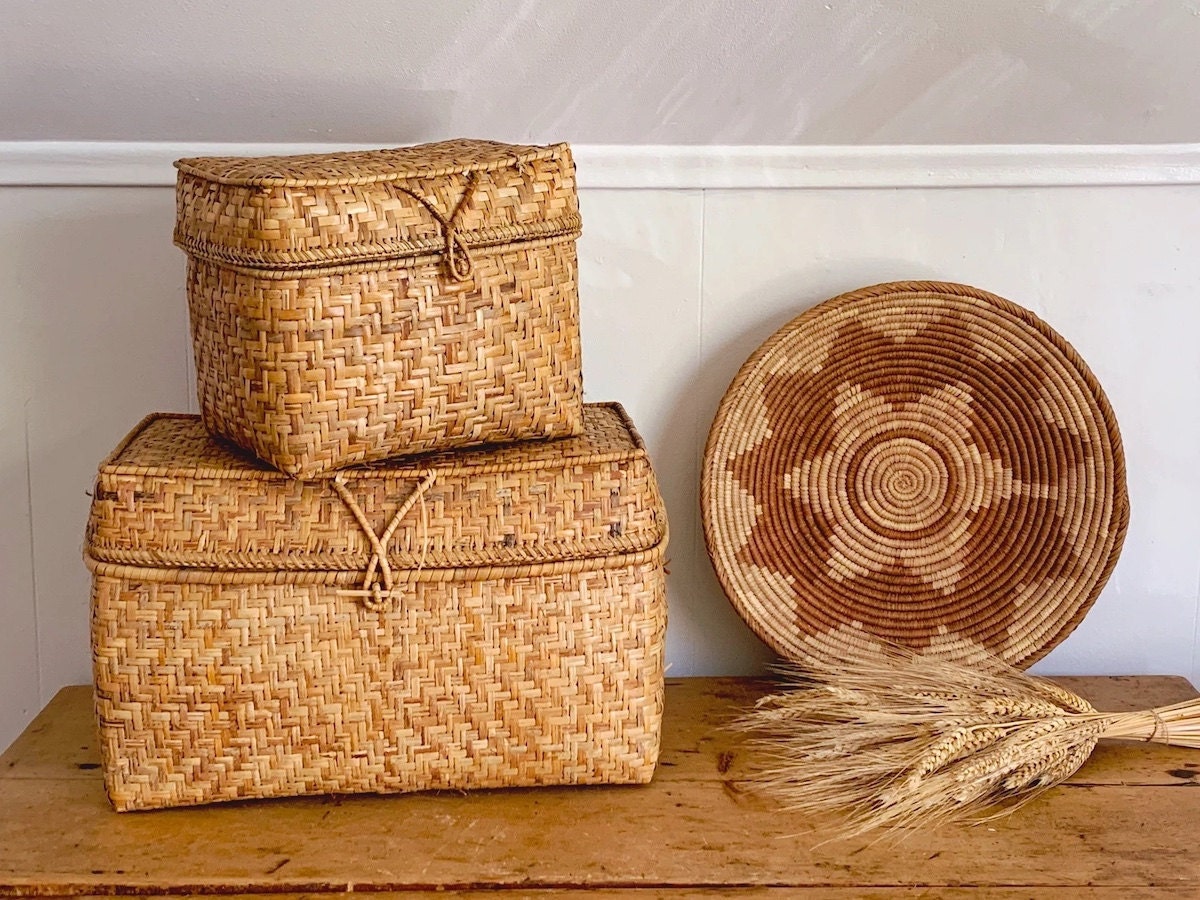 That dreamy sensation of cool linen curtains fluttering in the breeze? That feel of smooth silky pillows on your cheek? They're just two of the reasons for looking beyond shape, style, or color when picking out new furnishings and home accessories. Our tip: Focus on texture too, and find inspiration in nature. Consider how a soft cotton tablecloth becomes the perfect backdrop for a summery supper, or how the laid-back look of rattan adds a bit of boho bliss to even the coldest of winter days.
Natural materials are booming in interior design, as a simple way to incorporate the calming appeal of the outdoors at home. Any chic coastal grandmother will agree they're key to infusing your space with relaxed, casual warmth. So, which materials are worth knowing and adding to your own abode?
Sea grass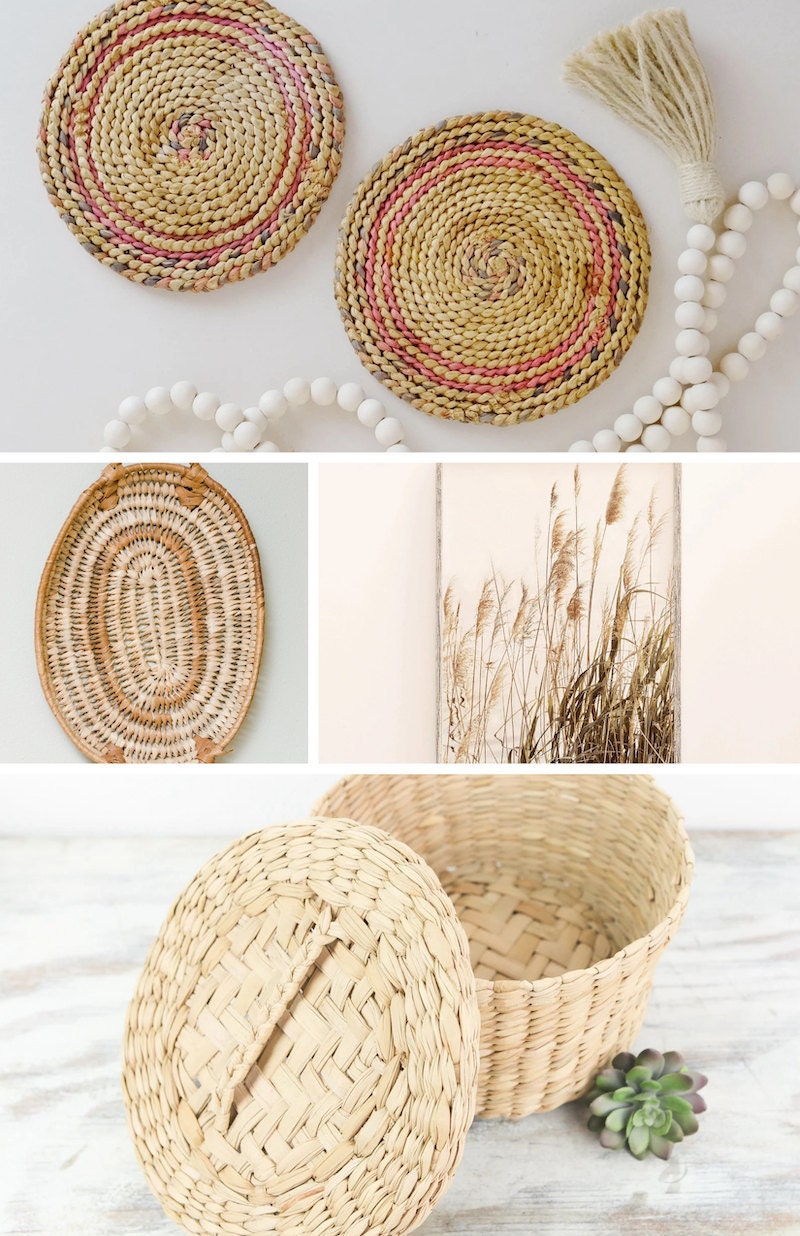 SHOP (clockwise from top left): See grass trivet set from The Perfect Vintage Flea Market, $27; printable reed grass print from MinimalistArtDesign, $4; vintage woven basket from LazyDayRelics, from $23; vintage sea grass tray from Gathered Eclectic, $48
Sea grass grows in estuaries, where rivers meet the sea. True to its name, sea grass offers a distinct maritime flair to any interior. The common, sturdy plant is low maintenance, usually woven or braided, and remains soft to the touch.
Since its processing takes a lot of manual work, each resulting piece is truly unique. This one-of-a-kind, natural look pairs well with casual boho aesthetics, but also striking industrial styles where it helps to soften stark minimalism and hard edges. Try incorporating sea grass into your environment with earth-toned accent pieces, like beautiful baskets, trays, and trivets.
Rattan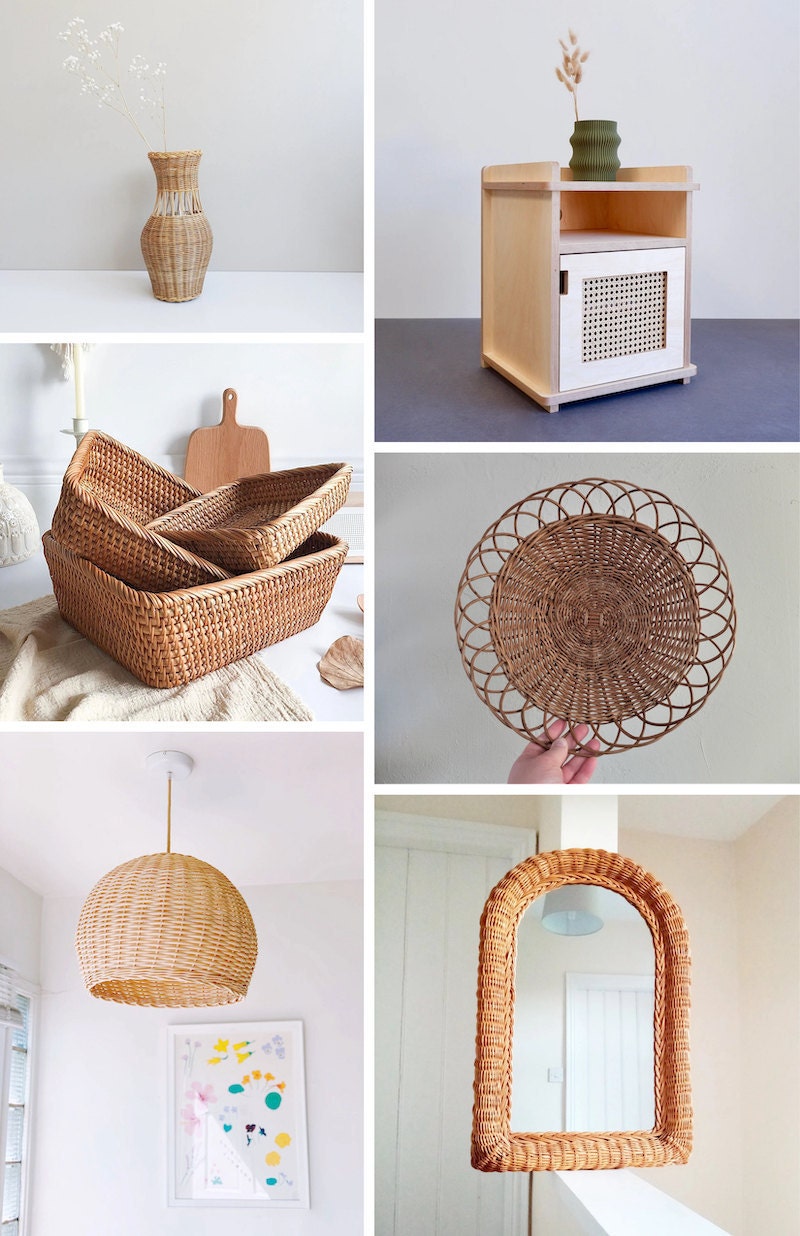 SHOP (clockwise from top left): Handmade rattan vase from mele-pele, $42; birch bedside table from Hoya Designs, $268; vintage rattan basket from dasfleissigeFaultier, $31; '70s vintage mirror from Vintology UK, $298; rattan basket light from RevealHome, $263; woven bread basket from ZoeTangle, from $22
This nostalgic staple is absolutely back on trend. The material itself (a combo of liana and cane) is surprisingly stable, supple, and lightweight, and therefore softens the look of solid furniture with its airy appeal and intricate wickerwork. At the same time, rattan needs some regular TLC. Since it's neither anti-fungal nor waterproof, any patio furniture made of rattan needs to be pre-treated or stored far away from the elements.
Indoors, rattan exudes Mediterranean appeal and '70s Florida vibes. Pair it with bright, colorful textiles and plenty of candles to create a vibrant oasis inside your own home. More of a Scandi-style minimalist? Then less is more: Just one or two decorative rattan pieces should work well with other natural, neutral-colored materials like cotton or jute.
Linen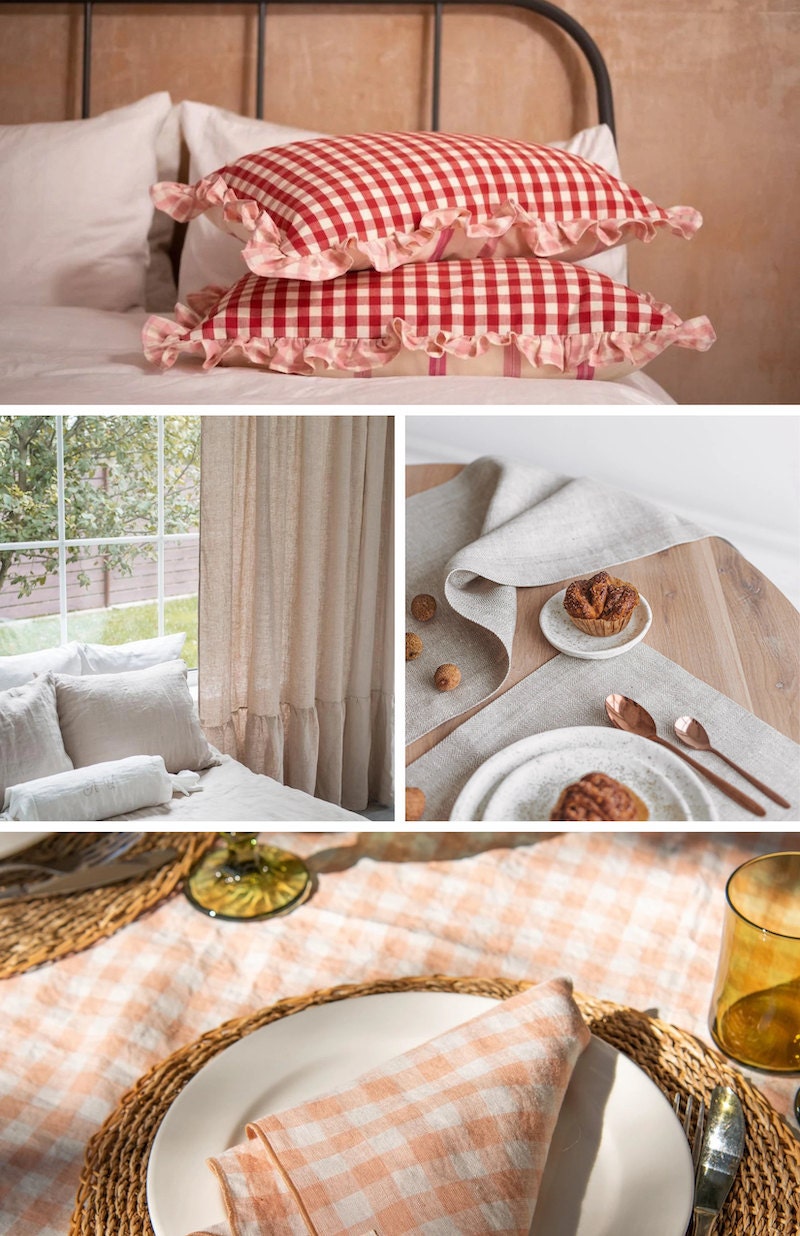 SHOP (clockwise from top left): Gingham cushion from Fabric snug, $41; white linen placemats from Thing Stories, $23; linen table cloth from SAUTHS, $117; ruffled beige curtain from LinenRain, $78
There's an excellent reason why linen is a perennial summer favorite: It helps us keep cool when temps heat up. And while linen is a fantastic fashion staple, it works just as well in bedding, curtains, or table coverings. Paired with rattan or wicker furniture, linen adds a sense of lightness and an unmistakable airy flair. Just add a few plants and lamps for a chic boho retreat. Quick cheat sheet: Dyed linen exudes Mediterranean appeal, while traditional white, blue, or pink shades match a cozy Scandi style. Also look for linen in preppy prints like gingham.
Wicker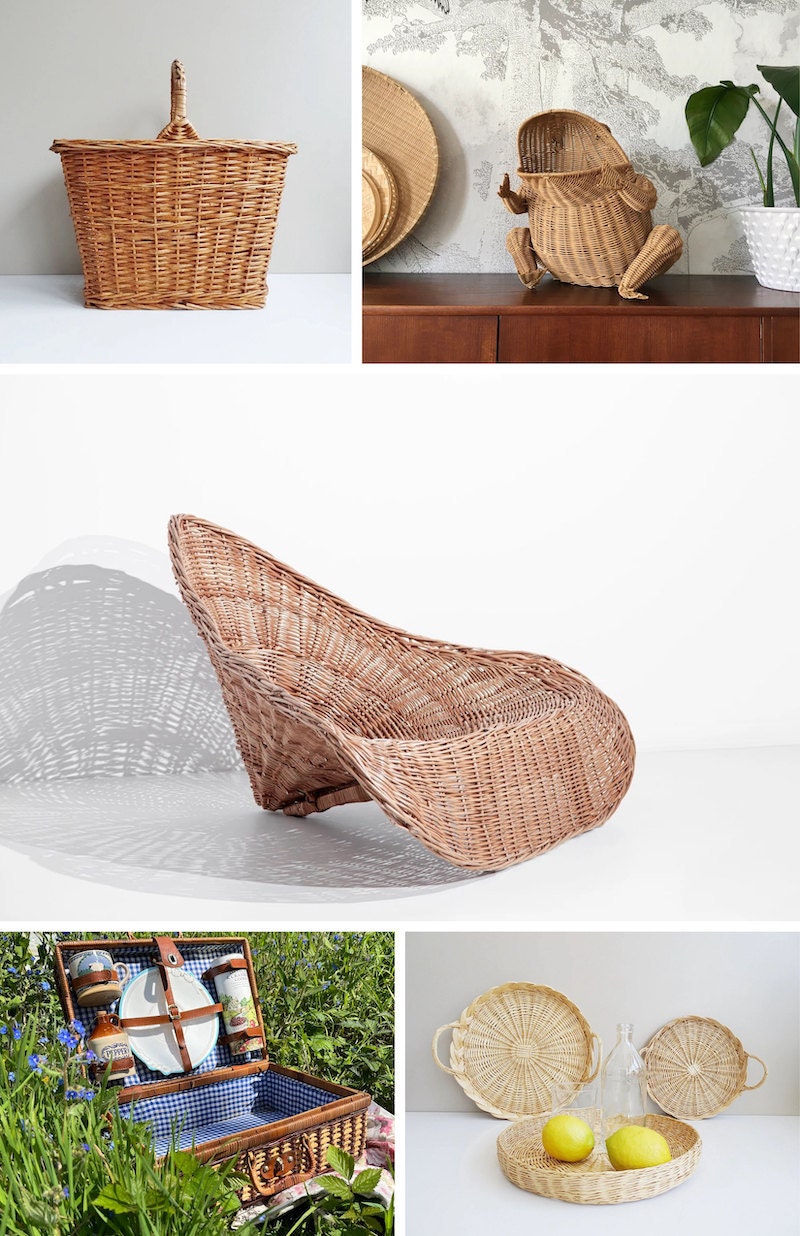 SHOP (clockwise from top left): Rectangular basket from mele-pele, $48; mid-century frog basket from MiMaMeiseVintage, $134; wicker lounge chair from OWN, $808; wall basket set from mele-pele, $31; picnic basket from madesomestuffshop, $44
Sturdy wicker is an obvious choice for lovers of natural materials since its source plant, the basket willow, grows in many parts of the world. Its distinctive structure, woven from long willow rods, is probably best known for use in baskets, but current trends lean into more playful, intricate furniture designs based on Viennese wickerwork or loosely interwoven shoots. Just like rattan, wicker works especially well in romantic country house settings mixed with cotton and linen textiles, but also complements Scandinavian hygge interiors when paired with wood and light-colored fabrics.
Cotton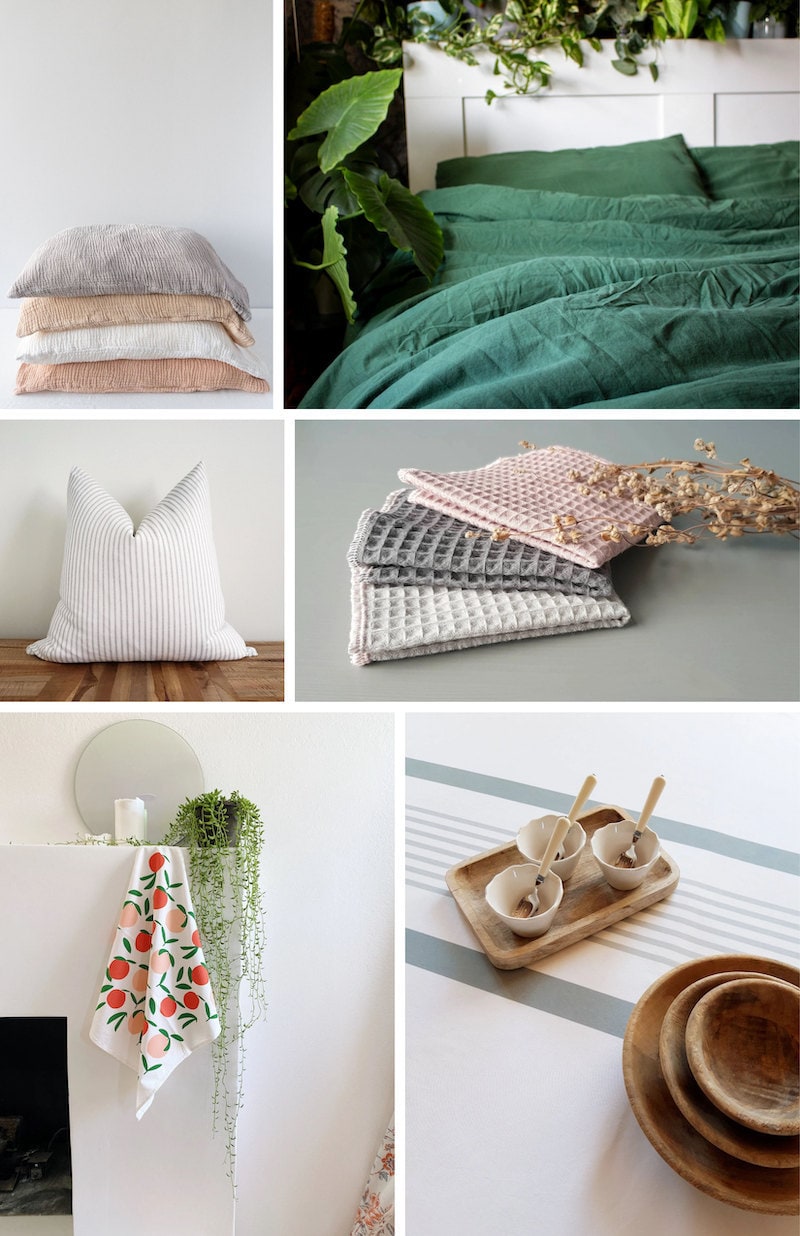 SHOP (clockwise from top left): Organic cotton pillowcase from lapetiteleonne, $50; hand-dyed duvet from RainbowDazeCreations, $93; washable dishcloths from MIRUM, $10; cotton tablecloth from Annette et Jeanne, $90; screen-printed tea towel from julie peach, $18; ticking stripe pillow cover from PrairieThreadDesign, $43
A winning combo of soft and sturdy, cotton is the ideal everyday staple. From light and breezy to dense and hard-wearing, cotton feels great on the skin and doesn't require elaborate care. Natural, unbleached cotton hues range from creamy white to faint gray, inviting mix-and-match pairings and experimentation with different shades of greige. Prefer pops of color? Then reach for one of the bolder dyed options bound to spread cheer wherever they appear.
Jute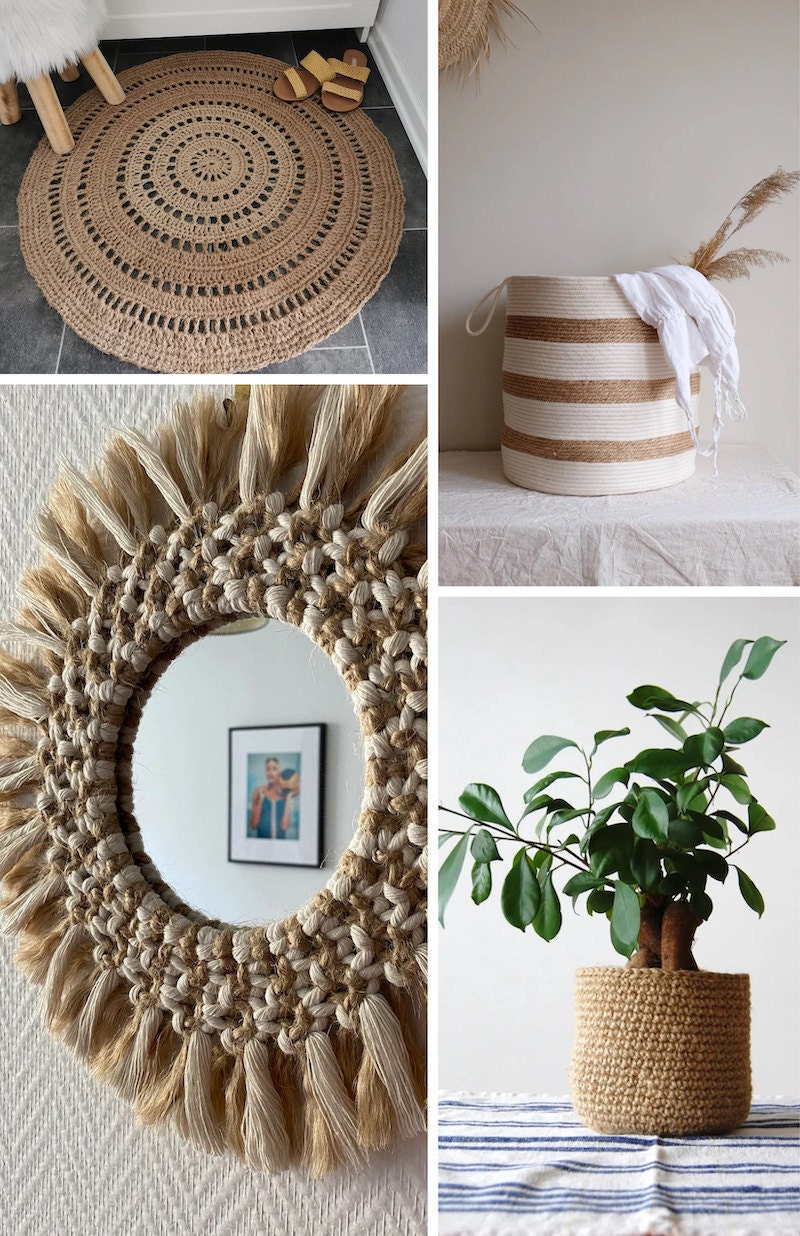 SHOP (clockwise from top left): Round jute rug from MaGaRos, $73; storage basket from Nuagehome, $114; handmade planter from My Tea Rose Garden, $23; sunflower mirror from CoralieHandMade, $42
For many of us, it's a constant companion: a fuss-free market tote fashioned from good old jute. But this versatile, humble, and surprisingly inexpensive material is equally at home in your abode in the guise of carpets, baskets, curtains, or upholstery. Unassuming, untreated jute adds a pleasant earthiness to any interior, especially in combination with wooden furniture and plenty of plants, but jute is also easy to dye, making it a great addition to almost any space.
Silk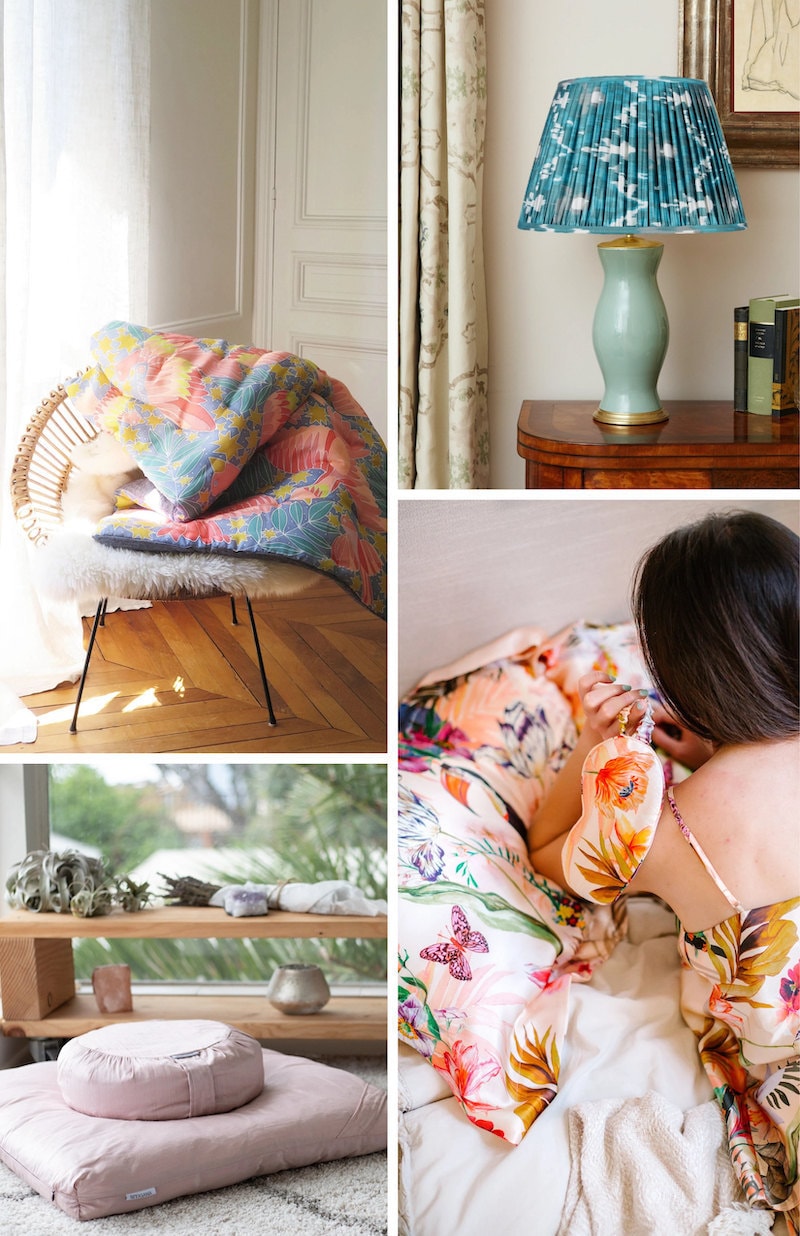 SHOP (clockwise from top left): Hand-painted silk quilt from La Récolte, $341; silk lampshade from Rosanna Lonsdale, $131; botanical pillowcase from Alice Acreman Silks, $87; wall basket set from mele-pele, $31; meditation cushion set from Sitasana, $115
Perhaps the most decadent material on the list, silk is the queen of fabrics and a go-to for luxe sophistication. You might associate soft silk with sensuous summer days, but it works equally well in winter. After all, the clever, always elegant material is a true all-rounder: It keeps us cool in hot temperatures and warm once the chill sets in. Silk is another popular choice for bedding since it prevents snagging and feels buttery on the skin. What's more, its natural shine complements the sheen of polished glass and decorations, as well as brilliant colors. Play with contrasts by putting raw silk in edgier, more industrial environments featuring exposed brick or concrete. Or if you're looking for a bit of mood-boosting color, try botanically dyed silks in surprisingly bold shades for a cheerful pop of positivity.