Here's how to create a lovely necklace stack with chains and charms galore (and all without tangling!).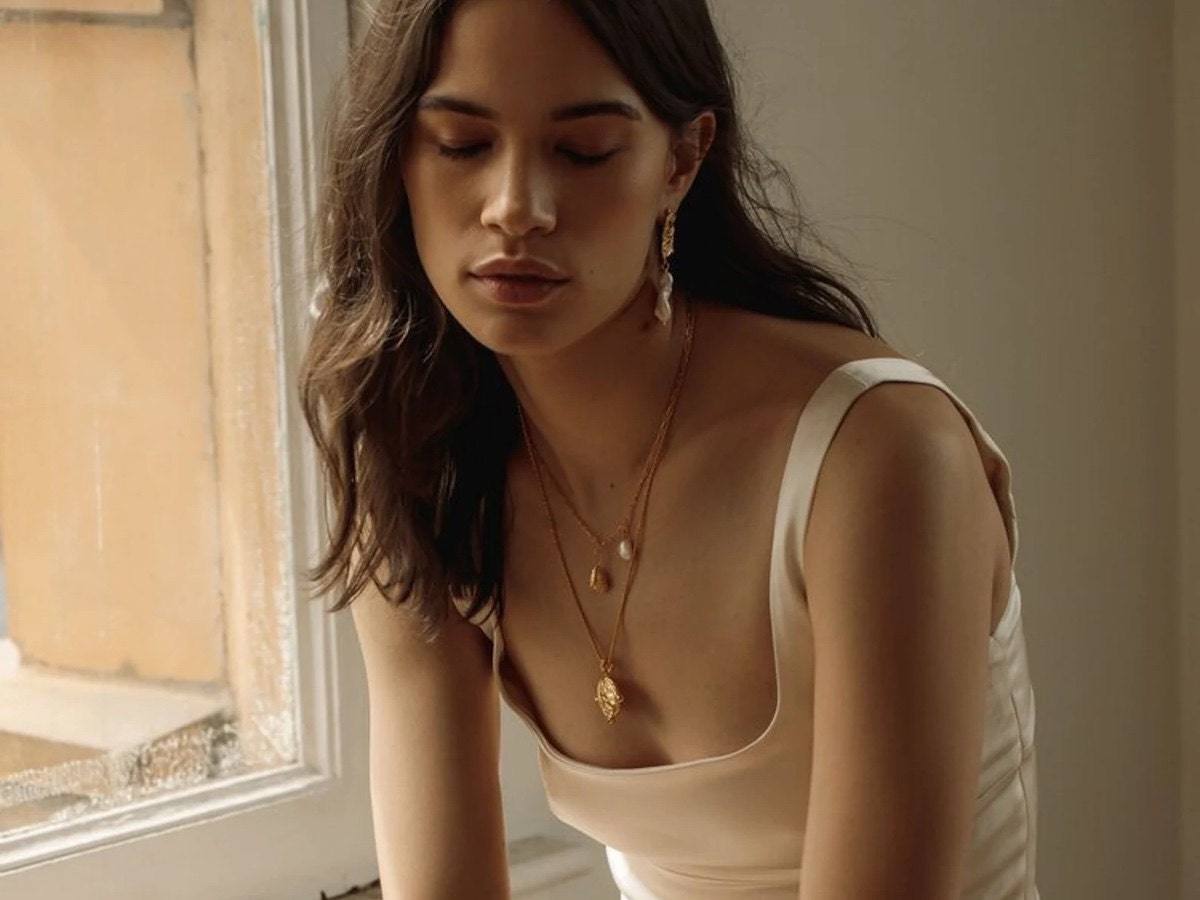 Stacked necklaces are everywhere these days, from red carpets and runways to social media feeds around the globe. Known as "layered necklaces," a "neckline stack," and a "neck mess," the layered look is red-hot and here to stay. Whether they're slender, chunky, or super-funky, layering necklaces brings an entirely new dimension to accessorizing to your neckline. It ramps up the drama on your decolletage and turns up the voltage on your vibe.
Looking for guidance on how to layer necklaces? Read on to learn how to layer without tangles and how to get started doubling, tripling, or even quadrupling your neckline getup—and leave it to the creative jewelry makers on Etsy to offer necklaces of all types and stripes for legendary layering.
How to layer necklaces: The bare basics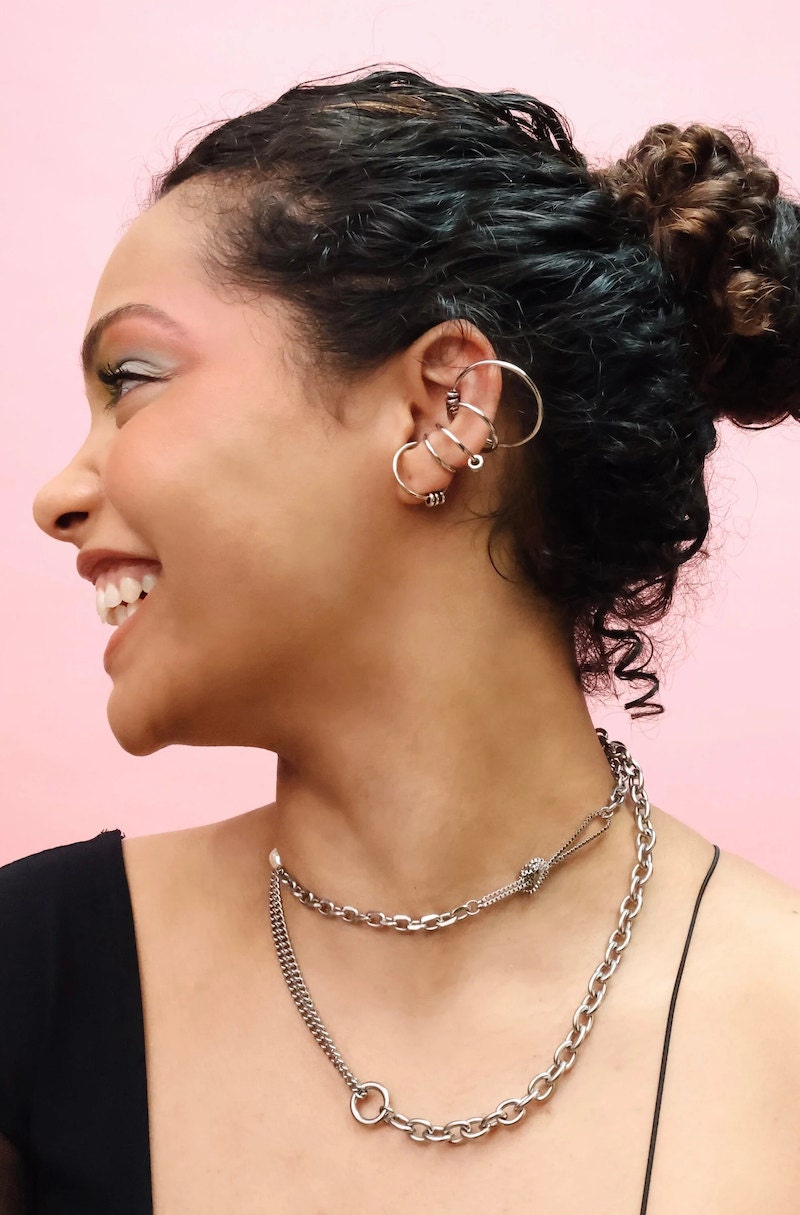 SHOP: Silver plated chain necklace from Milgo Awad, $57
The first question stackers-to-be ask is, how many necklaces should I layer at once? The answer is, however many you want. For beginners, an odd number is ideal, because odd numbers always have a middle piece—and the middle of the stack is a great place to begin your necklace-layering journey.
Stagger the lengths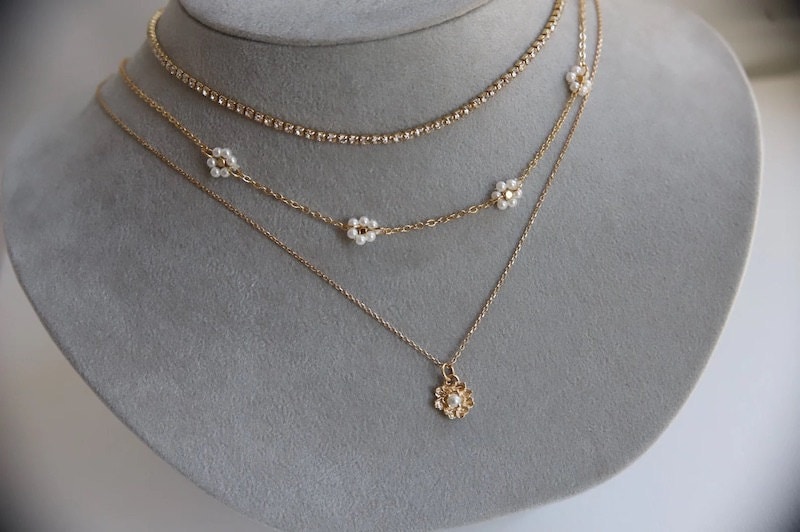 SHOP: Peony No. 2 pearl necklace from Emi Conner Jewelry, $450
The only real fundamental "rule" of necklace layering is that you have to vary the lengths of the necklaces—that's what produces the "layered" part. If the necklaces are the same length, they'll get tangled and jumbled—and they'll trip over each other competing for attention. Layering necklaces of different lengths allows each piece to be seen and appreciated as an individual and as an essential part of the stack.
Once you've chosen your middle necklace, pick a shorter one for the top of the stack and a longer one for the bottom. Necklace lengths are somewhat standardized—there's a little variation around the exact measurements, depending on who you ask—and these lengths even have names:
If you have a selection of necklaces that you'd love to layer, but they're all about the same length, use a chain extender to lengthen one or more of them. You can also purchase adjustable layering necklaces, which are highly versatile—wear them as a choker, princess, or matinee, depending on which link you insert into the clasp.
Mix your metals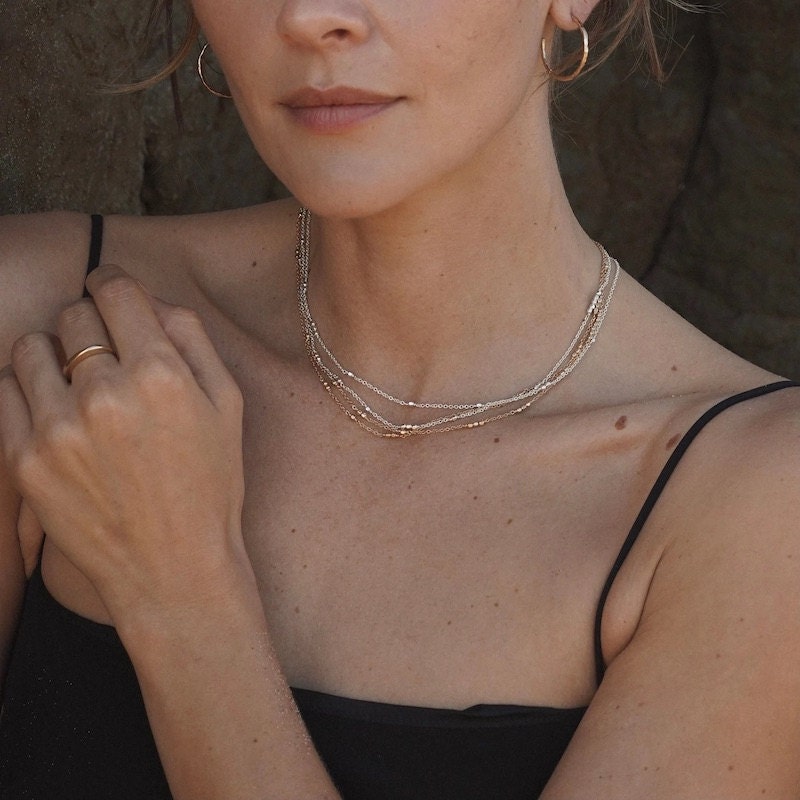 SHOP: Morse code necklace from Everli Jewelry, from $75
There was a time when gold jewelry was recommended for those with a warm undertone to the skin, while silver was for people with a cool undertone. And mixing metals, like wearing white after Labor Day, was considered taboo.
But nowadays, you can wear whatever metals you want, no matter your "color season." Whichever metals you have in your necklace collection, you can mix and match them to your heart's content—gold and silver, copper and pewter, or brass and stainless steel.
You can also find two-toned necklaces and mixed metal necklace sets designed for layering, but if you want to try layering gold necklaces with silver chains (or whatever!) on your own, you can go about it a couple of ways:
Mix different metals with the same finish, such as high-polish silver, gold, and stainless steel.
Mix different metals and different finishes, such as brushed stainless steel, hammered copper
Mix different finishes, such as hammered gold, brushed gold, and high-polish gold, all in the same metal
Layering gold necklaces can get tricky, since gold comes in so many different hues. If you're looking for color uniformity, a single, multi-layer gold necklace or a gold layered necklace set may be your best bet. But there's no rule against wearing layered gold necklaces in different colors—don't be afraid to stack yellow- or rose-gold necklaces with white-, red-, or green-gold ones.
If mixing metals makes you nervous, it's perfectly fine to start your necklace stacking adventure with pieces in the same metal and same finish—high polish, brushed, or hammered, for example.
How to layer necklaces without tangles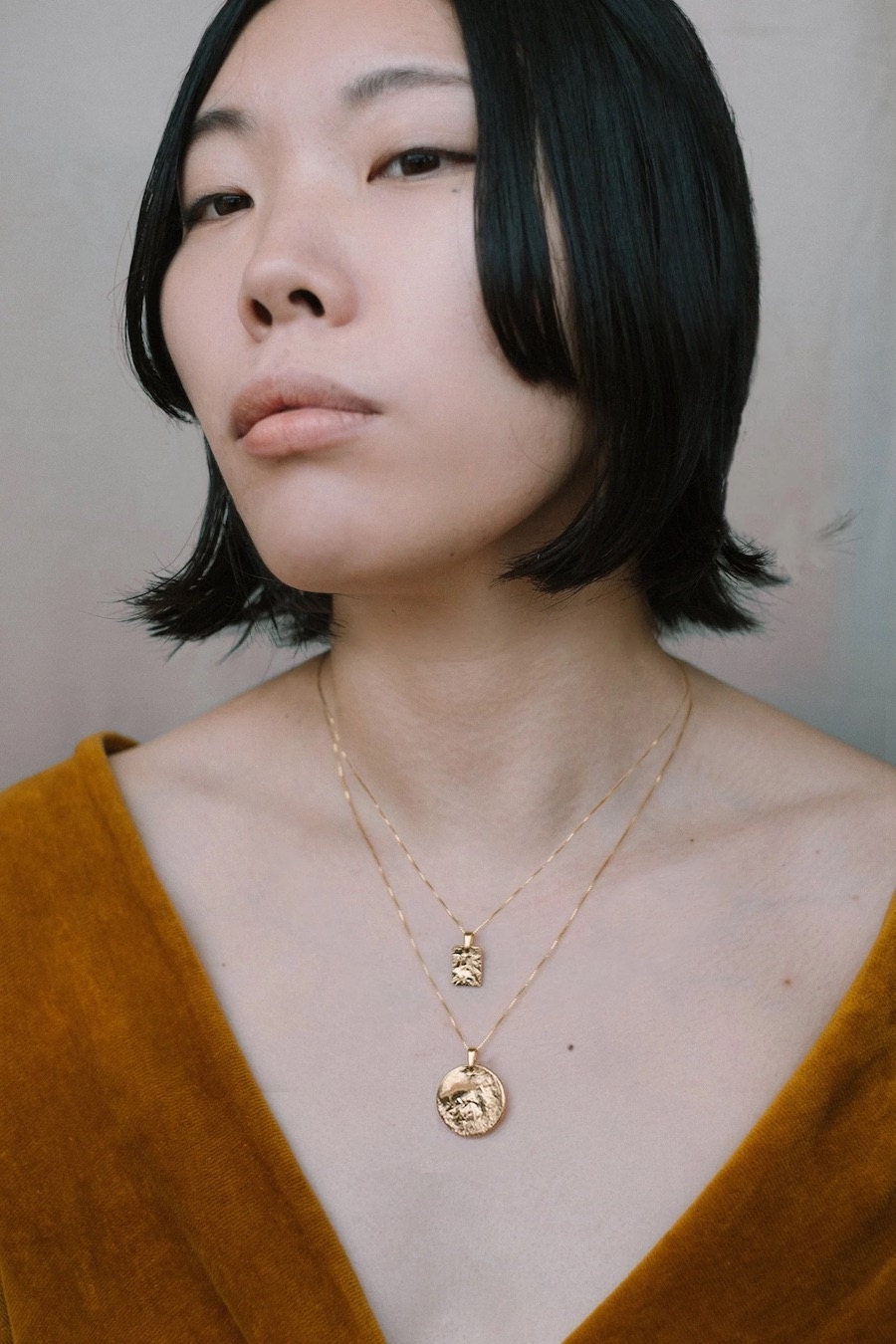 SHOP: Personalized medallion necklace from Mair Berlin, from $75
Tangling is a very real challenge for layered necklace looks, but there are a few things you can do to keep knots and tangles to a minimum:
Mix chain weights to help reduce tangling. Pair more delicate chains with thicker ones—they'll be more likely to stay in their own lanes.
Alternatively, if you really want to layer several delicate chains, use a necklace layering clasp, which enables you to attach each necklace to its own separate ring on the clasp.
Try pairing a 2-layer necklace with a longer third necklace—or a longer 3-layer necklace with a shorter double-layer necklace. Multi-layer necklaces are designed to mimic a necklace stack—they consist of multiple layers, but they all attach to the same clasp, helping to keep them untangled and in their proper position around the neck.
Straighten your necklaces throughout the day—start in the back, and make sure the clasps line up in the center of the nape of your neck. With your fingers, separate the strands in front if they've become entangled. Pull pendants, bars, and charms down to the nadir of the chain in front.
If your layered chains become tangled or knotted, use a large needle or similar tool to carefully tease them apart.
The bottom line on layering: It's all about you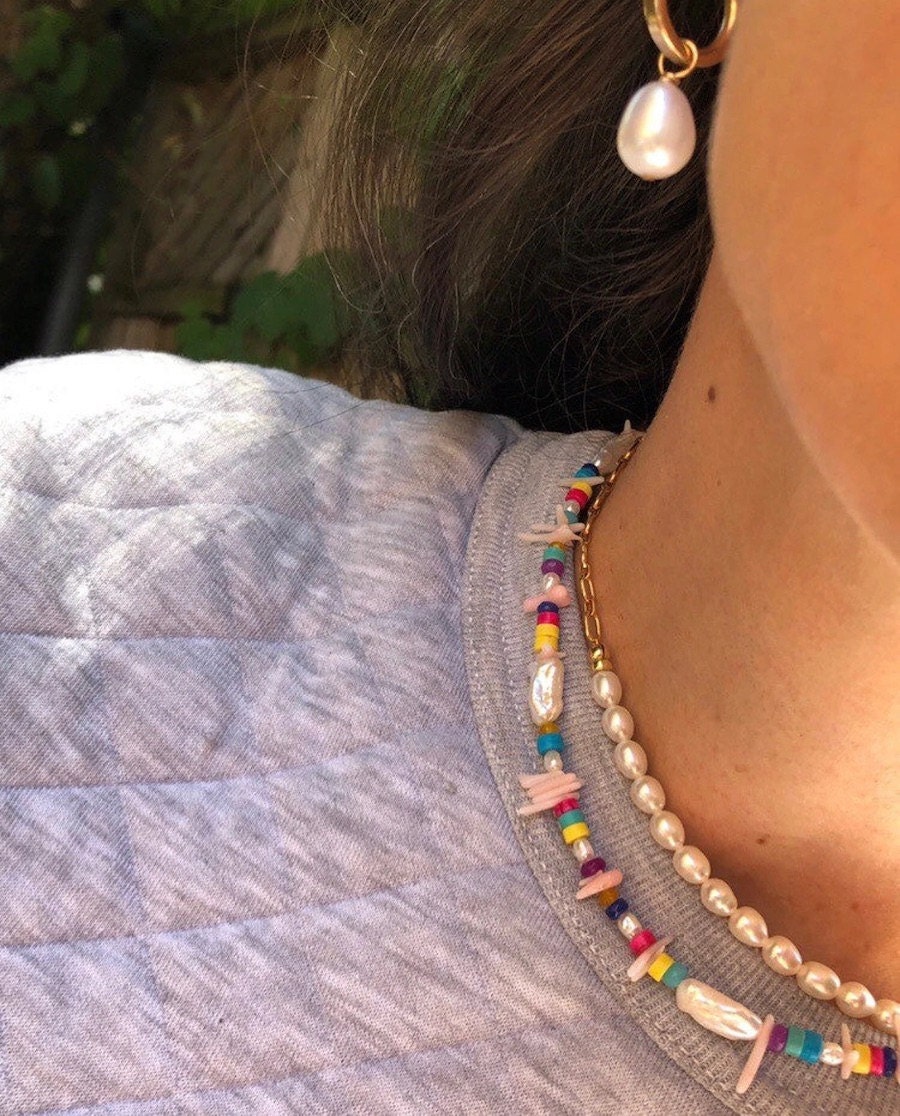 SHOP: EVA gold pearl chain necklace from Standing O Accessories, $125
The overarching law of layering is that there are no firm rules (except the one about choosing necklaces in different lengths.) Think of your necklace stack as a form of self-expression rather than worrying about whether you're "doing it right." If it looks good to your eyes and it makes you feel like a million bucks, you're doing it right.
Shop layering necklaces from Etsy shops: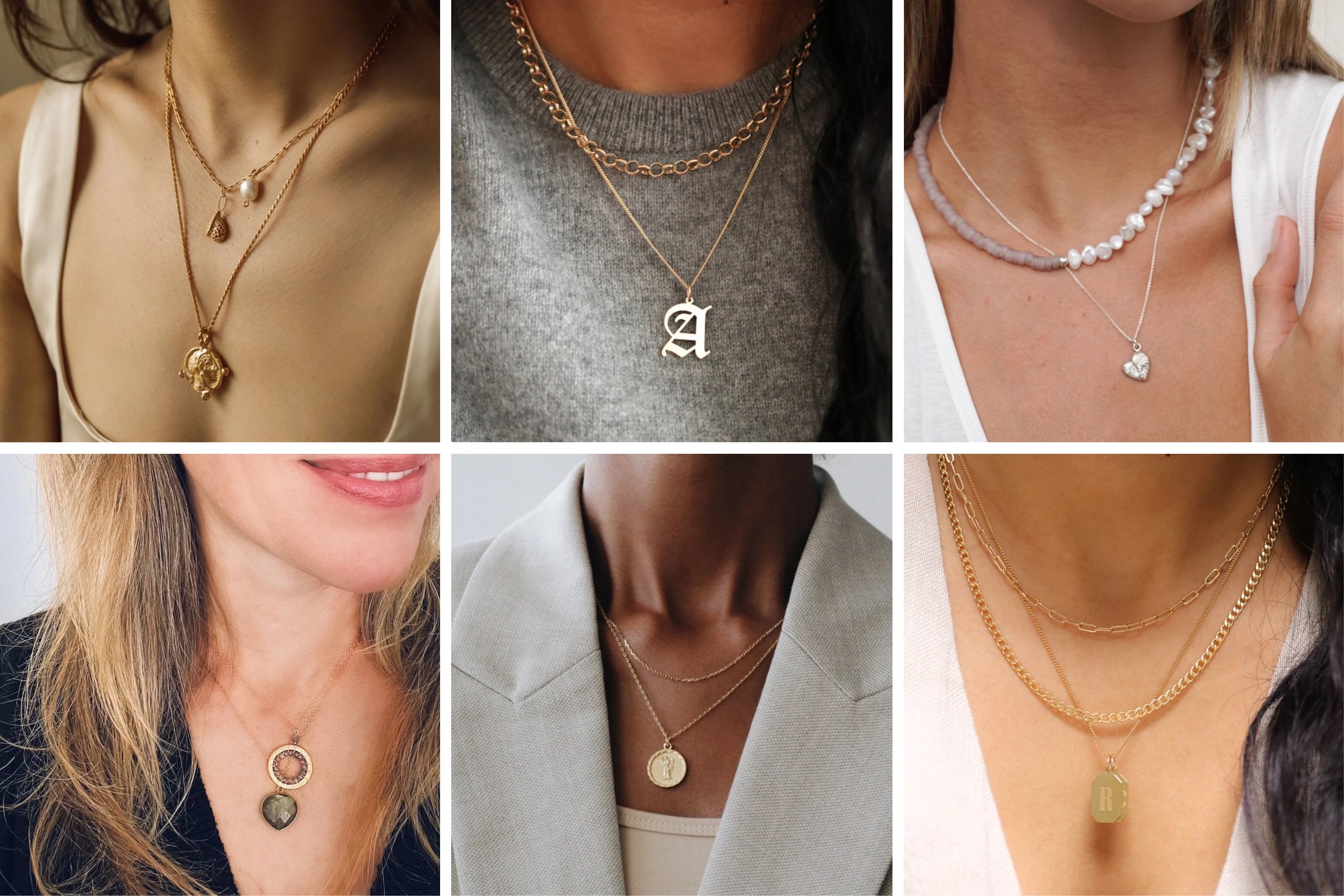 Get more accessory trends and tips: