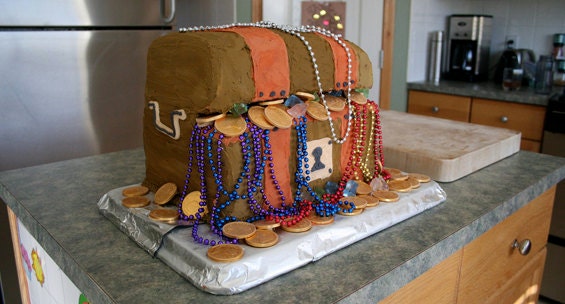 Ever wonder how we get those beautiful collections of items on the homepage of Etsy? If you're new to Etsy, you may not have yet visited the
Treasury
. But for those of us who have been around for a while, we've come to recognize these hand-picked lists from Etsians as the virtual display windows for Etsy, and also one of the focal points of the Etsy community. There are no hard and fast rules for making Treasury Lists. However, since admin often pick Treasury Lists to "promote" to the homepage of Etsy, there are many questions about what we look for. There is simply no exact recipe for catching our eye, and getting on the homepage is not always the sole end-all goal of a Treasury List curator. People curate Treasury Lists for the fun of it or because it's a meaningful mode of expression and shows your flair as a shopper with good taste. It can also be a useful marketing tool: you can
promote your Team's items
, do a Buy and Replace, show off your friends' and family's work, create a gift registry for yourself, feature newbie sellers, bring an underrepresented art form to the fore, or foster good karma in the community, etc.
(comment below with other things you can do!)
. To soak up curator skills by osmosis, peruse the winning entries to the
Poster Challenge
(for more info on this, read the
Storque articles
). In fact, making a Treasury List is a curator's art form in and of itself, and it's incredibly important for Etsy. You can express your mood of the moment, you can celebrate some aspect of life, and you can also curate items that
riff on a theme
or playfully show your sense of humor. As an Etsian known for her Treasury Lists,
KarmaRox
stresses the importance of interesting titles, "Something like 'Laura Ingalls Smokes Pall Malls' will get alot of views because people are curious by nature. 'Pee In Your Pants' is another title that I use over and over because it generates views." She also suggests to curators on the hunt, "Search with more than one tag."
yaelfran
, a seller who makes wonderful lists, explains how she went about building out a list around a favorite Christmas themed item that was tan and white with a dash of yellow: "so
Christmas
,
yellow
,
white
, and
tan
would be your first keywords."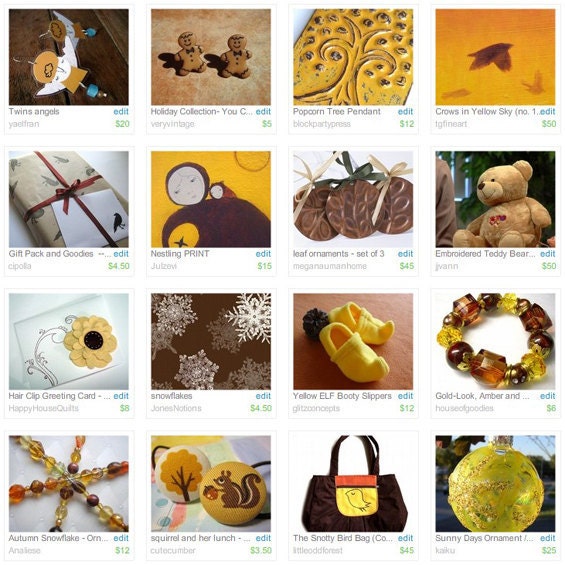 Another amazing curator,
mothtoflame
likened making a Treasury List to planning a window display. Not surprisingly, her beautiful lists are influenced by her work as "a Visual Merchandising manager and designer for 2 major department stores for many years."  She "think[s] of each treasury like I would a window at Nordstrom or Macy's. It begins with an idea for theme or direction, moves to the merchandise pulling (which is just a big shopping spree really!) and then ends with the execution and arrangement to best spotlight each piece and convey the theme. In the real world the title of the Treasury would be the signage or catalog title that draws your customers in to look, and hopefully shop. Selling the merchandise is the ultimate goal for me and it's so fun and rewarding when a piece that may have been listed for months sells because of my treasury."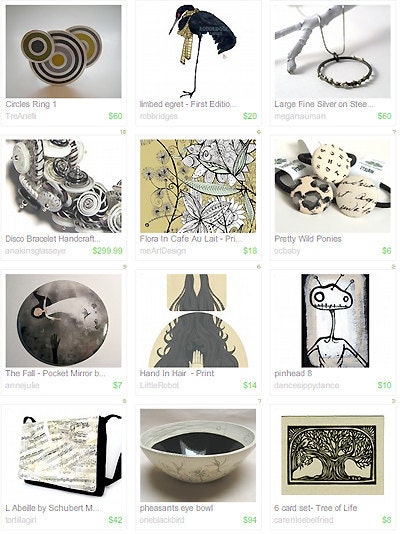 Placement and balance of the motifs, shapes, and colors is important and you may want to spend some time moving the pieces around in the
Poster Sketch tool
. Jared says of a good list, "Every item in the list is thoughtfully included, standing both on it's own merits, as well as being integral to the list as a whole."
yaelfran
spoke with me about creating the sense of a story or a concept that binds the pieces together: "A story has always been the most powerful way to sell something." Interestingly,
yaelfran
suggests thinking about your shop in this way as well — as telling a story. See below for an example of how of an item in her shop fits in with her other items, while it can also fit in with a differenr group of items in a Treasury Lists.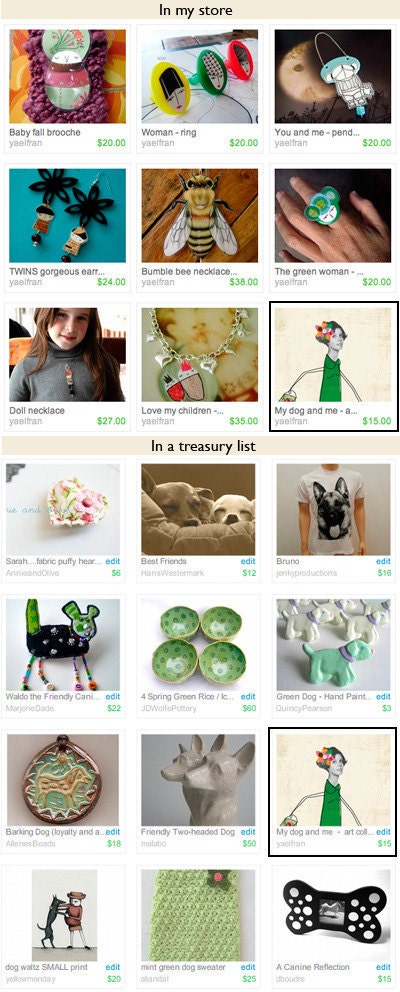 With really good lists, the whole is more than the sum of its parts. Good lists conjure more than just the items, because they trigger the imagination, making free-associations. And this is the frame of mind you should get into when making lists.
yaelfran
muses, "when you buy something for a girl, do you just thinkabout buying a doll, or even more than that? Maybe the biggest smilein the world, and the possibility of infinite fantasy games, imaginary friends? When youbuy tickets for a trip, do you just think about bought tickets? Or rather the daydreams of relaxing time with family, long walks on the beach?" There's no
one
right way to make a Treasury List! That said, we can offer some ideas to keep in the back of your mind while making your lists. These tips also come in handy for sellers who aspire to be included within Treasuries.
Good photography is essential. Clear, well-lit and color-balanced photos with compelling compositions are more apt to garner clicks from shoppers.
A consistent color palette can serve to tie the pieces together.
Provide a range of price points (see Beth's article on Tiered Pricing).
Use alternates! When a Treasury List is promoted to the homepage, it includes the four hidden alternate items. On the homepage, items are removed when they sell and the alternate are moved up into view.
Provide a varied collection of items. We rarely promote all-one-type-of-product Treasury Lists to the frontpage.  That said, if you're using the Treasury Lists to promote your Team's art form, or you're just plain interested in only earrings, go for it! Not all Treasury Lists are made with the homepage in mind, and this is a good thing.
Double check that sellers you're featuring have good feedback.
Themes and puns are a fun and creative way to organize a list.
Give a boost to interesting items from new sellers or items with low views from the back pages of the categories.
Make sure no artist is represented more then once on a given Treasury List. (We avoid featuring the same seller twice on a single homepage.)
If you are a seller, you should include no more than one item of your own. (If the list gets promoted to the homepage, your item might not be included since the Treasury is not intended for self-promotion.)
Leave your comments below and let us know your tricks of the Trasury-making trade!