by Katie Hawley
With a simple foam wreath form and a bounty of paper blooms, you can create a cheerful, wilt-proof wreath in an hour or less.
Whether you're in the market for a colorful new something to spruce up your front door or an unexpected 3D piece to round out your living room
gallery wall
, you can't go wrong with a cheerful paper flower wreath. In this project, we'll show you how to create a simple one in just three easy steps using the faux blossoms of your choosing.
pretty, pre-made options
 available on Etsy, or, if you're feeling extra-crafty, you can make your own using a template like the one for these 
many-petaled peonies
. As long as you have enough to cover the entire front side of your form, you'll be good to go. Ready to get started?
At a glance
Time:
1–4 hours
Difficulty:
Beginner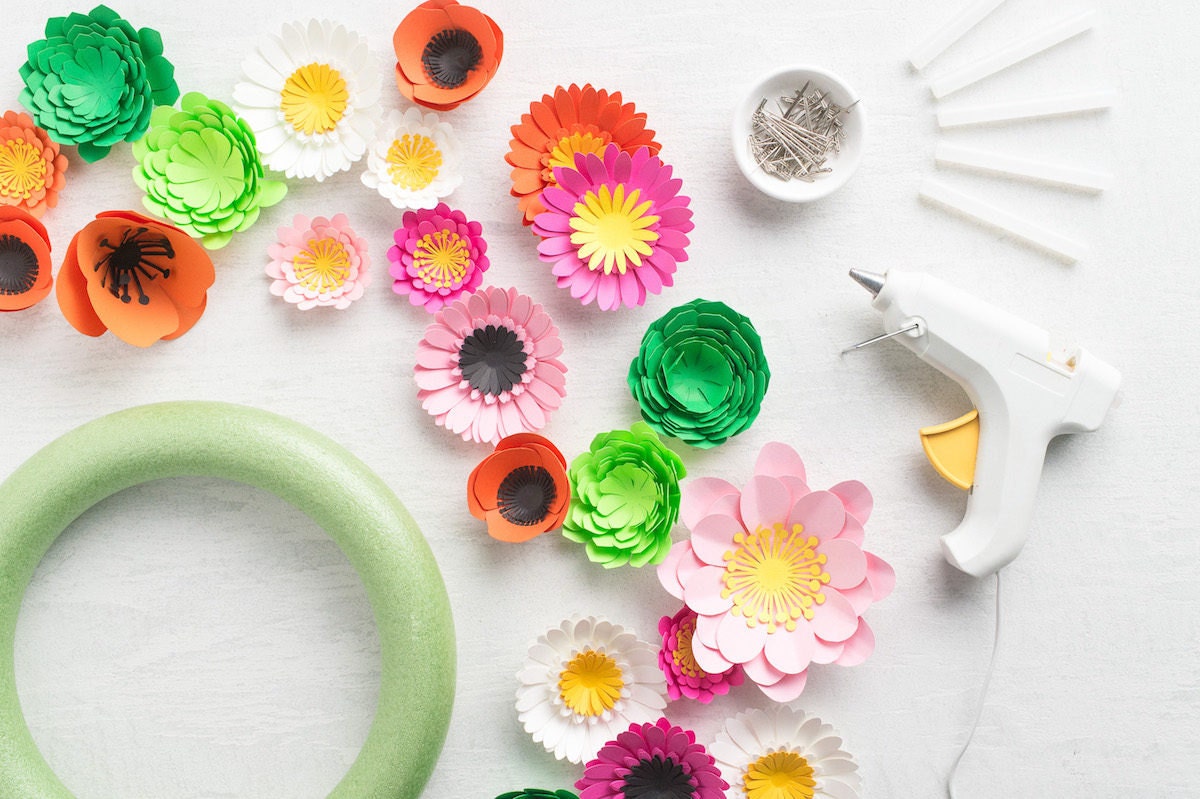 You will need:
Hot glue gun
Pins
Paper flowers (we used 27 flowers for a 12-inch wreath form)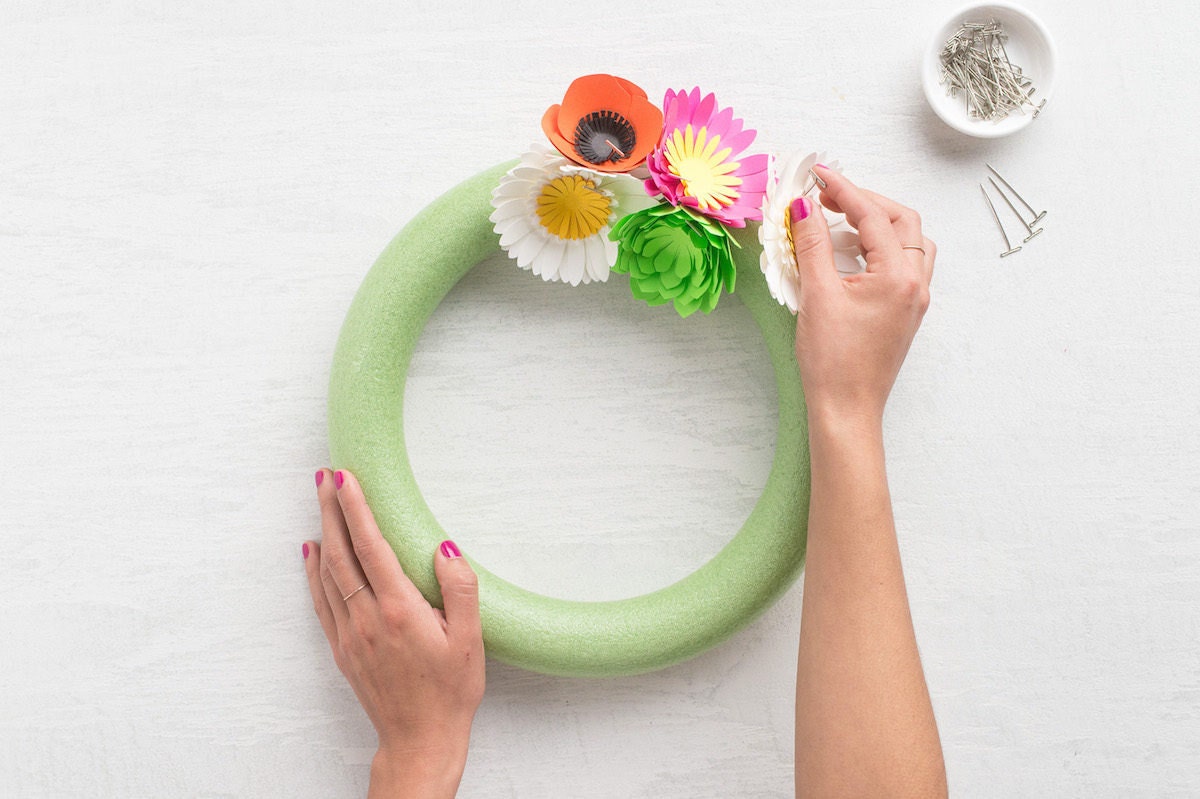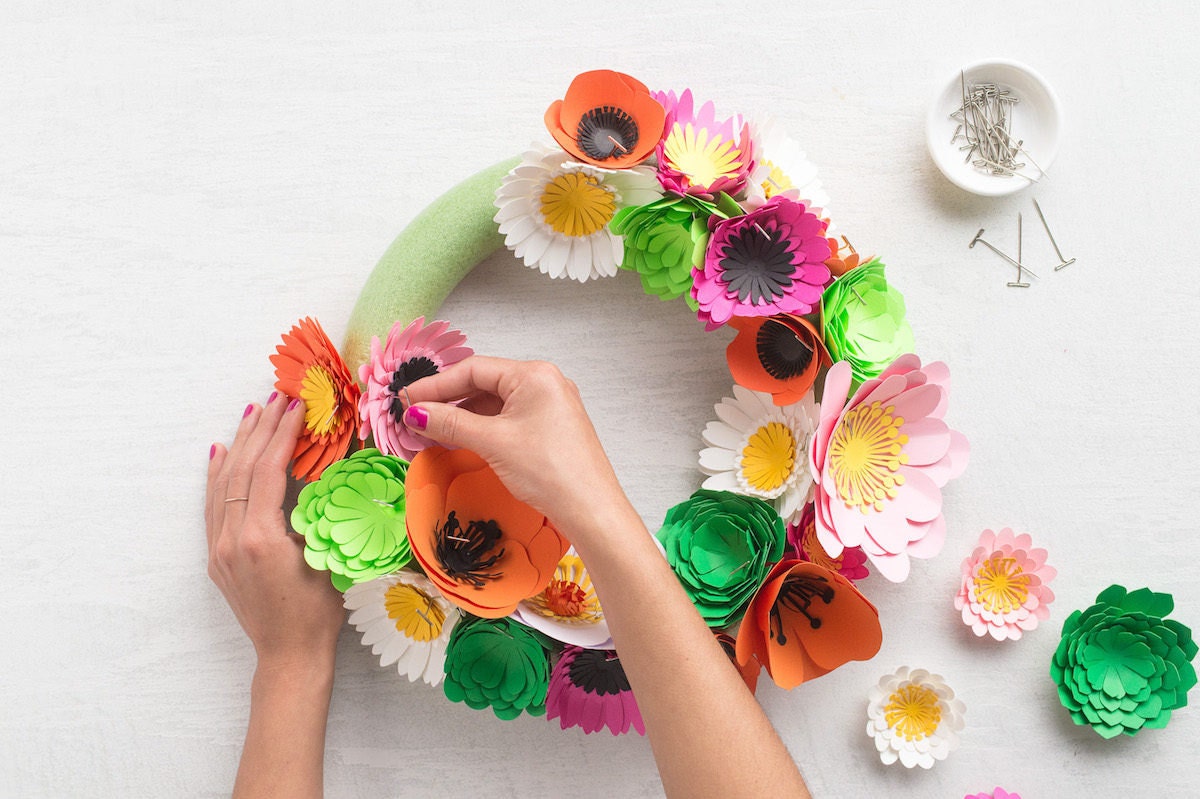 Step 1: Plan your arrangement
Starting with the largest blossoms first, pin paper flowers onto the wreath form one by one, until you've achieved an arrangement you like. Pin, unpin, and move things around until the design feels just right. Fill in any gaps with smaller flowers until no part of the wreath form is visible.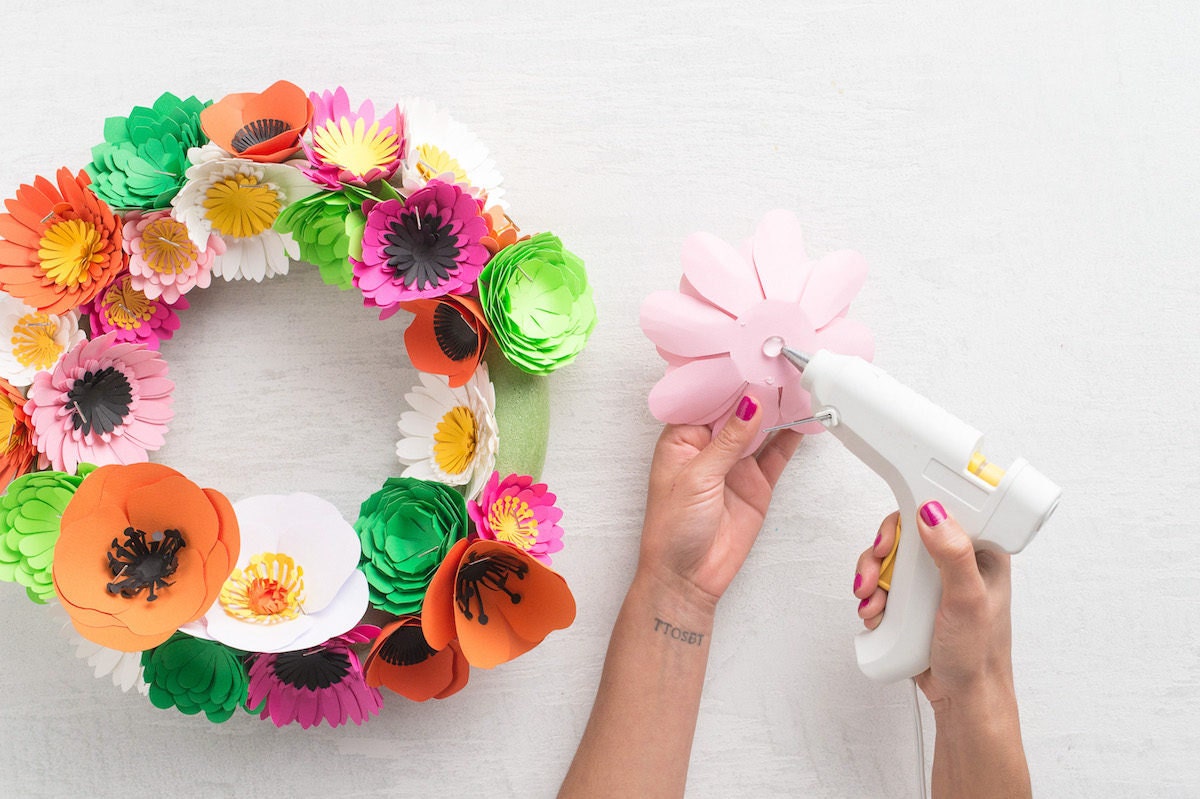 Step 2: Begin attaching the flowers
Once you've got your design pinned down, it's time to get gluing. First, pick a starting point on the wreath and mark it with a second pin so you'll know when you've completed the circle. Then, work your way around the wreath in one direction, gluing on one flower at a time: Remove the pin, apply a dollop of glue to the back of the bloom, and press the flower into place on the form. Hold each flower down for a few seconds before moving on to the next.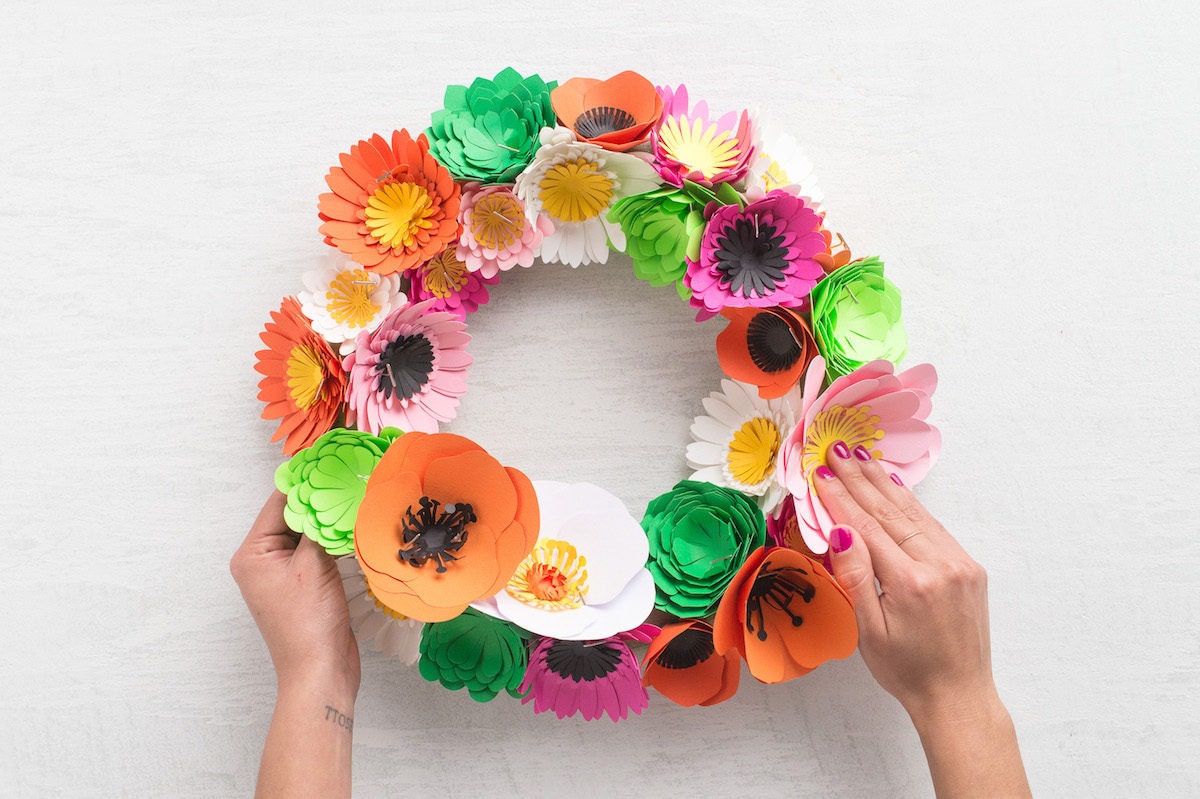 Step 3: Glue, glue, glue
Continue attaching flowers to the wreath form until all but the back 1/3 of the wreath (the part that will lay flat against the wall) is covered. Let it dry overnight, and you're all done!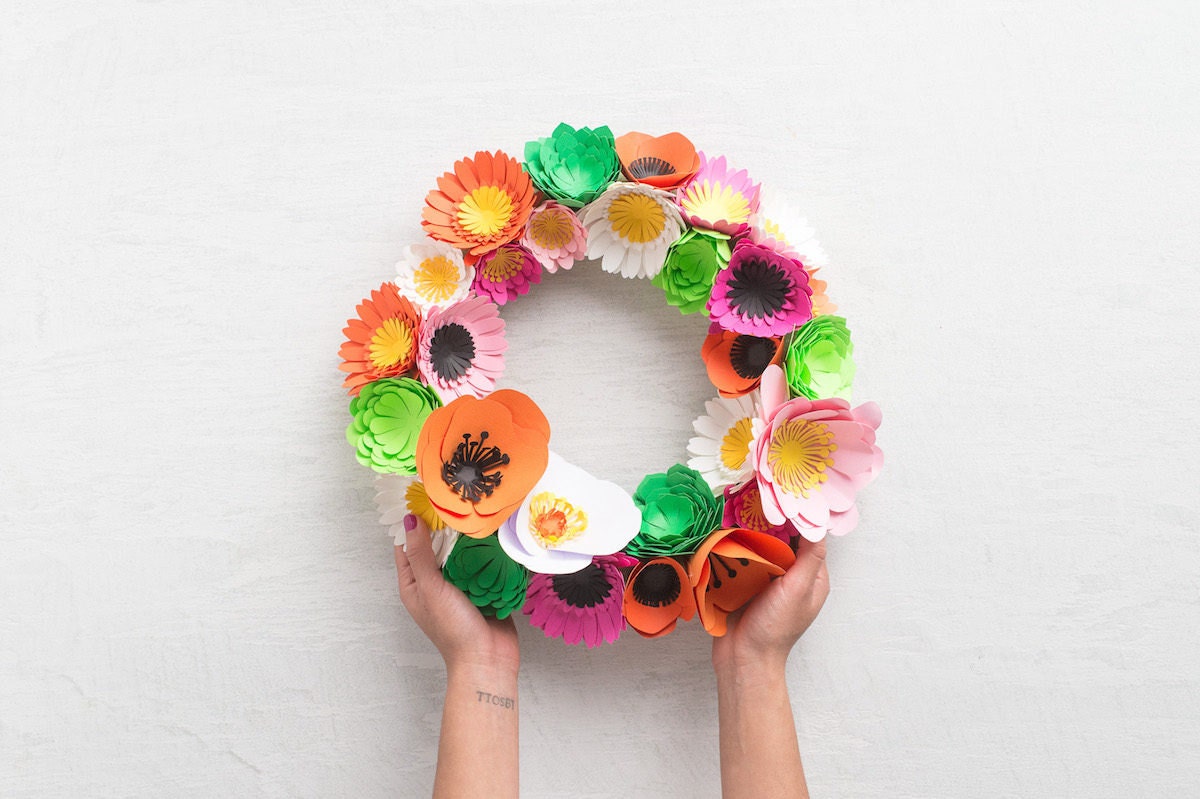 Project by Julie O'Boyle, Aleksa Brown, and Clare McGibbon; photographs courtesy of Erik Valind.