Welcome to my tutorial on making handmade paper from recycled flyers, junk mail, dryer lint, dried flowers and leaves. My artistic expression largely involves reducing, reusing, reclaiming and recycling, savoring discarded finds. I have an inability to throw away anything that can be converted into a beautiful piece of art.
I have been making handmade paper since 1990. I was working at a major newspaper in the Marketing department. We recycled hundreds of sheets of colored paper weekly. I was doing art shows on the weekends, selling my water-colored paintings. While I was standing in line at the frame shop one day, waiting to have mat board cut, I saw a paper-making kit that consisted of a mold and deckle. I decided to buy the paper-making kit and from that point on, I started creating multi-layered matting from handmade paper.

Handmade Paper Making Supply List: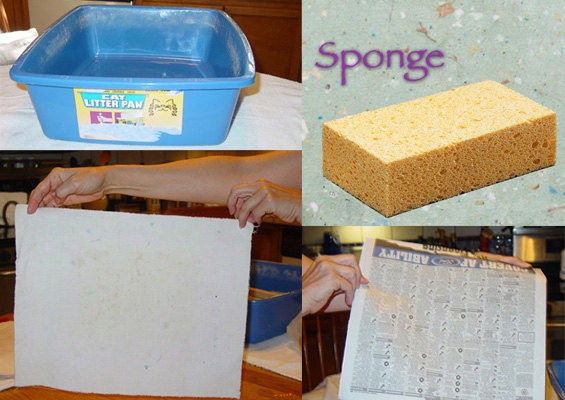 1. Blender
2. Cat litter box or storage tub (This can also be used to store papermaking supplies when done.)
3. Paper making mold and deckle (This can be found at craft stores. You can also make the mold and deckle, instructions at the bottom of this page.)

4. Sponge
5. An old cotton sheet cut into slightly larger size than screen and deckle
6. Clothes line and clothes pins (optional)
7. A stack of newspaper
Handmade Paper Making Instructions:

Collect junk mail and any other colored and/or white paper for a short period of time. It doesn't take much paper. I recycle decorative wrapping paper and even a little brown paper bag thrown in makes a great texture. Magazine and newspaper doesn't work well.
1. Cut or tear paper into 1" pieces. You can do this while you are setting around watching TV.


2. Place a large handful of paper pieces into a blender 1/2 full of warm water.
For more texture add dried flowers, leaves, small pieces of raffia or anything you like into pulp mixture. A handful of fluffy (not compact) dryer lint can also be placed in the blender. You want to do about a cup of materials including paper.


3. Soak paper and other ingredients in warm water for one to five minutes (the longer the paper soaks, the less blending will be needed).
4. Blend until  paper turns to a pulp.


5. Put deckle (frame) on top of flat side of screen, holding it with the deckle facing you.
6. With your hand, stir pulp in the tub well.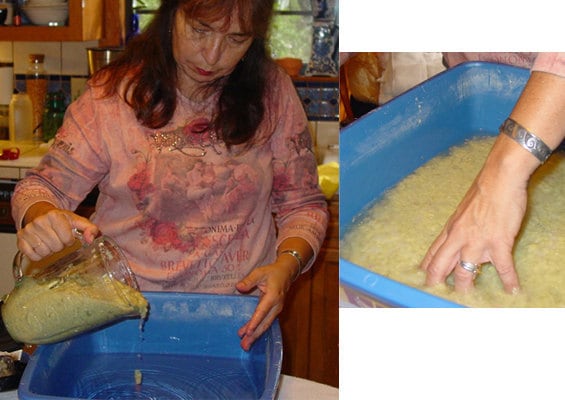 7. Holding the screen and deckle perpendicular to the tub (deckle facing you), slide along the back edge of tub, then down to the bottom of the tub.

8. Raise fairly quickly. You'll feel a "vacuum release" when it exits the pulp and water mixture.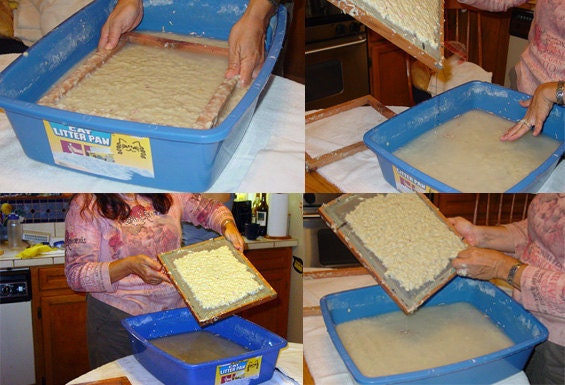 9. Let drain for a few seconds.
10. Place material cut from the old sheet on about 4 pages of newspaper for the paper pulp to drain on.
11. Flip screen over onto the material.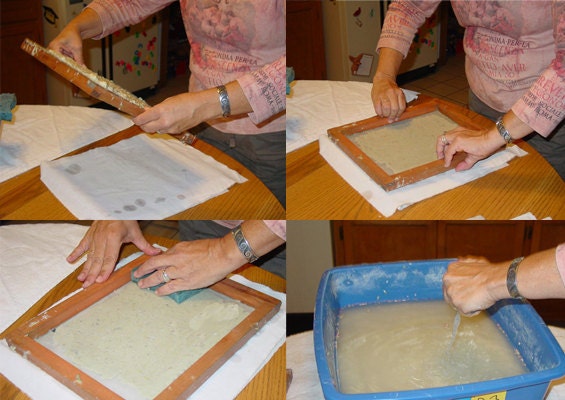 12.Firmly press sponge against the screen to absorb as much excess water as possible to bind the fibers together.
11.Carefully remove screen.
12. Place another piece of old sheet on top of the paper pulp and another layer of newspaper and repeat the process.
13.Continue this process until the pulp in the tub is too thin to dip with screen. Repeat the blender process until you have made the amount of paper you want. One tub of pulp will make about 10 sheets of paper. You can leave them alone and let them air dry or to speed up the process, you can hang the sheets with paper pulp on a clothes line. Once the sheets are almost dry, you can speed it up even more by ironing.
Once dry, carefully peel off of sheet and enjoy!



To make a mold and deckle you will need:

   1. 1/2" x 1/2 " wood, four 10" pieces and four 8" pieces
   2. Varnish
   3. Wood glue
   4. Fine-mesh nylon netting
   5. Stapler

To assemble the mold and deckle:

    * Arrange the pieces in a rectangle. You will be making 2 frames, but only one will have mesh netting. Glue them together, using an angle iron to get the corners square.
    * When the glue is dry, hammer in 2 small nails at each corner to hold the sides in place.
    * Paint the entire frame with varnish. Two coats is best and allow to dry overnight. This seals the wood so it will not discolor the paper.
    * Cut the netting 10" x 12". Wet the netting and staple it to the frame using a staple gun. Start by stapling the middle of one side, the middle of the opposite side, pulling as tightly as you can. Then staple the other 2 sides.
    * Now staple all around the frame, making sure the netting is taut. As it dries, it will become tighter. Cut away the extra netting.

Note: You can also use picture frames that are the same size, but they do need to be flat so they don't slip when you are making the sheets of paper.