Try your hand at making personalized melt-and-pour soaps with this easy step-by-step tutorial.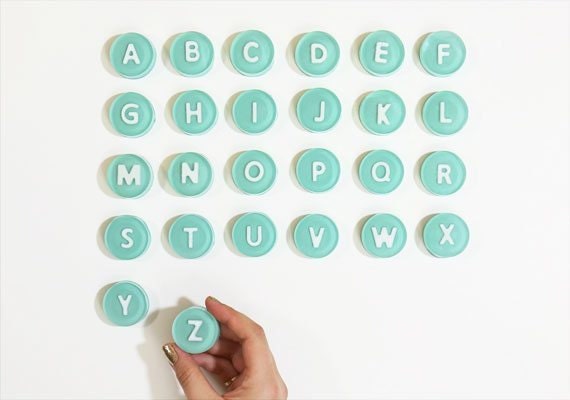 You don't have to be a professional soapmaker to create your own batch of personalized (and oh-so-giftable) soaps this holiday season. While the traditional cold-process method can take four to six weeks – and a lot of experience – to perfect, this melt-and-pour technique yields several small bars of soap in just one day and is totally approachable for beginners. What I like most about this project are the endless possibilities for personalization – the color, shape, scent and letters you choose are all up to you. The result is a set of completely custom soaps perfect for gifting or giving out as party (or wedding) favors.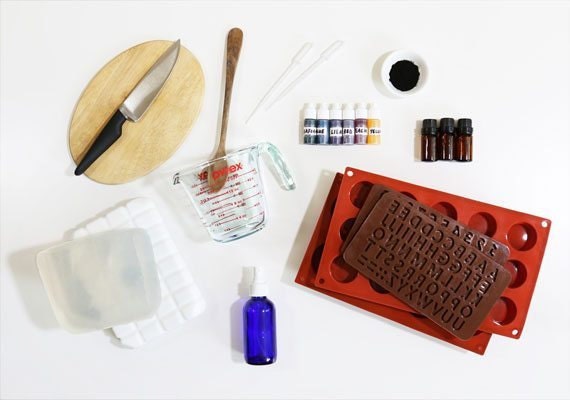 You will need:
Knife
Cutting board
Heat resistant measuring cup
Spoon
Microwave (not pictured)
Rubbing alcohol in a spray bottle
Parchment or wax paper (not pictured)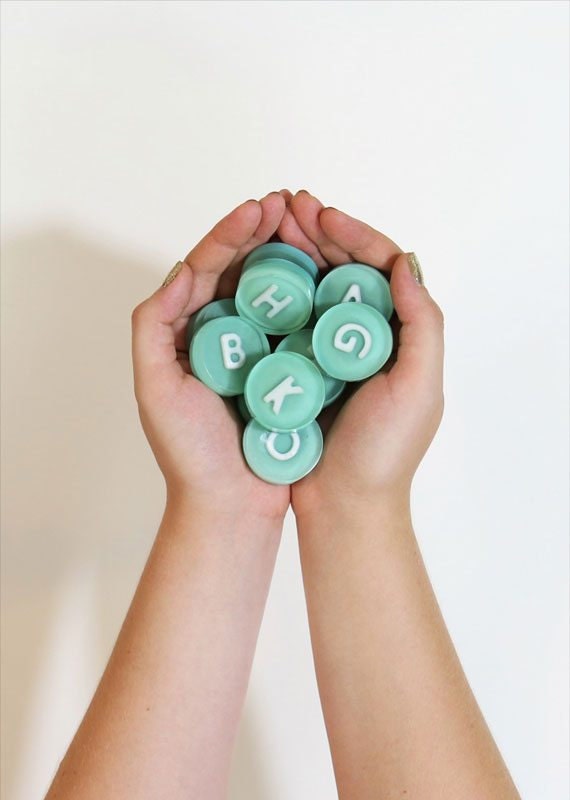 The monogrammed soap featured in this project is comprised of three parts: white soap letters (first part); a circular shape comprised of clear soap (second part); and colored soap (third part). For each stage of the process, you will be melting glycerin in the microwave and pouring it into the molds.
With that in mind, here are a few tips before you get started:
Melted soap can be very hot! Use caution when handling to avoid injury.
If at any time during this process the melted soap in your measuring cup starts to harden before you've transferred it all into your molds, re-heat in the microwave for 10-second intervals until it returns to its liquid state.
When transferring melted soap into the molds, bubbles will form on the surface of the soap. An easy solution for bursting those bubbles? Spray them with rubbing alcohol as they appear.
Step 1: Make Soap Letters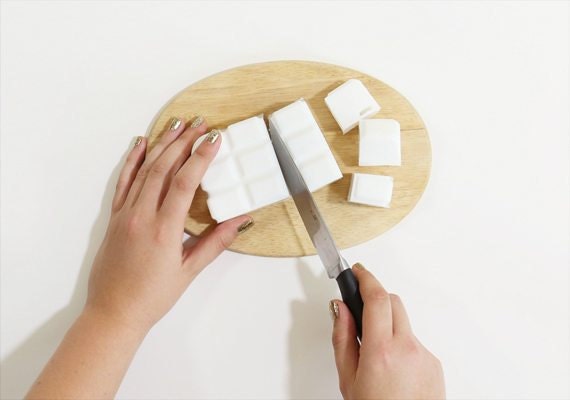 Cut white soap base into small pieces using a sharp knife.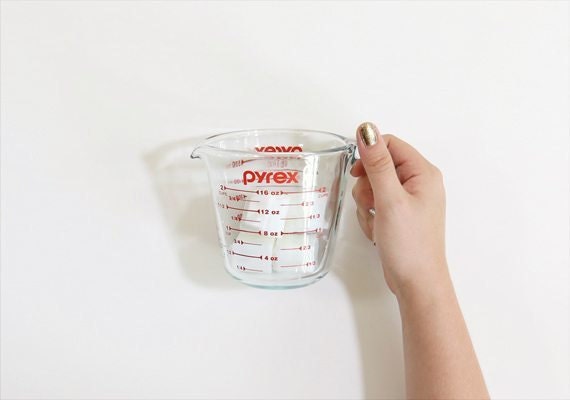 Place enough pieces to fill 1/2 cup in a heat-safe measuring cup. Microwave on high for 30-second intervals until the soap is fully melted, stirring between each interval to avoid burning.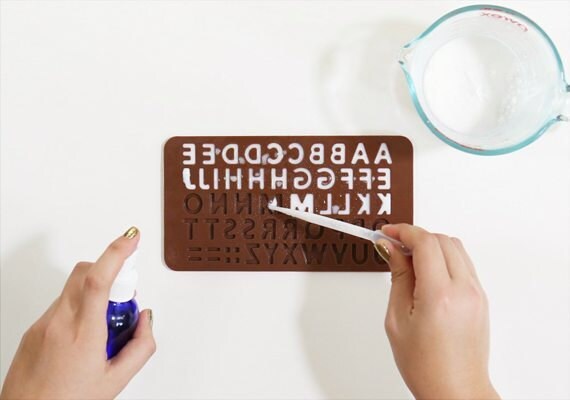 With a transfer pipette and rubbing alcohol in hand, pour small, steady amounts of the melted soap base into the letters of your alphabet mold. Set aside for 20 minutes, or until fully hardened.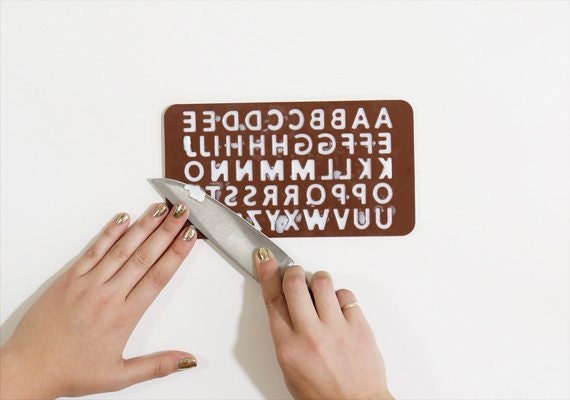 Once the letters have hardened, glide your knife blade along the mold's surface to remove excess soap.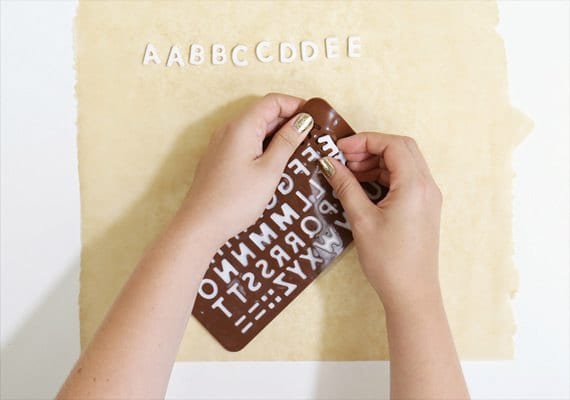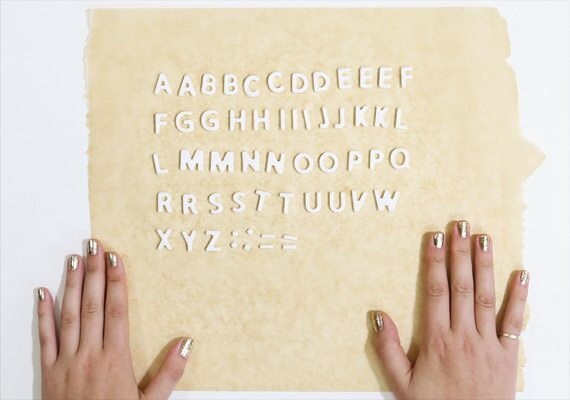 On a workspace lined with parchment paper, gently remove your letters from the mold; set aside.
Step 2: Add a Layer of Clear Soap, Set Letters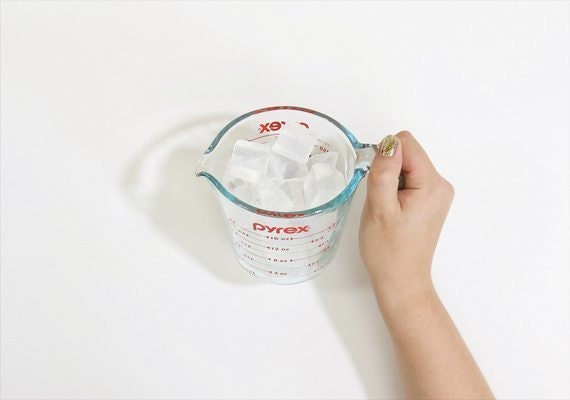 Use the same method outlined in step one to melt approximately 2 cups of clear soap base.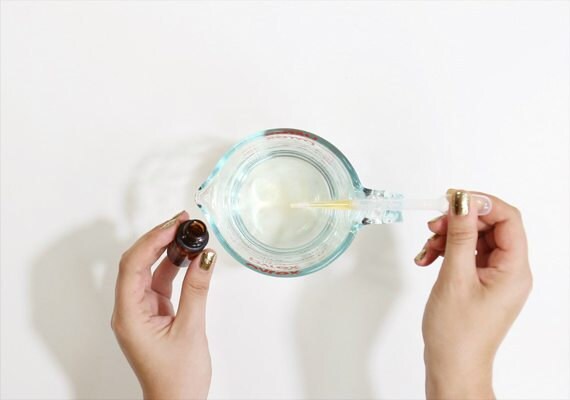 Optional:
Stir in fragrance or essential oil. (I used about half a pipette of fragrance for my batch; if you aren't sure how much fragrance to add, there are many resources available online for finding the right ratio.)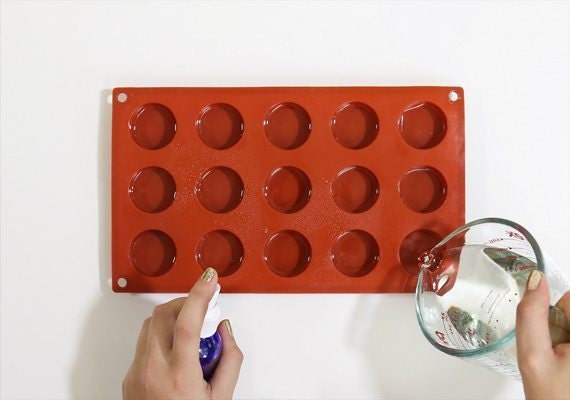 Pour the clear melted soap into each of the circular mold cavities, filling about ⅓ of each. Set aside for 15 minutes, or until fully hardened.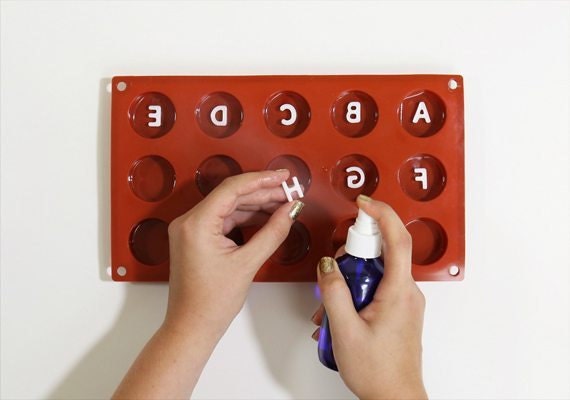 Spray your original soap letters with rubbing alcohol (which will act as a bonding agent between layers) and carefully place them backwards on the surface of the clear soap layer.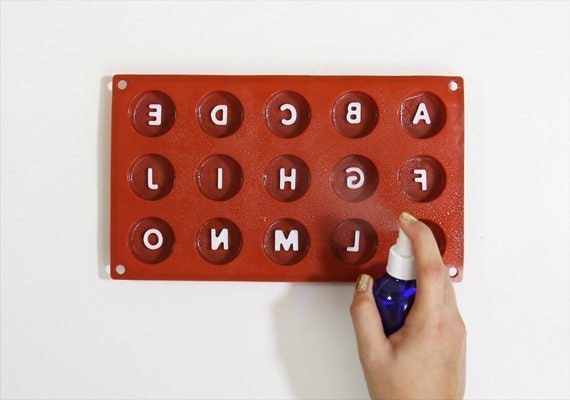 Once all the letters are in the molds, add another 1-2 spritzes of rubbing alcohol to prepare the surface for the next layer.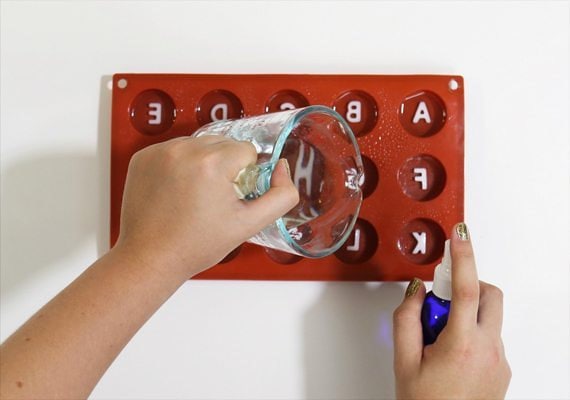 Pour another layer of clear soap base into the mold, being conscious of the temperature. If the soap is too hot, it will melt the letters.
Step 3: Add the Final Layer (Color!)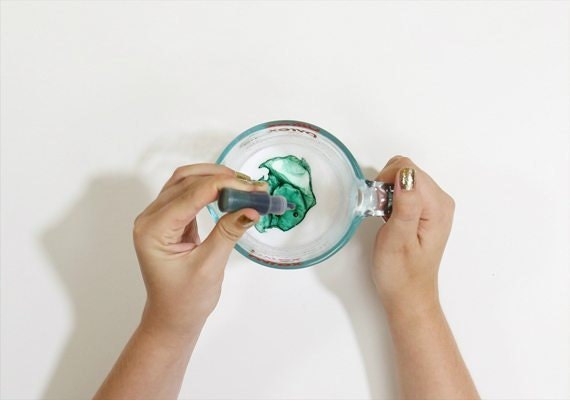 Now we're ready to add color. Begin by melting down a batch of white soap base large enough to fill the remainder of your molds – approximately 2 cups. Mix in a few drops of your colorant, per the manufacturer's instructions, until you've achieved the shade you like.
Optional:
Add additional fragrance.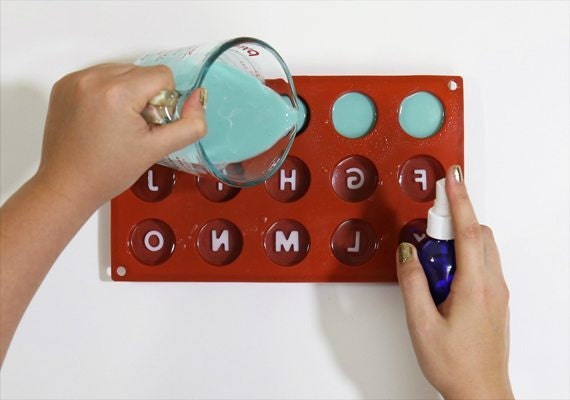 Add 1-2 spritzes of rubbing alcohol to prepare the surface for your next layer. Pour the colored soap base into each mold until full. Set aside for an hour, or until fully hardened.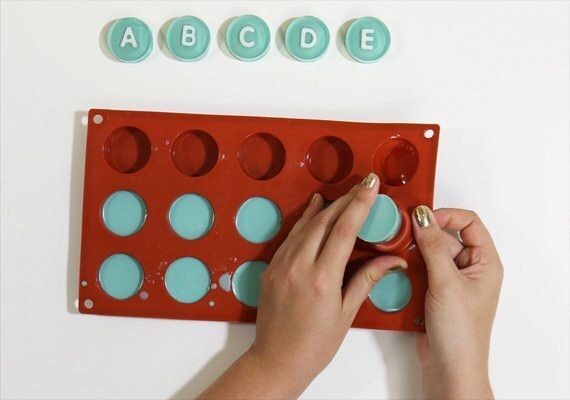 Once your soaps have fully hardened, remove them from the mold. Ta-da! Now you have a full set of custom monogram soaps.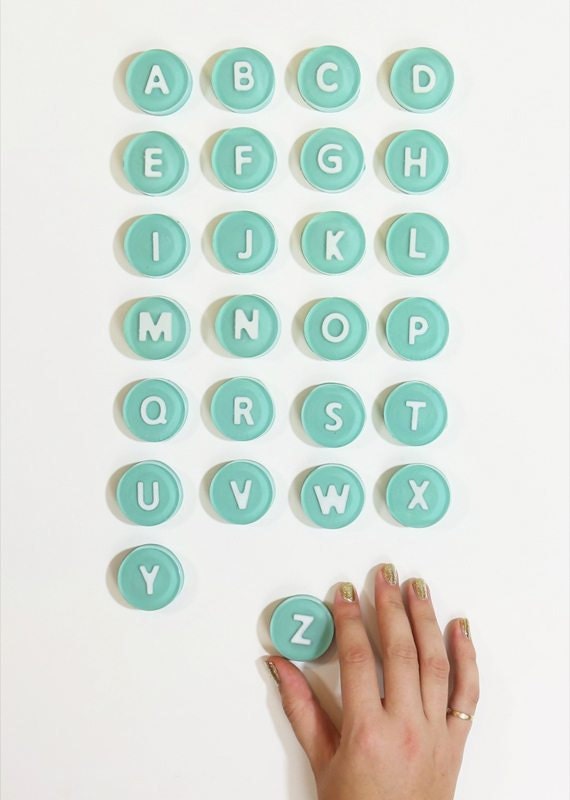 Tip:
Be sure to place your soaps in an airtight container or package them in cling wrap so they stay nice and fresh!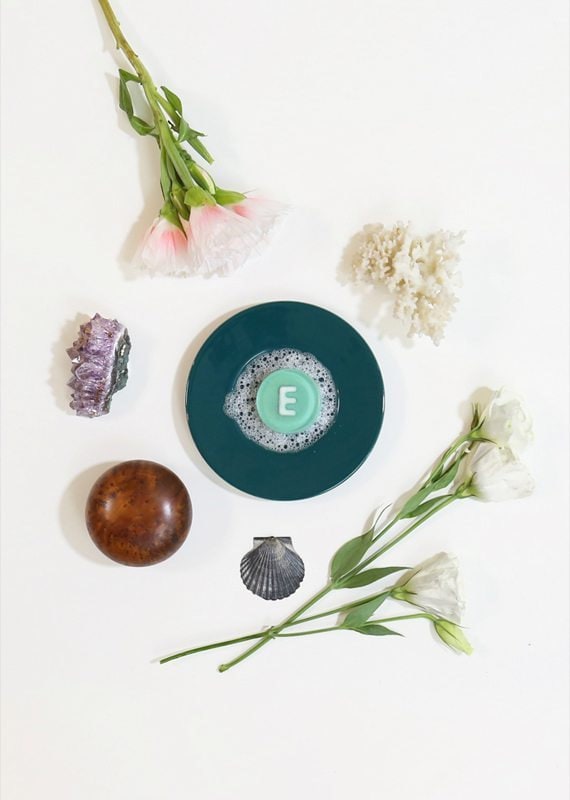 –
If you find you've caught the soap-making bug upon completing this project (like me!), try experimenting with larger molds and additional letters to spell out names, words and phrases in the soap. The sky is the limit!
Concept and styling by Clare McGibbon; photos by Clare McGibbon and Romain Laurent.