Making a wedding cake takes a good measure of bravery, but your guests will taste the love. Get started with this step-by-step, customizable recipe.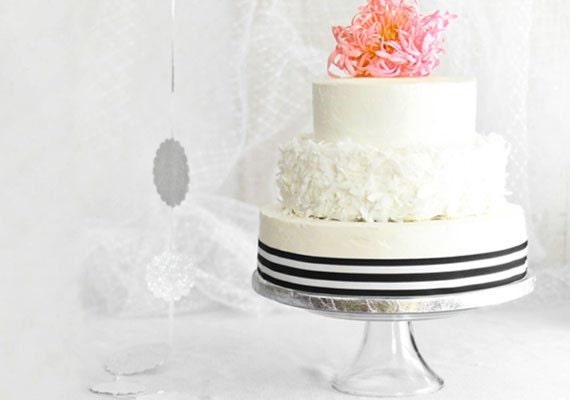 Making your
wedding
cake takes a good measure of bravery, but it's an excellent way to cut some expense from the wedding budget. Practical considerations aside, you'll also be feeding your guests something made with your own hands, and that is nothing short of special! Finish with a
cake topper
or
cake stand
from Etsy, and you've got a handmade masterpiece for everyone to enjoy. This pretty, pale-yellow butter cake is one of the most delicious and versatile recipes I've found. The accompanying moistening syrup can be endlessly varied in flavor, so customizing
*
your cake will be easy. Although I've left the filling recipe up to you, suggested amounts for this component are included so you'll know the exact quantities needed before you start!
*Some customization ideas to get the wheels turning:
Orange Dream Cake:
Orange extract–flavored moistening syrup with orange marmalade filling
Lemon Berry Cake:
Lemon extract–flavored moistening syrup with raspberry preserves filling
Peaches and Cream Cake:
Vanilla bean or vanilla extract–flavored moistening syrup with peach preserves filling
Lime-in-the Coconut Cake: 
Coconut-flavored moistening syrup with lime curd filling (this combination is used for the pictured cake)
Equipment:
Two of each size round cake pans: 6 x 2-inch, 8 x 2-inch and 10 x 2-inch Large offset spatula Pastry brush 12-inch foil-covered cake drum Two of each size cardboard cake circles: 6-inch, 8-inch, and 10-inch One 8-inch plastic footed cake separator 9 plastic straws 40 inches of 1 ½ inch–wide ribbon 3 pearl corsage pins 1 large fresh flower or other cake topper Optional: 1 large wooden dowel, for transport purposes
Note:
I also use and recommend a 5-quart standing mixer
Step 1: Prepare the Buttercream
Swiss Buttercream
Make this recipe 1 ½ times.
Yield: About 15 cups
Adapted from
SprinkleBakes: Dessert Recipes to Inspire your Inner Artist
Ingredients:
15 egg whites 3 cups sugar ¼ teaspoon salt 3 pounds butter, cubed and softened 2 tablespoons clear vanilla extract or other flavoring extract
Note:
It's important to have extra buttercream on hand in case of mishaps or if the cake needs a little touch-up after transportation.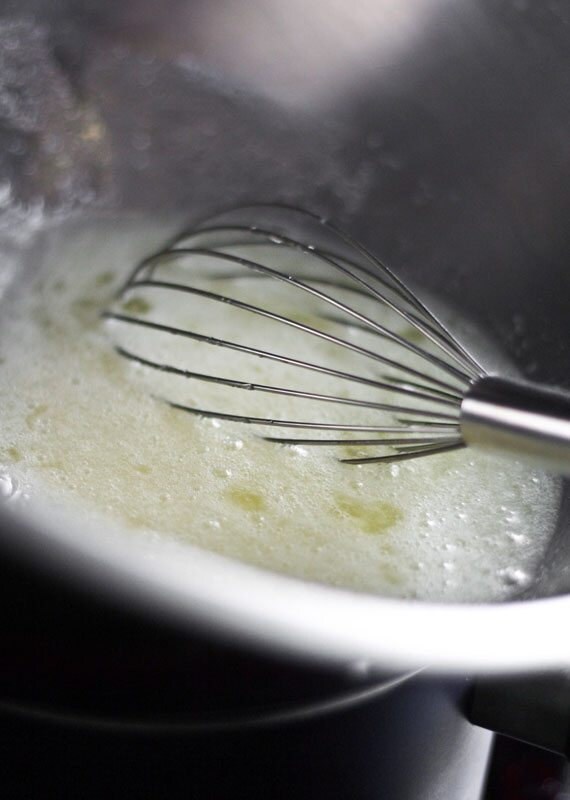 Set a saucepan filled one-third full of water over medium-high heat and bring to a simmer. Whisk together the egg whites, sugar, and salt in a large heatproof bowl. Set over the simmering water and whisk until the mixture is hot to the touch and the sugar has dissolved. Transfer the mixture to the bowl of a stand mixer fitted with the whisk attachment.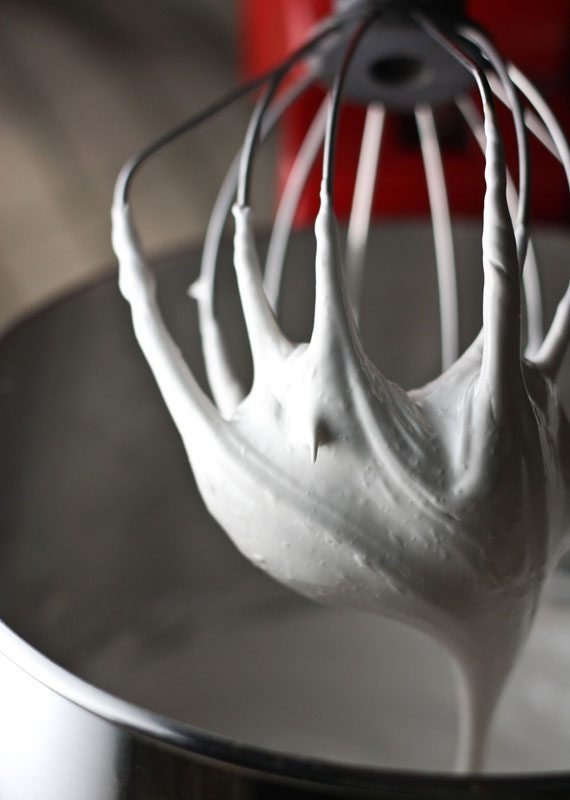 Beat on low speed for 2 minutes. Increase to medium-high until stiff peaks have formed. Continue beating at medium-high speed until the mixture is fluffy and has cooled (the mixing bowl should feel cool to the touch).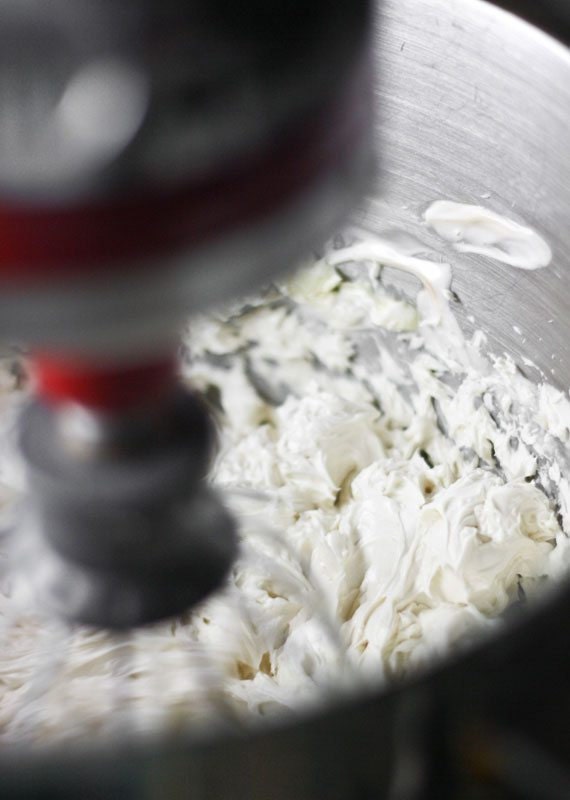 Turn off the mixer and switch from the whisk attachment to the paddle. Turn the mixer on medium-low and add the butter a few cubes at a time, beating until well incorporated before the next addition. Add the vanilla extract and beat until the frosting is thick and completely smooth. Store in an airtight container and refrigerate until ready for use. When you are ready to frost the cake, bring buttercream to room temperature and re-whip in the stand mixer with the paddle until fluffy and smooth.
Step 2: Prepare the Moistening Syrup
Moistening syrup
Make this recipe 2 ½ times.
Yield: 3 cups
Ingredients:
2 cups sugar 2 cups water 1 vanilla bean or 2 teaspoons extract of your choice Place sugar and water in a saucepan and stir to combine. Bring to a boil over medium heat. When sugar has dissolved, remove from heat and let stand until cooled. Stir in flavoring extract or vanilla bean seeds.
Step 3: Make the Butter Cake
Adapted from Wedding Cakes You Can Make by Dede Wilson. 
Butter Cake 
Make this recipe three times, increasing amounts for each tier size as shown on our handy chart,
here
.
Yield: Two 6-inch cake layers
Ingredients:
1 ½ cups cake flour 1 ½ teaspoons baking powder Pinch salt ½ cup unsalted butter, softened ½ cup sugar 1 teaspoon vanilla 2 eggs ½ cup whole milk, room temperature Preheat oven to 350 degrees. Grease pans with shortening and line the bottoms with a circle of parchment. Grease paper; flour pans and tap out excess. Sift together the flour, baking powder and salt.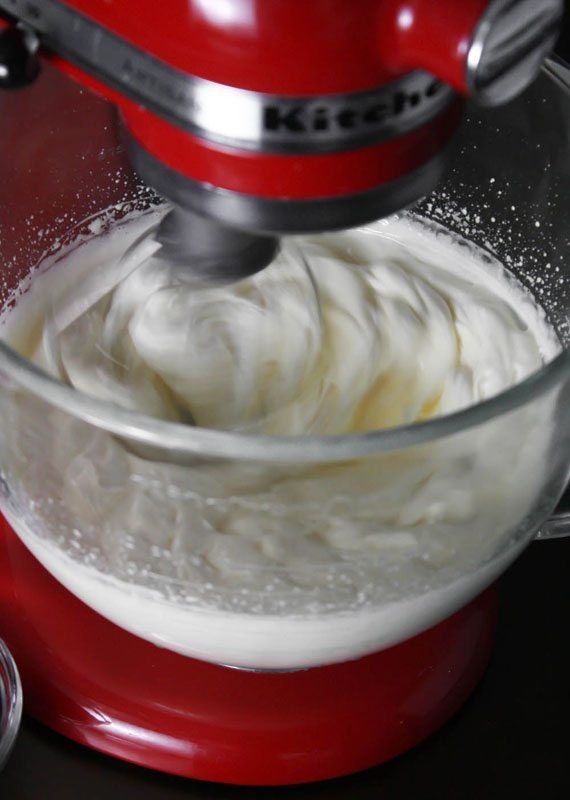 In a standing mixer, use the paddle attachment to beat butter until creamy and lightened. Add the sugar gradually; scrape down the sides of the bowl and then beat in the vanilla. Add the eggs one at a time, beating well with each addition. Add the flour mixture gradually, alternating with the milk, beginning and ending with flour.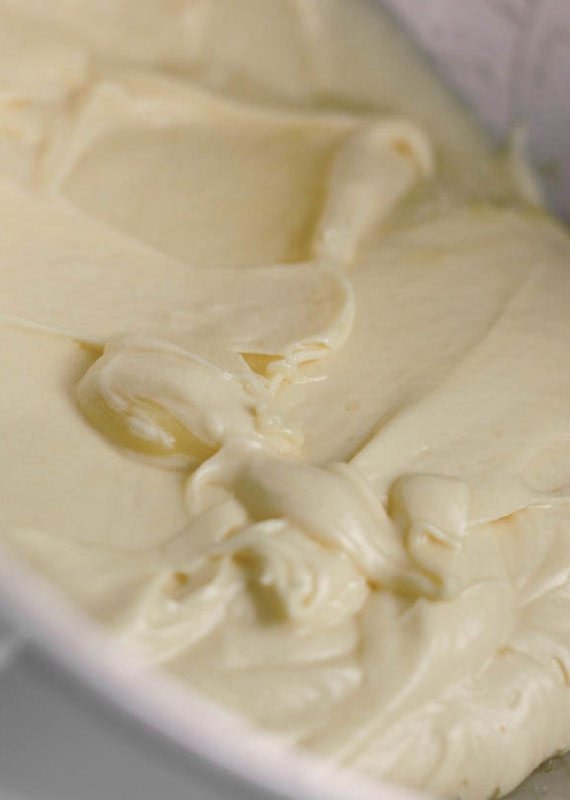 Divide batter between pans and bake approximately 22 minutes for 6-inch layers, 23 minutes for 8-inch layers, and 30 minutes for 10-inch layers. Cool cakes in pans for 5 minutes, unmold and cool completely on wire racks. Place on cardboard circles and double wrap with plastic wrap. Refrigerate until ready to use.
Step 4: Assemble the Cake
Ingredients:
5 cups moistening syrup 7 ¾ cups filling 15 ½ cups buttercream 2 cups wide-cut unsweetened coconut (optional)
Note:
Make sure to clear plenty of room in the refrigerator to chill cake tiers.
Tier assembly at a glance
: Cardboard round, first torted cake layer, syrup, filling, corresponding cake layer, syrup, buttercream, second torted cake layer, syrup, filling, corresponding cake layer, syrup, buttercream.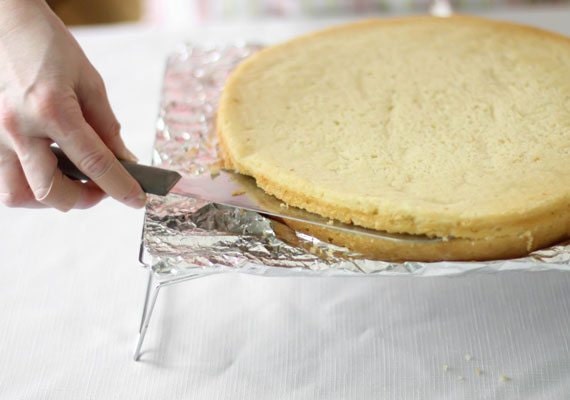 Building tiers:
If needed, level cooled cakes with a serrated knife or cake leveling tool.  Cut each cake in half horizontally with a serrated knife (this is called "torting"). Brush each torted cake piece with moistening syrup as you build the tiers on a same-sized cardboard round.
Syrup amounts per layer:
½ cup per 6-inch layer 1 cup plus 2 tablespoons for each 8-inch layer 1 ¼ cups plus 2 tablespoons per 10-inch layer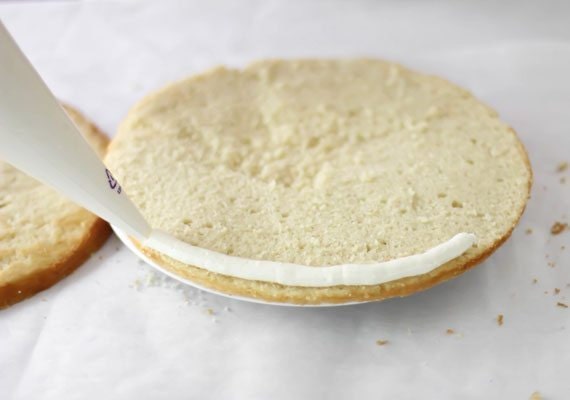 Using a disposable piping bag with the end snipped, pipe a line of buttercream around the edge of two of each size torted cake pieces.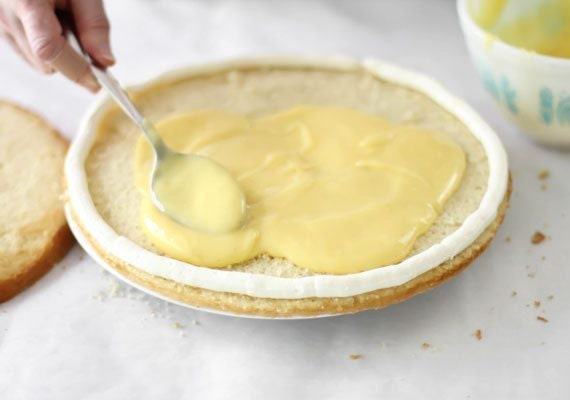 Apply fillings.
Filling amounts per layer:
½ cup for each 6-inch layer 1 cup plus 2 tablespoons for each 8-inch layer 1 ¾ cups plus 2 tablespoons filling per 10-inch layer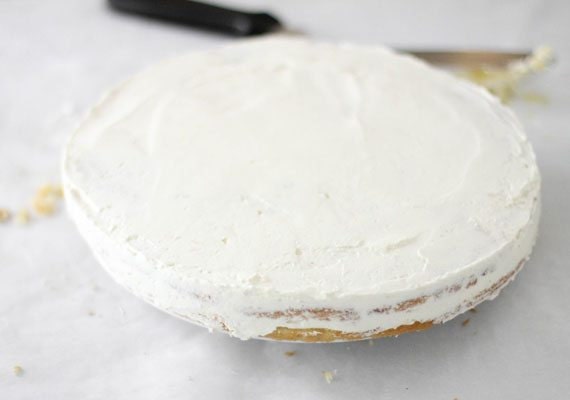 Coat completely with a thin layer of frosting (known as a crumb-coat); refrigerate cakes for two hours.
Remove tiers from refrigerator and center the 10-inch tier on the cake drum by carefully sliding it off the cardboard circle. Slide the 8-inch tier onto the plastic footed cake separator.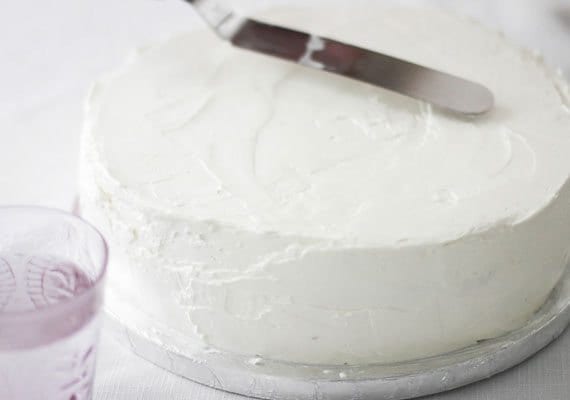 Frost all tiers with a final even coat of buttercream. For the coconut and lime cake, gently press coconut into the sides of the 8-inch tier (while holding it over a bowl to catch the excess). Refrigerate frosted tiers for two hours.
Tip:
Swiss buttercream can be perfectly smoothed by dipping an offset spatula in hot water and wiping it clean before passing it over the icing.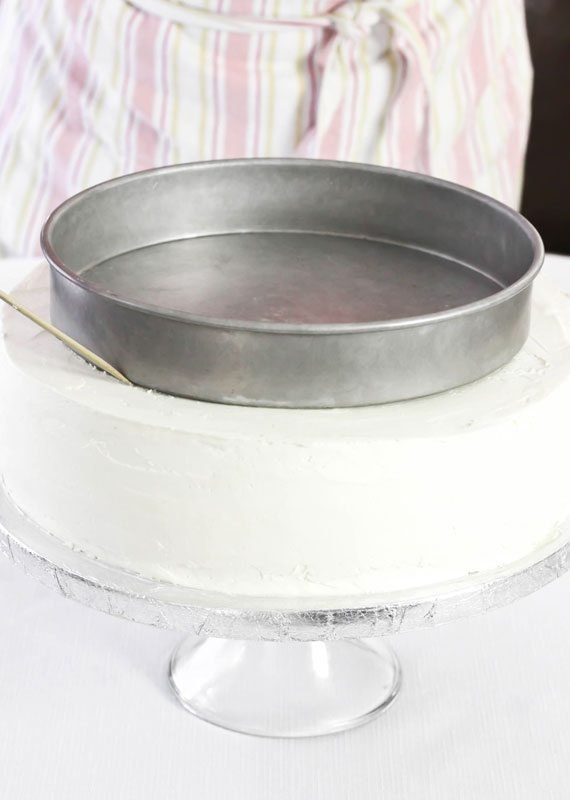 Remove tiers from refrigerator. Center an 8-inch cake pan over the 10-inch tier and trace around it with a skewer to mark the placement of the 8-inch layer.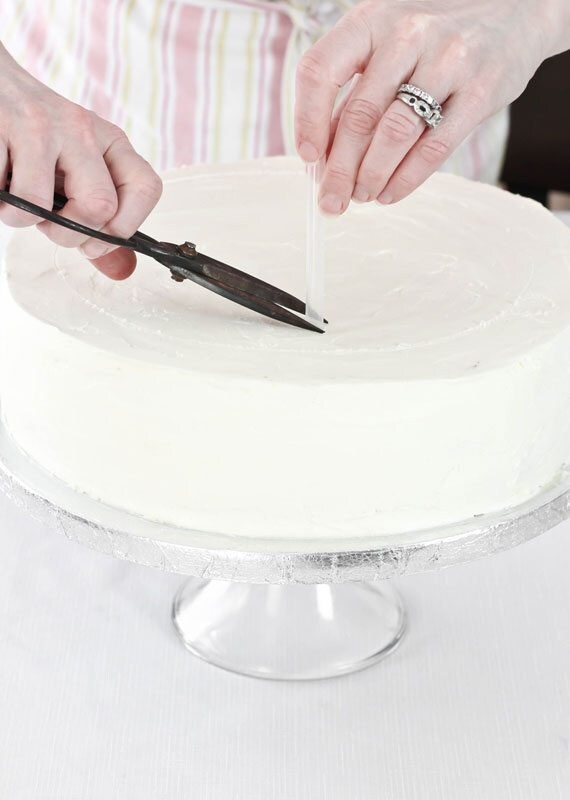 Press 5 straws (spaced) into the middle of the 10-inch cake and snip off the excess with scissors.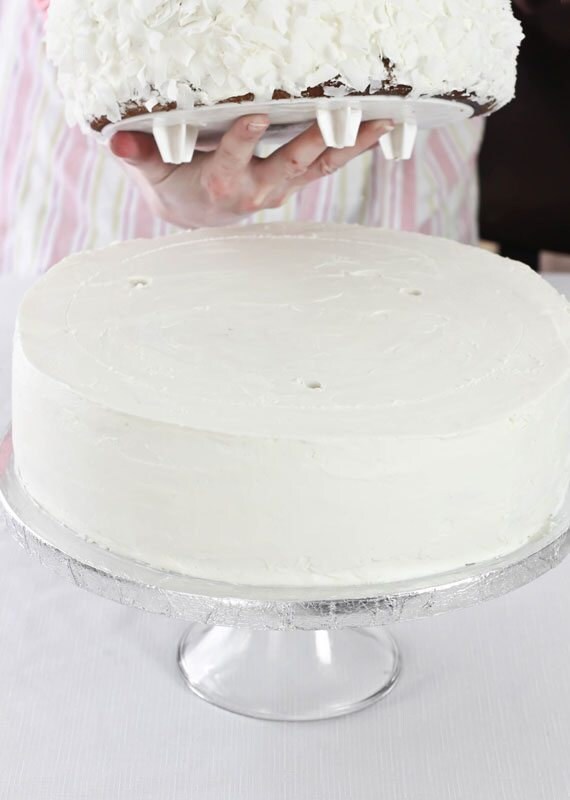 Place the 8-inch layer over the marked circle and press until the cake separator's feet are fully submerged. Mark the placement of the 6-inch layer in the same manner and press 4 straws into the center as before.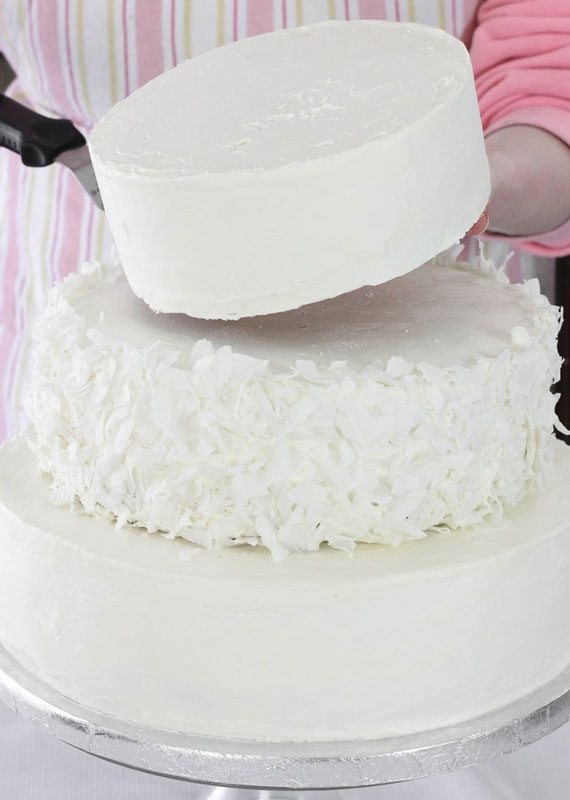 Place the 6-inch layer on top of the 8-inch layer, supporting it with an offset spatula and a hand.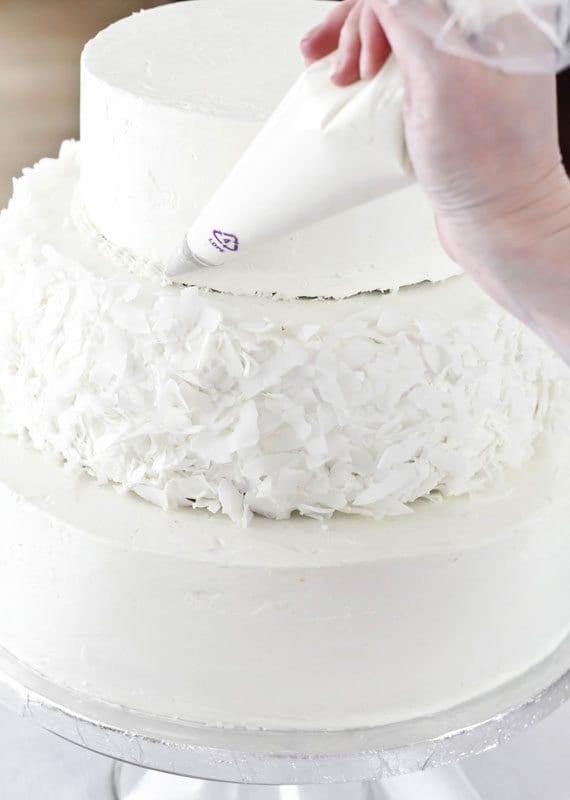 Pipe or spread extra icing around the base of each tier to "connect" them, filling any conspicuous gaps with frosting. This "connection" can be a decorative bead piped with a decorative piping tip or smoothed with a spatula for a plain finish.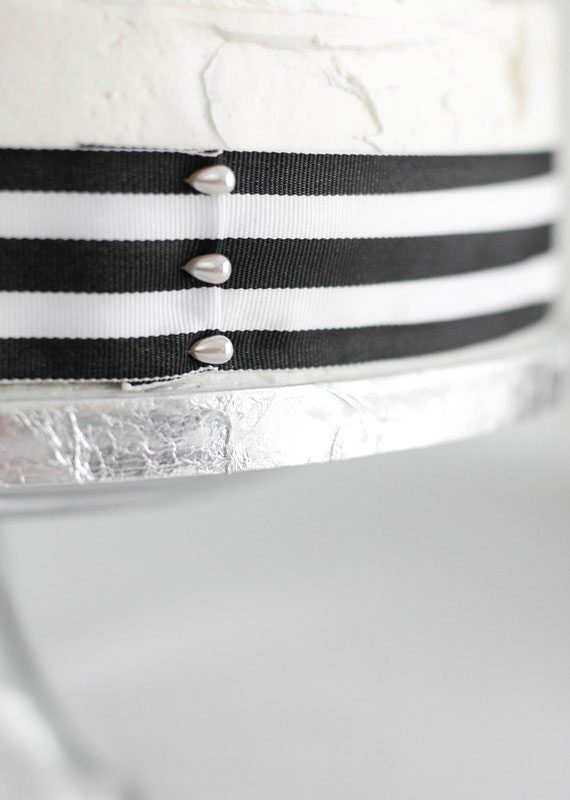 Use a damp paper towel to tidy around the cake drum. Carefully wrap base of cake with ribbon and neatly turn under the end so the cut edge of the ribbon is not showing. Secure with corsage pins and refrigerate cake overnight.
Transportation 101: Getting the Cake Safely to the Venue
Make sure there is a large flat area in the vehicle on which to place the cake. When transporting a cake with all the tiers assembled, I recommend submerging one long ¼-inch dowel completely through the top two tiers. This is extra insurance that the tiers will not move with the jostling of the car. Also, bring along a large piping bag of extra icing in case touch-ups are needed on location. If you'll be using fresh flowers to decorate the cake, transport them in water to maintain freshness. When transporting in warm weather, make sure the vehicle has a working air conditioner.
Step 5: Setup and Presentation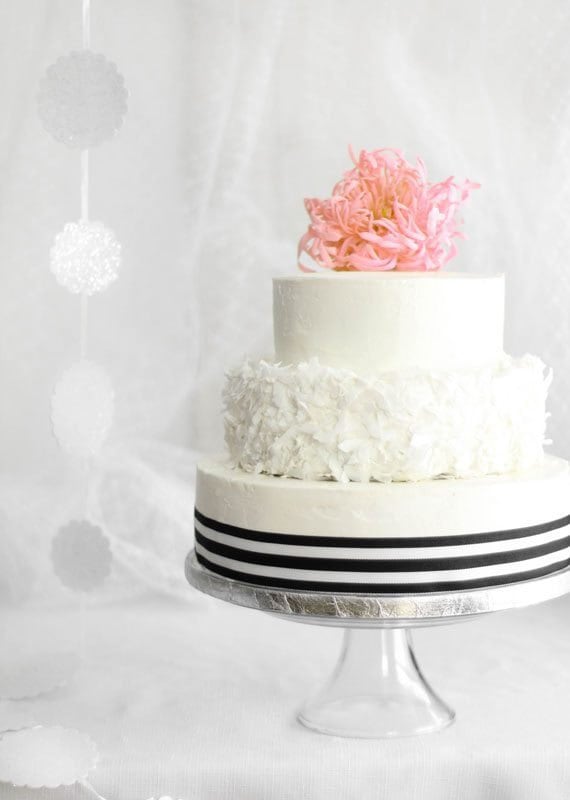 Before presenting, top with a large fresh flower (artificial could be used) or other
cake topper
of choice. Serve cake at room temperature – this is key! Frosting is soft and filling flavors are at their best at room temperature.
  Save Save Save Save