When patterns go express, you have more time for the important stuff, like twirling.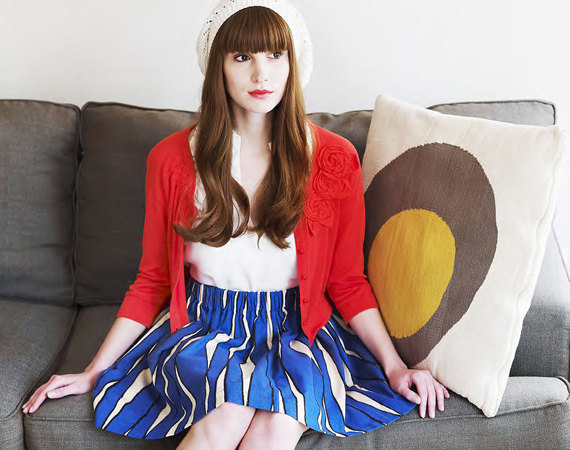 In this week's How-Tuesday post,  you'll learn how to stitch your very own custom skirt and update your wardrobe in a flash! Brett Bara, author of
Sewing in a Straight Line
, will guide you through the process.
When you see how easy it is to sew your own quick and comfy skirt, you won't ever want to purchase this wardrobe basic off the rack again. With just one yard of fabric and a mere sixty minutes, you can whip up a fantastic little number that looks like a million bucks. You can easily adapt this pattern to make a variety of different looks — try a narrower elastic waist, a longer length, or even less gathering to suit your own personal style.
Materials You'll Need: - Approximately 1 yard (91cm) medium-weight fabric* - 1 3/4" (4.5cm) wide elastic (the length of your waist circumference) - One large safety pin - Scissors or rotary cutter - Thread - Iron - Sewing Machine
*Note: This garment is sized to fit your measurements, so the exact amount of fabric needed will vary. Read the entire pattern and take your body measurements (in step 1) to determine the exact amount you'll need. Buy extra when in doubt.
Finished Dimensions:
Width: Sized to fit your body Length: 18" (45.5cm)
Fabric Suggestions
I made this skirt in a cotton-linen blend, which is soft and has great drape. Almost any light or medium weight fabric will work for this project; just keep in mind that the texture of the fabric you choose will determine whether your skirt is flowy or more structured.
Let's get started!
[embed width=570]http://vimeo.com/26612612[/embed]
Directions: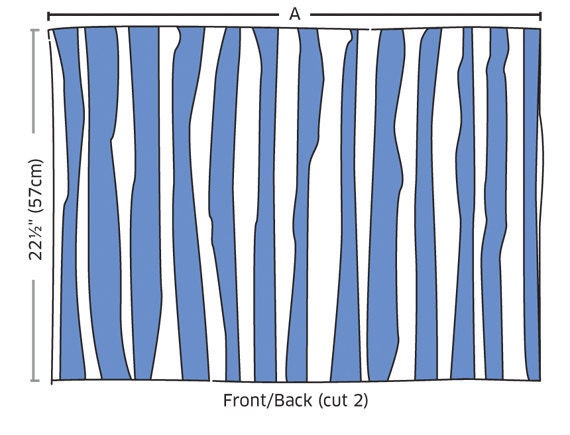 1. Measure and Cut: Fabric: Measure your hip circumference 7"–8" (18cm–20.5cm) below your natural waist, or at your widest point) for measurement A. Cut 2 rectangles with a width equal to A and a length of 22 1/2"(57cm).
Elastic: Measure your waist circumference and cut a piece of elastic to that measurement minus 1" (2.5cm).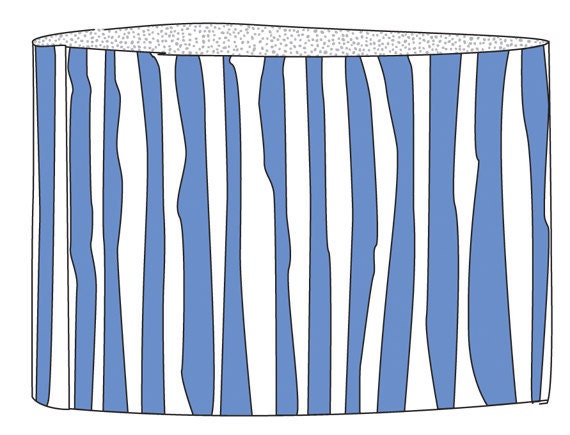 2. Sew the Side Seams Pin Then sew the 2 front/back pieces together along both 22 1/2" (57cm) edges using either 1/2" seam allowances or a 1/4" (6mm) French seams. Press the seams flat before moving on.
3. Sew the Waistband Casing Turn under the top edge 1/2" (13mm); press. Turn under this folded top edge 2" (5cm); press then pin. Topstitch the folded edge in place, leaving a 4" (10cm) opening near one of the side seams.
4. Sew the Hem Turn under the hem 1/2" (13mm); press. Turn it under again 11/2" (3.8cm); press then pin. Topstitch the hem in place.
5.
Finish the Waistband
Attach a safety pin to one end of the elastic and thread that end through the entire waistband casing and gather away, being careful not to twist the elastic. When the safety pin gets back to the opening, overlap the 2 raw edges of the elastic 1/2" (13mm) and sew them together with a straight stitch, backstitching to reinforce at the beginning and end of the seam. Insert the joined elastic ends back into the casing. Topstitch the opening of the casing closed.
Distribute the gathers evenly around the skirt. Once the gathers are arranged, stitch in the ditch along each side seam at the waistband to secure the elastic in place.
Go Custom You can change this pattern up in lots of ways to make whatever kind of skirt your heart desires. Here are a few options:
— If you prefer the look of a skinny waistband, just use thinner elastic and adjust the waistband casing accordingly. Make the casing 1/4" (6mm) wider than the elastic.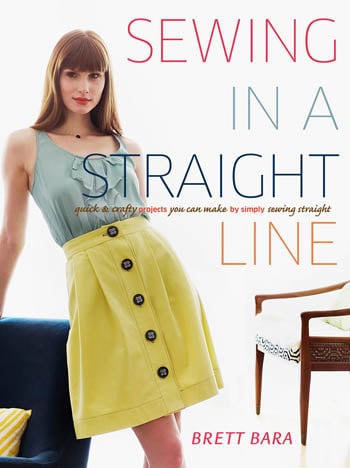 — This skirt measures 18" (45.5cm) from waist to hem. To make it longer or shorter (if you dare!), just adjust the length of the rectangle you cut in Step 1. (You may need to buy more fabric for a longer skirt.)
— The fabric you choose has a huge impact on the look of this garment. A very light fabric with a lot of drape will give you a flowy skirt; choose something stiff like taffeta for a poofy ball-gown effect.
Score a copy of Sewing in a Straight Line from Amazon or an independent bookseller near you.