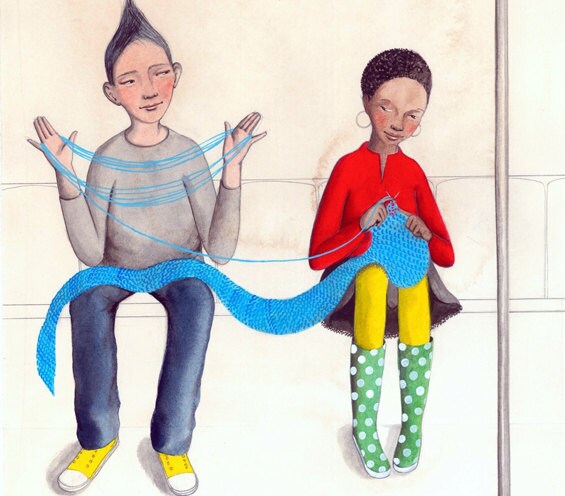 You want to hold a creative event, you say? That's all you have to mention and you know I'll make it my business to be there. I view crafting as a very inclusive, inviting, participatory, and community-oriented activity, not to mention great fun! There is just something about craft that has been a driving force for bringing friends and neighbors together throughout the ages — for the sake of meeting one another, fostering creativity, and even galvanizing for good deeds. From quilting bees and crochet circles, to barn-raisings and planting victory gardens, to painting murals and knitting for the needy (and even penguins), there is nothing like connecting with like-minded souls, learning a new skill, and making something with your own two hands.
I've been dreaming up crafty gatherings ever since I could wield a pair of scissors, from childhood birthday parties to various incarnations of knitting clubs and craft nights throughout high school and college, as well as creative community programs for the Etsy community, like Hands-On, Meet & Make, and Craft Party. Along the way, I have gleaned all sorts of knowledge for how to throw a successful crafting event without needing to spend much money at all.
Read on for tips and ideas to help you get started without breaking the bank.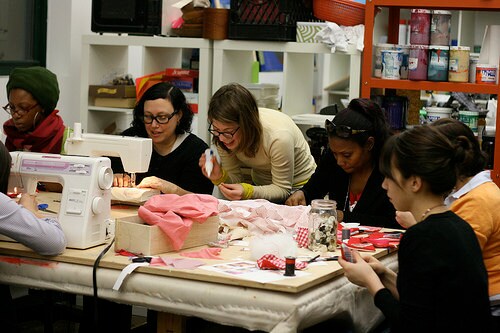 1. Get focused
First, you'll need to decide what you want your creative event to be all about. Here are some questions to consider:
Is this a one-off event or a recurring gathering?
What will the participants be doing at each meeting? Will there be an organized project for attendees to learn (like how to stencil), a general creative theme for participants to work on independently (like embroidery or stamping), a group project (like knitting scarves for charity) or more of an open, crafty free-for-all?
If there is an organized project, what will it be? Who will teach the project? Will there be a different skill-share at each meeting?
Who are you hoping to meet at your Craft Night? What sort of new friends are you hoping to make?
2. Find a space
Look for a location that would be conducive to the sort of creative event you are organizing. There are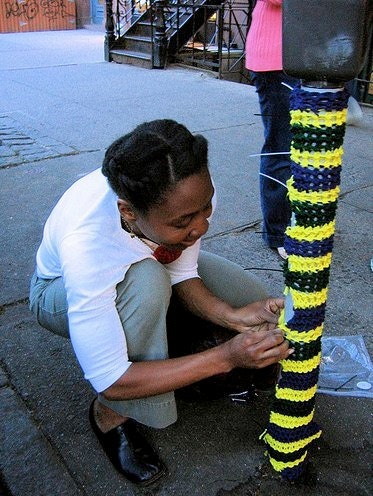 probably more free meeting spaces in your town than you might imagine. If you are hosting a knit and crochet night, a place with some comfy chairs or couches will do. If you're thinking a drink-and-draw evening is more your thing, keep your eyes peeled for a place welcoming to your shenanigans and with tables for drawing upon. Community spaces, such as coffee shops, cafes, art spaces, bars, parks, and library meeting rooms are great places to look. You can also try reaching out to places with an educational focus, such as museums with classrooms, art schools, or craft stores that host classes. These spaces might come equipped with basic tools for you to use and worktables dedicated to creative projects, which can be a bonus. If you're organizing a Craft Night among friends, you may wish to take turns hosting the gatherings at your own homes. Or, perhaps, the creative event you have in mind transcends the need for walls and roof and furniture. Convene on the corner and go
yarn-bomb
your town! Meet in the park and make a chalk mural on the sidewalk. There's nothing like taking it to the streets for some guerilla art action, right?
3. Pick a Project
& Gather Supplies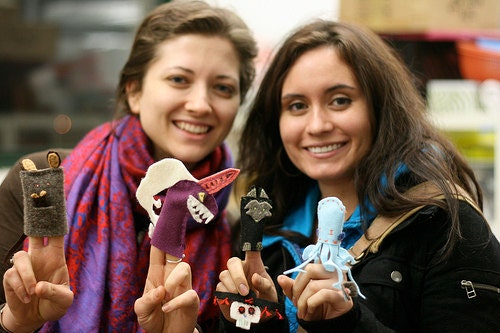 Once you've honed in on the focus of your Craft Night and where you will be meeting, you'll want to decide what you'll be doing at each gathering. There are countless craft projects out there that cost very little money, especially when you get creative, as we are wont to do at Craft Nights! You may wish to ask everyone to bring their own supplies, or chip in to cover the costs. If you have ambitious material needs, try reaching out to local craft supply stores for possible sponsorship, particularly if you're seeking specialized materials. Here are a few project ideas that require only minimum supplies that you might have lurking in your home already (including scrap and recycled materials):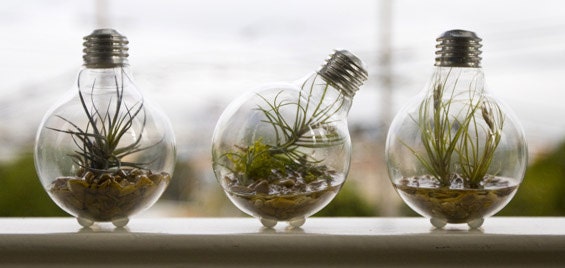 For more inspiration for potential Craft Night projects, be sure to peruse the
How-Tuesday
column of Etsy's blog, watch our
How-To Videos
, or take inspiration from past
Craft Night
projects at the Etsy Labs. To find instructors for skill-sharing Craft Nights, you probably won't need to look further than your own arts community. Reach out to your friends, local art teachers, artists and designers, craft store owners, arts bloggers, craft book authors, and
local Etsy sellers
and
Etsy Teams
to find creative folks who may be willing to share their mad skills and know-how to an eager and attentive audience. Don't forget refreshments: snacks and crafts go together like paper and glue! Go potluck-style and encourage everyone who is atten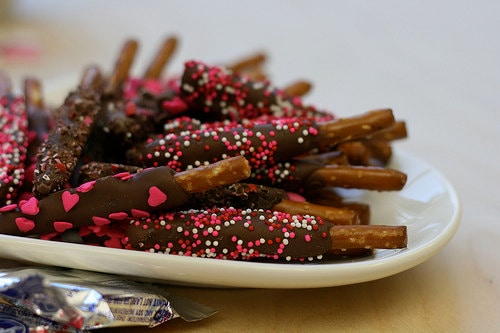 ding to bring a snack to share. Maybe a local bakery would even like to sponsor your Craft Night and provide some treats. Or, if you're a food lover you could even host a Craft Night centered around your favorite confection. Every year at the Etsy Labs we co-host a
Cupcake Craft Night
with
Cupcakes Take the Cake
where  we make cupcake-inspired crafts and dine upon real cupcakes made by participants and donated from local bakeries. Yum!
4. Choose dates & times
If your Craft Night is going to be a recurring event I would recommend picking a regular meeting time, such as a specific day and time that is weekly, monthly, or bi-monthly. Hosting meetings at regular intervals helps to keep up the momentum, while choosing a regular day and time (rather than meeting erratically) will help your crafters remember when to show up and make routine appearances.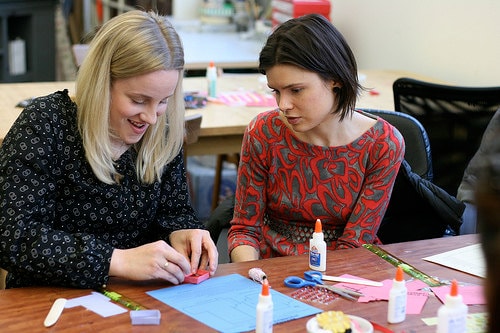 5. Spread the Word
Get the word out and promote! Invite all your friends and local crafters to participate. Reach out to local
Etsy Teams
. If you're looking to attract local artists outside of your existing circle of friends, create some buzz by getting the word out high and low. Create event postings on sites like
Going
,
Time Out
,
Yelp
, and similar local sites where you live. Hit up those social networking channels; put a call out on
Twitter
and start a
Facebook group
. If you're serious about creating a thriving, ongoing gathering,
Meetup.com
is also a great place to connect with like-minded creative folks in your area.
6.
Get busy crafting!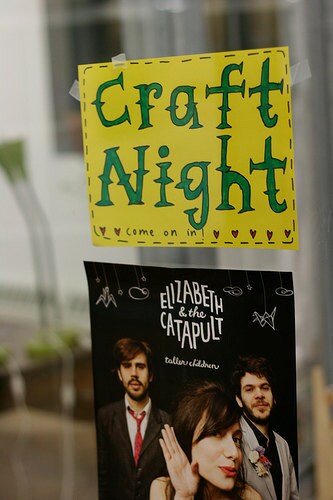 At the event, be sure to greet everyone who arrives and hand out name tags so that newbies don't feel like lost souls. Have all participants sign in when they arrive and leave their email address so you can build a mailing list and easily stay in touch. As your Craft Night is winding down for the evening, remind everyone where and when the next meeting will be. Checklist for the day of your meeting:
Name tags and pens
Sign-in sheet
Signs directing to your meeting space
Tables and chairs
Craft supplies
Snacks
Music
First-Aid Kit
Here are a few examples of hands-on groups and gatherings, for further inspiration: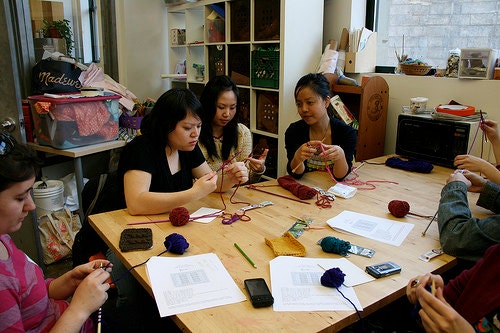 Do you have a tip for leading a craft group/event? Do you organize your own Craft Night? Tell us about it in the comments below!