by Heather Baird
Whimsical and woodsy acorn cookies will delight dinner guests – and they're delicious, too.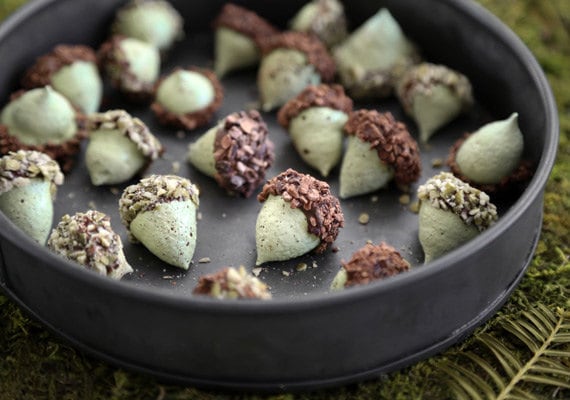 The woods behind my house seem to come alive this time of year. As the leaves turn golden, squirrels are doing acrobatics in the trees, mushrooms are sprouting on patches of moss, and acorns are crunching underfoot. The latter is what inspired these cookies. I just love the woodsy look that acorns give holiday decor, and these cookies will bring that charm to your Thanksgiving table. But they're not all looks – they're delicious, too.
Vanilla seeds give the meringues an intoxicating scent, and a dip in chocolate and cocoa nibs make them a crunchable treat. The acorns can be endlessly varied, with your choice of ground nuts or seeds. Pumpkin seeds are season-appropriate and make a delightful green-hued acorn "cap." Pistachios are also a good choice.
Superfine sugar dissolves more easily than regular granulated sugar and helps meringue maintain a light texture, so I suggest using it in this recipe. Look for bags labeled as Caster Sugar in the grocery store, or grind granulated sugar finer in a food processor.
Serve these piled on a serving platter, or place one or two at each diner's place setting. They make a light dessert and are terrific with strong coffee.
You will need:
2 egg whites at room temperature
1/4 teaspoon cream of tartar
1/2 cup caster sugar
1/4 teaspoon green gel food color
Seeds of 1 vanilla bean or 1/4 teaspoon ground whole vanilla
8 oz. semisweet chocolate chips, melted and cooled
1/4 cup ground cocoa nibs
1/4 cup ground pumpkin seeds
1 teaspoon cocoa powder
1 1/2 teaspoons vanilla extract
Step 1: Beat egg whites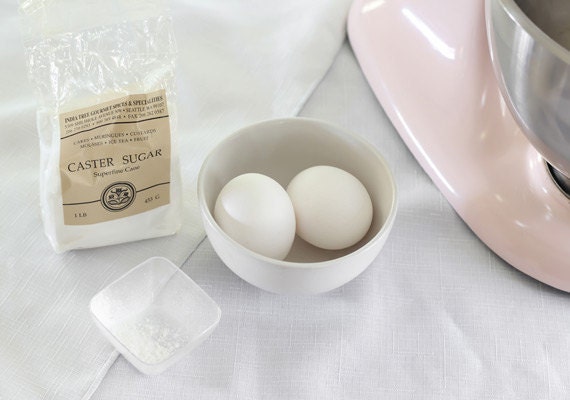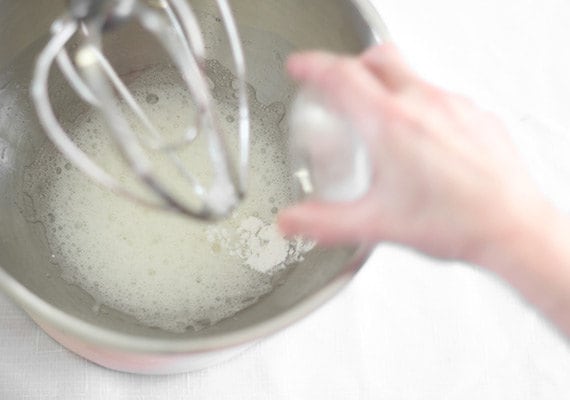 To get started, prepare two baking sheets by lining them with parchment paper. Preheat the oven to 170 degrees F. Next, place room temperature egg whites in the bowl of an electric mixer fitted with a whisk attachment. (It's important that the bowl and whisk both be very clean so that the egg whites whip properly.) Beat egg whites on medium speed.
Step 2: Stir until soft peaks form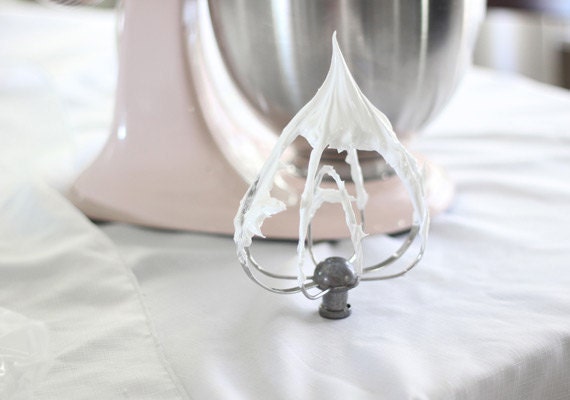 Once the egg whites are very frothy, stop the mixer and add the cream of tartar. Start the mixer again and continue to beat the egg whites. After they form soft peaks, increase the speed to high and gradually add the sugar one tablespoon at a time.
Step 3: Add color and flavoring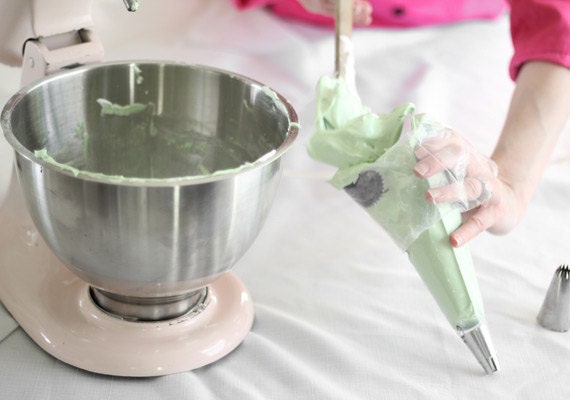 Beat the whites until they are very shiny and hold stiff peaks, but are not dry or crumbly. Add the gel food color and vanilla beans to the bowl and beat again until a consistent green color is achieved.
Step 4: Create your meringue base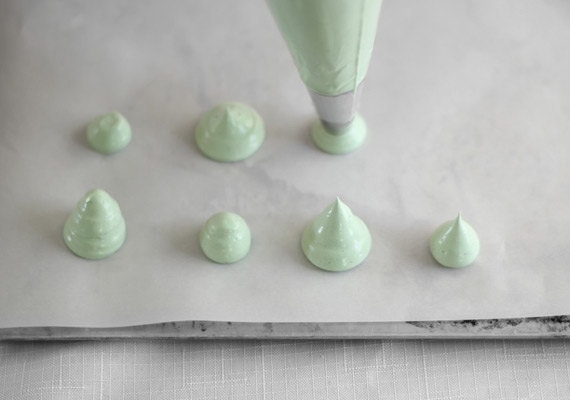 Spoon the meringue into a large pastry bag fitted with a 1/2-inch round tip. Pipe the acorns in various shapes and sizes. Place the piping tip close to the baking sheet's surface and squeeze as you slowly and evenly draw it up. Release pressure on the bag (causing a break) to form a point .
Step 5: Bake meringue in the oven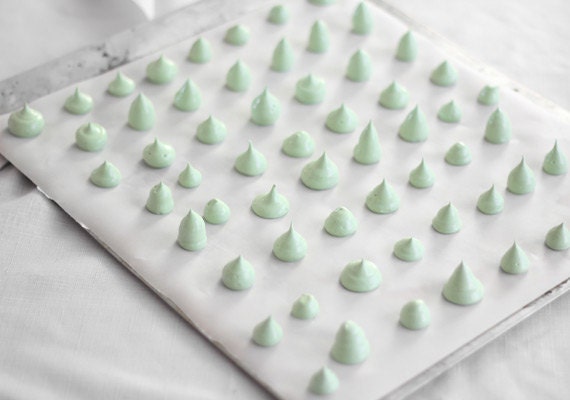 Bake the meringues for 90 minutes, turning them halfway through the cooking time to ensure an even bake. The meringues should be hard and dry to the touch, and you should be able to easily lift one from the parchment. Allow them cool completely before assembling. If time allows, you can also turn off the oven and let them sit in the oven for several hours or overnight.
Step 6: Dip to create texture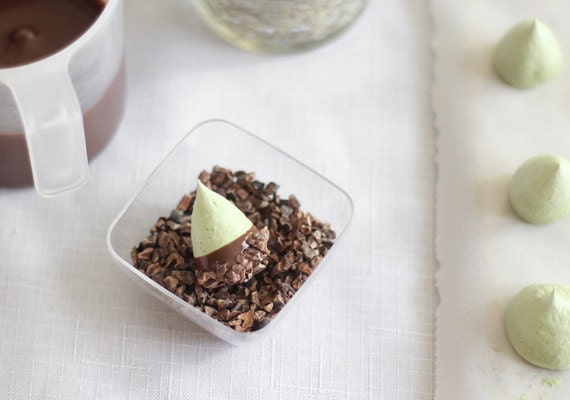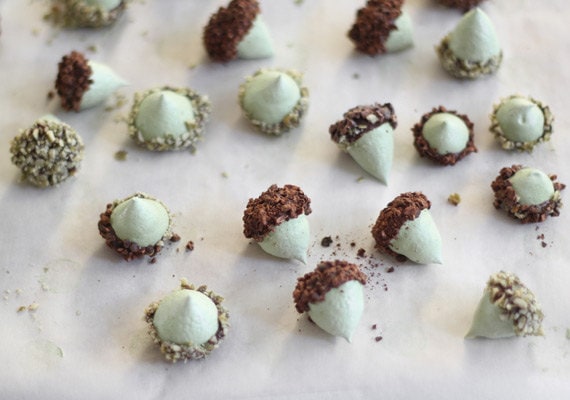 Dip the flat ends of the meringues into the melted chocolate and then dip them onto the ground cocoa nibs or ground pumpkin seeds. Place the acorns back onto the parchment-lined baking sheets. Let dry completely, about 1 hour.
Step 7: Add the finishing touches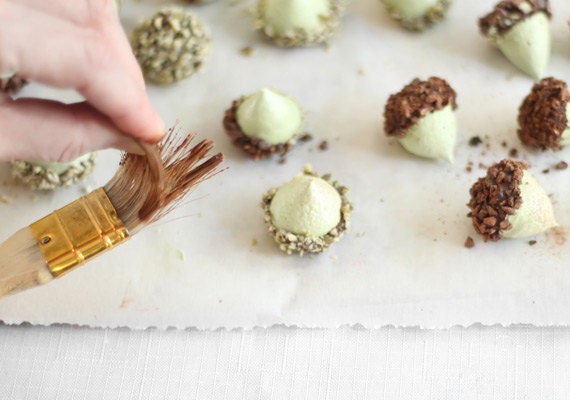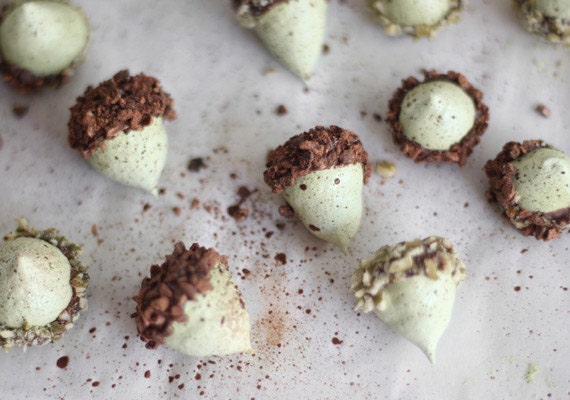 Combine the unsweetened cocoa powder and vanilla in a small bowl. Load a pastry brush with the mixture and hold it above the acorns. Using your fingers, flick the bristles so that the chocolate mixture flecks and speckles the meringues. Allow the meringue acorns to dry for five minutes before placing them on a serving tray. Store the cookies in a container that seals air-tight.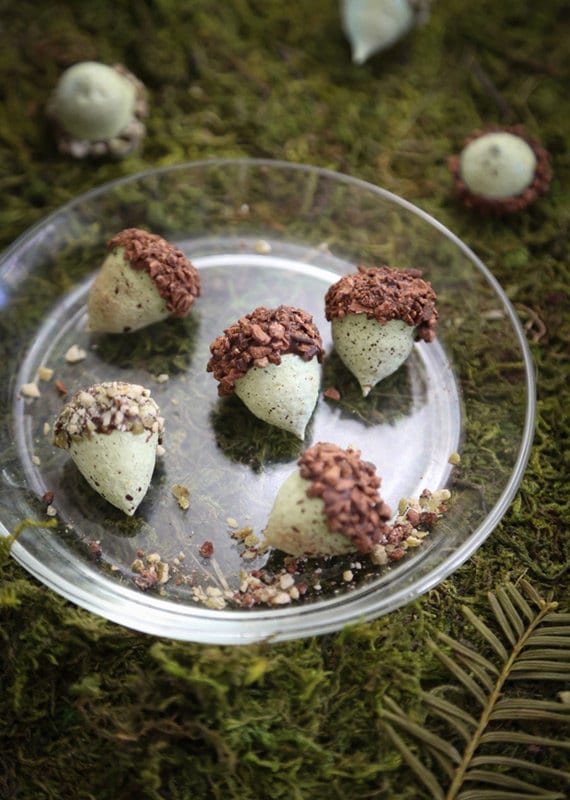 Note: Avoid making meringues during humid weather. Humidity causes meringues to collapse and become sticky.
All photographs by Heather Baird.