by Julie Schneider
Today's how-to project is brought to you by two Etsians who show us how to make our very own powerful potions. Get ready to cast a spell!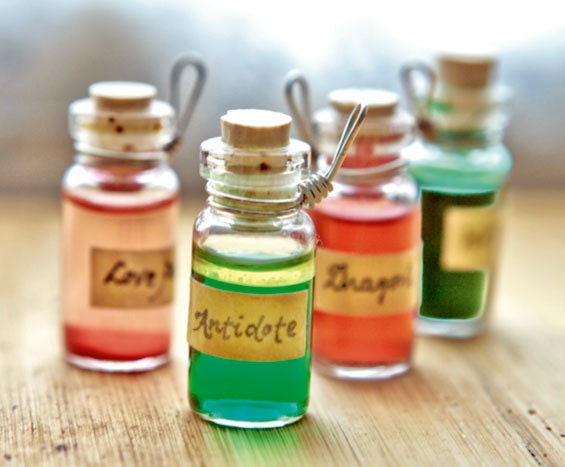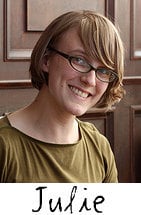 This week's How-Tuesday features projects from not one, but two Etsians! Alicia Kachmar, known on Etsy as eternalsunshine, recently published a book called Witch Craft. Alicia's book shows how to make accessories, toys, treats and other goodies that are perfect for Halloween. One of the projects in the book is from Carol, a.k.a. specialmeat, who teaches you how to make your own bottled potions! Follow the steps below to start casting spells!
Potion Bottles
Supplies you'll need:
Wire cutters
Needle-nose pliers
20-gauge jewelry wire (about 5 inches per bottle)
Liquid potion, tiny stars, or another tiny treasure of your choosing
Bottles and corks
Paper or stickers for labels
Directions:
1. Cut a 5-inch piece of wire. If you'd like an accessory loop, use pliers to twist it twice into a tight curl about 2 inches from one end so it'll face out when you hang your bottled pendant from a ribbon.
2. Wrap wire around bottle neck.

3. Straighten ends into a right angle. With pliers, bend longer end into a tear drop shape loop.
4. Coil shorter end around base of loop 3 to 6 times. Trim excess wire if necessary. Bend loop upward so that it makes a good pendant.
5. Fill bottle with a liquid potion, flying potion, lucky stars, or other tiny treasures.
6. For handmade labels, write the name of your potion onto pieces of paper. Affix them to bottles with glue, or use store-bought sticker labels.
Liquid Potions
Supplies you'll need:
Cake shimmer (comes in a variety of colors)
1 pinch salt for every 3 mm water (or 1 tablespoon for every 4 ounces)
Food coloring (optional)
A few drops glycerin
Water
1. In a bowl, mix water and cake shimmer with a paintbrush. Mix in salt and glycerin, which will thicken mixture and help suspend sparkling cake shimmer. Then add food coloring, if desired.
2. Using a pipette or funnel, fill bottles with potion. Seal with corks.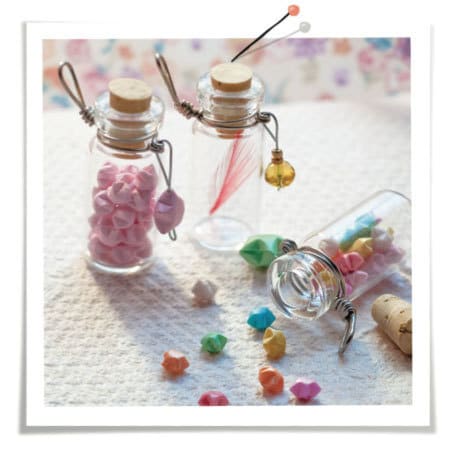 Ideas for Liquid Potions
Love Potion: Mix pink cake shimmer into your potion to capture your beloved's heart.
Dragon's Blood: Add extra red food coloring to carry the protective magic of Dragon's Blood with you everywhere.
Wolfsbane Potion: Add green food coloring to your potion to ward off werewolves.
Antidote: Combine water and green food coloring to reach desired hue. Fill bottle two-thirds with mixture and top with a few drops olive or other cooking oil for a two-tone effect. Keep a bottle on hand to reverse any curse imaginable!
Flying Potions:
For flying potions, fill bottles with colorful feathers trimmed to fit. For years of good fortune brought on by shimmery lucky stars, you can purchase tiny origami stars from craft stores or make your own.
Thank you to Alicia, Carol, and the good folks at Quirk Books for sharing this project with us. If you make this project, please share a photo with us in the new How-Tuesday Flickr group!