One cat's dander is another's crafting material. Here's to a project that only a cat lover could appreciate.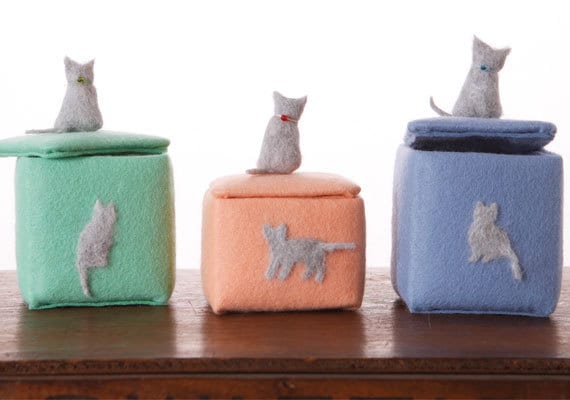 Cat ladies and gents, this one is for you! If you have a feline roommate, chances are you've drafted various plans of attack on the errant tumbleweeds of cat hair that tend to drift through the halls.
For this week's How-Tuesday post, Amy Hirschman (translator) and Kaori Tsutaya (author) share a creative solution  from their book,
Crafting With Cat Hair
. 
Read on to learn how to make your own felt-covered treasure box.
Recycle milk cartons and cat hair to make adorable containers for cat treats or knick-knacks. These little boxes are made from cut-up dairy boxes wrapped in sheets of store-bought felt. You can put them together simply with double-sided tape, so even if sewing isn't your specialty, it's okay.
Let's get started!
Supplies You'll Need:
Cat hair (a mound just big enough to fill both hands)
Cardboard
Pencil or pen
Craft knife
Cutting mat
Felting needle
Sponge
1 milk (or other dairy) carton
1 piece sheet-style felt
4 pieces cotton, 1 1/2 by 2 1/2
1 square piece cotton batting, 2 1/2 inches square
Decorative beads or thread
Double-sided tape
Ruler
Strong sewing needle
Thread
Directions
To make the box:

1. Cut the sheet felt to the sizes shown above.
[Ed note: The finger puppet project is covered in full detail in the book]
, roughly attach the bottom portion to cover the opening, and sew it onto the outside of the lid.
To apply the cat hair:
Thank you to Quirk Books for sharing this project with us. For more crafts to make with your kitty, check out Crafting With Cat Hair, available from Amazon or an independent bookstore near you.