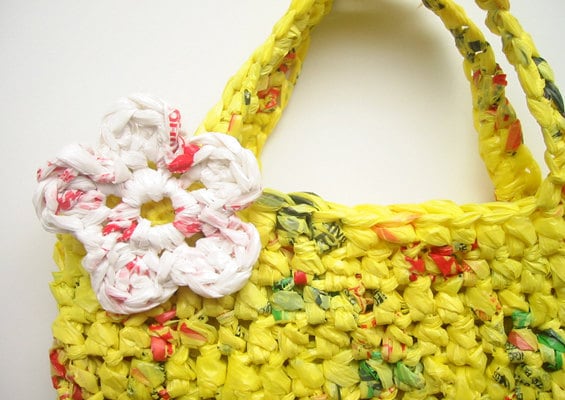 Claire Baker grew up and lives in Montclair, NJ, where she creates repurposed products for her Etsy shop, Montclair Made. Combining the skills she learned as a weaving and textile design major at Rochester Institute of Technology with her desire to repurpose familiar items like cardboard packaging, grocery bags, vintage fabric, and sewing patterns, her products fuse nostalgia and sustainability in an effort to green our lives in a creative and colorful way.
Crocheting with plastic yarn, or "plarn," is a fun way to repurpose plastic bags and create a reusable alternative that is durable and even recyclable! This sweet tote is a great project for beginning and experienced crocheters alike, and a perfect complement to our Earth Day celebrations! Once you're comfortable with chaining, single crochet stitch, slip stitch, half double, and double crochet stitches, you're ready to get started!
Supplies you'll need:
20-25 clean grocery bags* Plastic crochet hook, size 6.50mm K** Scissors
*Tip 1: When choosing bags for your plarn, consider color and texture. Try to keep all the bags for the project the same density: some bags are stretchy, some are crunchy. It's best to keep your plarn consistent to achieve a good overall effect. When considering color, think about combining different color plastic bags to create a pattern of color, random color changes, or even create a look that doesn't reflect plastic at all. For example, brown plastic bags can look like raffia and not at all like the original material when crocheted.
**Tip 2: While the pattern calls for a certain size crochet hook and a specific number of rows to stitch, there may be variation in your project due to the tightness of your stitches or the density of your plarn. Don't feel like you have to follow the pattern to the letter. The number of rows in your project can differ from the pattern. The goal is to create a tote that is almost a perfect square, but not quite. You'll know when you've stitched enough rows when the height of your project measures slightly less than the width before you've started crocheting the handles. This way you can use whatever size hook you're comfortable with, stitch as many rows as you need to make your tote look nice, and have fun doing it!
Directions:

1.  Flatten out your clean grocery bags and fold them in half. Cut off the handles. 2. Cut off the bottom of the bags. Place these cut off pieces into a pile for the recycling bin.

3. Flatten out the round piece of plastic you now have and fold it in half. Fold that into thirds. Fold that in half again. Cut this folded piece into 1 inch pieces, discarding the pieces from both ends. I often layer 3 of the flat pieces and fold and cut them up together to save time, since we have so many bags to do. You can also cut them quickly on a cutting board with a rotary cutter and metal t-square. 4. Now we have created plastic loops that can be connected to create the plarn. Bring one loop through another.

5. Pull the other end of the loop through the end you just put through the first loop. They should now be connected. 6. Slowly and with finesse, pull the loops tight. You want that connection to be as flat and smooth as possible. If your loop is weak and breaks simply put it in your recycling pile and go on to the next piece.

7. Wind your plarn into a ball that feeds out of the center. 8. Create a slip knot and place it on your crochet hook.

9. Chain 20 stitches. 10. Stitch half double crochet for the body of the bag.
Tip: Make your stitches loose! You will become frustrated if your stitches are too tight. Do yourself a favor and keep it loose.

11. Crochet the tail in as you work. 12. Work in the round. No need to chain and turn, simply continue into the next stitch for the entire project.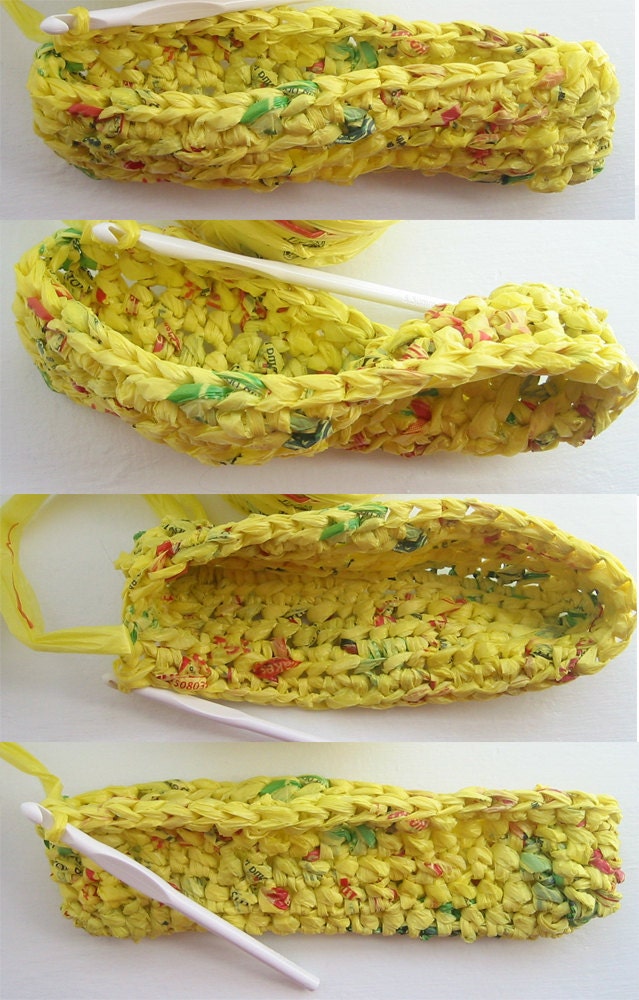 13. After 4 rows of half double turn your work. It's now right-side-out and you will continue working to left instead of to the right like before you turned it.

14. Complete 14 rows of half double crochet. If your stitches are tighter or looser you may need to do more or less rows. The goal is to have your bag slightly wider than it is tall at this point. 15. Now you will use single crochet. Do 6 stitches of single crochet.

16. Now you're ready to make the first handle. Chain 20 stitches. Hold it up to the bag and see how you like that length. Want longer/shorter handles? Simply chain more/less stitches. Be careful not to twist your handle as you're chaining. Count 8 stitches from where the chain started on your work and attach your chain to the bag with a single crochet stitch. 17. Stitch 12 single crochet stitches around to the other side.
Tip: Feel free to alter the pattern. Make the handles longer, the bag wider, more flowers. Be creative!

18. Now you'll make the other handle. Chain 20, count 8 stitches along on your work, and attach the chain with a single crochet stitch, just like you did on the other side for the first handle. Make sure they look even. If not, find the place where they are even by holding the chain up to your bag and attach it there. 19. Now simply stitch single crochet all the way around and onto the handle, stitching into your chain stitches.

20. Continue stitching into your chain stitches, widening your handle. 21. Continue using single crochet and stitch along the other handle.

22. Stitch a few more single crochet stitches until you're at the fold of the bag and the top looks even. Slip stitch and finish the ends off by hiding them in the stitches on the inside of the bag. 23. Attach the flower. Enjoy!
Pattern:
Abbreviation Key: ch = chain stitch ss = slip stitch sc = single crochet stitch hdc = half double crochet stitch dc = double crochet stitch
Instructions for the Plarn Tote, for the crochet-inclined ch 20. Stitch hdc in the round. Crochet the tail into your work. After 4 rows hdc turn your work right side out. Continue working hdc to the left now. Complete 14 rows hdc. Stich 6 sc. ch 20. Count 8 stitches on your work and attach your chain with sc. Stitch 12 sc. ch 20. Count 8 stitches on your work and attach your chain with sc just like you did on the first side. Stitch sc around and onto the first handle. Stitch sc along the handle. Continue sc around to the other handle. Stitch sc to edge. ss and finish ends off by hiding them in the stitches on the inside of the bag.
Attach the flower.
Instructions for Flower ch 4. ss into first stitch to make circle. work 10 sc around circle, crochet tail in as you work. join by ss into first sc. first petal: into first stitch do sc, 3 dc, sc. ss into next stitch. repeat petal stitches 4 more times to make five petals. ss into last stitch and finish by hiding ends in the back.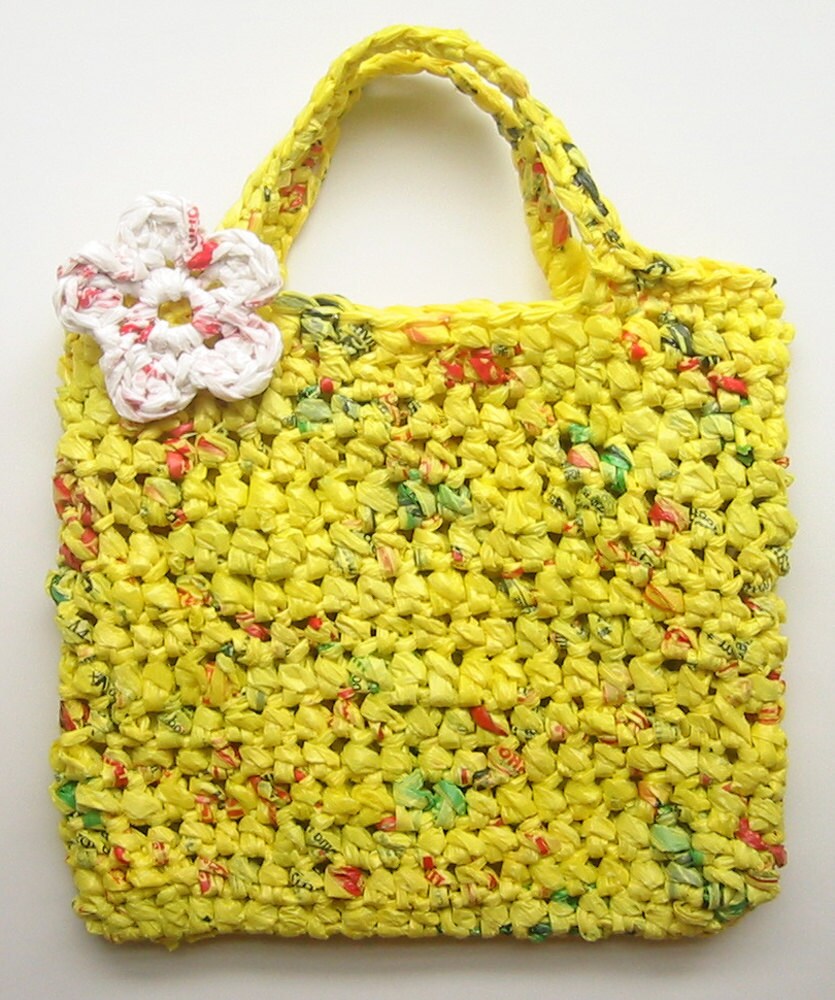 Thank you to Claire Baker from Montclair Made for sharing this project with us. Be sure to join us at Craft Night — in Brooklyn and online — on April 19, 2010 for more plarny tips!
Upcycled Apron | Life of a Plastic Bag | Fusing Plastic Bags | How-Tuesday Projects