Need a place to jot your thoughts? Skip the trip to the office supply store with this project from the School and Community Reuse Action Project.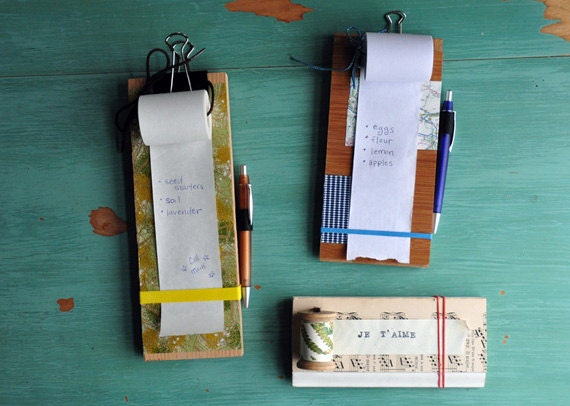 This Friday, April 22, marks the 41st Earth Day. To help us celebrate, Eleanor Williams, program coordinator of
SCRAP
(a.k.a the School & Community Reuse Action Project) has created a How-Tuesday project centered around repurposing discarded bits and bops into a handy notepad — perfect for writing grocery lists, to-do lists, memos, and notes of all kinds.
SCRAP
is a nonprofit organization located in Portland, Oregon that inspires creative reuse and environmentally sustainable behavior by providing affordable materials and educational programs to the community. We accept donations of gently used art and craft materials. We then offer these materials to the public in our creative reuse retail store. As Program Coordinator at SCRAP, I am involved in volunteer coordinating, community engagement and finding artists for
SCRAP's Re:Vision Gallery
.
With an amazingly diverse array of materials coming into SCRAP every day, our staff and volunteers are always coming up with new ways to utilize old stuff. SCRAP employee Stephanie Weber (from
Pickle Things
on Etsy) came up with this project — a simple but attractive way to repurpose receipt paper ends and flooring samples. The project is also reversible; it can be taken apart, allowing for more creative reuse. We hope to inspire Etsy folks across the world to reconsider their habits of consumption and disposal while being creative.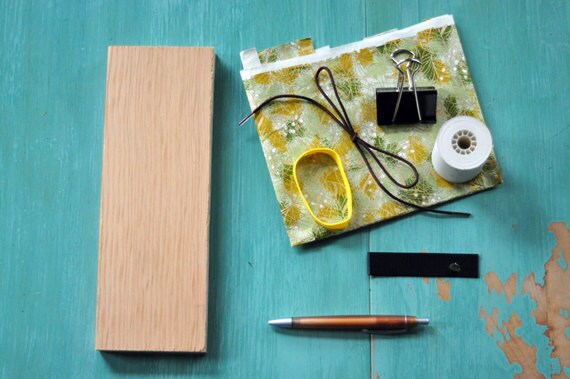 Supplies you'll need:
    •    Cutting mat •    Utility knife •    Ruler •    Craft glue (I prefer PVA) •    Hammer •    Piece of wood - approx. 4" x 8" (use flooring samples if you can find them) •    Recycled or reclaimed paper (I recommend re-using gift wrap paper) •    Ribbon or rope (shoelaces work great) - approx. 16" long •    Receipt paper roll - approx. 2 ½" width •    Flat thumbtack •    Piece of webbing/strapping - approx. 4" long •    Thick rubber band (try using the ones wrapped around your produce) •    Medium or large clip
Directions: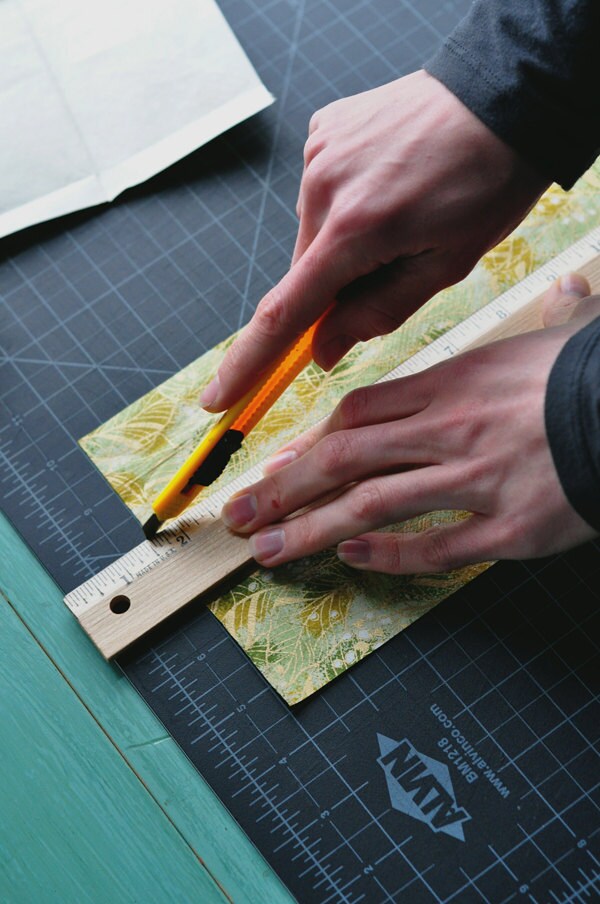 1. First, measure and cut paper to cover the surface of the wood board. I highly encourage you to get creative in finding reused paper. How about the old calendar from 2010 or a map from road trips past?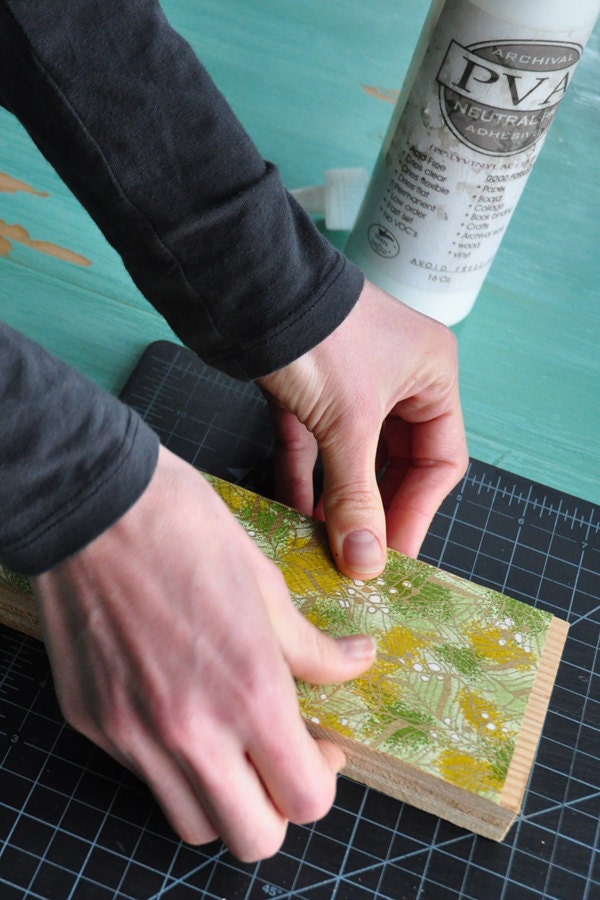 2. Evenly spread glue on the back of the paper and carefully glue it to the board.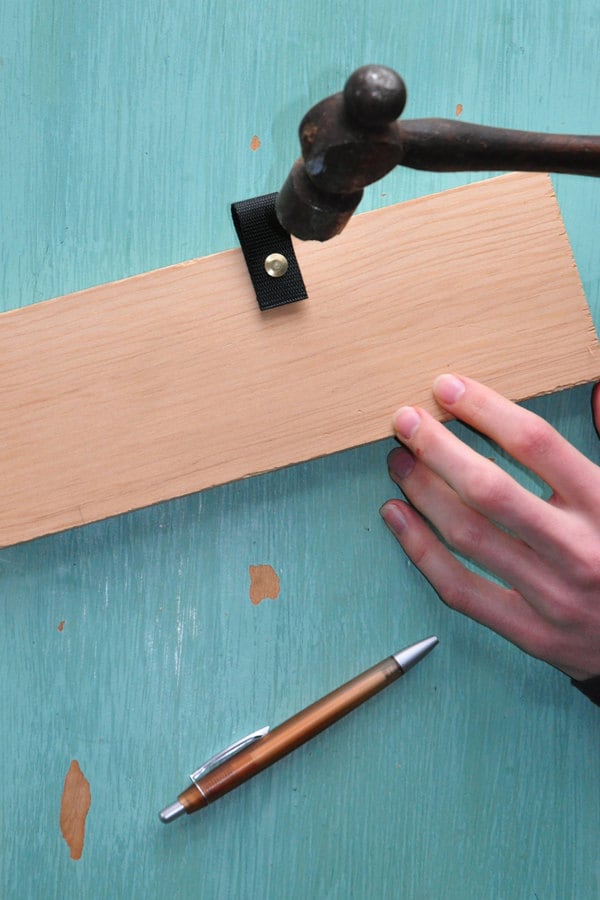 3. Flip the board over to attach the pen holder. Bend the piece of webbing in half and pierce the two halves with the thumbtack. Press the thumbtack through the webbing and into the back of the board along one edge. Once it's stable, use a hammer to push the tack all the way in.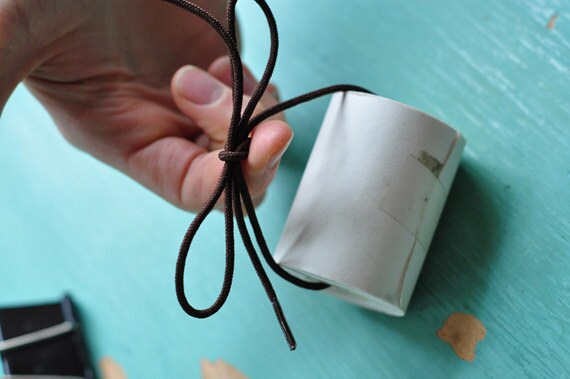 4. Thread the ribbon or rope through the middle of the receipt paper roll. Tie the ends together in a bow or knot. Make sure your loop has some extra space.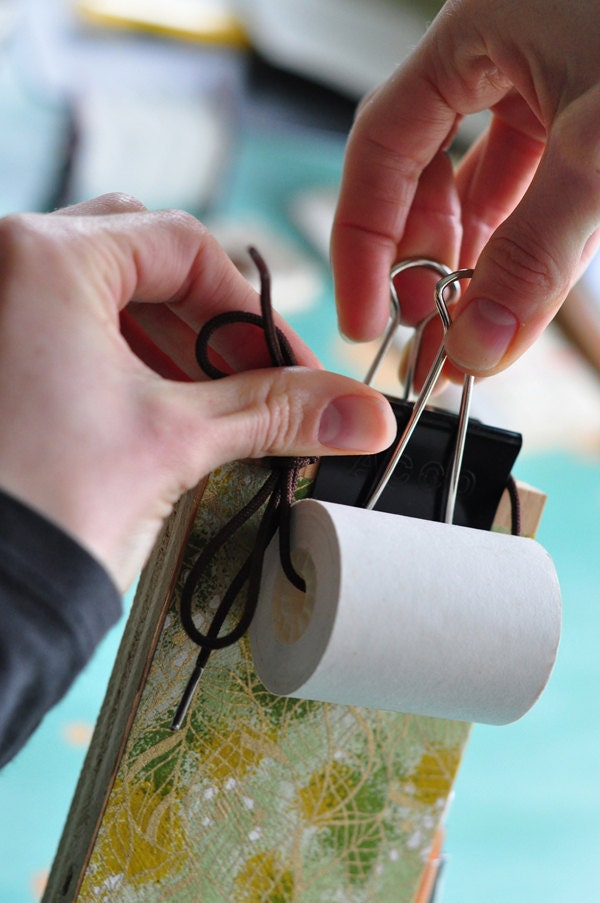 5. Clip the loop onto the top of the board, checking to make sure the loose end of the paper roll is flat against the board.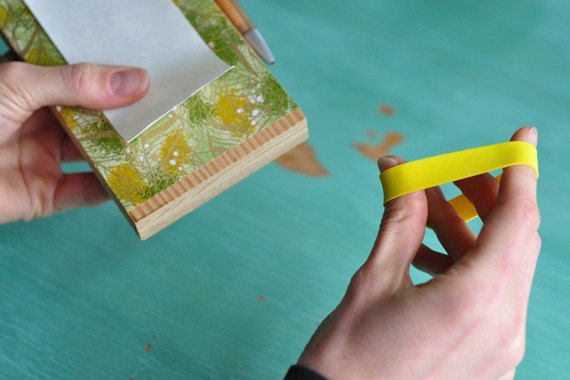 6. Gently pull the edge of the paper roll down and secure it in place with the rubber band.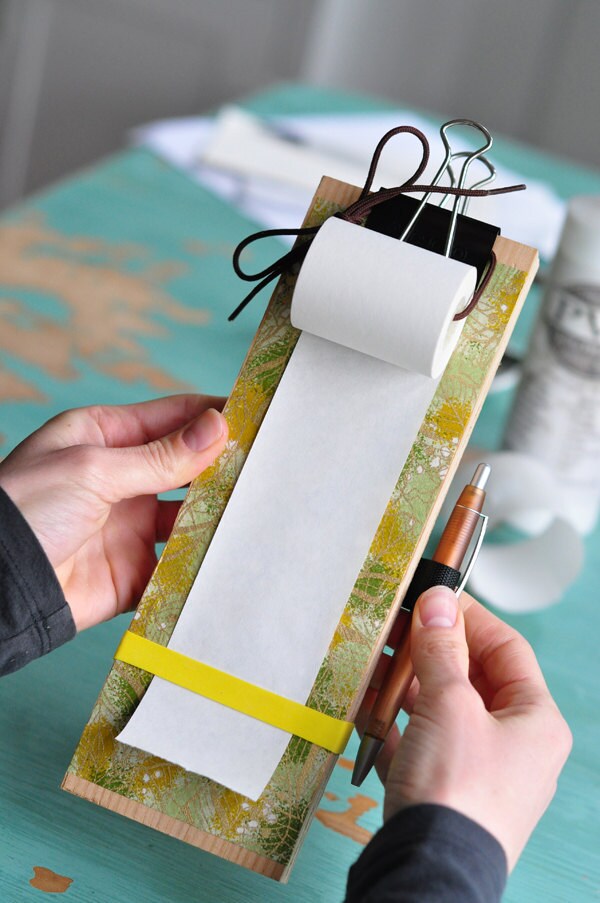 7. Voila! You now have a charming and sturdy hanging notepad, made from reused materials.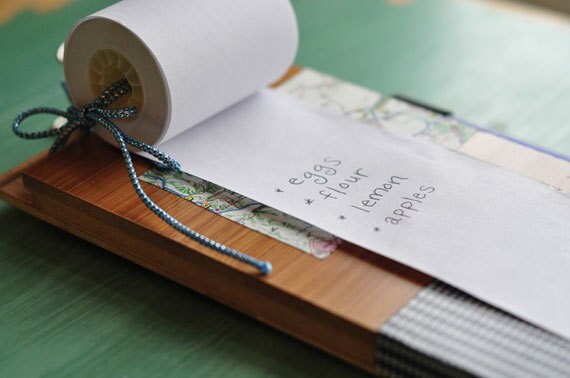 You can expand or alter the concept of this project to work with different materials or for a different function. Here is another notepad variation, plus a message board made with a wooden spool.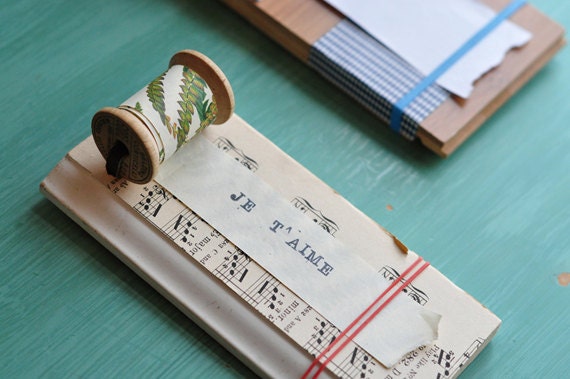 Thank you to Eleanor Williams, Keri Piehl (SCRAP Education coordinator), and photographer Kim Maruska  for sharing this project with us. For more about SCRAP, check out their website.