by Cal Patch
Stitch up an easy-breezy frock you'll enjoy wearing all summer.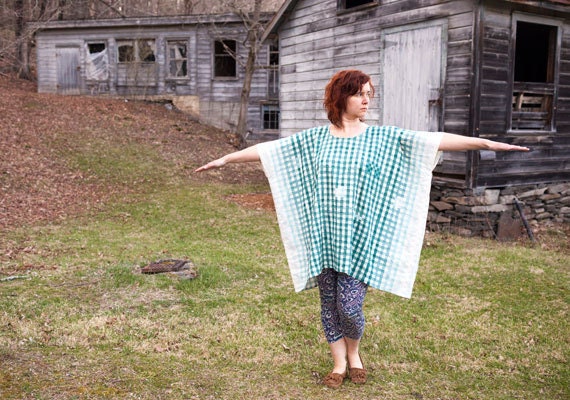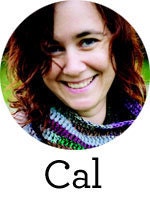 Cal Patch is a renaissance crafter, with know-how spanning the fields of crochet, pattern-making,
sewing
,
embroidery, dyeing, printing, spinning and beyond. She is the author of
Design-It-Yourself Clothing
, writes a blog, and can can be found teaching classes around New York.
Once it gets hot and humid around these parts, the only thing I want to put on is a frothy wisp of a garment: loose, lightweight and brightly colored, in a cool, sheer fabric that will barely skim my body and move with the slightest of breezes. Something cloud-like, comfy and so simple that it defies conventional rules of garment construction. I started noticing "square" dresses and tops everywhere I looked (check out my
Pinterest board
for inspiration) and was drawn to the elegant-yet-radical simplicity of the shape. Sadly, my wardrobe seemed to be lacking in such a confection, but I knew it would be an easy and quick project for someone who happens to be steadily working toward a 100% handmade wardrobe (yet also ideal for a beginner seamster who's ready to make their first dress).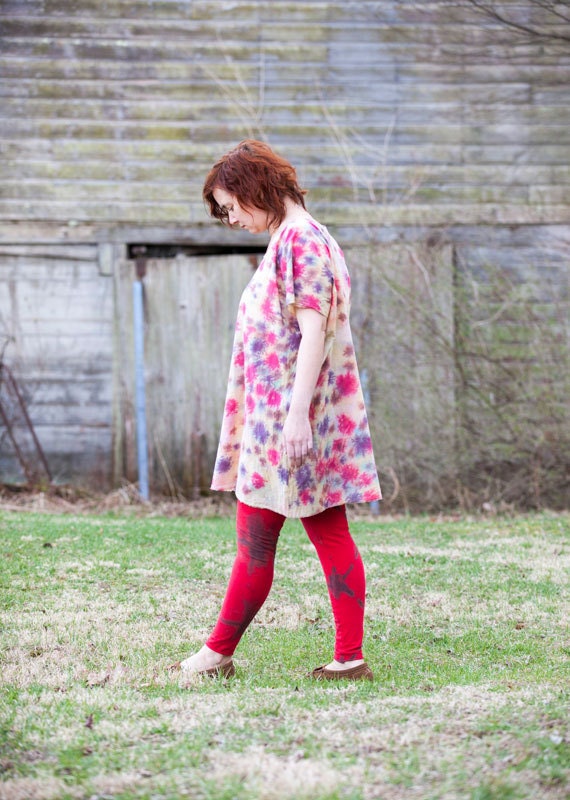 I tend to call these tops/tunics/dresses "square," but technically they are rectangles, as the length and width are usually not exactly the same. This project will probably take you between one and two hours, and successive ones will be even quicker, especially if you utilize some of my time-saving tips below. Once you've made your first dress, you can have fun experimenting with different proportions, like wider and shorter, or narrower and longer. I suspect you'll quickly become addicted to the ease of wearing and sewing these little numbers; throw one on
with a pair of handmade leggings
and you're set from spring to fall!
You will need:
About 2 yards of a lightweight woven fabric* with good drape for an above-knee length dress (less for a shirt or tunic, more for a longer caftan)
Fabric shears
Ruler or yard stick
Tailor's chalk or other fabric marking tool
Thread to match
Basic sewing kit: pins/cushion, tape measure, seam ripper
1 yard of single-fold bias tape or seam binding
*Let's talk about fabric for a moment:
the type of fabric you choose can totally make or break this style. Since the pattern is just a huge rectangle, it's essential that you use something with a lot of drape, or you'll look like you're wearing some sort of failed Halloween costume. Think apparel fabrics, not quilting cotton. I prefer natural fibers and recommend cotton, linen or silk (rayon will also work well, though it's not truly a natural fiber). I'd suggest voile, lawn, gauze, double gauze, crepe, or anything that drapes and flows and doesn't just stand there staring back at you. You can also use a knit fabric (jersey is probably best) if you've sewn with knits before, but for this tutorial I'll be mainly talking about wovens. Okay, let's get started!
Step One: Measure and Prep
First you'll need to determine the two key dimensions of your rectangle: length and width. Length is fairly easy; stand in front of a full-length mirror and hold your tape measure at the highest point of your shoulder, where it meets your neck. Let it drop straight down and measure how long you want the garment (I used 36"). For the width, hold one end of the tape in each hand, stretching it straight across the top of your arms and shoulders. Look to see which numbers correspond with where you want it to fall on your arms, essentially the "sleeve length." Subtract the smaller number from the bigger (I used 45 – 15) and that'll give you the width (in my case, 30"). While you've got the tape measure across your shoulders, use the same technique to figure out your neck width (I used 34 – 26 = 8). It's a good idea to check that you're happy with the width for the lower part of the dress as well, so double the width (that's 60", or the full circumference you'll get when you put two 30" pieces together) and hold the tape measure in a loop that size around your hips or thighs (or wherever the bottom of the dress will be) to make sure it's big enough, but not too big. You may need to compromise between the sleeve length and body circumference you're looking for, but I recommend keeping it wide and loose for the best effect.
Step Two: Trim
Next, you'll do some very minimal cutting. If you're going for a length of around 34-36" and you have 2 yards of fabric, we will essentially just be squaring the grain and cutting out a hole for the neck. If you have more fabric than you need, or you're going for a different length, you need to cut the piece to (2 x finished length) + 2" for hem allowance. Fold your piece of fabric along the lengthwise grain, so that the selvages are on top of the other. Use your ruler or the corner of your table to determine whether the edges were cut straight and perpendicular to the selvage. If not, try to find a weft (cross-grain) thread out of the cut edge and gently pull on it, gathering up the cloth along the single thread. Cut along this line, knowing that you're exactly on grain. If the thread breaks, just pick up the next one in from your cut edge and keep pulling until you've cut all the way across to the other selvage. Repeat at the other cut edge on the other end of your piece. Alternatively, most wovens tear quite easily, so you can try snipping into one selvage and tearing across. This gives you a perfectly on-grain edge with a nice, softly fringed finish that you don't even need to hem if you don't want! (I left the torn edges raw on my polka-dotted voile dress, which adds to the light-as-a-feather quality.) Now for the width. Add 1" to the width measurement you determined above, for seam allowance. My width is 30", so adding 1" gives me 31". The fabric is folded in half lengthwise, and at this point I can fold it in half crosswise as well, so I've got four stacked layers, neatly aligned along the selvages and the cut edges. You'll cut the fabric to ½ the width (since it's folded); for me it's 15 ½". Note: for my blue check sample, I used Japanese double gauze, which is only 42" wide. Because of the narrow width, and since it's a symmetrically-engineered border print (you can see how it fades out on both sides), I chose to not cut away any width and left the selvages on, so the side seams and sleeves were already finished!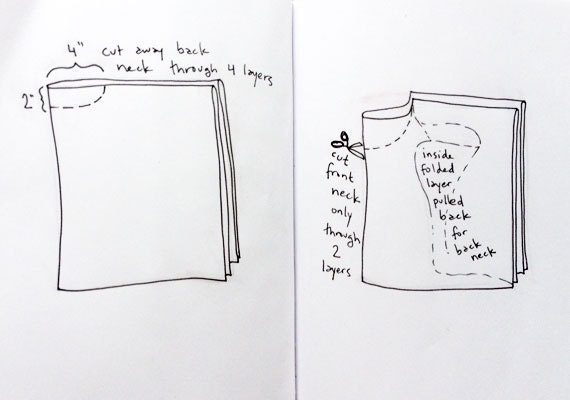 The last bit of cutting is a hole for the neck. With the fabric still folded into quarters, find the corner that is two intersecting folds. This corner is the center of the big piece, which will become the neck area. The cross-grain fold is the shoulder line, and the lengthwise grain fold is Center Front/Back.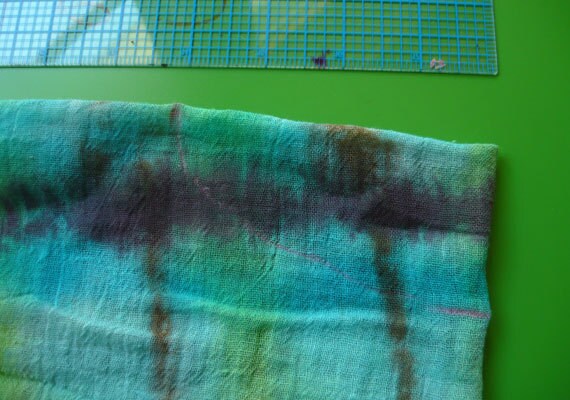 With chalk, mark a back neck drop of about 1 ½-2" down from the shoulder on the CF/CB fold. Mark half your neck width (so for my 8" neck width I marked 4") over from CF/CB on the shoulder fold.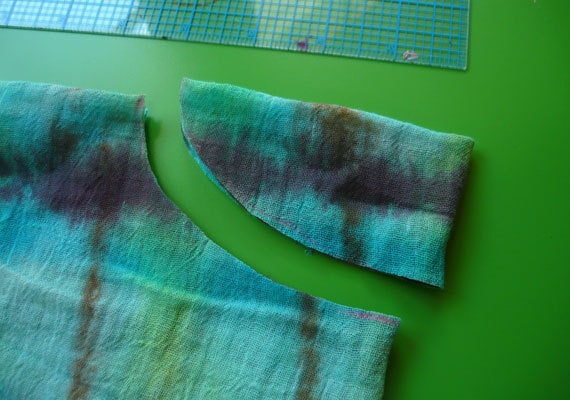 Cut away a shallow back neckline through all four layers. Then open up the layers and push one of the lengthwise folds out of the way; refold and straighten out the remaining fold (to become the front).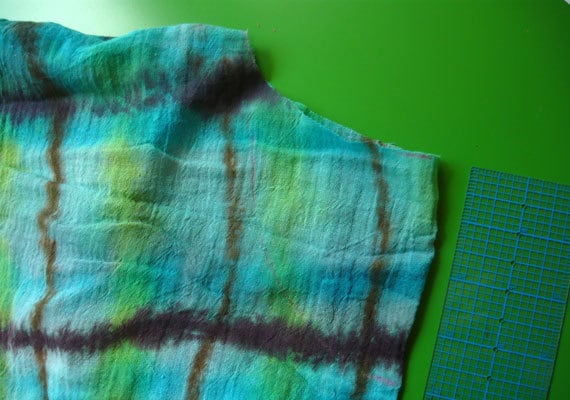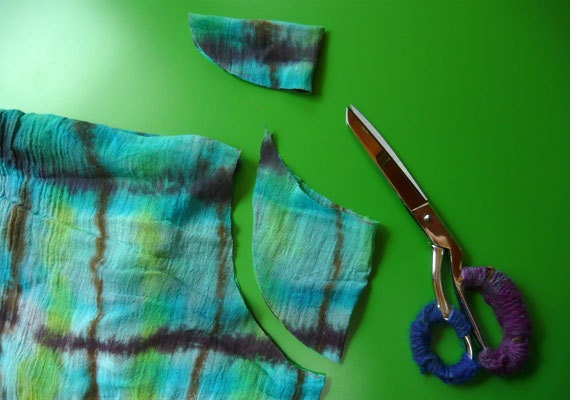 Mark a front neck drop of about 3 or 4" more, down from the cut back neck edge, and cut here, curving up to blend into the back neck. Be careful that you are only cutting through 2 layers of fabric when cutting out the front neckline.
Step Three: Sew
Now to sew! Open up the folded piece and fold it along the shoulder line with right sides together. Along the sides, mark armholes about 8-10" long from the shoulder fold; these will remain open. Pin and sew the side seams, below the armholes, at ½". If you have a torn, selvage, or clean on-grain cut edge, you may not need to do any hemming or seam finishing along the armhole/side seam edges; you might just need to pull some threads off of the torn or cut edges to neaten up and slightly fringe the edges. They'll get even better after being laundered. If necessary, hem the armholes with a narrow ¼" double-turned hem, and finish the seams with a zigzag or mock-French finish. Same goes for the bottom edge; you can leave it raw or fringed, or give it a ½" double-turned hem.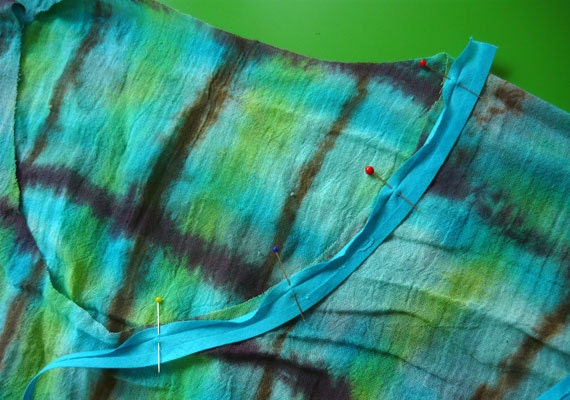 For the rounded neckline, I like to finish the curved edge with a seam binding or bias-tape facing. Starting at one shoulder, pin either type of tape, face down, to the right side of the dress, along the neckline. Leave a ½" extra tab of tape at the beginning and end. Sew around the neck at ¼", leaving the tabs free. Sew the tabs together, across both tapes, and trim ends to ¼"; finger press that tiny seam open.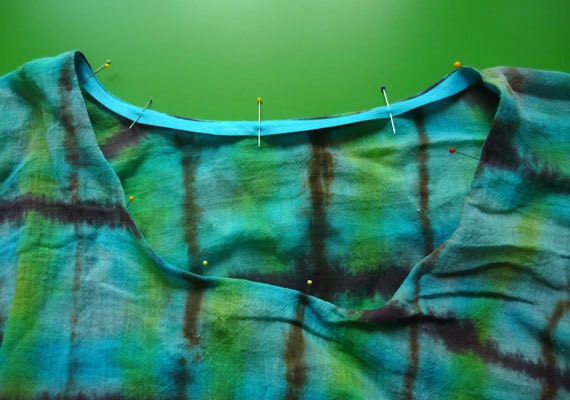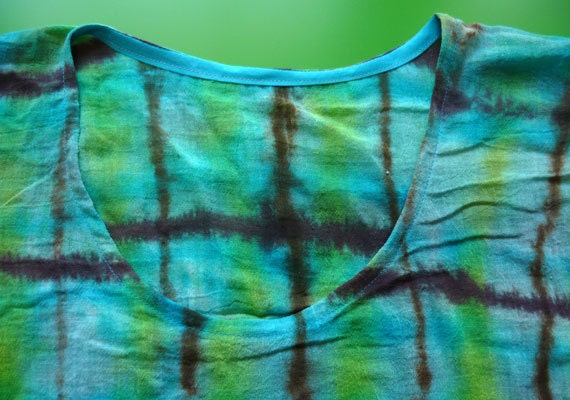 Fold the tape to the inside of neckline and pin. Sew again around the neckline, close to the outer edge of the tape.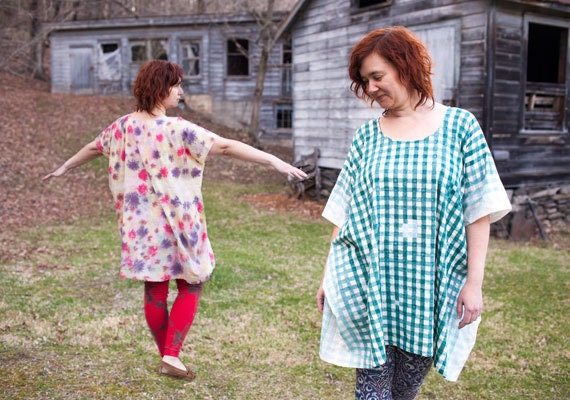 That's all there is to it! You can see the advantages of tearing the fabric or using the selvages; both types of no-fuss edges will feel look and feel cleaner and lighter, and also minimize sewing, leaving you more time to bask on the screened-in porch with a sparkly glass of iced tea and a steamy novel.