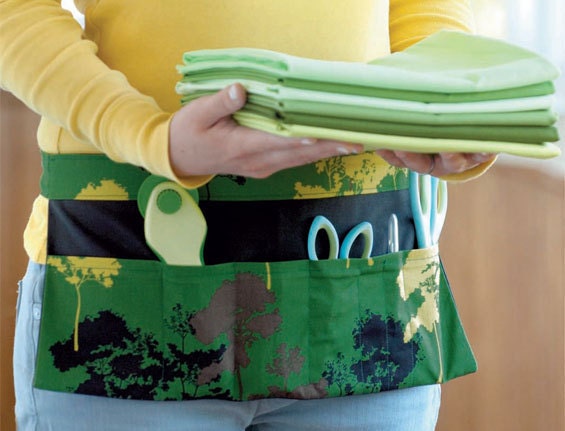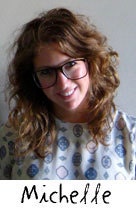 The only toolbox I've ever known is my overflowing crate of crafting materials. Having my tools organized and easily accessible sounds too good to be true. Every quilter, crocheter, and gardener deserves a handmade tool belt perfectly suited for her needs.
For this week's How-Tuesday, we're sharing Lexie Barnes' Tool Apron project to equip you for a summer of crafting and gardening. Lexie's book, Sew What! Bags, is full of delightful totes, sacks, satchels, and purses that are pattern-free, so you can alter and tweak to your heart's content.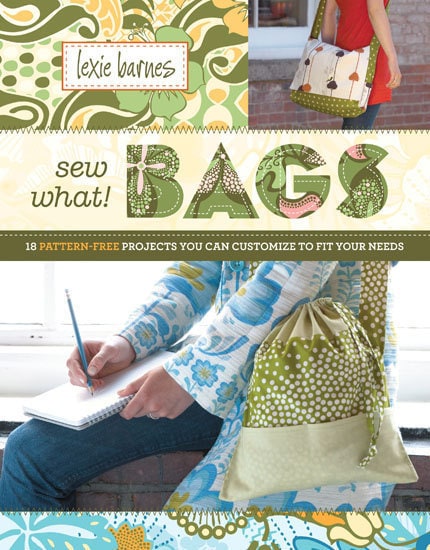 Lexie's Design Principle:
Sewing without a pattern may seem like a scary prospect to some... and liberating to others. Personally, I like the freedom and flexibility of pattern-free sewing. I want a bag to work for me, not the other way around.
I can't stand to read instructional manuals, stick strictly to a recipe, or follow the steps exactly as they are written anywhere. If there are too many steps, I'll skip them. If the instructions are too wordy or full of jargon, I'll ignore them and find my own way of doing things. In this book, from the first project to the last, you'll be able to jump right in and start sewing. You'll find simple steps and streamlined projects — fabulous bags you can make on your own to suit your taste, skill level, and style.

Click here to buy the book!

We made this apron to hold quilting supplies, but you can customize yours for any craft, hobby, or project. Be sure to choose your fabrics and pockets to suit the job. For gardening tools, you'll want canvas or maybe oilcloth. For crochet supplies, you'll want a variety of pocket sizes for slim hooks and skeins of yarn.
Our finished size: 8" x 16" with a 66" belt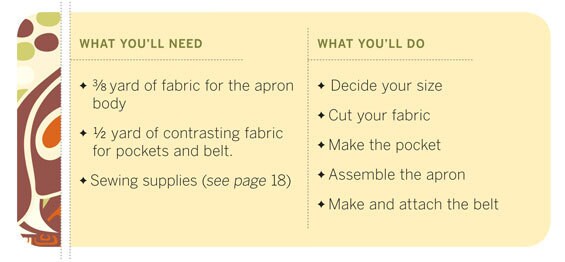 Measure and Cut
1. Decide your size. For a good fit, base the size on your favorite kitchen apron, or measure your torso from hip to hip and add a couple of inches for seam allowance. For the height, measure from your waist (or hip, if you like to wear it low) down to anywhere you like. It's your tool apron, so make it as long — or short — as you need it to be.
Ease into it. Figure out how big your pockets need to be before you finalize the size of the apron. Lay your tools out on your fabric and measure them. Be sure to allow for some ease (a little bit of extra room to get your objects in and out of the pockets). Keep your tools handy while you're sewing and test along the way to make sure you've got a good fit.
2. Cut your fabric. Based on your measurements, cut:
primary fabric: one front and one back piece
contrasting fabric: one pocket panel and two belt pieces (We cut ours 4" wide for a finished width of 1 1/2". For the total length of the belt, we measured around the waist, and then added 16" for tying the ends.)
Put it Together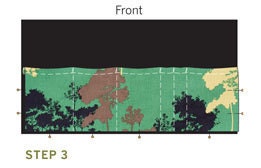 3. Make the pocket. Press under the top edge of pocket panel 1/4", then repeat for another 1/2". Edgestitch along the bottom fold. With right sides facing up, pin the pocket panel to front apron panel. Based on your measurements, stitch dividers for your pockets, backtacking at the top of the pocket panel. There's no need to stitch the sides or bottom, as that will happen in the next step.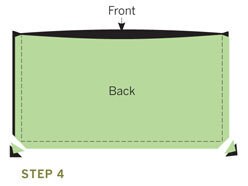 4. Assemble the apron. Lay the back apron piece on top of the front piece, right sides together. Stitch the sides and bottom, leaving the top of the apron open. Clip the corners, trim the seam allowance, turn the apron right side out, and press. Fold under the top edge 1/2" to the inside, press, and topstitch.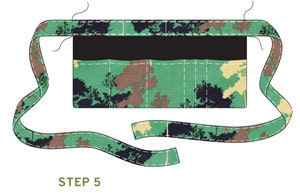 5. Make and attach the belt. With right sides facing, stitch the two belt pieces together to make one long strip. Press under the edges 1/2" on all sides, fold it in half lengthwise, and topstitch.* Center the belt on top of the apron, aligning the top edges of the belt and apron. Pin the belt in place and topstitch it to the apron along the length (following the stitching on both sides of the belt), backtacking at the ends.

*More Details for Making Straps:
1. Fold the strip of fabric in half lengthwise, wrong sides together, and press along the fold. Open up the strip, press each side under 1/2".
2. Refold the strip with the sides tucked in, and edgestitch along the length of both sides for greater strength.
For Larger Straps and Belts:
For a wider strap that will be used as a belt, the method is the same, but turn under the ends 1/2" before refolding. If the fabric is bulky, trim away excess fabric at the folded corners, then stitch across the folded ends.
Once you try out this Tool Apron, be sure to post photos of it in the Sew What! Bags Flickr pool! Your images could be featured on Lexie's website. 
Thanks to Lexie Barnes and the good folks at Storey Publishing for sharing this useful project with us! Looking for more How-Tuesday posts? Check out our archive here.