by Julie Schneider
Splitting time between a cow barn and a basement in Illinois, this printmaker has developed an ergonomic workflow to foster creativity and well-being.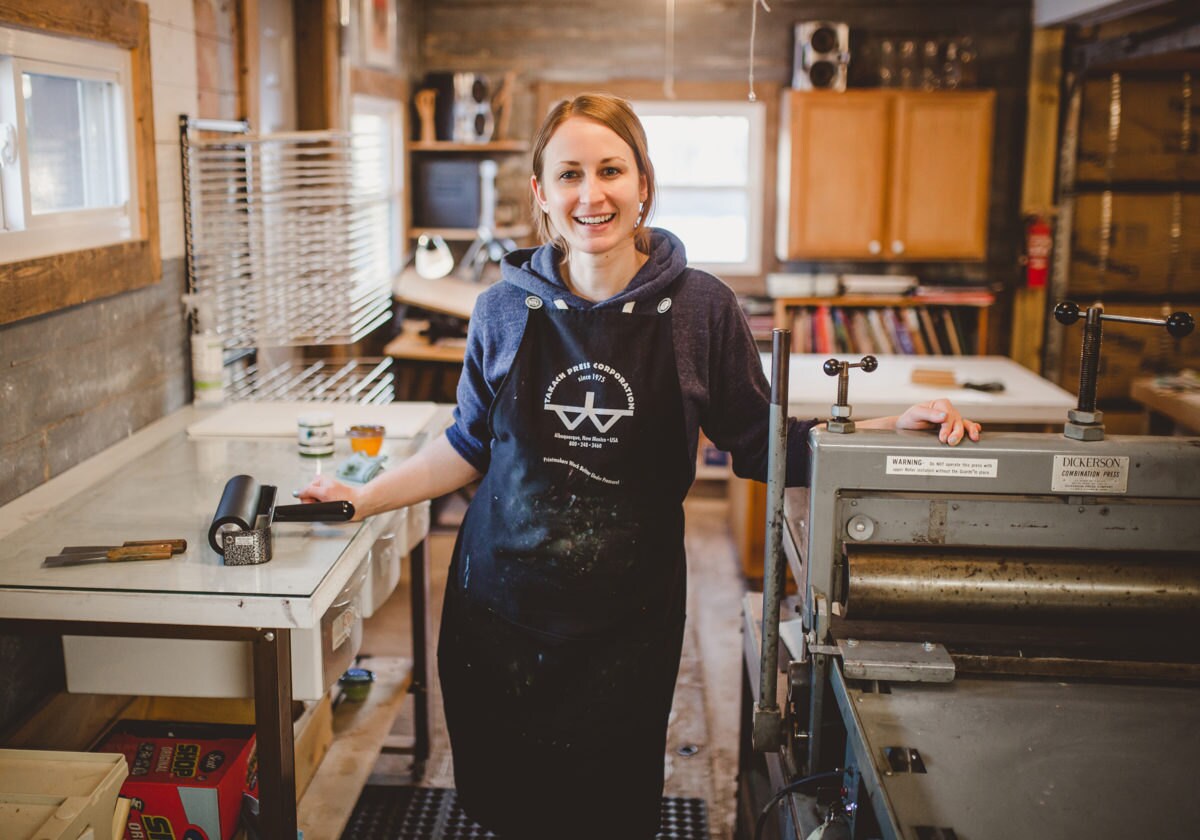 Kari McDonald launched her printmaking business 
Lemuette
 in 2014 in a converted cow barn on a former farmstead in Shirland, Illinois. She shares the studio and printing press with her father-in-law, Bruce McDonald, a retired art teacher who lives on the property. Kari first learned how to print in Bruce's high school art class. (Kari's family knew Bruce and his family through school, church, and the local music scene, and later she would marry his son.) The prairie plants and picturesque fields that surround the rural studio are recurring motifs in Kari's artwork, and the history of the farmstead, founded by settler Lemuel Fisk in 1838, inspired her business name.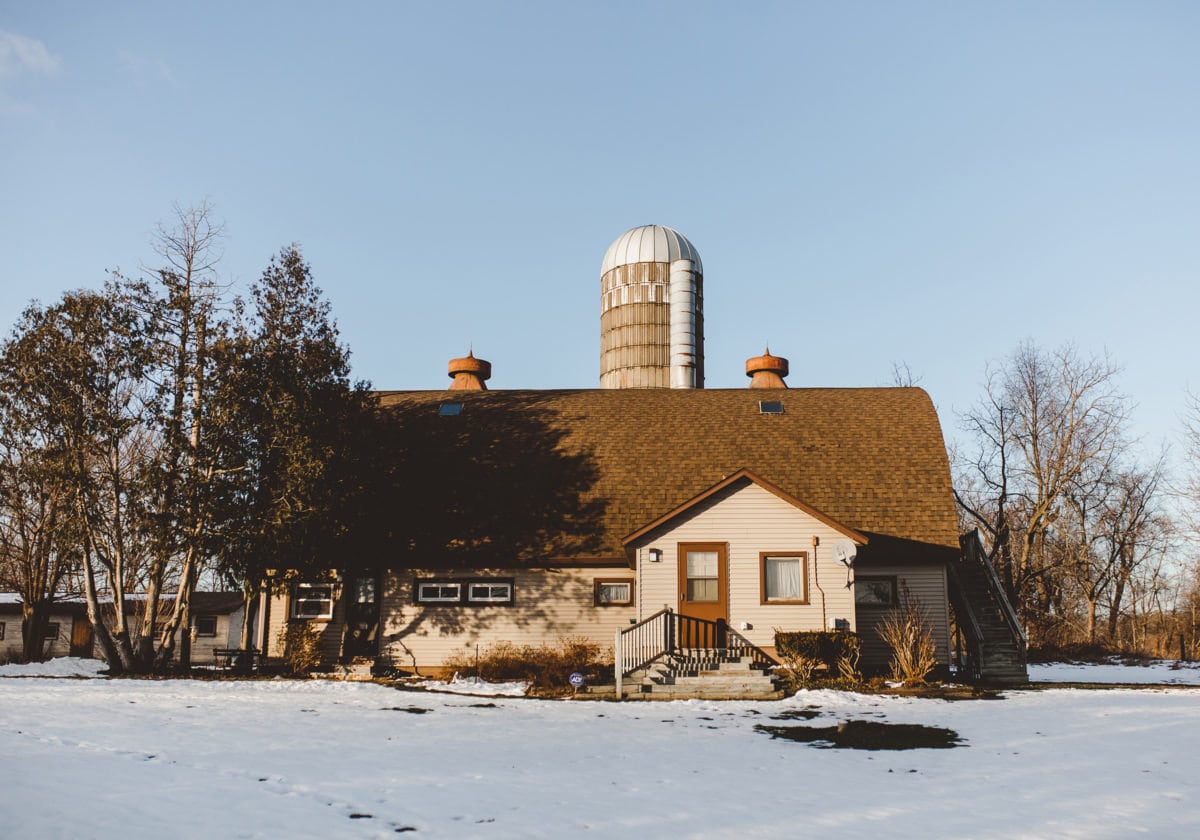 Bruce McDonald uses the barn studio to print, paint, make paper, and teach occasional community art classes.
Since starting Lemuette, Kari has invested her revenue in printing equipment of her own and set up a studio in the basement of her home, a 1920s Craftsman bungalow, in Rockford, Illinois. "Recently I took a break from doing larger prints because it was hurting my hands, all the carving," says Kari. "I started making more cards and printing the small blocks here at home." The basement studio saves her the 30-minute drive to the barn and provides a private space tailored to her workflow. In this space she has all the tools and materials she needs to design and carve woodblocks, and a small hand press ideal for printing
greeting cards
(up to 6 inches by 8 inches in size). When she needs to print bigger pieces, she commutes to the barn studio and uses her father-in-law's press, which can accommodate prints up to 24 inches by 48 inches. But decades of rough treatment by students in her father-in-law's classes have been unkind to this press, leaving it bowed and difficult to adjust. Kari aims to save enough money to purchase a brand-new etching press for her more-convenient basement print shop by the end of the year.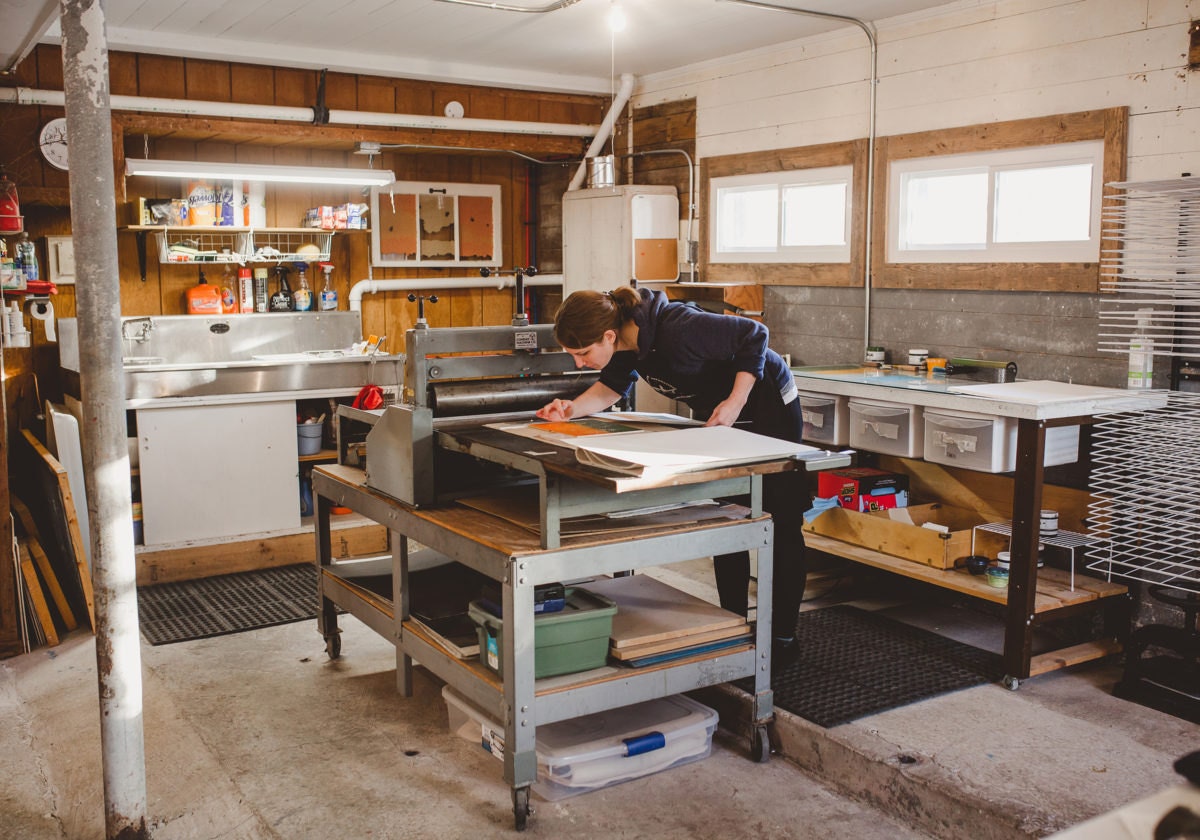 For
some prints
, Kari uses "blend rolls," a technique in which she rolls multiple colors of ink over the woodblock simultaneously.
Kari steps into her basement studio each morning, often following a run or yoga session. The approximately 15-foot-by-20-foot open-plan space is stocked with printmaking essentials: inks, brayers, papers, carving tools, ink knives, and soy-based inks. Table space is plentiful to accommodate the different facets of her art-making process and business needs, including drawing, carving, printing, packing, shipping, and computer work. On top of a flat file filled with printing paper and mats for framing, Kari built a shipping station from a piece of wood. In the summer, the basement stays pleasantly cool. Kari bundles up with a hoodie and fingerless gloves in the winter, when the furnace fills the air with an ambient hiss. A clean-laundry aroma from the washer and dryer hidden behind a curtain mingles with the scent of ink.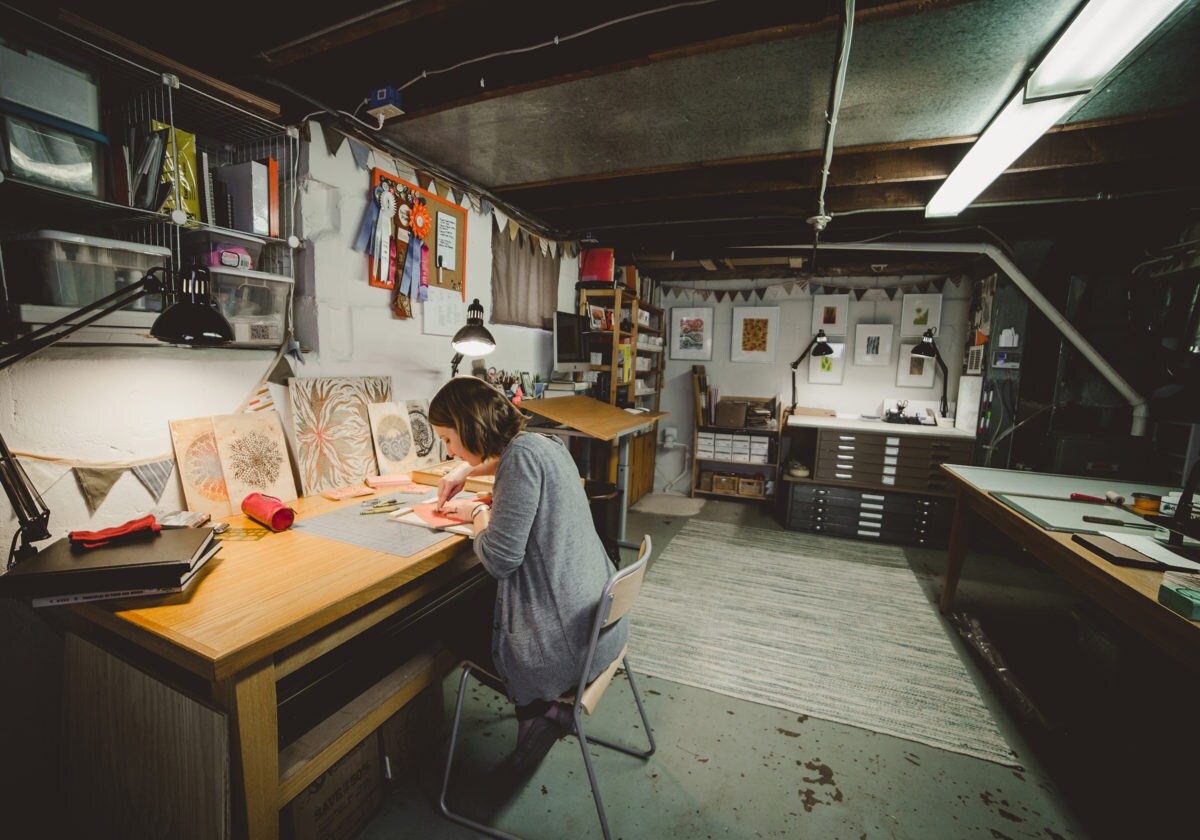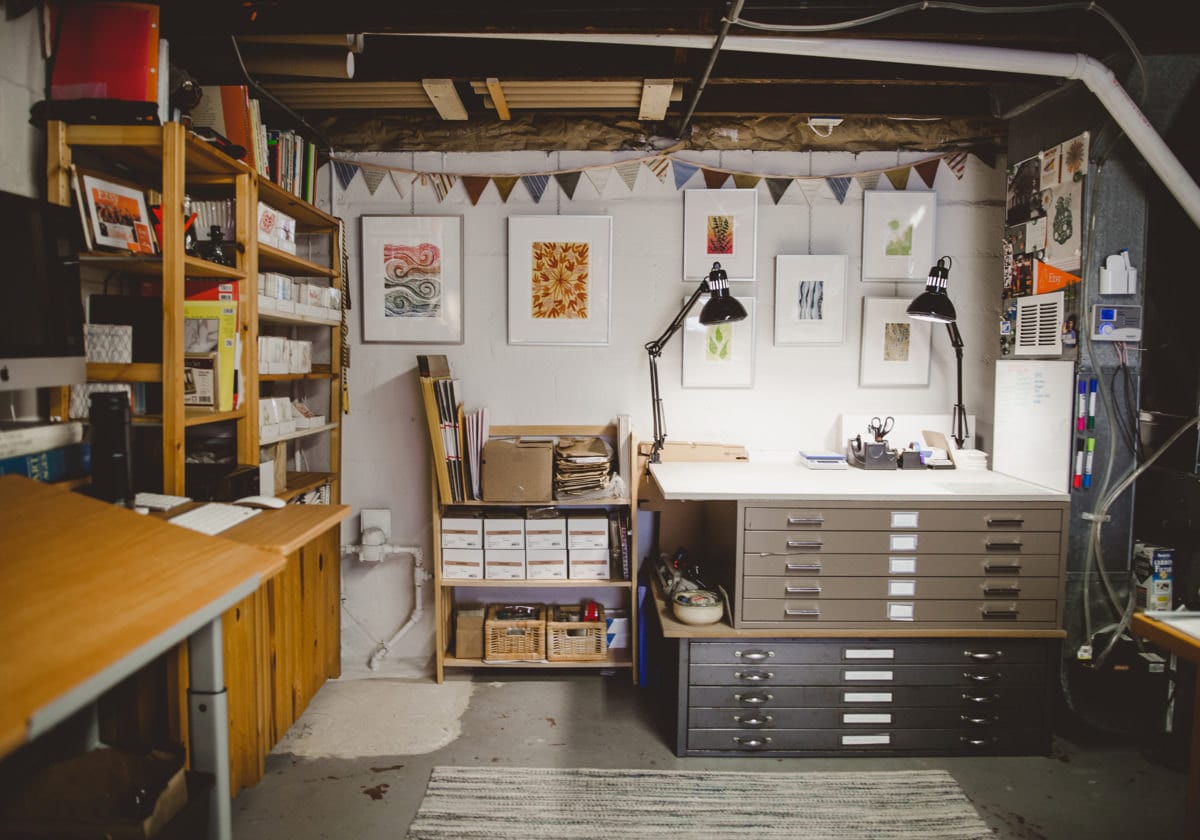 Kari stores mailing tubes in the rafters above her shipping station and attaches to-do lists to the furnace with magnets.
To design
a new print
, Kari starts by quietly sketching thumbnails in her sketchbook. She draws the sketches she likes best at a larger scale and keeps refining them before transferring the reverse image to a woodblock. Then she carves the image using a set of hand tools with carbon steel blades. To test the woodblock, she prints a test print, called a "proof," and continues to carve and proof until it's just right. Then she puts on some tunes and cranks out the final prints in small limited editions. "It's all about process," says Kari. "The printing part is the quickest part for me. Prep work and the carving take a lot longer than people think." The prints dry on racks Kari made from Slinkys attached to spray-painted pieces of scrap lumber. For finishing touches, she trims the paper to remove the registration marks.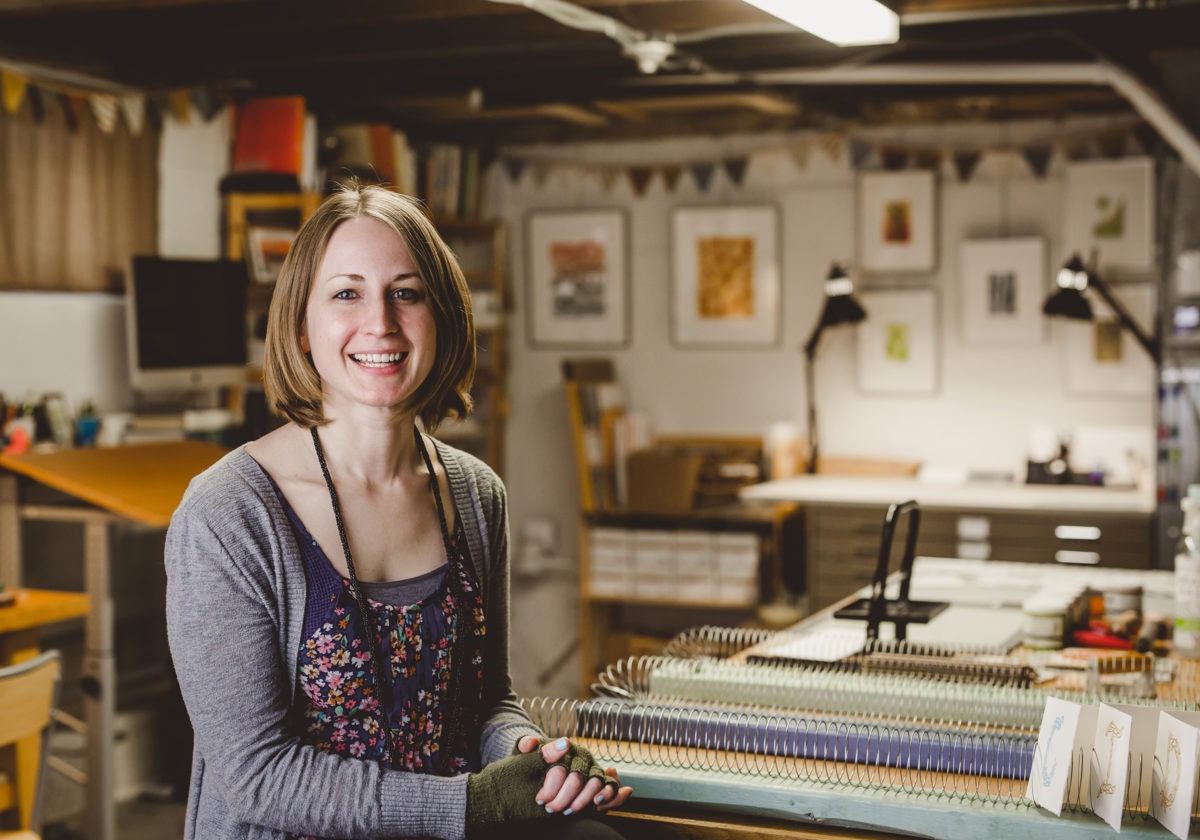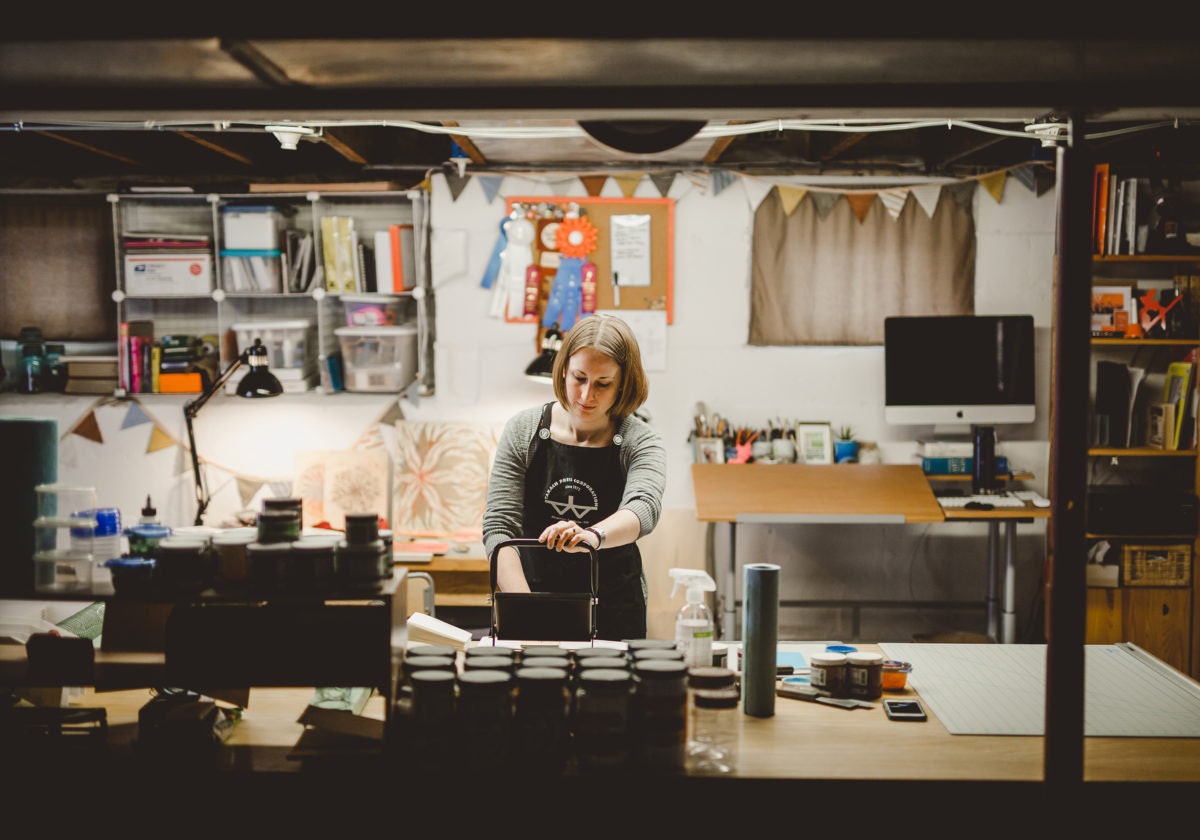 Kari prints at a table salvaged from a now-defunct bookstore where she and her husband spent time during their courtship.
Since the repetitive, physically demanding work of carving woodblocks takes a toll on her hands, wrists, neck, and back, Kari has made her well-being a priority. "If I don't take care of myself, I'm not going to be able to keep doing this for as long as I want to," says Kari, "because it will hurt too much." She now makes a point to monitor her posture, always stop for lunch, and take regular breaks from carving. She varies her time between sitting and standing, regularly gets massages, and visits a chiropractor. If she has to carve for long stretches to meet a deadline, she ices her arms and wrists as needed. To keep her workplace healthy, she uses non-toxic inks and hand carving tools with broad ergonomic handles that fit comfortably into her palm. Recently she installed a standing desk with a section that lifts up like a drafting table. "It's actually helped for productivity too," Kari says. "In the past, I had
too
comfortable of an office chair. I would get easily distracted on the computer in that chair, so I'd be sitting for far too long." Now, Kari moves more throughout the day and gets more done.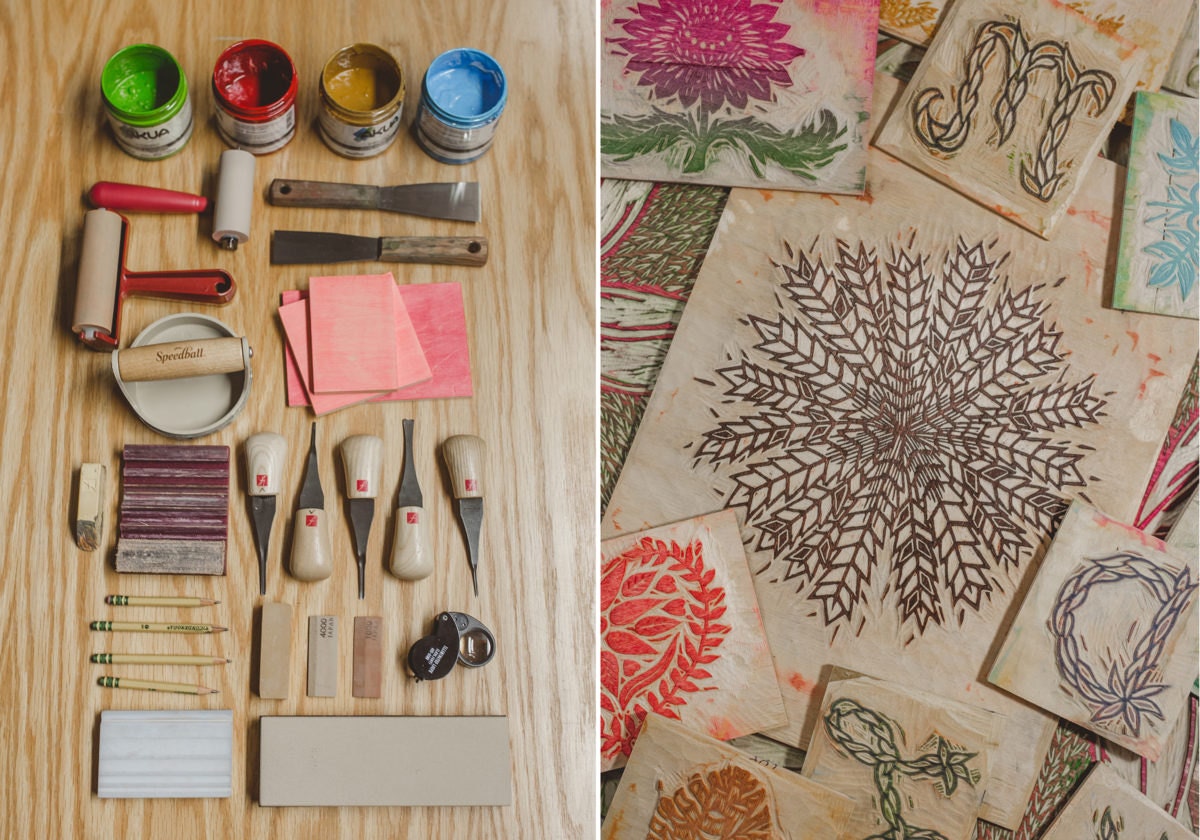 Among the benefits of soy-based inks, "they clean up with soap and water, so you don't have to use toxic cleaners," Kari says.
"I'm always working with what I've got to get the job done," says Kari. And ideas for removing stumbling blocks from her process constantly buzz through Kari's head. If she's able to meet her savings goal and buy a new printing press this year, she'll be able to make large prints without commuting to the barn studio, saving time and gas money. Buying a small self-inking tabletop letterpress would make printing greeting cards more efficient, and save her wrists from the repetitious work of hand-rolling ink over woodblocks between every print. In turn, she'd be able to more efficiently handle wholesale orders. "I can talk forever about being lean, improving processes and workflow," says Kari, "but that's not as important as making
good work
."
Want to start your own Etsy shop? Explore the Seller Handbook for advice and inspirational stories like this one.