by Julie Schneider
In a seaside sunroom overlooking Mount Fuji, this Japanese screenprinter makes baby blankets and bags for her 10-year-old Etsy shop.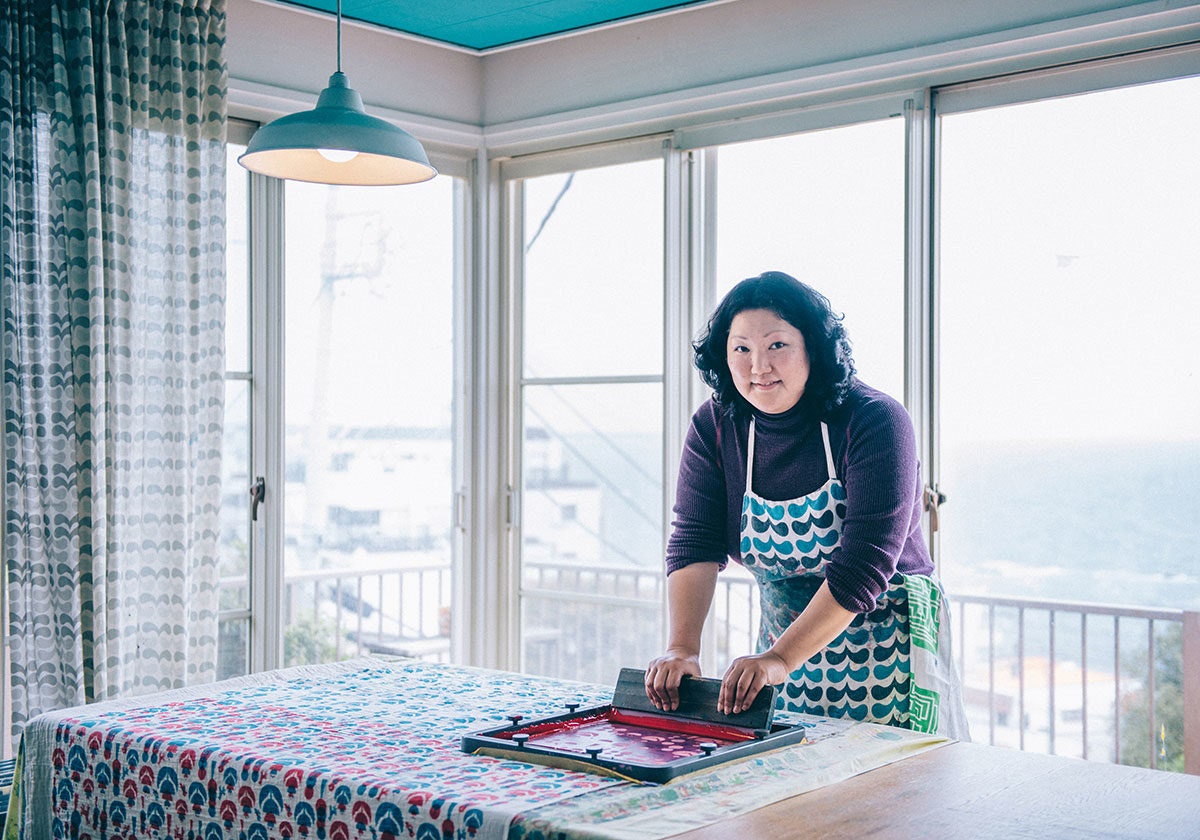 Yuko Uemura gazes at the sea-swept form of iconic Mount Fuji from her studio window. Before housing the screenprinting operation for her Etsy shop
PataPri
(opened in 2007), the 250-square-foot space served Yuko's grandmother, who used the sun-drenched room to grow plants. Yuko's grandfather built the house as a vacation home in the 1950s in the seaside town of Akiya, Japan, an hour's drive from Tokyo, where Yuko grew up. Now Yuko lives in the home. "This house has a lot of childhood memories for me," says Yuko. Ever since she was a child, Yuko spent summers at the house and returned each winter for her grandparents' annual New Year's Eve party. After moving to Chicago for art school, Yuko continued to visit the home on trips back to Japan.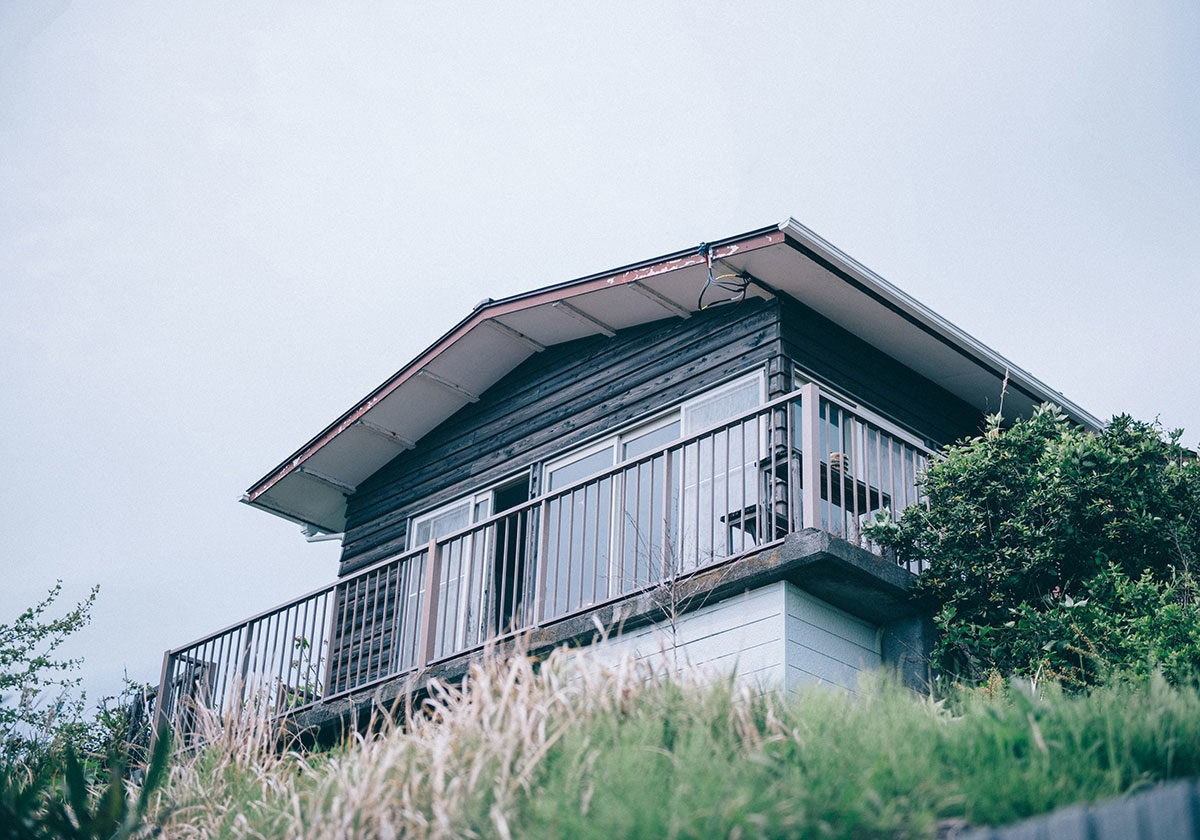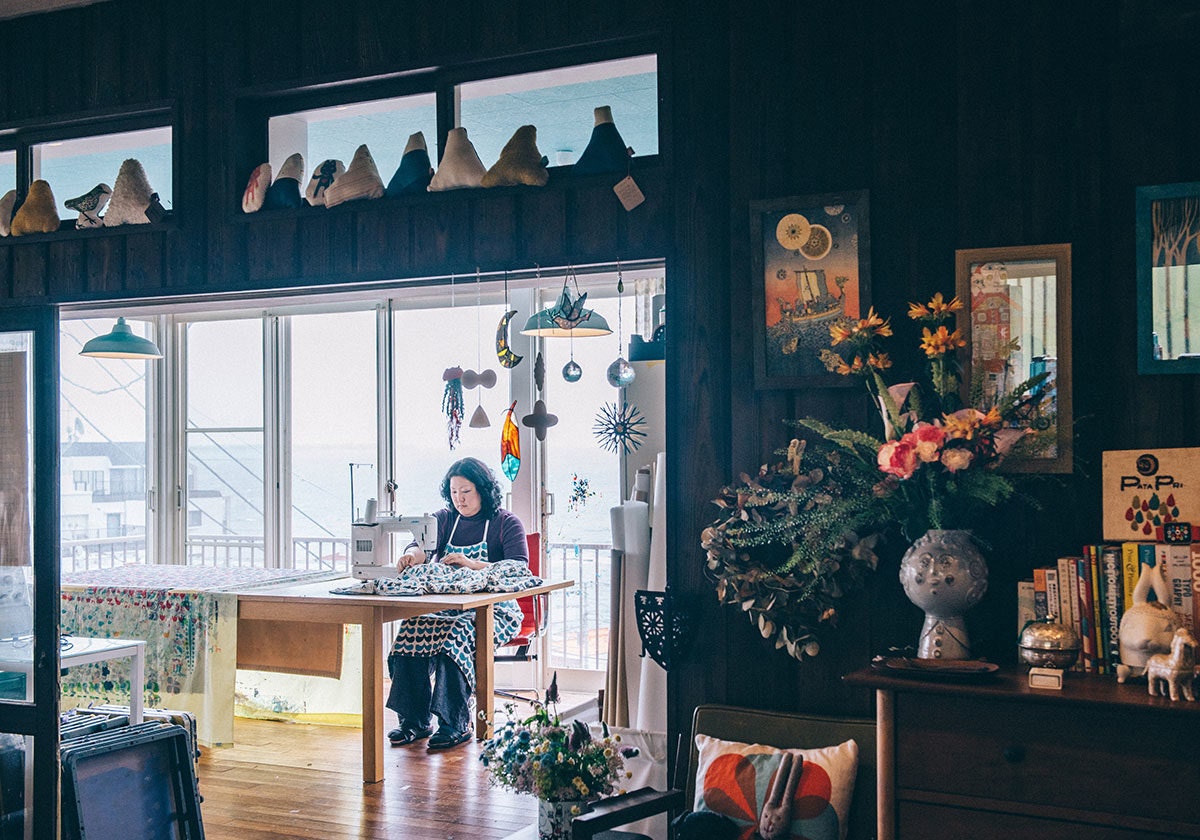 "Since I live in the middle of nowhere, I can listen to loud music. I don't have to worry about the neighbors at all. I can do whatever I want to do," says Yuko. "That's what I love about living here."
After her father passed away eight years ago, Yuko returned to Japan for what she thought would be a temporary stay. But lured by the beloved abode, she never returned to Chicago, where she had lived for 15 years. Yuko has grown to love the peaceful life surrounded by ocean, mountains, and expansive sky after a lifetime devoted to bustling metropolises. "I never get bored looking at the ocean," says Yuko. But it took her some time to adjust to the new setting. "It was so dark and quiet," Yuko recalls. "I never turned off the light or TV for the first year. I was so scared maybe a ghost was watching me or something like that." She has since settled in and delights in visits from the occasional bird, stray cat, or raccoon dog (an animal native to east Asia), and the constant swish of waves. "I fell in love with this house and the ocean view and everything about it," says Yuko.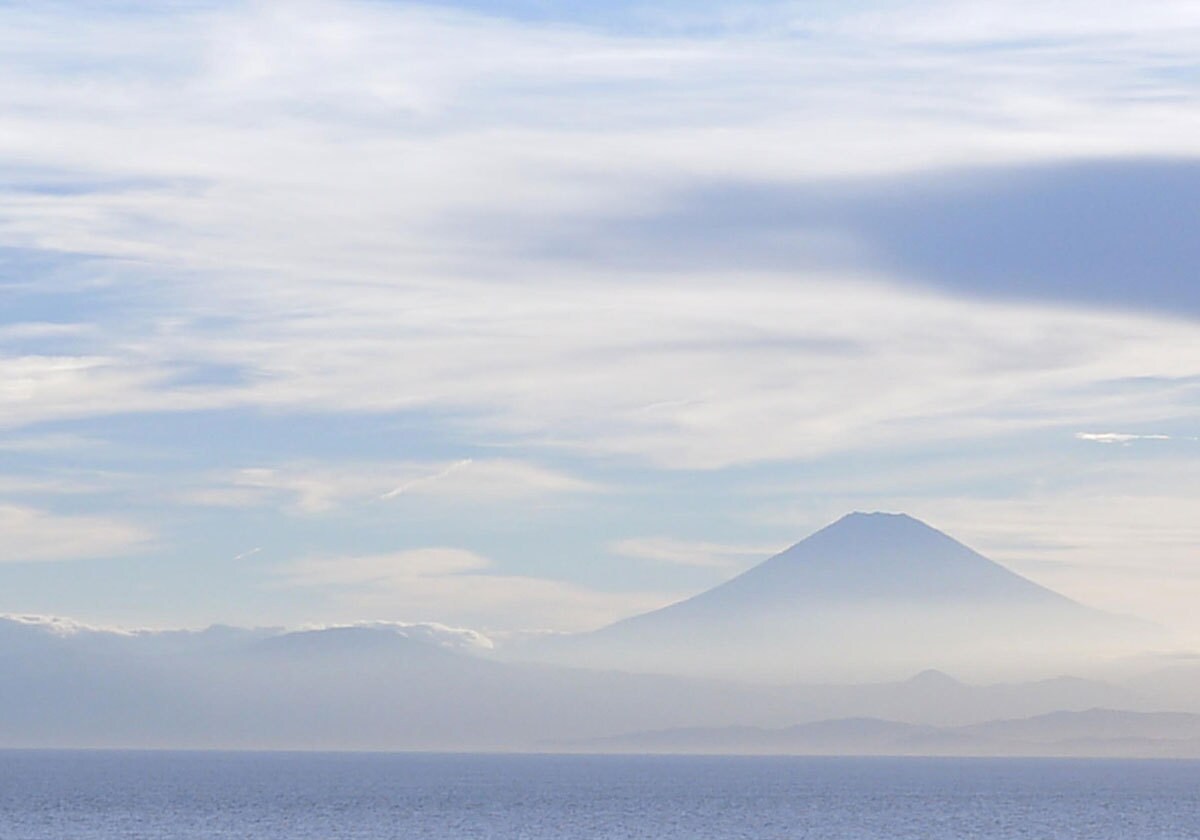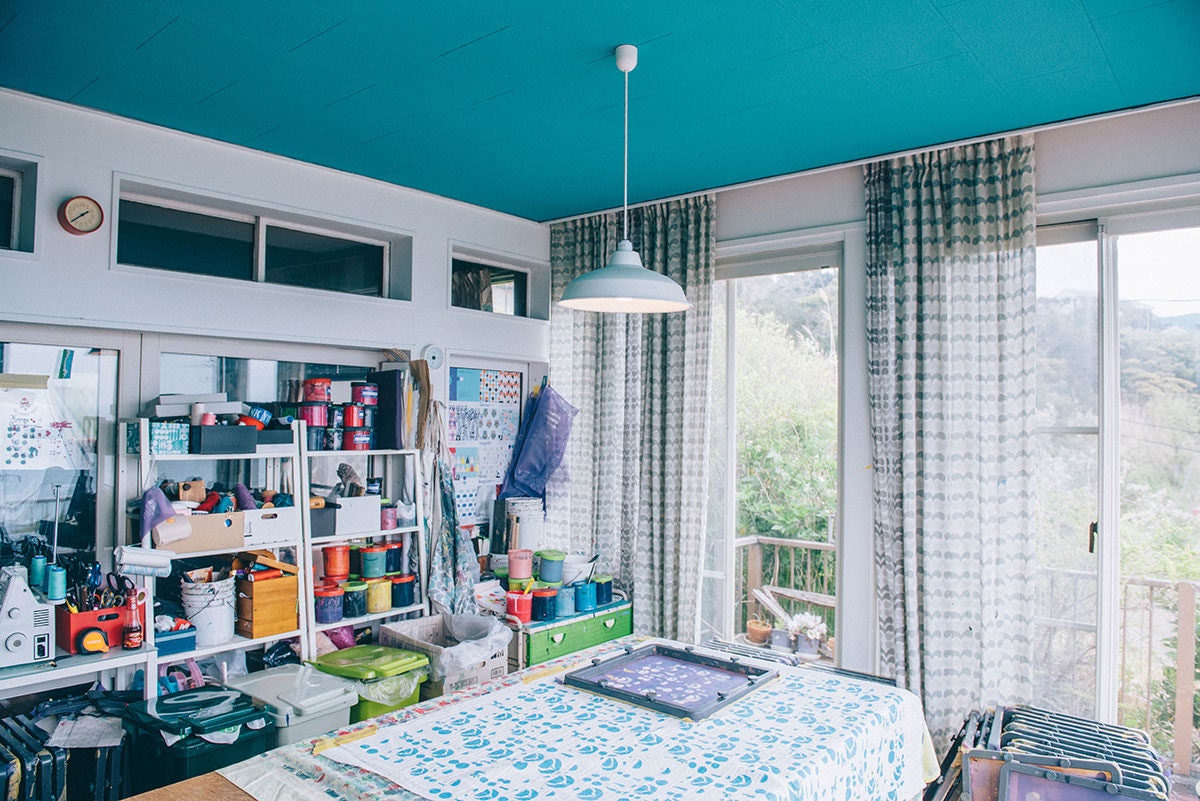 With plentiful sunshine streaming in through the windows, Yuko says the studio is about 10 degrees warmer than the rest of the house.
The studio is the warmest, brightest room in the house, and the place where Yuko spends the most time. To update her grandparents' interior design choices, Yuko focused on brightening the space and bringing in her own air of creativity. Her grandmother, also a crafter, made traditional Japanese dolls. More than 40 of these dolls filled the house, and Yuko sometimes found their gaze unsettling. "We took them to the temple and said bye," said Yuko. She revamped the brown walls of the studio with a fresh coat of bright white paint and covered the tan ceiling in a cheery shade of turquoise to match her new pendant lights. She replaced dark drapes with breezy white curtains that she screenprinted with a stylized
wave pattern
. On the walls, she hung favorite pieces from her
Etsy art
collection.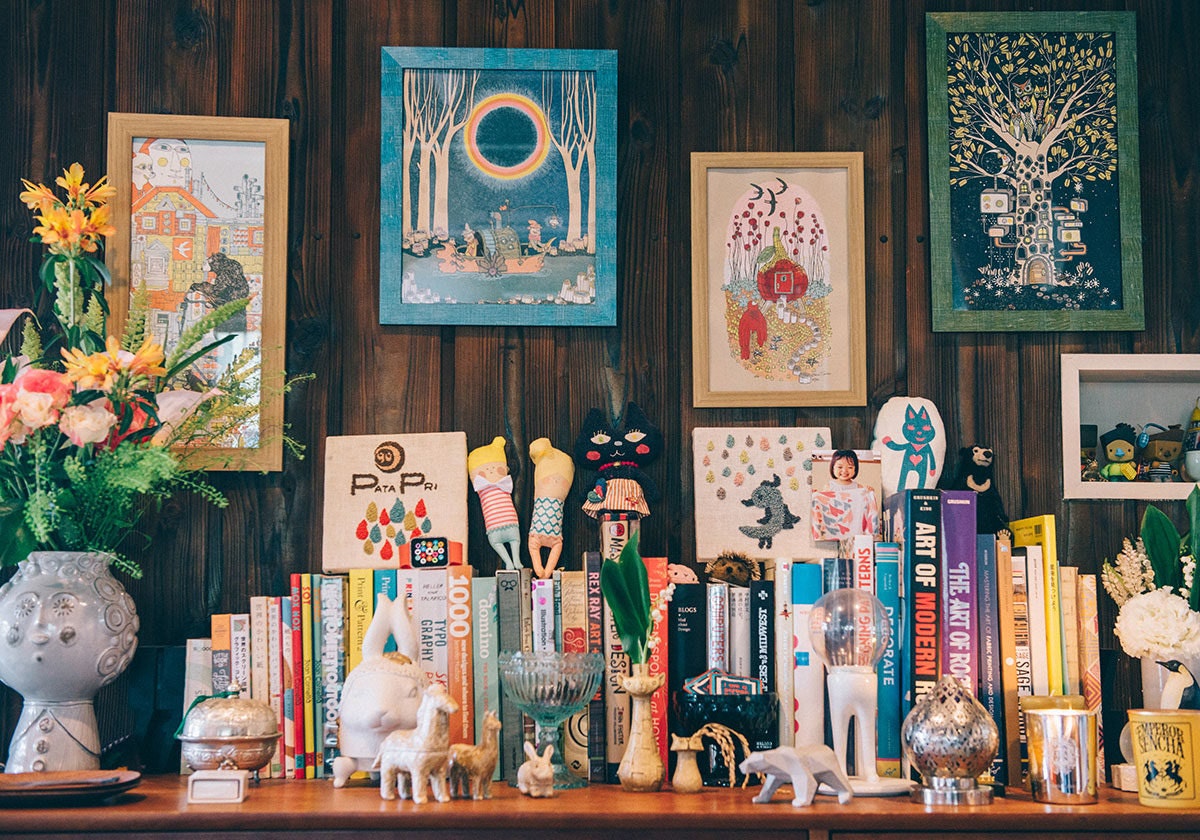 "This house has a certain smell. It always reminds me of my grandma," says Yuko. Even though she lives there now, Yuko says, mysteriously, the nostalgic scent remains.
After waking up around 8 am and sipping carrot juice, Yuko works in her studio all day—and sometimes late into the night. The space is well-stocked with screenprinting and sewing equipment: screens, inks, squeegees, a unit for exposing screens, fabric, a sewing machine, a serger, and a collection of scissors. During the day she prints fabric on a long dining table and washes out her screens on the balcony. (Since the balcony has no lightbulb and her multi-colored prints require frequent screen washing, this is a daytime activity.) In the evening, she often sews. As a soundtrack to her work, Yuko plays music or streams American TV shows online. Before going to bed, Yuko starts the washing machine and dryer with her latest
blankets
, which she packages, clean and fluffed, in the morning.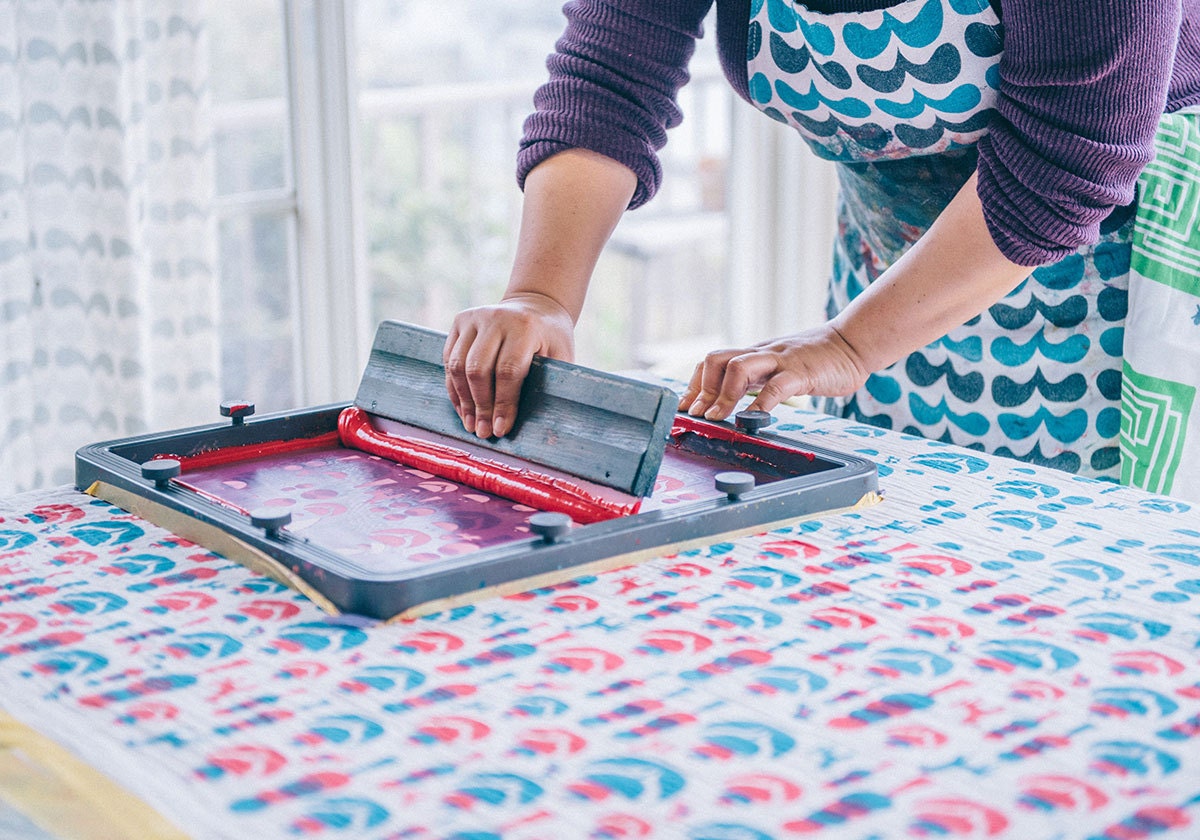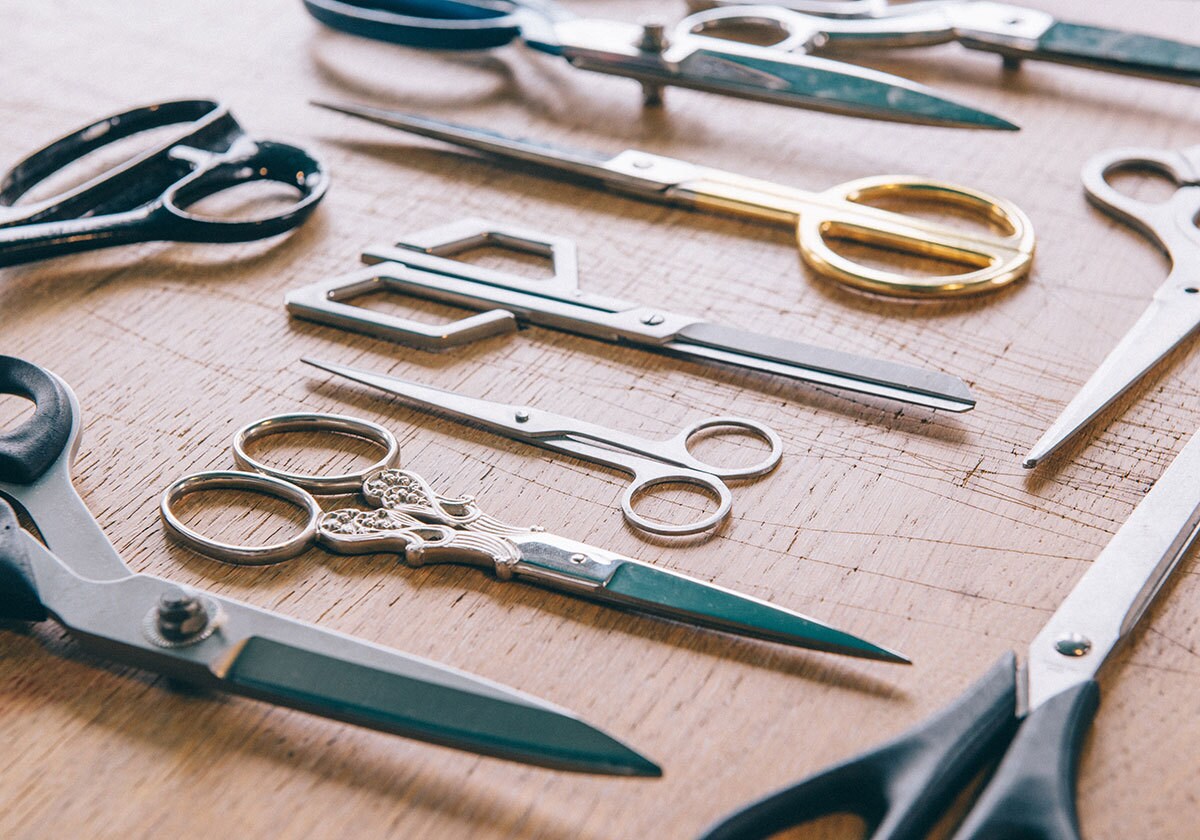 "
PataPri
" means "pattern print," a made-up word Yuko chose for her business because prints and patterns are core to her collection. "I wanted a name that sounds good both in Japanese and English," says Yuko.
Through sickness and health, screenprinting has been an important outlet for Yuko. She learned how to print at a community center while she worked as a graphic designer in Chicago. "I wanted to make something with my hands," says Yuko. "Printing was perfect because I could use my design skills and not sit at a computer all day." Since then, Yuko has honed her skills, developed her Etsy shop, and now offers occasional screenprinting workshops of her own at her studio. Three years ago Yuko got jarring news: she found out she has breast cancer and started treatments. At the hospital she kept her hands busy with an embroidery project. As the doctors and nurses checked her vitals, they also charted the progress of her stitches. Back at home, Yuko resumed screenprinting. "I could do my work at my own pace when I felt better," she says. "Because if I had to go work somewhere 9 to 5, maybe I couldn't. It was good I had my own business."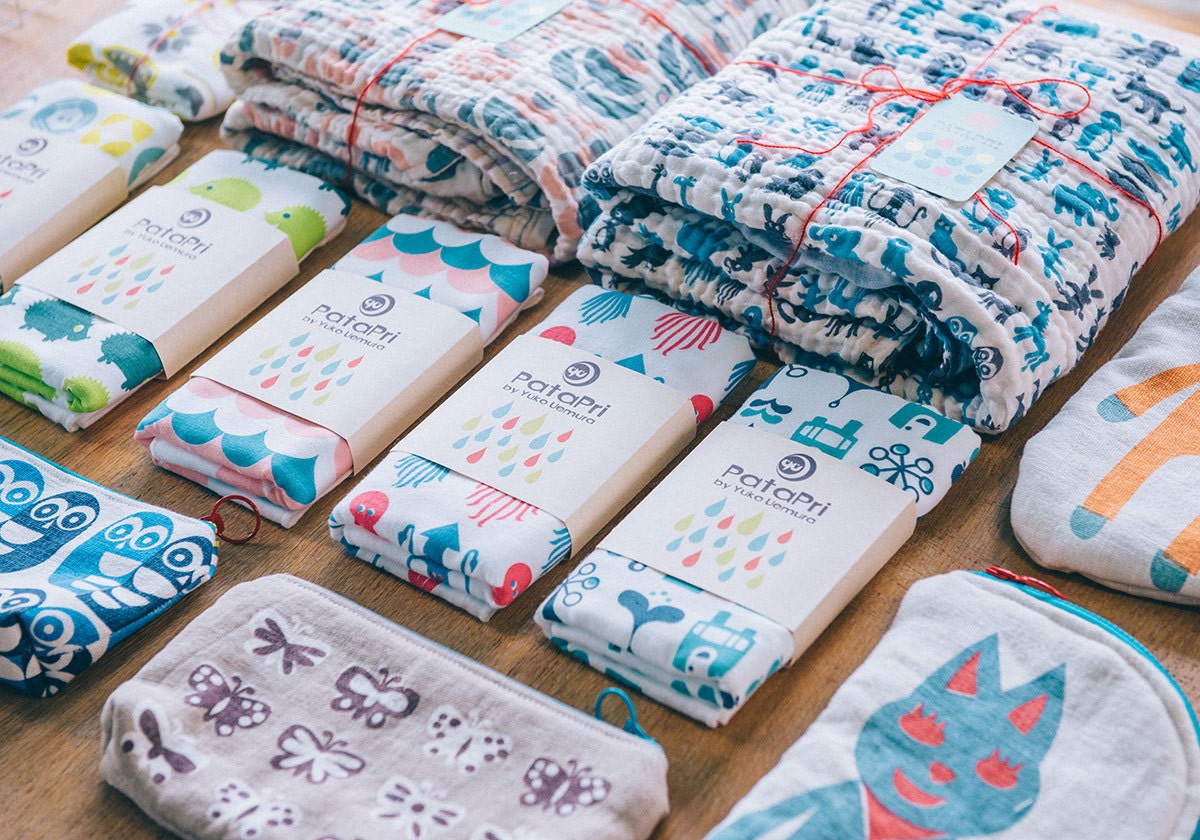 "I love how putting my design onto fabric and turning it into a
baby blanket
can make someone happy," says Yuko. "When I receive a letter or picture from my customers about how much they love my blanket, it makes me happy."
PataPri reached a significant milestone in March: 10 years in business! To celebrate, Yuko screenprinted
notepads
with every one of her designs (more than 70) and had
masking tape
made with her patterns, both available for sale in her Etsy shop. Her passion for printing continues to fuel her. "Even though I've been doing it for 10 years," says Yuko, "I still get so excited that I can't sleep the night before I print a new design."
All photos by Daniel Ng Yew Kong unless otherwise noted.
Want to start your own Etsy shop? Explore the Seller Handbook for advice and inspirational stories like this one.