by Julie Schneider
In an impeccably organized home studio in Atlanta, this Etsy seller makes bold accessories inspired by her Caribbean roots.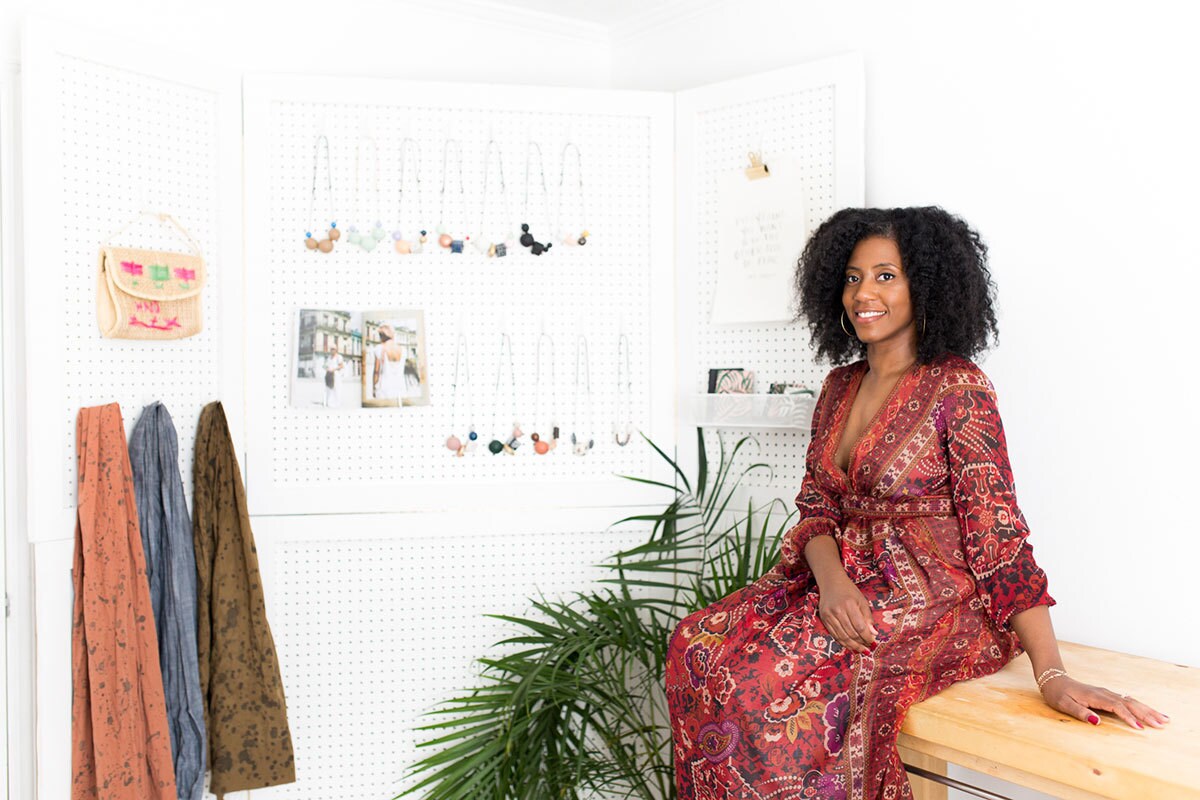 Every bead, scrap of leather, and bottle of paint has a place in Kel Cadet-Lyons' peaceful home studio in Atlanta, Georgia. In this tidy, white-walled room, Kel paints wood beads for necklaces and sews leather pouches and passport covers for her business,
(r-ki-tekt)
. The vibe of her studio mirrors the fresh, clean look of her Etsy shop. "My space is my bohemian-minimalist sanctuary and very reflective of my love of travel and my Caribbean roots," says Kel. But this wasn't always the case. After her handmade jewelry and accessories started selling well at a boutique in Atlanta, Kel opened her Etsy shop in 2009. She worked from the two-bedroom apartment she shared with her husband, Durrell Lyons, and two kids, Chloe and Levi (now ages 9 and 3). Without a dedicated workspace, Kel's creative operation spread throughout the apartment, leaving a trail of clutter and craft supplies. Last June, the family moved out of the cozy apartment into a 1980s ranch-style house, with a dedicated workroom for Kel. This was a game changer. "When I come in here, it's specifically for work. It's not for working
and
eating
and
the mail drop off zone
and
the kids," Kel says. "This allows us all to respect the work and to respect the home as well." Moving also inspired Kel to refine (r-ki-tekt)'s look. She reexamined her products and decided to discontinue pieces that weren't fulfilling to make and looked out of place in her collection. By paring down her offerings, and in turn her craft supply stash, Kel has renewed the focus of
her product line
and process.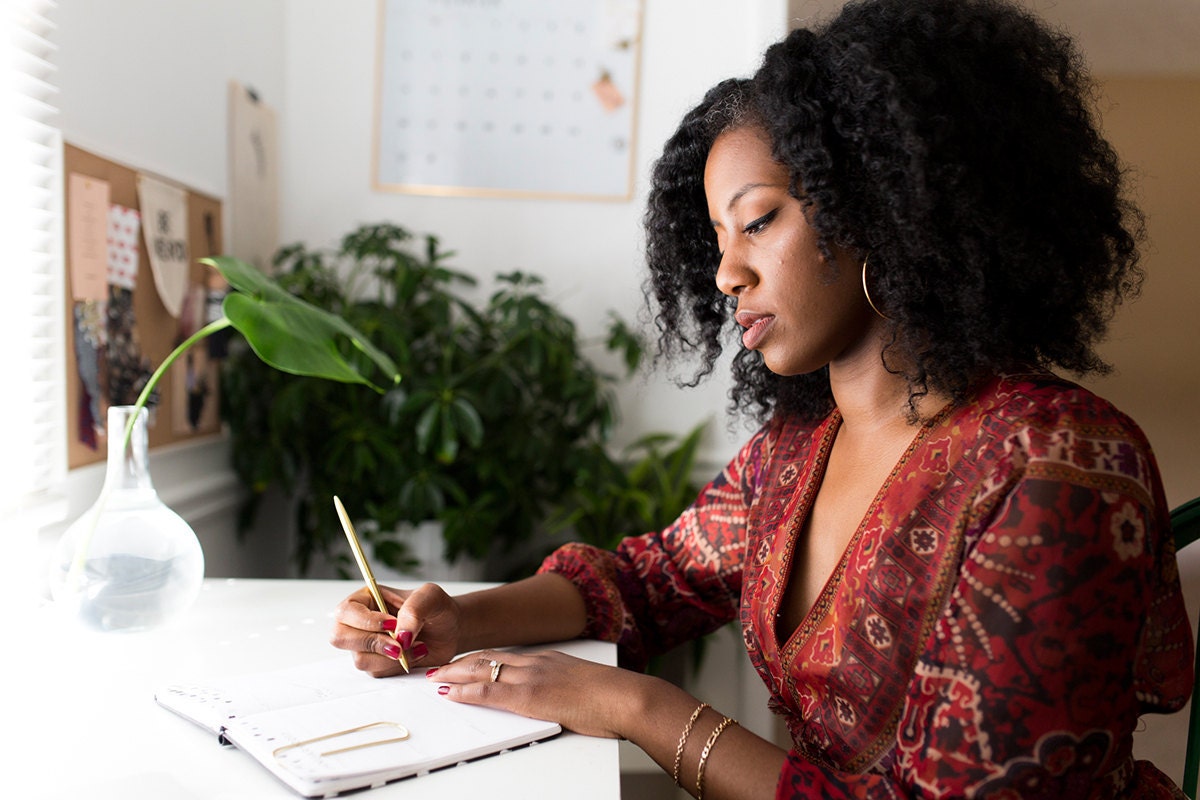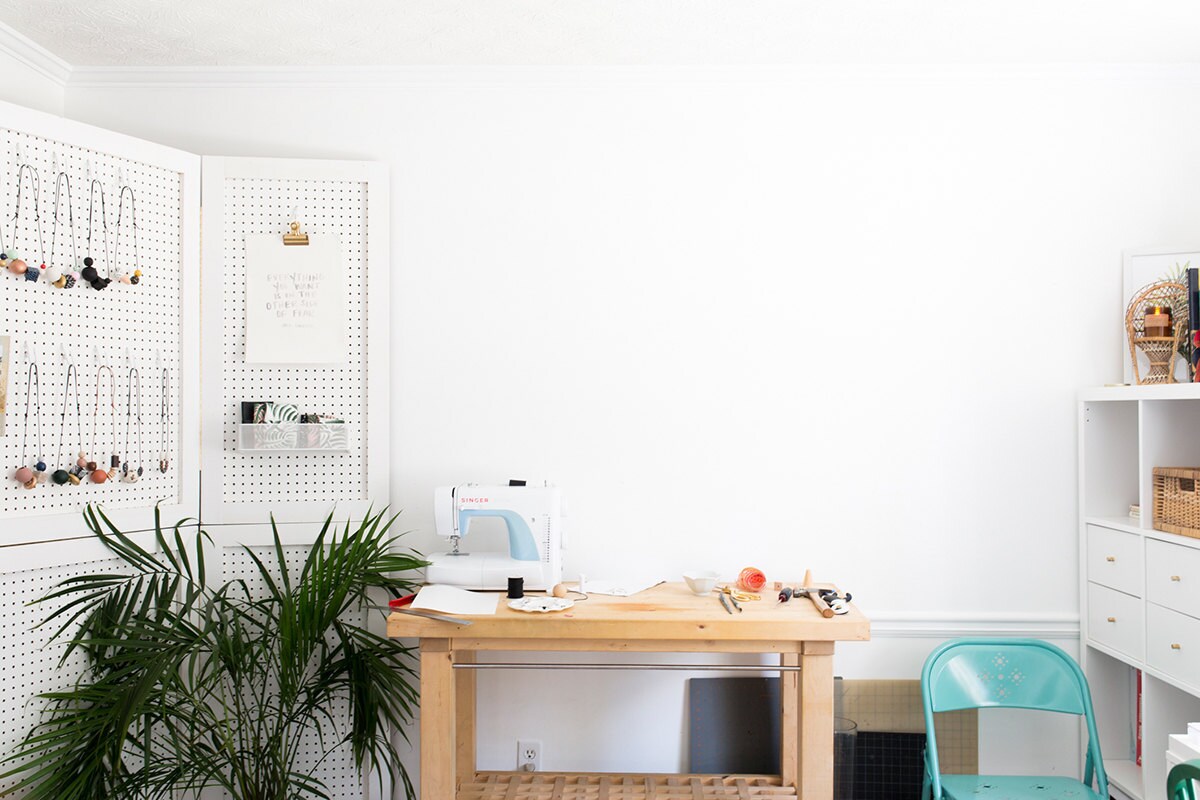 "Now I have the space to have drawers. I can always find my scissors and my rotary cutter," she says. "There's a spot for everything, so it can stay clean, and I can work better."
An aura of creativity and serenity fills the (r-ki-tekt) headquarters. A teakwood and tobacco aroma wafts through the air from a burning candle, purchased from Etsy shop
P.F. Candle Co.
"That's my signature scent," says Kel. "It smells warm and inviting, but not overpowering." While she works, she often listens to music by Solange, Sade, and Childish Gambino. Shelves hold books, travel souvenirs, bohemian-style thrift store finds, and plants. The walls of the roughly 120-square-foot room are painted a fresh white and minimally decorated with carefully chosen art, mementos, and inspiring quotes. Since Kel works with abundant color, she prefers her workspace to be visually calm. "I like to keep everything clean and white," Kel says, "so my eyes can take a break. When I look away from whatever I'm working on, then I can see a bit clearer."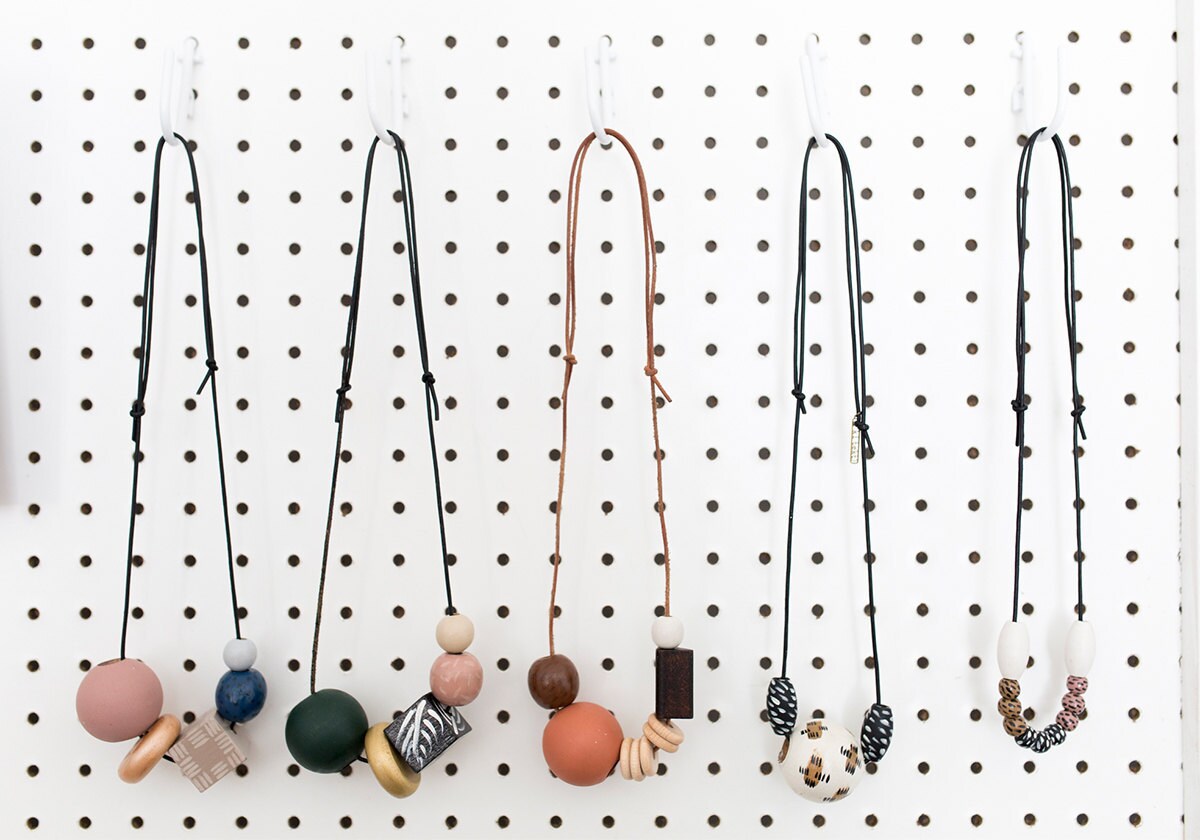 A carpenter friend built the pegboard display for Kel. It's hinged, so it can collapse into a square for travel.
From her desk, Kel looks out a window at her street, observing the comings and goings of her neighbors. She watches the tree in her front yard bloom and leave a confetti of pink petals in the spring and summer. Next to her workbench, along the opposite wall, is a white 10-foot-tall, custom-made peg board.
Necklaces
and headwraps hang from hooks, and leather goods are displayed in a basket. Kel keeps a sample of each of her products on the wall, forming a timeline of (r-ki-tekt)'s growth. She stores her supplies in drawers, an organizational system she dreamed of while working in the tight quarters of her previous apartment. As much as possible, Kel sources her supplies from other Etsy sellers and local businesses. "I want to fuel the American maker because I am one," she says. "I feel like it's karma."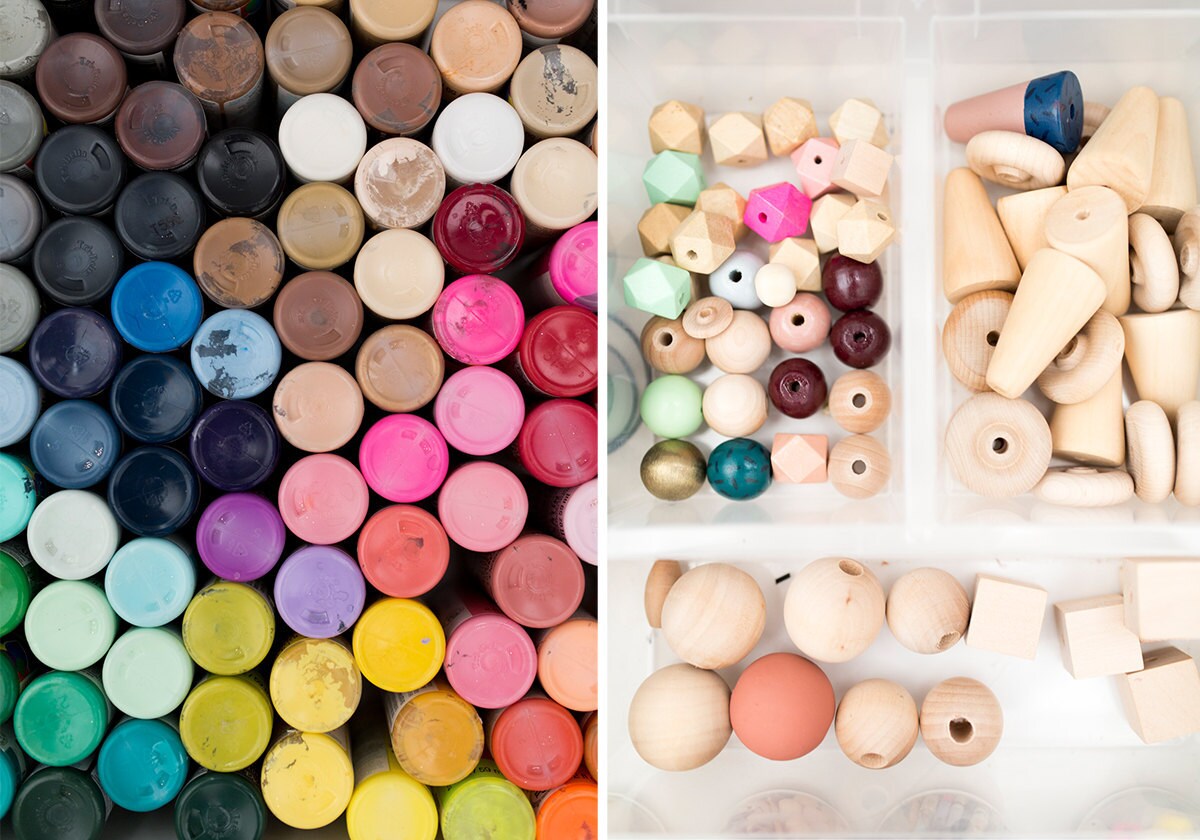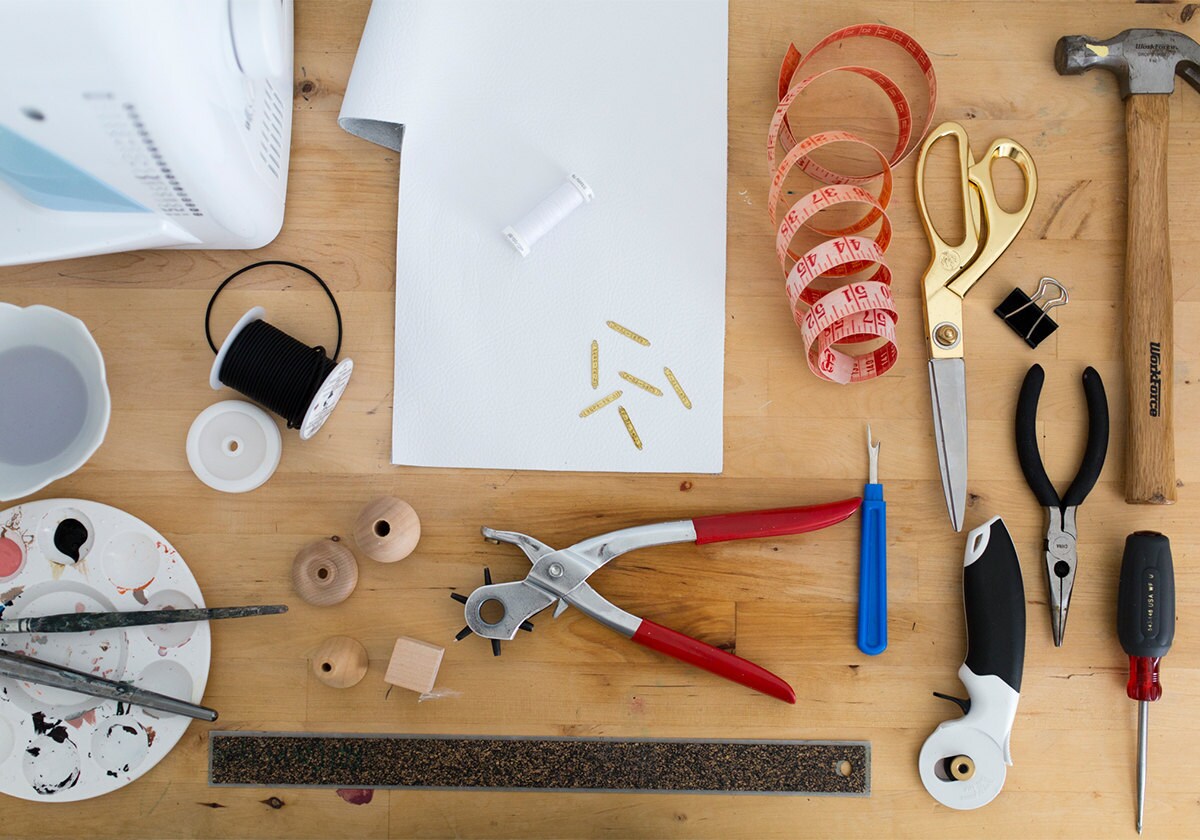 Kel organizes her craft paints according to color. She has more than 80 bottles. "I mix them all to make the perfect shade of yellow or the perfect coral or muted brick."
Kel works in her studio every day. "Working from home allows me to be extremely flexible," she says. "However, I am also a mom of two. This forces me to be very intentional with how I spend my hours." She thinks of (r-ki-tekt) as her 9-to-5 job, though she doesn't keep those specific hours. After the kids are in bed at night, she has an uninterrupted stretch of quiet work time. During the day, Kel squeezes in extra studio time while her young son naps. Some evenings her husband, who works as a web developer for his day job, joins her in the workspace to study scripts for acting gigs, while she paints
wood beads
and sews
leather wallets
and
velvet sashes
. "We've both been night owls for a long time," she says. "If I had my way, I'd probably just stay up all night and sleep during the day."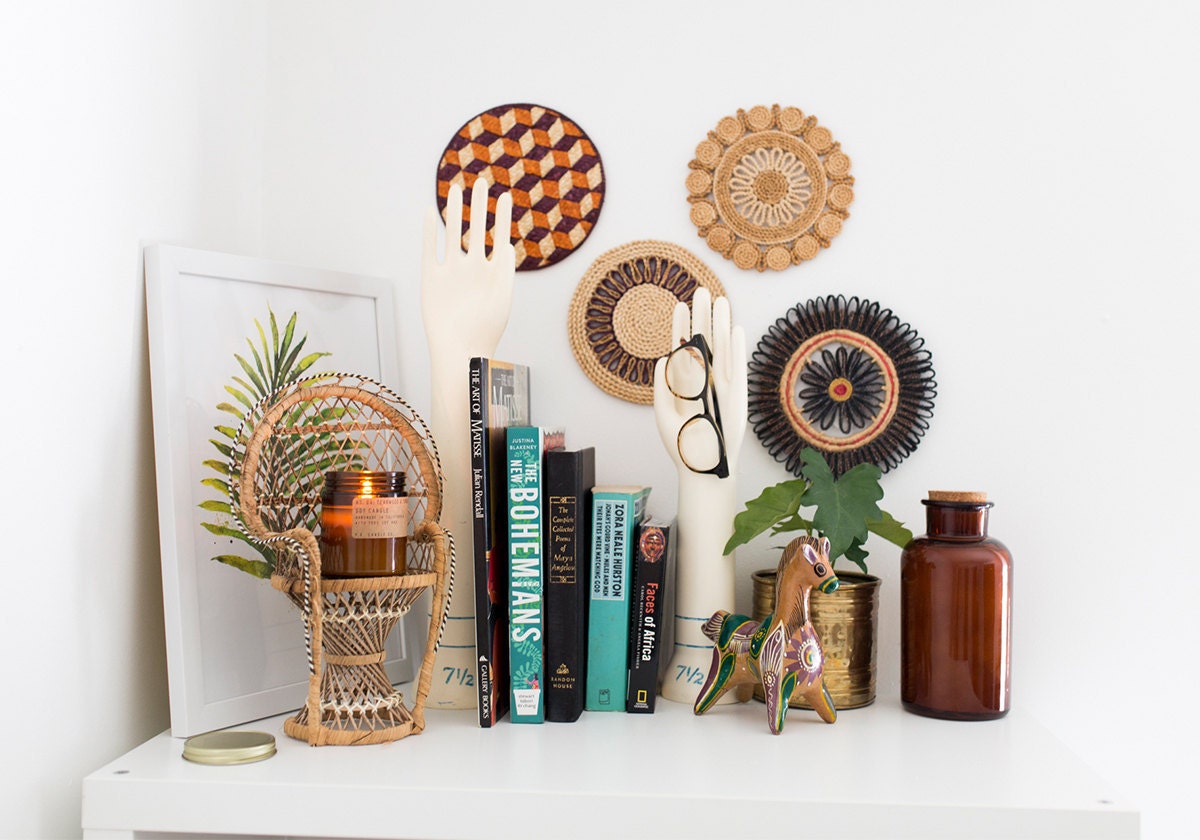 Kel keeps books that inspire her close at hand.
As a child, Kel spent her summers in Haiti with her grandparents. Elements from these formative visits echo through her palette and patterns for (r-ki-tekt). Kel's grandmother and grandfather built a home lush with tropical flowers, palm trees, rose bushes, hibiscus, and fruit trees: coconut, mango, lemon, cherry, bananas. Kel recalls a melding of sights and sounds from her summers on the island: clucking chickens, roaming goats, blaring horns, white-sand beaches, people chatting in Haitian Creole, fashions with bold color combinations, and women carrying water, fruit, and baskets perched atop their heads, swathed in vibrant headwraps. "We have a running joke that in Caribbean culture, we don't have a sense of color limitation," says Kel. "That's how my jewelry is. I want you to see that brown and blue can marry and be cohesive. It's not saving the world or anything like that, but for me color is healing. Color is a release and it allows you to play and use a different sense."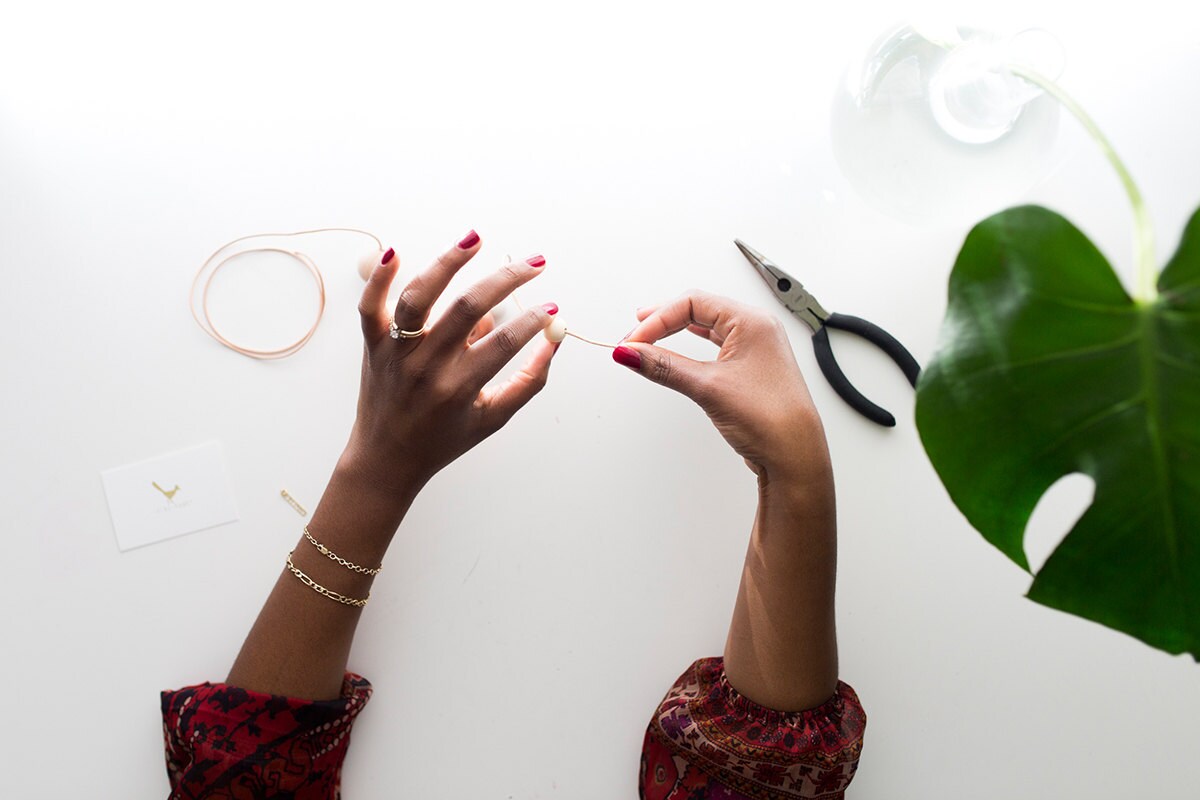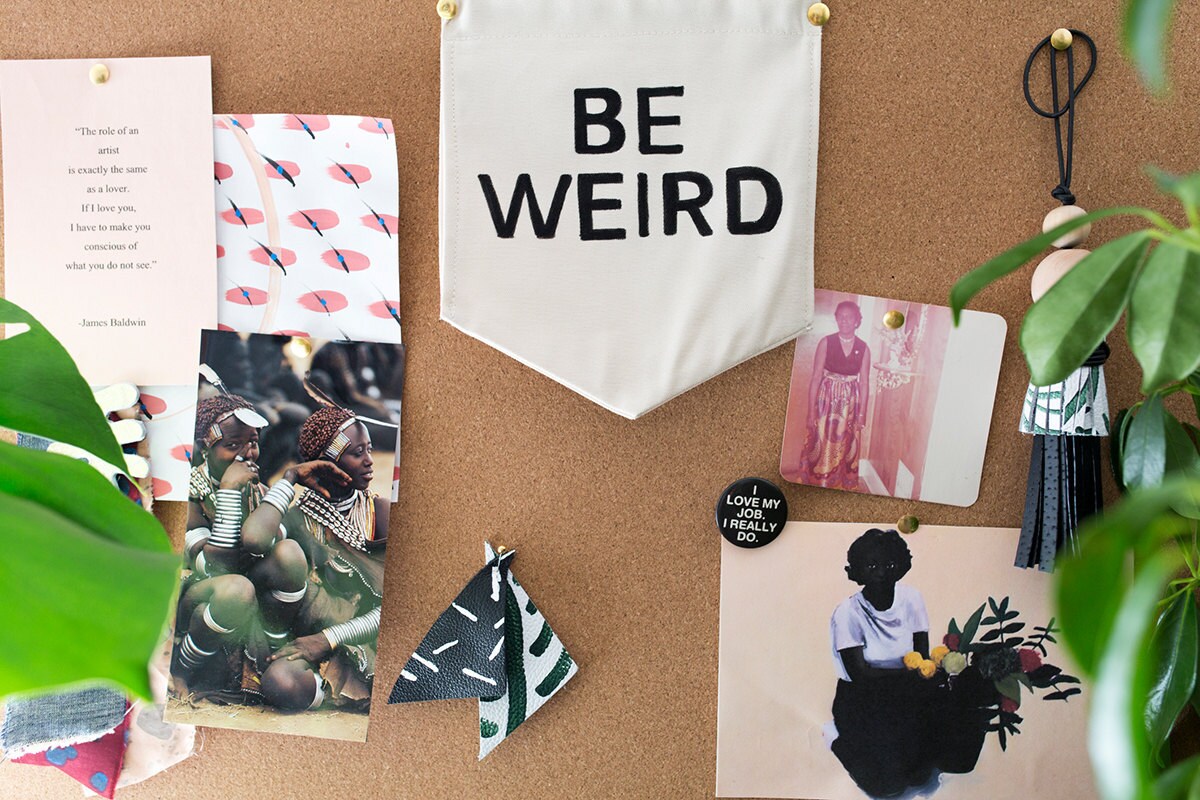 To make her
necklaces
, Kel mixes beads of contrasting colors and patterns as an homage to her time spent in Haiti. She pins inspiring words and images to her bulletin board, including a photo of her grandmother and a James Baldwin quote that she considers her artistic mantra.
A banner reading "Be weird" hangs on Kel's inspiration board, part of a previous collection that she brings back now and then. The phrase is advice that Kel dispensed to Chloe when children teased her at school. "I'd say, 'It's okay, be weird,'" says Kel. Now the mother and daughter say affirmations every day. Together they say, "It's okay to be smart. It's okay to be a black girl," "Make today magical," and "Just be you." Kel tries to heed these words of encouragement too. "When I'm working, I try to remember that not everyone is going to like that color combination or this silhouette, and that's okay," Kel says. "Be you as an artist and stick to that. You don't want to fall into the category of everybody else. Just do you."
Want to start your own Etsy shop? Explore the Seller Handbook for advice and inspirational stories like this one.