Etsy seller Frauke Schyroki expresses her love of shapes and saturated hues in both her artwork and her sunny home studio. Come join us for a tour.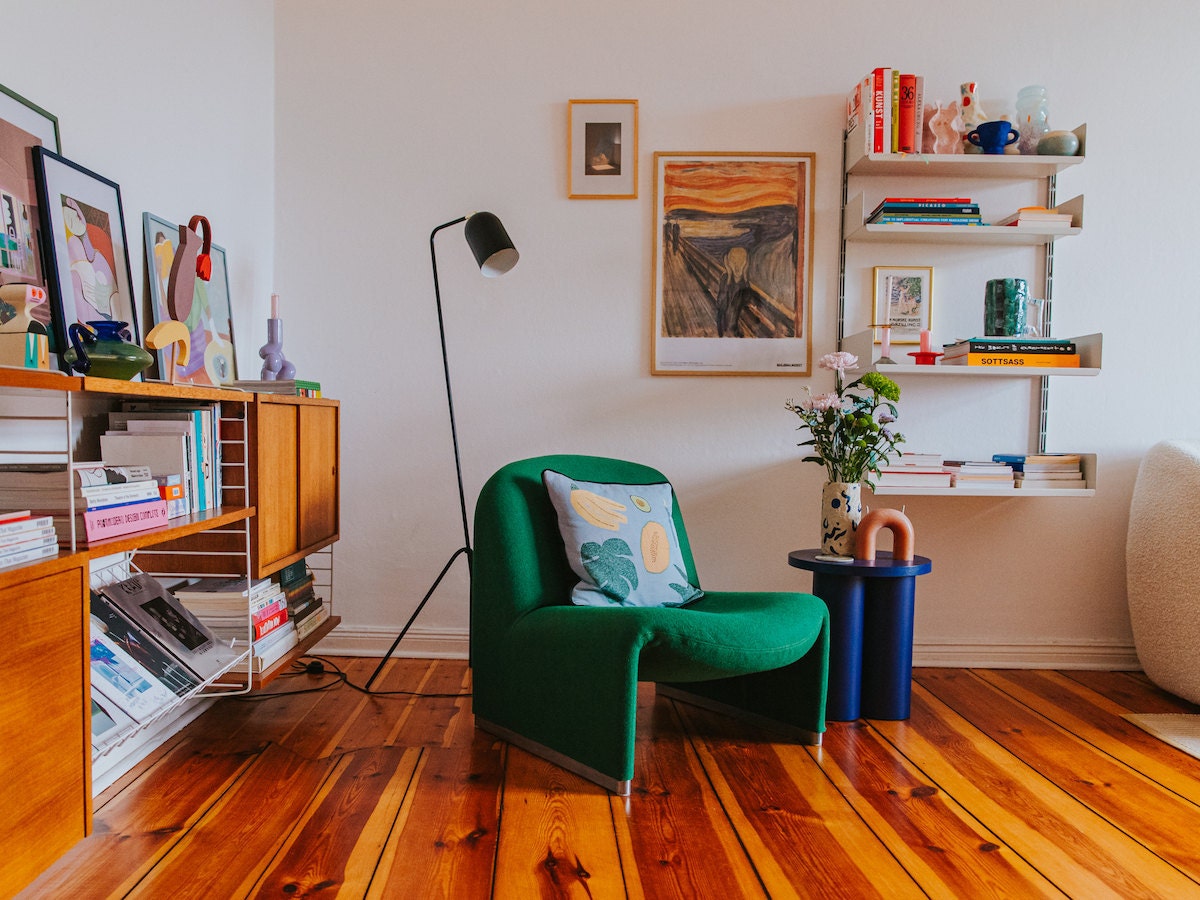 Vibrant artwork on the wall, a welcoming plush green chair in the living room, a playful vase with summer flowers perched on the cabinet—it's no surprise that friends and visitors alike often refer to Etsy seller Frauke Schyroki's interior design style as feel-good. "That's a great compliment and makes me very happy," says Frauke, the illustrator and creative force behind colorful print shop Illustration44, who lives with her boyfriend in a bright one-bedroom flat in Berlin.
When it comes to the interior of their shared space, it's all about harmony and happy hues: "Fortunately, we have similar tastes in decor and both feel very at home in our apartment," Frauke says. Why they feel so comfortable quickly became clear to us, too, when we dropped by to pay them a visit—and discovered beautiful finds around every corner.
Join us now for a tour of their cheerful space, then shop the look with Etsy finds inspired by their unique, eclectic aesthetic.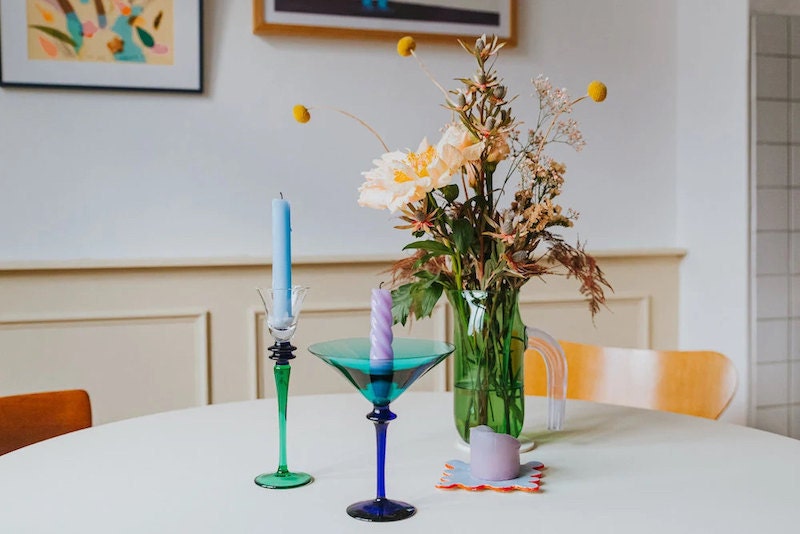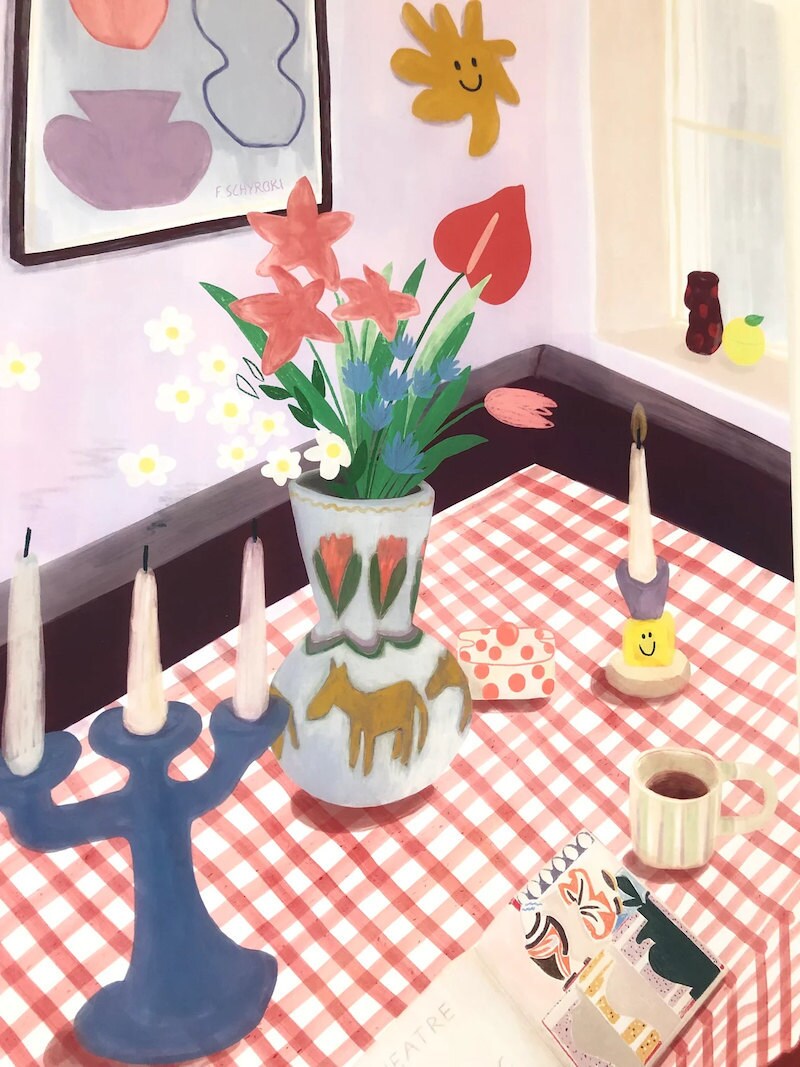 SHOP: "Coffee Break" print from Illustration44, $22
Pops of color everywhere
Though Frauke's prints and posters reliably feature homes with brightly painted and patterned walls, the illustrator takes a slightly different approach to her real-life abode. "It would be too garish for me since we have a lot of colorful furniture and accessories," she explains of her more restrained paint palette. Instead, she strives for balance, hanging multicolored pictures on crisp white walls, combining steel pieces with wooden floors, and pairing colorful chairs with neutral tables.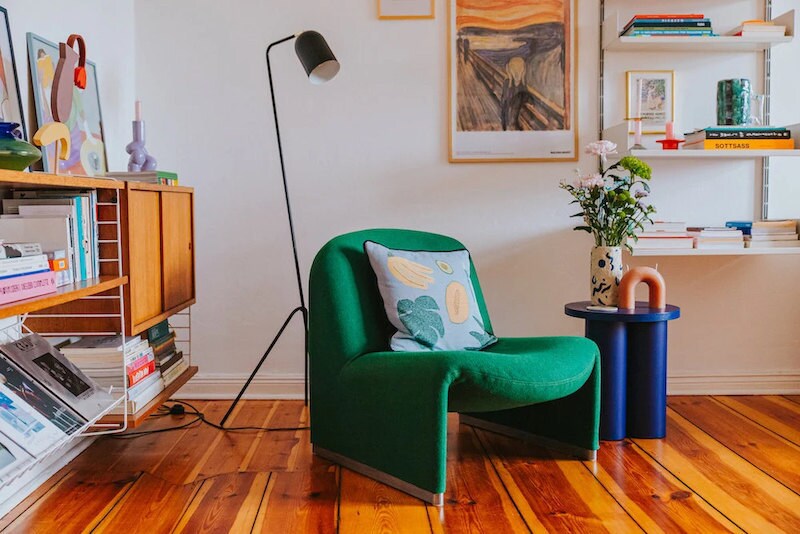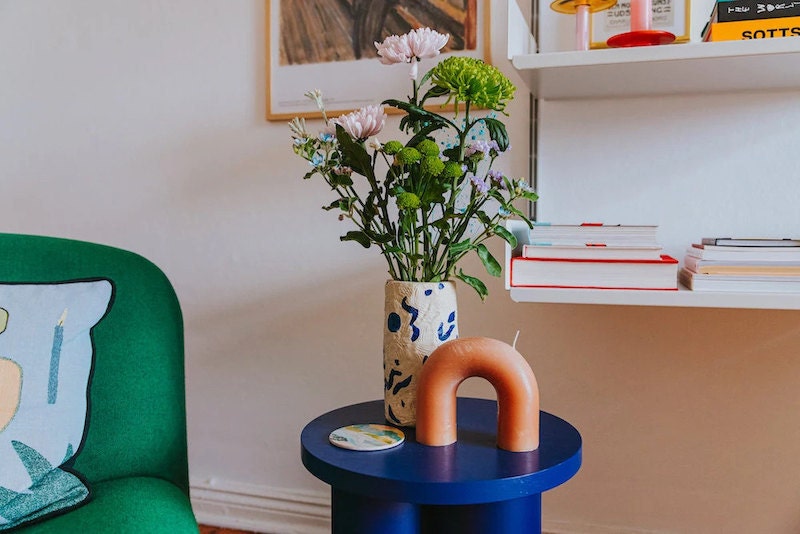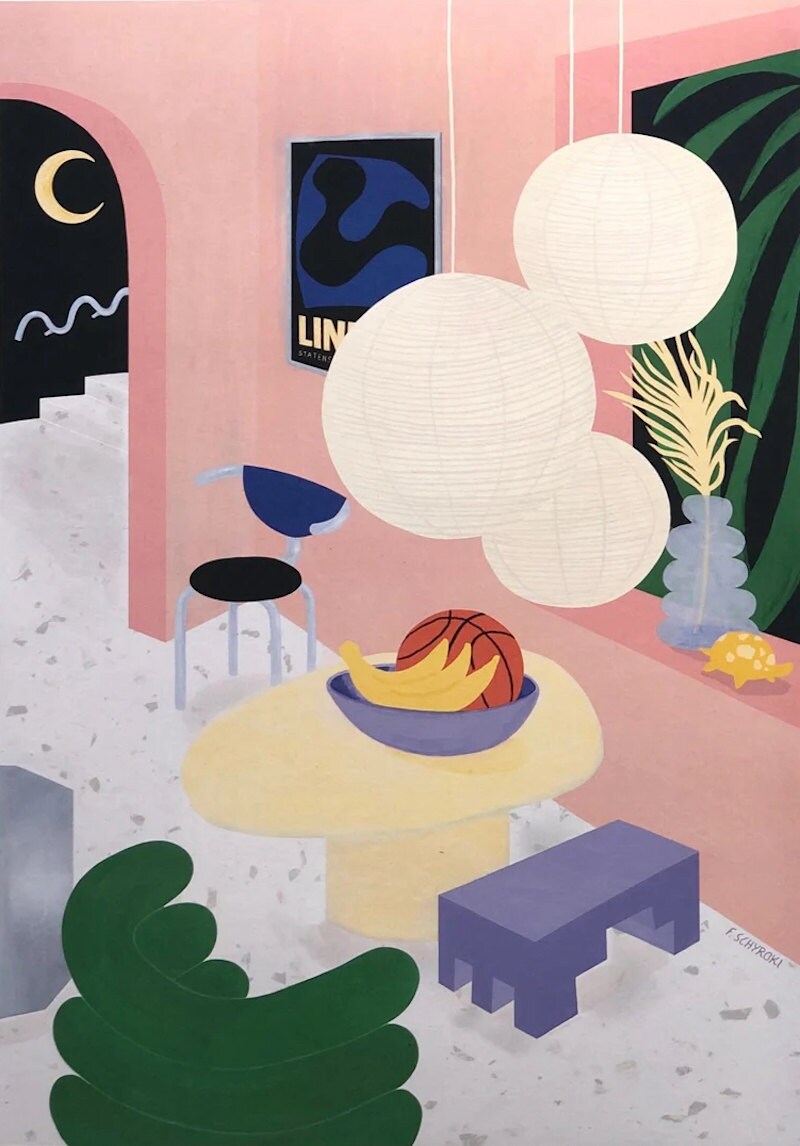 SHOP: "Paper Shades" print from Illustration44, $13
One more key pillar of Frauke's design philosophy? The importance of embracing change. Even returning visitors can always discover something new in her apartment: "I'm constantly redecorating with small items. I would love to rearrange things a lot more, but since we've attached a lot of the shelves to the walls, that's unfortunately not possible."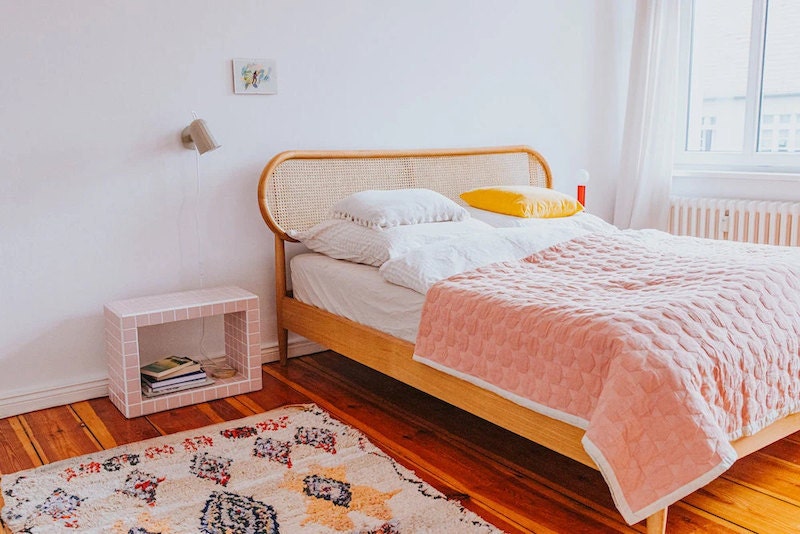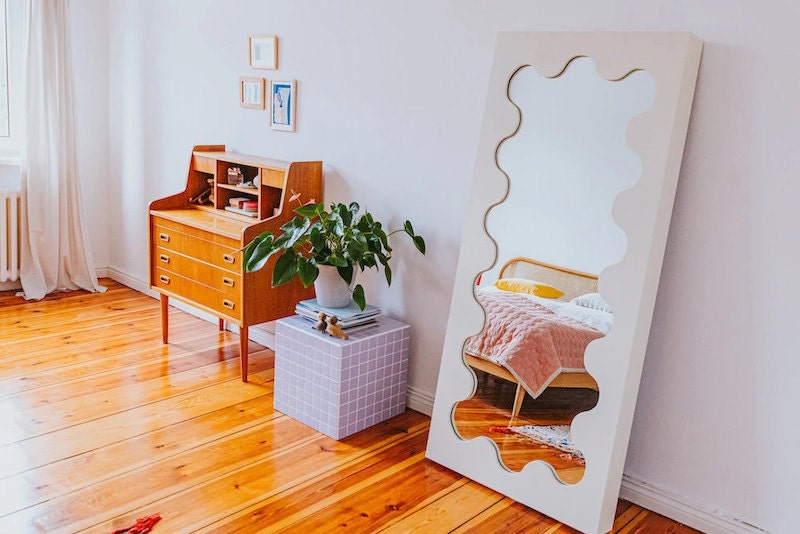 Eye-catching accents galore
Though many of Frauke's favorite items are vintage, the designer wouldn't exactly describe herself as a treasure hunter. "I'm quickly overwhelmed by what's available at flea markets and in classified ads," admits Frauke. Unless a piece is super-rare or one-of-a-kind, she'd prefer to take her time before committing to a new purchase. In fact, Frauke finds that given a little space, sometimes the overwhelming desire to own an item dissipates—and that can be a good thing. "If I was an impulse buyer, our apartment would be pretty cluttered because I find so many things beautiful," she says.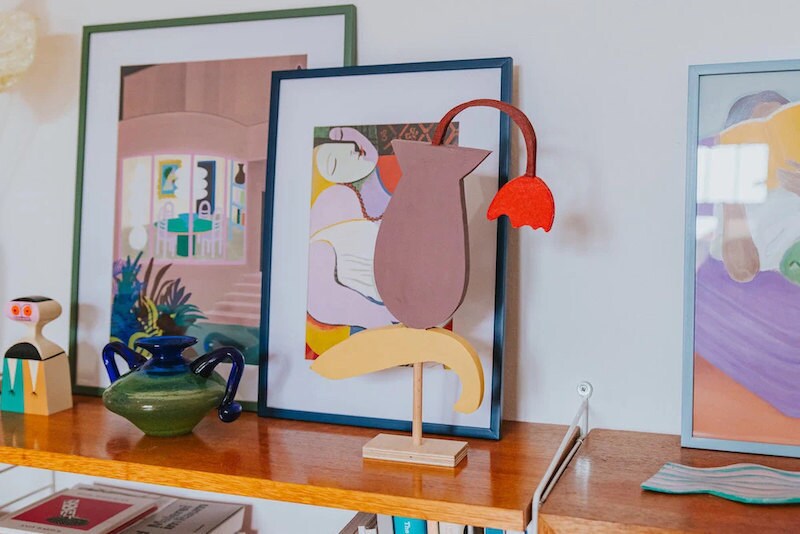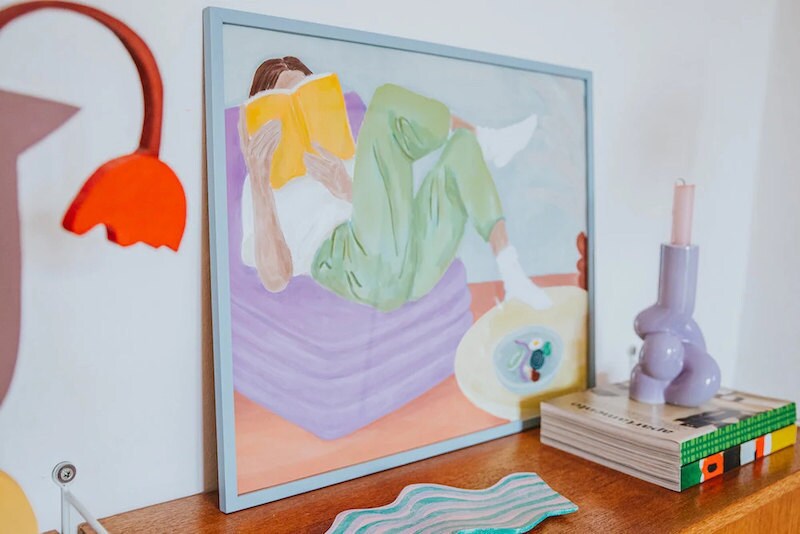 SHOP: "Reading Lady" print from Illustration44, $22
Frauke discovered her most recent new piece—a vase—while on vacation, and brought it back home to add to her fast-growing collection. Now, she says, she's got a new self-imposed rule: to part with an old vase every time she buys a new one. Not surprisingly, Frauke is particularly happy to be given flowers as a gift. "I have more than enough vases for them," she jokes.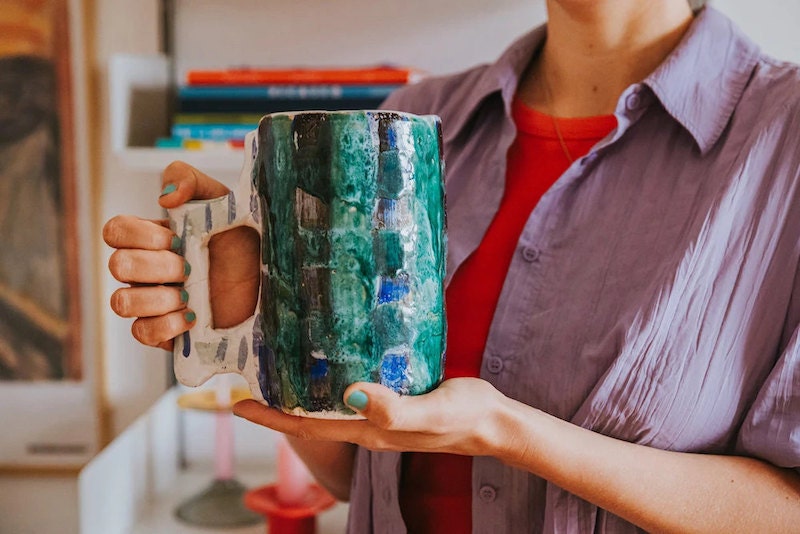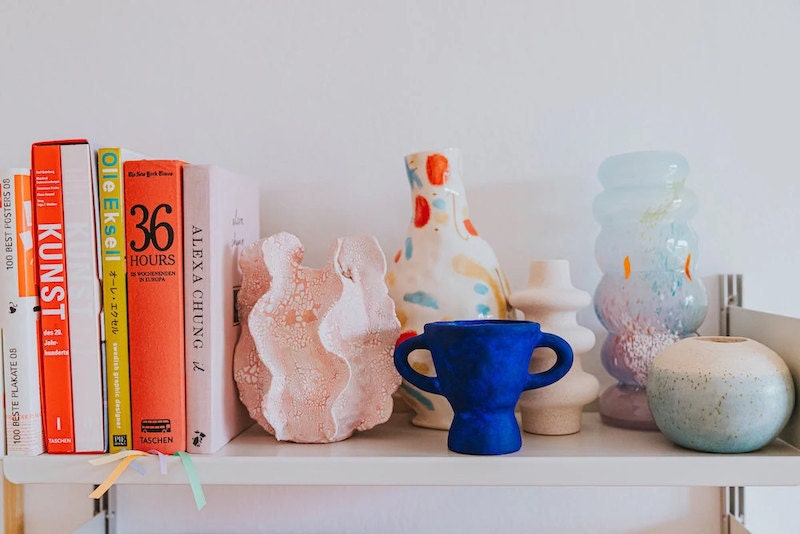 Frauke's interiors wish list is very long—but contrary to what you might expect, it's not a colorful item that tops the list. "If I had enough money, I would buy a large light sculpture by Isamu Noguchi," she says.
Her own art, explained
Frauke opened her Etsy shop just before Christmas in 2019, and chose to name it Illustration44 after the Berlin district of Neukölln. Originally, she only intended to sell a small batch of calendars, which she had created for friends and family. "The calendars sold out in no time, and since then I've been offering more and more illustrations," she says. Today, her popular posters feature snapshots of colorful interior worlds and architectural motifs: a summer bouquet of flowers, a spaghetti still life, or a candy-colored living room scene, to name a few.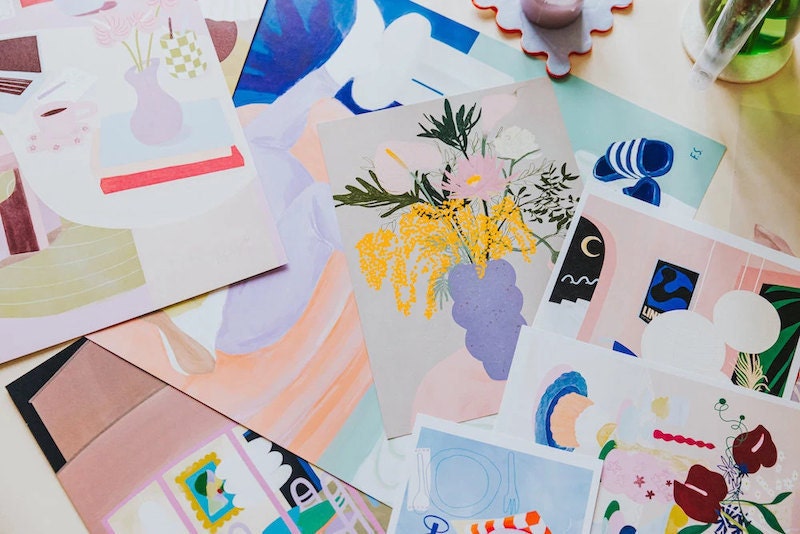 SHOP: Assorted prints from Illustration44, from $7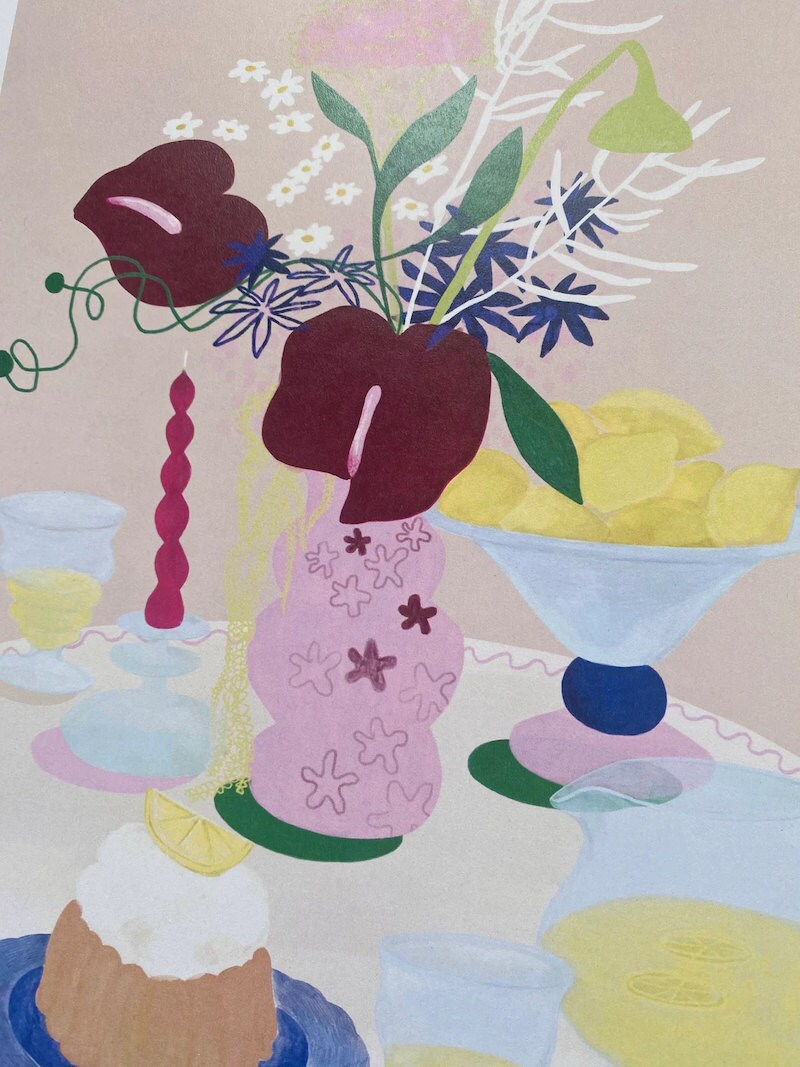 SHOP: Lemon still life print from Illustration44, $7
To create her original illustrations, Frauke uses both analog and digital formats, and allows each project as much time and space as it needs to become a finished piece. Often she starts with a sketch and subsequently determines the layout of the picture, scanning different textures and shapes into her computer and refining from there. "Then I decide on the colors and after that it goes relatively quickly. But sometimes I'll spontaneously feel like illustrating a certain object," she explains.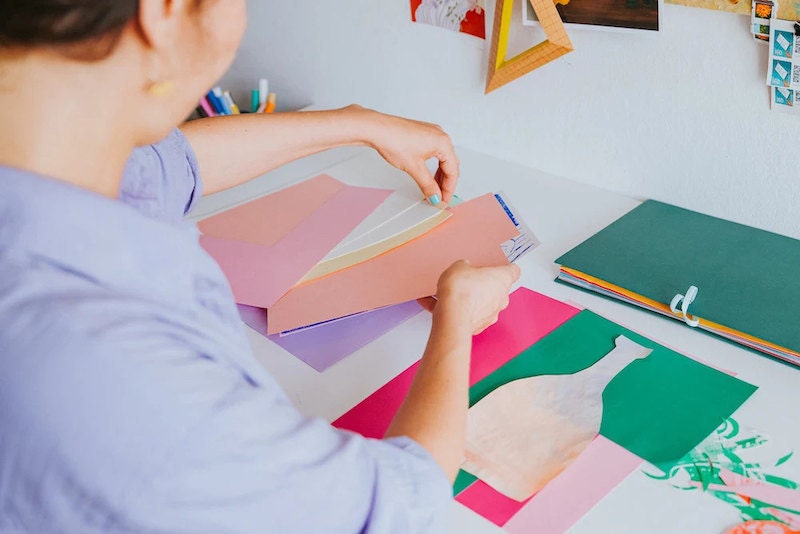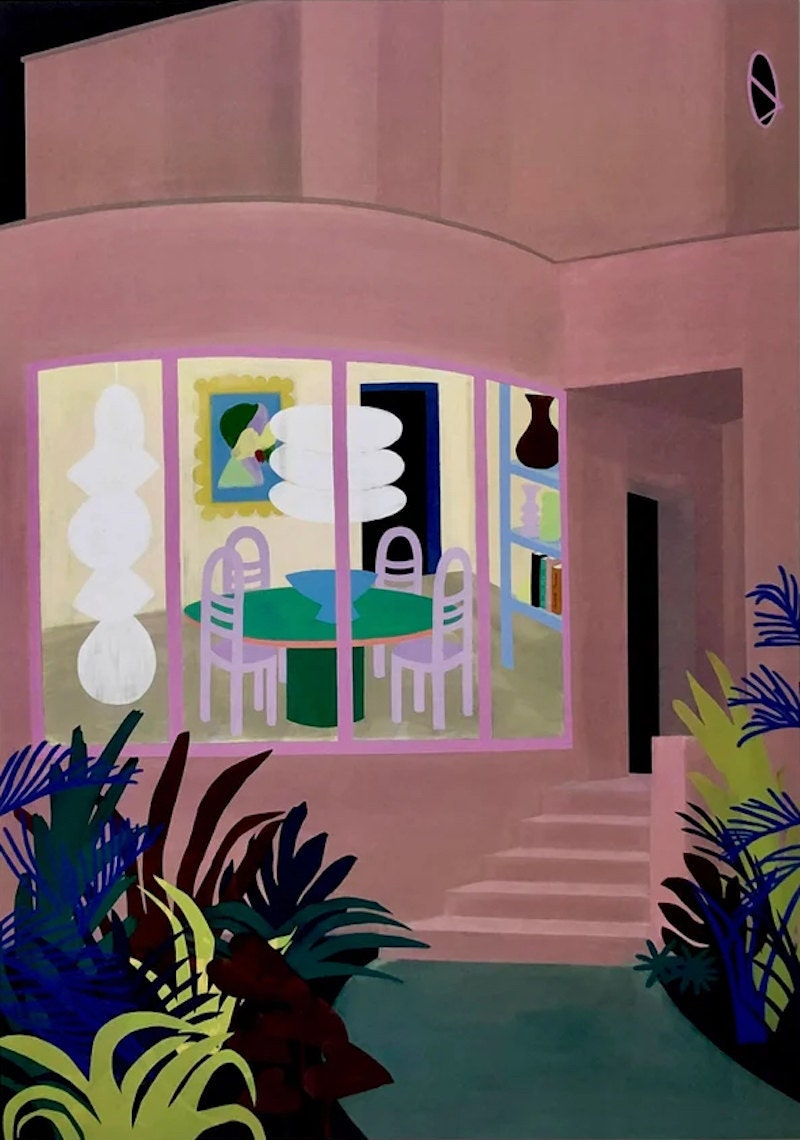 SHOP: "Lighted Windows" print from Illustration44, $13
Frauke's illustrations evolve by moving individual elements around and playing with many different color combos. "This method takes much longer, but it's also more fun for me, because it randomly creates beautiful combinations, structures, and settings," she says. She sees her own style changing constantly, as she likes to experiment with different techniques, but a throughline persists: "A certain level of naiveté and passion for color has become ingrained in my work," she says.
Work-from-home vibes
As for where the magic happens? Frauke uses one half of a room in her apartment as her workstation. Small but perfectly suited, there's enough space for a long desk and the walls are covered with shelves and cabinets to store all her utensils. "I try to keep my station as tidy as possible, otherwise I struggle to get started on a new project," she says.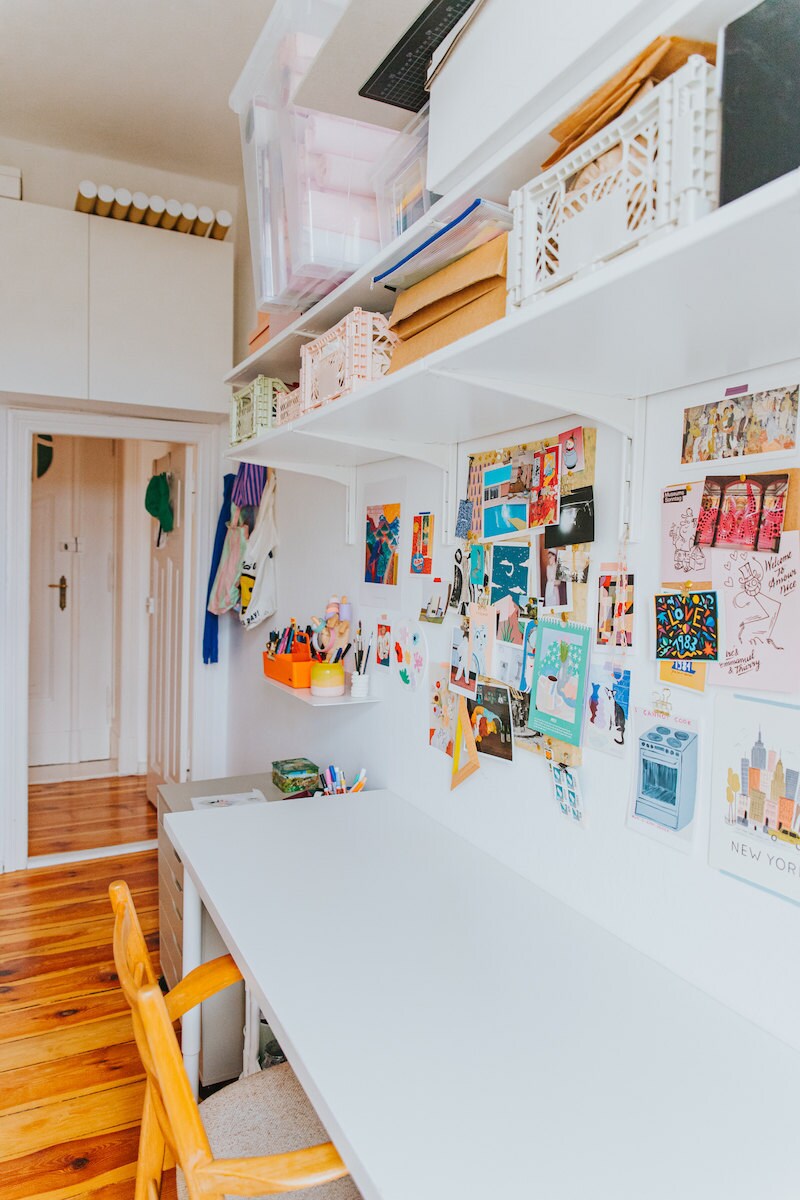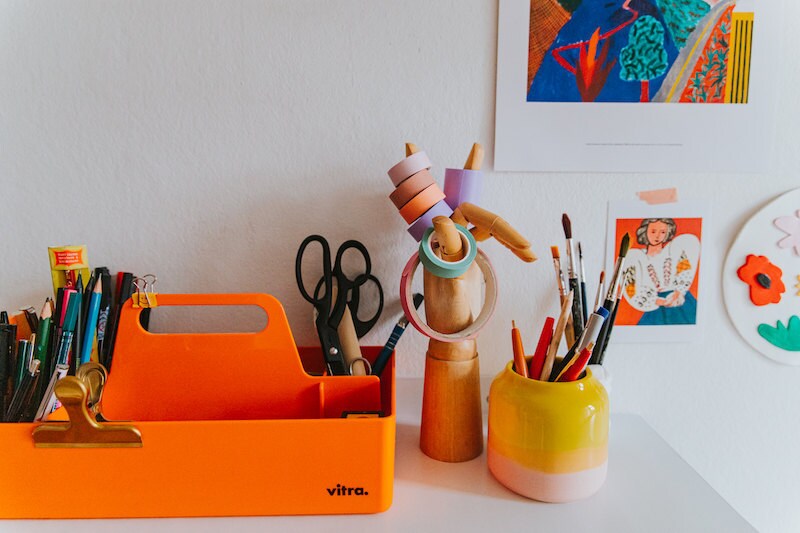 Despite having her own dedicated studio space, Frauke's favorite place to work in her apartment remains the kitchen, a beautifully bright and cozy room with a wonderful view of a small park. "I think being able to work effectively first and foremost comes down to a sense of well-being. Since I feel very comfortable at home, I can work particularly well there."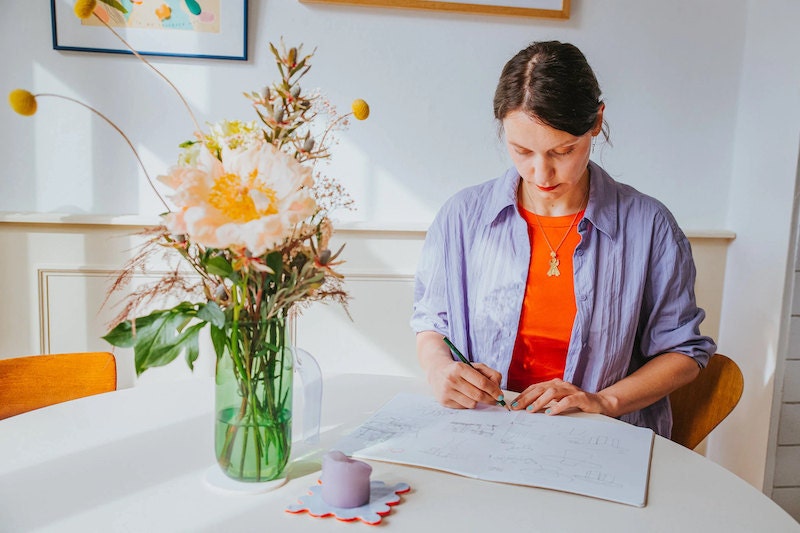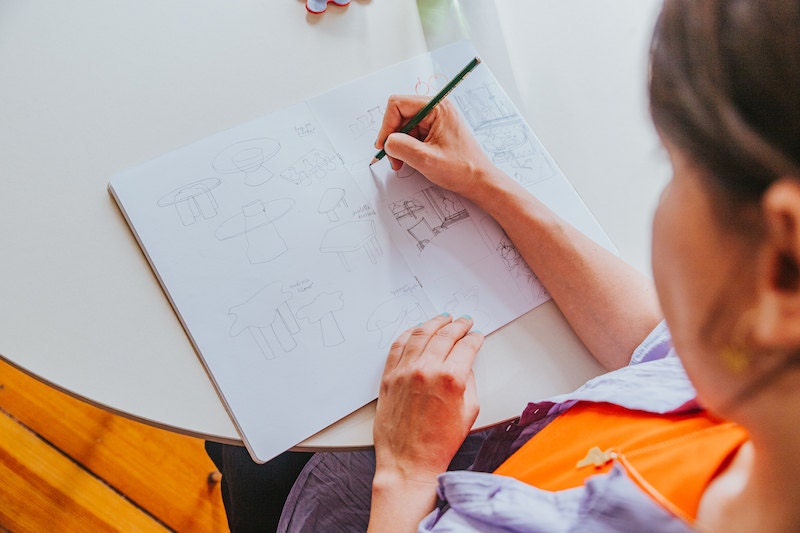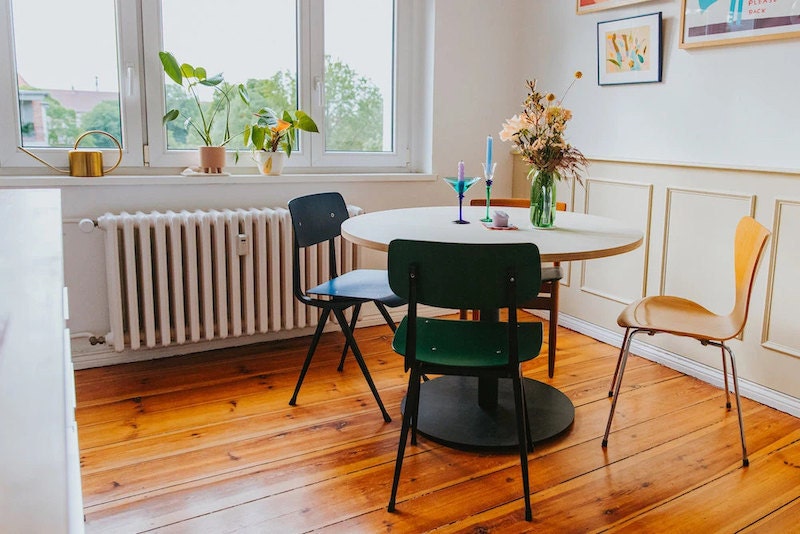 But when it comes to gleaning inspiration for new pieces, Frauke knows she needs to get out of the house and experience new things, too. As a keen architecture enthusiast, she prefers to do this while traveling and plans entire vacations around buildings she wants to visit—preferably modernist houses. "So far, each trip has been more than just a sightseeing tour; I've learned a lot about the people who lived there and the historical context in which each building was created," she says.
Get the look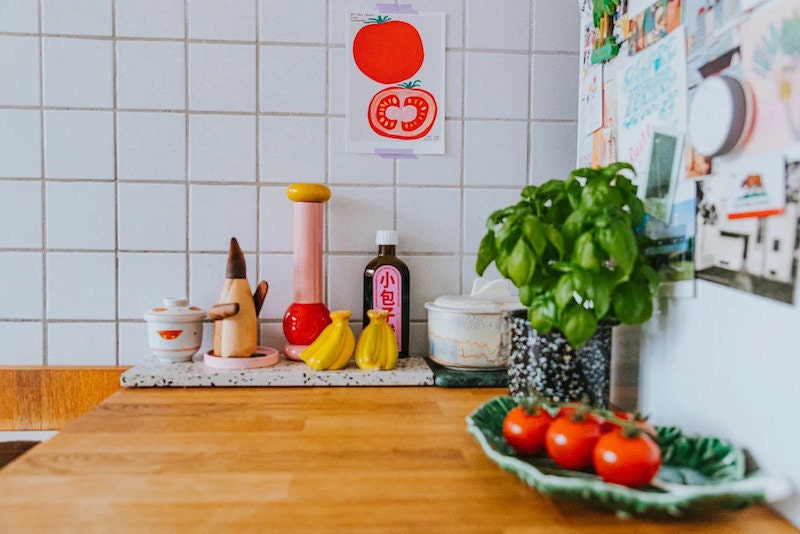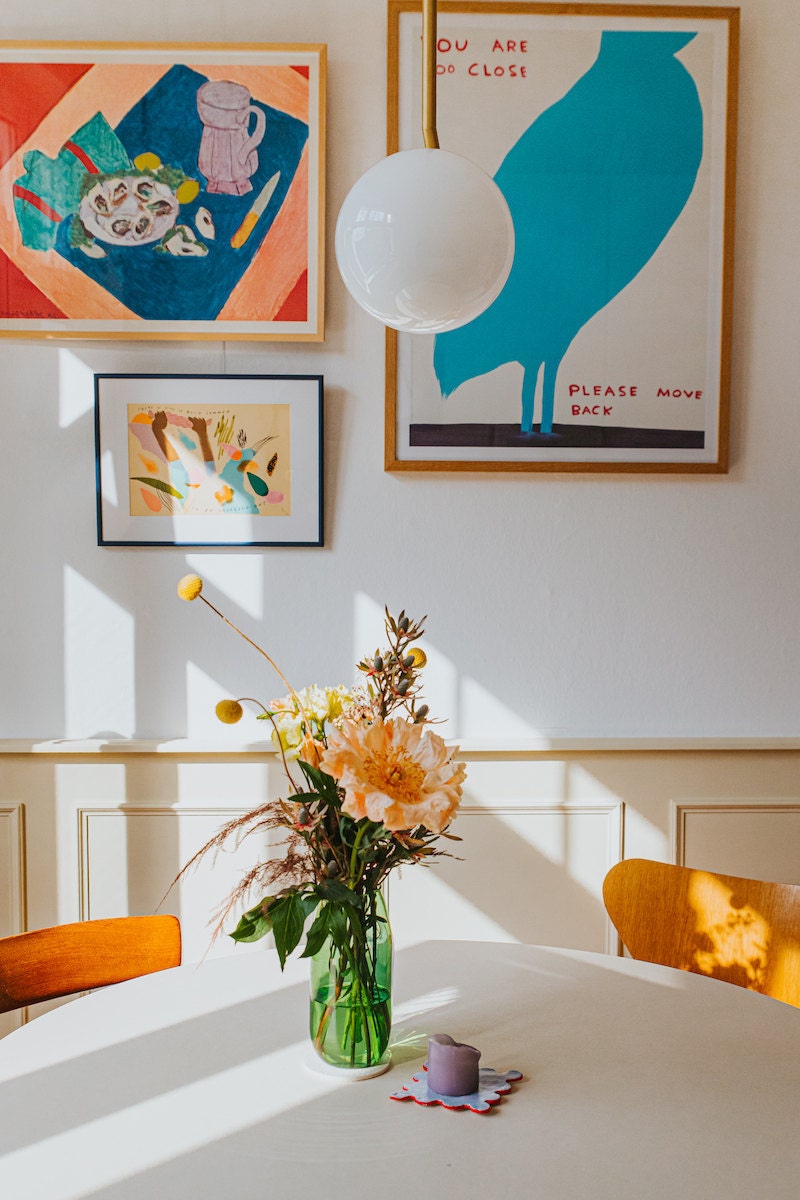 As for decor enthusiasts who want to inject more color into their own homes, but may find the first step challenging? "Of course I recommend one of my colorful prints," Frauke suggests. "But in all seriousness, I find that with pictures and small decorative pieces like pillows or ceramics, you can quickly add color to a space without immediately going over the top."
Shop finds inspired by Frauke's home design: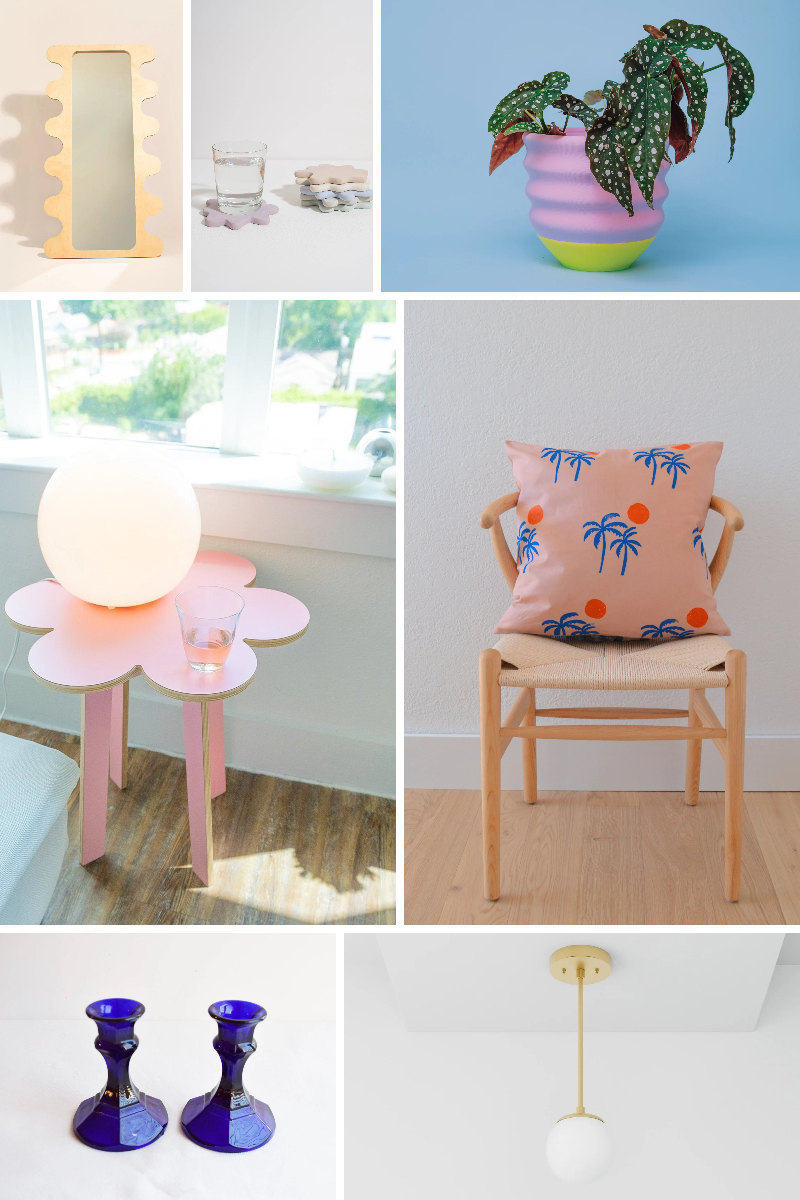 SHOP (clockwise from top left): Wavy mirror from TITO Art & Design, $395; pastel concrete coasters from Beton Creatif, from $17; colorful ceramic planter from Object Lover, $55; block-printed pillow cover from Julie Peach, $52; white globe pendant light from Illuminate Vintage, from $153; set of two vintage blue glass candle holders from Lydas Lovely Largess, $40; curvy floral side table from Orbit, $275
Photography by Nadine Kunath.