Today we celebrate with a look at six stellar female artists who depict women in all their beauty, power, and diversity.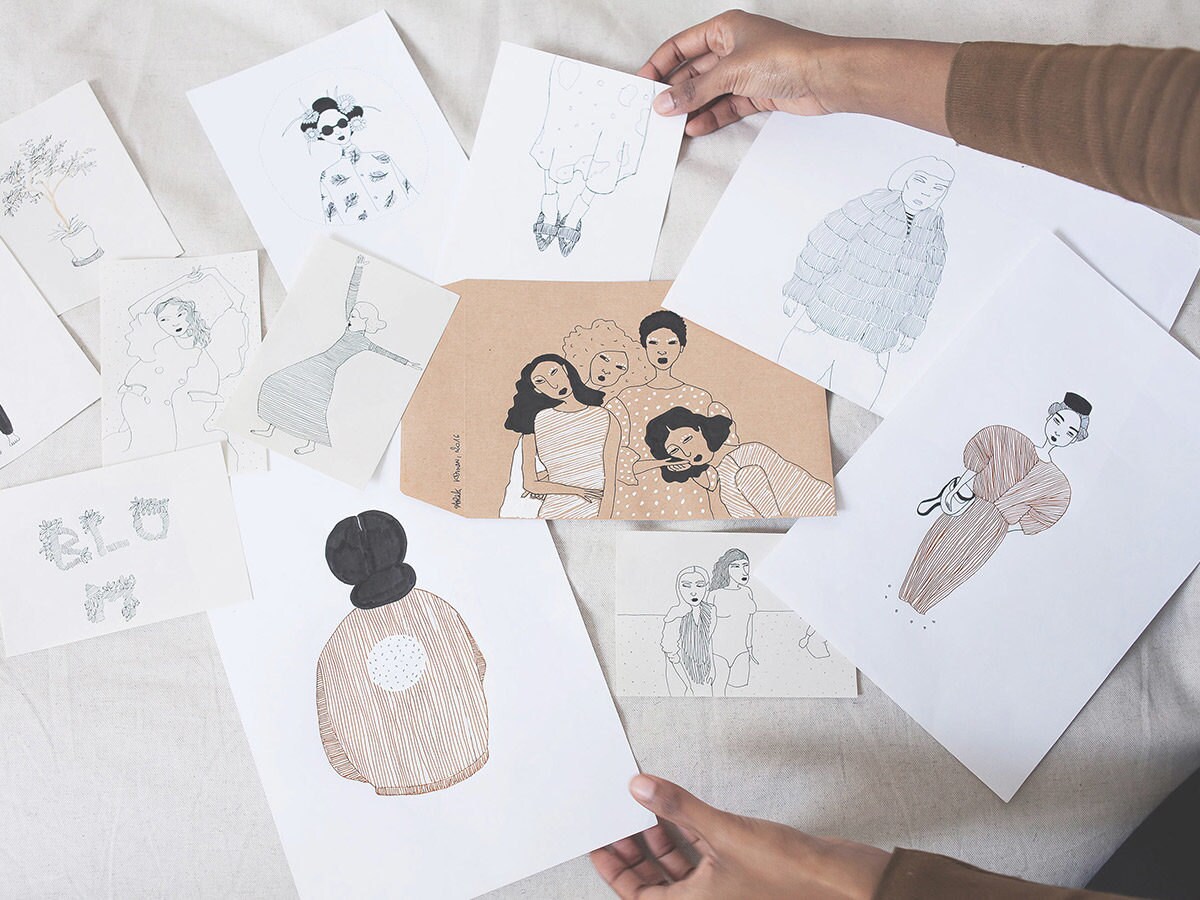 From the
Mona Lisa
to the
Girl With the Pearl Earring
, the most famous women in visual art haven't typically been women artists but the subjects, almost inevitably, of male artists. Women may have provided the inspiration, but men made the art—and by doing so, took ownership of female beauty and representation for centuries. Of course there are exceptions, from medieval polymath
Hildegard of Bingin
to Qing dynasty painter
Chen Shu
; works like the Baroque masterpiece
Judith Slaying Holofernes
by Artemisia Gentileschi present a fascinating, women-centric visual world. But a trip through any major art museum will confirm the dominance of the male gaze. It's been refining the female form for centuries, and it's not giving up without a fight. Consider this a beautiful rebuke to all that. This
International Women's Day
, we're celebrating the work of six women artists on Etsy, all of whom feature women prominently in their art. From borderline surreal scenes with determined female protagonists to abstracted celebrations of wrinkles and curves, these artists' works are as unique and compelling as the women represented within them. Scroll on to discover your next favorite artist, full stop.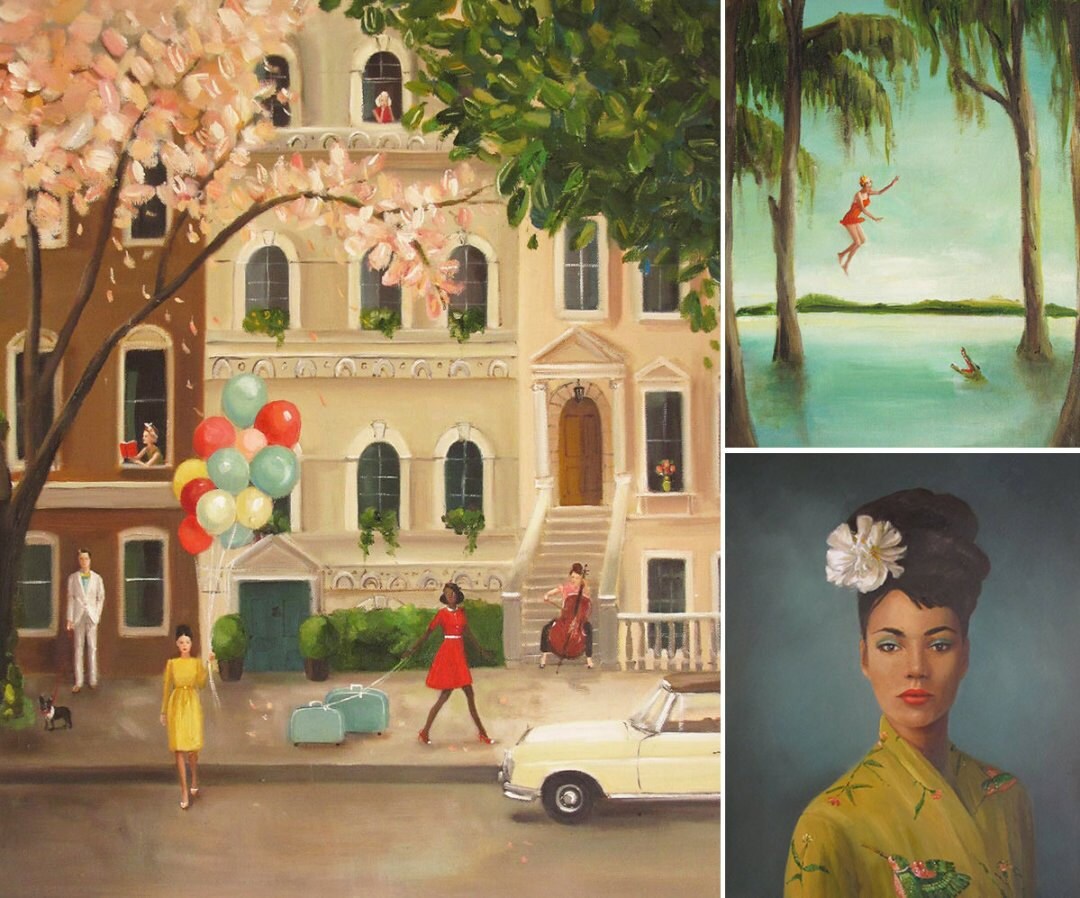 >
The first thing you notice about the women in
Janet Hill's work
is their authority—and their interest in a world that does not include you. They may
look off-frame
. They may
peer into another world
. They may
obscure your view
of what they see. Or they might
stare you down
. They are often also contending with some level of distress. "I tend to depict women in the midst of dealing with absurd and sometimes precarious situations—falling into quicksand, battling crocodiles, or kidnapping a potential suitor," Janet says. "But they always handle their individual predicaments with dignity and style." The artist, who lives in Stratford, Ontario, says that her previous work was based more in fashion illustration, a viewpoint that's expanded to become more character-rich and political. "I focus on women in my work because I feel that we are still underrepresented in art—not in the sense of the female form, but in the sense of who we really are," she says. "I'm interested in exploring strength, happiness, whimsy, and independence."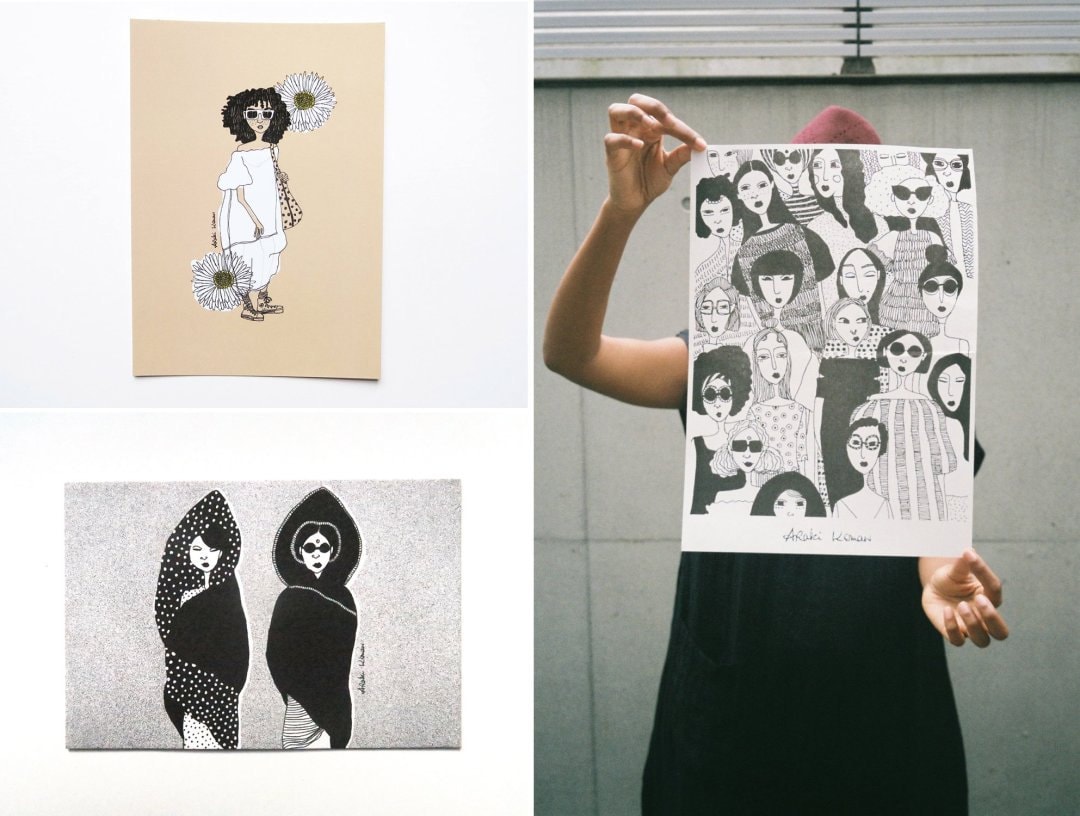 >
"Growing up, I had a poor level of self-love and confidence, and I used to draw sexy women with more prominent body features than I had because I thought it was the only way to be beautiful and feminine," says
Araki Koman
, a Parisian based in London whose clients include top advertising firm Wieden + Kennedy. "Today my perception of beauty has completely shifted—I now draw women with unique and authentic features, sometimes raw and imperfect—yet comfortable with who they are." That aesthetic is amply on view in Araki's work, which celebrates women's innate individuality and strength—like
this drawing of dance legend Martha Graham
. Araki says her view of her own body has shifted along with her depictions of others: "I am now proud and happy to have small breasts and a never-flat belly. And I wouldn't trade my boyish, oversized clothes for anything."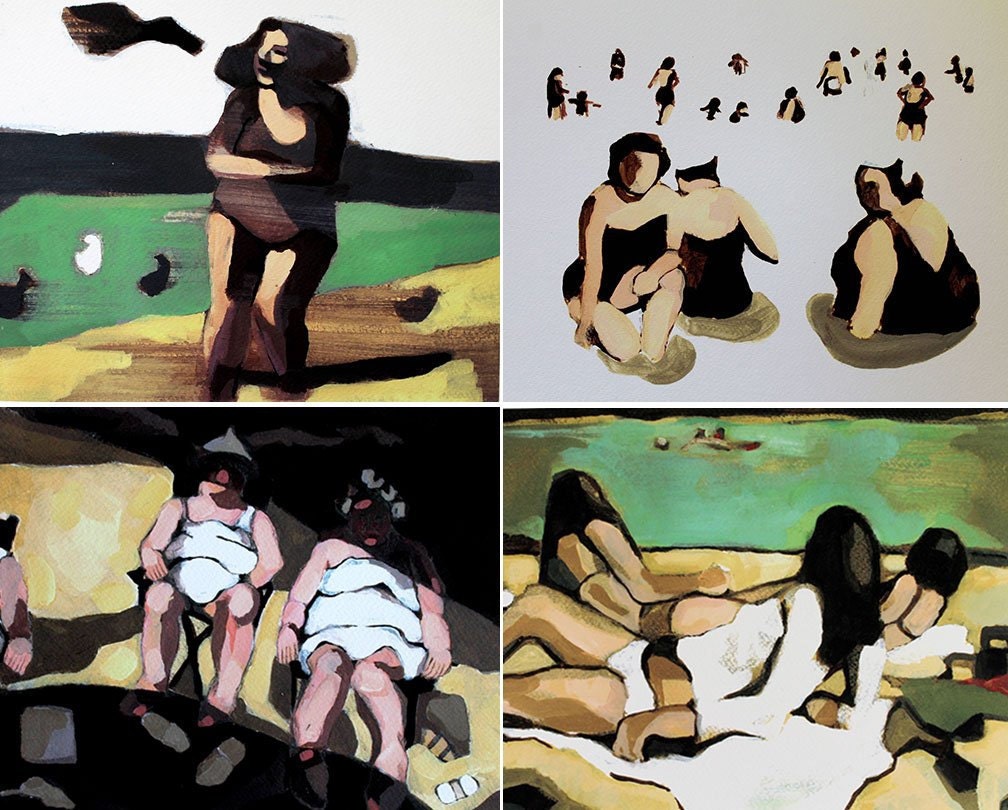 >
Even when they're depicted in bathing suits, fine art painter Aliaa Essam's female
subjects
feel intensely powerful: They are solid, grounded, some with thick waists and broad shoulders. They are beautiful and compelling, despite operating outside what we usually expect of half-clothed women in contemporary visual arts. "I'm not attracted to standardized beauty—at least for the time being," says the artist, who is Egyptian but lives in Switzerland. "I prefer normal woman, the ones you find in your daily life. I like chubby ones, I like
old women
's wrinkles, girls with unusual facial expressions. And from a technical point of view, the lines of women's bodies are appealing to me—the curves, the irregularities, the colors. The ladies that inspire me have their own flaws."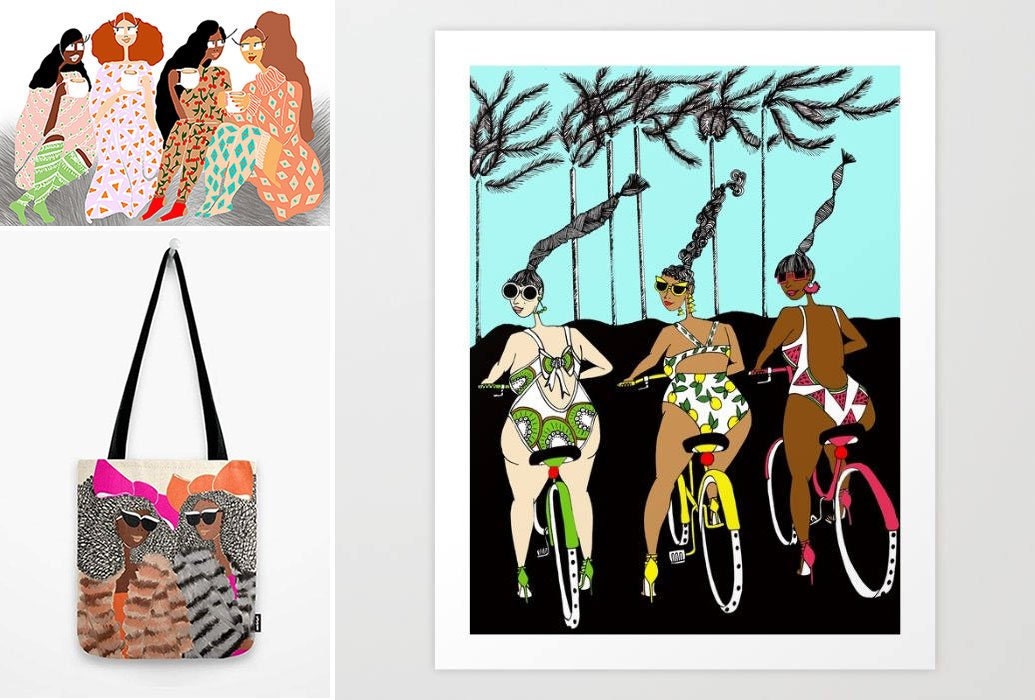 >
Native Brooklynite Karina Daniel Parris describes her viewpoint as unabashedly girly: "I grew up mostly around men, so whenever I was around women I saw how much fun it was to be one," says the artist, whose work showcases women with exuberant style, wearing billowing dresses, on-point accessories like oversized sunglasses and jewelry, and must-be-seen makeup. After beginning by drawing family and friends, her field of interest has grown. "When I first started to create
Lovely Earthlings
, I mostly drew girls that looked like me and dressed like me," she says. "Now I draw girls that I see around me. They're particularly inspiring to me because of their unapologetic lifestyle—they do what they want and dress how they want, and it's beautiful."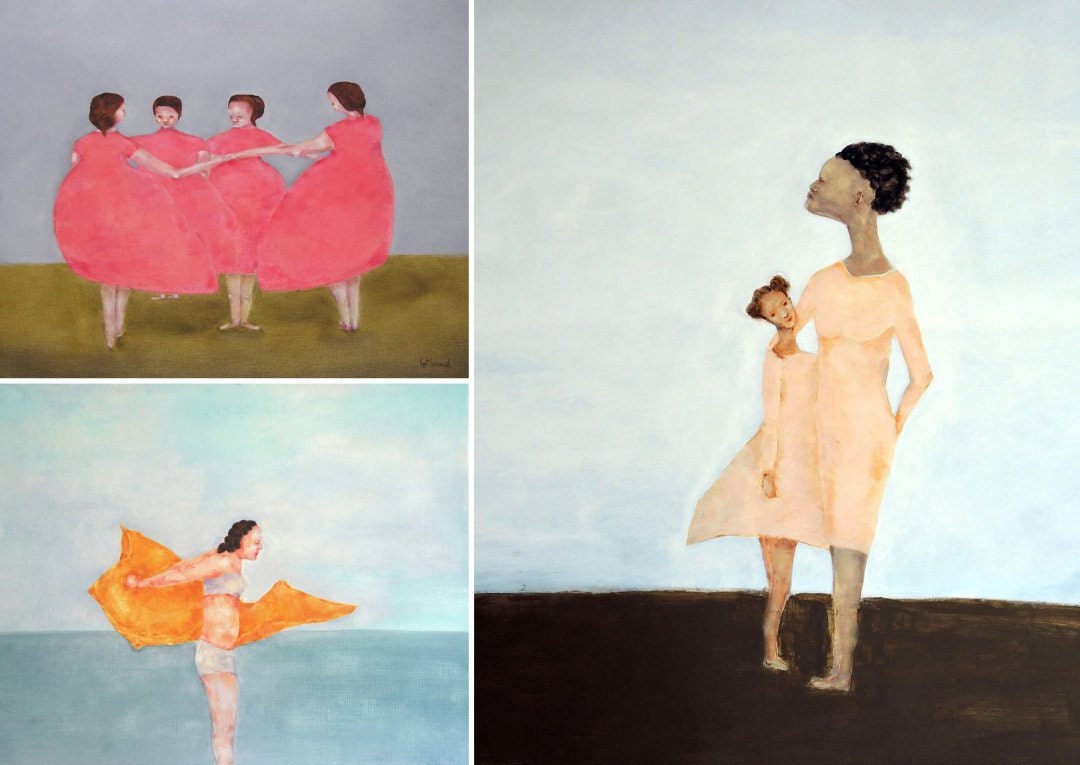 >
Kat Hannah of
inapaleplace
's entry point for exploring the lives of women in her painting was portraits of mothers and daughters. "That evolved into a celebratory depiction of women in narrative tales," says the artist, who lives in Philadelphia. Now her subjects confront a strange, mystical world—like
this woman, shown in a boat
, whose predicament is made clear in the work's title:
Over the Side
. "My figurative works, at times bittersweet and reflective, are much like the defining events in all of our lives and are caught in the moment between things and places," she says. Despite the peril evident in much of her work, Kat says her intention isn't to showcase this danger but to highlight her subjects' determination to conquer it—"to demonstrate their sense of centering or their ability to conquer adversity." She says: "The hope is that the viewer will experience kinship, solidarity, and a sharing in the human spark."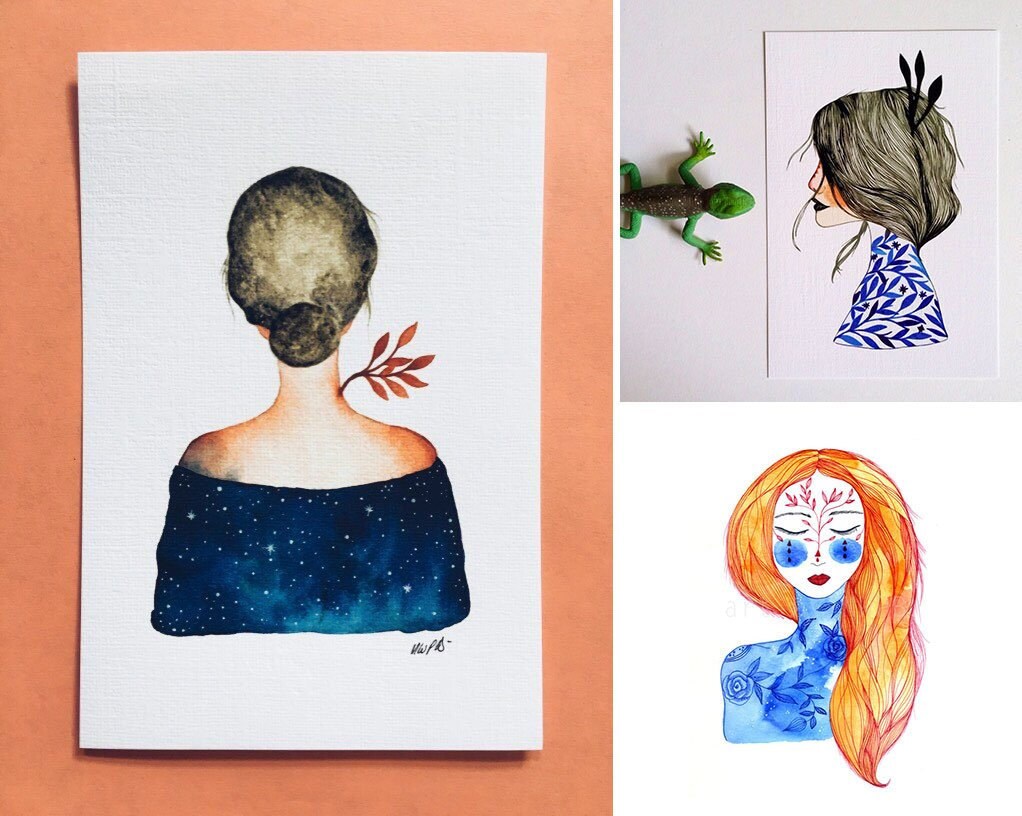 >
Nods to the natural world are a consistent presence in the work of Puerto Rican artist Nieves Waleska Pumarejo Blanco of
Toshisworld
: an anatomically inspired heart blooms with flowers, a "tiny galaxy" is encircled by a garland of leaves. Her
latest work
adds depictions of women to this landscape: One wears a
necklace made of vines
, while
another subject
seems to have entwined herself so thoroughly that it is no longer possible to see where she ends and the foliage begins. They are no longer just women, Nieves says, but "beings connected to nature and the unknown—and also connected to themselves to find their own voice, their own strength." They take their inspiration from women close to the artist. "I grew up with my mom, my aunt, and my mom's friends—all of them single—so the masculine figure was more like a ghost, someone who appears and disappears," she says. "Since childhood I've drawn women because they were my role models—the only figures that I know well." Their central appeal to her as an artist, she says, was their power. "I think women have a great power and wisdom to change and heal—not only themselves, but an entire society and world."