Level up your jewelry game this spring with beautifully crafted bangles, chic chokers, and dazzling drop earrings that feel oh-so you.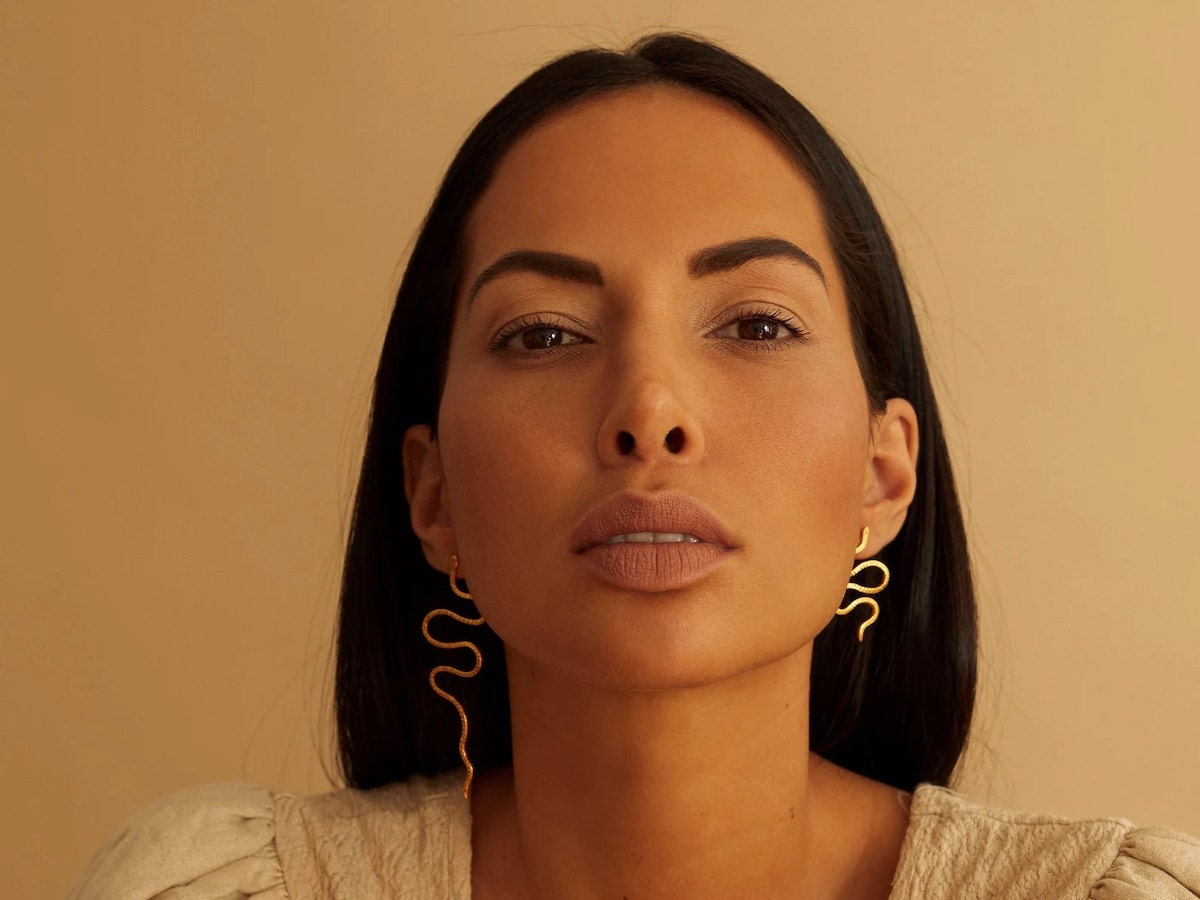 A delicate mood ring that's an elevated version of your childhood gum ball prize. An elegant drop earring that makes a statement for an evening out. A set of colorful fabric bangles that give your outfit major glam girl vibes. Whether you're staying in and enjoying a romantic dinner for two, getting ready to paint the town with your crew, or simply looking to add a sparkly number to your capsule wardrobe collection for your next grocery run, a well-crafted jewelry piece can easily transform an outfit for any occasion.
Not sure where to start? With the help of Etsy's Trend Expert Dayna Isom Johnson, we've rounded up five up-and-coming jewelry trends to try before they pop up everywhere, from playful '90s- and Y2K-inspired charms to ultra-romantic choker necklaces.
"Savvy style mavens are constantly seeking out unique, high-quality pieces on Etsy to express their personal style," Dayna says. "We're the ultimate destination for stunning staples at accessible prices and custom designs you can't find anywhere else." Read on for a sneak peek at some of the eye-catching original designs from independent makers that currently are on the rise.
Drop earrings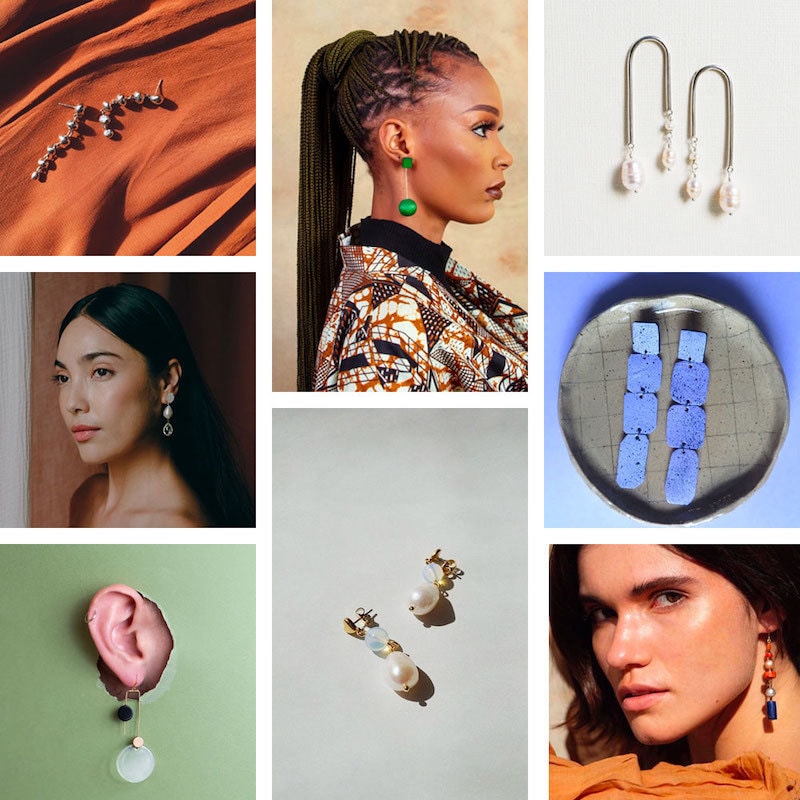 SHOP (left to right, top to bottom): Silver star drop earrings from Elizabeth Leflar, $278; boa drop earrings from CeCe Finery, $33; arc pearl drop earrings from Gem Blue, $74; stone drop earrings from hushed COMMOTION, $145; lilac statement earrings from Ame Isa, $34; abstract drop earrings from Studio // Blue Jeanne, $42; moonstone and pearl drop earrings from Foe & Dear, $49; lapiz lazuli and coral bead earrings from Victoria Elisabeth A, $84
From elegant pieces adorned with crystals and gemstones that dangle just below the earlobe to dramatic shoulder-skimming styles that amp up the glamour, drop earrings deserve their place in every jewelry box. Style your pair with an earring stack if you rock multiple piercings or layer on lots of long necklaces for a full-on maximalist moment.
The new boho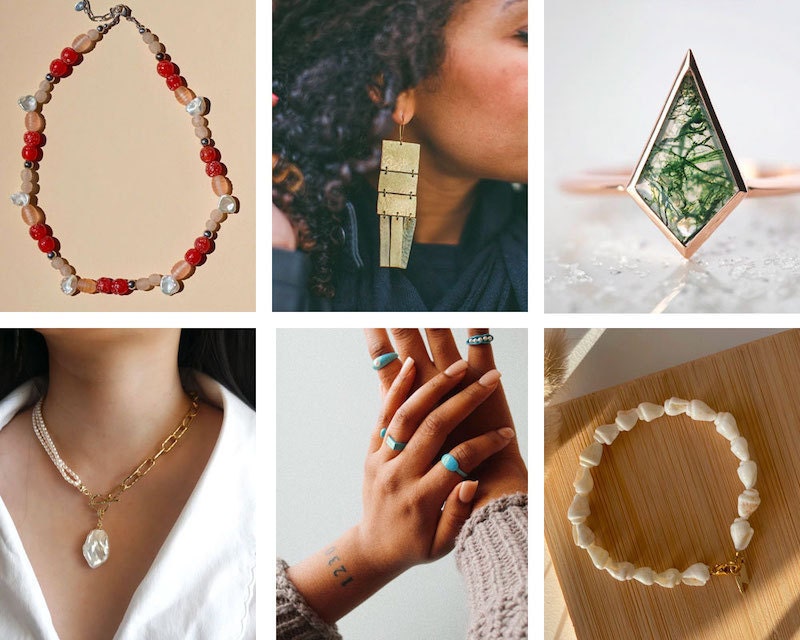 SHOP (left to right, top to bottom): Beaded choker necklace from Aleishla Jewelry, $120; brass dangle earrings from Enarmoured, $165; moss agate engagement ring from MinimalVS, from $780; pearl pendant necklace from WhiteMelismaPearl, $88; blue resizable ring from Mary Jo Accessories, $10; shell bracelet from ÉCLA BIJOUX, $16
Boho styles aren't going anywhere, but lately we're seeing hippie-chic jewelry get a grown-up refresh. "This elevated bohemian aesthetic still embraces a free-spirited, earthy attitude but in a more modern way, with a touch of the under-the-sea-inspired 'mermaidcore,' trend," says Dayna. Combine natural motifs like pearls, shells, and stones (hello, moss agate!) with delicate beads or sleek metallics, and you've got an outfit that's sure to make major waves.
Jewelry for your inner child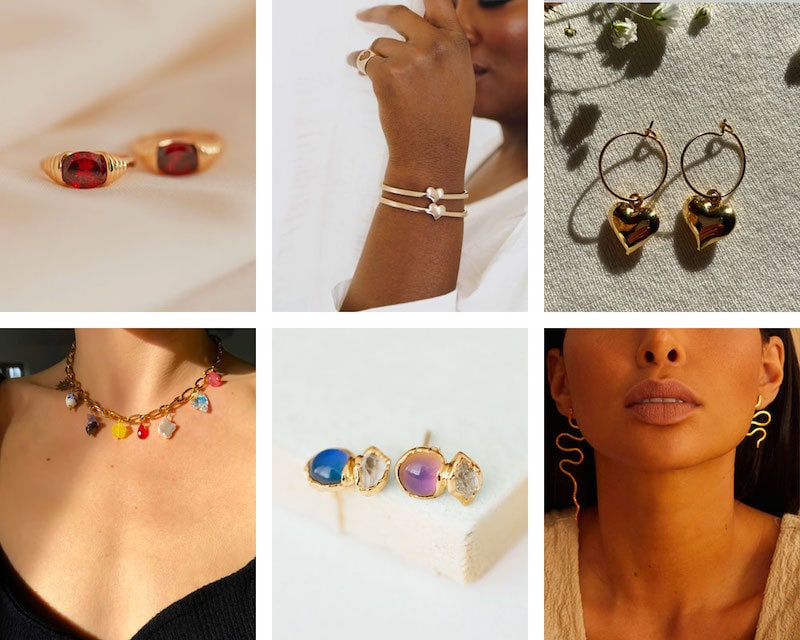 SHOP (left to right, top to bottom): Garnet signet ring from Caitlyn Minimalist, $45; heart cuff bracelet from L.Greenwalt Jewelry, $93; puffed heart hoop earrings from Bitten Earth, $13; charm choker necklace from Komorebi Creation, $69; mood earrings from Dani Barbe, $76; asymmetrical snake earrings from La Géométrie Jewels, $97
Part of what some folks are calling 'kidulting,' which embraces playful approach to style, novelty jewelry from decades past are returning to prominence. "Think: early aughts staples like old school friendship bracelets, puffy heart pendants, symbology and serpent jewelry, and 'power pinky' signet rings," Dayna says. One more familiar favorite making its way back into our everyday ensembles? Mood jewelry, with the classic color-changing stone making its contemporary debut on earrings and pendants, too.
Statement arms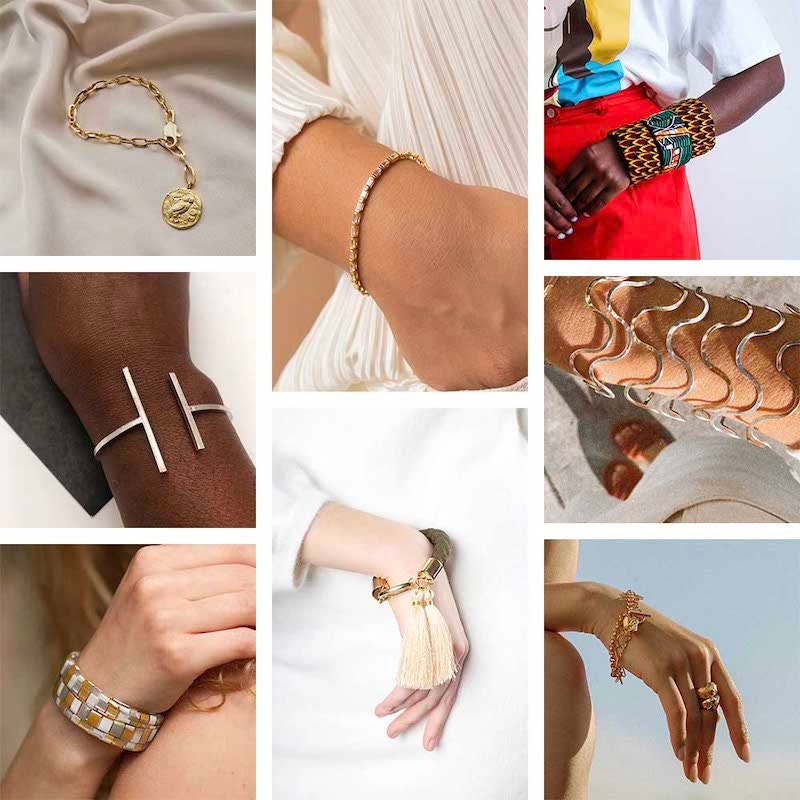 SHOP (left to right, top to bottom): Adjustable Greek coin bracelet from La Géométrie Jewels, $56; diamond tennis bracelet from Caitlyn Minimalist, $40; African fabric bangles from CeCe Finery, $31; geometric cuff bracelet from Ange B Designs, $207; wavy bangle from In Situ Jewelry, from $42; yellow and silver bracelet from NINIco Jewelry, $27; olive rope bracelet from YAYOI jewelry, $50; shell charm bracelet from Pamela Card Jewelry, from $283
After a few years focusing on "top dressing," it's time to give your forearms and wrists a little love with an eye-catching bracelet. Whether you choose a stunning set of sculptural bangles in an unexpected shape, a goes-with-anything handmade chain bracelet, or a sporty take on the traditional tennis bracelet, as temps warm up (and sleeves roll up), this is your moment to let your arms tell a stylish story.
Flower chokers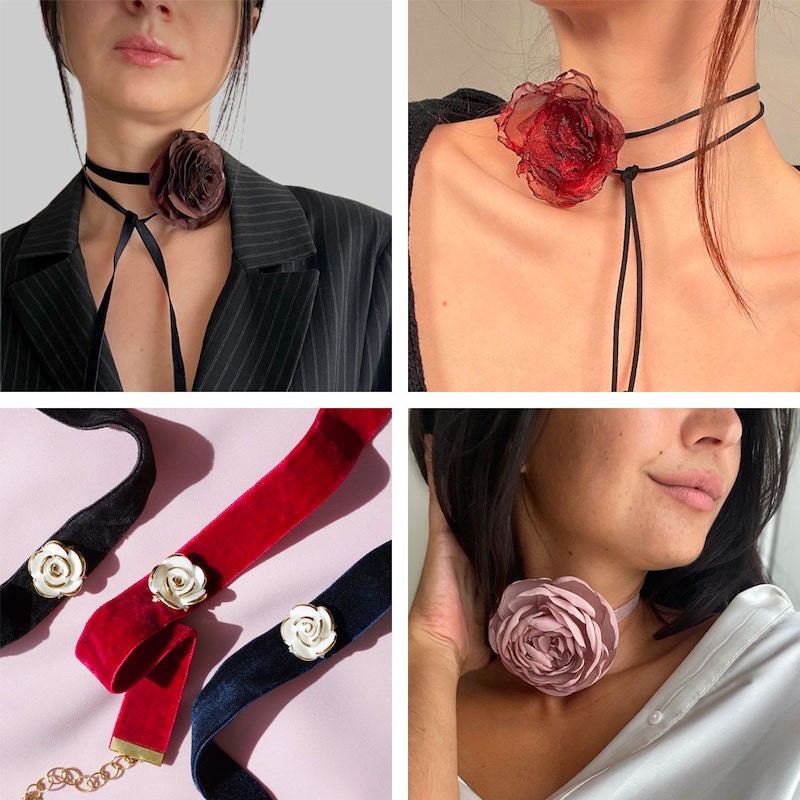 SHOP (left to right, top to bottom): Brown vintage choker ribbon from Mod Clothing Studio, $22; phantom flower choker necklace from Efflorescence By Xm, $54; navy velvet choker from POPORCELAIN, $180; pink flower choker from Mariupol Handmade, $17
A little bit romantic, a little bit punk, a floral neck corsage can become the cherry on top of any outfit. "Seen everywhere from the runway to the necks of celebs and style influencers, this '90s-inspired accessory makes a big impact with minimal effort, and pairs just as well with formal attire as it does a simple T-shirt and jeans," Dayna says. We're calling it now: This is one whimsical embellishment you're bound to see blossoming on all sorts of ensembles, just in time for spring.