The home decor expert and co-creator of the Jillian Harris x Etsy collection shares her top seasonal interiors tips.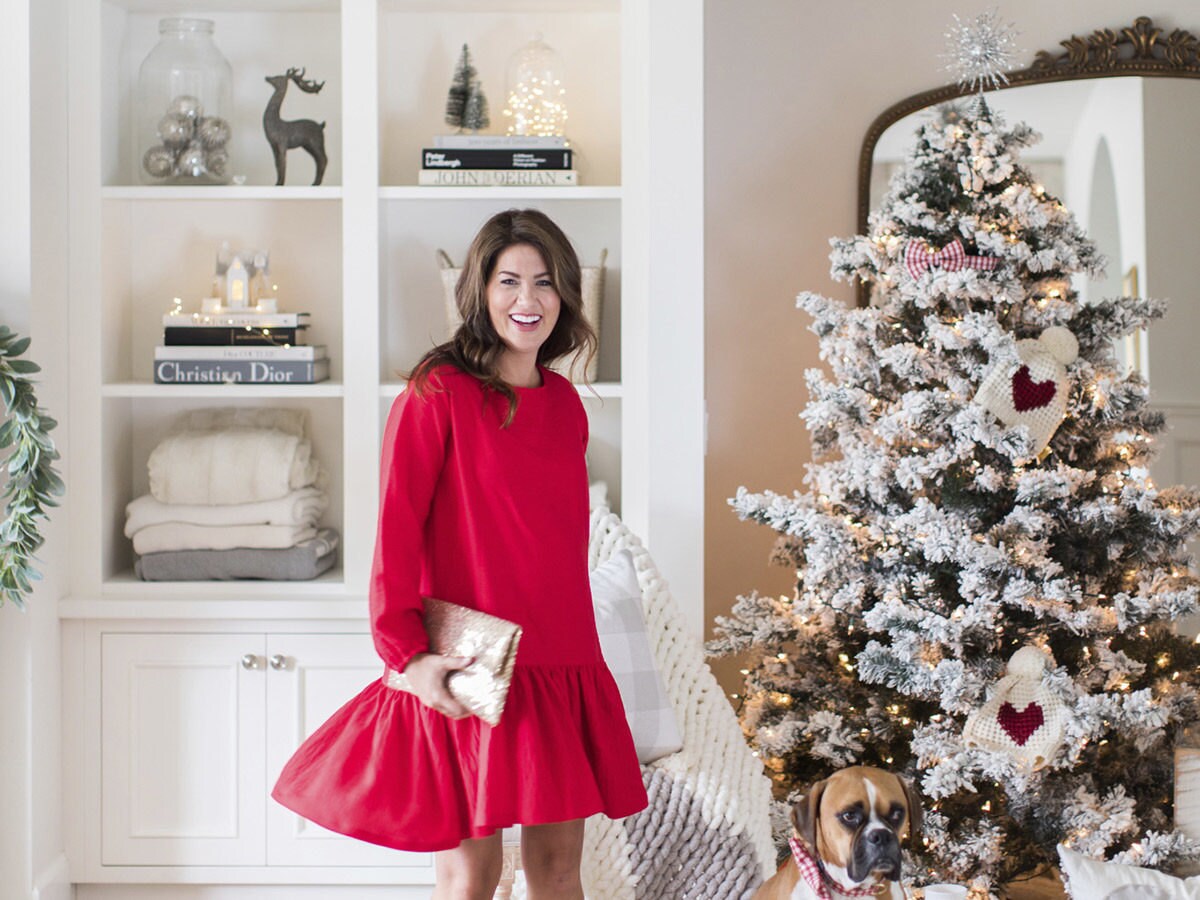 From the looks of the
holiday decor
aisle of your local big box store, you'd think it was mandatory to throw your personal style out the window come November and wholeheartedly embrace all things red, green, and jingle bell–adorned. Which not only isn't particularly creative, but also presents an aesthetic challenge for anyone whose tastes don't fit neatly in a tartan-wrapped box. Nobody understands this particular conundrum better than interior design expert, HGTV host, and former
Bachelorette
Jillian Harris
. "I'm the first to admit that I'm allergic to color," says Jillian, a lifelong lover of Christmas who is known by her fans for incorporating heavy doses of white, cream, and more white into the Kelowna, Canada home she shares with her fiancé, two children, and beloved Boxer pup,
Nacho Cilantro
.
But last year for the holidays, Jillian boldly waded into uncharted waters: "I introduced
red
into our home," she divulges gleefully. And as she added a hint of crimson here and a splash of cabernet there, she realized she could decorate in her signature understated style and cultivate an air of festivity at the same time. In the spirit of sharing her newfound approach, she teamed up with nine talented Etsy sellers to co-design a
limited-edition holiday collection
to help you do the same—all it takes is a little bit of sparkle, a couple cozy textures, and a few strategically placed pops of pigment.
Read on to discover her top six tips for neutrals-friendly holiday decorating, and shop the Jillian Harris x Etsy collection.
1. Have fun with textures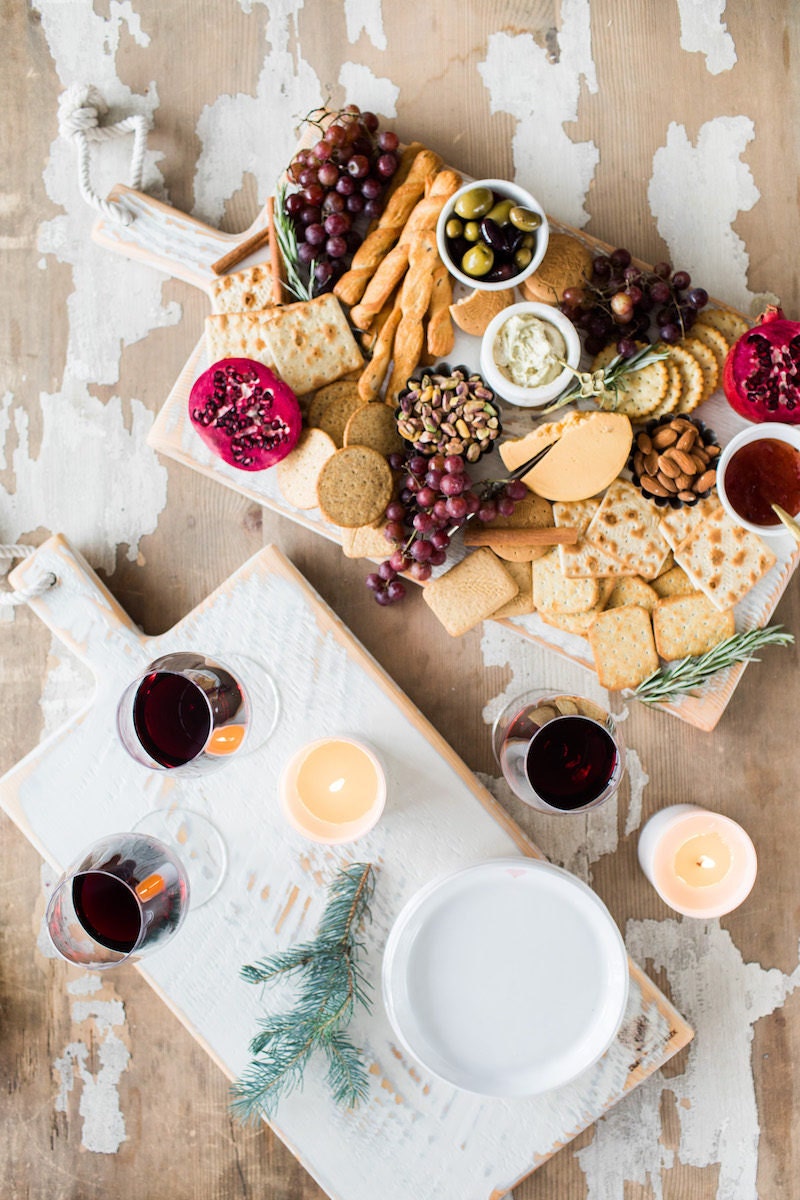 "I'm a big fan of piling on different textures to generate visual interest," says Jillian. It's a technique that allows you to stick to a single family of hues and still create warmth and dimension—two crucial components of any satisfying holiday display. Take
Crawford Creek Designs
'
whitewashed charcuterie board
, for example. The painterly surface of the board provides the perfect bright, white backdrop for your
showstopper snack spread
to shine—and plays particularly well atop a rustic farm table or other artfully distressed surface.
2. Pick an accent color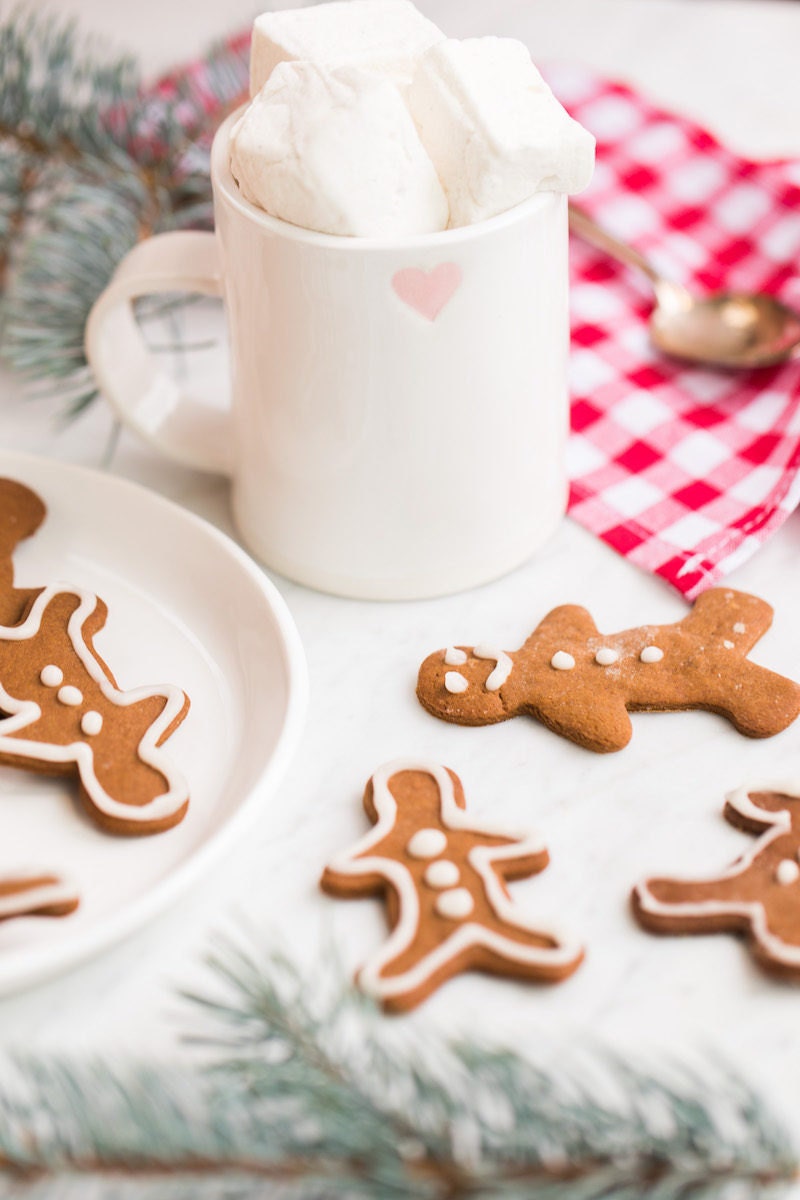 "Last year I learned that it's actually fun to to add pops of color into each room," says Jillian. But embracing color doesn't have to mean embracing
all
the colors. Instead, Jillian suggests choosing a single festive accent color (or two shades in the same color family, like the red and pink she selected) and bringing it in via
small touches
like bedding and table linens throughout your home. "It's amazing how a few minor additions can totally transform the look and feel of a space," she says. "Plus, come January, it's easy to switch back to your neutral standbys."
3. Mix metallics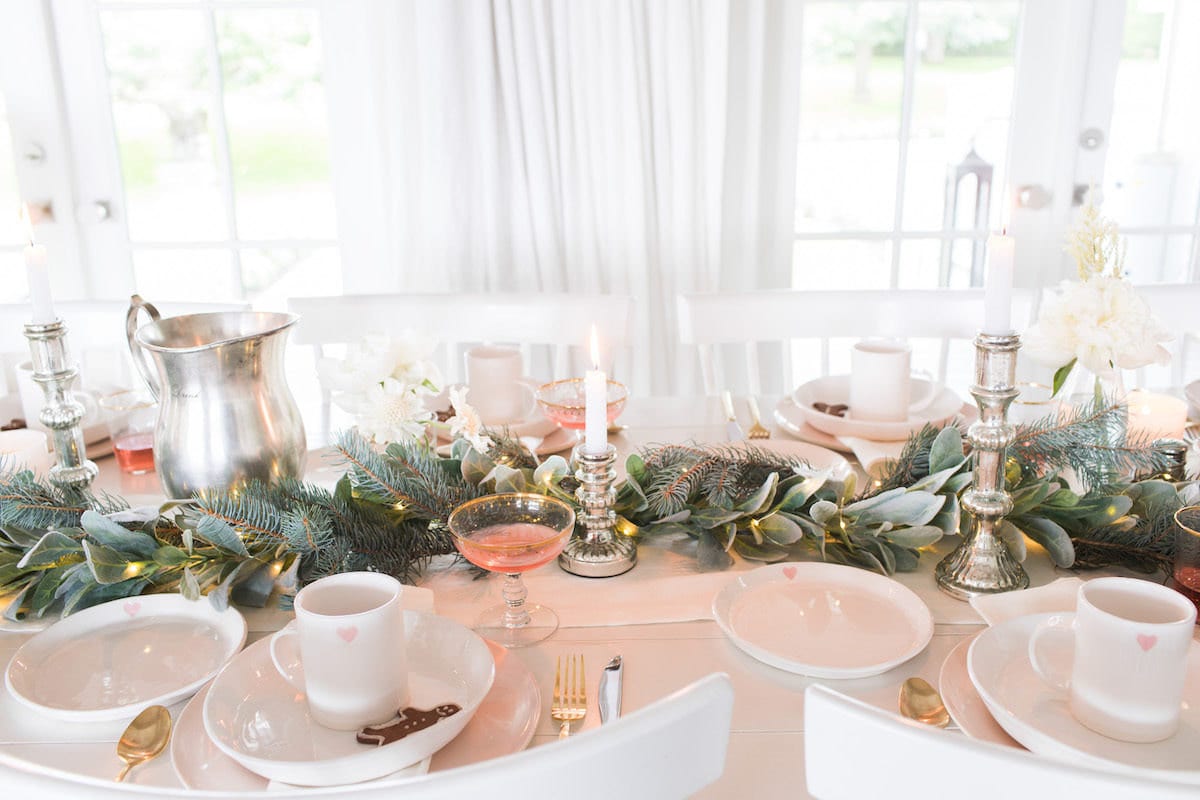 We gave up on picking a single metallic hue for our
jewelry
long ago—and we're excited for our
holiday tabletops
to follow suit. "I'm a big believer in mingling multiple metallic accents throughout a tablescape," says Jillian. "Here, the combination of gold flatware and silver candlesticks keeps things from feeling overly formal, and creates an inviting, relaxed atmosphere that helps guests feel at home." Pro tip: this incorporated approach works beautifully
off
the table, too—just imagine a mixed-metal menagerie of animal miniatures in brass and silver lining your mantel or bookshelf. Holiday #shelfie gold!
4. Dial up the cozy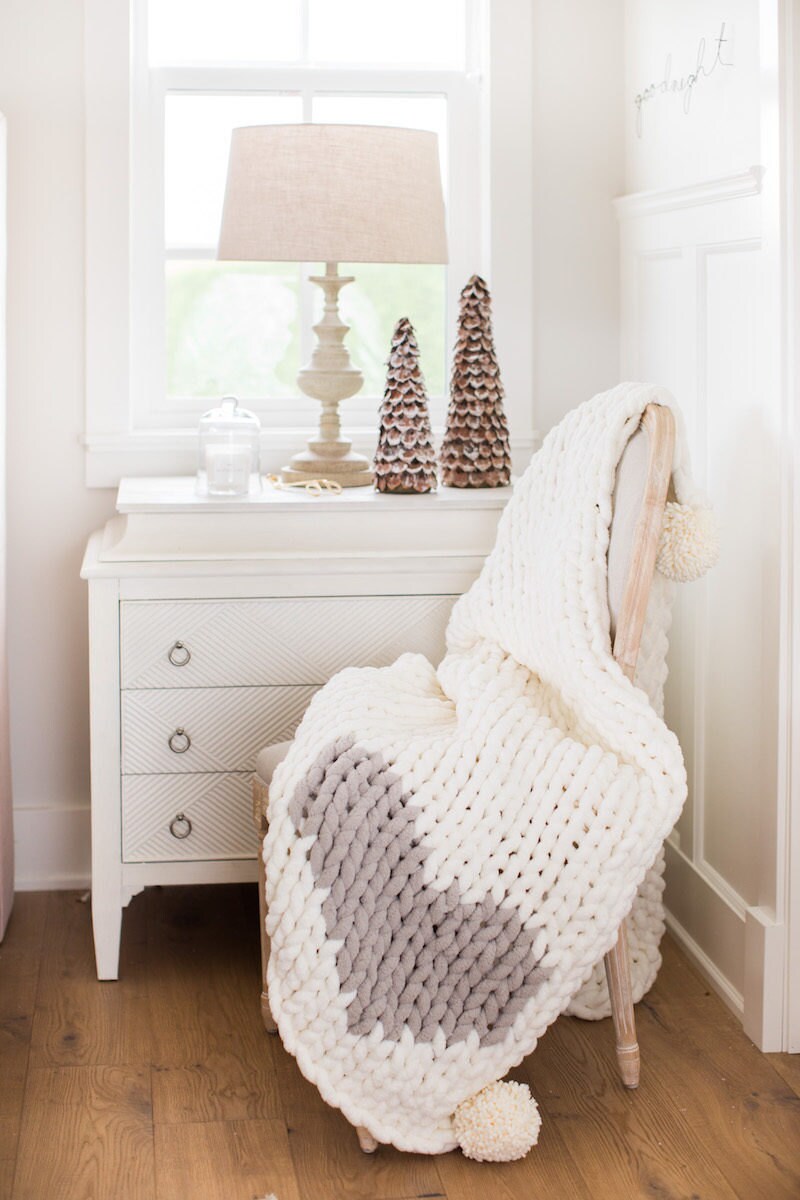 Fuzzy stockings. Roaring fires.
Coordinated jammies
. "The holidays are all about getting comfy and spending quality time with friends and family," says Jillian. "So I love adding cozy touches all around the house to help set the scene." Case in point? A chunky knit blanket by
Handmade by Chris & Kris
that's designed with cuddling in mind. "Just add some fluffy pillows to your sofa setup or toss a tasseled throw over a chair for an instant boost in holiday cheer."
5. Go for muted greenery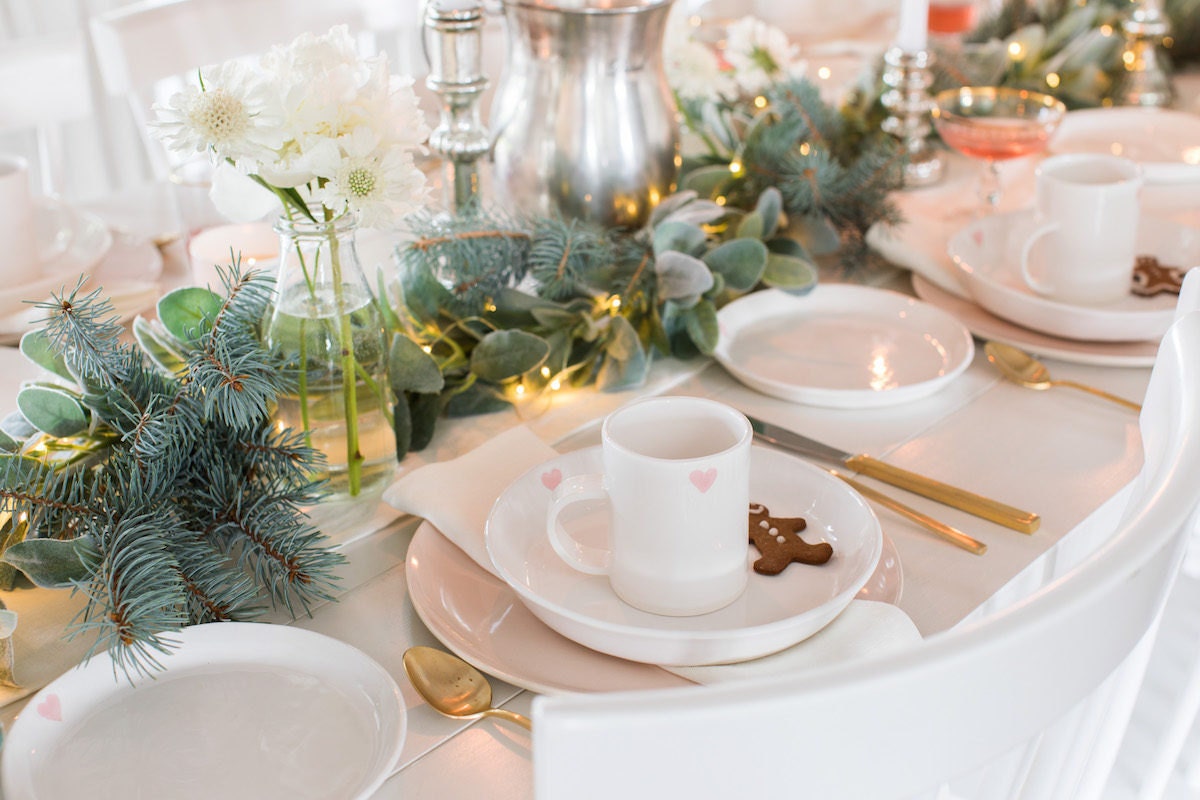 Whether it's unfurled like a runner across your
holiday dinner table
, hung in the form of a festive wreath, or displayed as a standalone arrangement in a vintage vase, there's no shortage of ways to infuse greenery in your seasonal decor beyond the traditional Christmas tree—and a surprising array of hues to boot. "This year, I'm loving more muted shades of greenery, like eucalyptus and sprigs of blue spruce," says Jillian. In addition to filling your space with their trademark fresh, outdoorsy scent, nature's favorite neutral beautifully offsets the more polished elements of your holiday decor, like this elegant ceramic dishware set from
Looks Like White
.
6. Get creative with lighting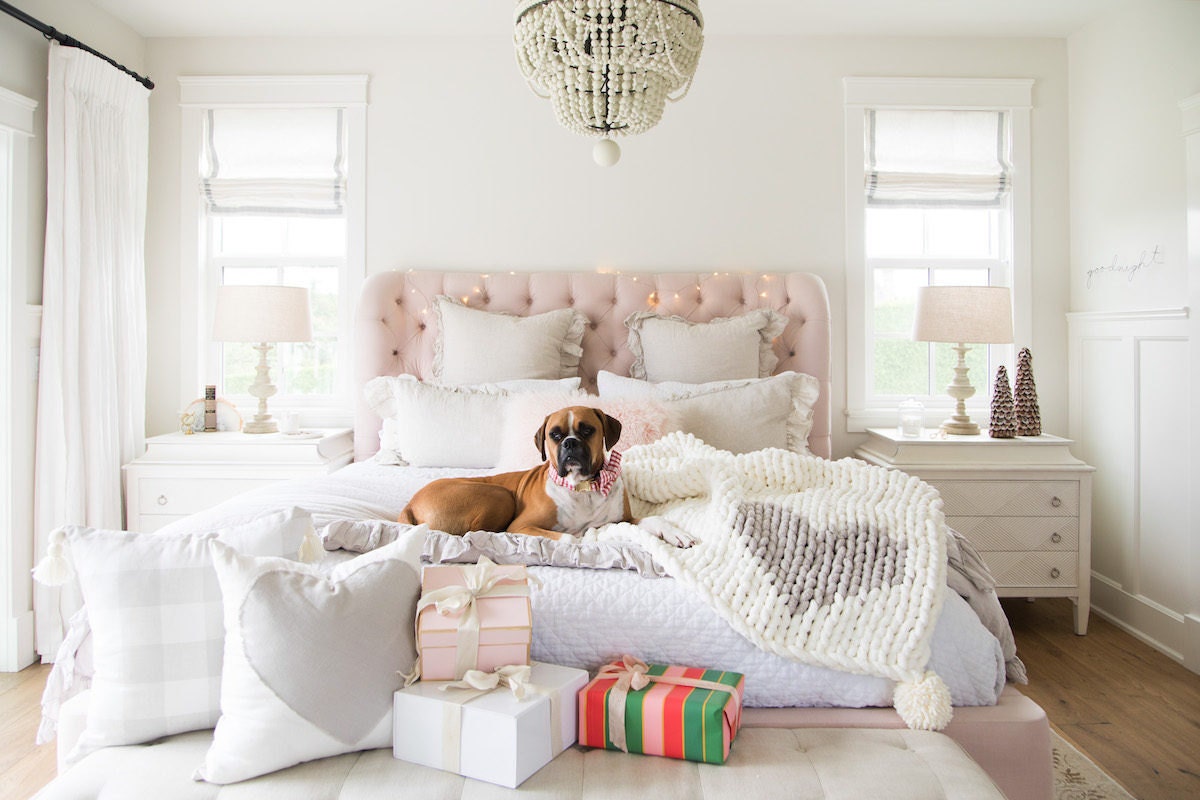 "It's no secret that I like shimmer year-round," says Jillian, "but this is the one time of year I can really go all-out." One surefire way to pump up the glow factor in your
holiday decorating
? Adding magical bursts of fairy lights in unexpected places—draped across your headboard, wrapped around your kitchen clock, or tucked between trays of
storybook-inspired desserts
at your next potluck. Talk about merry and bright!
Photographs courtesy of Mackenzie Dempsey.