One of our all-time favorite artists has teamed up with 11 standout shops on Etsy—and their co-designed collection is nothing short of extraordinary.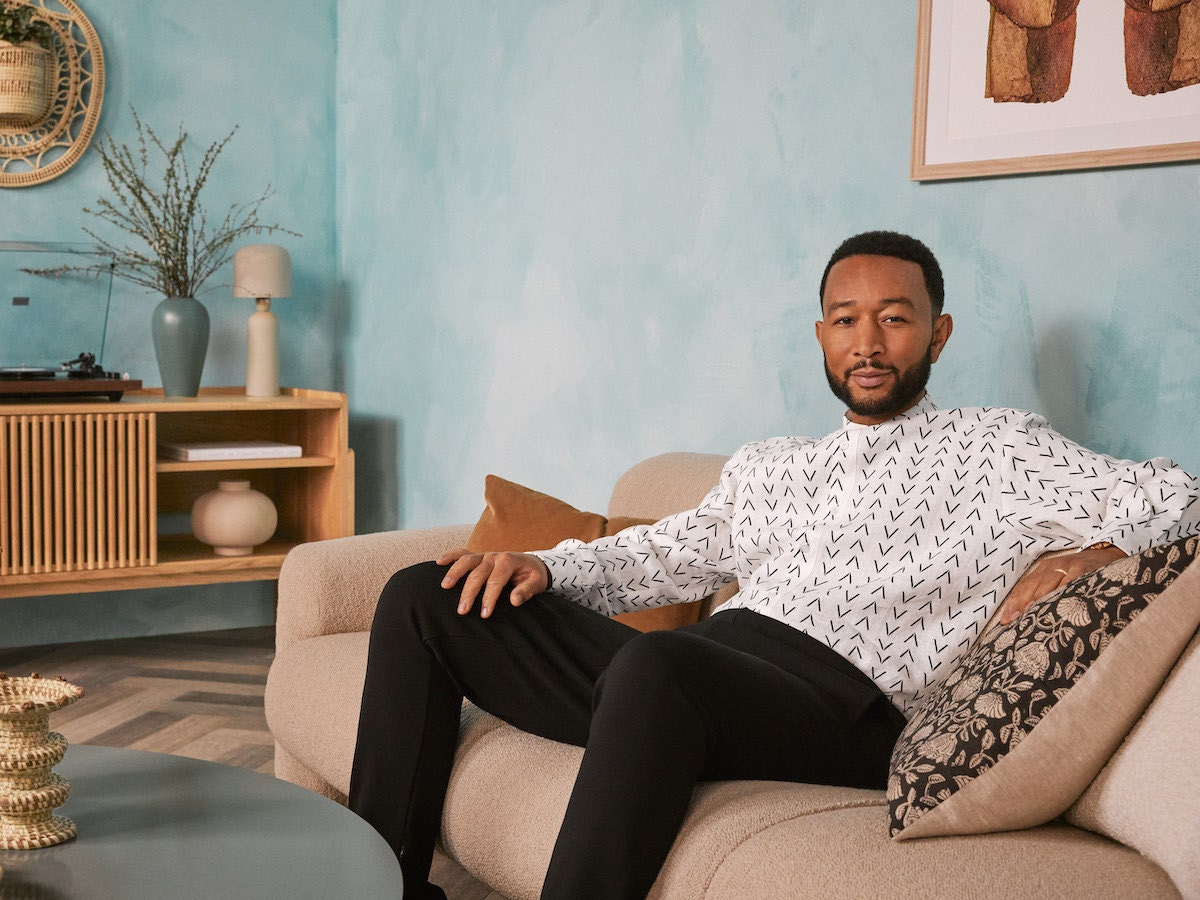 "It's important for me to fill my home with high quality pieces made by people who approach their craft with intention." Talk about music to our ears! Fitting, then, that those wise words should happen to come from award-winning artist and entrepreneur John Legend, whose brand-new Creator Collab—produced in partnership with 11 sellers on Etsy—drops today. Featuring handcrafted home decor and wardrobe staples that sing with style, the exclusive line, which draws inspiration from John's soulful signature vibe and personal life, was purposefully designed to add warmth and character to everyday moments.
When it came to putting together his dream team, John prioritized working with female, Black, and underrepresented sellers, including two members of the historic Gullah basket weavers community, part of the Etsy Uplift Initiative, coordinated in partnership with nonprofit Nest. "I love Etsy because it gives a platform to so many creative and diverse makers, who pour their heart and soul into their work," he explains. "Getting to collaborate with these talented artists was such a special experience, because the finished products tell a story about the people who made them." Read on to shop the showstopper line, meet the makers behind the designs, and decide which pieces to bring home and add to your own story today.
An eye-catching art print from BorianaM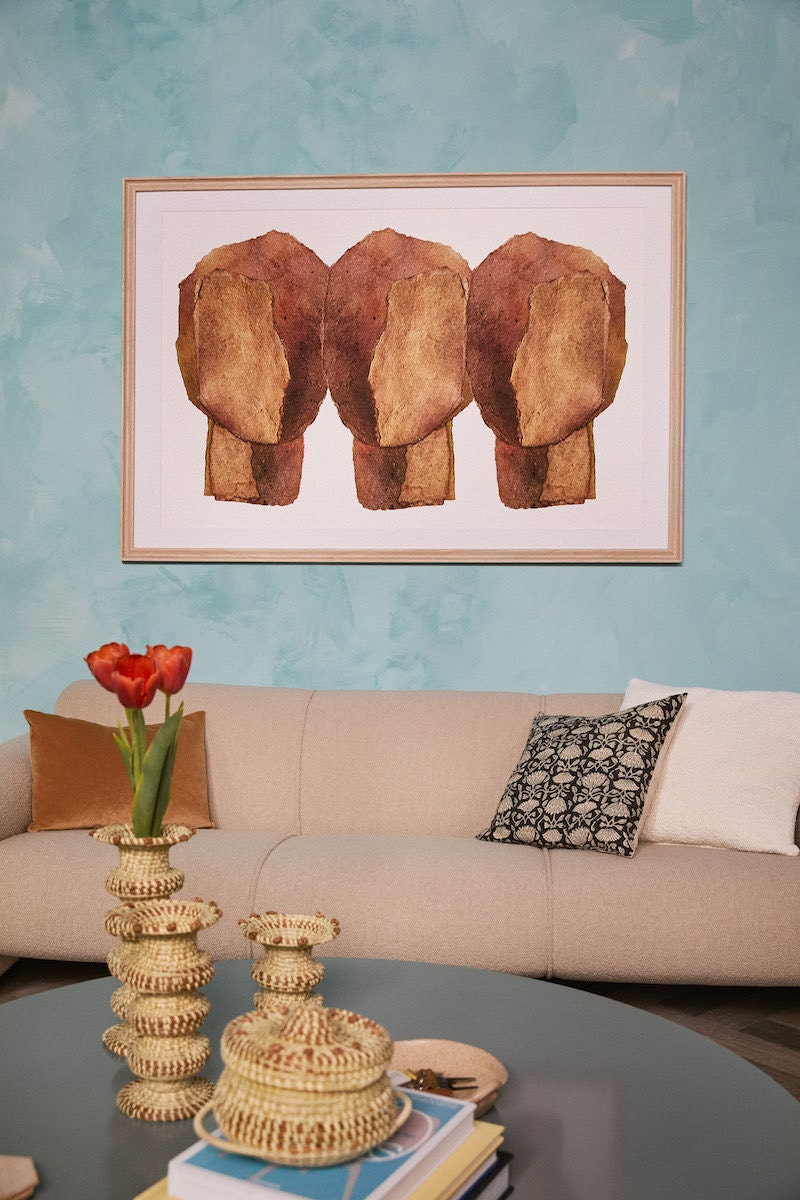 SHOP: Abstract wall art print from BorianaM, from $55
Stop guests in their tracks with an abstract print of one of Bulgaria-based artist Boriana Mihailovska's original masterpieces—co-designed with John himself. "In this collection, I hope people will feel the deep love and natural optimism essential to John Legend's music," says the classically trained painter of the inspiration behind the stunning statement piece.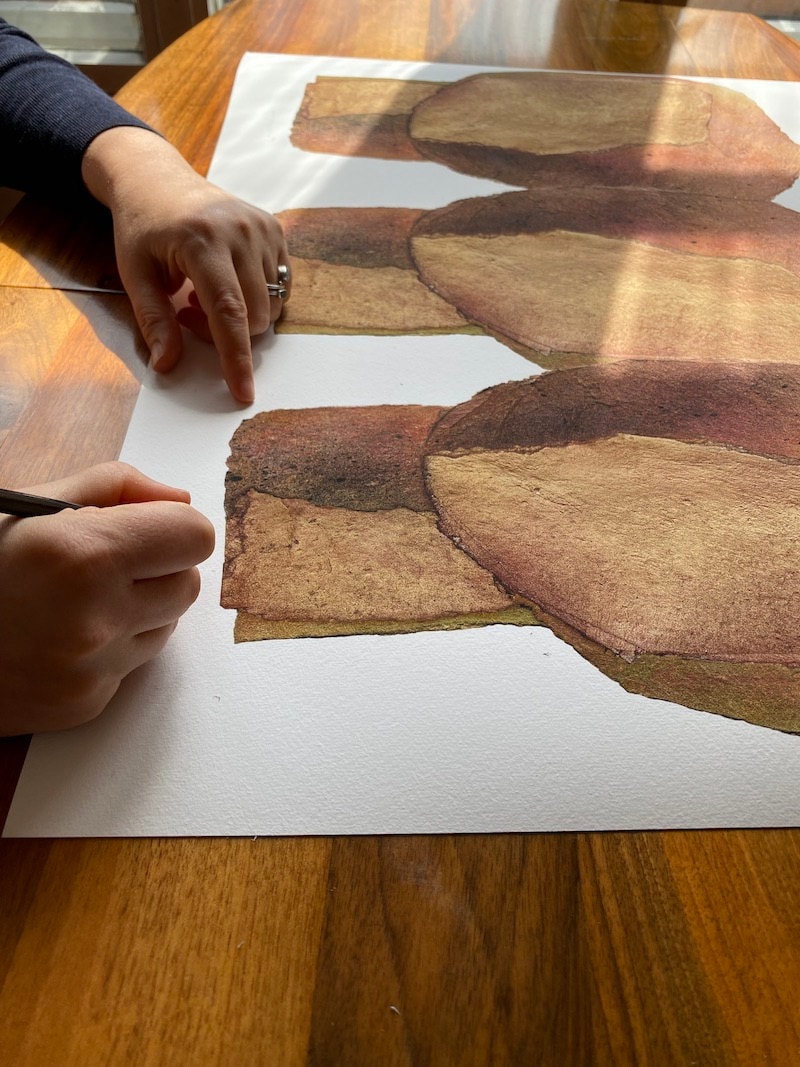 Linen wardrobe staples from Ngo Bolingo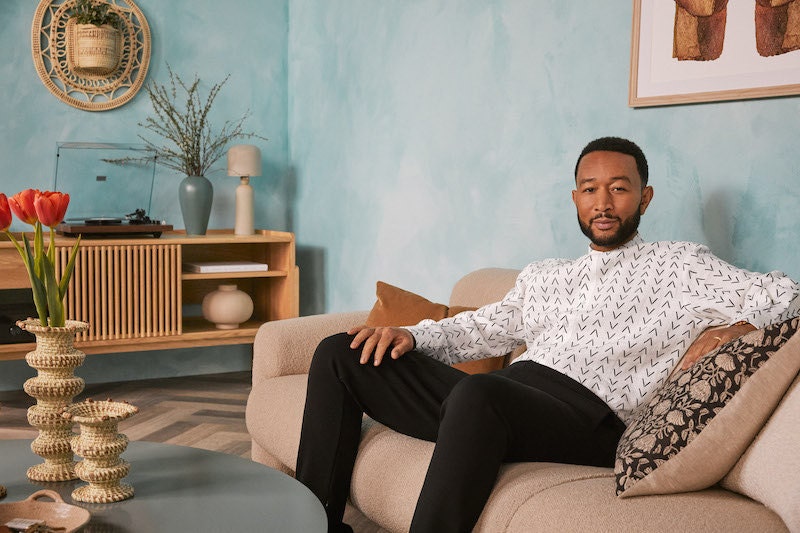 SHOP: Printed linen button-down shirt from Ngo Bolingo, $95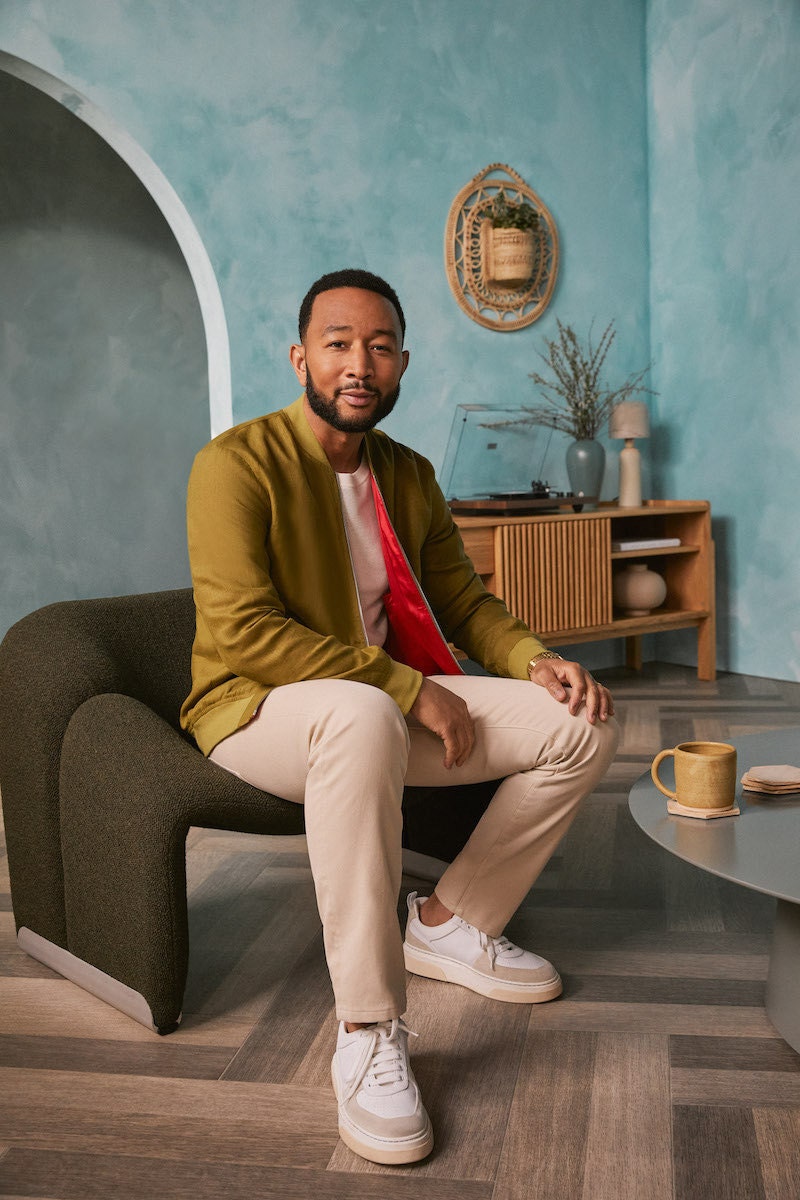 SHOP: Olive linen bomber jacket with red satin lining from Ngo Bolingo, $122
"I've always wanted to do a men's line, but to be able to do my first small men's collection with John Legend is beyond what I imagined," says fashion designer Ngozi Okechukwu, who became even more passionate about the project after discovering that John, too, is a fan of luxe everyday materials like linen, and eye-catching original prints. One look at the expertly tailored button-downs and effortlessly cool satin-lined bomber jacket they dreamed up and you're sure to agree: the future of menswear is bright.
Woven baskets and bowls from CHS Sweetgrass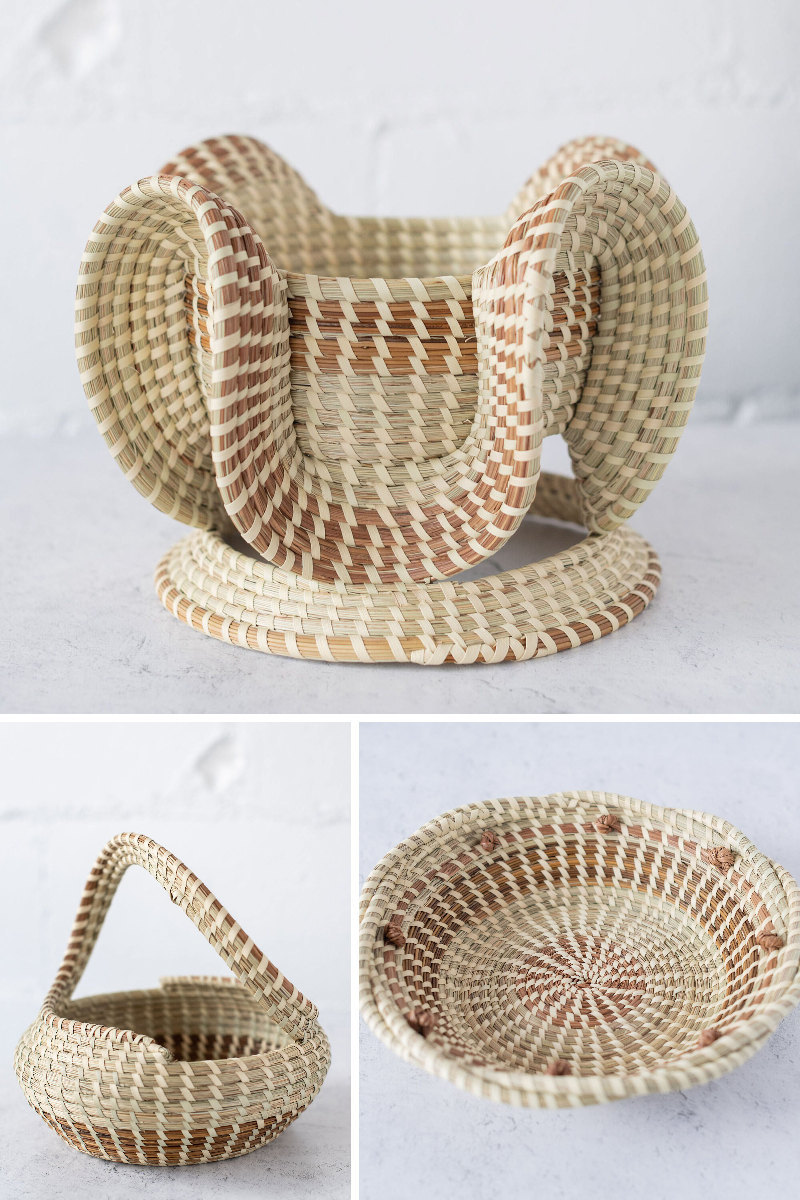 SHOP: (clockwise from top left): Hand-woven stand basket, $2,000; hand-woven bowl, $650; hand-woven basket, $650, all from CHS Sweetgrass
Andrea "Annie" Cayetano-Jefferson belongs to the celebrated Gullah basket weavers community of South Carolina, a group proudly carrying on the storied African craft tradition dating back to the 1700s. Part of a six-generation line of artists, it's no surprise that Annie cites her ancestors chief among her sources of inspiration—making the intricately woven straw baskets she specializes in a natural fit with John, who regularly turns to his own home life for creative fuel. We love them put to use storing household odds and ends—but would be remiss not to say that they more than hold their own perched empty on a shelf as a dazzling art display.
A stylish pet bed from LAY LO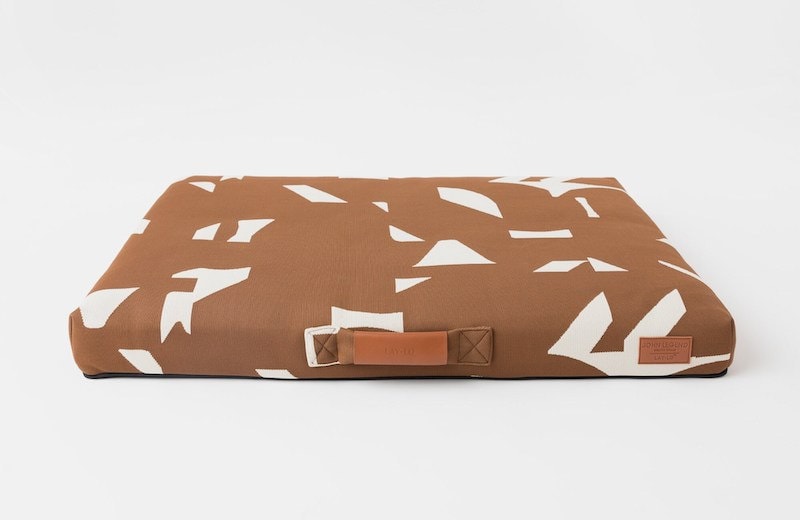 SHOP: Abstract-printed pet bed from LAY LO, from $79
"Your home is a personal reflection of your style, and I know first-hand what it feels like to sacrifice that for your dog's comfort," says maker Drew Downie, who, along with LAY LO co-owner Gabriela Baiter, creates comfy pet beds that look great in your space. A proud pup parent himself, John couldn't agree with the mission more—and his fluffy sidekick, Petey, was quick to wag his tail in approval, too. "I hope that the trending patterns and muted colors in this collection inspire people to rethink their surroundings and make their dog's space an extension of their home," says Drew. Mission accomplished!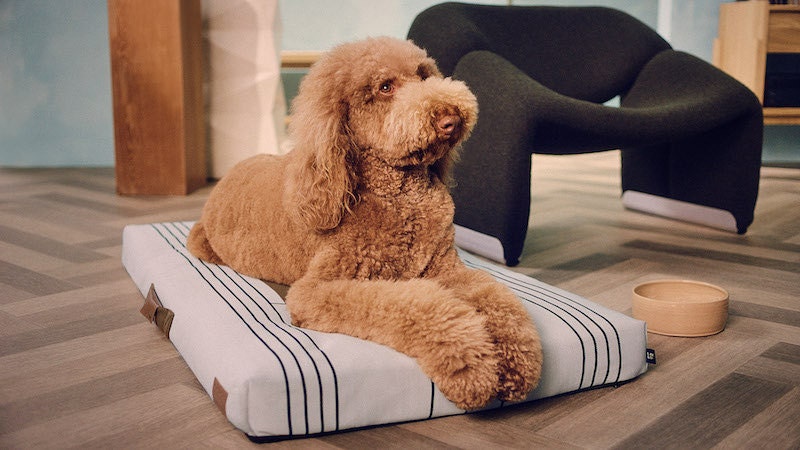 Mix-and-match throw pillows from Townsend Rowe Home Shop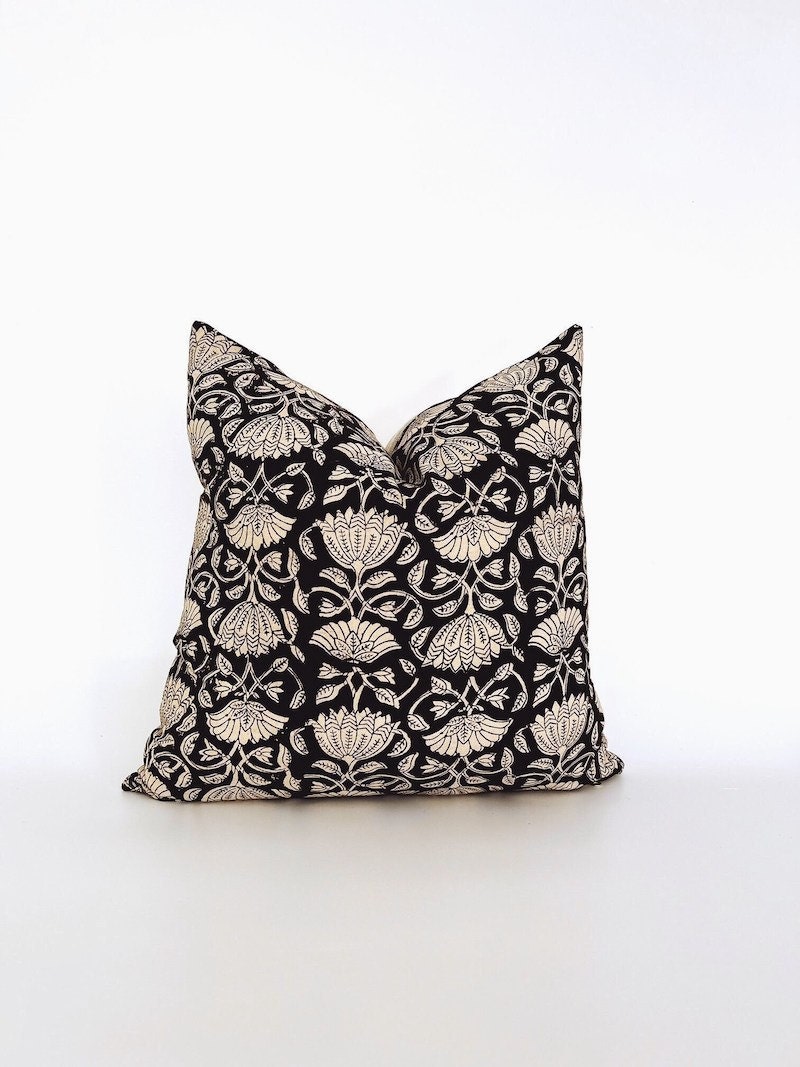 SHOP: Floral-printed throw pillow from Townsend Rowe Home Shop, $90
Take the guesswork out of decorating with cozy-yet-chic throw pillows co-conceived by John and textile pro Marika Mikusch. "I wanted to come up with a collection of pillows that would scream 'John Legend,' so I started by pulling luxurious fabrics like velvet and boucle," says Marika of her design process. "I wanted clients to feel like they have a piece of John in their homes, and I hope that people appreciate the thought behind creating not just one pillow, but a combination of pillows that work perfectly together."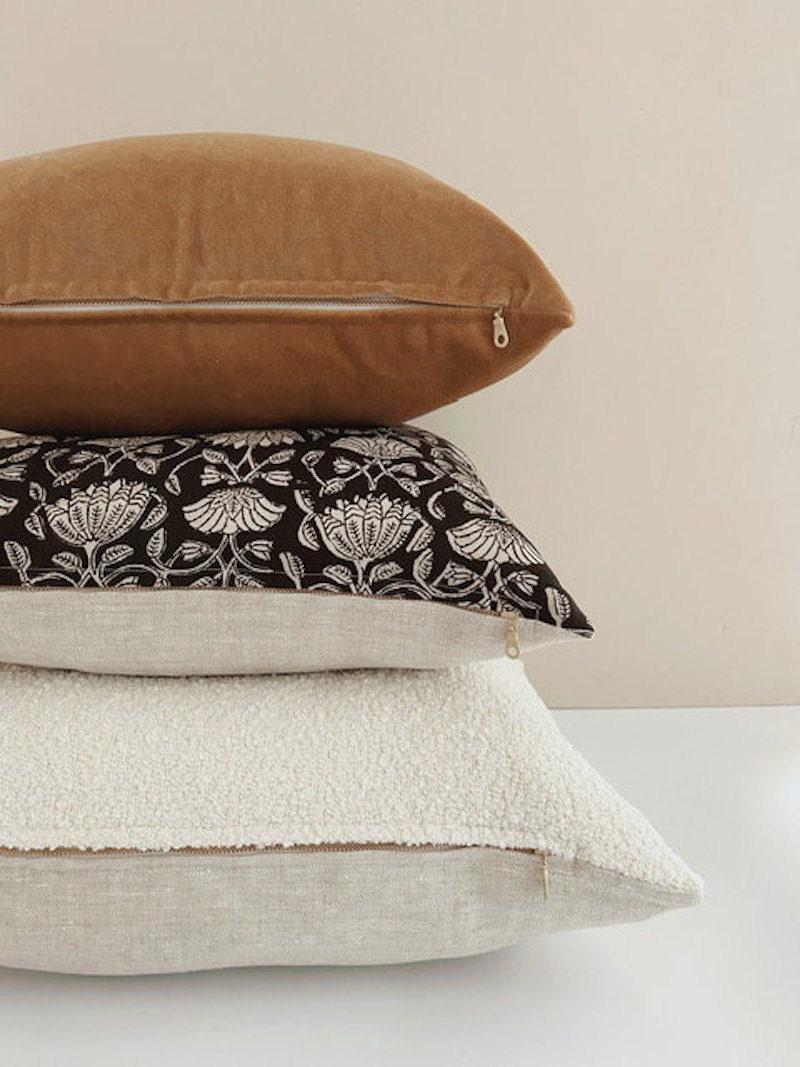 A star-quality record stand from Mo Woodwork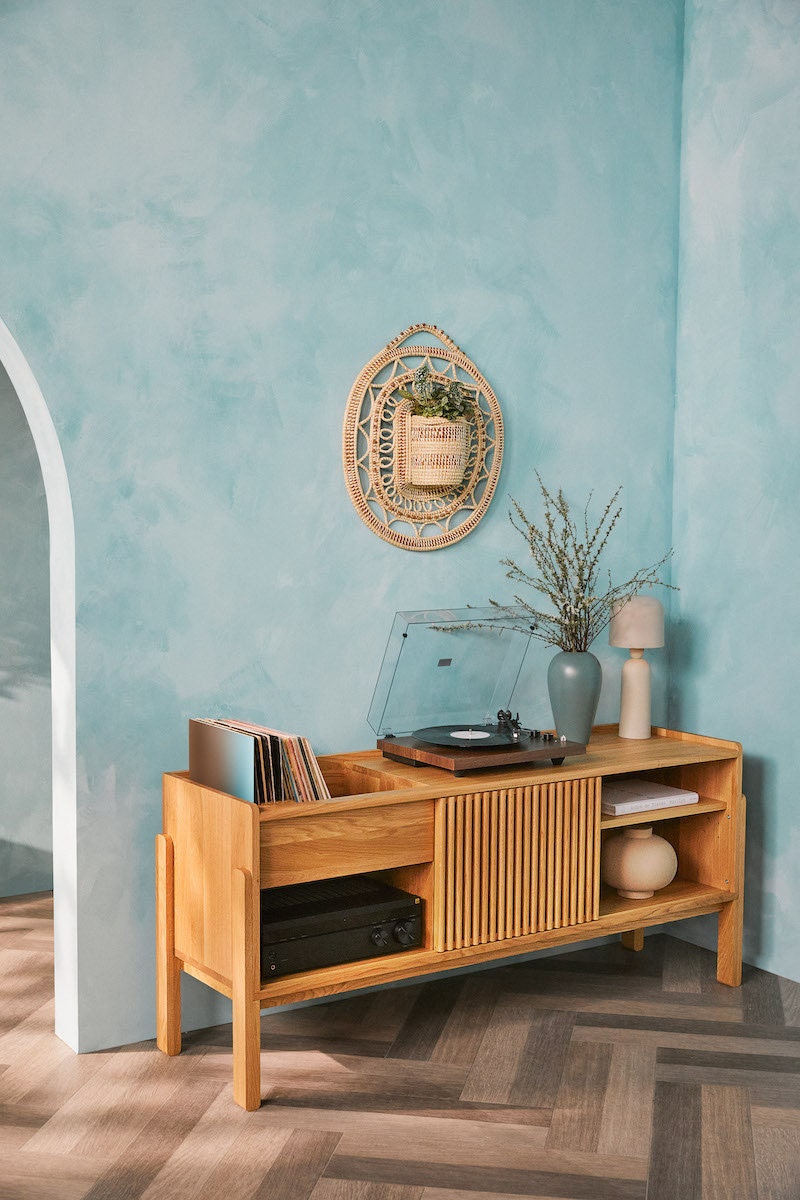 SHOP: Oak vinyl storage stand from Mo Woodwork, $3,250
"The brainstorming and exchanging of ideas led to an incredibly dynamic and creative result," say members of the four-person team behind Poland-based shop Mo Woodwork, who produced this ultra-slick record stand in partnership with John. "We came up with four different design ideas in only 12 days!" The whirlwind paid off: with its rich, warm hue and streamlined, sculptural silhouette, the heirloom-quality solid oak console doubles as art for the home.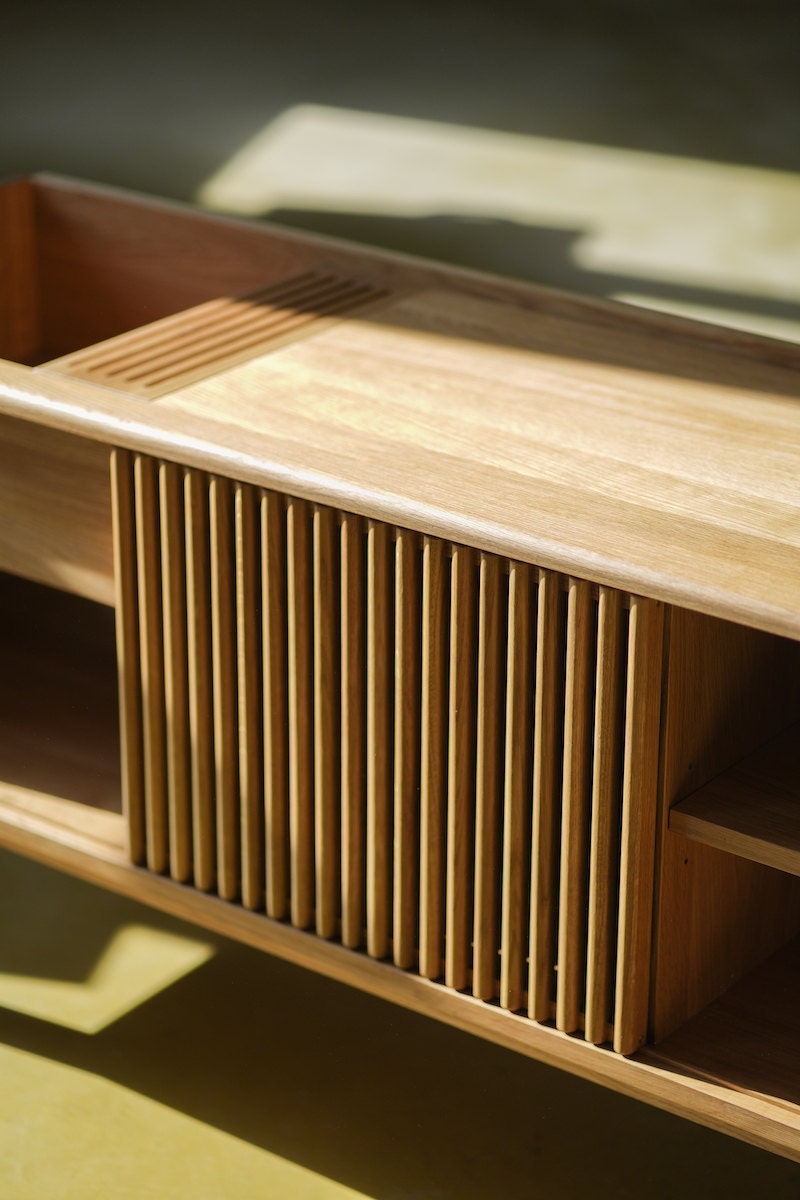 Lounge-worthy robes from Eastern Woven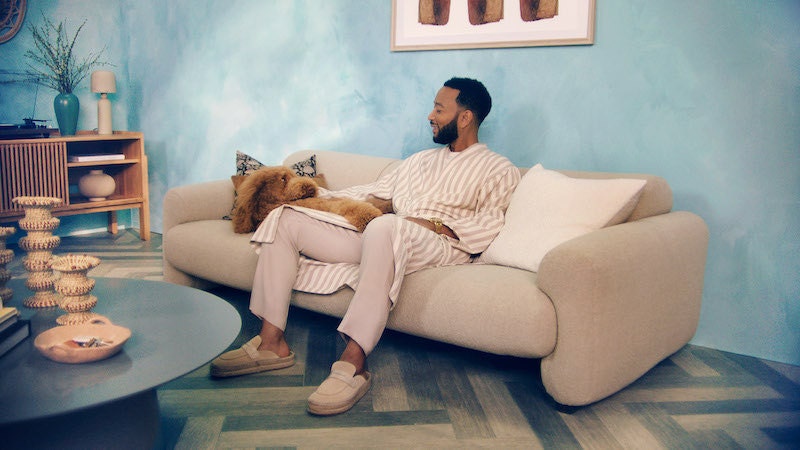 SHOP: Long striped bathrobe from Eastern Woven, $119
For Emre and Sule Ozgoren, the sibling design duo behind this experienced textile shop, at the heart of comfort is quality—and it shows in their skillfully sewn soft linen-cotton capsule. Whether you take a page from John's book and pick up a long, neutral-striped number to toss over house clothes for some top-tier couch chilling (adorable dog not included) or opt for a shorter khaki green version to keep in the bathroom for maximum post-shower satisfaction, getting cozy never looked so good.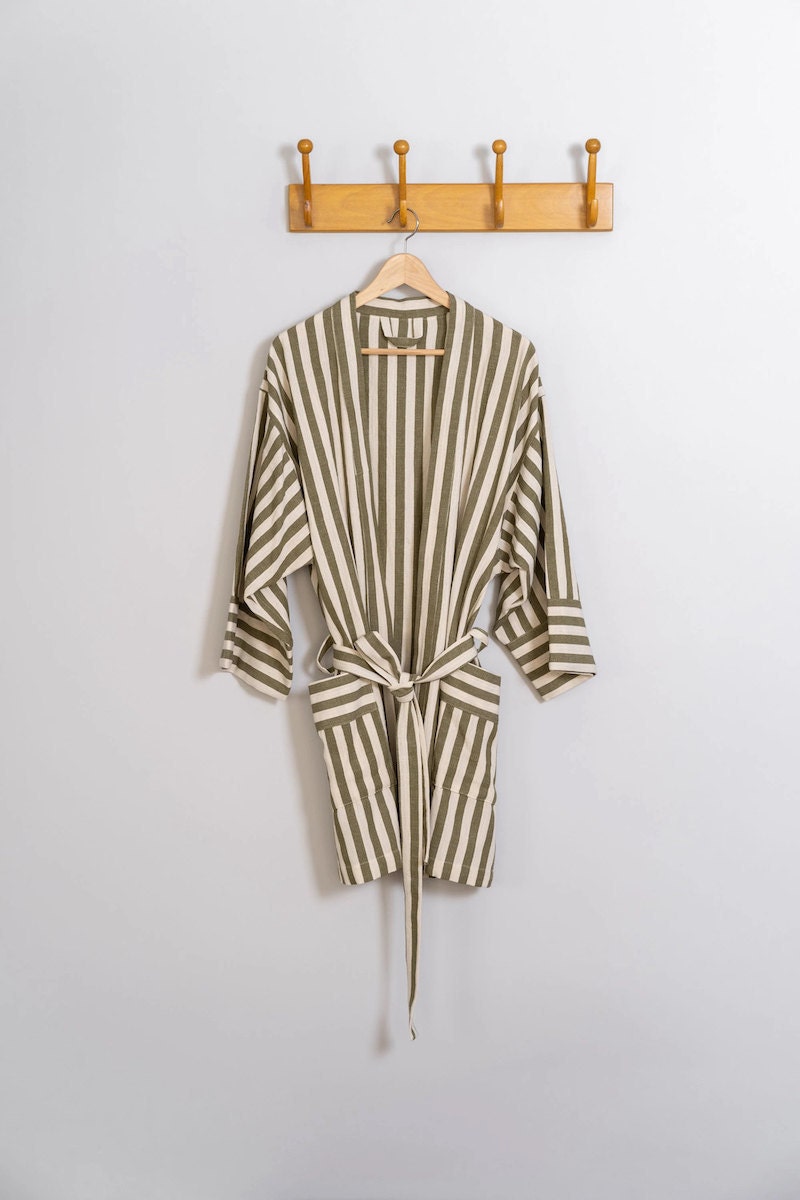 SHOP: Short striped bathrobe from Eastern Woven, $119
Sleek planters from Morse Studio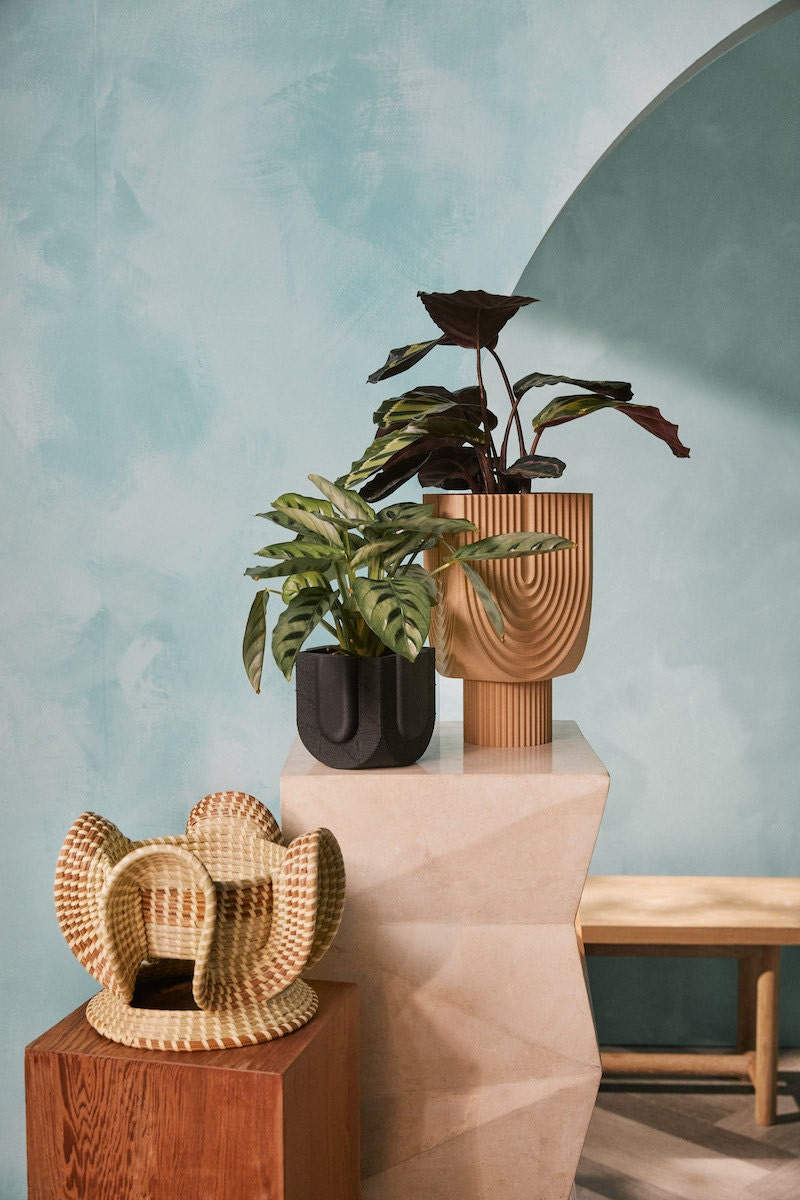 SHOP (from left): Black 3D-printed planter, from $78; natural wood 3D-printed planter, from $92, both from Morse Studio*
Arguably the coolest part about these Art Deco-inspired geometric planters, other than how beautifully they'll offset your precious plant babies? They were 3D-printed into existence, courtesy of Etsy seller Su Jin Morse and her tech-wiz son and business partner, Chase! "I hope people will see the joy we had in this whole process every time they look at our limited-edition designs," says Su. "It has been a labor of love working with the Legend himself."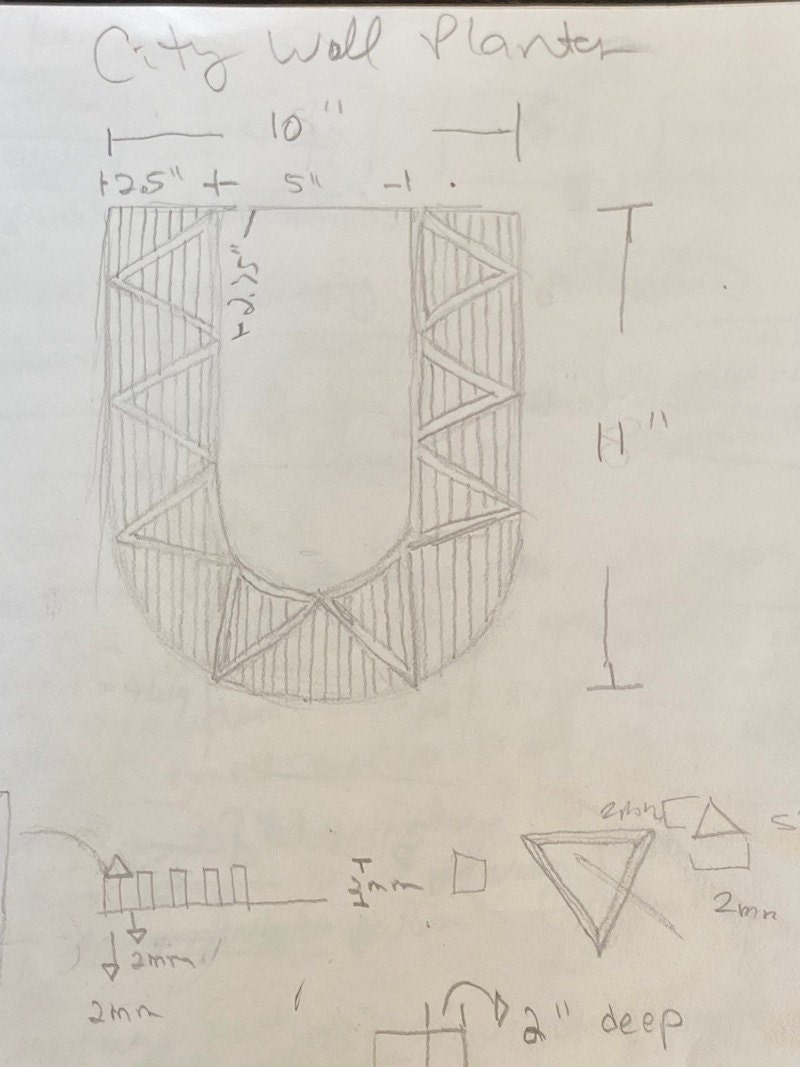 Woven wall decor, jewelry boxes, and more from Desmareon and Family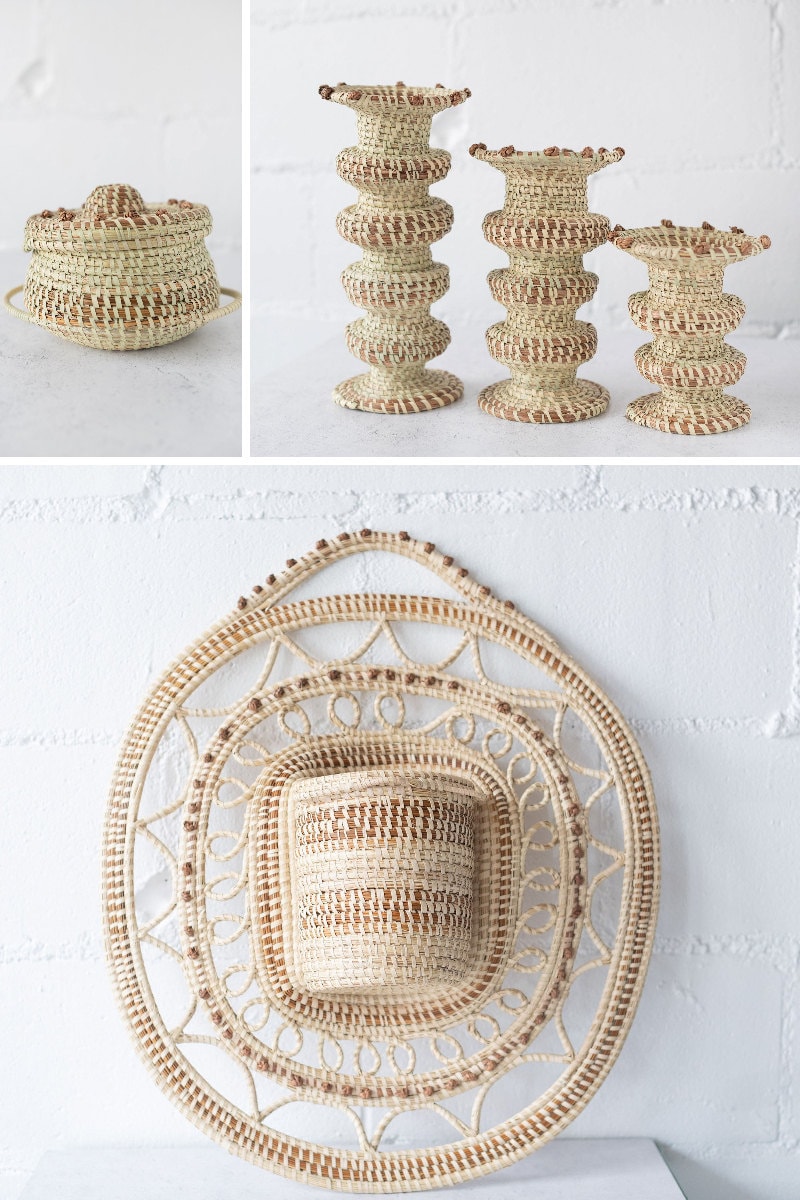 SHOP (clockwise from top left): Hand-woven jewelry box, $500; hand-woven vases, from $400; hand-woven wall hanging, $1,000, all from Desmareon and Family
As their name suggests, the Gullah basket weavers may be best known for their signature woven containers—but much like the multi-talented musician himself, their vision knows no bounds. Enter ​​Gail Wright, a seventh-generation artist who learned the craft from her mom and grandmother at the tender age of six, and her extraordinary woven jewelry boxes, vases, and wall art designs, each of which manages to be more incredible than the last. We're especially enamored with the lacy circular wall hanging, which would make a prized addition to any art-appreciator's collection.
Handmade pottery from Charlotte Manser Ceramics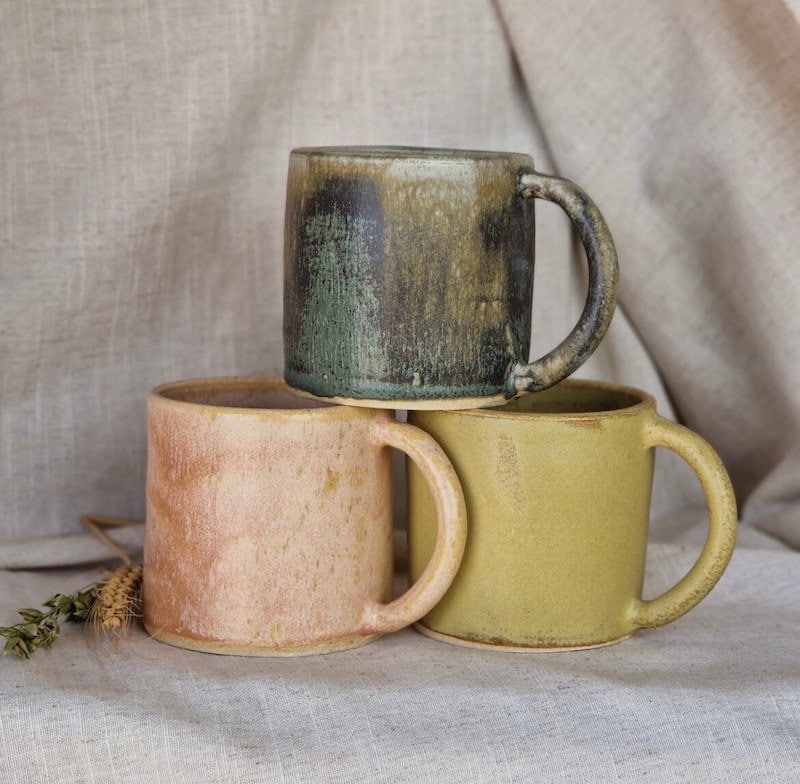 SHOP: Ceramic mugs from Charlotte Manser Ceramics, $65 each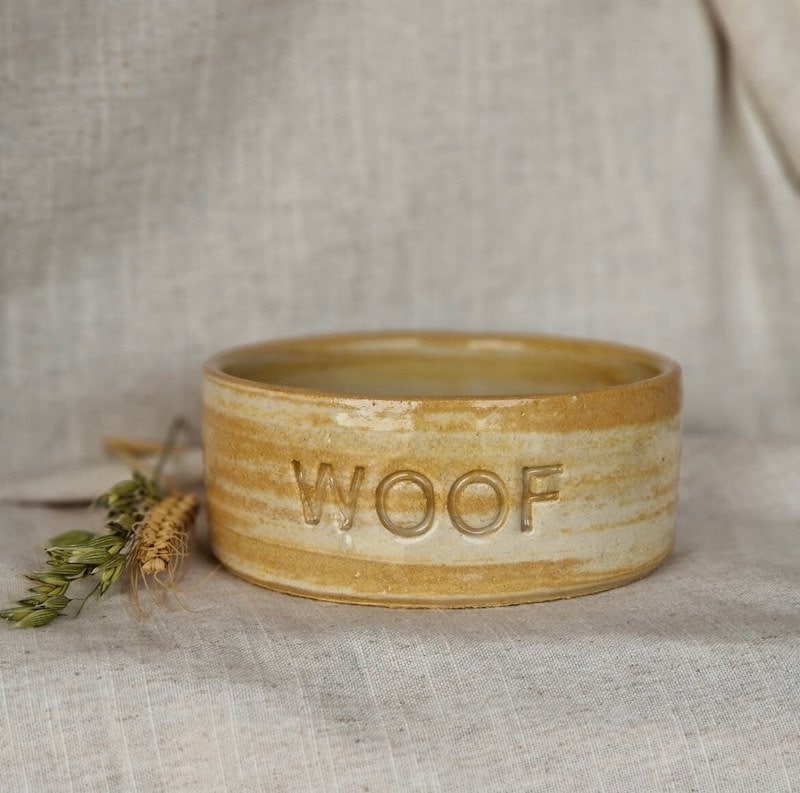 SHOP: Ceramic pet bowl from Charlotte Manser Ceramics, from $60
With their sunny yellow, sandy pink, and mossy green hand-mixed glazes, the dishwasher-safe mugs, pet bowls, and coasters from ceramist Charlotte Manser recall the gorgeous English countryside outside the artist's UK studio—and that's by design. "I seek to evoke a sense of connection with the natural environment," says Charlotte, who sensed a similar earthy soulfulness in the famously grounded artist. "I could see an essence of nature in John Legend's style and home decor," she says.
A ceramic catchall from Alliyah and Things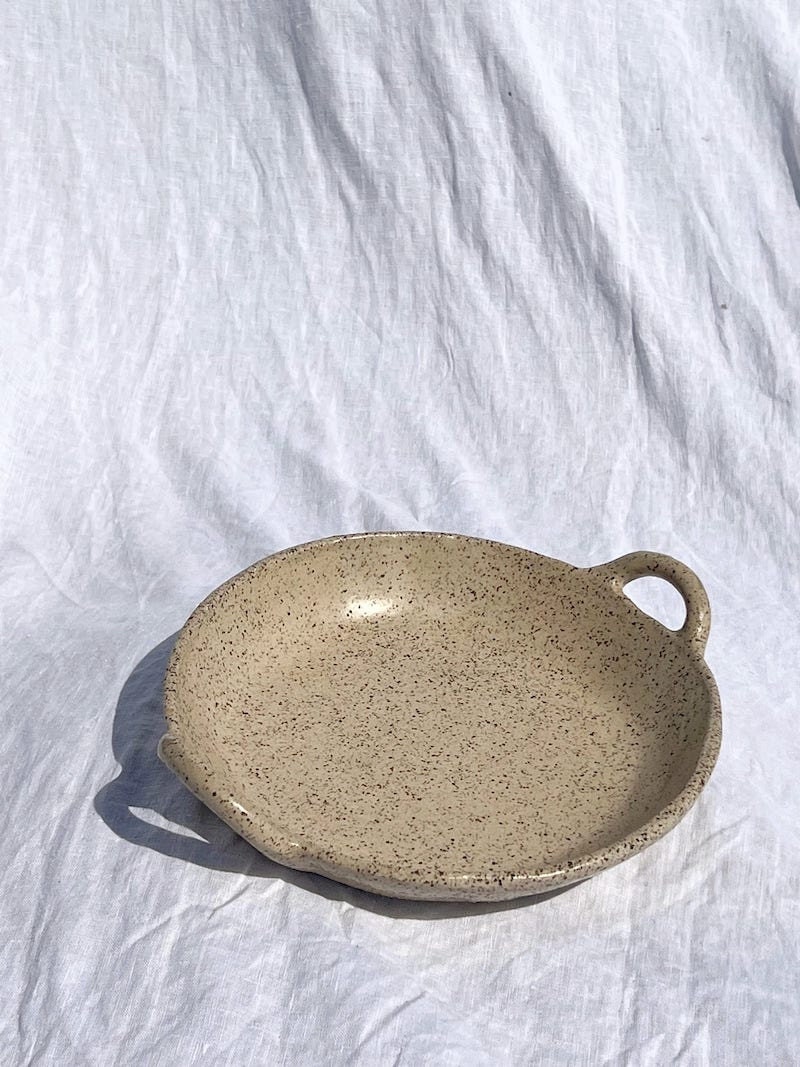 SHOP: Ceramic catchall dish from Alliyah and Things, $150
"When collaborating with another artist, you're fusing creative minds and talents together," says California-based artist Alliyah Lorraine Wheaton of the powerful process behind co-designing this ultra-chic ceramic catchall. "It's no longer about what you think is best, it's about working together to elevate and create something that you would never think to do on your own." The proof is in the minimal-but-magnificent finished product, perfect for housing keys, jewelry, or any other small item in need of a handsome new home.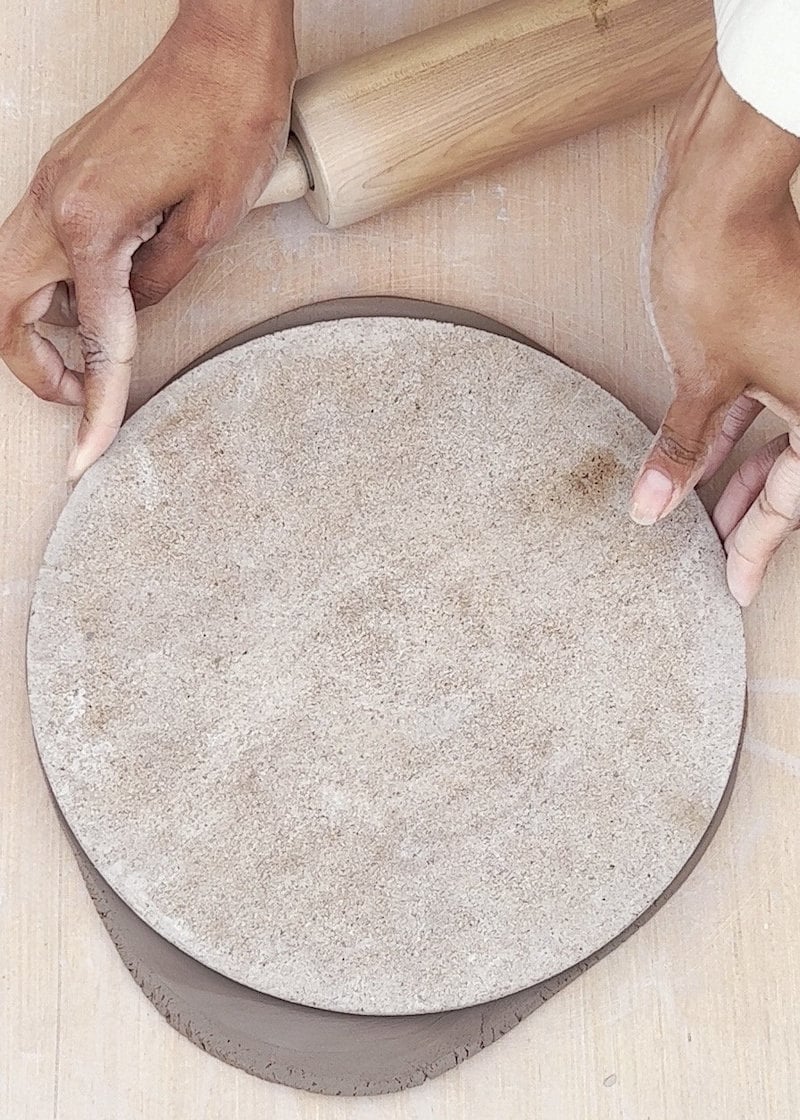 Lifestyle photography courtesy of Taylor Rainbolt; listing photography courtesy of sellers.
*Plants not included