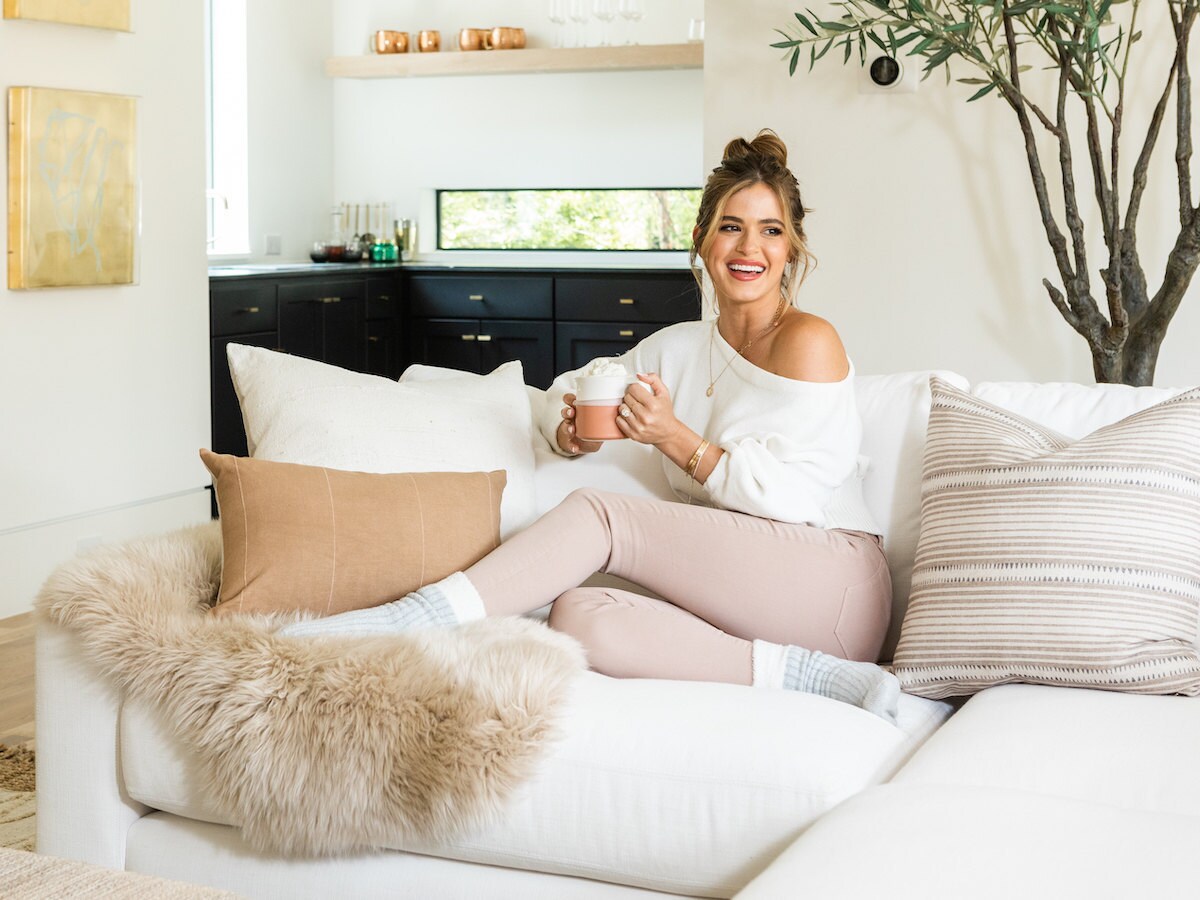 For interiors expert and former Bachelorette star JoJo Fletcher, spending the holidays at home is all about creating a cozy retreat for relaxing with loved ones. "I love to burn my favorite holiday candle and curl up on the couch with a snack platter and a pile of plush pillows," she says. And now, building on the success of her stunning summer collection, JoJo is back with a festive new line to help us achieve her hygge vibe in our own abodes this holiday season. Featuring a gorgeous range of versatile decor and hosting essentials co-designed by JoJo and 15 all-star Etsy sellers (including some familiar faces!), the exclusive JoJo Fletcher x Etsy holiday collection has everything you need to make your space warm and inviting, and it's great for gifting, too. "I hope this collection brings holiday joy to people," she says, "wherever they are, and however they choose to celebrate."
Hand-poured candle shop Cancelled Plans has teamed up with JoJo to capture the smells of the season. 'A Cozy Christmas Candle' evokes freshly baked spice cakes, while 'Holiday Cliché' conjures images of twinkling Christmas trees with woodsy notes of fir and cypress—and we can't pick a favorite.
Arranged with an artful combination of dried grasses and preserved eucalyptus sprigs, this 14" wreath from Wicked Petals Floral Design is subtle enough to hang up early and stay put well past December 25th. Fun fact: Each of the natural materials is local to the maker.
Holiday movie marathons will feel even snugglier thanks to these oversized throw pillows from Townsend Rowe Home, available in two cushy shapes and three mix-and-match fabrics, including a beautifully textured white mudcloth.
Set an effortlessly elegant scene with a bundle of hand-frayed dinner napkins and a coordinated runner from one-woman table linens shop 112 James Street. Sewn from eco-conscious hemp and organic cotton in two year-round-friendly shades, these machine-washable staples will only get softer with use.
Whether you're whipping up a winter salad or a hearty heap of herbed stuffing, these ceramic serving bowls from Box Sparrow Studio will give your table an elevated touch with their lustrous glazes, gold rim details, and organic wabi-sabi shapes.
With their sophisticated neutral palette, these fleece-trimmed linen stockings from Jolis Cossins will complement both rainbow-bright and snowy-white holiday decor schemes. Hang them on the mantel or directly on the wall for an instant dose of understated festivity.
Crystal-clear and silver-hued glass ornaments from Brook Drabot Glass will create a warm and mesmerizing glow as they catch light from your tree and softly reflect it around the room. 
Stuck in a cheddar rut? These birch wood foodie dice from Two Tumbleweeds make it easy to spice things up with a plethora of pairing possibilities for your next wine-and-cheese night. The set comes with seven six-sided-dice—each laser-engraved with a selection of wines, soft and hard cheeses, and tasty extras. Just one roll and snack time is settled!
Display your dice-inspired pairings on this metallic glazed ceramic cheese board from Persimmon Street, which is hand-built with stoneware clay and fired in a kiln for 20 hours to give it extra durability (so you can really pile on the parmesan).
Crafted by hand by the self-taught jeweler behind MLKANHNY, these display-worthy brass serving spoons and pie servers are designed to doll out heaping holiday portions and oversized pie slices in style. Bon appétit!
Add some festive texture to your coffee table with a set of four super-absorbent cotton macrame coasters from Meraki Handmade Collective. Each is made with more than 100 hand-tied knots and finished with a shiny brass bead. What better way to display a mug of spiced 'nog?
Cut from a single slice of sturdy walnut, the carved handle and visible grain swirls on these extra-wide serving boards from Cattails Woodwork are so beautiful that they might just bring a tear to your eye, even when you're not chopping onions. 
Keep your table linens cozy with leather napkin rings from Blisscraft & Brazen. Each is tanned to perfection in a sunny studio to achieve its pretty pink hue and finished off with a sleek brass rivet and a hand-cut envelope-flap edge.
Whether you're making yourself a cup of hot cocoa or dishing up afternoon snacks while snowflakes stream down outside, Paper and Clay Studio's smooth ceramics will take the experience up a notch with mugs and serving platters in terracotta tints as warm as the Southwestern sun.
Brighten those dark winter nights with Scandinavian-inspired maple candlestick holders from Fabrique Deco, which are whittled from locally sourced lumber and sold in a set of two mismatched sizes ideal for adding visual interest—and a festive flame—to your dinner table.
Photography by Dani Sabol.