It doesn't get more radiant than July's rose-colored birthstone.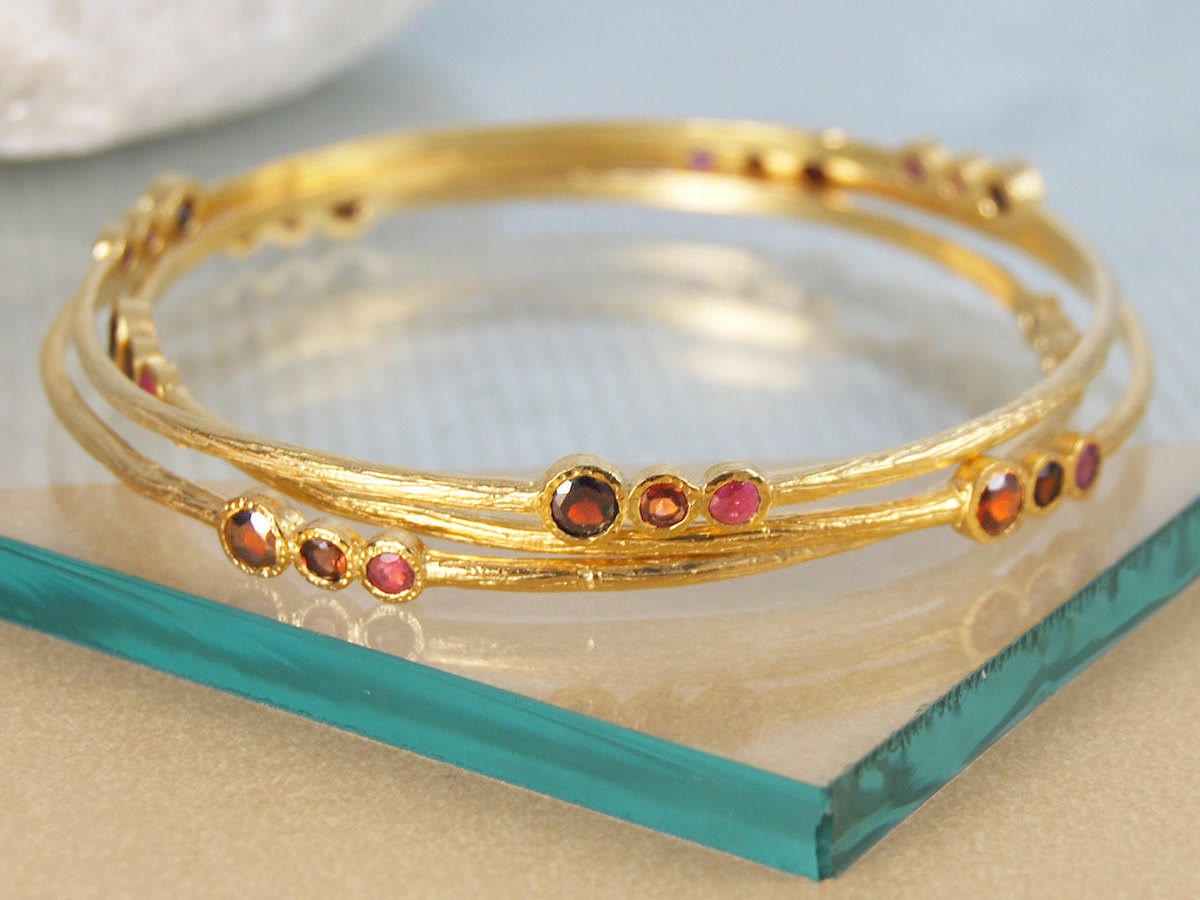 Thanks to their signature pinky-red hue (think the perfect crimson-meets-fuchsia shade of lipstick), rubies add a touch of warmth to any ensemble—making them an especially fitting birthstone for sunny July babes. But with their reputation for inspiring passion and courage, these rose-colored jewels make a fitting choice for anyone, regardless of birth month, who wants to take a walk on the bold side. So why not let them dial up your summer look? We've selected five stunning pieces guaranteed to do the trick.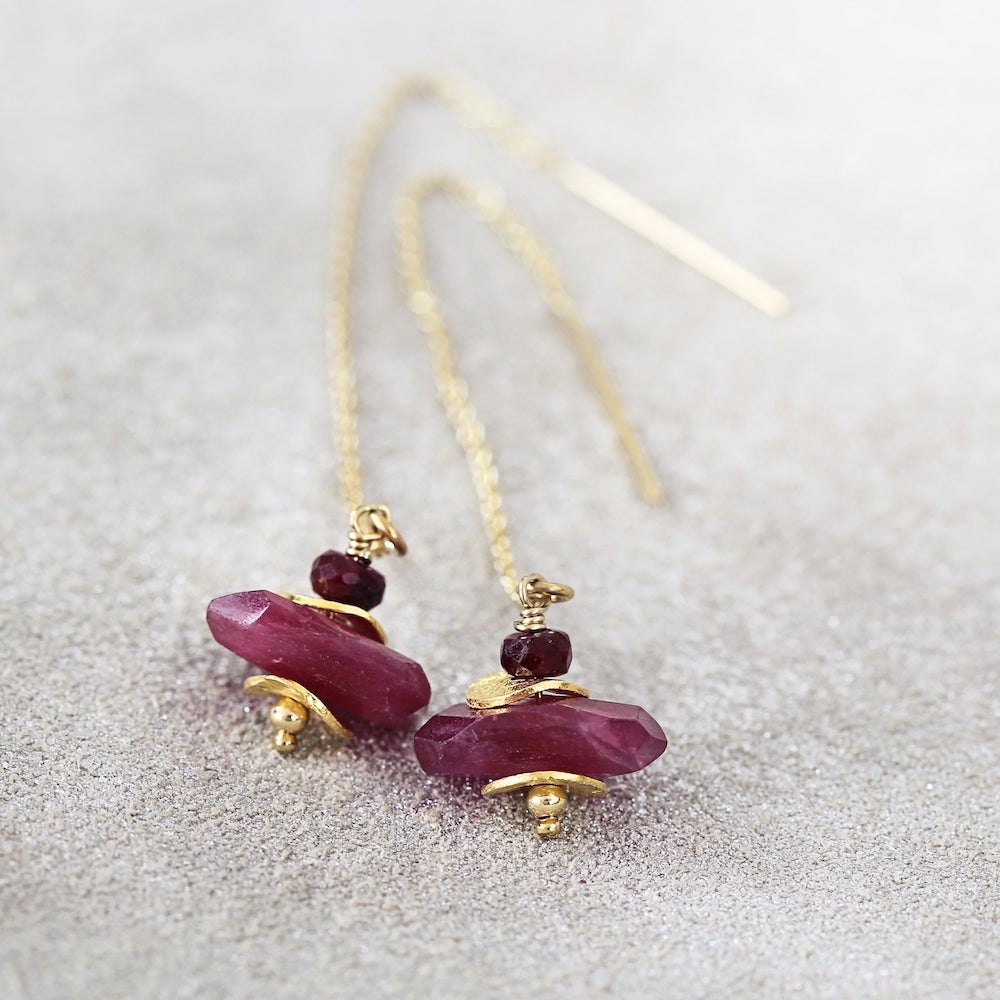 Artique Boutique's adjustable threader earrings offer a double dose of this month's featured stone, pairing a generous, medium-tone ruby gem with a deeper ruby nugget—and setting them both off with whisper-thin metal discs for contrast. Available in a 14K gold or sterling silver finish, these distinctive danglers are equal parts elegant and edgy.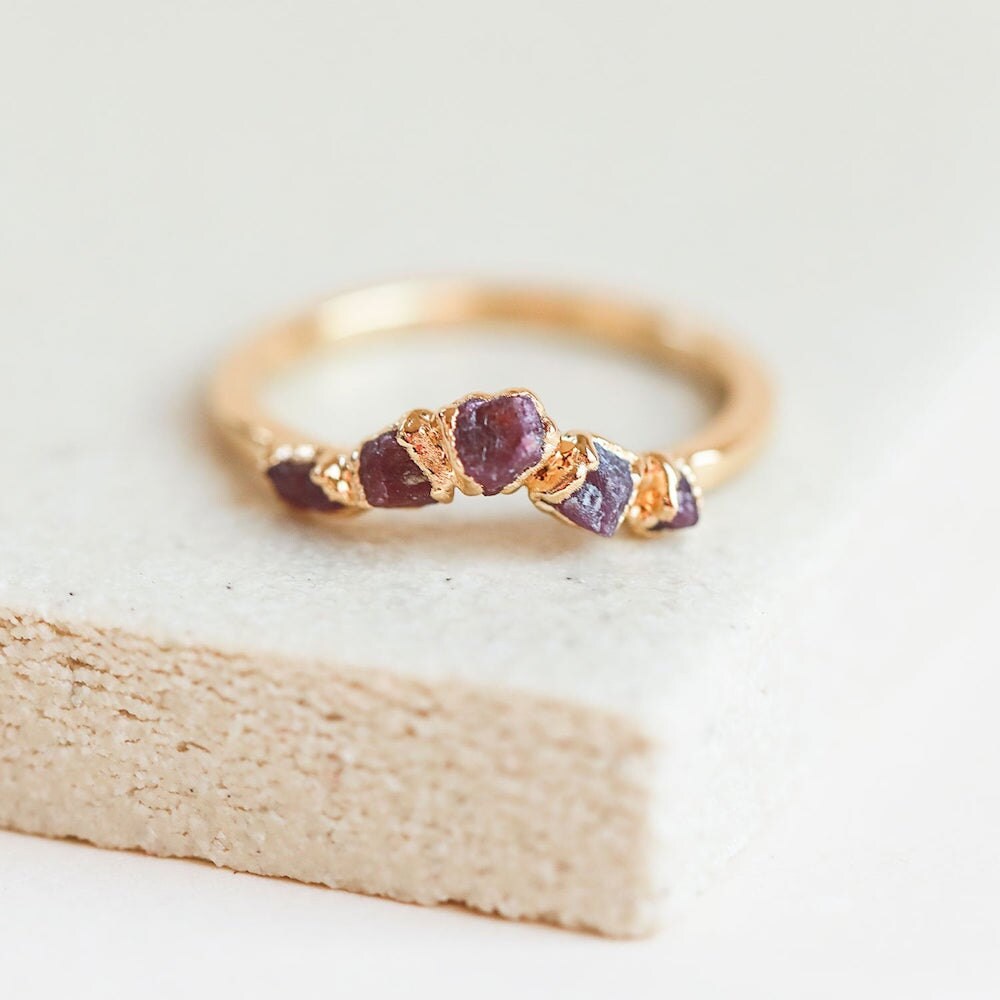 Striking the right balance between subdued and spectacular is key when getting in on the stacking ring trend. Luckily, Dani Barbe's raw stone ruby ring makes it look easy. The delicate curve of the gold band adds visual interest to any arrangement while the five ethically sourced stones deliver just the right amount of saturated, yet understated, color.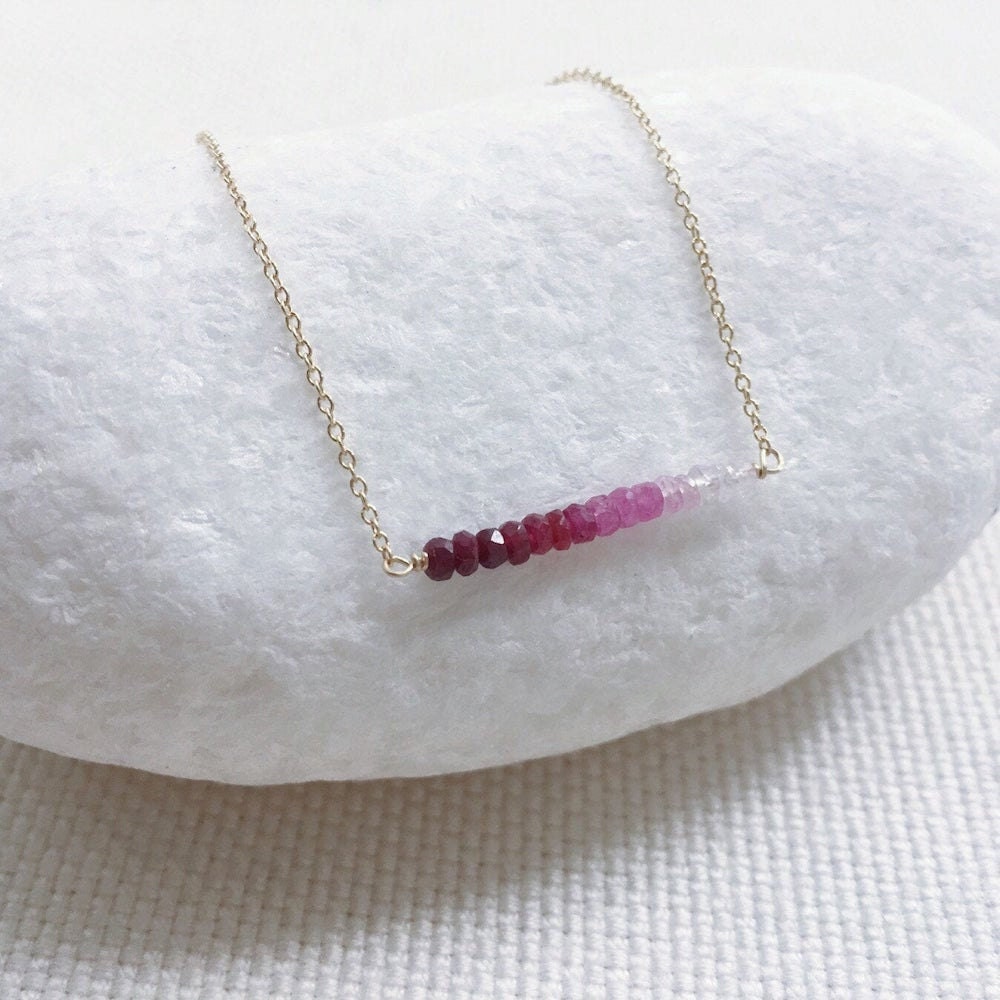 Lolabean Jewelry's delicate bar necklace features an ombré array of petite rubies, ranging from white to dark scarlet. Choose from a gold, rose gold, or sterling silver chain and five popular lengths to create the just-right piece for you. And rest assured that this versatile, layering-friendly beauty is dainty enough for everyday wear—a good thing, since once it's on, we're willing to bet you won't want to take it off.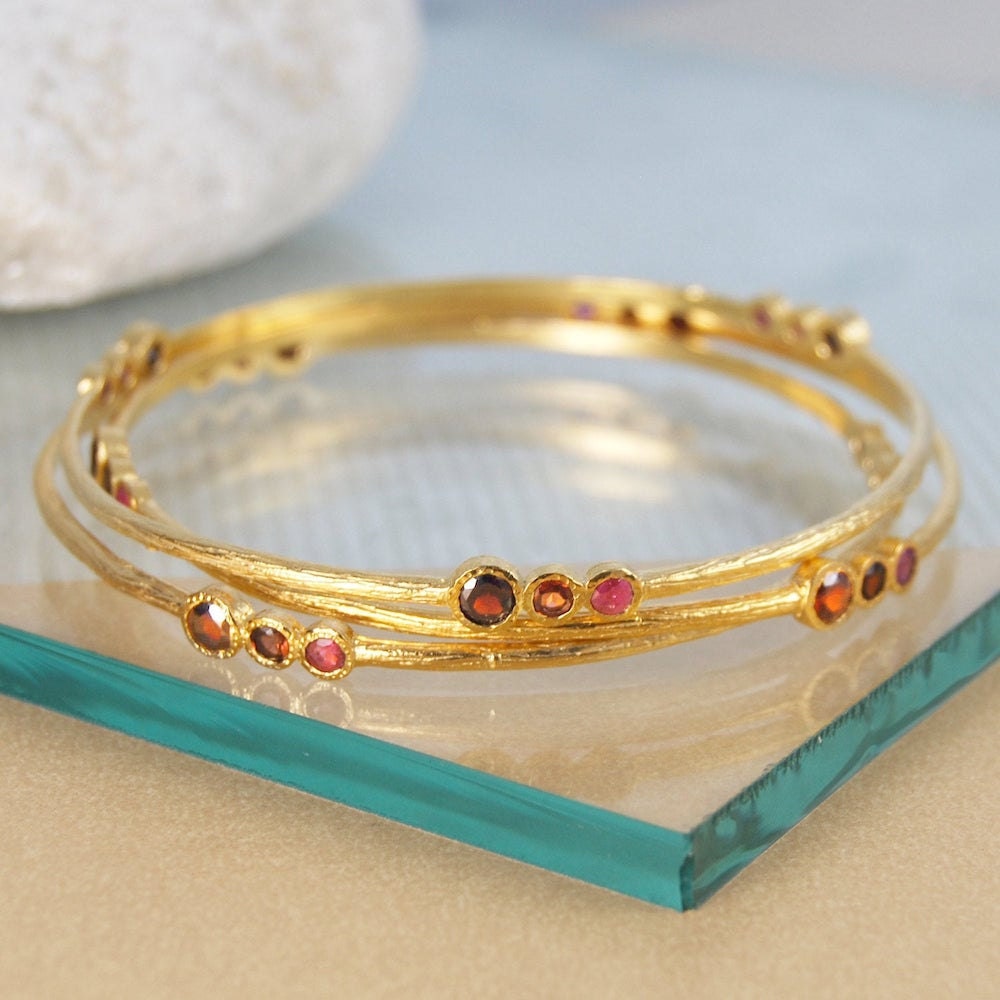 A little bit boho and a little bit Old Hollywood, this handcrafted 18K gold bangle from Embers Gemstone Jewellery boasts a total of nine spectrum-spanning stones, including a range of ruby shades and a selection of glimmering garnets—also known as our other favorite red birthstone. It's a quick way to add an eye-catching edge to any outfit.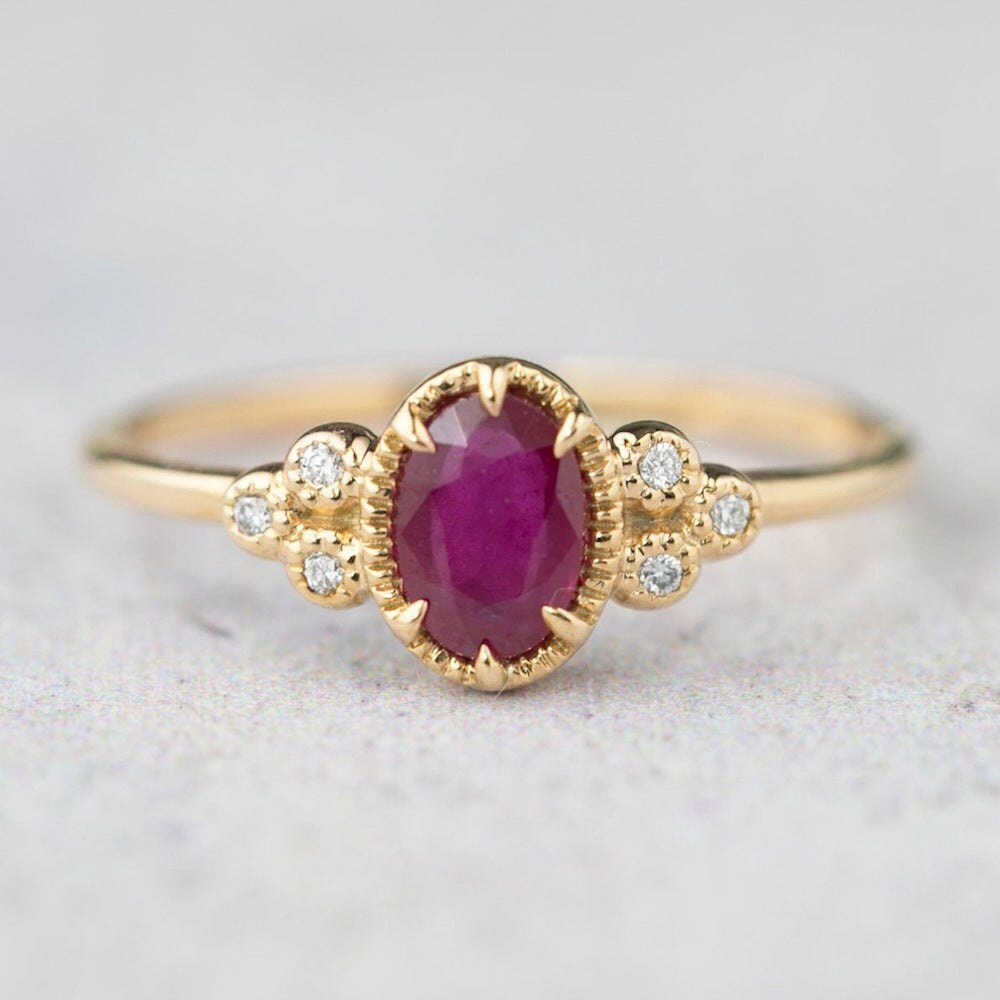 Katy Perry may be the latest superstar bride-to-be to sport a radiant ruby engagement ring—but who says you have to be heading down the aisle to wear your fantasy rock? With a gorgeous oval-cut ruby offset by mirrored diamond clusters, Envero Jewelry's statement band is the stuff of our Art Deco dreams. Even better? Thanks to the ring's low-profile setting and ruby's naturally tough exterior (these babies clock in at a nine out of ten on the Mohs scale!), you'll feel safe and secure sporting this dazzler day in and day out.
Ruby at home
In ceramic, print, or textile form, ruby-colored accents add a warm pop of color to any space.