Looking for some ensemble inspo? Channel old Hollywood glitz and glam for an extra-special shimmery season—just in time for New Year's Eve.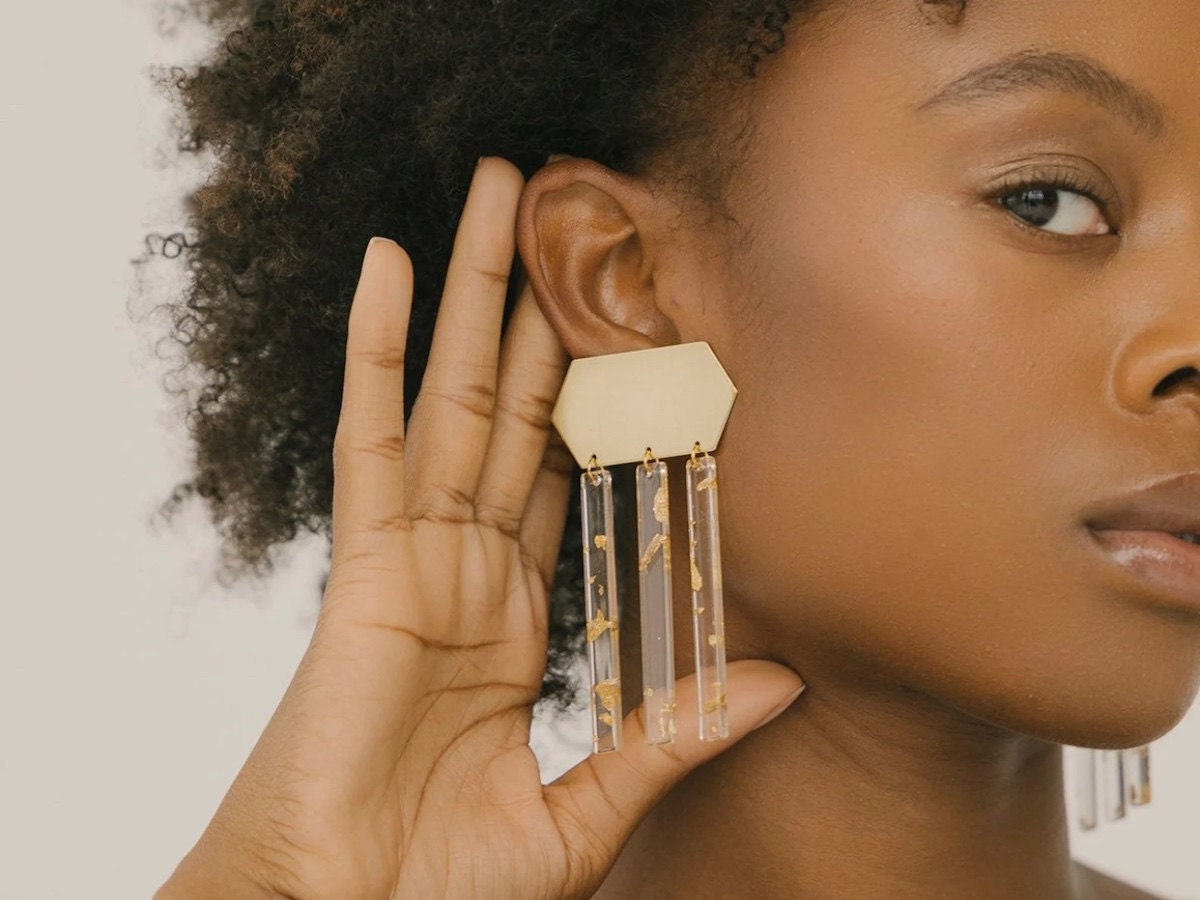 What festive season would be complete without a little sartorial sparkle? Now is the moment for spectacular fireworks displays and tree branches encased in glimmering icicles—not to mention shiny satin slip dresses, sequin statement earrings, and glittery gold handbags. As the days get a little darker in much of the world, it's the perfect time to generate your own glow, with an outfit assist courtesy of creative Etsy sellers.
To get you prepped for all the festive events ahead, we're sharing some of our favorite glitz-and-glam–inspired finds of the season—because you know what they say: All that glitters is a great way to build an ensemble. From plush velvet party attire for the late December cocktail hour to twinkling accessories for your New Year's Eve bash, plus a sprinkle of sparkle for your home too, these glittery goodies will add a little glamour to this party season, and let you countdown to midnight in style. Who's ready to dazzle?
Dress to the nines in silk and velvet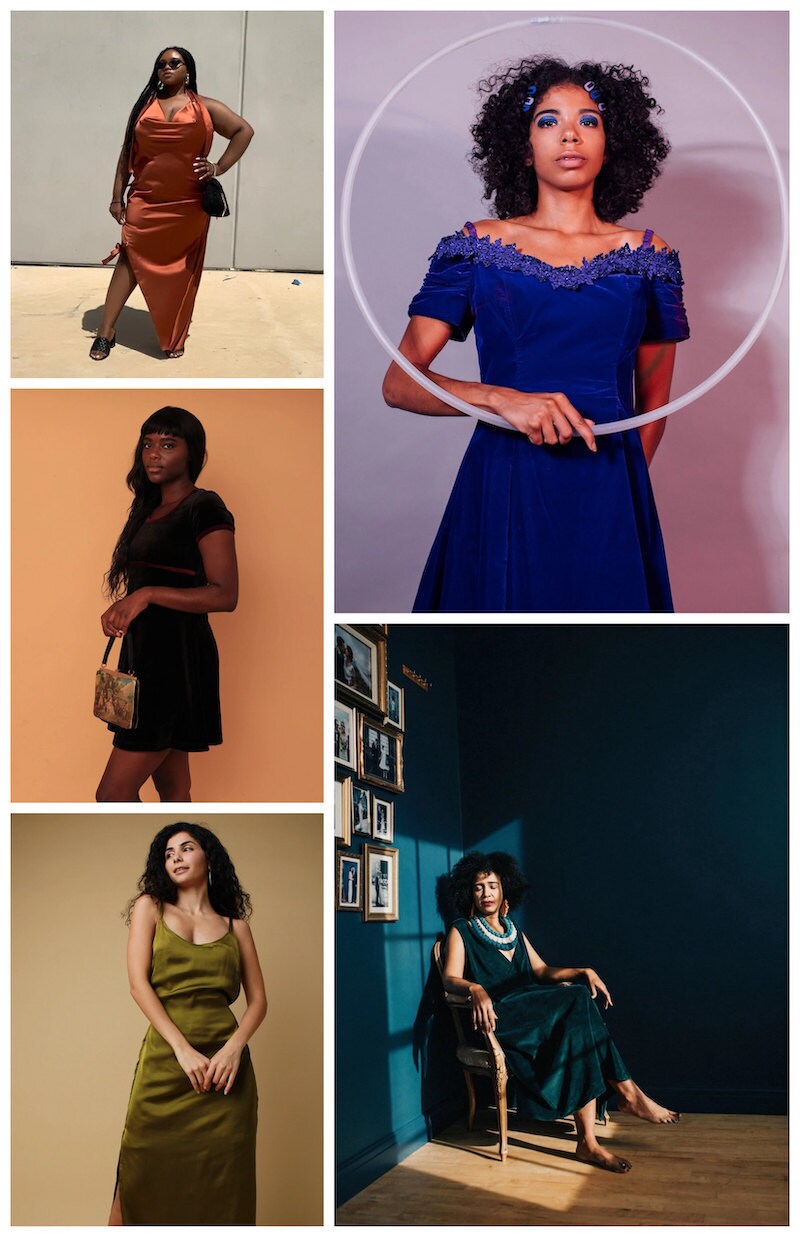 SHOP (clockwise from top left): Copper satin dress from On 24th by Jordie, $160; vintage blue velvet off-shoulder dress from Mawoolisa, $68; velour smock dress from Isabel Knowles, $185; chartreuse-olive slip dress from Soleil Store, $87; vintage velvet sweetheart dress from Transplant Vintage, $115
Channel old Hollywood glam with outfits that enhance your special spark. Shimmery fabrics like silk and satin set the stage for festive nights out, or in, and layer beautifully with chunky sweaters and wool tights when the weather outside turns frightful. Keep things classic with a little black dress, or amp up the holiday drama with rich, saturated tones like indigo, olive green, or fiery red. For a more subtle look to complement your jewelry game, try an oh-so-soft muted velvet number that will keep you cozy and help your shiny accents pop like stars across the winter night sky.
Pump up the glamour with glimmering accessories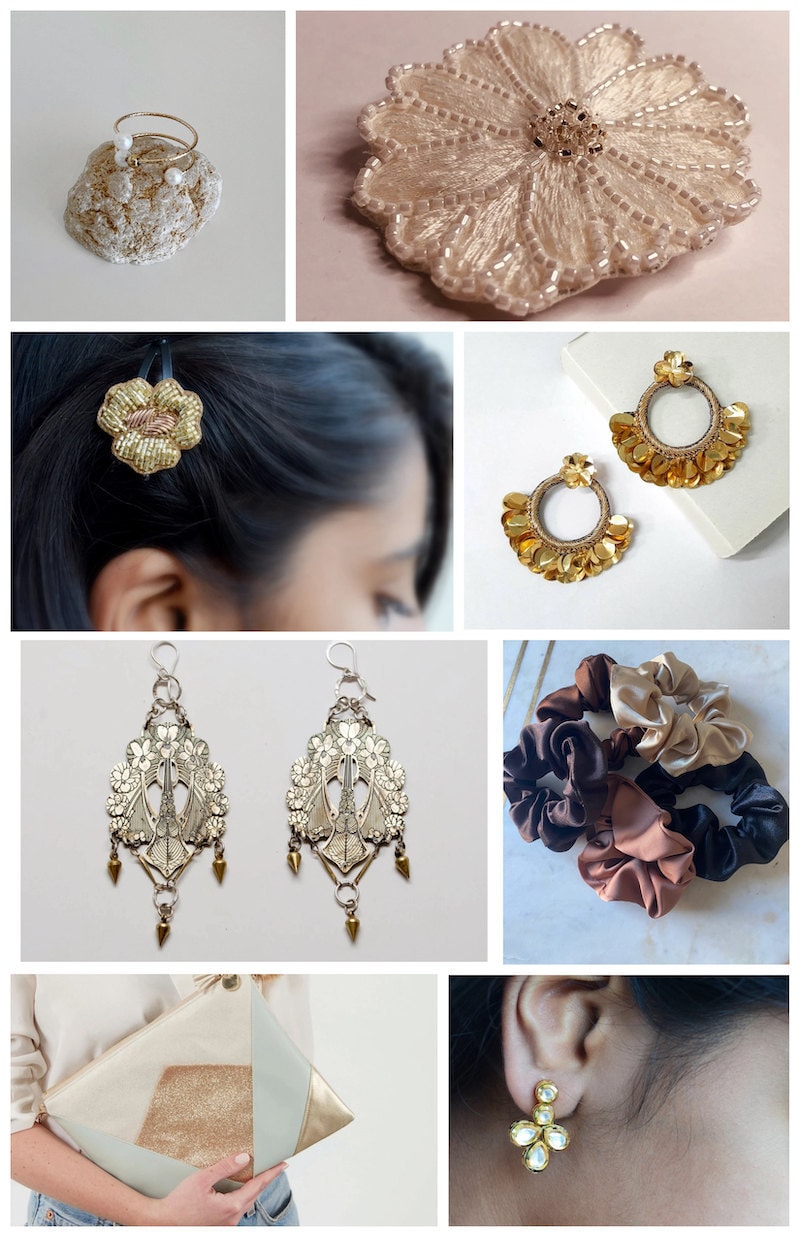 SHOP (clockwise from top left): Fresh water pearl ring from Drea Studio, $40; embroidered boudoir brooch from La Maison Eline, $70; gold sequin statement earrings from Carnation Jewellery, $36; satin hair scrunchie from BY KNDL, from $5; Jhumki drop earrings from Pretty Ponytails, $36; metallic suede clutch from Madame Zouzou, $58; vintage iris chandelier earrings from Sonja Rose B Jewelry, $104; floral hair barrette from Pretty Ponytails, $18
A gold sequined set of earrings that catch the light just-so. A luminous pearl ring that's dainty enough to go with everything. A luxurious silk scrunchie to help transition your look from day to night. Add a metallic clutch to complete your chic ensemble and you'll be shining as bright as can be.
Create a metallic moment at home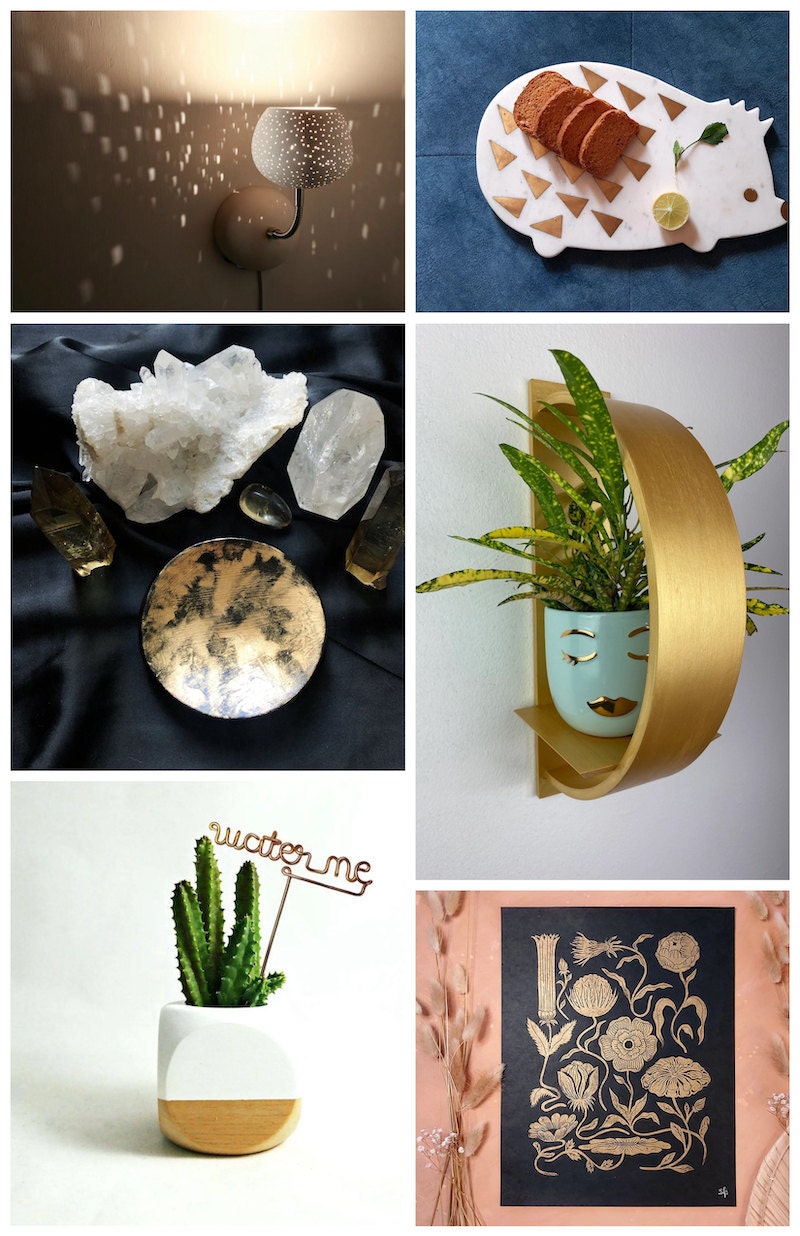 SHOP (clockwise from top left): Textured clay sconce from lightexture, from $247; marble and brass porcupine charcuterie board from Decor En Vogue, $75; gold wall shelf for plants from HKN Design, $99; metallic gold floral linocut print from Booba Prints, $50; metal "water me" plant marker from Le Rustic Chic, $11; celestial clay dishes from The Flow Design, $14
Why stop at your wardrobe? We love a little razzle dazzle everywhere, and definitely can't resist adding a sprinkle of sparkle to our homes. From ceramic sconces that turn any room into a cozy, glittery haven to a marble porcupine-shaped charcuterie board featuring the most adorable brass "needles," these decor picks will light up a room—literally.
Plus, our new iridescent obsession: pearlcore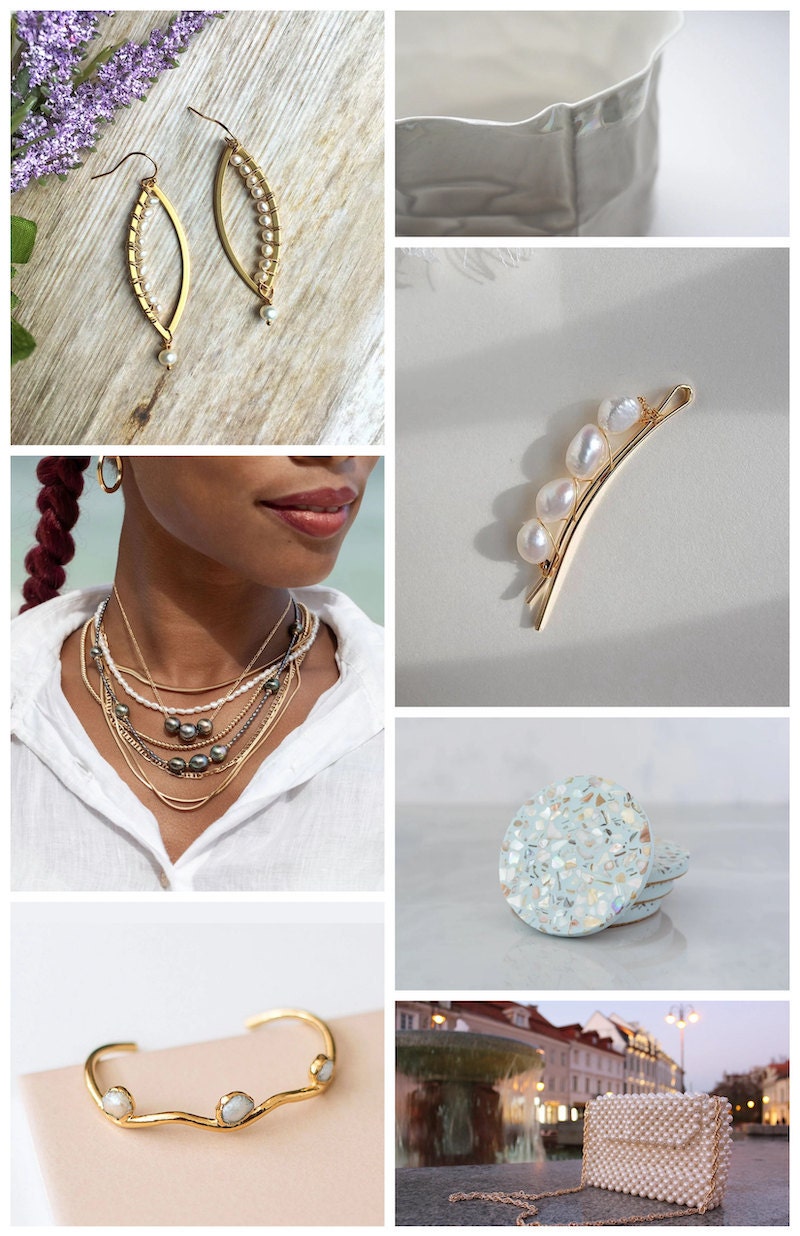 SHOP (clockwise from top left): Modern pearl drop earrings from Laura Stark, $68; mother of pearl and bone china vessel from Made by Manos, $46; freshwater pearl hair clip from Ling's Pearls Studio, $12; blue terrazzo mother of pearl coasters from Pastello Studio, from $14; pearl beaded bag from Monréticule, $99; wavy pearl cuff bracelet from DANIBARBE, $138; dainty pearl necklace from Ke Aloha Jewelry, $60
Pearls may have been prized in fashion and royalty for centuries, but this classic gemstone is having a major modern moment, cropping up everywhere from our jewelry boxes to our home decor. We're talking ethereal pearl dangle earrings, elegant pearl-encrusted handbags, pearly terrazzo coasters, and so much more. A sweet-meets-sophisticated addition to your holiday wardrobe and decor, pearlcore vibes are timeless enough to add a touch of romance to your life year-round.