by Briar Winters
Soothe chapped lips year-round with a silky, scented balm that's made using natural ingredients and an upcycled container.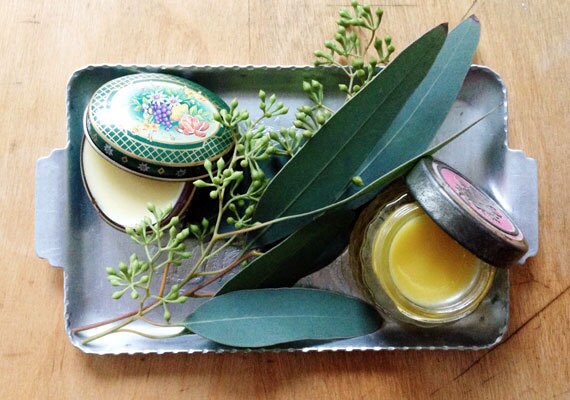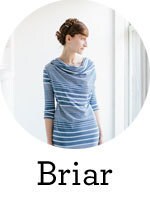 Briar crafts botanical apothecary products in her TriBeCa studio, with a focus on organic botanicals, local honey and beeswax.
A simple batch of handmade lip balm is the perfect way to put a collection of tiny vintage and upcycled tins and jars to good use. A welcome companion at any time of the year, you may even find yourself dipping into it to soothe dry cuticles or a dry patch of skin on the backs of your hands, too, as I often do. This project should take about 30 minutes, though the melting time depends on the size of your batch. (Note: It's best to start with a small batch until you've settled on your favorite formula.) With a few tools that you probably already have in your kitchen and a selection of butters, waxes and oils, you can experiment to your heart's content.
Equipment:
Kitchen scale, for weighing out ingredients
Heat-proof glass measuring cup (Pyrex works well)
Saucepan with water
Stovetop
Spoons, for scooping butters and oils
Small droppers, for dispensing essential oils
Chopstick, for stirring the mixture
Paper towels, for catching drips and tidying up. Normally I am not a fan of paper towels in the kitchen, but wax can be awfully tricky to get out of nice dishtowels.
Small tins or jars. I've found many lovely tins at my local sweets shop, at antique shops and flea markets, and here on Etsy. I even found a collection of very tiny vintage tins made for holding watch parts that would hold adorably elfin lip balm portions.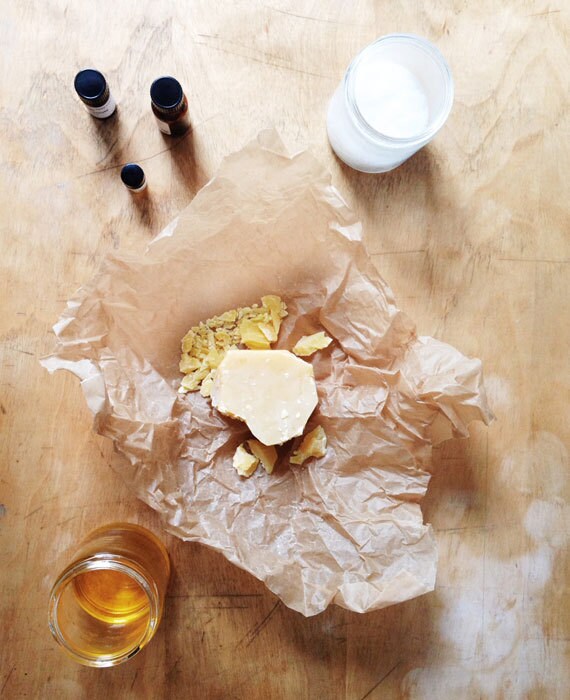 Materials:
There are so many wonderful options widely available online for the butters, waxes and oils that will make up the balm. Begin by taking into consideration your own (or your giftee's) preferences and sensitivities. I personally love the scent and texture of beeswax (which I get from a local beekeeper), but vegans may want to consider candellilla wax. Some of my favorite skin-nourishing oils and butters include coconut, sesame, apricot kernel, sweet almond, olive, shea butter and cocoa butter. Adding a few drops of vitamin E (seek out a non-GMO vitamin E, if you can) helps protect the oils from oxidation. To scent the balm, assemble a few of your favorite essential oils.* Here are a few ideas for fragrances and combinations in harmony with the seasons:
Spring calls for something light and floral: geranium, neroli (orange blossom) or pink grapefruit.
Summer inspires visions of freshly cut herbs: rosemary, mint and tarragon, or the beachy tropical combination of ylang ylang and vanilla.
Fall loves warmth and spice: cardamom, nutmeg, cinnamon, dried ginger, vanilla or even chocolate.
Winter wants bright and delicate citrus notes (mandarine, bergamot), fresh ginger or jasmine (think of your favorite conservatory garden in February).
*A word of caution about citrus essential oils: in very small quantities, they can add something very beautiful to your blend. Be very careful about adding too much, though, as they can be photo sensitizing to the skin.
Process:
Begin by making sure your work area, your equipment and your hands are sparkling clean and dry. Any moisture introduced into the balm will dramatically shorten its lifespan.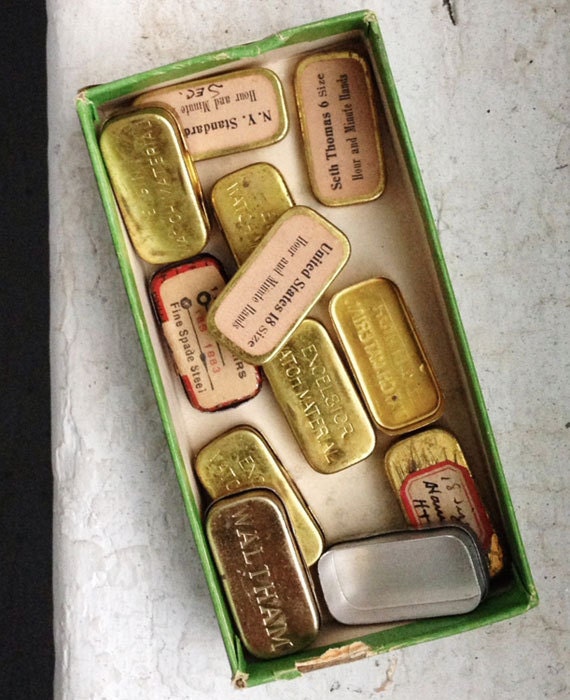 If you are using vintage or upcycled containers, make sure these are all clean and dry as well. I like to clean my containers and tools with medical alcohol before use to ensure that they are free from contaminants. Once they are cleaned, set the containers aside, ready for the finished balm to be poured in. Combine your chosen wax, butters and oils in the glass measuring cup, weighing each ingredient out as you go and recording your starting formula. I prefer to divide my beeswax into little chunks with a small knife (be cautious, as the beeswax will be quite firm) and to work on a piece of parchment paper set over a cloth towel on a firm surface. Many people prefer using a grater for their beeswax, but it can be difficult to remove the beeswax afterwards. Be certain you're ready to commit a grater to this use exclusively before diving in.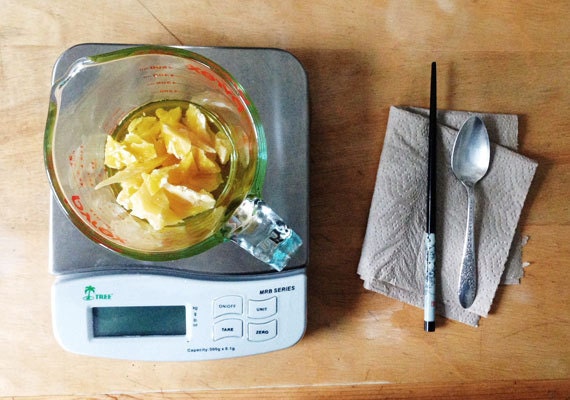 Experiment to find the combination you prefer, beginning with a ratio of about 1:2 liquids (oils) to solids (butters and waxes), or 1:1:1 (liquids to butters to waxes). Set the glass measuring cup into the saucepan of water, making sure that the water comes far enough up the sides of the cup to provide even heat. Gently begin to heat the water, keeping an eye on the contents of the cup at all times and stirring with a chopstick occasionally to encourage even melting. Don't allow the water to come to a boil, or even much of a simmer, as you don't want water droplets splashing into your mixture.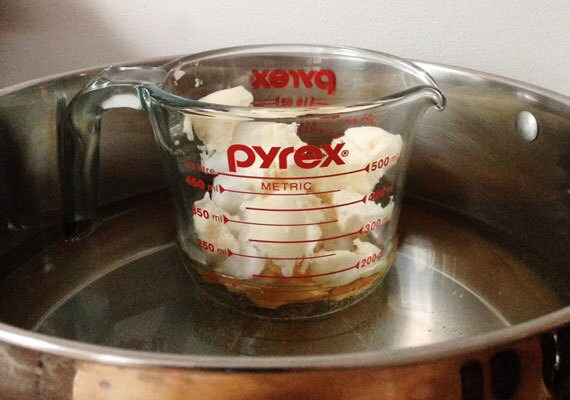 Adjust as you go along by placing a few drops of the mixture onto a clean dish and testing the consistency with your fingertip after it cools. If the balm is too firm, add a bit more oil. If it's too soft, add just a bit more wax, being sure to write down your formula for future batches.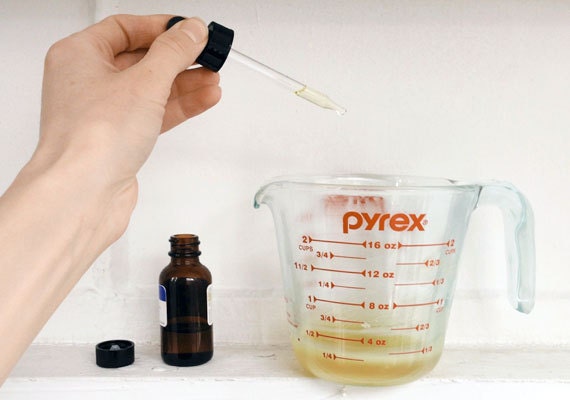 When all the ingredients have melted together, remove from the heat and add your chosen scents. Start with one drop at a time of essential oil, using a new dropper for each essential oil. You can always let a small droplet of the mixture fall onto a clean saucer to test the concentration. Be mindful of the sensitive skin of the lips when adding your essential oils: it's best to keep the concentration light and subtle. If the mixture begins to harden while you're working, simply set the measuring cup back into the warm water briefly to loosen it. It's best not to heat the mixture much after adding the essential oils, as the oils are volatile and delicate and can lose their character if overheated. Add a few drops of vitamin E, if using.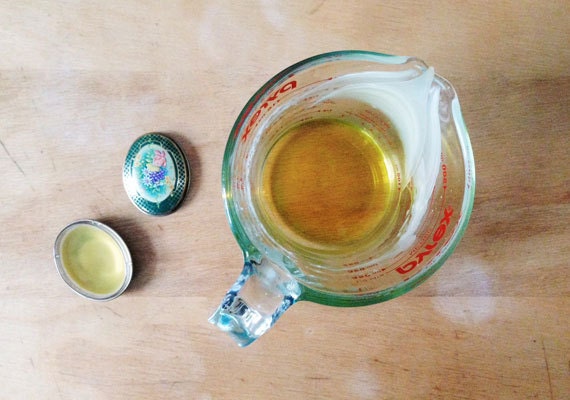 Once you are satisfied with your scent, give the mixture one final stir to make sure the ingredients are evenly distributed. Be sure to dry the bottom of the measuring cup thoroughly to be sure no water droplets are clinging to it that could slide into the tins as you pour, and then gently pour the mixture into your prepared containers. Leave uncovered until set and completely cool.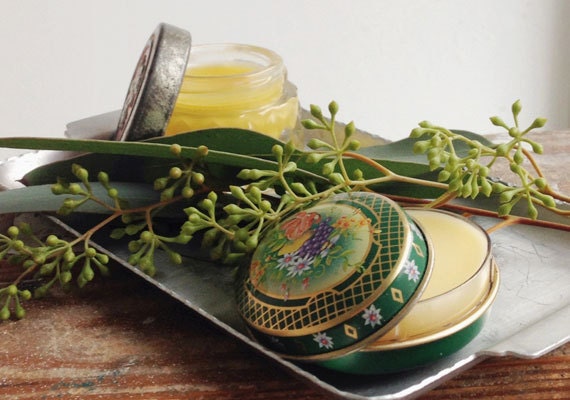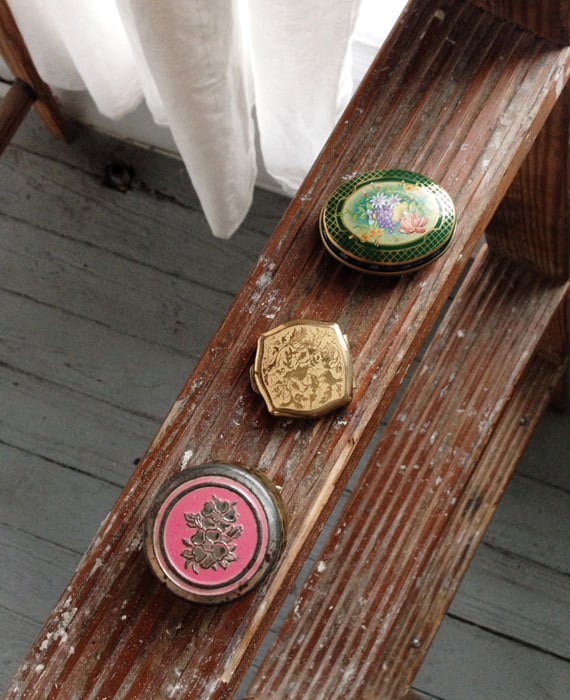 All photographs by Briar Winters.