by EveryDayRachaelRay
Our friends at Every Day With Rachael Ray magazine have come up with some creepy ideas for your next Halloween party.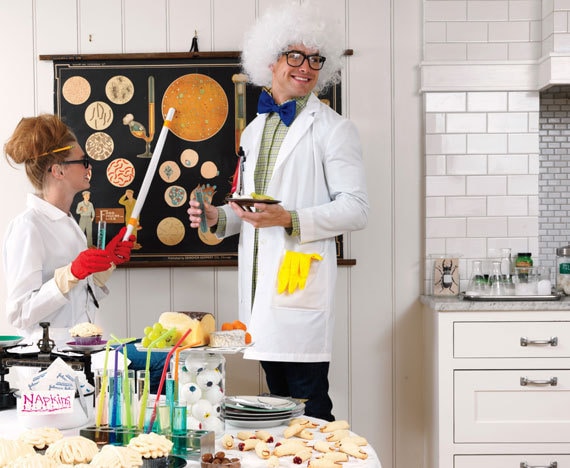 Sonal Dutt is the executive lifestyle editor at
Every Day with Rachael Ray
, the magazine that takes a bite outta life! Besides fast and easy recipes, we're also full of fun party ideas, cool home, beauty and style picks, tasty travel tips and much more.
We're always looking for an excuse to throw a party, and what better time than Halloween? We love it so much at
Every Day with Rachael Ray
that we came up with three great grown-up scare affairs for our October issue: a goth-inspired black widows' ball, a rock 'n' roll karaoke bash and a wacky mad scientist party that really tickled our (skeleton) funny bones. How fun is this: You turn your place into a creepy inventors' lab, complete with scalpels instead of cheese knives, test tubes instead of cocktail glasses and funky, colorful wigs for everyone. Let the madness begin! [Insert diabolical laugh here.]  
Decorate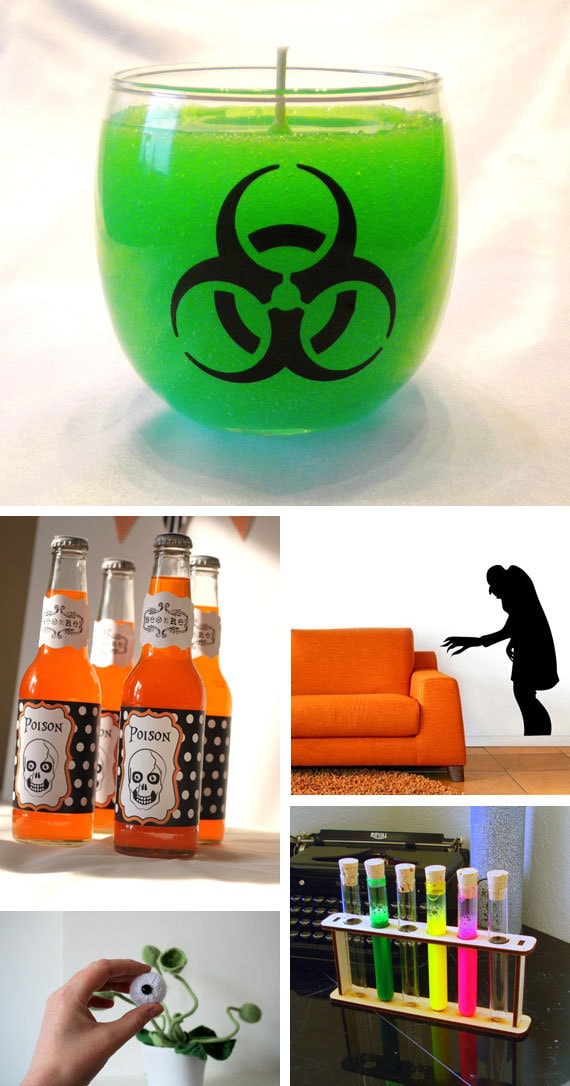 [Clockwise from top: Mad Lab Biohazard Resident Evil Virus Glow in the Dark Blacklight Green Candle from lilysbydesign; Nosferatue Shadow Vinyl Wall Art from PillBoxDesigns; Six large custom test tubes from sneezer222; Cyclops Plant from ButterflyLove1; 28 Custom Designed Bottle Wraps and Neck Wraps from partypapers]
For the perfect mad scientist party, you want to strike a balance between sterile white laboratory and eerie Hazmat zone. Pull out all your metal platters, like baking sheets or roasting pans, for a surgical touch, and use wads of gauze for napkins. We could see filling out the party space with hidden surprises, like a Cyclops plant tucked between houseplants and an Igor-like assistant lurking in a dark corner. More ways to do it up right: Aim a black light on a white-lined table, cleverly filled with neon test tube cocktails and water bottles marked "POISON." Attach a small strobe light to give off a lightning effect (for conducting "experiments").  
Eat and Drink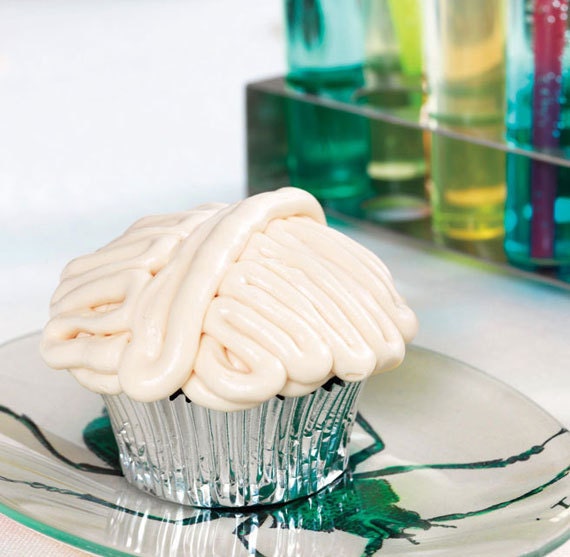 %3Cp%3EEvery%20Day%20With%20Rachael%20Ray%3C%2Fp%3E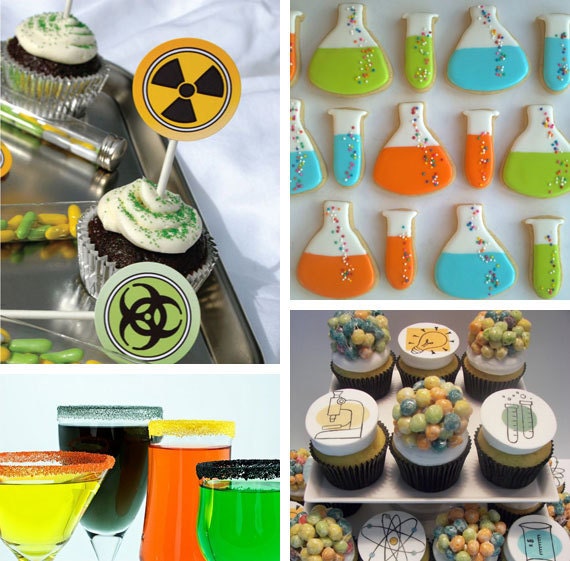 [Clockwise from top left: Weird science cupcake picks from Partystarters; Beaker test tube cookies from acookiejar; Mad science cupcake toppers from Death By Cupcake; Halloween cocktail rim sugar kit from dellcovespices]
Play up our crazy party theme by serving equally crazy food! Add a little bite-size gore to the table by filling glass beakers with eyeball cakepops or lollipops. Round it out with other "dissected" body-part eats, like our
Buried Alive Muffins
,
Severed Finger Cookies
or
Cheesecake-Filled Pumpkin Cupcakes
(with "brain" frosting). For easy touches, rim your test tube cocktail glasses with brightly colored sugar. And top all treats with biohazard warnings!  
Dress
[Left to right: Serotonin Earrings from molecularmuse; Science Affair Silkscreen Microscope Necktie from toybreaker]
Ever wonder what you'd look like if you were hit with a bolt of 1.21 gigawatts? Well, that's the kind of costume you're going for tonight. Ladies: Throw a simple white lab coat over your clothes, put on a pair of thick-frame glasses and add some chromosome-looking earrings for sparkle. Top it off with frightening
Bride of Frankenstein
, teased-out hair (the bigger, the better!) and rubber doctors' gloves. Guys: Rock a lab coat with a microscope silkscreen tie, or wear a DNA T-shirt to show off your science. For both: Tuck plastic syringes, thermometers or glass vials filled with "chemicals" (juice or food dye with water) in your lab coat pockets.  
Favors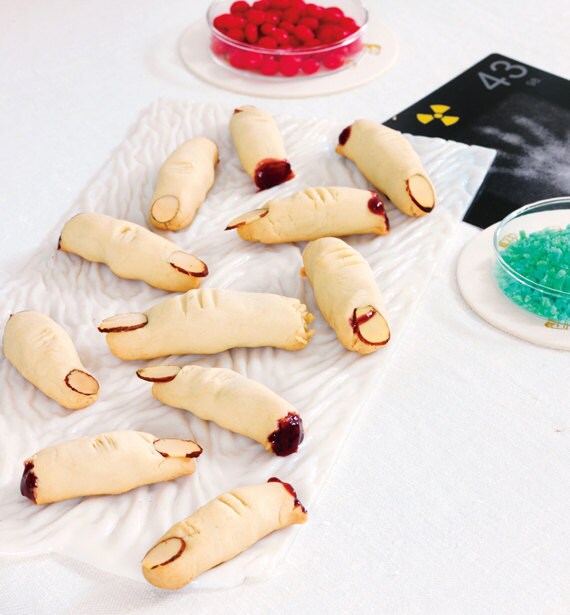 Severed%20finger%20cookies.%3Cp%3EEvery%20Day%20With%20Rachael%20Ray%3C%2Fp%3E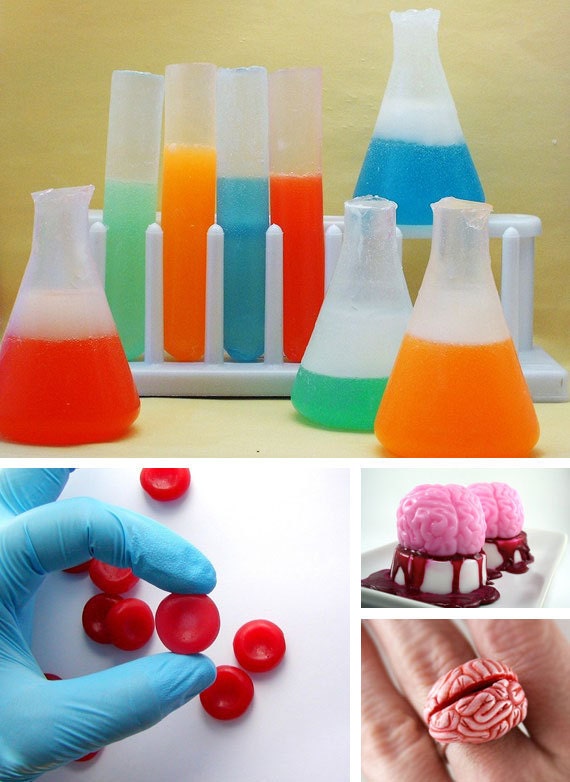 [Clockwise from top: Mad scientist beaker soap from Two Eggplants; Bloody brain soap from brookiesbath; Adjustable brain ring from Neverland Jewelry; Butterscotch scent soap from Cleaner Science]
Give guests a piece of the party to take home by labeling black plastic bags "Lab Sample." Fill each with cakepops, finger cookies, and lollipops, along with any beakers, brains and eyeballs you'd like to include. We also love Mad Scientist Beaker Soap and Bloody Brain Soap as favors. For extra fun, spook guests by squirting Silly String into the bags before handing them out. They'll think they're grabbing brains when they reach in!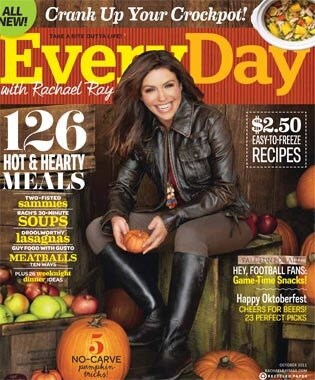 And now, a special offer for Etsy readers: Subscribe to
Every Day with Rachael Ray
for only $10!
Click here for details.
What are your Halloween party plans this year?