by Heather Baird
Up the ick factor at your next Halloween party with these deliciously scary, science lab–themed sweets.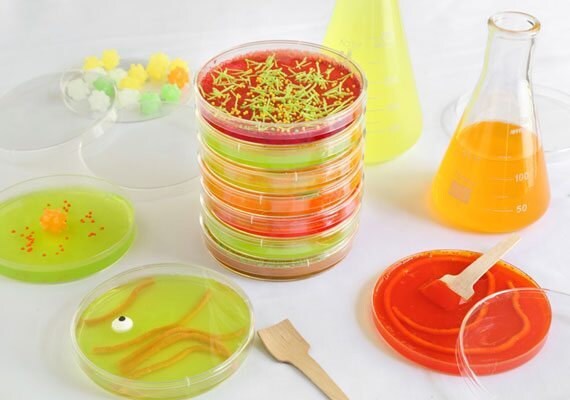 Mad scientists of all ages will love concocting their own creepy treats in petri dishes — especially around Halloween season. You'll need just a few ingredients for this project: fruit juice, unflavored powdered gelatin, and a variety of hard candies (protective goggles and lab coats optional!). You can find unflavored powdered gelatin in the baking aisle near the flavored gelatins and boxes of instant pudding; disposable petri dishes are available for purchase online. Some of my favorite sweets to use in this recipe include nonpareils, gummy laces, and candy buttons, which conveniently resemble clusters of growing bacteria. Fruit juices served in test tubes and beakers make cute accompaniments to these colorful jellies, and all together are perfect for a mad scientist–themed Halloween party.
You will need:
2 cups fruit juice or other sweetened beverage
Food color (optional)
2 packages (.25 ounces each) powdered gelatin
Assorted candies (try candy buttons, nonpareils, gummy laces, gummy worms, and candy eyeballs)
12 disposable petri dishes (I used the 100 mm x 15 mm size)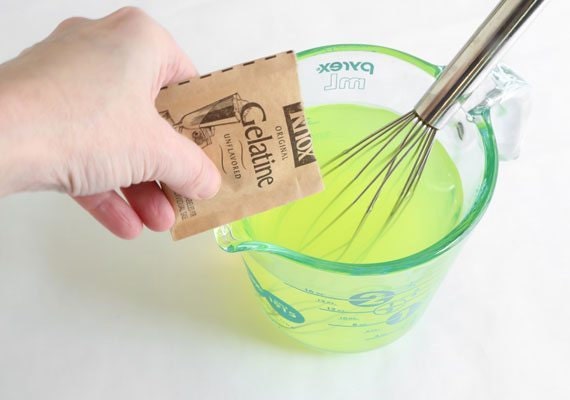 Step 1:
Pour fruit juice into a large, microwave-safe measuring cup. If the fruit juice is pale in color (such as white grape juice), stir in food color until a vibrant hue is achieved. Quickly whisk in the gelatin. Heat in the microwave for 1 minute at 100% power; stir well. Heat for an additional 30 seconds, or until the mixture is steaming. (Stir well after each heating interval.) You may also heat this mixture in a saucepan on the stovetop if you don't own a microwave oven.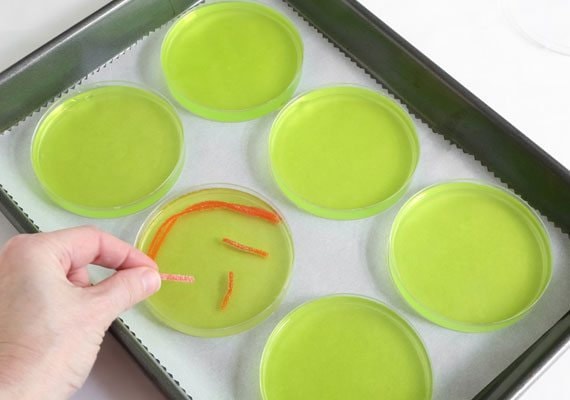 Step 2:
Let the mixture stand until it stops steaming, about 5 minutes. Place the petri dishes on a large baking sheet, then fill each one 3/4 full with the gelatin mixture. If using gummy candies, add them to the dishes now, partially or completely submerging them in the liquid gelatin.
Tip:
 As long as you have enough petri dishes, you can make several colors of gelatin mixture at once; 2 cups will fill about 12 petri dishes.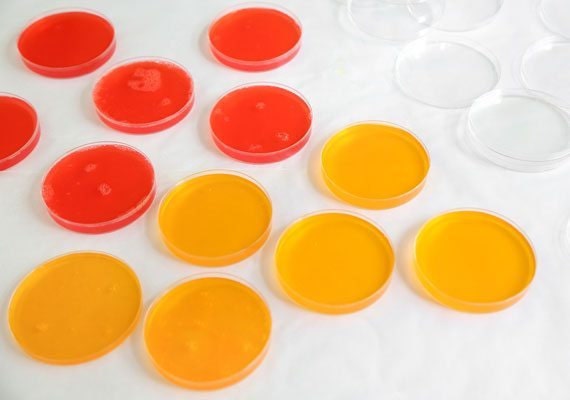 Step 3:
Refrigerate until the mixture has set, about 2 hours. The consistency of the set gelatin will be denser than regular gelatin (think Jell-O Jiggler consistency). This density helps ensure that candy add-ons won't melt away over time.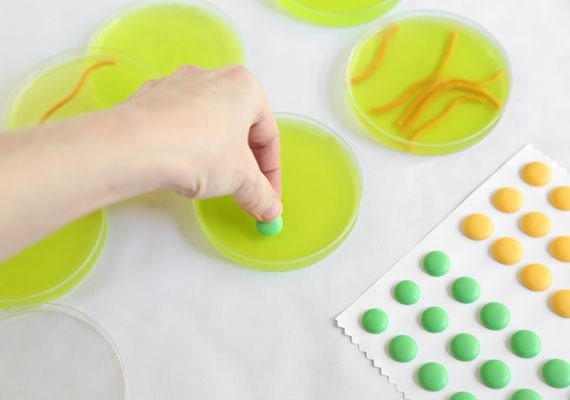 Step 4:
Decorate the petri dishes with the leftover candies — or allow your young scientists to add their own 'bacteria' candy to the dishes.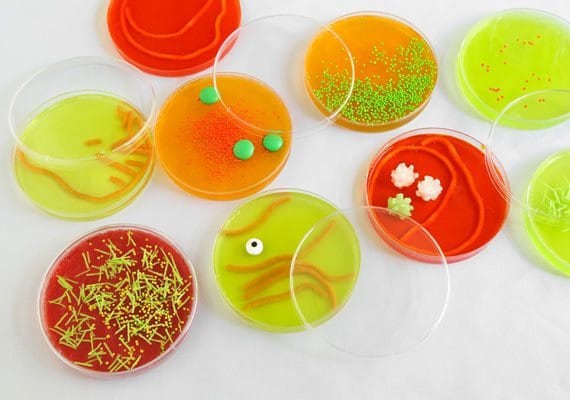 Step 5:
Place lids on the petri dishes and stack them high for a colorful display, or arrange them on a large serving tray with mini spoons.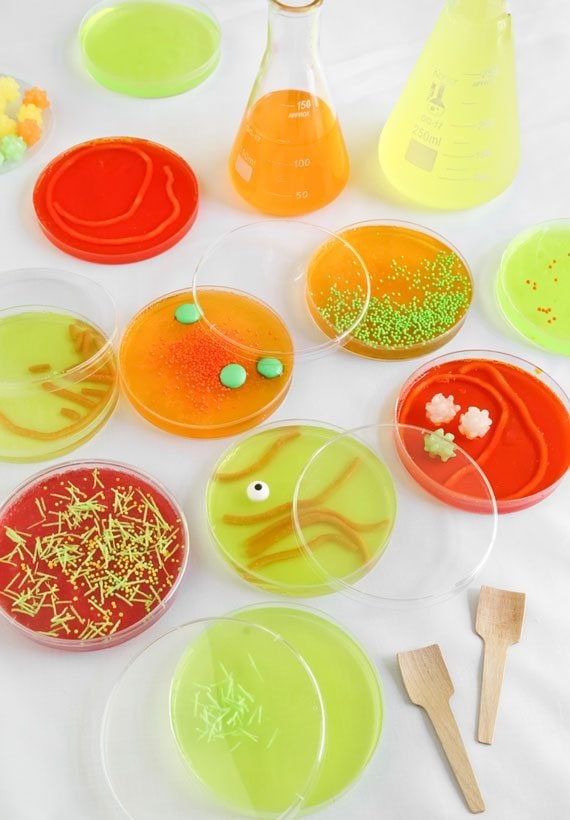 All photographs by Sprinklebakes.