What's better than receiving a giant chocolate Easter egg? Receiving one with a surprise inside! Making a hollow chocolate egg is easier than you think.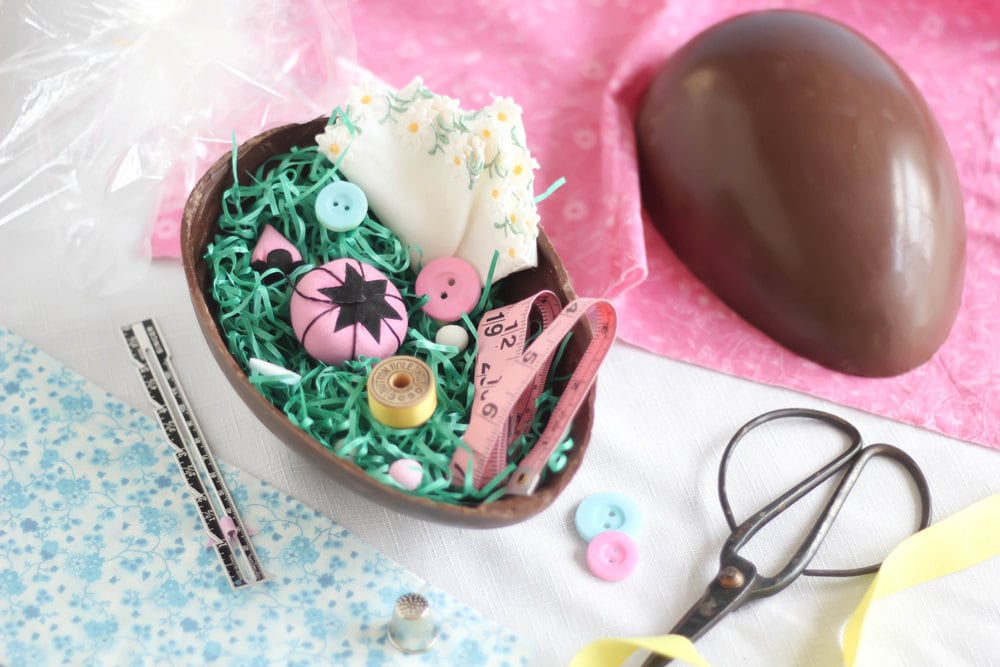 What's better than receiving a giant chocolate egg? Receiving a giant chocolate egg with a surprise inside! This springtime treat is commonly found on European grocery store shelves wrapped in colorful foil paper or clear cellophane. Some eggs have toys and small gifts inside and others are strictly candy-filled. Making your own hollow chocolate egg is easier than you might think, and you can customize the surprise inside to suit the recipient. Follow the recipe below to make your own homemade chocolate surprise egg this Easter.
Chocolate almond bark (sometimes referred to as chocolate candy coating) is easy to use because it doesn't require tempering and provides glossy, flawless results. You can find it in the baking aisle at the grocery store next to the chocolate chips. An 8-inch egg mold was used for this project, which makes a stately presentation, but smaller molds can also be used.
The hollow chocolate surprise egg recipe below is tailor-made for the seamstress in your life. Little spools of thread, candy buttons and other sewing notions are easily tucked inside the egg's shell. But you can easily switch up the treats inside to cater to your giftees. If you have small inedible items like plastic buttons or snaps, be sure to wrap those in cellophane bags before placing them inside the egg. This is an added safety precaution to avoid mixing up gifts with edibles. You can also purchase edible buttons made from sugar, fondant and chocolate from many Etsy sellers.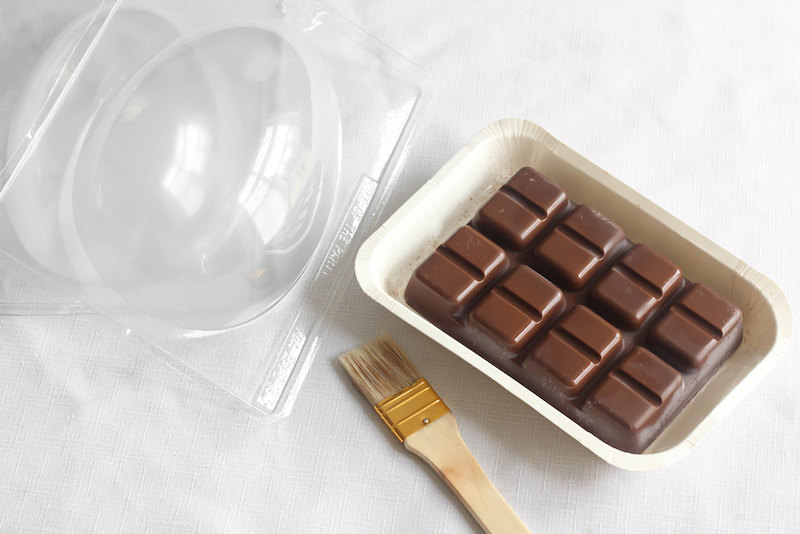 Chocolate Surprise Egg
Yield: One 8-inch egg
You will need:
1 lb chocolate bark or chocolate candy coating
2 Craft brushes, each 2-inches wide
Plastic basket shred or plastic grass
Ribbon, or an extra tailor's tape measure if making the sewing-themed egg
Small gifts and treats
Note: This egg holds spools of thread, an embroidered daisy handkerchief, candy-coated chocolates, a pin cushion, a thimble, a fabric quarter, and a tailor's tape measure.
Step 1: Lay out egg molds on a level surface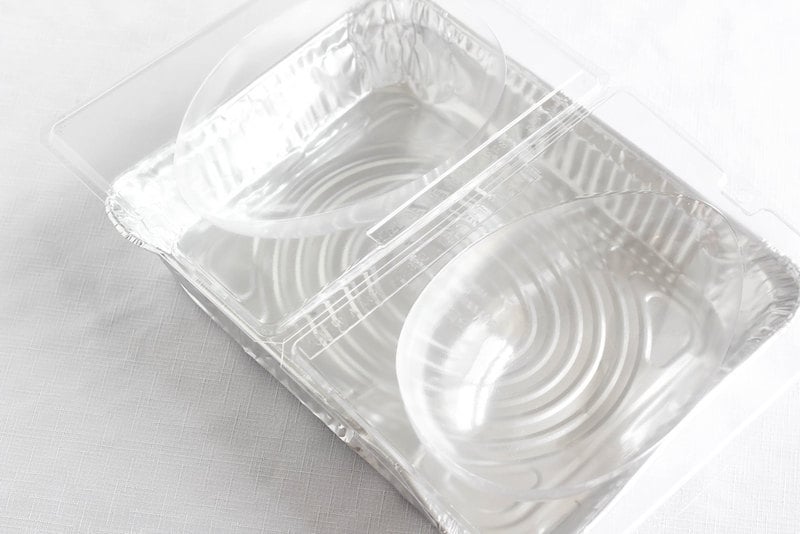 Place the egg molds in a large baking pan so that they are level. You can also use crumpled aluminum foil on a baking sheet as a support if you don't have a large enough pan.
Step 2: Heat chocolate bark and pour into egg molds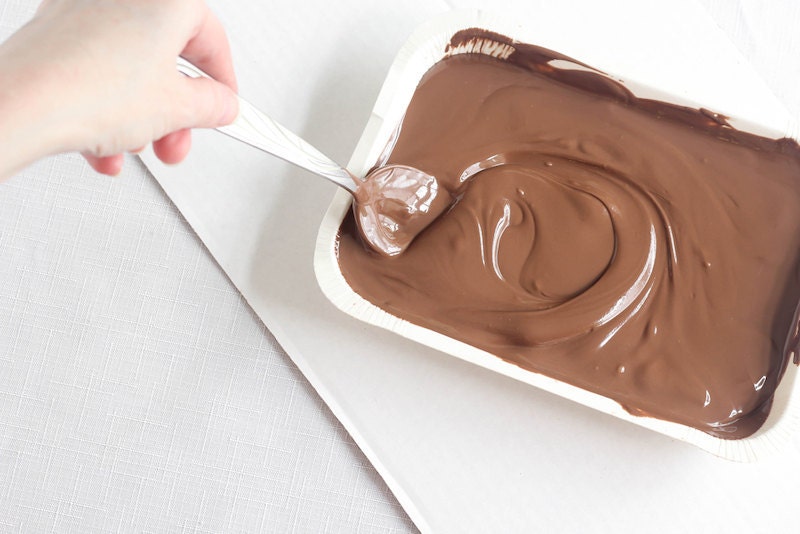 Heat the chocolate bark in the microwave in 30 second intervals. Stir well between intervals until the chocolate is completely melted and smooth.
Pour about one-quarter of the melted chocolate bark into one of the egg molds.
Step 3: Evenly spread melted chocolate bark inside egg molds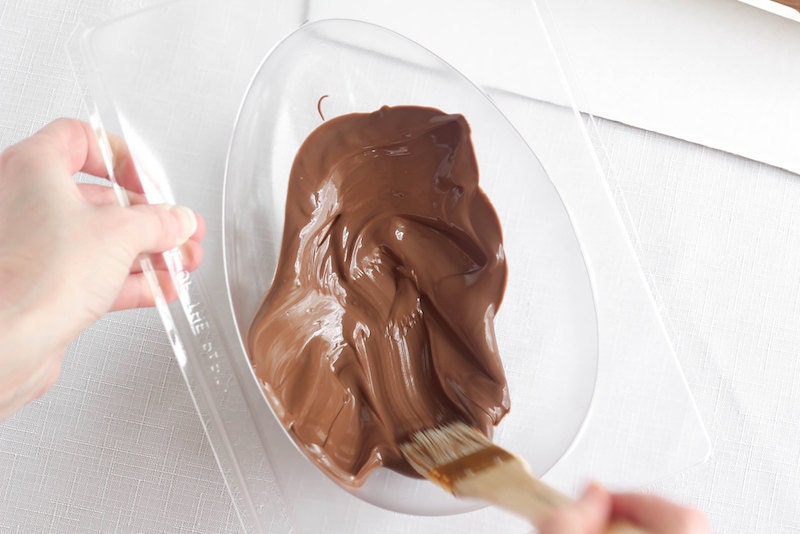 Remove the mold from the baking pan and use a craft brush to paint the chocolate bark inside the egg cavity.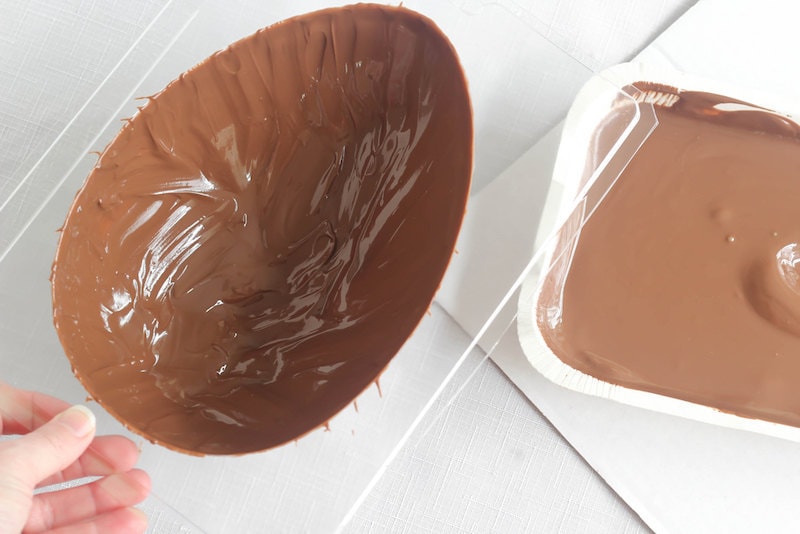 Work from the center outward. Pay special attention to coating the top edges of the mold, as this area is easy to miss with the paintbrush. When the egg is evenly covered in chocolate, return it to the baking pan and repeat the process with the second egg mold.
Step 4: Chill egg molds, then continue layering melted chocolate bark inside egg molds
Place the chocolate-coated egg molds in the freezer for 5-10 minutes, or until they are set and have a matte surface appearance.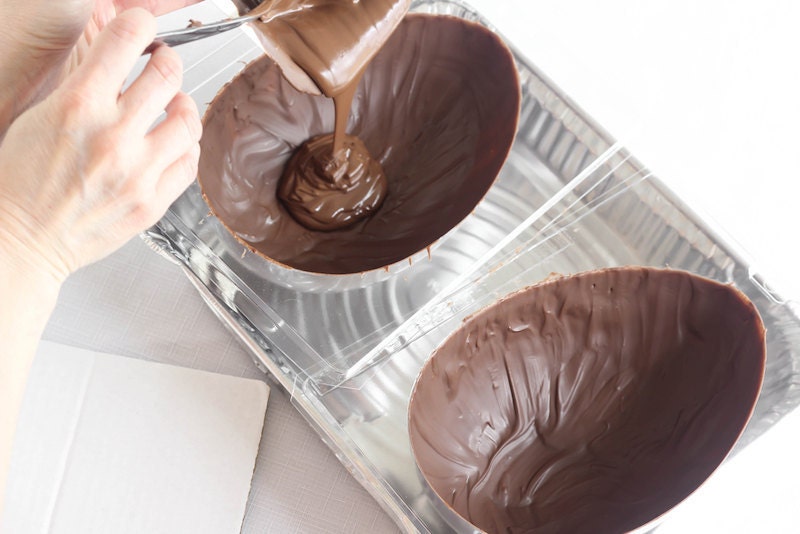 Reheat the remaining chocolate bark (if necessary). Pour another quarter of the chocolate bark in one of the molds and spread it on with the second paint brush (at this point, the first paintbrush you used will be unusable with thick, set chocolate, so it's handy to have a second).
Hold the egg mold up to the light and look for any thin spots. They'll be instantly illuminated and you can see where the chocolate needs to be spread. Repeat these steps with remaining egg mold. Place the molds in the baking pan and freeze until the chocolate is set.
Step 5: Carefully trim excess chocolate from rim of egg molds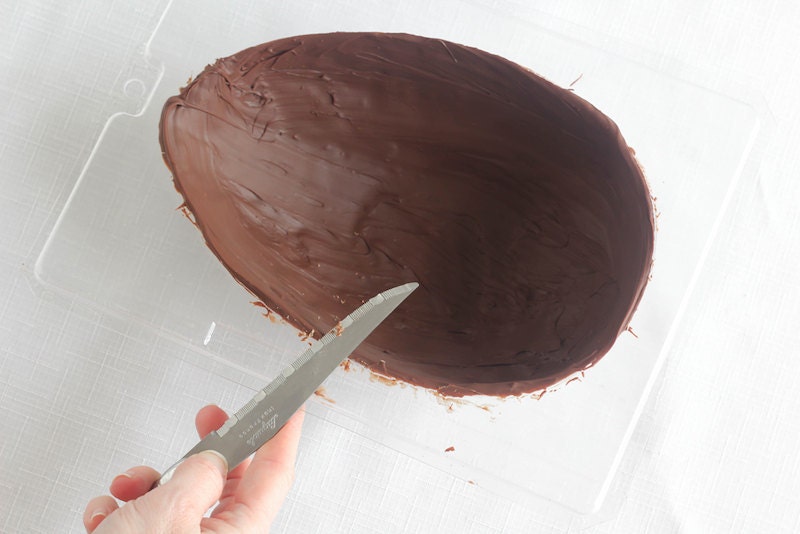 Before removing the eggs halves from the molds, run a small knife around the top edge of the mold to remove excess chocolate. The chocolate candy shells are delicate, so be particularly gentle.
Step 6: Remove hollow chocolate egg shells from mold and fully cool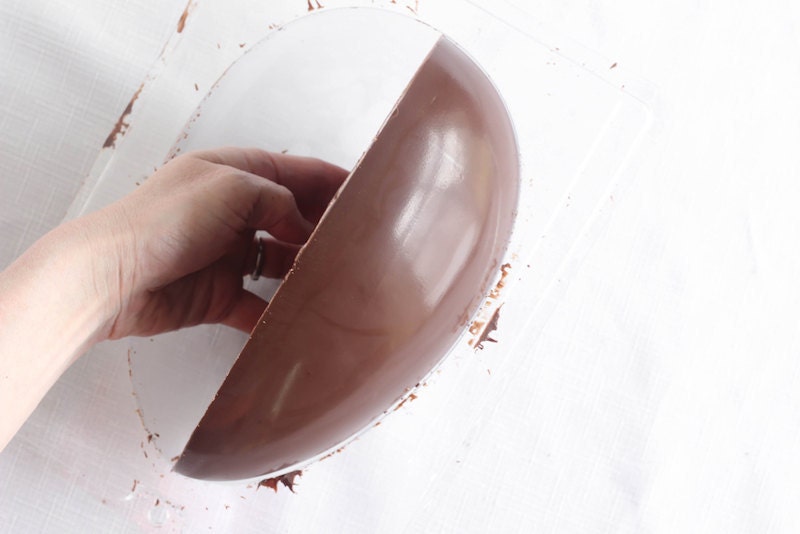 Remove the chocolate shells by gently picking them up in the center.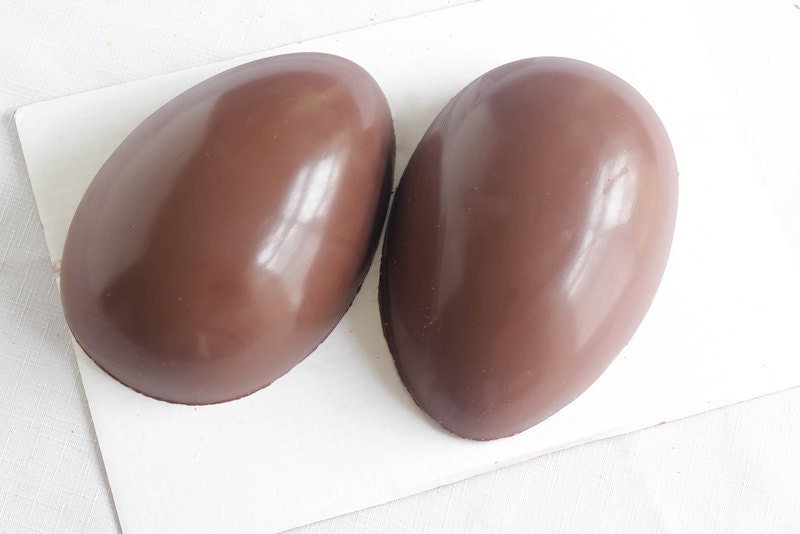 Lay the chocolate egg halves on a cool dry surface and allow them to come to room temperature.
Step 7: Prepare "surprise" gifts for inside hollow egg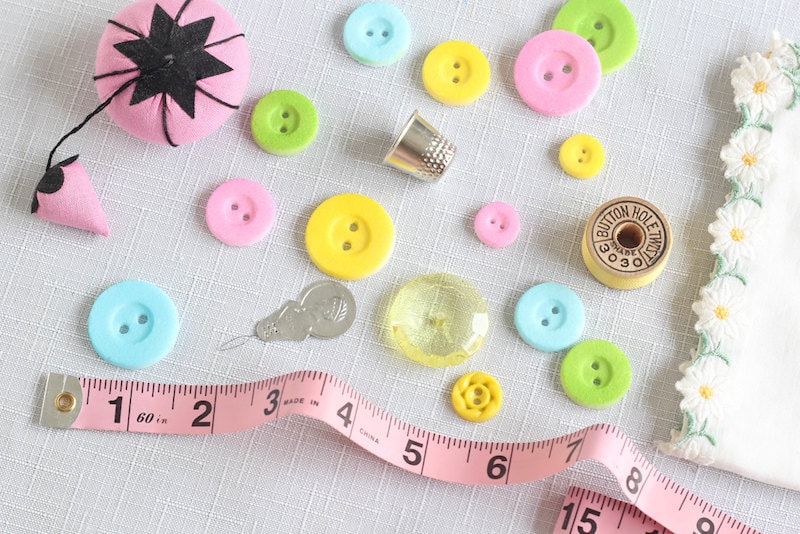 Gather together the small gifts and candy you wish to put inside the egg.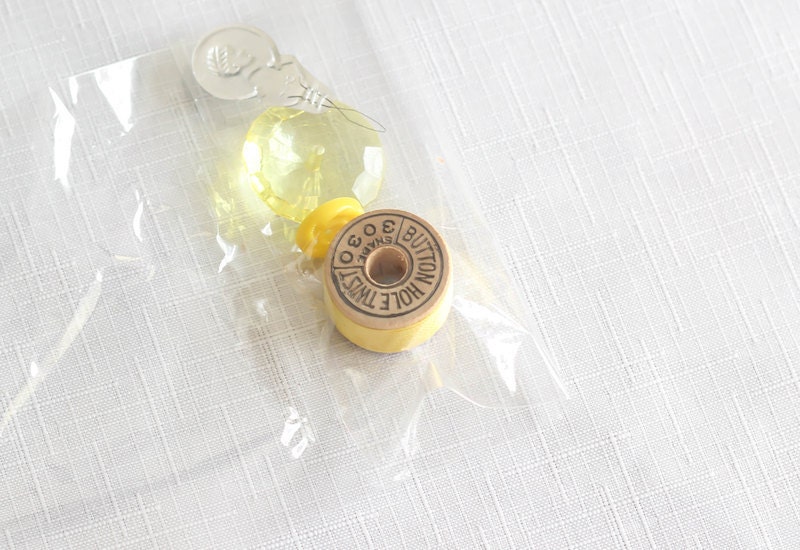 Small pieces like plastic buttons and snaps should be put in small cellophane bags. If you're concerned that the egg may be exposed to heat or melt during transit, you may choose to put all of the contents into small cellophane bags for extra insurance.
Step 8: Assemble the chocolate surprise egg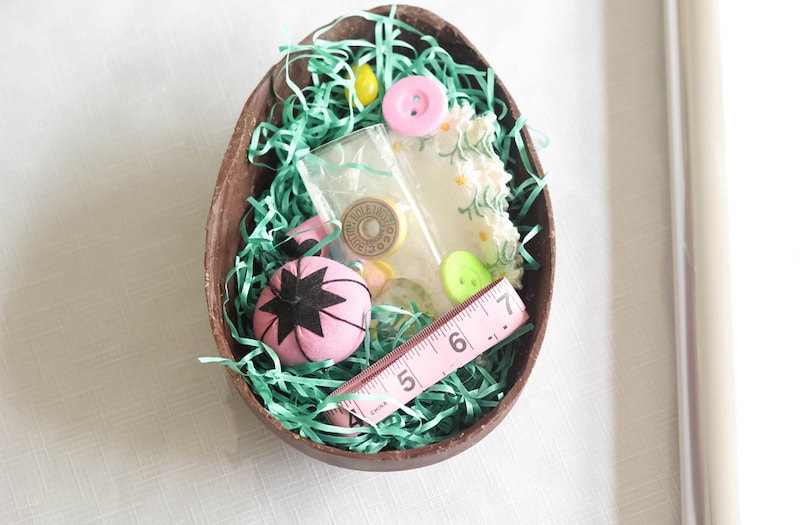 Line the egg with some of the plastic grass and place the gifts on top of the grass. Place a little more plastic grass on top of the presents to pad them and hold them securely inside the egg.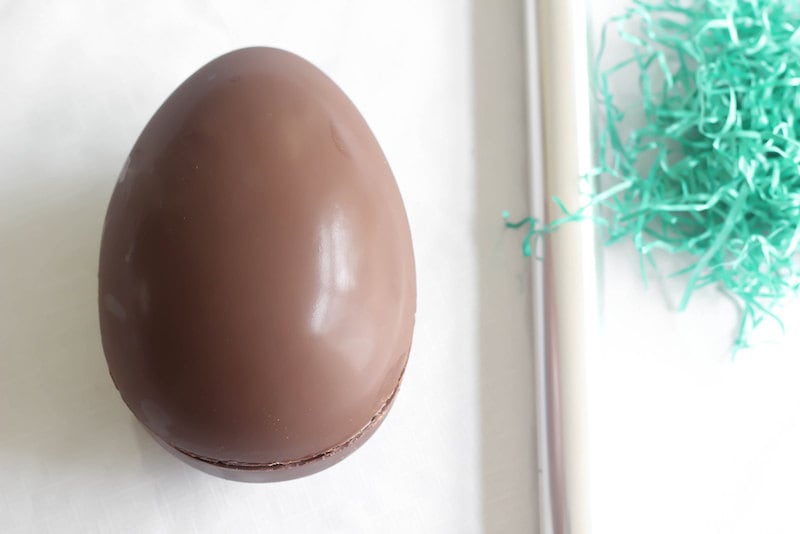 Place the second chocolate egg half on top of the filled shell so that they meet evenly. Tuck in any stray pieces of plastic grass.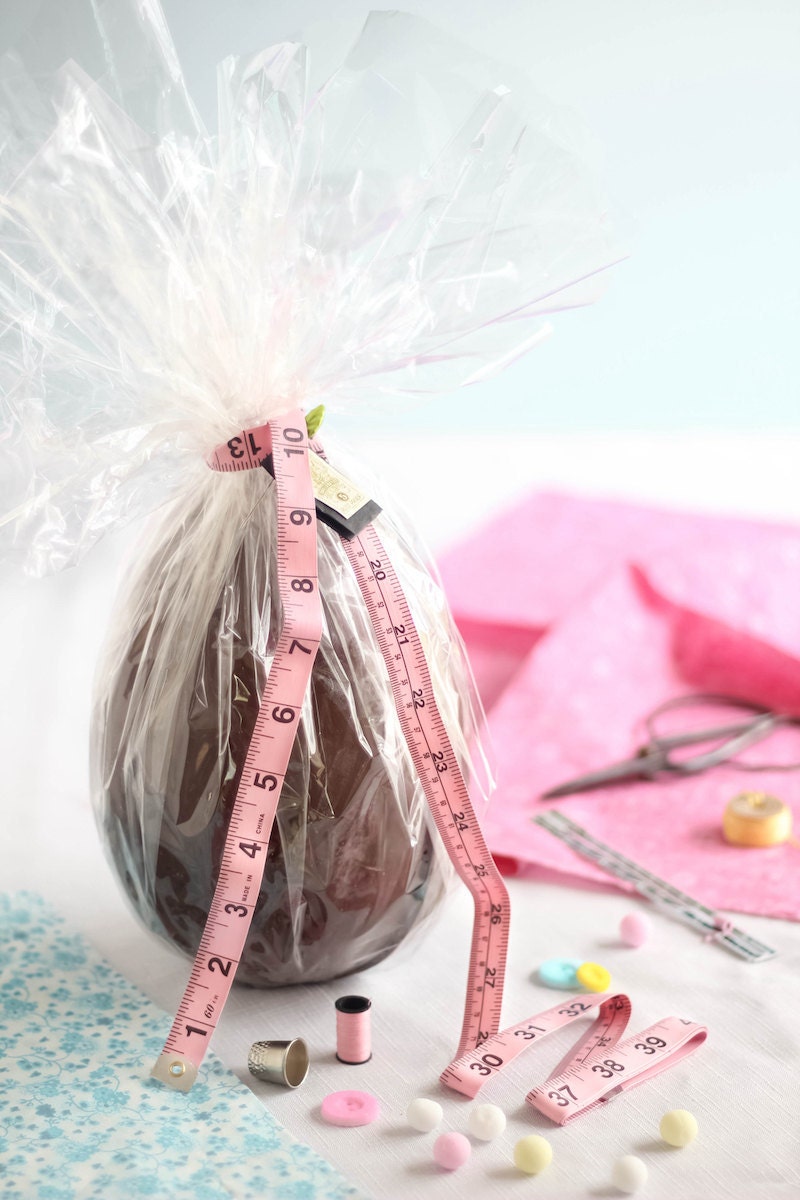 Place the closed egg on a large sheet of cellophane wrap and, holding it together with your hands, stand it upright, pointed-end-up. Still holding it together with one hand, gather the cellophane around the egg and cinch it at the top just above the egg's pointed tip. Tie the cellophane wrap with a ribbon or with a tailor's tape measure.
Note: You may choose to lightly fuse the two halves together with a little melted chocolate bark. Just paint a small amount on the edge of one chocolate half and close with the second egg half. Store the eggs in a cool, dry place.
All photographs by Heather Baird
Want more DIY Easter treat ideas? Try this colorful bunny bark recipe. Need Easter entertaining ideas or fun, festive crafts, we've got you covered from Easter tea towels to DIY Easter baskets.