by Heather Baird
Forgo formality and add a delicious dash of fun to the big day with this tasty powdered doughnut recipe from SprinkleBakes.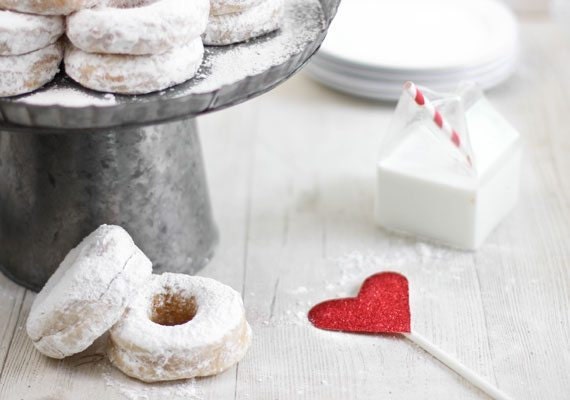 These days, many couples are forgoing the formality (and cost) of a traditional wedding cake and opting for a fun, lighthearted and delicious dessert alternative – like a tower of homemade powdered doughnuts – instead. In addition to saving money, these unconventional dessert choices set your special day apart from the rest and still make a big visual impact if styled and served with flair — don't forget the
unique cake stand
and a
cool cake topper
! While this may seem like a difficult project to DIY, it's easier than you'd think, with this tasty raised doughnut recipe. Here's how to do it.
Raised Doughnuts
Makes 25-30 doughnuts
2 tablespoons + 2 teaspoons active dry yeast*, divided 2 cups whole-fat half and half, heated to 110 degrees Fahrenheit, divided 4 to 5 cups bread flour, divided 1/4 cup superfine sugar 1 teaspoon salt 2 teaspoons vanilla extract 6 egg yolks 1/2 cup unsalted butter, melted and cooled slightly Vegetable oil for frying 2 cups powdered sugar for coating
*I use and recommend
Red Star Active Dry Yeast
for this recipe, which can be purchased at
King Arthur Flour's online shop
. I find that it has the most consistent results, as compared to grocery store brands.
Step 1: Mix the Dough and Let it Rise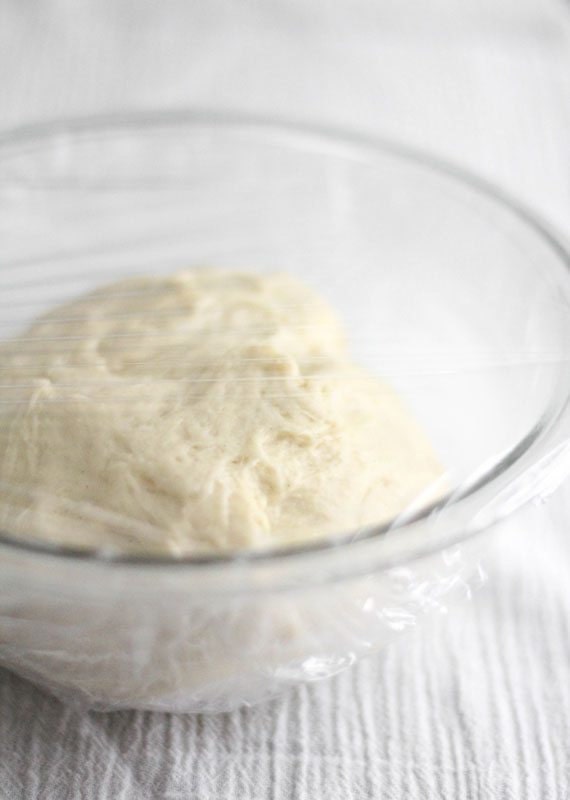 In a medium bowl, dissolve 2 tablespoons of yeast into 1 1/2 cups of half and half. Add 1 1/2 cups of the bread flour and stir until a smooth paste forms. Cover the bowl with plastic wrap and let it rest in a warm spot for about 30 minutes.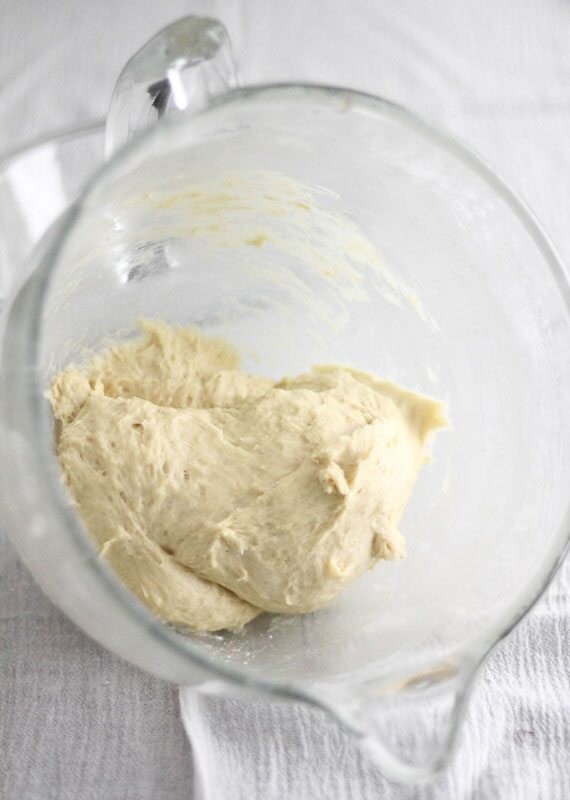 While you wait for the paste mixture to rest, combine the remaining half and half and yeast in the bowl of a stand mixer fitted with the paddle attachment. Stir to combine. When the paste mixture has rested (and has risen a bit), add it to the mixer bowl along with the vanilla and egg yolks. Mix until smooth. Turn off the mixer, add 2 cups of the remaining flour and top with the sugar and salt. Mix on low for about 30 seconds, or until the dough starts to come together. Add the melted butter and mix until it's incorporated, about 30 seconds to 1 minute. Switch to a dough hook and add more flour gradually, about 1/4 cup at a time, with the mixer turned off.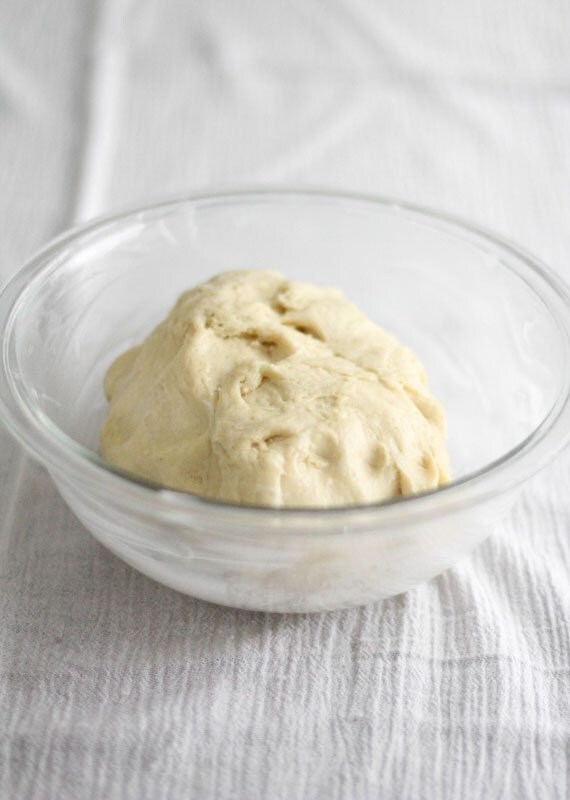 Knead the dough at medium speed between flour additions until the dough pulls completely away from the sides of the bowl and is smooth and not too sticky. (You may not have to use all the remaining flour.) The dough will be very soft. Put the kneaded dough into a large bowl that has been greased with shortening. Turn the dough over to coat. Cover the bowl with plastic wrap, and let it sit in a warm place for 30 minutes. After it has rested, gently punch down the dough and refrigerate it for at least 2 hours.
Step 2: Roll, Cut and Proof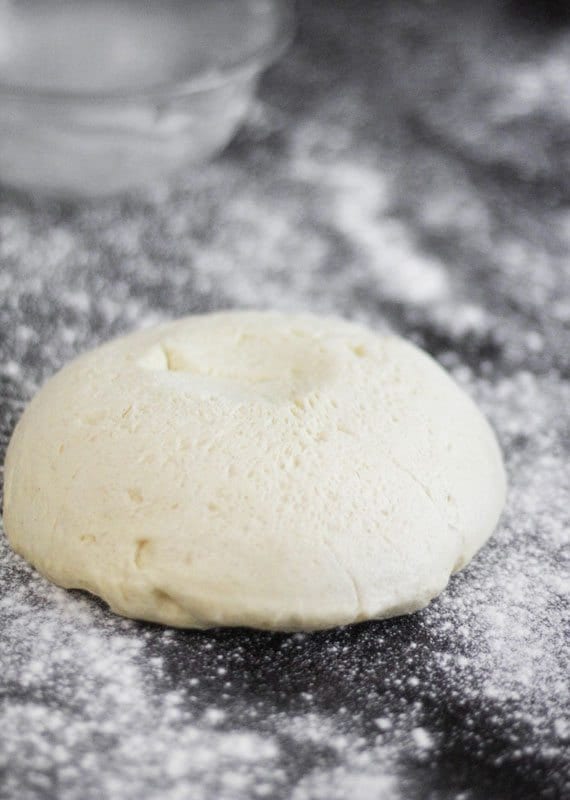 Line a baking sheet with a lightly floured tea towel, then lightly flour your work surface and roll out the dough to a 1/2-inch thickness.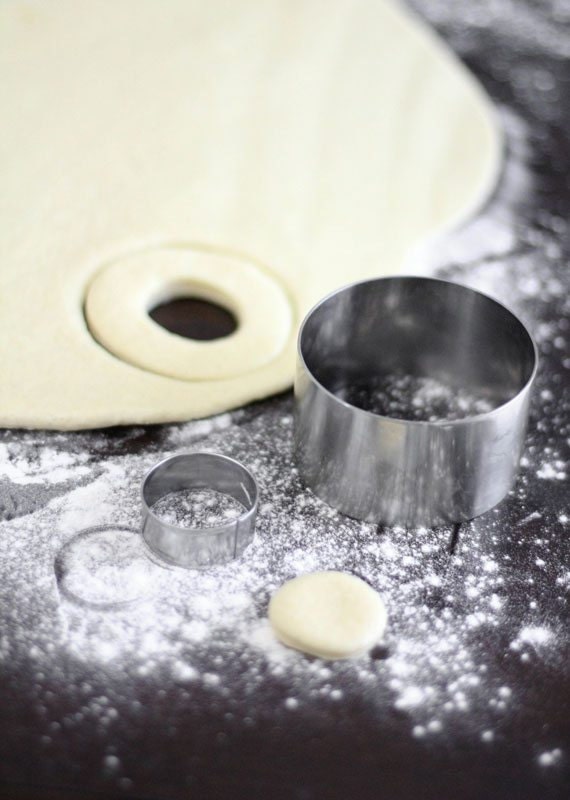 With 3-inch and 1-inch pastry rings or cookie cutters, cut out rounds with 1-inch diameter holes. (You can use a soda pop bottle lid as a makeshift cutter if you don't have a 1-inch cookie cutter.)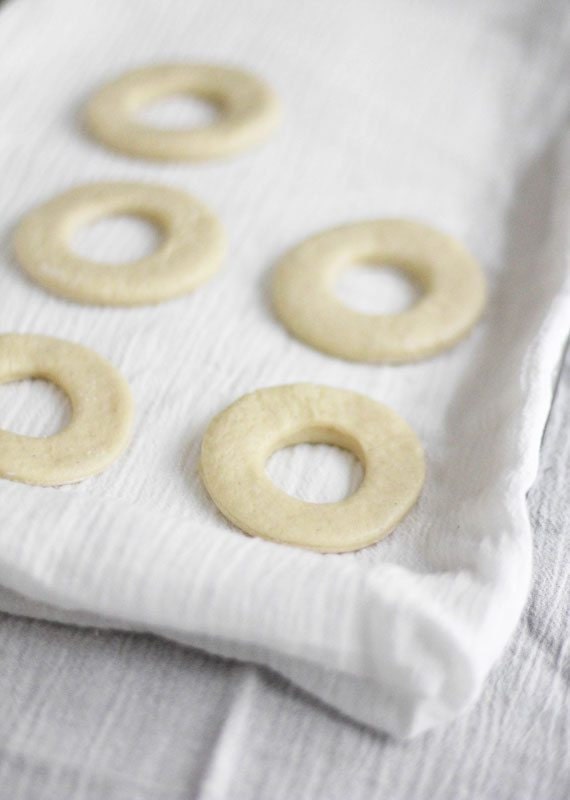 Place the doughnuts on the lined baking sheet 1 inch apart and cover with plastic wrap. Let them sit in a warm spot to proof until they almost double in size, about 30 to 40 minutes.
Step 3: Fry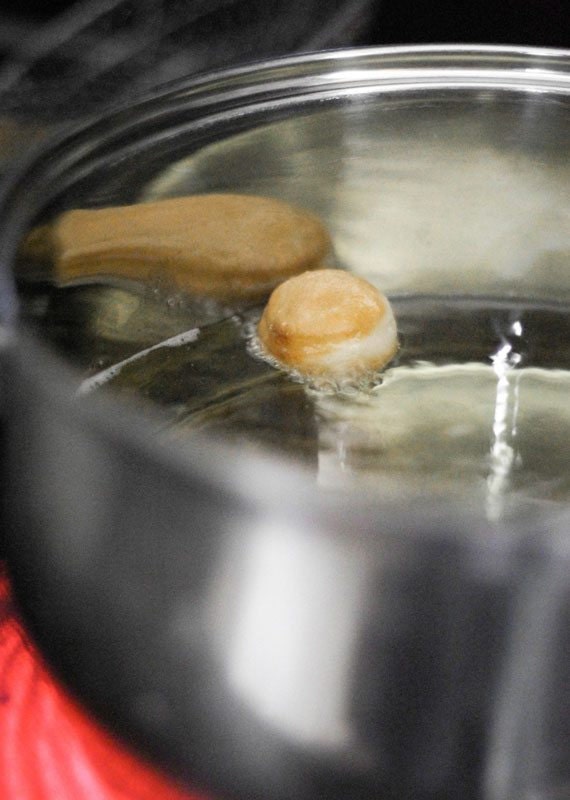 While you wait for the doughnuts to rise, heat at least 2 inches of oil in a heavy-bottomed pot until a thermometer registers 360 degrees Fahrenheit. I like to test the oil with a doughnut hole to see how fast it will brown before I begin frying the doughnuts. (Tip: Keep an eye on that thermometer! It's very easy for oil to overheat, so you may have to adjust the dial on your range to keep the heat at a steady temperature.)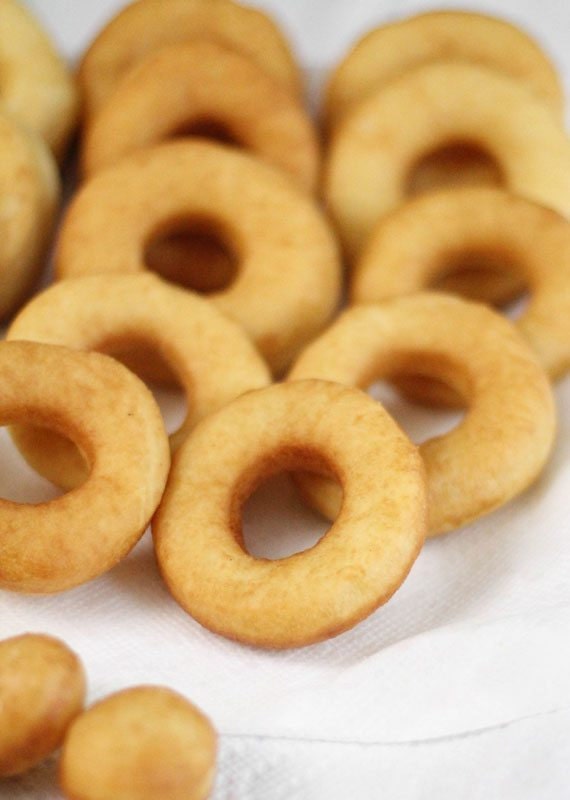 Carefully place the cut doughnuts in the oil. Fry doughnuts for 1-2 minutes on each side, or until a light golden color is achieved. Remove with a slotted spoon and drain on a baking sheet lined with paper towels. Let cool slightly.
Step 4: Add Powdered Sugar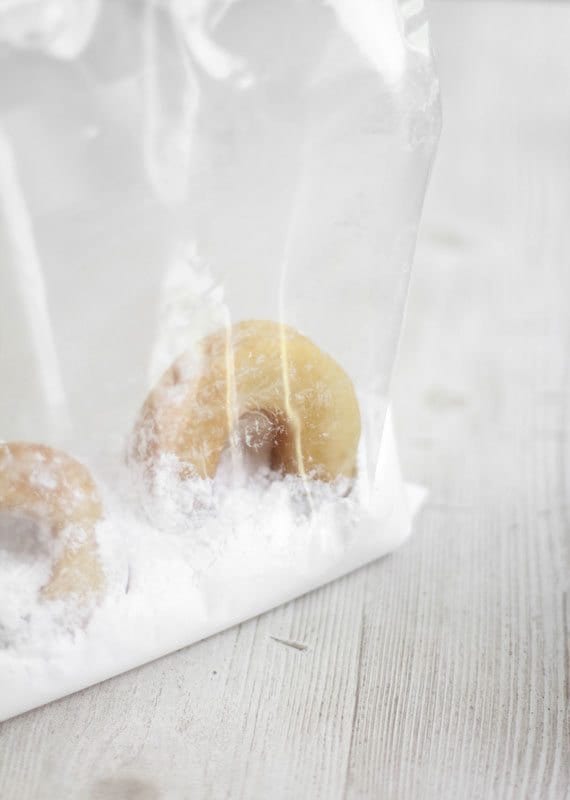 Pour powdered sugar into a large zip-top plastic bag. Add doughnuts a few at a time and gently shake inside the closed bag to coat. Remove doughnuts and store in an airtight container. Re-coating the doughnuts with powdered sugar may be necessary if they are left to stand overnight.
Step 5: Stack 'Em Up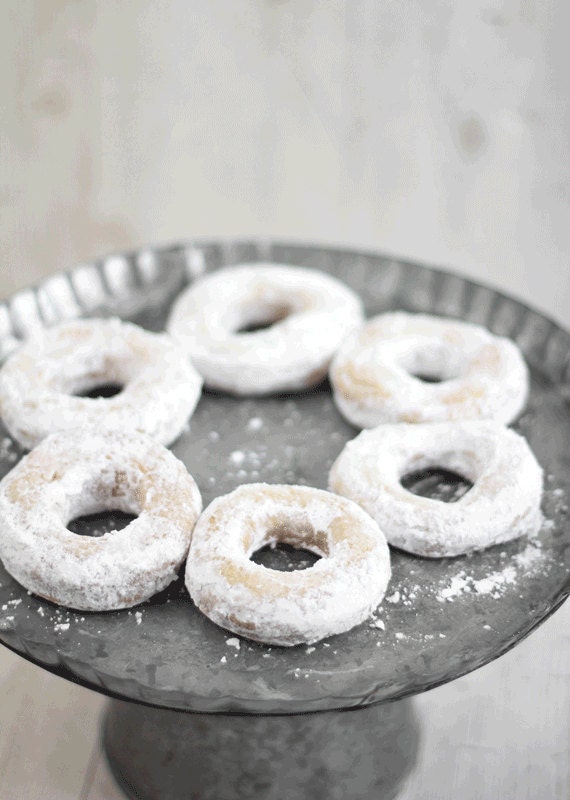 Begin by placing 6 doughnuts on a large
cake stand
. Add another 6 doughnuts directly on top, making the first tier two doughnuts high (if you have a very large quantity of doughnuts, you can make this and each consecutive tier 4-6 doughnuts high). Next, center four doughnuts on top of the first tier and add another four directly on top of those, making the second tier two doughnuts high. Finish the stack by placing two doughnuts in the center of the four doughnuts.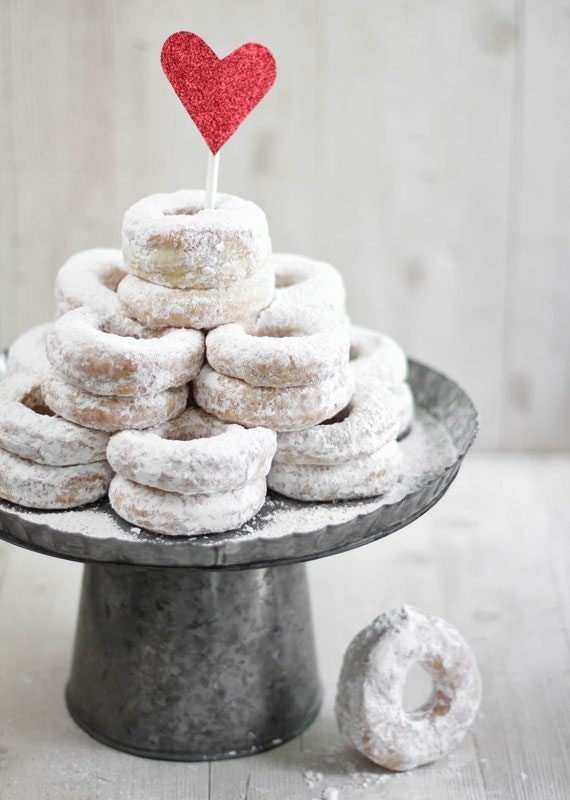 Finish with a sparkly heart, food-safe fresh flowers or another wedding topper of your choice.
All photographs by Heather Baird.