by Jessica Ulrich
Ditch the tinsel and add some natural shine to your holiday decor with this minimalist gold-leaf wall hanging.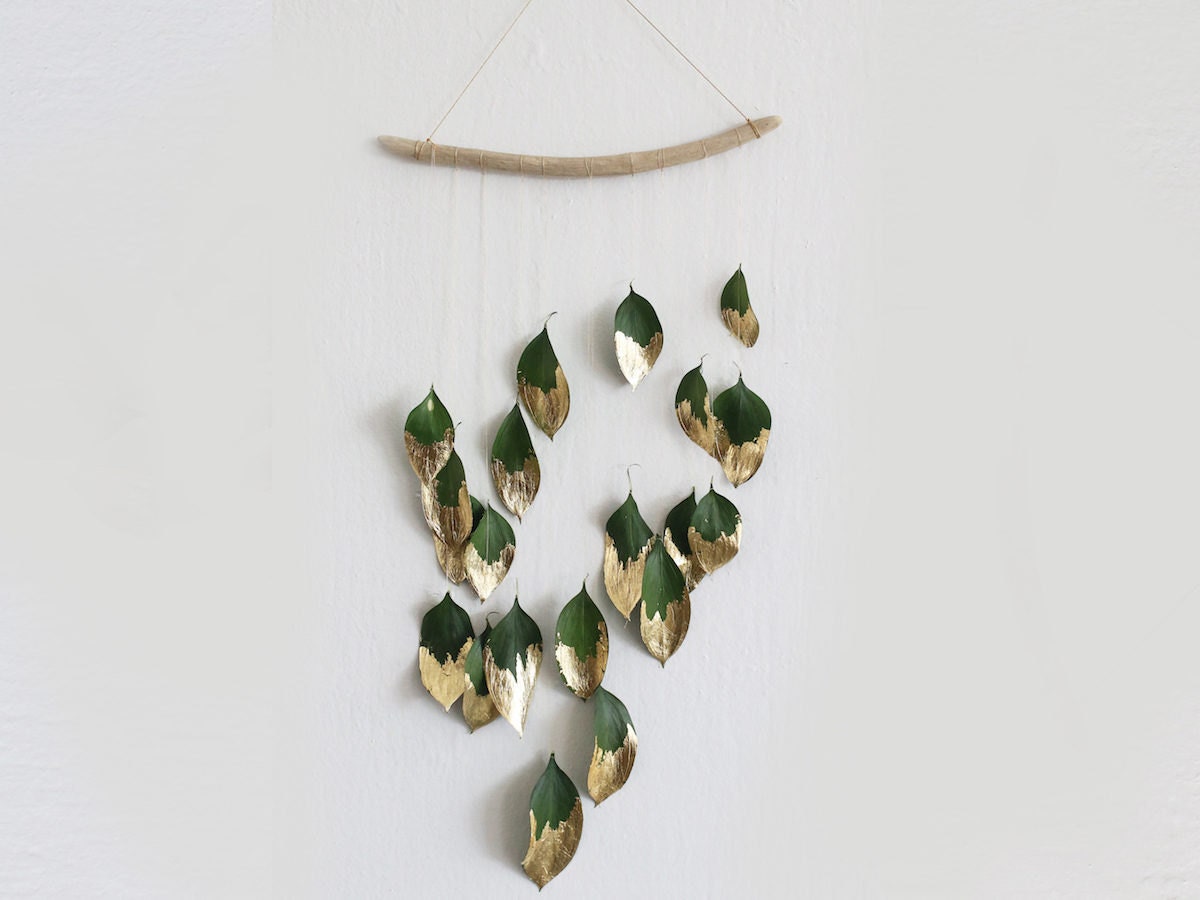 Among the many trends we've fallen for in recent years—celestial motifs! statement seating! resin jewelry!—unconventional, asymmetric wreaths rank pretty high on our list of obsessions. So it's only natural that, now that we've finally reached peak wreath season, we'd be eager to experiment with a festive holiday version. This DIY idea takes the door decor standby in a whole new direction—more cascading, boho waterfall than orderly evergreen ring—and incorporates a few other elements we're enamored with right now: earthy materials and metallic accents. We won't lie—this project requires a bit of patience, but the materials are affordable and the results are fresh, surprising, and delightful (just, we hope, like the new year ahead). Ready to get gilding? Read on for directions.
At a glance
Time: 4+ hours
Difficulty: Intermediate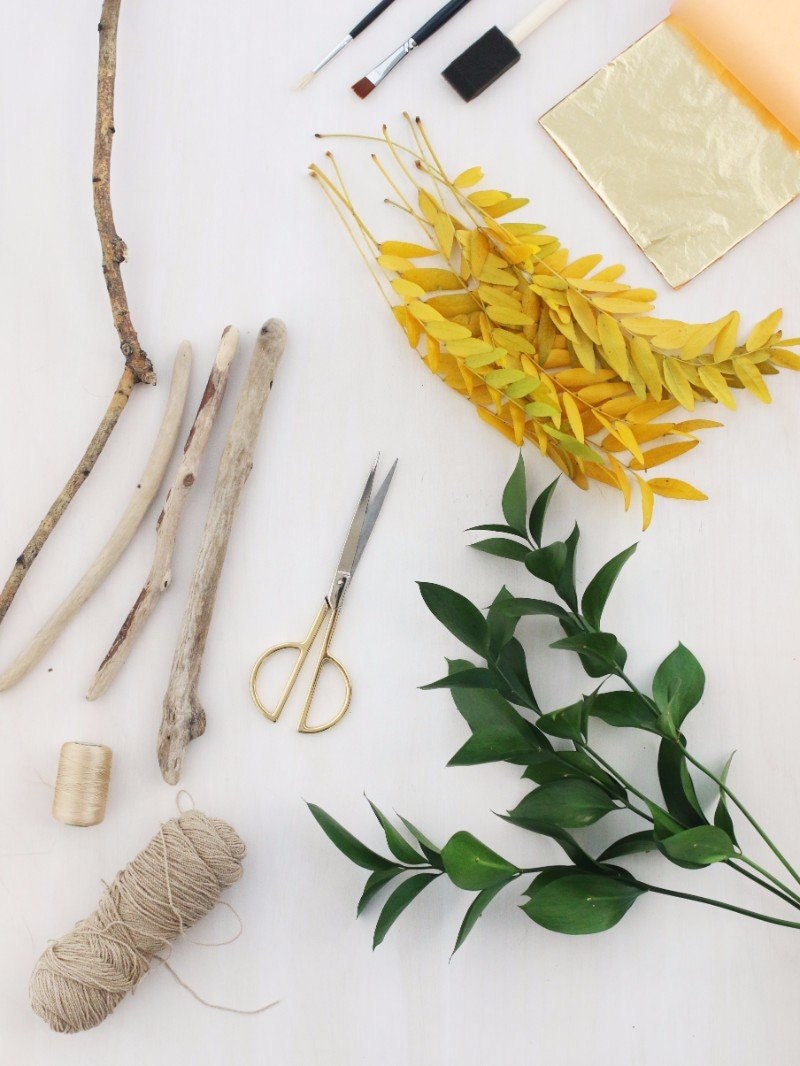 You'll need:
Step 1: Gather and prep your materials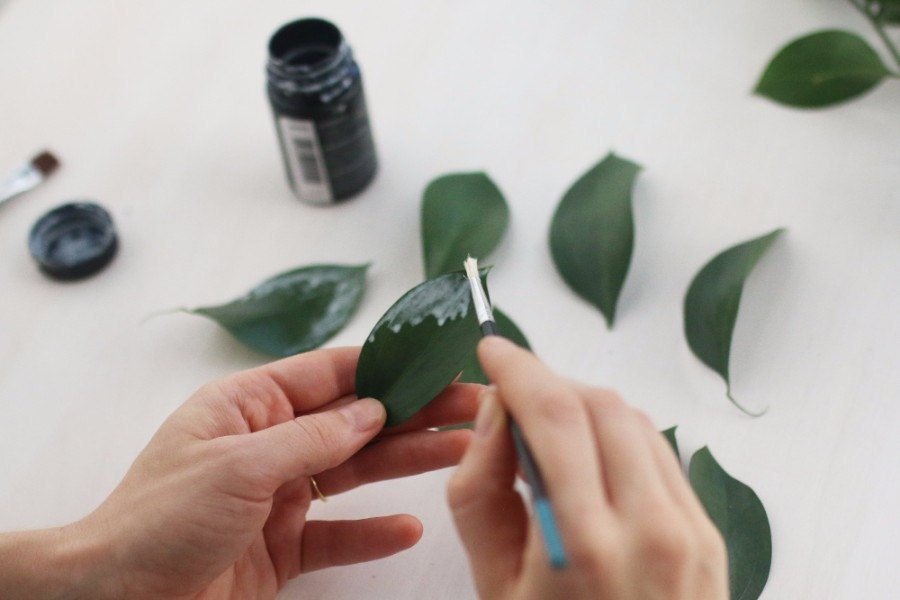 To make a 10 inch-wide wall hanging like ours, you'll need to collect a couple dozen fresh or preserved leaves (magnolia leaves work well), making sure to select leaves with at least a ½-inch stem still intact, plus a small branch or wooden dowel to dangle them from. Lay out the leaves on a piece of newspaper or scrap paper to protect your work surface. With a medium paint brush, add a thin layer of water-based adhesive, starting at the tip of the leaf and brushing up and in from the leaf's edge towards the center and the stem. Don't try to make the strokes too perfect: Keeping things loose will produce a lovely organic edge when you add the gold leaf. Set painted leaves aside to dry for 30 minutes, or as long as the adhesive's instructions suggest.
Step 2: Add gold foil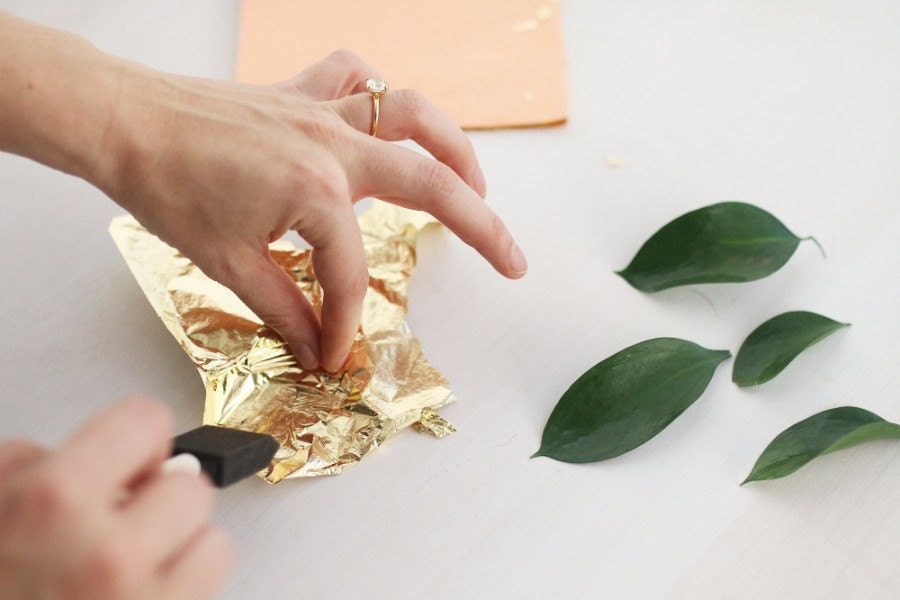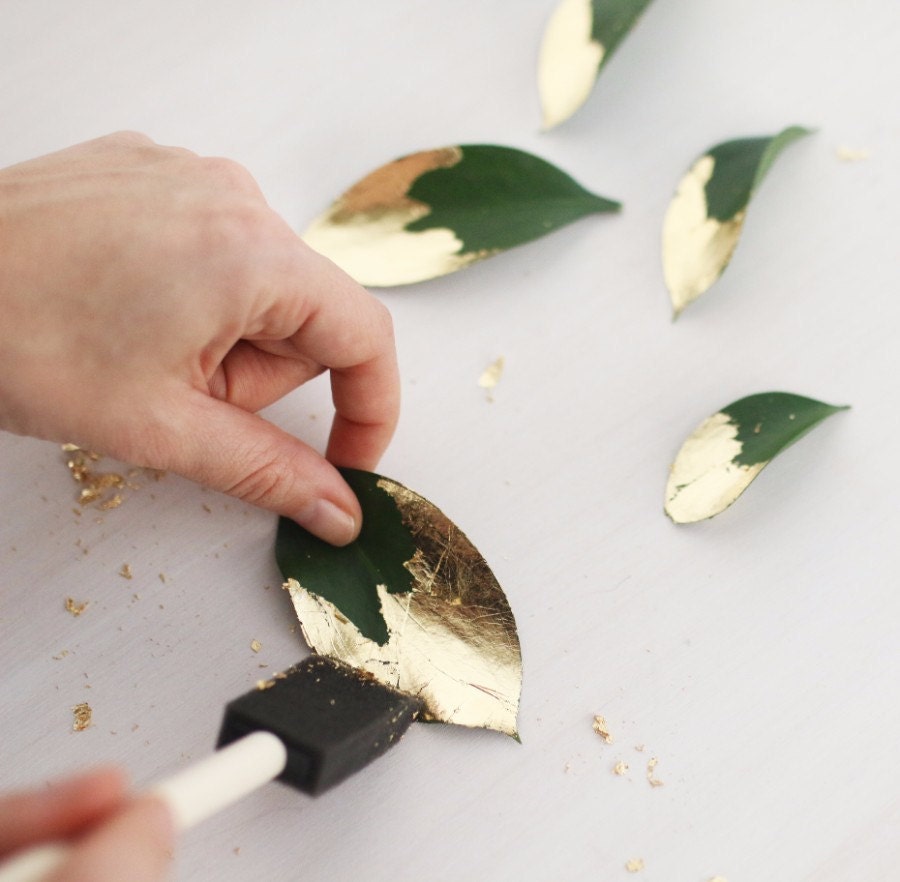 Once the adhesive has dried (it will appear transparent on the leaves), it's time to add the gold leaf. Gently position a gold sheet over the part of the leaf where you applied the adhesive. Press a clean, dry foam brush over the gold leaf, moving in one direction. The gold leaf will remain only where you've applied the adhesive. Then, run the foam brush along the edges of the leaf to remove any gold flakes that remain. Continue applying gold leaf until all of your leaves are gilded.
Step 3: Protect your handiwork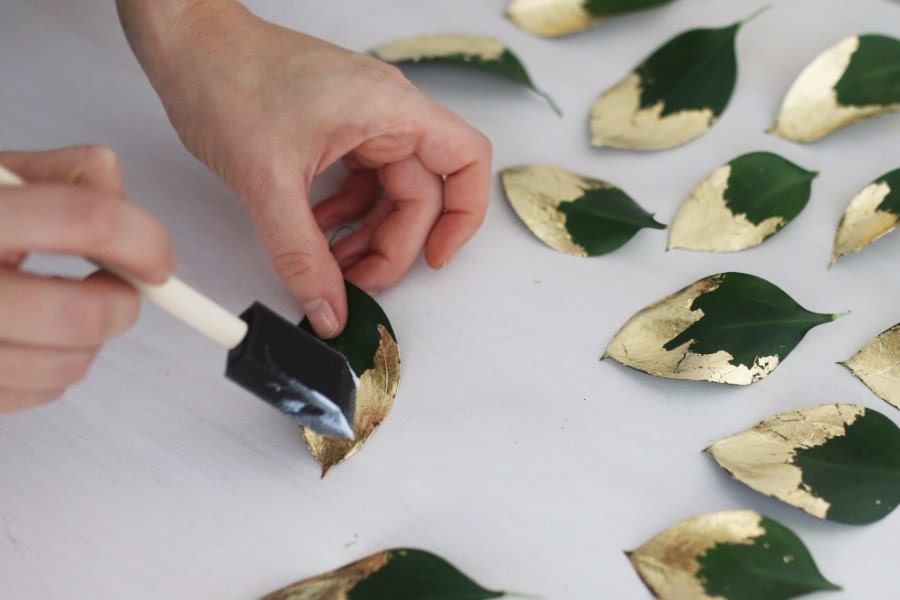 To preserve the gilded leaves against discoloration, use a clean foam brush to apply a thin layer of water-based sealant over the gold sections.
Step 4: Create a framework for hanging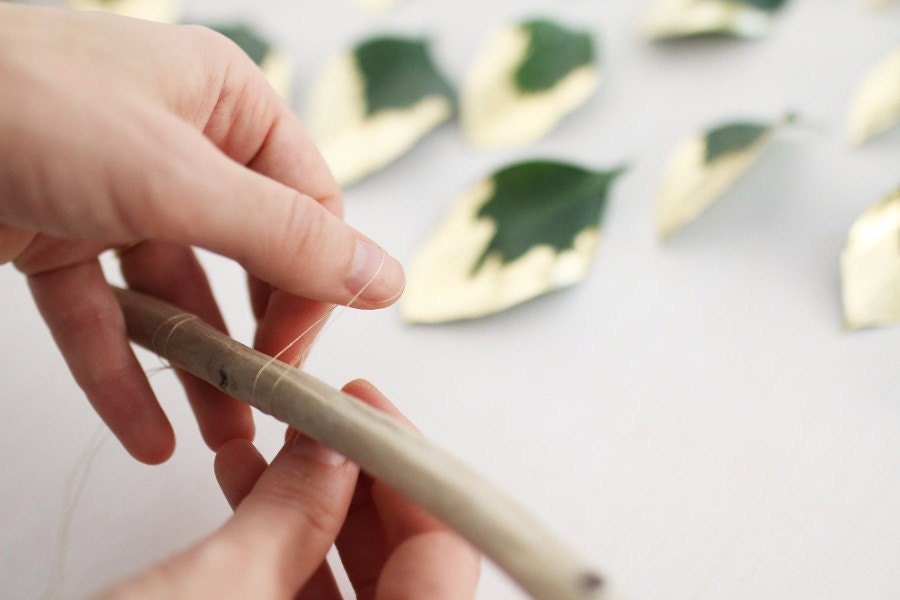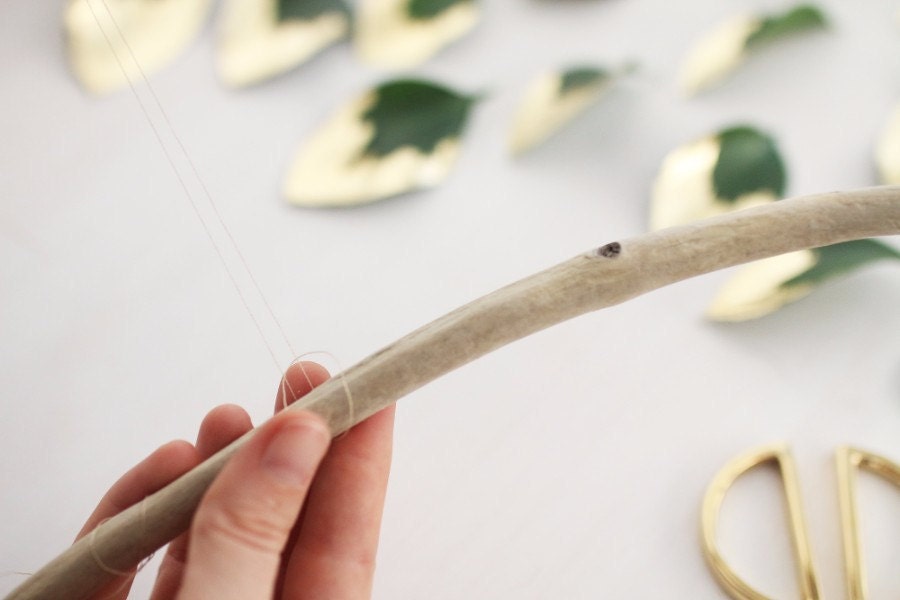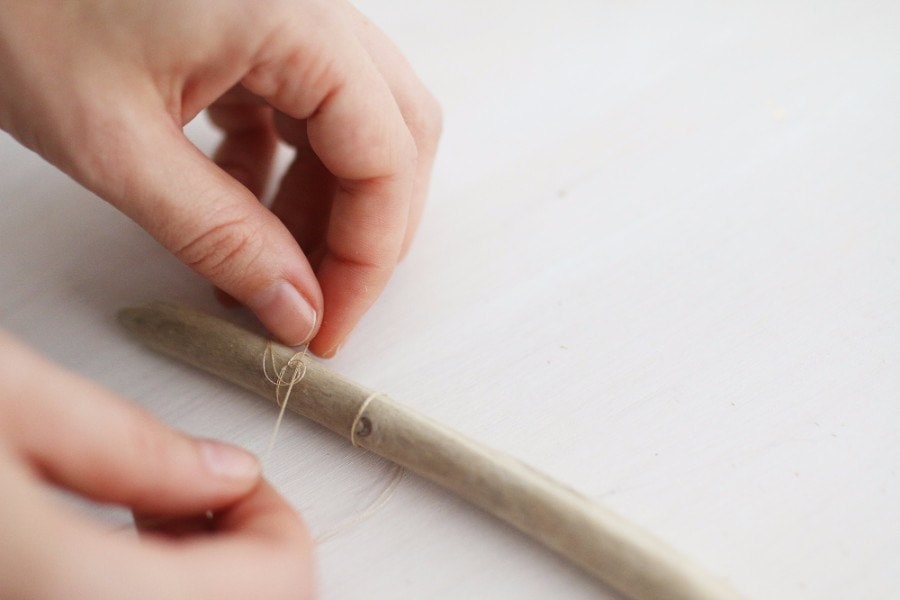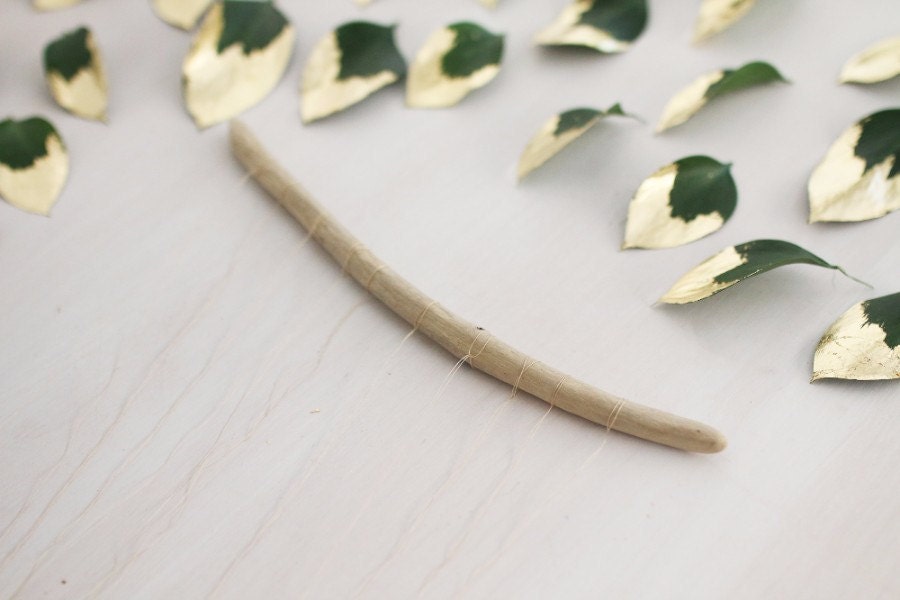 Cut a dozen or so lengths of thread (ranging from roughly 24 to 36 inches long) from which to hang your leaves. Fold each piece of thread in half, creating a loop in the middle. Wrap the looped part of each thread around your branch or dowel and bring the two loose ends through the loop, pulling tightly to attach. Tie a knot under the loop to secure it. Repeat from end to end along the branch with roughly 1 inch of space between each string. 
Step 5: Attach the gilded leaves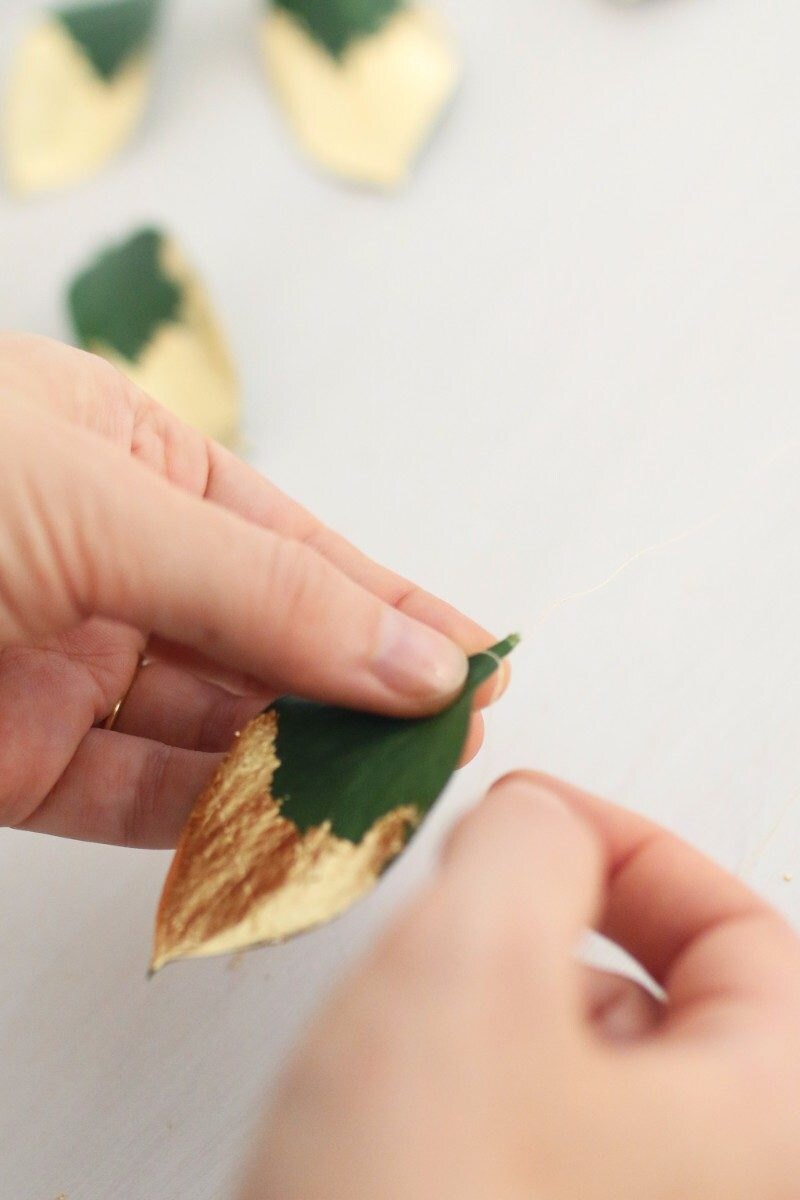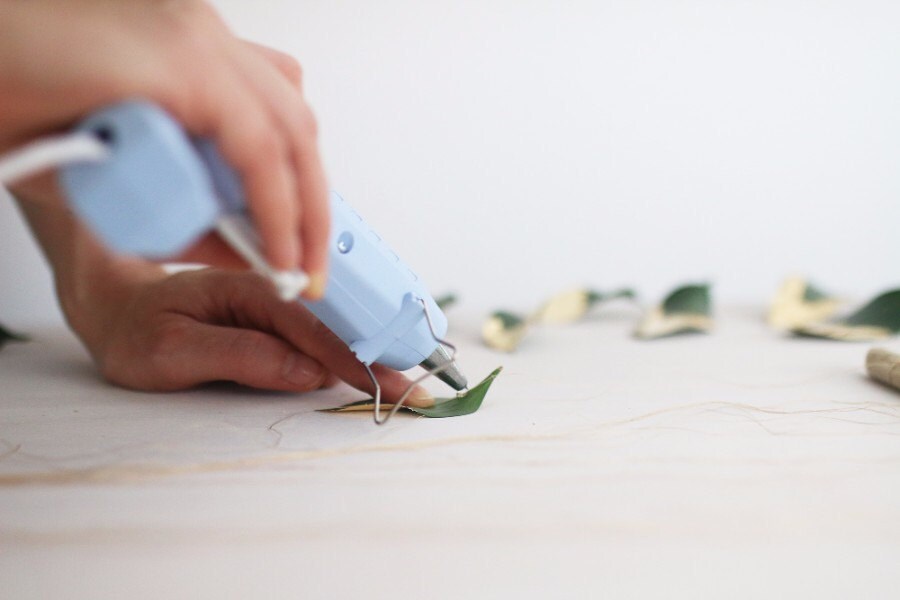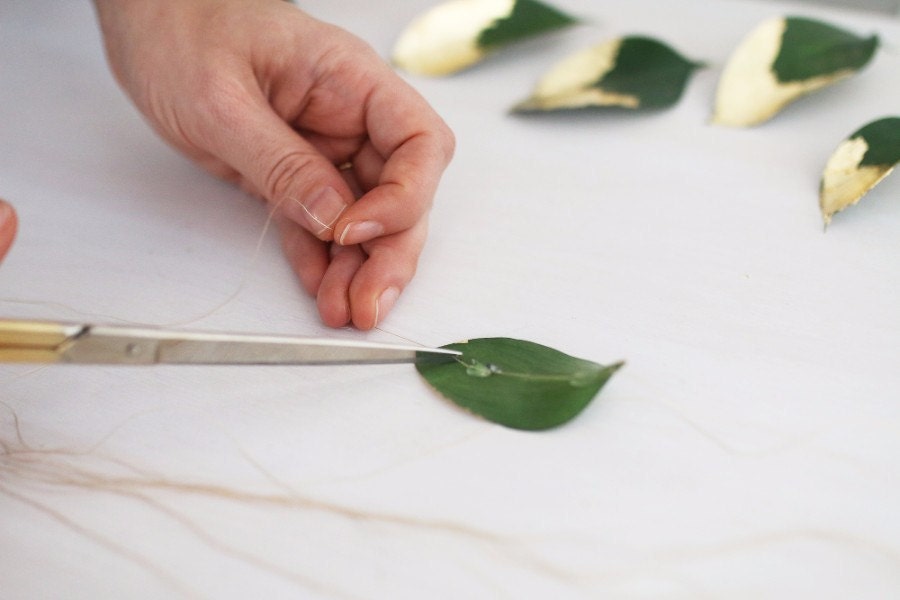 Attach one leaf to each thread by tying a knot around the base of the stem. Add one or two small dots of hot glue to the back of the leaf to secure the end of the thread (and add extra weight). Trim any excess thread that's visible. Continue tying on leaves at various heights as you move from left to right across the wall hanging.
Step 6: Hang to display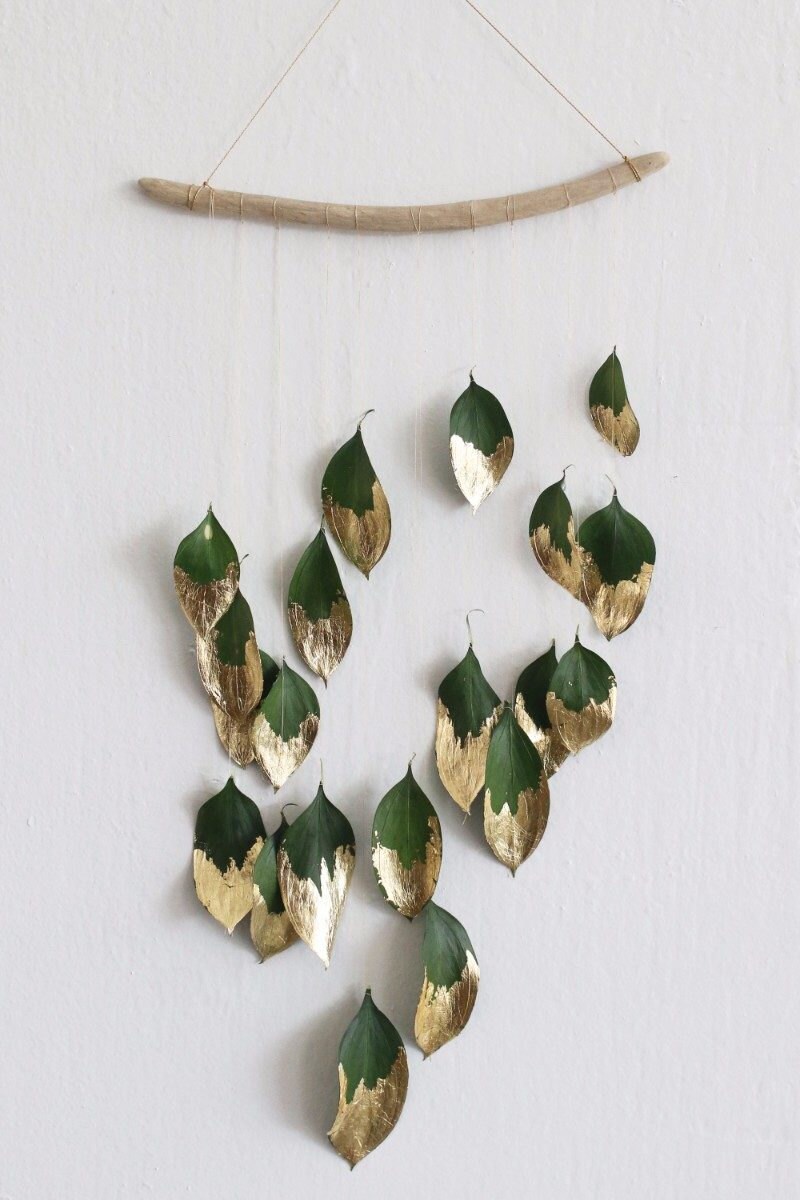 To complete your wall hanging, tie a piece of metallic cord to each end of the dowel or branch, and hang on a door or wall.
Projects, styling, and photography by Hannah Bridge, Brigette Muller, and Jessica Ulrich.