by Heather Baird
Realistic edible-paper pansies and pretty pastel macarons take this giftable edible bouquet to new heights. Here's how to make your own.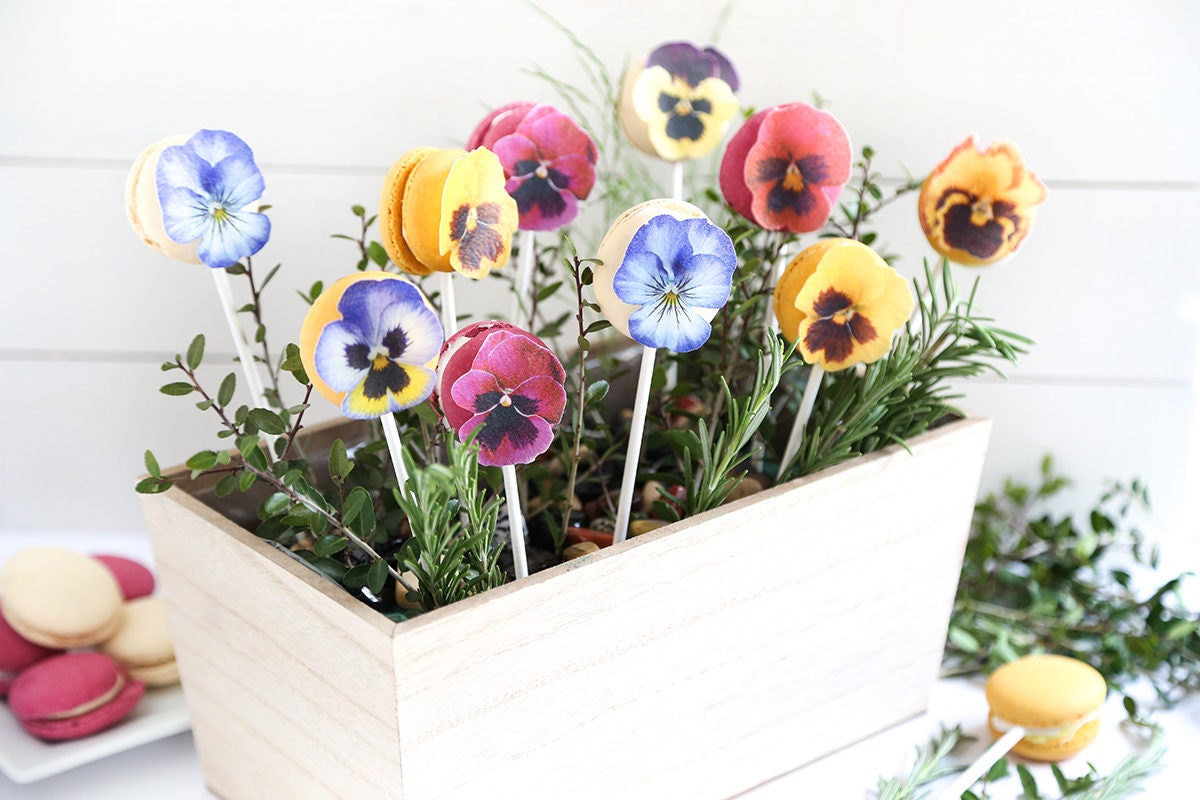 There are fresh-flower people and there are edible bouquet people, and then there are those of us who'd happily accept either treat (and might be hard-pressed to decide between the two). This super-easy DIY, inspired by the increasingly
popular dried-flower trend
, delivers the best of both worlds—in a presentation that's perfect for
Mother's Day gift-giving
. All you need are a dozen or so store-bought macarons, a stash of lollipop sticks, and
edible wafer paper printed with pansies
(or whatever comparable bloom the recipient prefers), plus a few other incidental ingredients. Arranged with real greenery in
a pretty planter
, these pansy pops make a charming substitute for fresh flowers, and earn bonus points for cleverness and creativity. Ready to get making? Read on.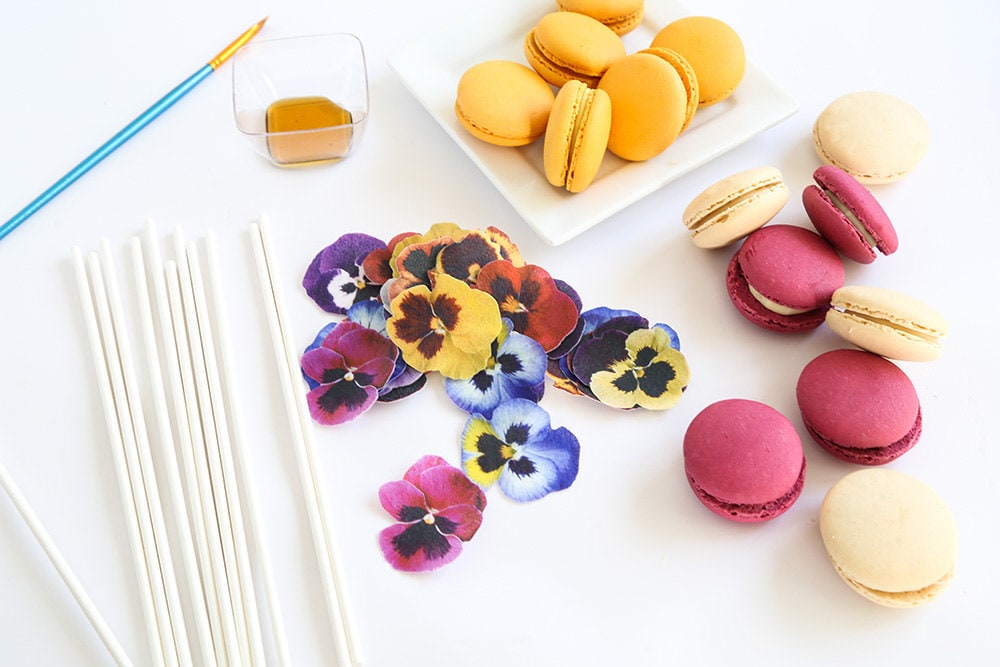 You will need:
10–12 store-bought macarons
4 oz. melted candy wafers
10–12 ten-inch lollipop sticks
10–12 edible wafer-paper pansies
Corn syrup
Small art brush
Small planter with plastic liner
Cellophane tape
Nontoxic greenery and herbs, rinsed and air-dried
Decorative stones, rinsed with hot water and air-dried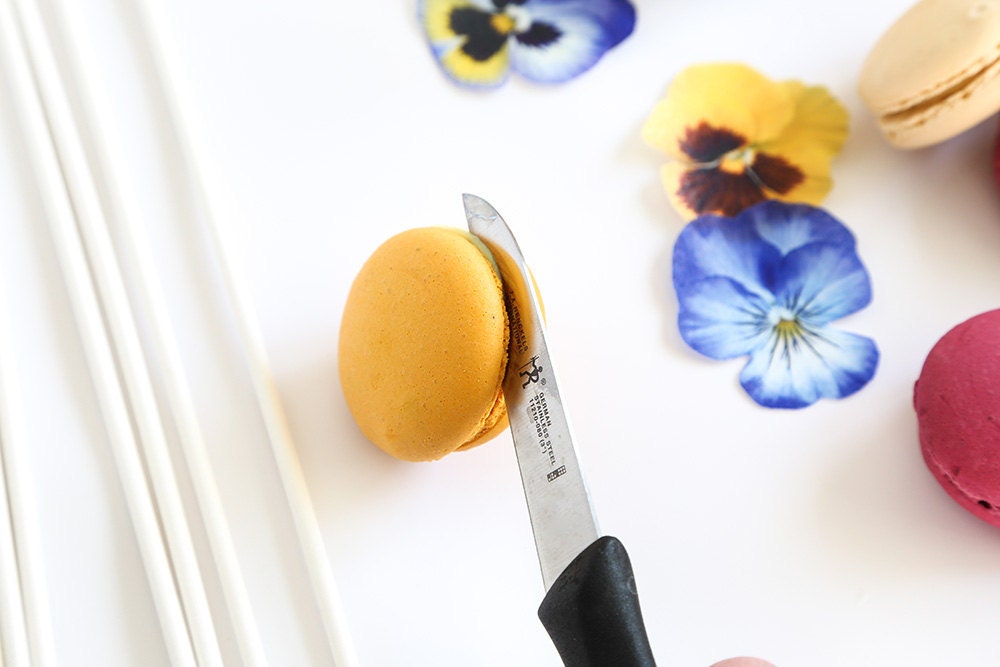 Step 1:
Use a small knife to separate the two halves of the sandwiched macaron shells. Do this carefully, because macaron shells are fragile.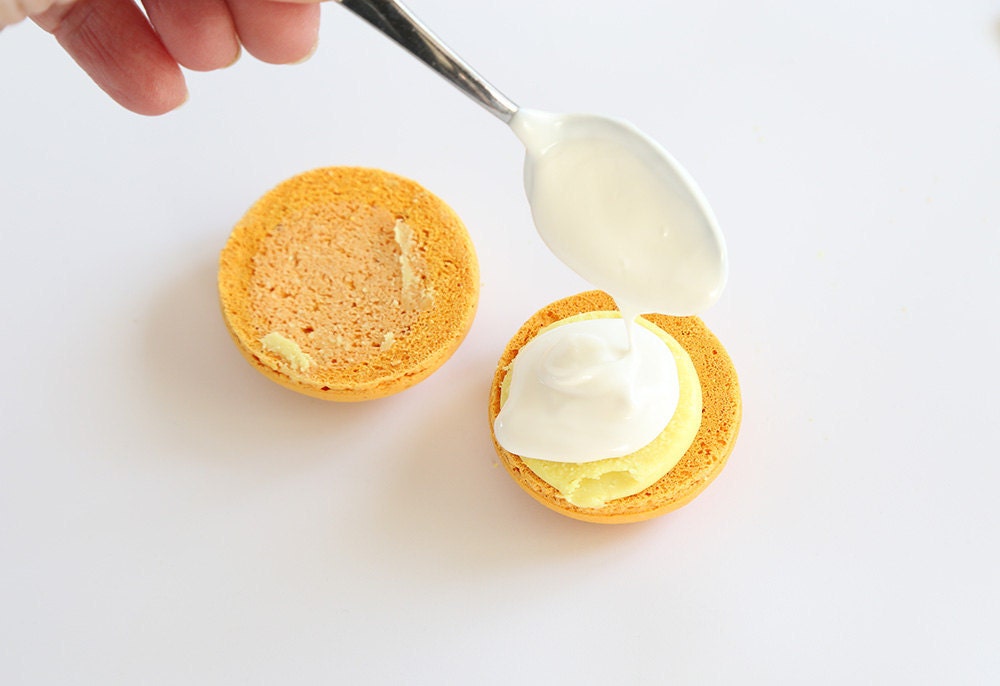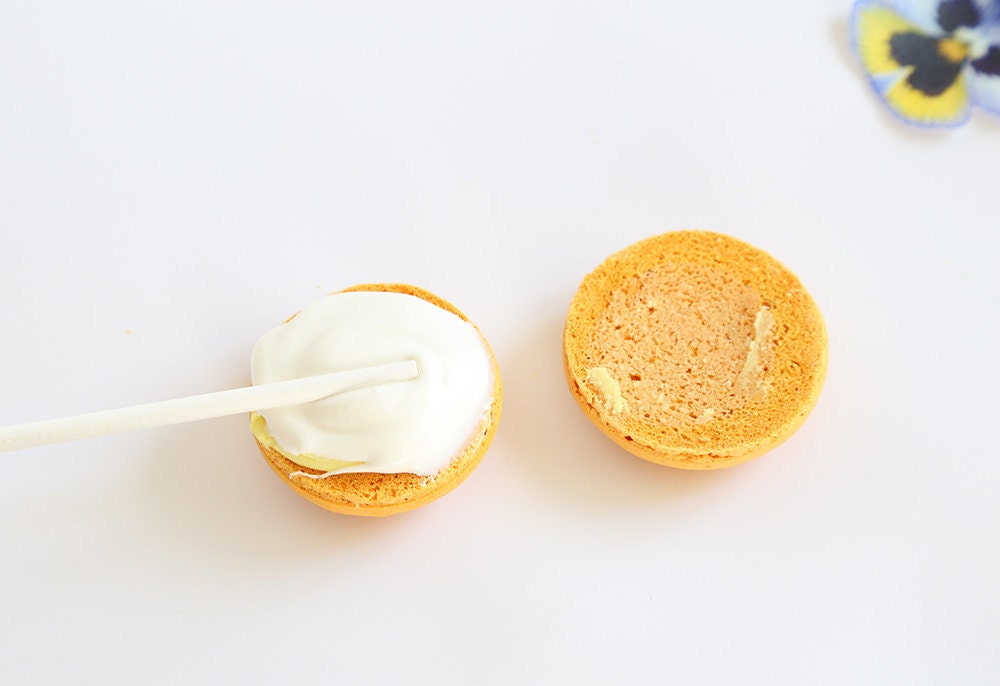 Step 2:
 If the macaron filling is soft, press a lollipop stick flat into its center. If the filling is too firm and resists the stick, place a small spoonful of melted candy wafers on top of the filling. Press the lollipop stick into the melted candy and give it a half-turn. Top with the remaining macaron shell.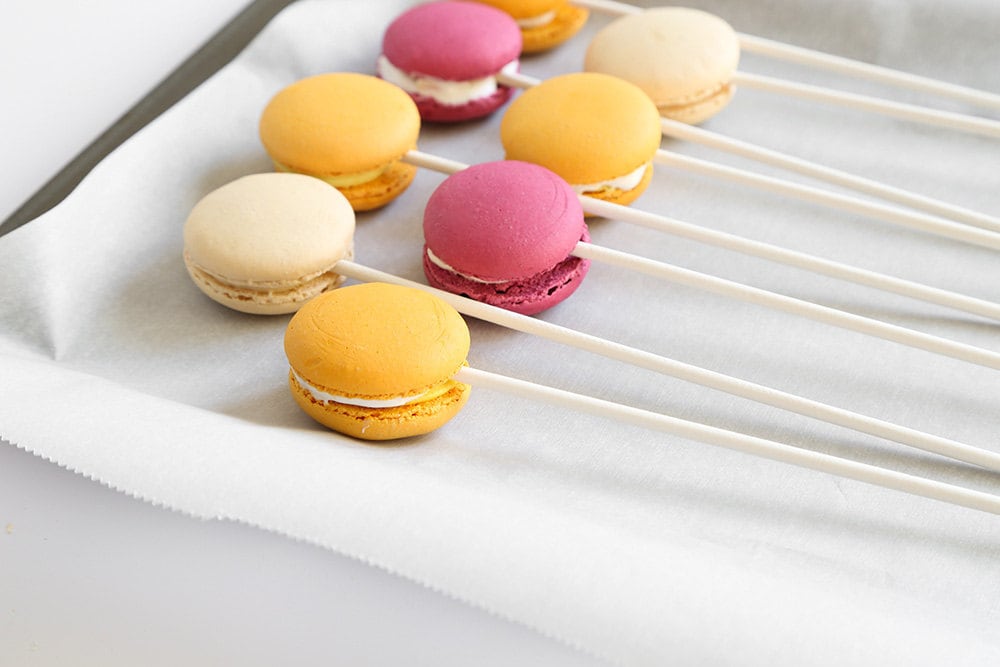 Step 3:
Place the macaron pops on a baking sheet and allow them to stand at room temperature until set, about 10 minutes.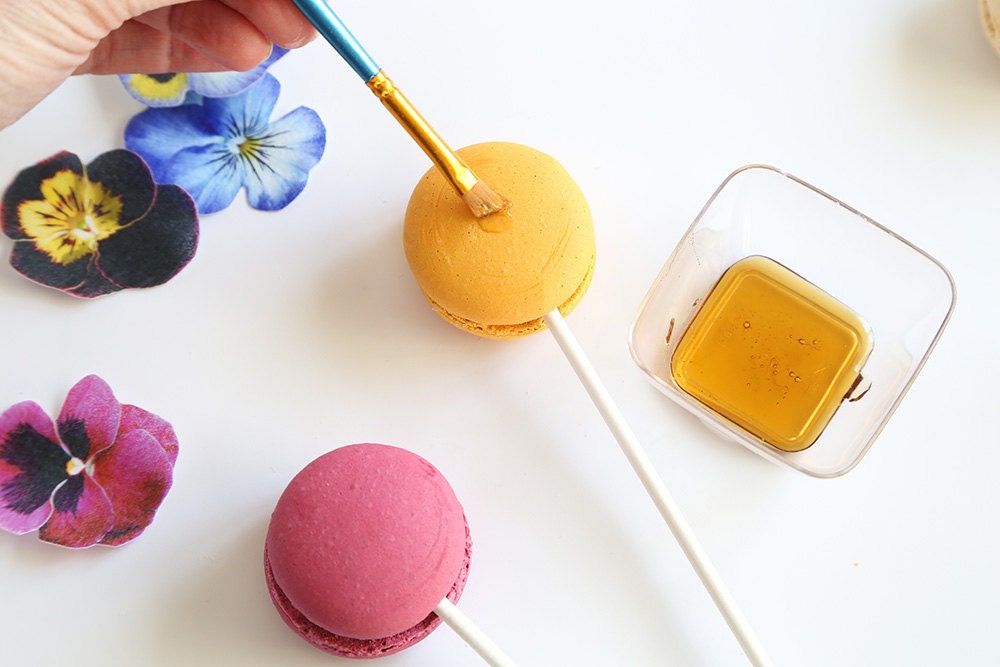 Step 4:
When the macarons have hardened in place, dip the art brush into the corn syrup and dab a small amount of syrup onto one side of a macaron pop.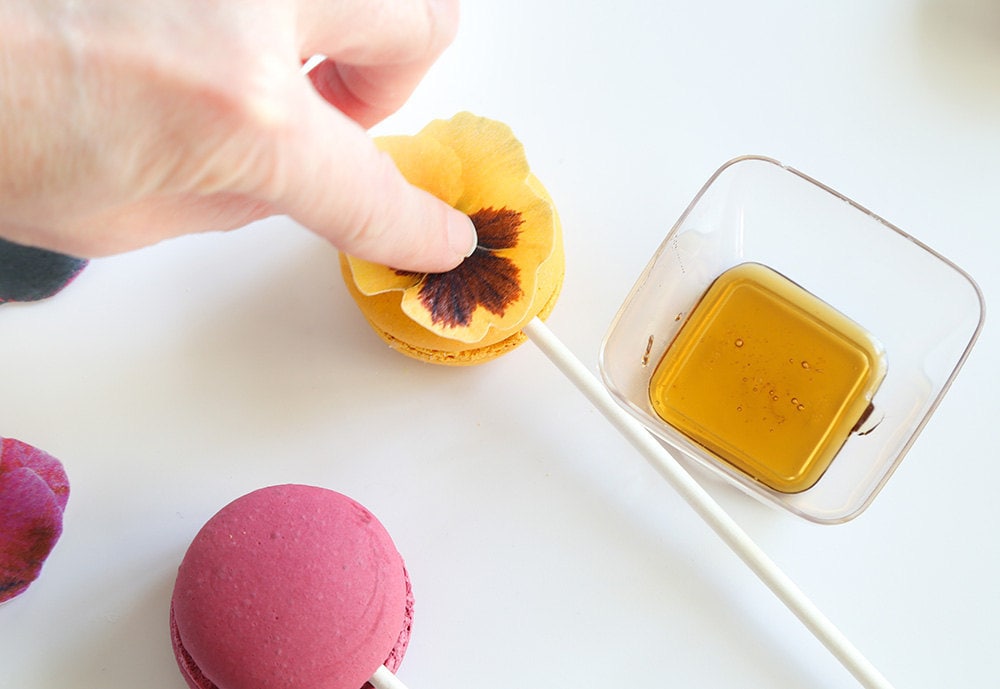 Step 5:
Place an edible wafer-paper pansy on top of the macaron, centering it over the dot of corn syrup. Hold the edible flower in position using gentle pressure for one minute. Place on the baking sheet to dry.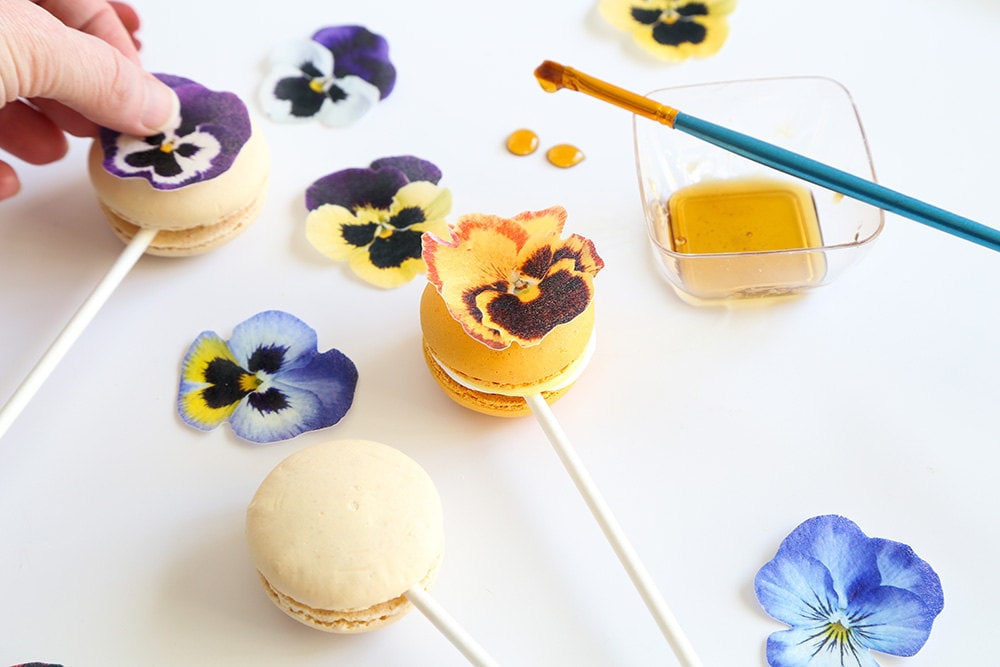 Step 6:
Repeat with remaining macarons and flowers.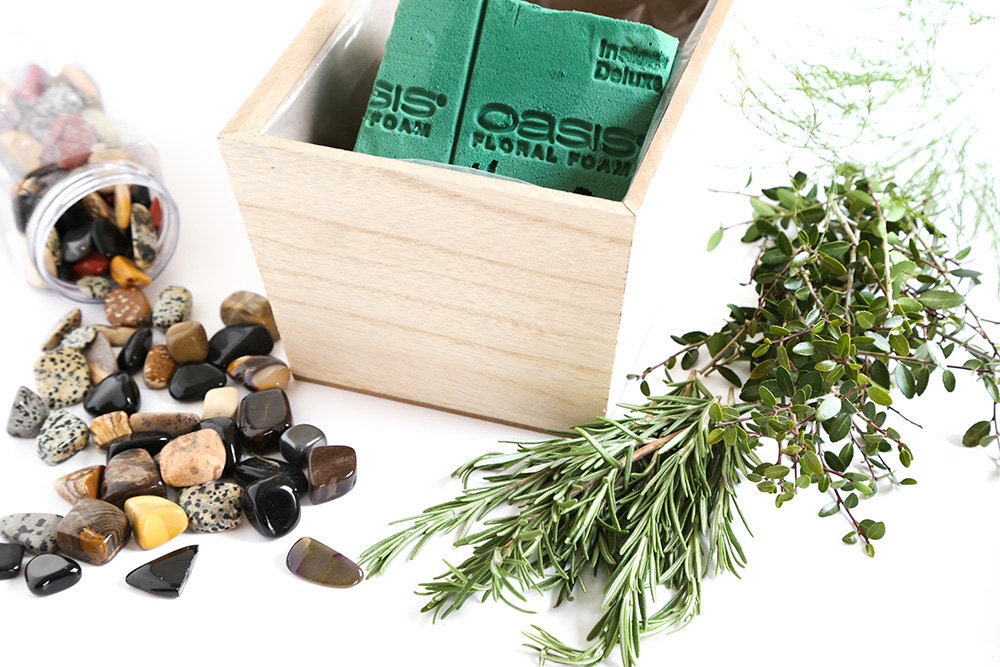 Step 7:
Gather the flower pops, planter, foam, cellophane tape, herbs, and stones.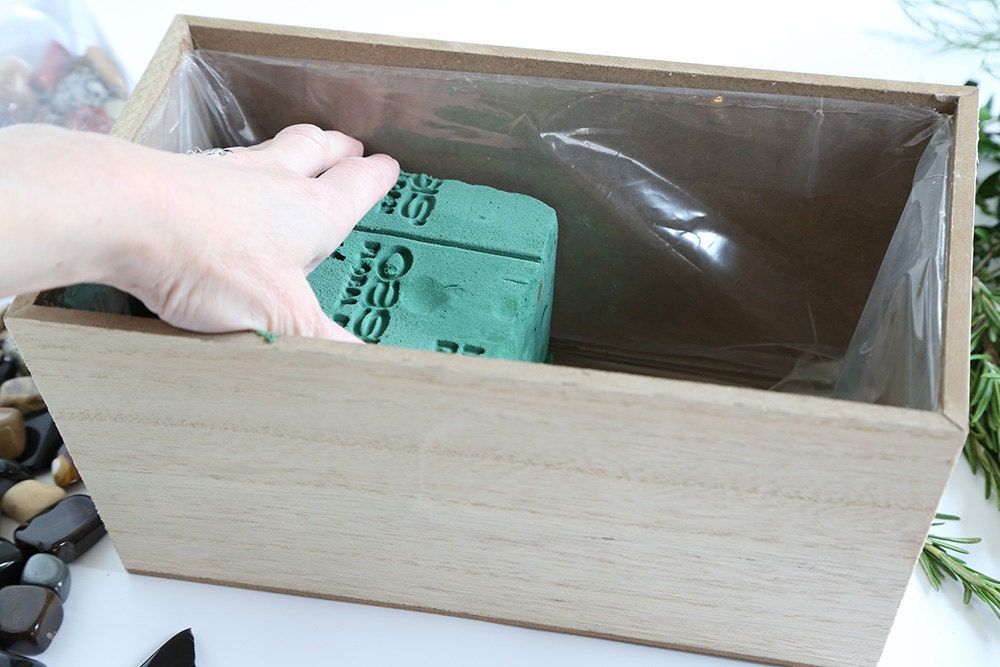 Step 8:
 Cut blocks of floral foam to fit a lined planter and position them inside.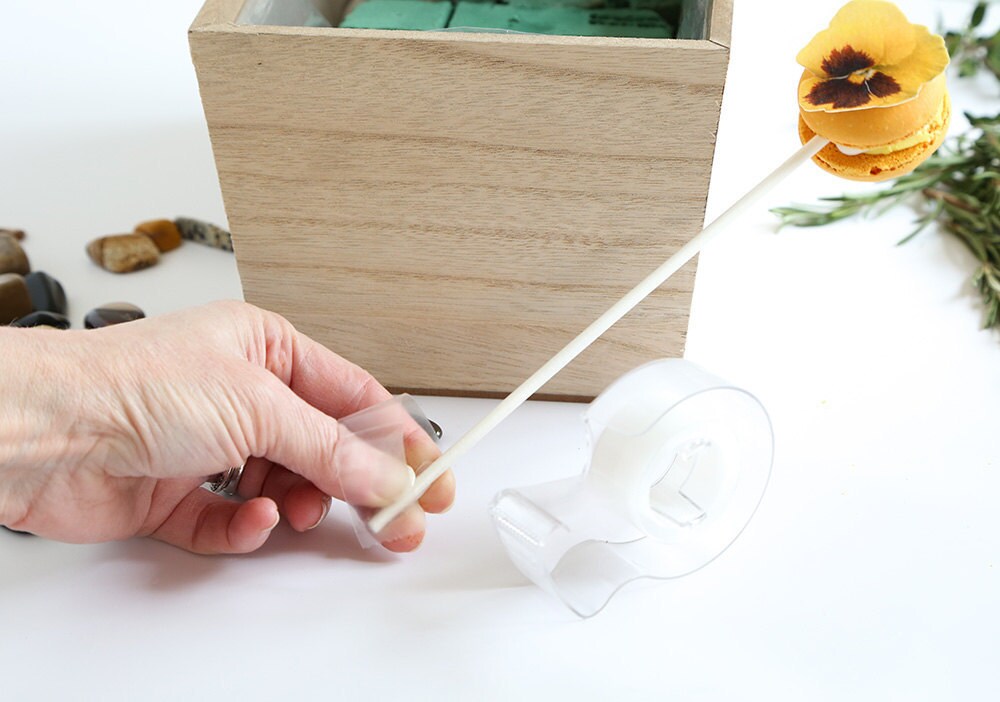 Step 9:
 If you've chosen paper lollipop sticks, seal the bottom half of each one with cellophane tape to make the sticks waterproof.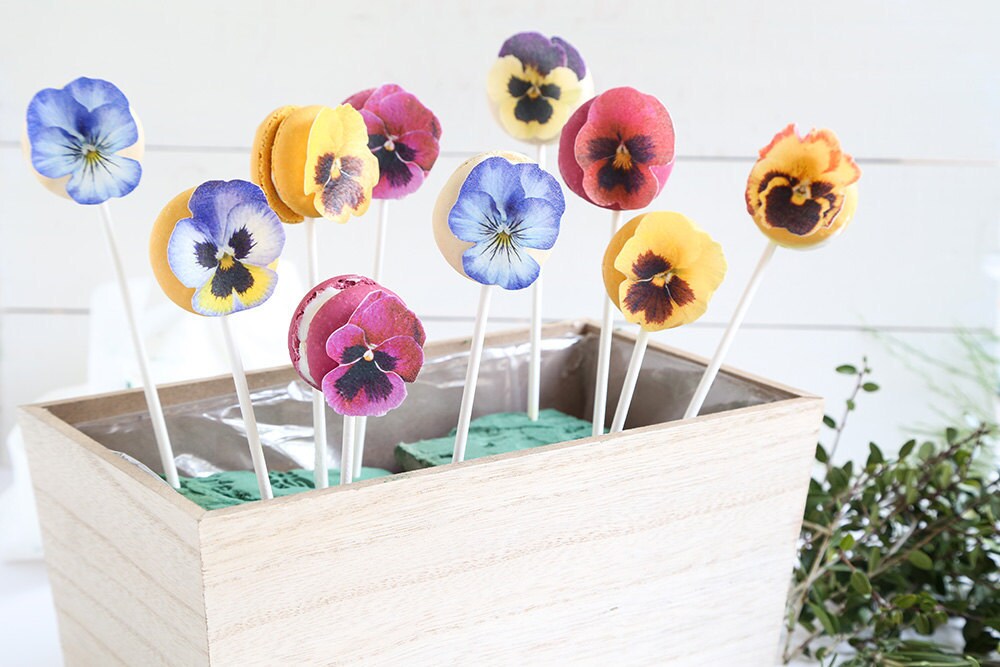 Step 10:
Insert the macaron pops into the floral foam, arranging them as desired.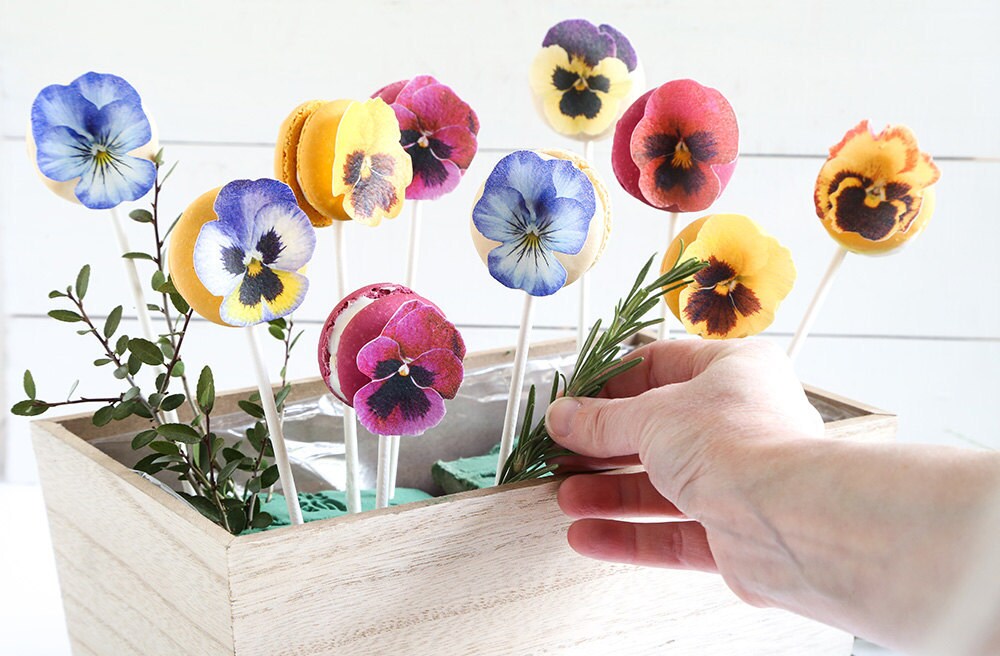 Step 11:
Insert greenery and herbs into the foam around the pops. If you're using fresh cuttings, add water to the floral foam to keep the herbs and greenery alive and perky-looking until it's time to present the arrangement.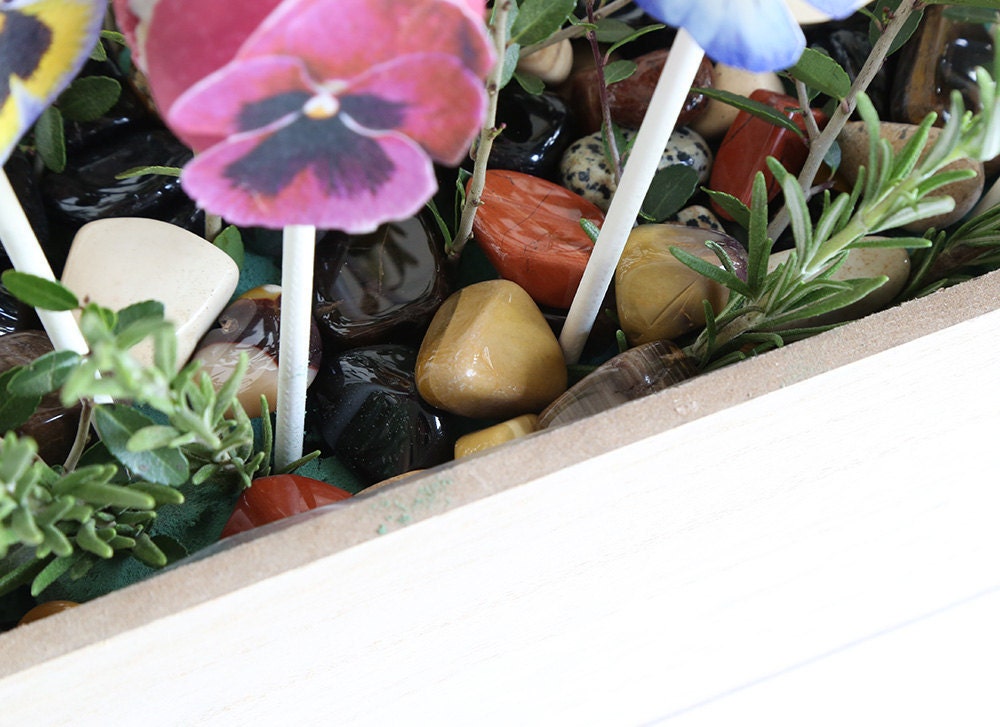 Step 12:
Add decorative pebbles to cover any exposed floral foam.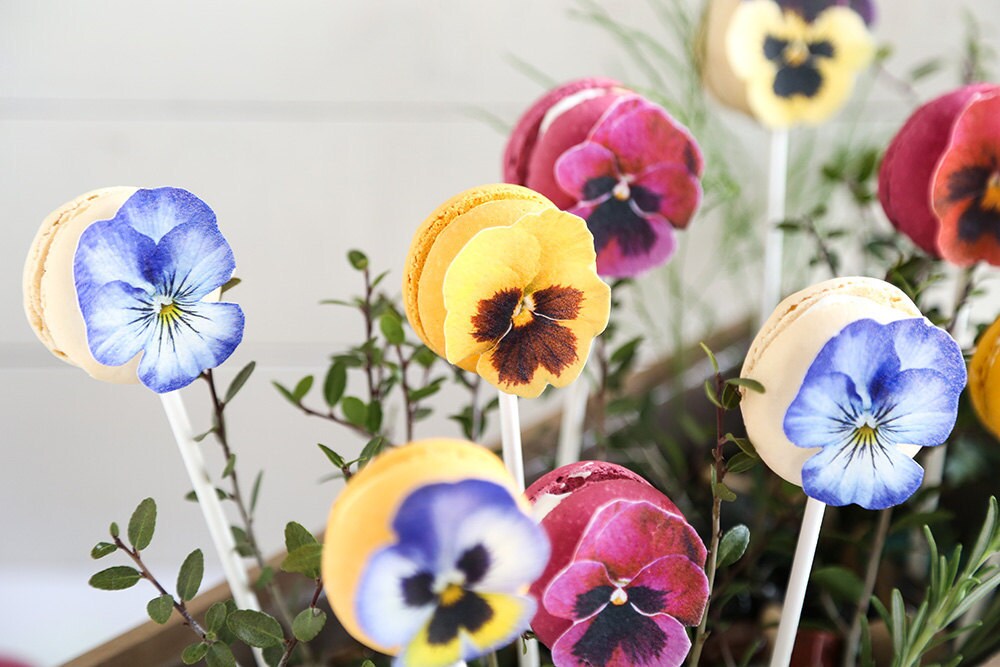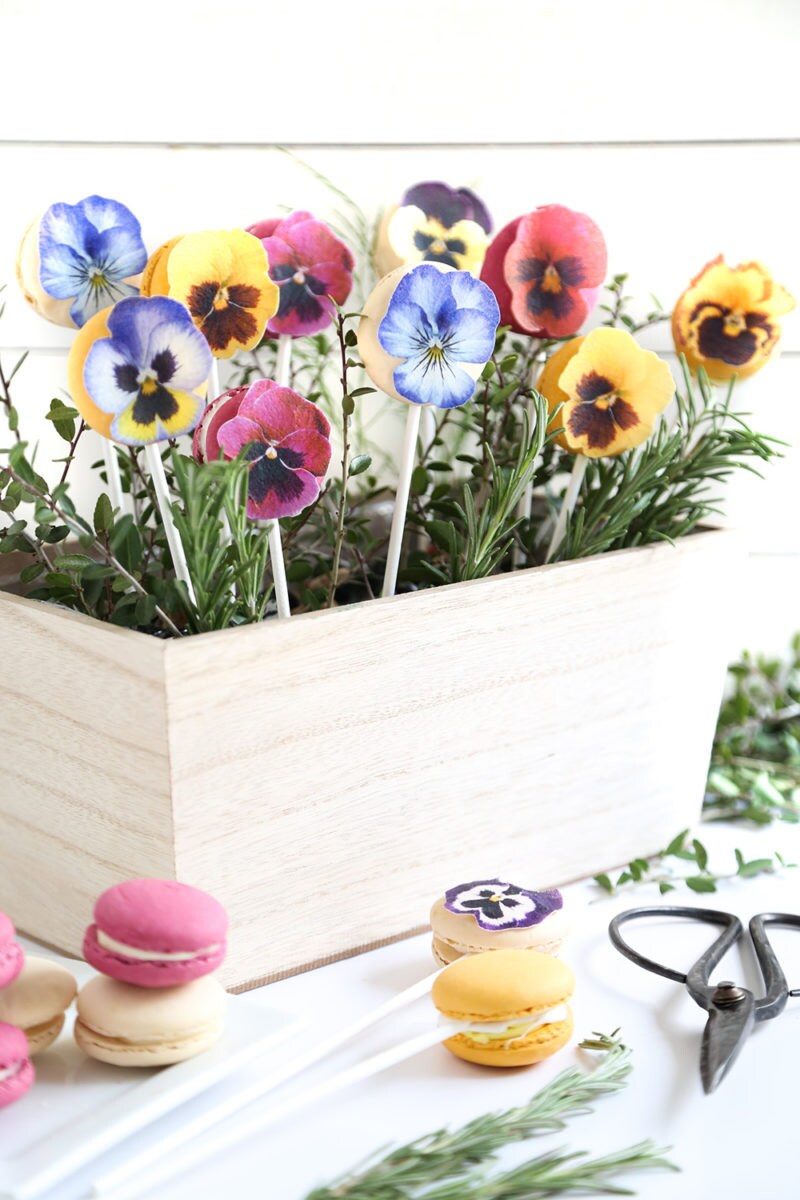 Step 13:
If you're making the bouquet in advance, cover each macaron pop with a cellophane wrapper and tie with pretty ribbon to keep the cookies fresh.
All photographs by Heather Baird.