This delightful candy-loaded DIY bunny bark recipe will brighten everyone's Easter, and it's oh-so-easy to make.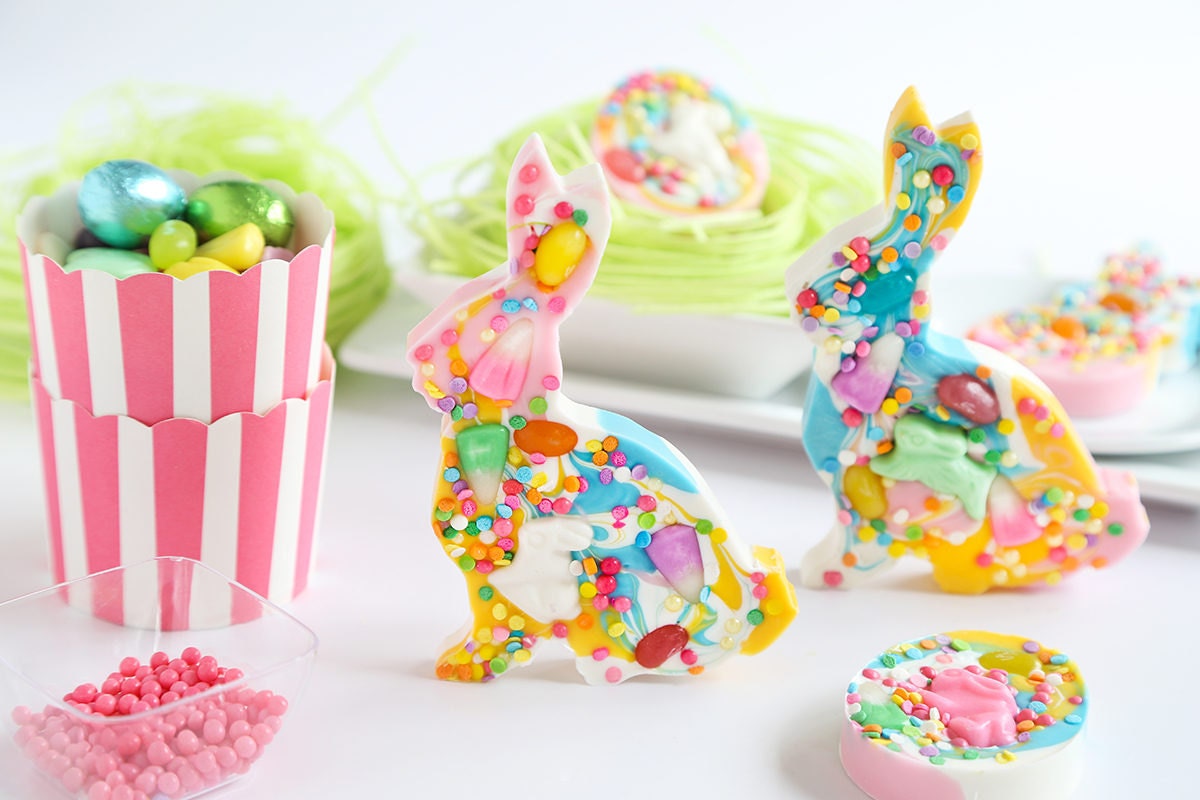 Whether you're adding some extra love to your Easter baskets or just looking for a colorful DIY to try at home with your kiddos, this candy-loaded chocolate bunny bark recipe is sure to brighten everyone's day. The best part? It's easy! All this chocolate Easter bunny dessert takes is a playful set of cookie cutters, a canvas of melted candy wafers, and a sprinkling of your favorite seasonal sweets, from neon jelly beans to pretty pastel nonpareils. Finish with a cellophane bag wrapper and a bit of ribbon and you've got delicious homemade bunny bark for an unbeatable treat. Let's hop to it!
Bunny Bark Recipe
Yields five pieces
You will need:
Hint: Remove the candies from their packaging to ensure they're readily accessible.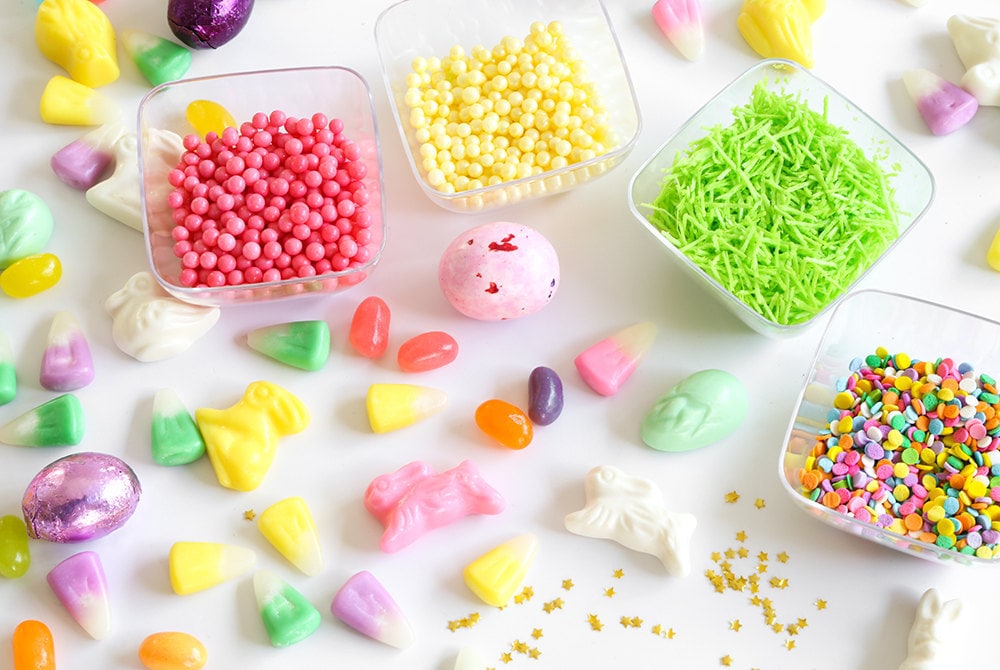 Step 1: Prepare the Easter candies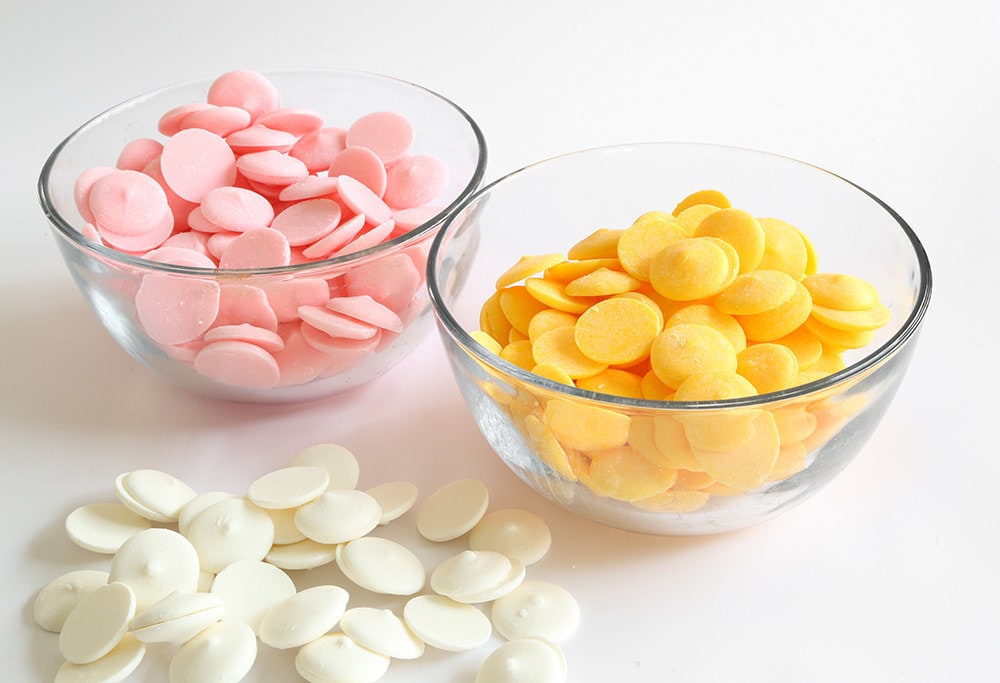 Place each color of candy wafers into separate microwave-safe bowls. Heat each bowl in 30-second intervals until the candy is melted and can be stirred until smooth.
Step 2: Prepare the bunny-shaped cookie cutters with foil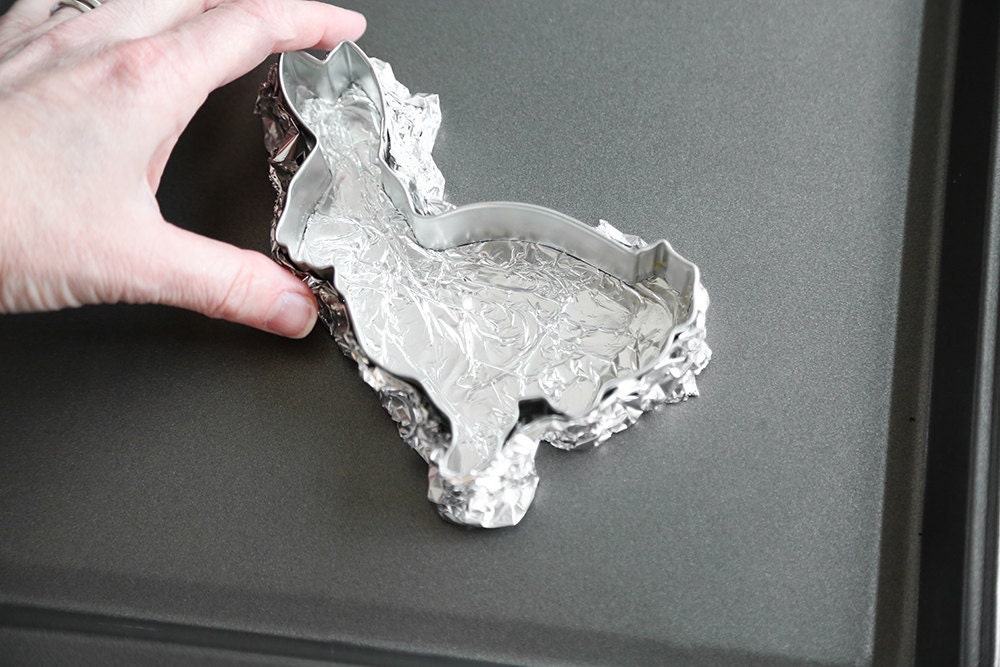 Lay a bunny cookie cutter in the center of a small sheet of aluminum foil. Fold and scrunch the foil tightly around the edges of the cookie cutter shape.
Using your finger, smooth the foil on the inside of the cookie cutter to ensure the chocolate will lay flat. Repeat with remaining shapes, then place the prepared cookie cutters on a baking sheet.
Step 3: Fill cookie cutters with melted, swirled candy wafers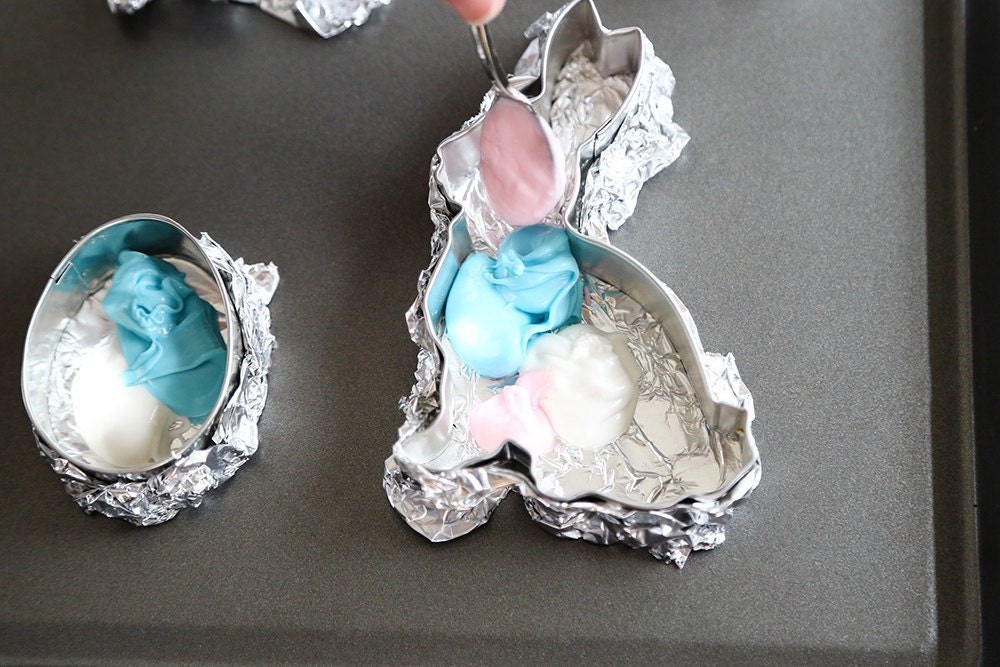 Using spoons, dollop alternating colors of the melted candy wafers into the prepared cookie cutters.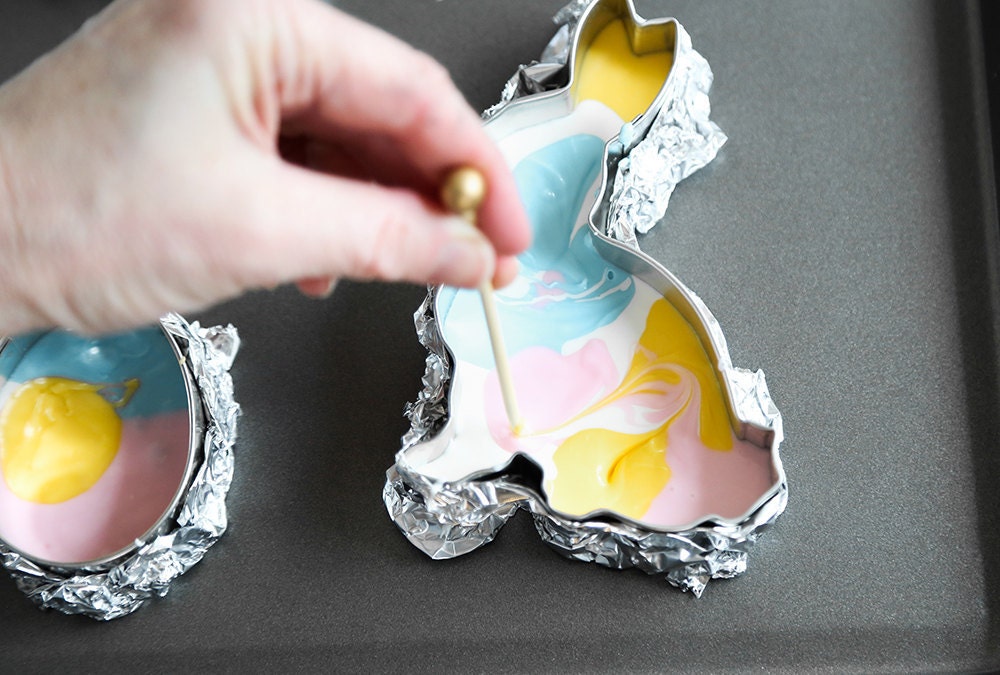 Shake the baking sheet gently to level the melted chocolate. Using a toothpick, swirl the colors together to create a marbled effect.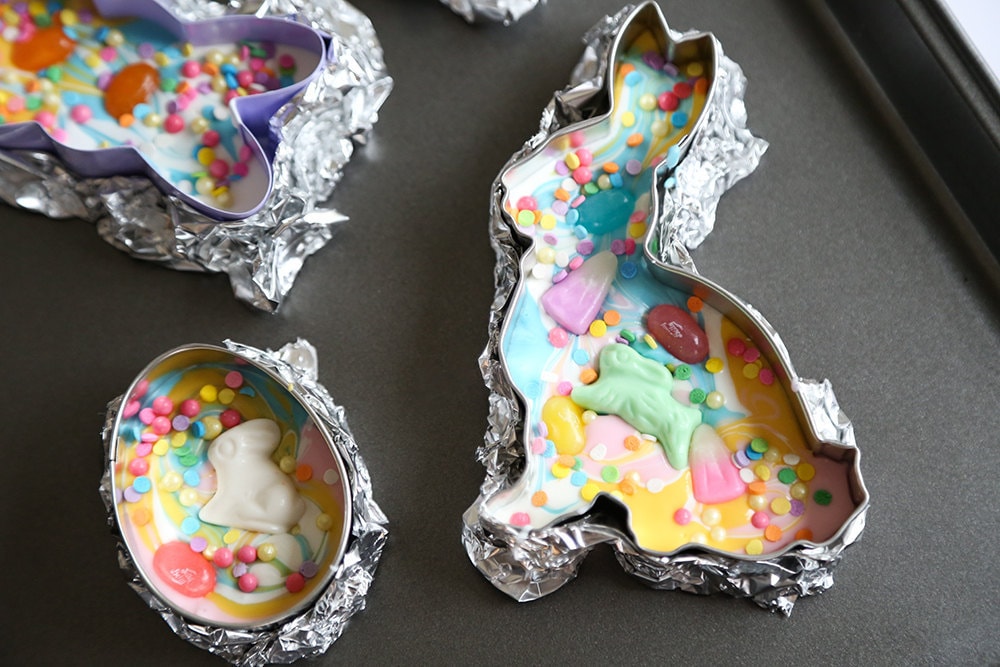 Step 4: Decorate with assorted Easter candies and refrigerate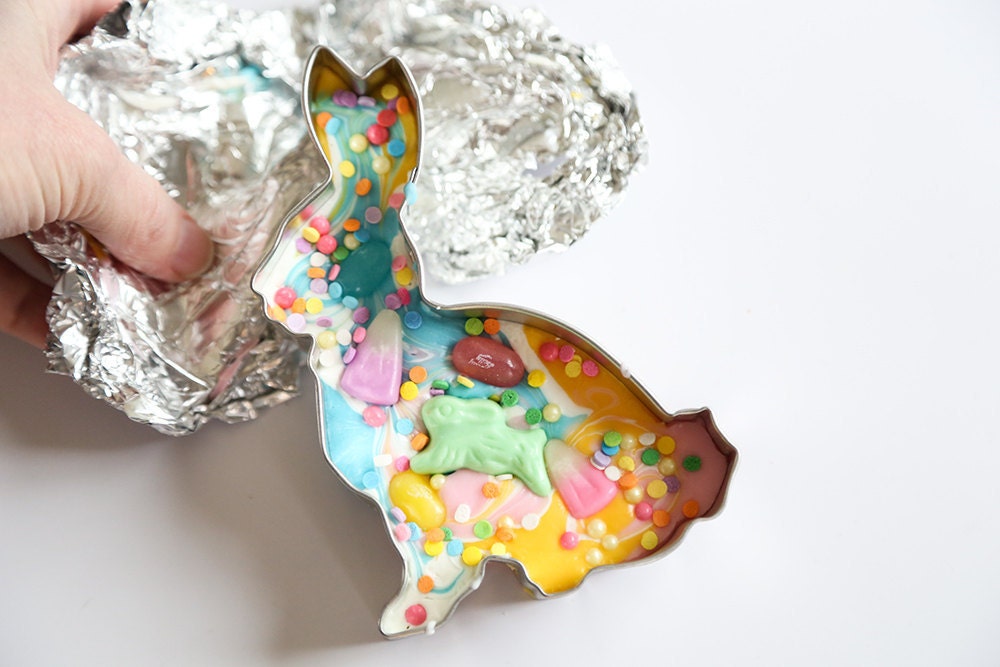 Sprinkle your assorted candies on top of the melted chocolate. Once you're satisfied with the appearance of each figure, transfer the entire baking sheet to the refrigerator to allow the chocolate to set.
Step 5: Remove foil and cookie cutter
When the candy is firm, gently remove the aluminum foil and push the chocolate through the bottom of the cutter. If the bark won't budge, gently bend the edges of the cookie cutter outward until the chocolate is released.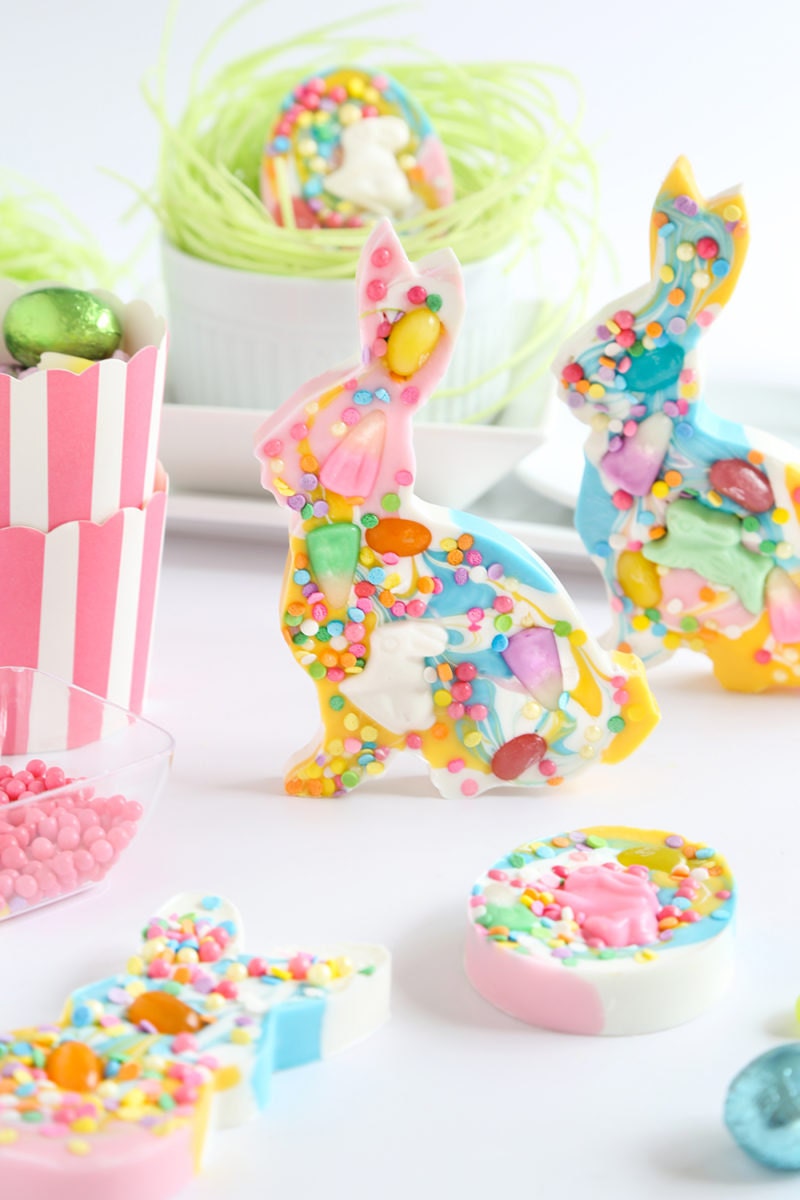 For an extra-festive presentation, place the chocolate bunny bark in cellophane bags and tie with a ribbon—or nestle your treats directly inside an Easter basket.
All photographs by Heather Baird. 
Want more fun ideas for Easter? If you want more DIY treats, try these homemade chocolate surprise eggs or flower petal popsicles. Complement these goodies with some DIY fun and craft some no-sew Easter baskets for the whole family.