by Stephanie Lee
Make your next celebration a memorable one with these easy DIY party favors.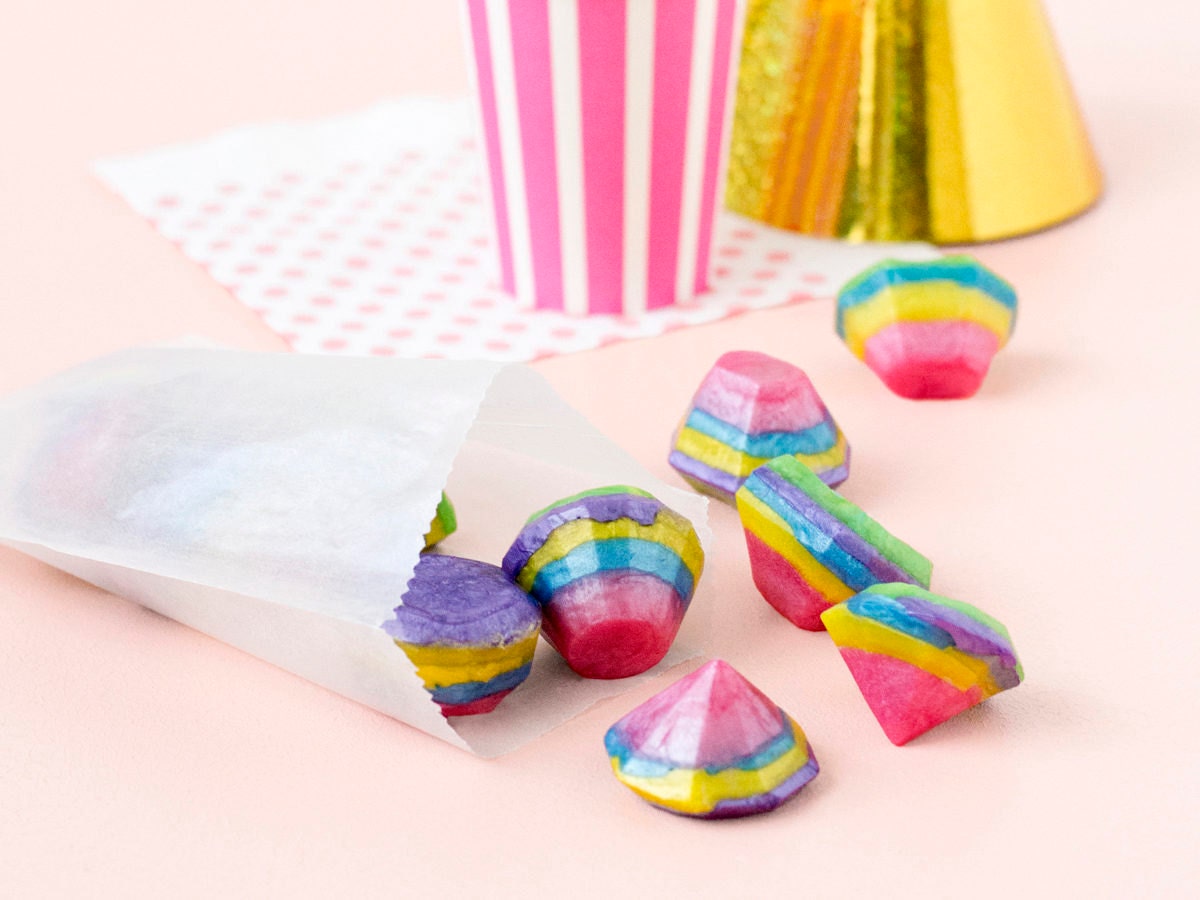 We've all received the well-intentioned party favor that fell flat: keychains, coozies, and other trinkets that are quickly relegated to the junk drawer. Make your next fête a memorable one with unexpected treats that your guests will actually take home and enjoy, like these fun, functional rainbow soaps. These colorful DIY gems are simple to create and easily customized to match your party's chosen theme—in other words, your new favorite project. Let's get started.
At a glance
Time:
Under an hour
Difficulty:
Beginner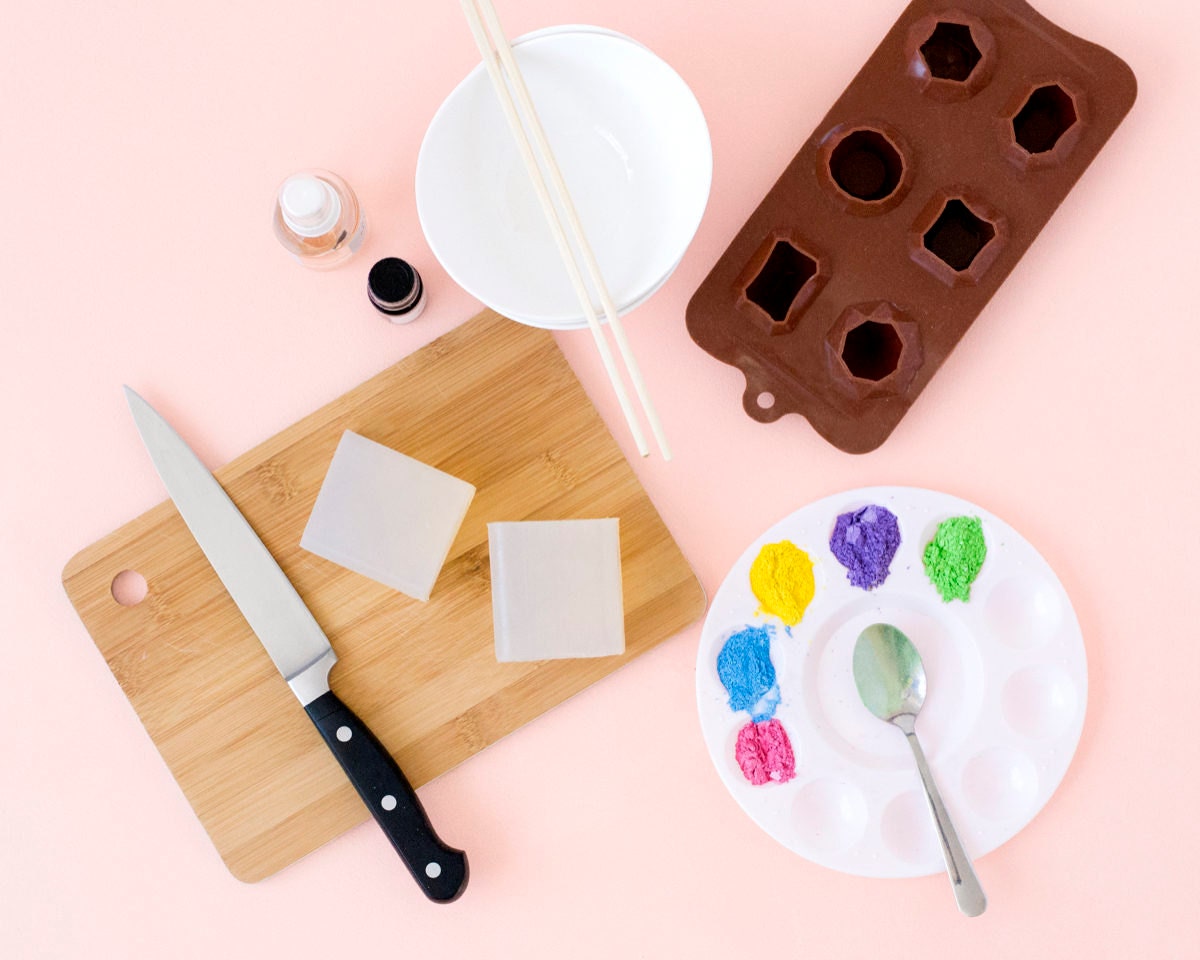 You will need
Paring knife and chopping board
5 or 6 microwave-safe bowls to melt the soap base
Disposable wooden chopsticks or popsicle sticks for stirring
A teaspoon for measuring
Rubbing alcohol in spray bottle
Step 1: Cut soap base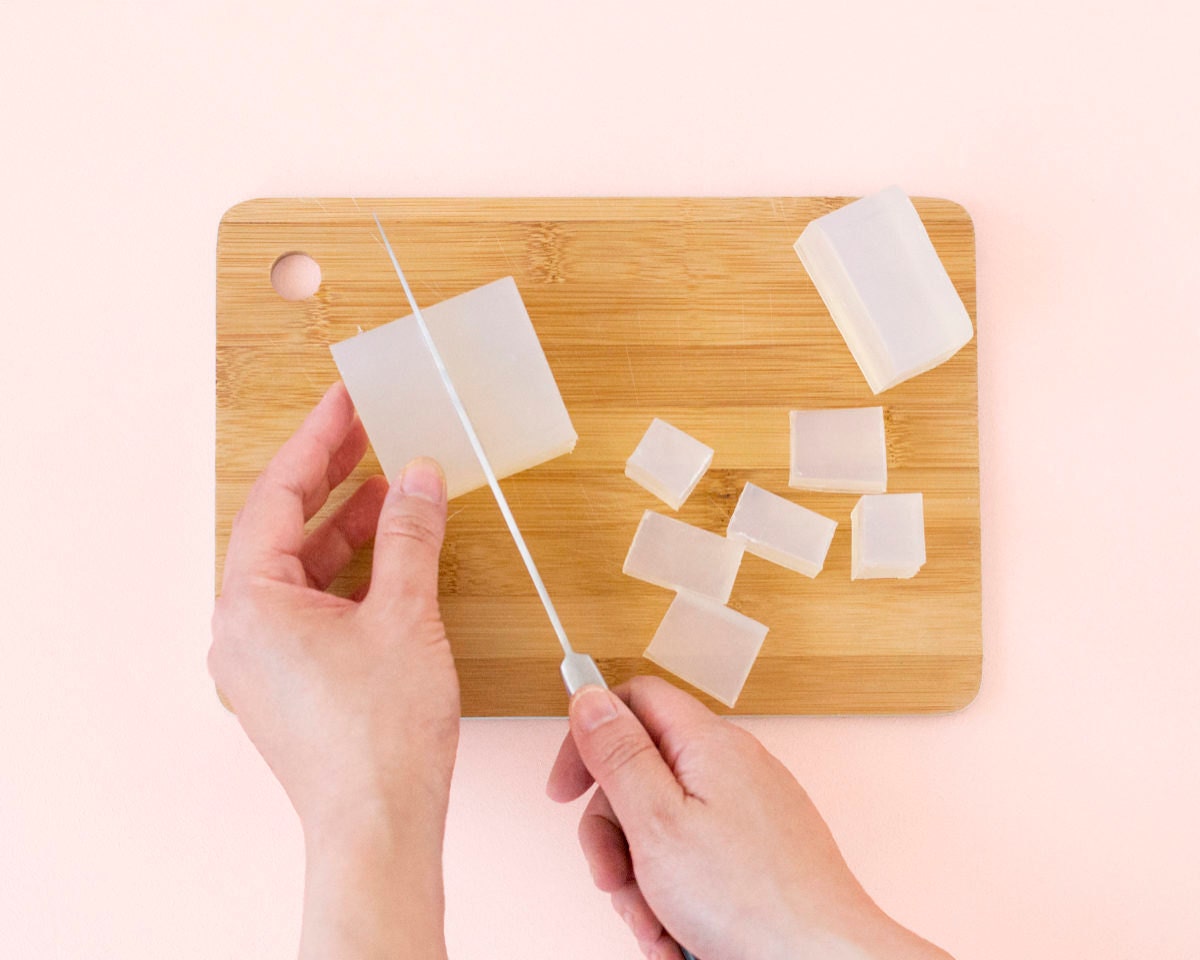 Begin by cutting the soap base into manageable, ice cube-size blocks.
Step 2: Melt soap base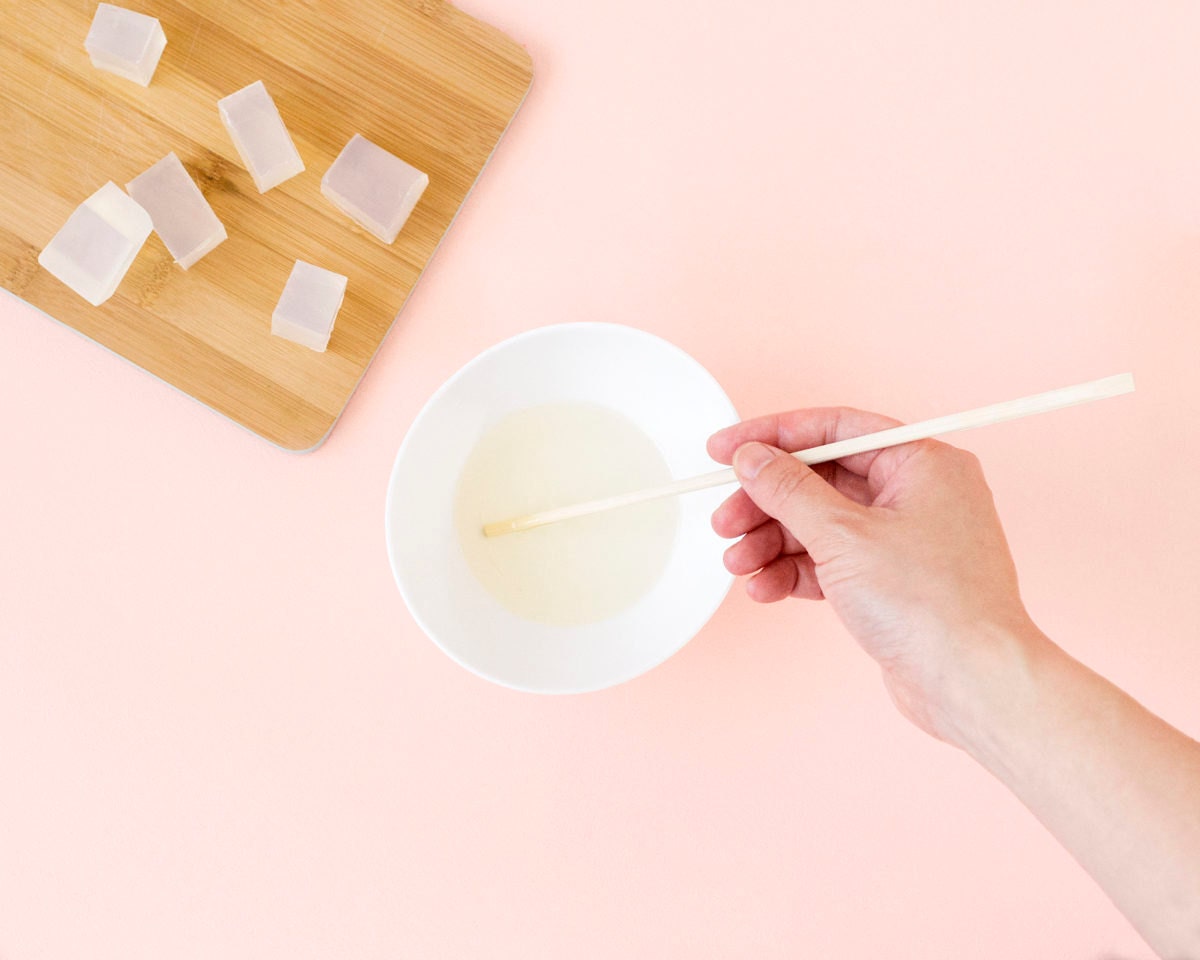 Place two of the soap base blocks in a bowl and microwave on high for 10 seconds, watching closely to ensure it doesn't boil as it melts. Note: The timing will depend on the strength of your microwave; it took 12 seconds for my soap base to melt. Carefully remove the bowl from the microwave and stir with a chopstick or popsicle stick to ensure the soap base is evenly melted.
Step 3: Add color to soap base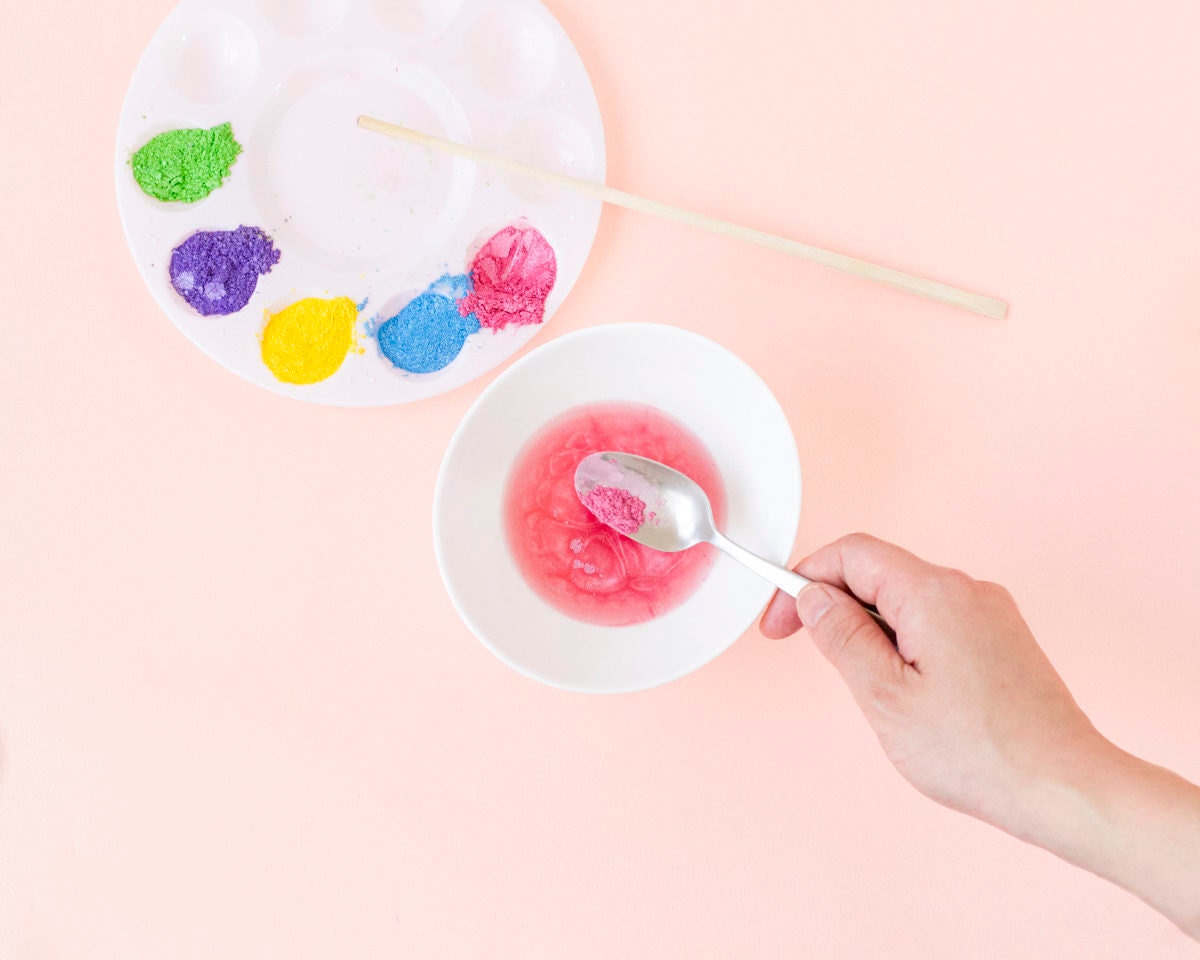 Before you start creating your soaps, consider the colors you're interested in layering, as well as the order. (ROYGBIV is always a classic!) My gem-shaped mold accommodated 4-5 layers of color. To create your colored soap layers, begin by adding 1/5 of a teaspoon of mica powder to the aforementioned 2 cubes of melted soap base, stirring gently with a spoon to create your first rainbow color. Add additional powder in small increments to create a bright shade that's to your liking.
Step 4: Add scent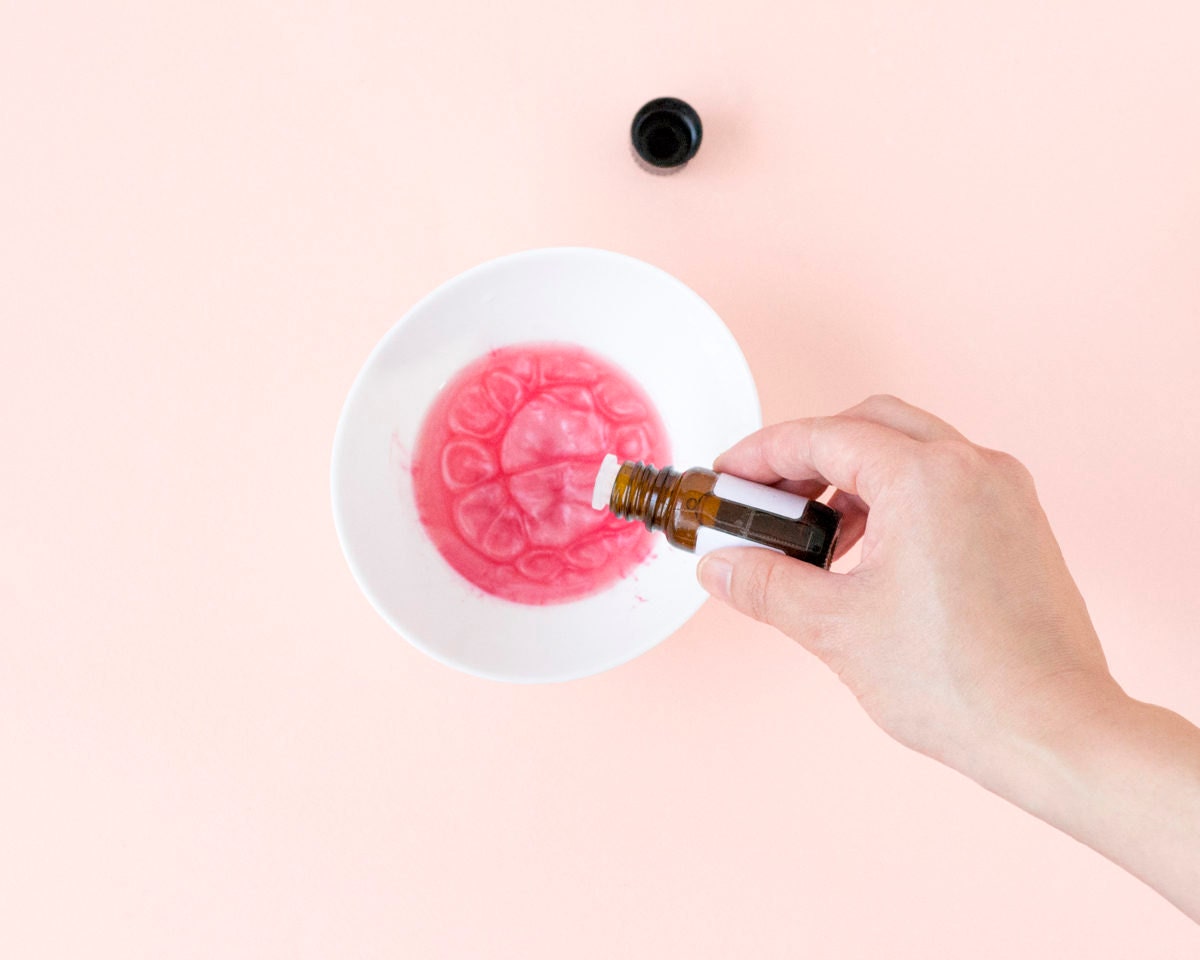 If you're creating a scented soap, add 2 drops of essential oil (I used grapefruit) to infuse your preferred smell.
Step 5: Layer your first color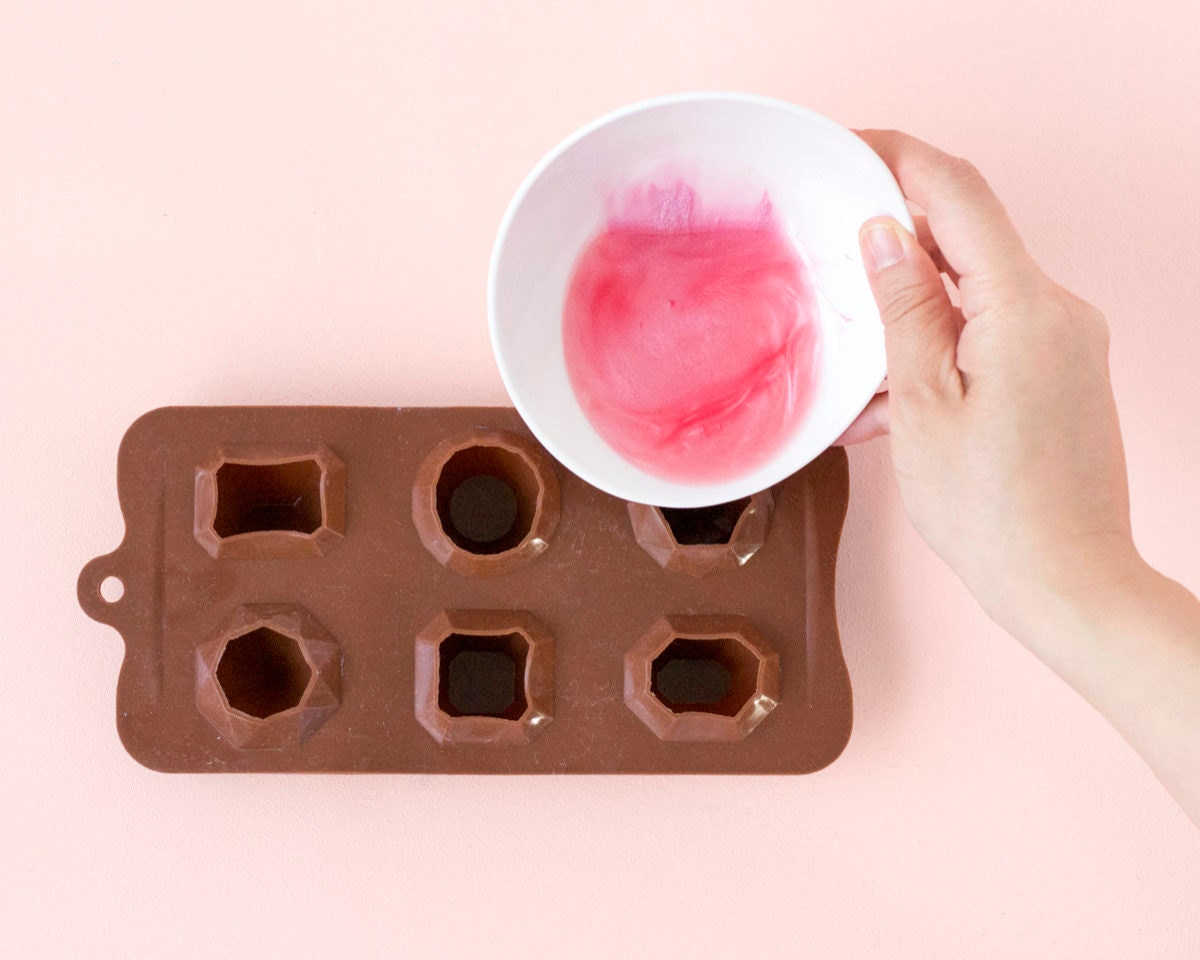 Working from the bottom layer upward, pour your first colored layer of soap into each mold; I eyeballed it, but my colored layers were about 5 millimeters deep.
Step 6: Set your first color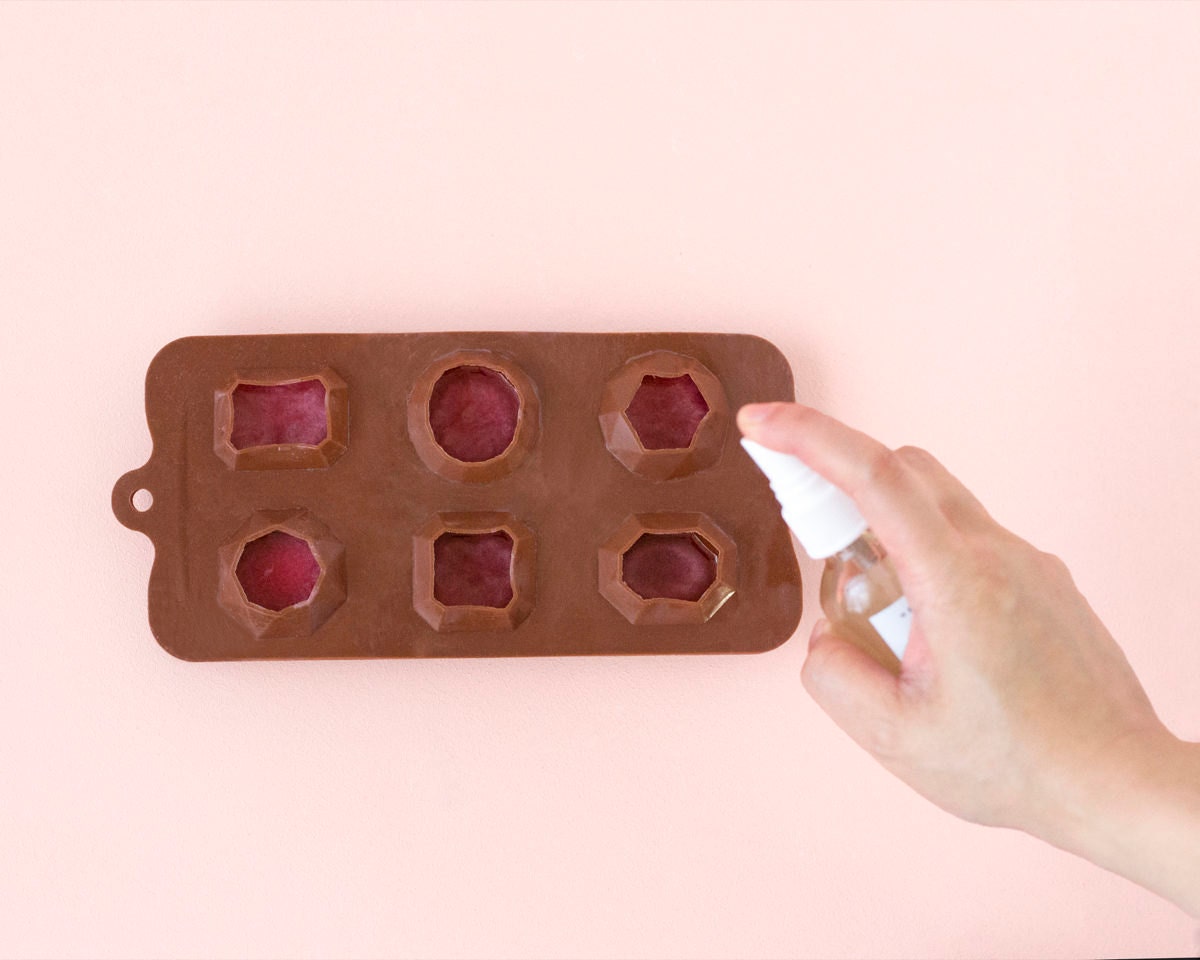 To remove air bubbles in your soap base, gently mist with 1-2 spritzes of rubbing alcohol. Then place the mold in the refrigerator to let the soap set for 5-10 minutes.
Step 7: Continue layering remaining colors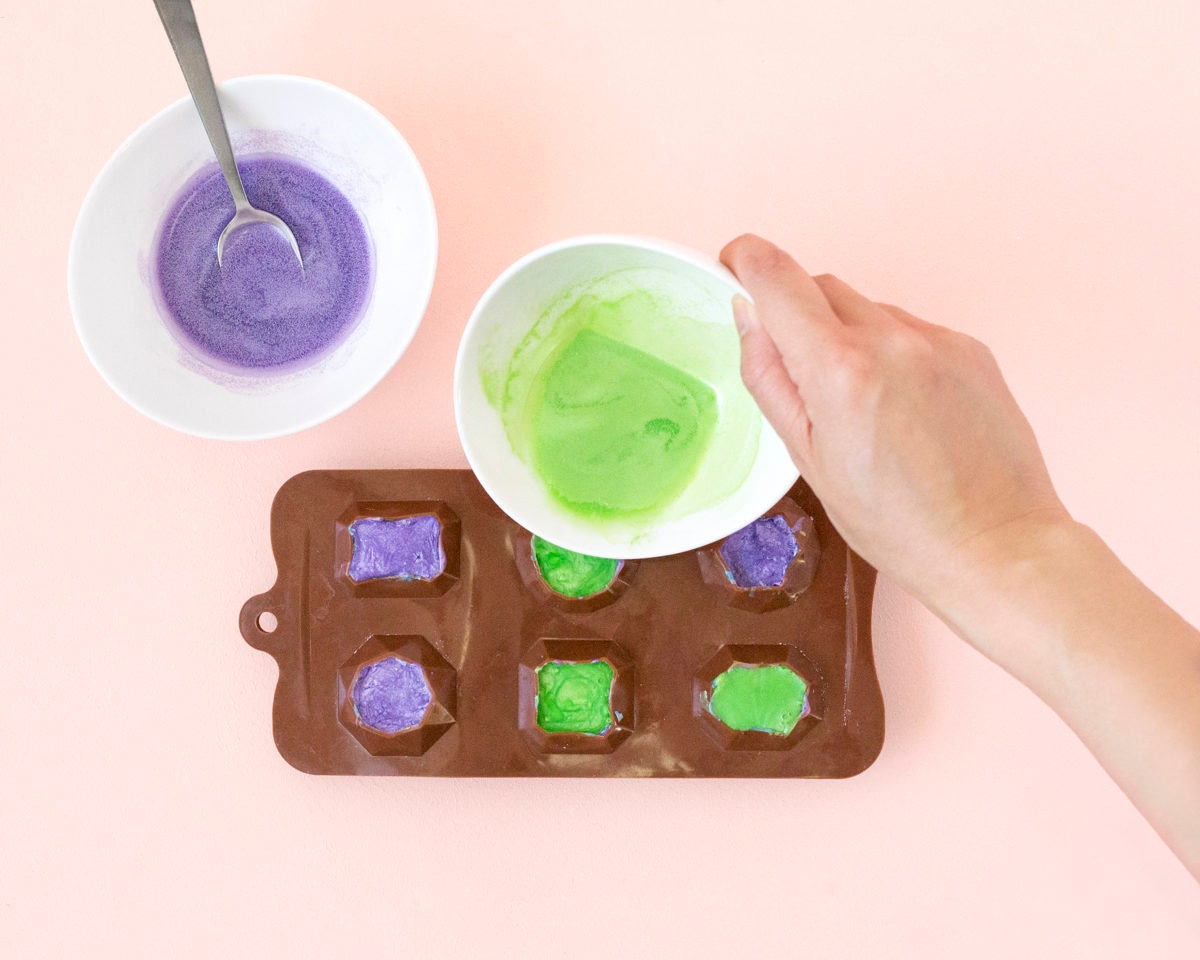 While your first soap layer is setting, repeat steps 2, 3, and 4 to create your 3-4 additional soap colors. Then, once the first soap layer has set in the mold, remove from the refrigerator and repeat steps 5 and 6 with your remaining rainbow colors, being careful to mist each layer with alcohol and place in the fridge to set before adding a new layer. Once you've added all of your preferred colors to your soap mold, leave in the fridge to set completely for an additional 10 minutes.
Step 8: Remove from molds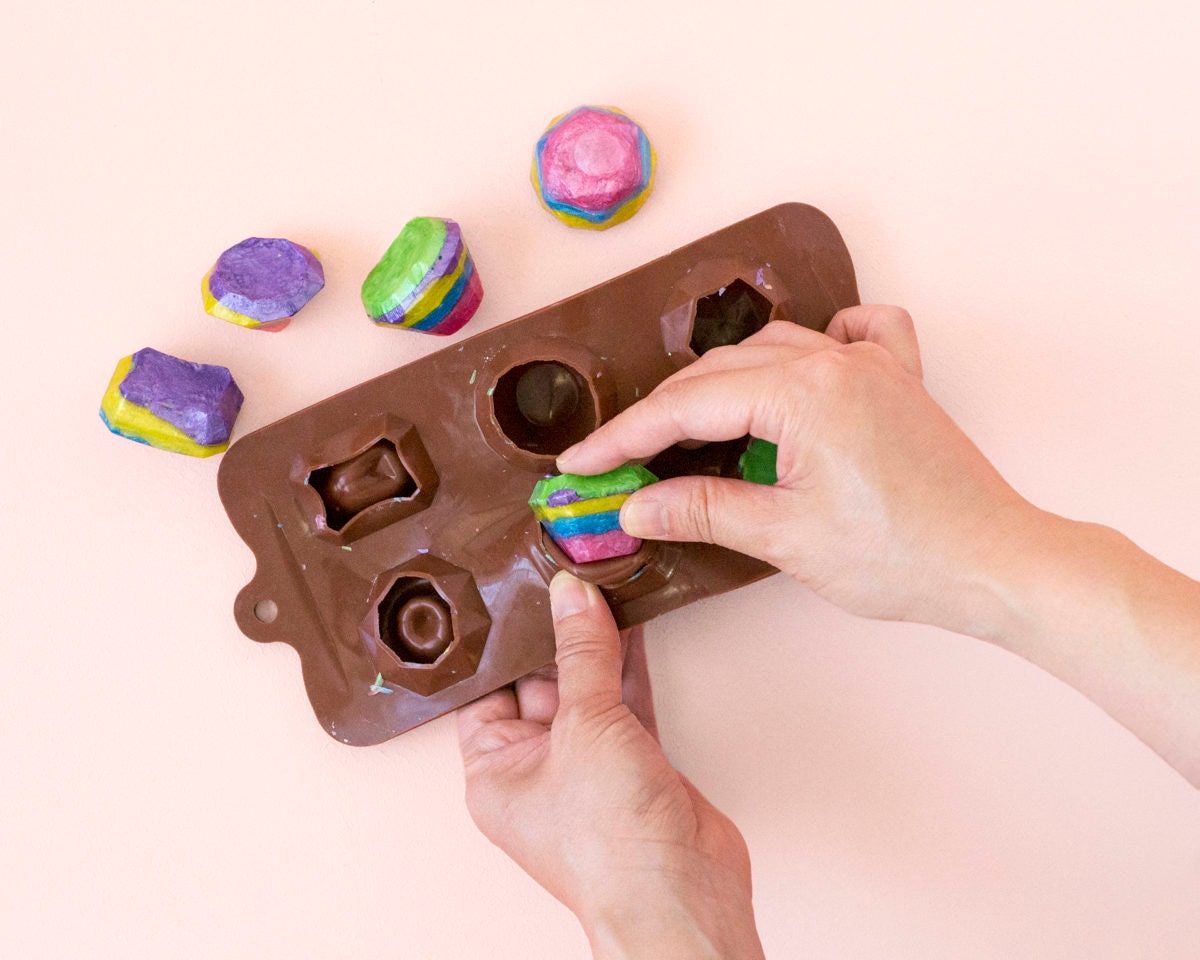 Once your soaps have set, remove them carefully from the mold and package in miniature treat bags. Share with guests and enjoy!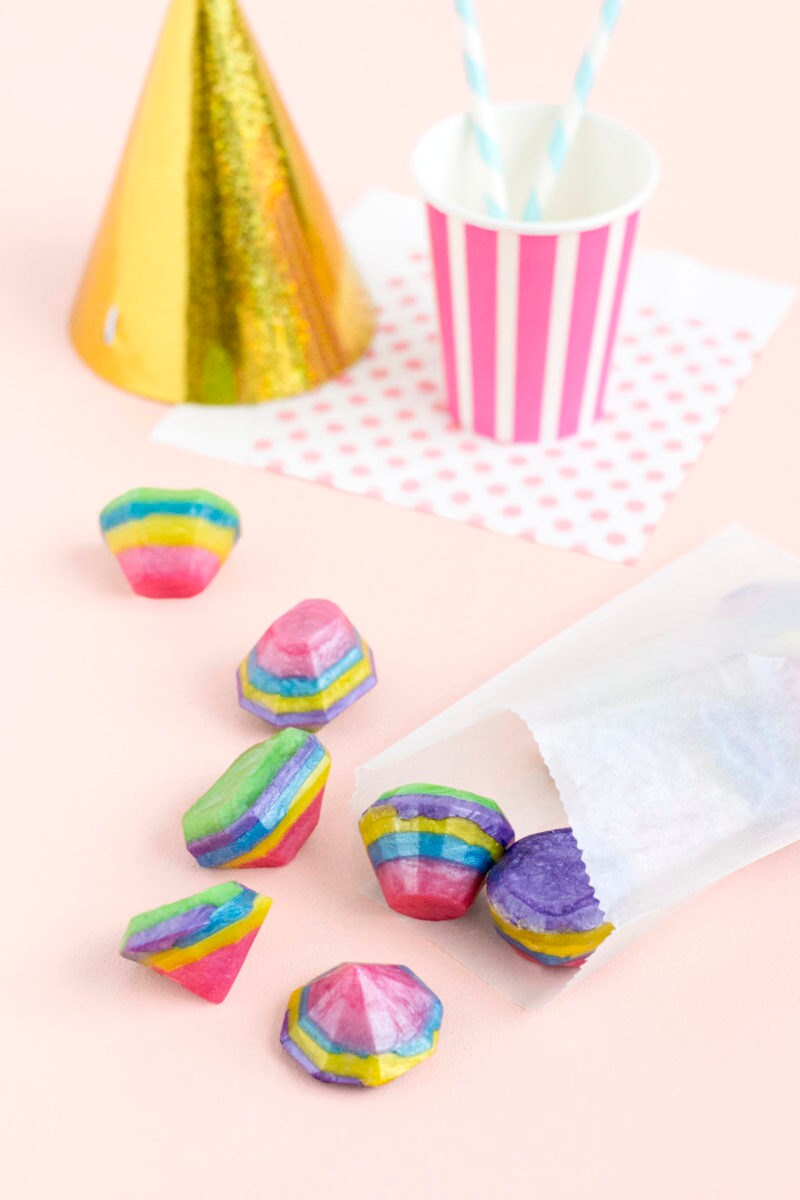 Process photos by Stephanie Lee.