Handpicked for their standout designs and exceptional craftsmanship, discover Martha's favorite finds for home, style, gifting, and more.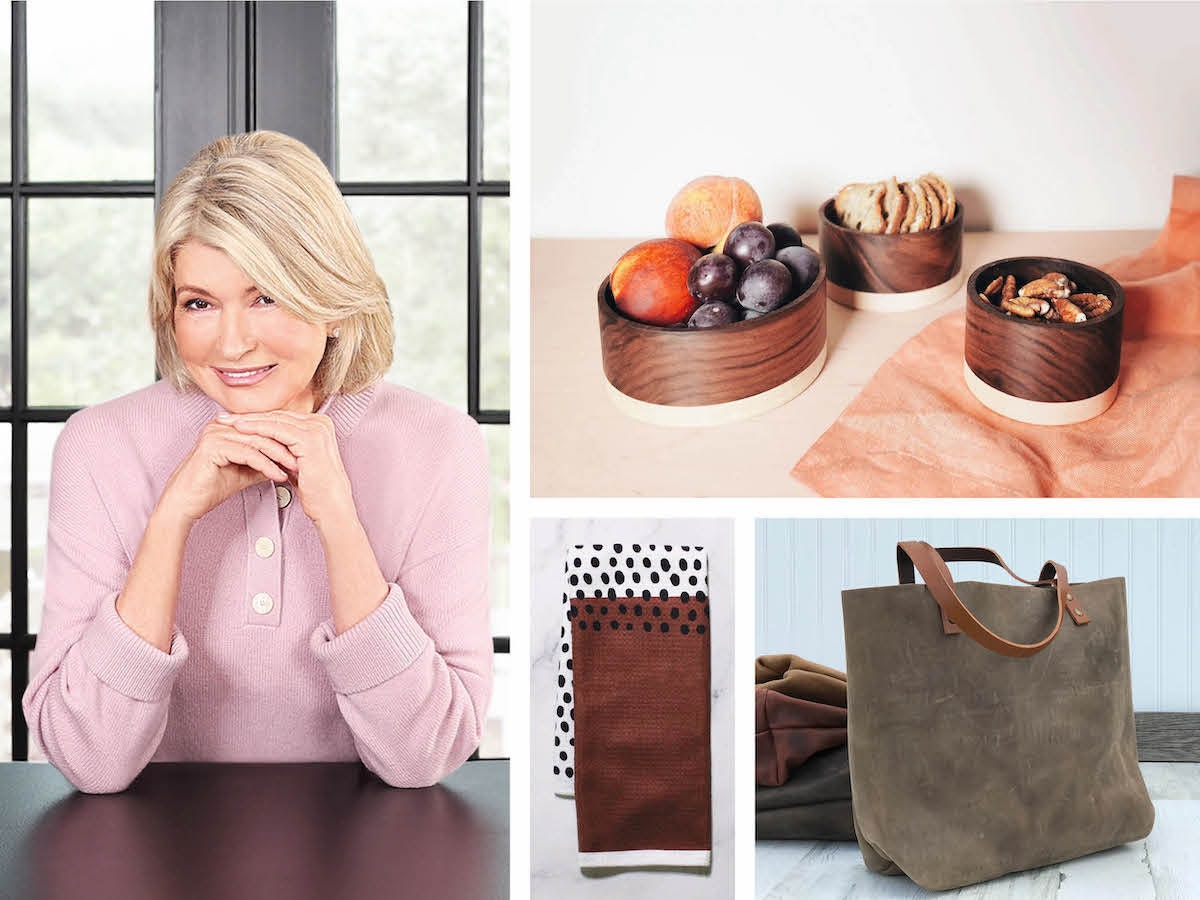 Our first Collections Curator of 2023 needs no introduction. Known for her discerning eye, impeccable style, and unmatched entertaining prowess, Martha Stewart is the OG arbiter of taste. The reigning expert on everything from how to set a stunning alfresco dinner table to how to pick out the perfect housewarming gift (and what to wear to the party), the lifestyle legend herself is here to share her favorite Etsy finds, all deemed worthy of her coveted "Good Things" stamp of approval—and we couldn't be more excited.
"Discovering talented artisans and makers has been one of the most inspiring parts of my career and Etsy is home to the next generation of creative entrepreneurs," says Martha. "Etsy is where I often go when I'm looking for something special, whether that's well-crafted home decor, unique jewelry and accessories, or personalized gifts and it's a wonderful resource for anyone planning (or attending) a wedding." Read on for a sneak peek into five collections curated by Martha, featuring beautifully designed picks at a range of price points. Be sure to check out her full list for additional inspo, and stay tuned for even more from Martha later this year!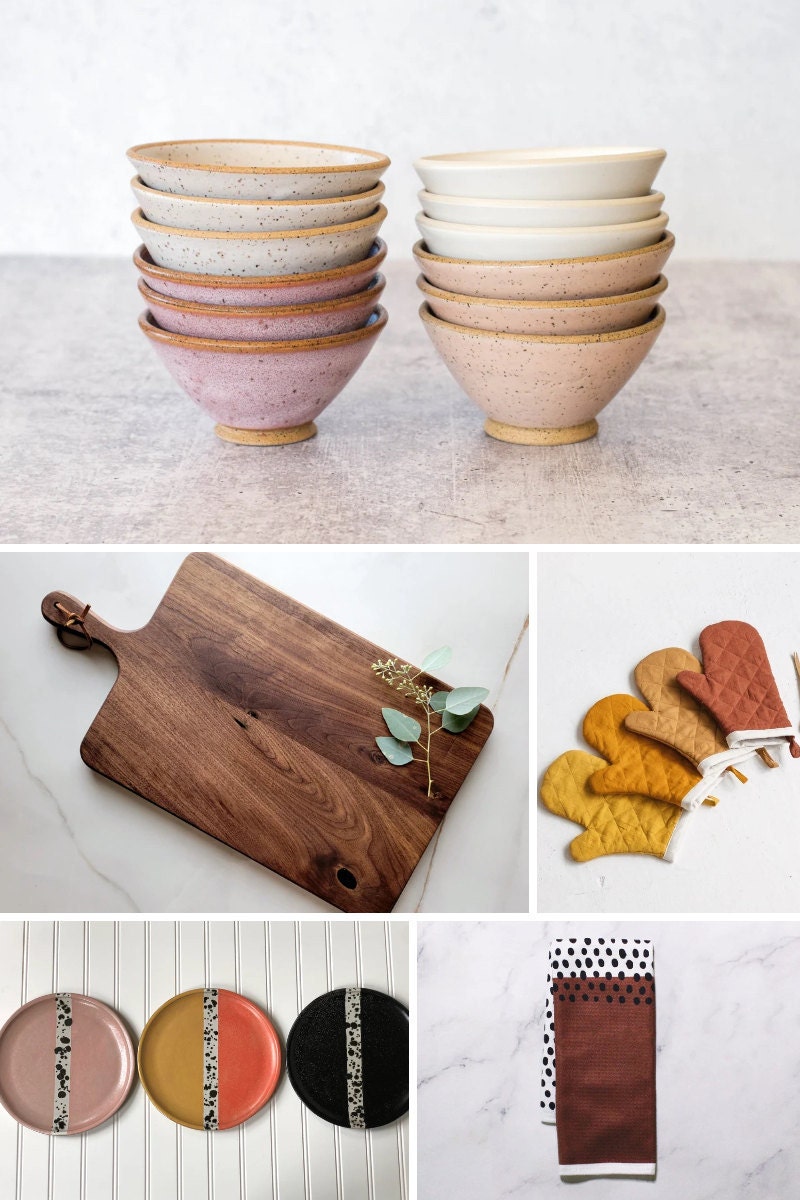 SHOP (clockwise from top left): Ceramic prep bowls from Zziee Ceramics, $24 each; quilted linen oven mitts from Sand Snow Linen, $36 each; polka-dot tea towel from Render Goods, $15; two-tone ceramic dinner plates from Strange Joy Studio, $48 each; walnut charcuterie board from Farmhill Woodshop, from $40 | Shop Martha's Hosting & Housewarming Collection
Whether you're inviting loved ones into your own home to break bread or thanking your favorite party planner for their hospitality, Martha's curated hosting and housewarming picks are here to help you do it in style. Textured table linens, handcrafted ceramics, and warm, wooden charcuterie boards form the foundation of this staples-heavy collection, with delightfully unexpected extras (hello, pastel taper candles!) sprinkled throughout to keep things fresh and fun.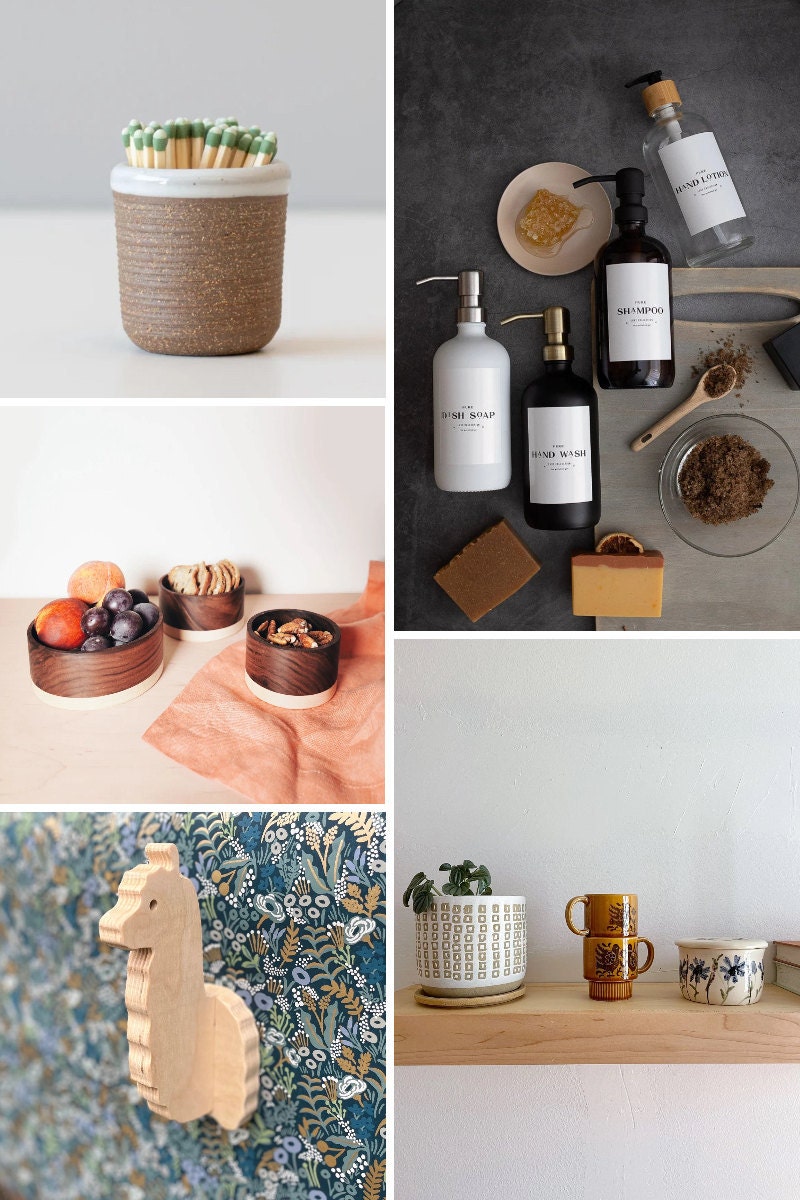 SHOP (clockwise from top left): Stoneware match striker from Sawyer Ceramics, from $25; reusable glass bottles with custom labels from The Polished Jar, from $26; wooden floating shelf from Hurd and Honey, from $40; birch llama wall hook from The Jungle Hook, $18; walnut and maple nesting bowls from Warwood Made, $90 for set of three | Shop Martha's Storage & Organization Collection
A place for everything, and everything in its place. Take the proverb to heart with these storage and organization standbys, selected by Martha to help you build a happy and harmonious home. From reusable and endlessly versatile amber glass bottles with customizable labels to house all your liquids to wall hooks of both the playful, nursery-friendly and minimal, grown-up–approved variety, tidying up has never looked so good.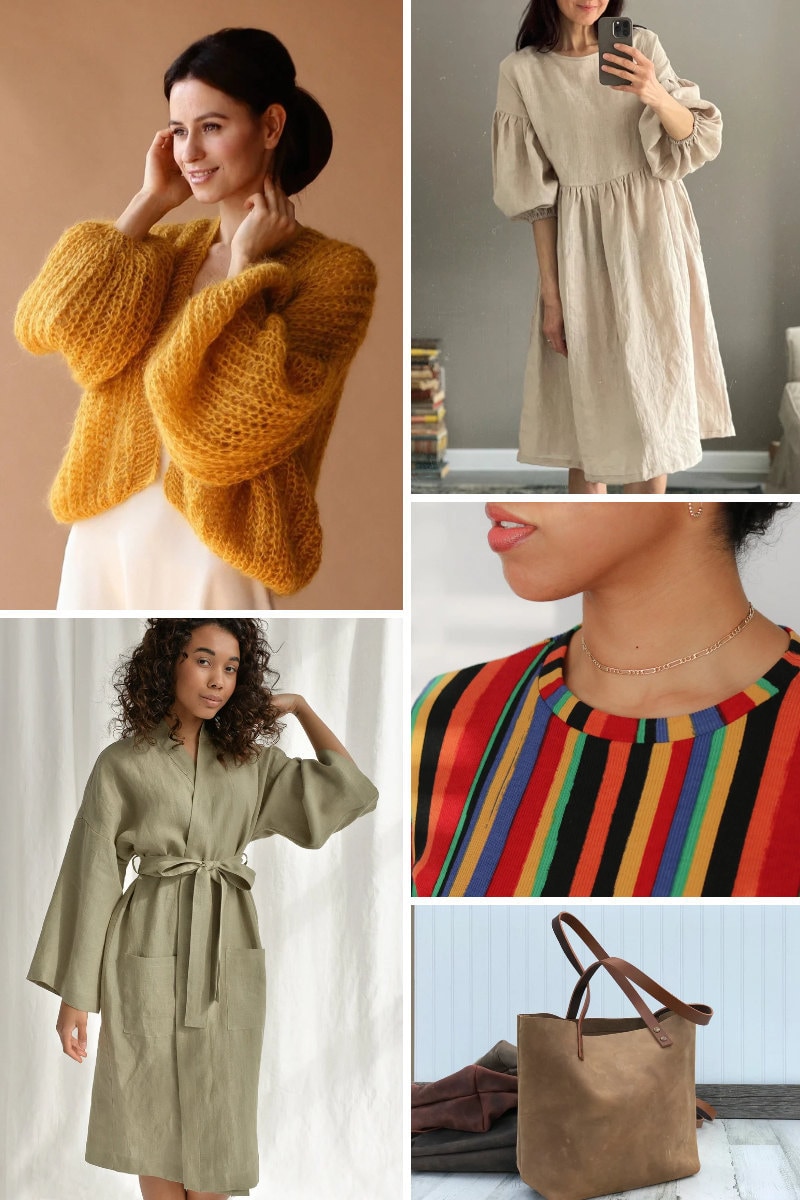 SHOP (clockwise from top left): Mohair cardigan from Clew Store, from $89; puff-sleeved linen dress from Simply Grey Life, $136; gold chain choker necklace from EVREN, from $103; classic leather tote bag from Yoakum Leather, from $125; oversized linen bathrobe from April Notes, $105 | Shop Martha's Spring Style Collection
Dressing for seasonal transitions can be tricky—unless, of course, you've got Martha as your personal stylist. The hand-knit sweaters, exquisitely crafted leather totes, dainty everyday jewelry, and effortless, easy-to-wear dresses in this expertly curated spring style collection are the stuff of capsule wardrobe dreams. Even better? Most pieces are adaptable enough to earn a place in your closet year-round.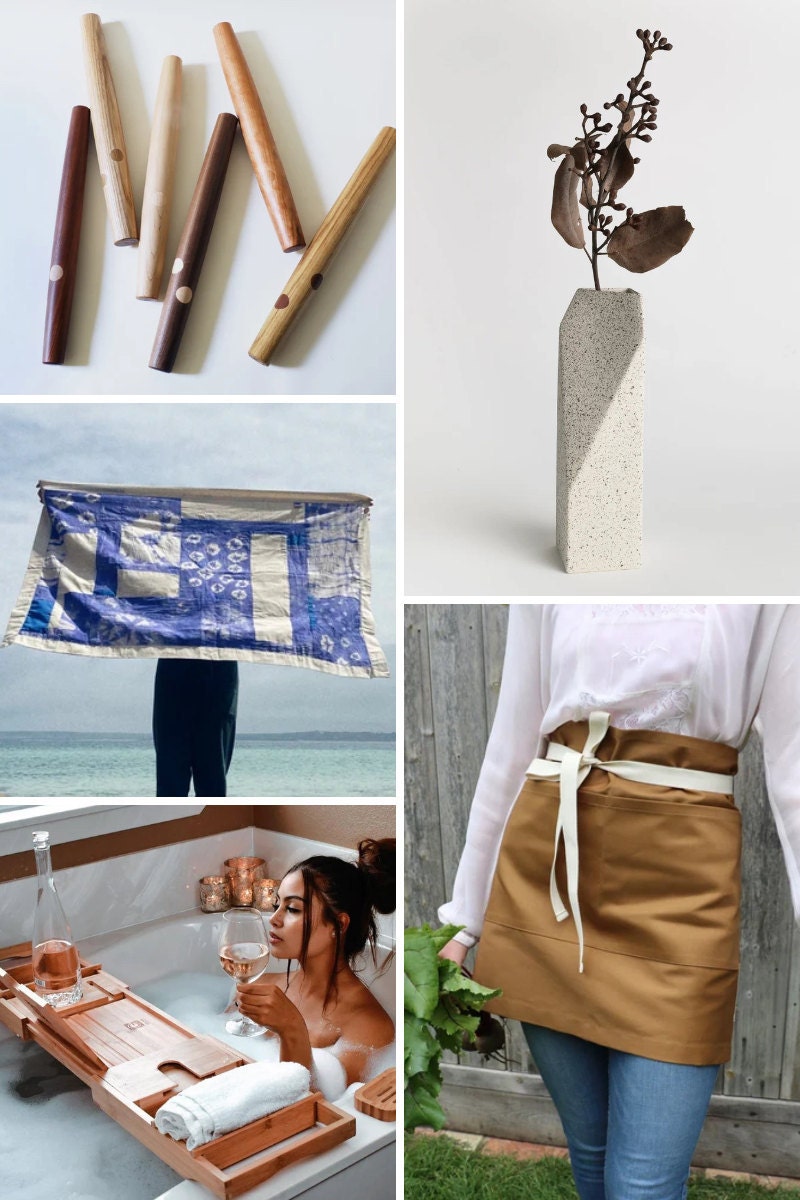 SHOP (clockwise from top left): French-style rolling pins from Untitled Co., $45 each; speckled ceramic vase from Yahalomis, $112; half-length gardening apron from Pinks and Greens, $30; wooden bathtub caddy from Golden Creazione, $80; handmade blue quilt from Bluey Quilt, $151 | Shop Martha's Mother's Day Collection
When mom is extra-wowed by this year's Mother's Day gift, don't forget to tell her Martha helped you pick it out. Pretty, practical, and as unique as the woman who raised you, the pieces in this collection range from hand-turned patissiere-style rolling pins to chic gardening aprons and flower-ready sculptural vases, but really, there's no going wrong.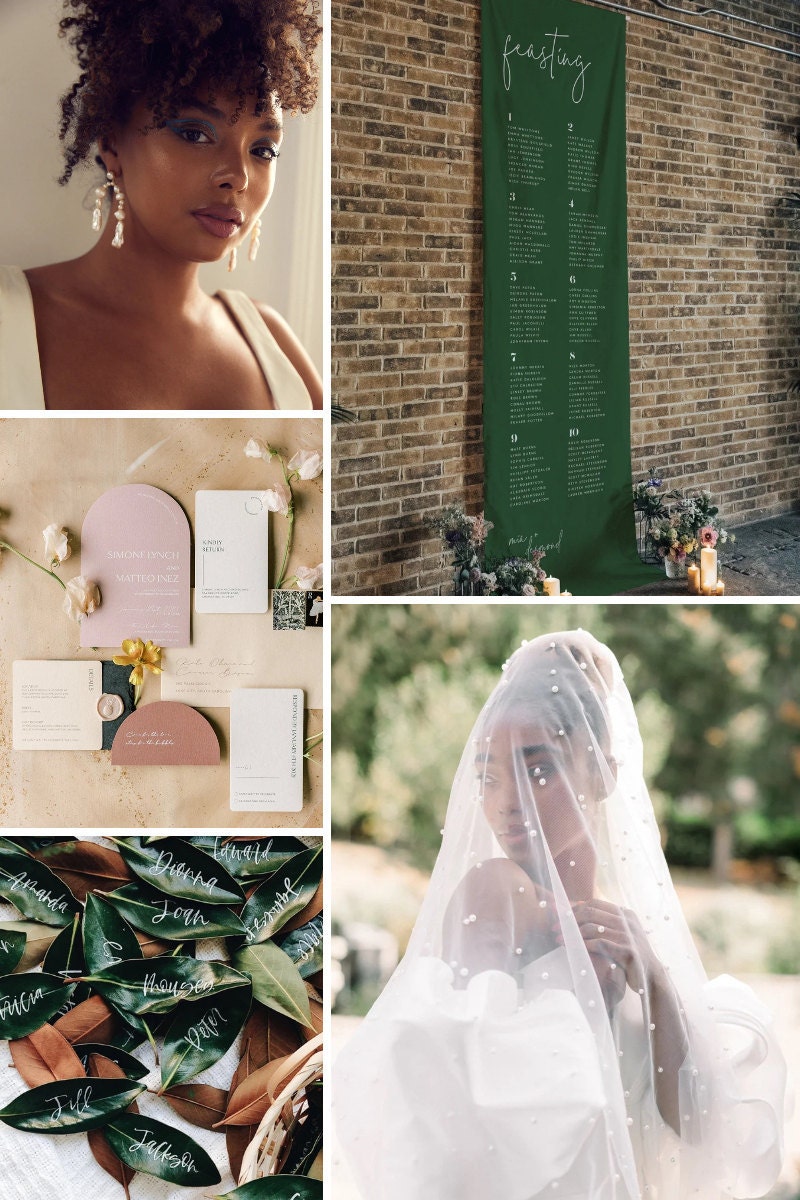 SHOP (clockwise from top left): Pearl dangle earrings from Emma Katzka Bridal, $208; custom seating chart from Made by Wood and Wood, from $307; pearl-adorned blusher veil from Tessa Kim, from $190; custom magnolia leaf place cards from Paper Case Studio, from $3; coordinated invitation suite from Fielding Milligan, $11 | Shop Martha's Weddings Collection
For your big day, get inspired by the super-special finds in this romantic collection, crafted by small shops and approved by the queen of weddings herself. Say "I do" to pearl-adorned veils, statement-making signage, and a paper bouquet you'll admire for years to come, then cue the confetti.